She'll deny it of course, but Karissa Pukas is a celebrity. Her beauty, fashion and lifestyle YouTube channel, Saturday Night's Alrite (now known as Karissa Pukas) and its sibling vlog channel, Sunday Morning's Ok Too, have over half a million combined subscribers, with fans from all over the world tuning in to see the Blanche Macdonald Fashion Marketing graduate's easy-going and honest approach to personal style, makeup and hair tutorials, and life as a Canadian in the sun.
Broadcasting to Planet Earth from her home on the Central Coast, New South Wales, Australia, what started as a hobby is now a full time job. Karissa worked hard and smart to create her popularity. Now she's converting that fame into collaborations with a growing list of fashion and beauty brands. She's even launched her own line of eyelashes, SocialEyes.
"Sure, I'm known on the Internet," she'll admit if you push her. "If I go to the shopping centre there's at least one or two people who'll say hello and say that they watch my channel. That's really cool. The first time I was recognised I was in New Zealand in a line up for a Subway. I was ordering a sandwich and the girl behind me recognised my voice from YouTube. That was pretty surreal."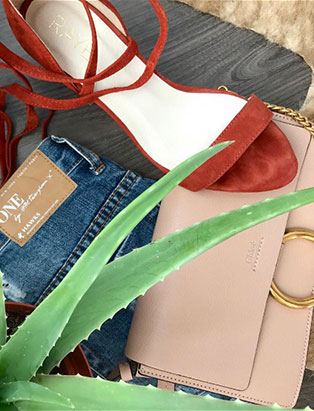 If you told Karissa five years ago that'd she'd be an on-line star living and getting recognised on the far side of the world, she'd think you were crazy. Back then a career in fashion and beauty was the last thing on her mind.
"I'm from Salmon Arm, British Columbia, and I was the opposite of a fashionista growing up. I was a little tomboy. The world of fashion and beauty didn't exist in Salmon Arm. I wouldn't even wear pink!
---

I went from having no fashion sense to being a voice in fashion. That was such a cool thing.

---
"When I was 19 I was living in Vancouver and I really wanted to meet girlfriends because I was new to the city and didn't really know that many people. I thought getting into fashion and beauty would be a good way of meeting new friends."
Karissa's new pastime coincided with her discovery of a certain Vancouver Fashion School.
"My cousin introduced me to Blanche Macdonald. It definitely seemed like the best option. When I started the Fashion Marketing program I had no idea what I wanted to do as a career. I wanted to have a taste of everything and see what sat well with me. It was actually a lot more intense than I'd assumed. I really liked the classes on PR and Fashion Show Production. I knew that I liked speaking to people and having creative control over what I'm doing. What I learned in PR class was how to attract attention and win a following for something. So about three months into the program I decided to create a YouTube channel that I'd do after school and hoped would lead to PR-type opportunities. I wanted PR companies to hear about me and offer me a job. Now they want to work with me as a client! I was able to put what I'd learned in class towards finding a YouTube community for my videos. That fit together really well."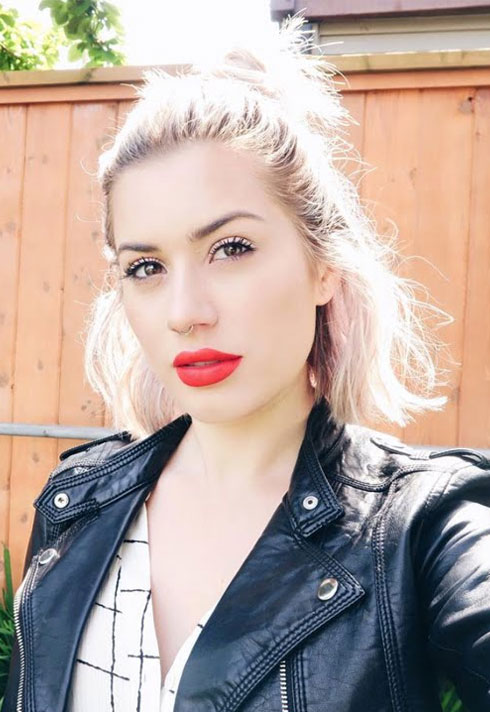 Karissa's year at Fashion School did more than provide the springboard for her YouTube successes. It also changed her on a personal level.
"I went from having no fashion sense to having a voice in fashion, getting inspired by other students, what they were wearing and how they presented themselves. That was such a cool thing, to really express yourself through what you're wearing. The more I started to do it, the more I started to love it. Blanche Macdonald instilled that excitement about fashion and helped me understand that I could create my own style. I took my Photoshop skills from Blanche Macdonald too. That's something I use every single day now."
One month after graduation Karissa had saved enough money to buy a plane ticket to Australia ("I took seven suitcases!"). Her boyfriend, Glen, was waiting for her and the 8,000 subscribers she'd gained while at Fashion School were eager to see and hear about her adventures Down Under.
---

The best part of doing this is getting to meet people.

---
"When I moved to Australia Glen had a Sony Handycam, so I decided I'd put my time and energy into making my channel as good as possible. There weren't that many girls on YouTube at that time who were completely honest and would really bare their soul. I wanted to come across like your girlfriend; personable and relatable. People started following me, companies started emailing me and I started doing collaborations. I didn't have another job and thought that I might as well focus all my energy on the channel. I thought that if I could get 10,000 subscribers, why couldn't I grow it to 20,000 or 50,000? I was meeting people, which was exactly what I wanted to do, and PR companies were noticing me.
"Windsor Store was the first company to contact me. Eve from the store messaged me and said that she loved my channel, she recognized that I was an up-and-coming voice, and said she wanted to work and collaborate with me. It was the coolest thing."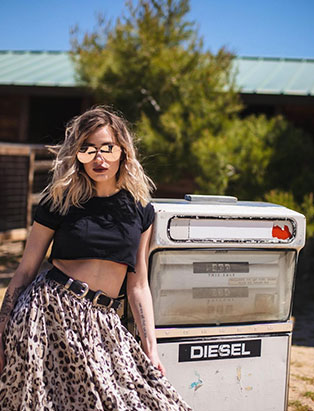 10,000 followers grew to 100,000 and Karissa was becoming a valued voice in Australian fashion and beauty. She never lost track of what had put her in that position; her honesty.
"I remember coming home to Canada for summer and thinking that I had more followers than the population of Salmon Arm! When I hit 100,000 subscribers I was making enough to support myself. That was pretty cool. People are sponsoring me now, but the biggest thing for my channel is that I don't ever work with brands that I wouldn't wear or use myself. I've always been very transparent about when a video is sponsored or when I was given something for free. I'm never going to be the person who's selling something. That's not the intention for my channel. A promotion makes sense when it's organic and it's something I would use. I saw one YouTube guru trying to push a $200 makeup mirror onto her subscribers – who are 13 to 17 years old girls! I would never do that. I work with brands that allow me to have my own vision.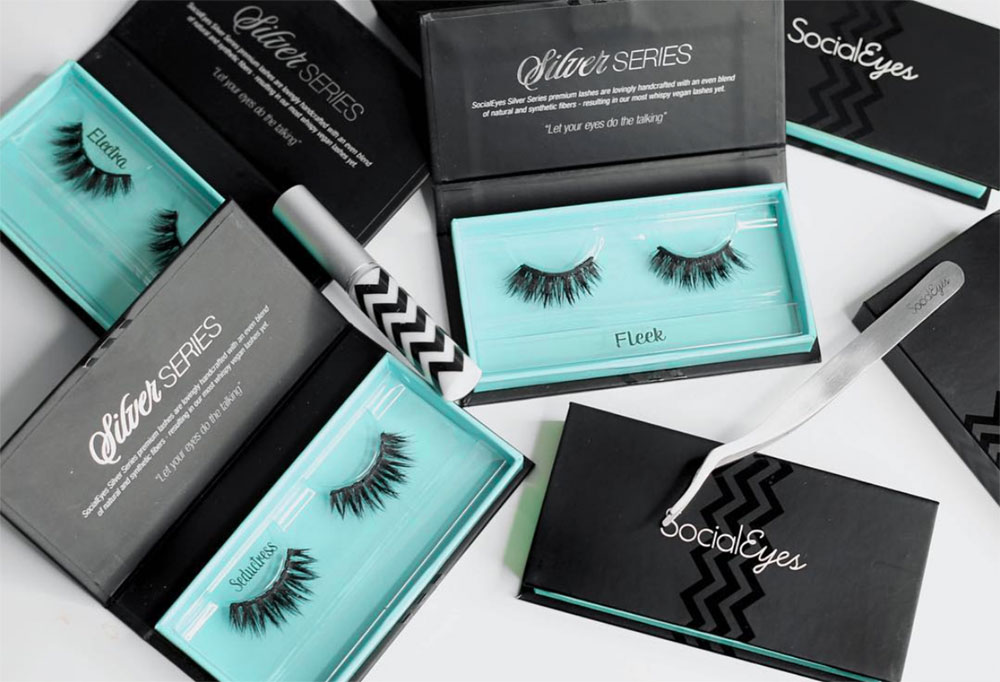 "This is an industry that didn't exist five years ago. I can set the bar on exactly what I want and where I want to take it. I'd like to get more into traditional TV and film – I would love to have a travel show, doing amazing things and eating delicious vegetarian food. I've released SocialEyes, my eyelash line, and it's been so exciting. I have a business partner, my brother, and we've been able to service Australia and the rest of the world at a good price. I've been learning a lot about having a business and servicing demand. There are about 15 different styles, with two more collections planned. I'm so excited!"
---

Blanche Macdonald instilled that excitement about fashion and helped me understand that I could create my own style.

---
The future is guaranteed to be exciting for Karissa. There are 500,000 YouTube subscribers (and another 120,000 Facebook followers) waiting to see what she does next.
"The best part of doing this is getting to meet people. I try to uplift people and hope they do the same in the comments. Some of my best friends I've met through being an on-line personality. I've been in Australia for two and half years, and I'm loving every minute of it! Yes, I'm developing a Canalian [Canadian/Australian] accent!"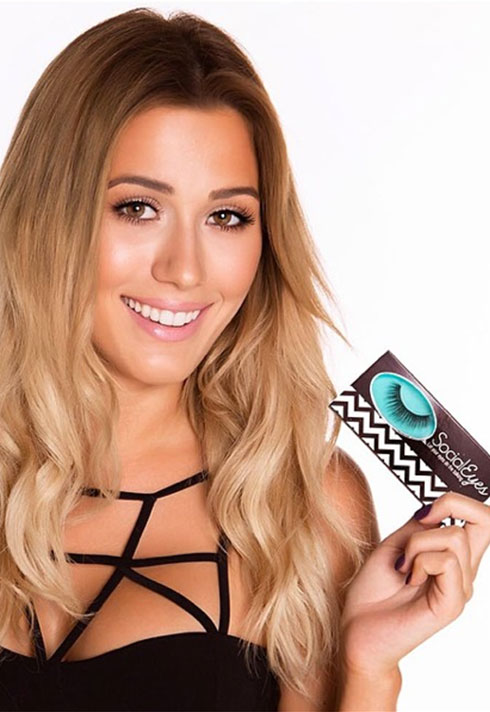 The next generation of YouTubers and vloggers are now turning to Karissa for expert advice. Honest as ever, she's happy to oblige.
"Don't copy other people's style. It's exhausting to pretend to be someone else. People want to watch you, so be yourself, and do videos that you're excited about. Have good lighting, and try to film with the camera a little bit above you. A bit of an angle really helps on makeup videos."