Pivoting from her role as a Dentistry student to a graduate of our Global Esthetics/Medical Esthetics program, Kadija Abdi, is now working in the prestigious role of Customer Relations Specialist for the Dermapure Clinic, one of the top Skincare Clinics in Vancouver.
Dermapure is a Canadian company that owns and operates over 60 skincare clinics that specialize in "aesthetic medicine". The exciting news is that Dermapure has recently partnered with L'Oréal, becoming the first service-related company that L'Oréal has ever invested in.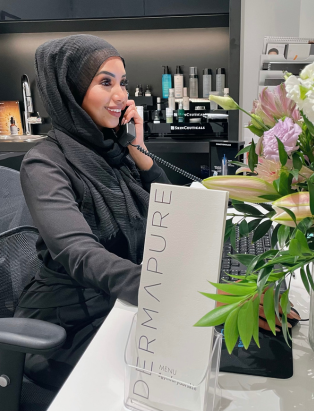 .
What did you do for work before you started at Blanche Macdonald? What was your career before and why did you decide to go back to school?
Kadija: Prior to joining Global Esthetics, I studied dentistry in Europe. I always had a burning desire and love for skincare/ medical aesthetics and never in my wildest dreams did I think it could be a reality for me.
.
What did you think about the program?

Kadija: Absolutely fantastic! The program strikes the perfect balance between theory and practical. The attention to detail in each module is outstanding, and the instructors are incredibly knowledgeable. The instructor goes above and beyond, always available and invested in their students' success. I have immense love and respect for the team at Blanche Macdonald Centre. Even as a post-graduate, the bond remains strong, and I feel like part of the Blanche family.
.
What is your current position at Dermapure Clinic, what do you love about your job in Medical Esthetics?
Kadija: Currently, my role at Dermapure Vancouver is customer relation specialist. To say that I love my job is an understatement. Being the first point of contact for patients is incredibly rewarding. From booking consultations and treatments to organizing events and training, it's a hands-on experience in running a medical aesthetic clinic. Working with top aesthetic doctors humbles me, and I get to learn and grow daily in this ever-evolving industry. It's simply amazing!