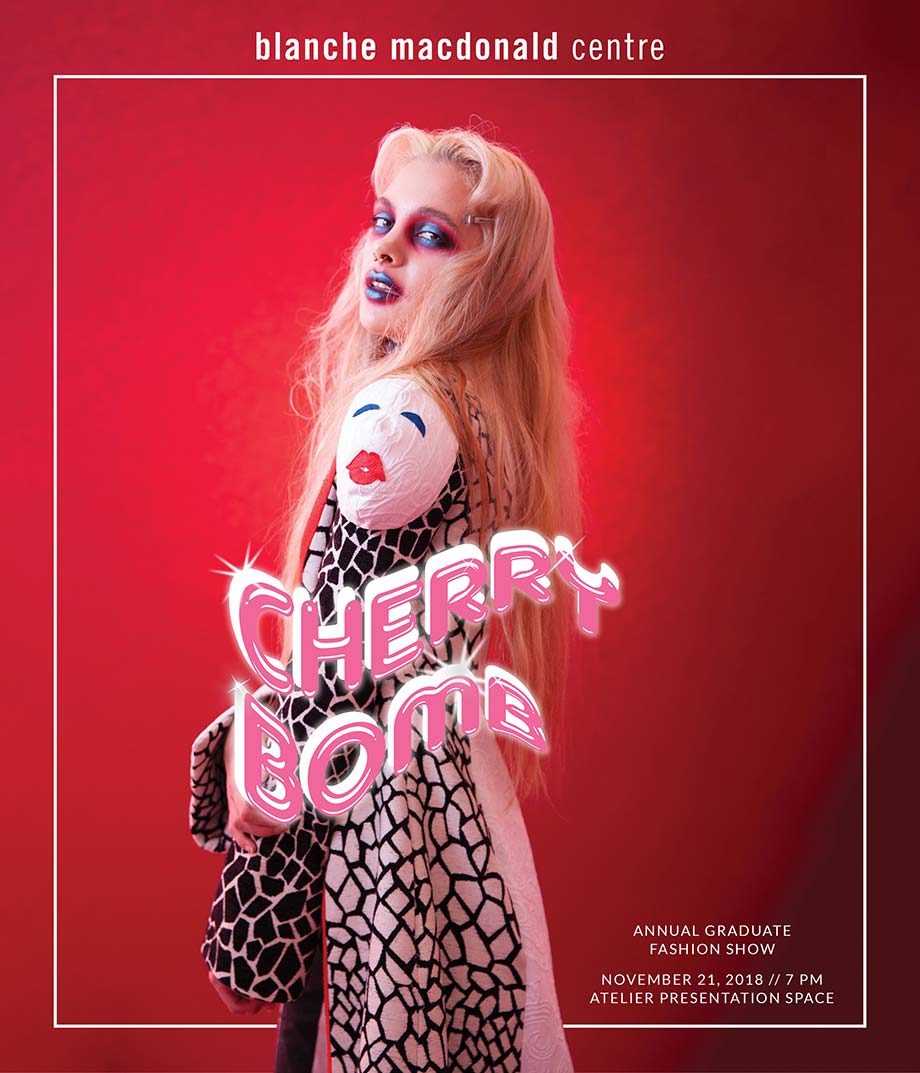 Over the course of two unforgettable November nights, Vancouver's fashion elite witnessed an explosion of new design brilliance at Cherry Bomb, the 2018 Blanche Macdonald Fashion Design Graduate Show.
The fruits of the graduates' labours were on display at Blanche Macdonald's Atelier Campus as a pair of invite-only audiences gathered to experience debut collections from some of Canada's brightest young design talents.
"This group, more than any I've worked with here, has a deep understanding of contemporary fashion," explained Executive Director of the Fashion Design Program, Tyler Udall. "Their baseline fashion dictionary was richer than many past groups, so I was able to push them significantly harder. They certainly rose to the challenge."
Cherry Bomb was a myriad of cool, chic collections full of cutting-edge modernity.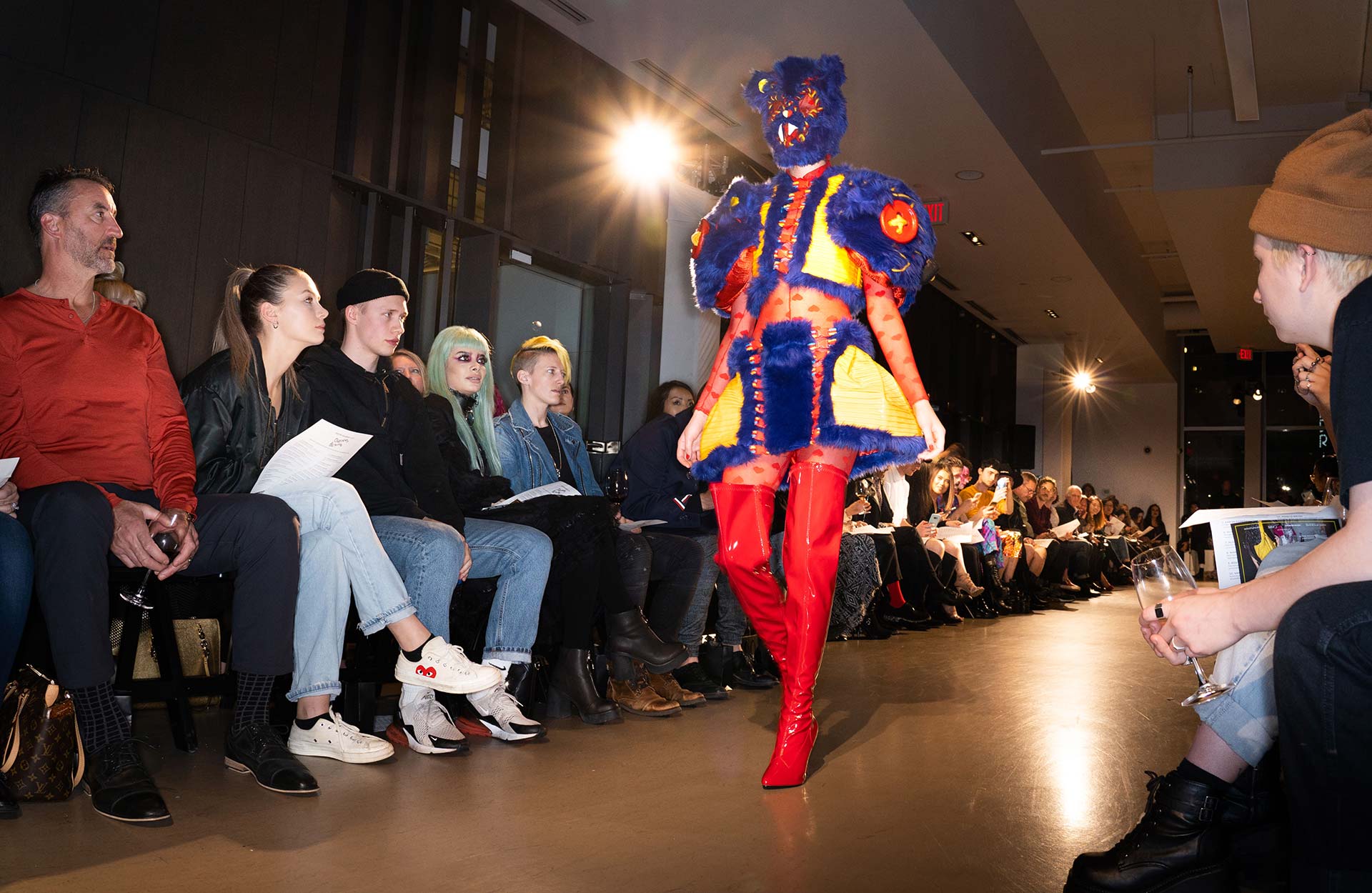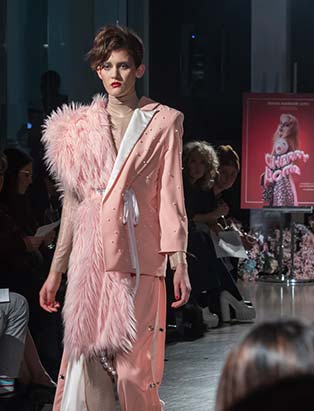 "This group loved to riff off of contemporary fashion," continued Tyler. "The designs seemed to have a more upbeat character than previous years. When we did the Show's photo shoot last month with KT Auleta, we decided to shoot half of it on a cherry red, backlit backdrop and I was very pleased with the end result. I'd been listening to a lot of 70's rock building up to the show. Sara Armstrong and I both thought that 'Cherry Bomb,' reverently borrowed from Joan Jett and The Runaways, would be a fun name for the show."
The chic collections were perfectly at home in Atelier's ultramodern architectural space, aided and abetted by backstage styling, makeup and hair teams led by Blanche Macdonald's own creative masterminds.
"Atelier is hands down my favourite show venue," Tyler admitted. "It's such a sleek and modern space. Its capacity is smaller so the show feels more intimate, buzzy and alive. I like fashion shows where you can feel the electricity reverberating."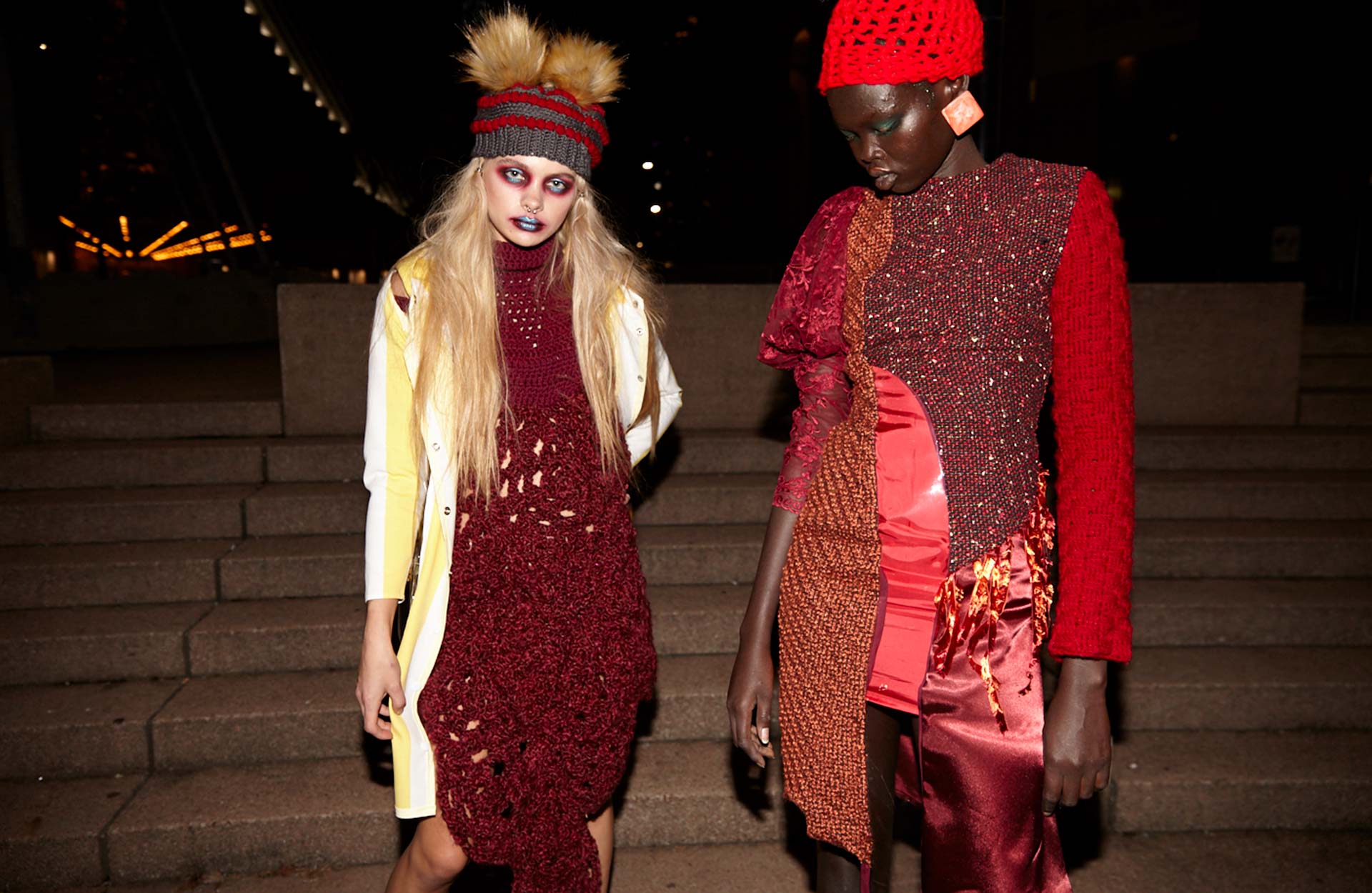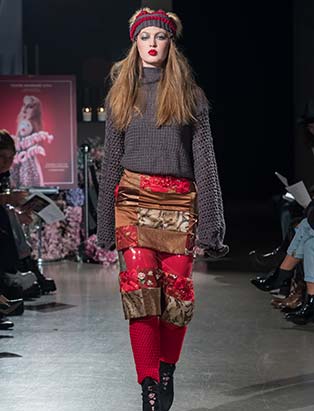 Among the 29 graduates enjoying electric nights of triumph, Savana Sheardown had more to celebrate than most. Having come to Design School from the tiny Okanagan town of Lumby, even though Savana excelled during her year at Blanche Macdonald, she was as shocked as anyone to be named as the winner of the awards for both Textile Design and Overall Achievement.
"When Tyler said my name I thought, no way!" she laughed. "My family were at the Show and I know they were really proud."
The small town girl was destined to become part of the fashion world, even before she'd moved to the big city.
"I always loved sewing," she continued. "I would make clothes for my Barbies and teddy bears. Once I saw the Fashion Design program at Blanche Macdonald I was like, that's it, I'm coming."
Enthusiasm, talent, effort, openness to feedback – Savana had it all, proving that creative success is driven by perspiration as much as inspiration.
"The program was harder than I expected," she admitted. "Once I figured out pattern making and garment construction it was amazing. I could email instructors on weekends and they'd write right back.
"Making my first pattern for this collection was huge. My illustrations aren't perfect, but I could envision the ideas in my head and knew it would be different once it was sewn. With every design you have to take it from a sketch to a real garment. It was hard but in the end everything worked out.
"My inspiration for this collection was all things harvest; the leaves beginning to change and the feeling of the cool crisp air. There was a bit of trial and error with getting pressed flowers into my raincoat. It's tricky figuring out how to glue flowers into see-through panels!
"The show was crazy. When the models came out it was like, whoa, I did that! It's made me inspired to do more."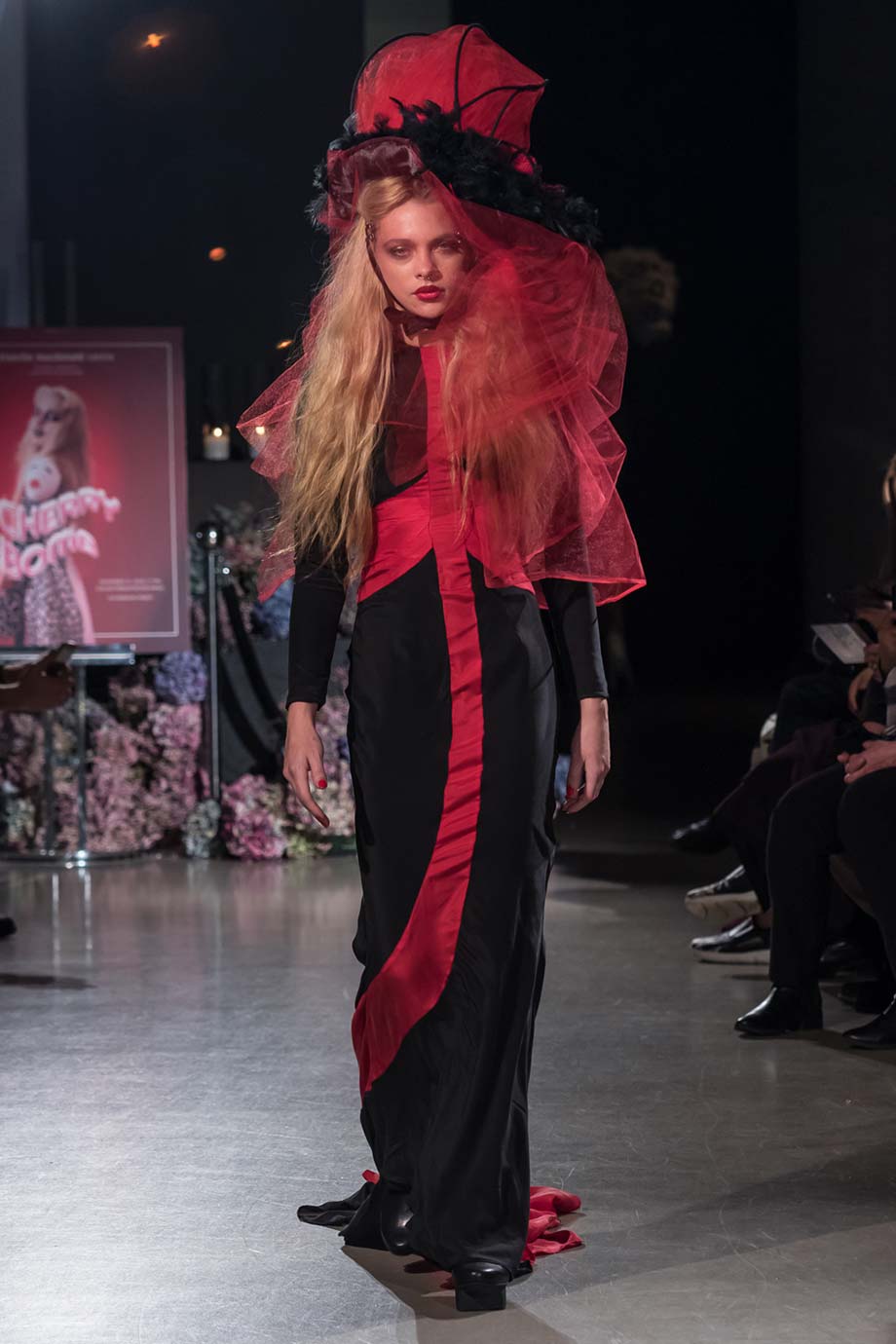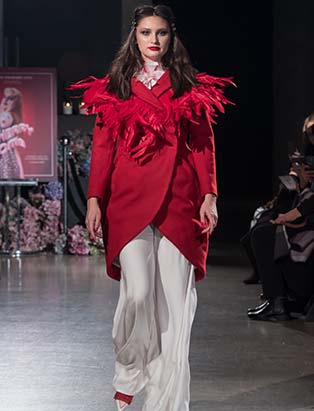 Winnipeg's Nicole Joyce had travelled even further to join the Fashion Design Program. Walking away from Cherry Bomb with the Award for Academic Achievement made it all worthwhile.
"The shows were incredible!" she beamed. "Seeing my garments on a model; it's a part of you but separate at the same time. The environment and energy – with the music, the lights, the crowd – made me feel proud and excited to keep making things."
Nicole's journey took a leap of faith as well as a flight from Manitoba.
"I had a business degree and a cubicle job that I couldn't stand," she explained. "I discovered sewing in my spare time and couldn't get enough. I rabidly searched about how I could pursue this. I wanted to spend my time fulfilling my creative drive and making things with my hands, not working in a cubicle. I found Blanche and it seemed like a perfect fit."
With that kind of passion, Nicole fitted into the program perfectly.
"The work was all consuming but definitely worth it. When we were learning about fashion history with Donna Baldock it was so inspiring to see how elements and shapes are reused, and how you can create anything! The teachers encouraged me to pursue the images in my head. All the courses brought me to create this collection.
"I love birds – their shapes, mannerisms and how they communicate with each other. I was exploring ideas about birds, women, body shape, freedom and constraint. The team here helped me push past my first ideas. From the critiques and conversations I had they pushed me to take the ideas further and evolve into finished garments."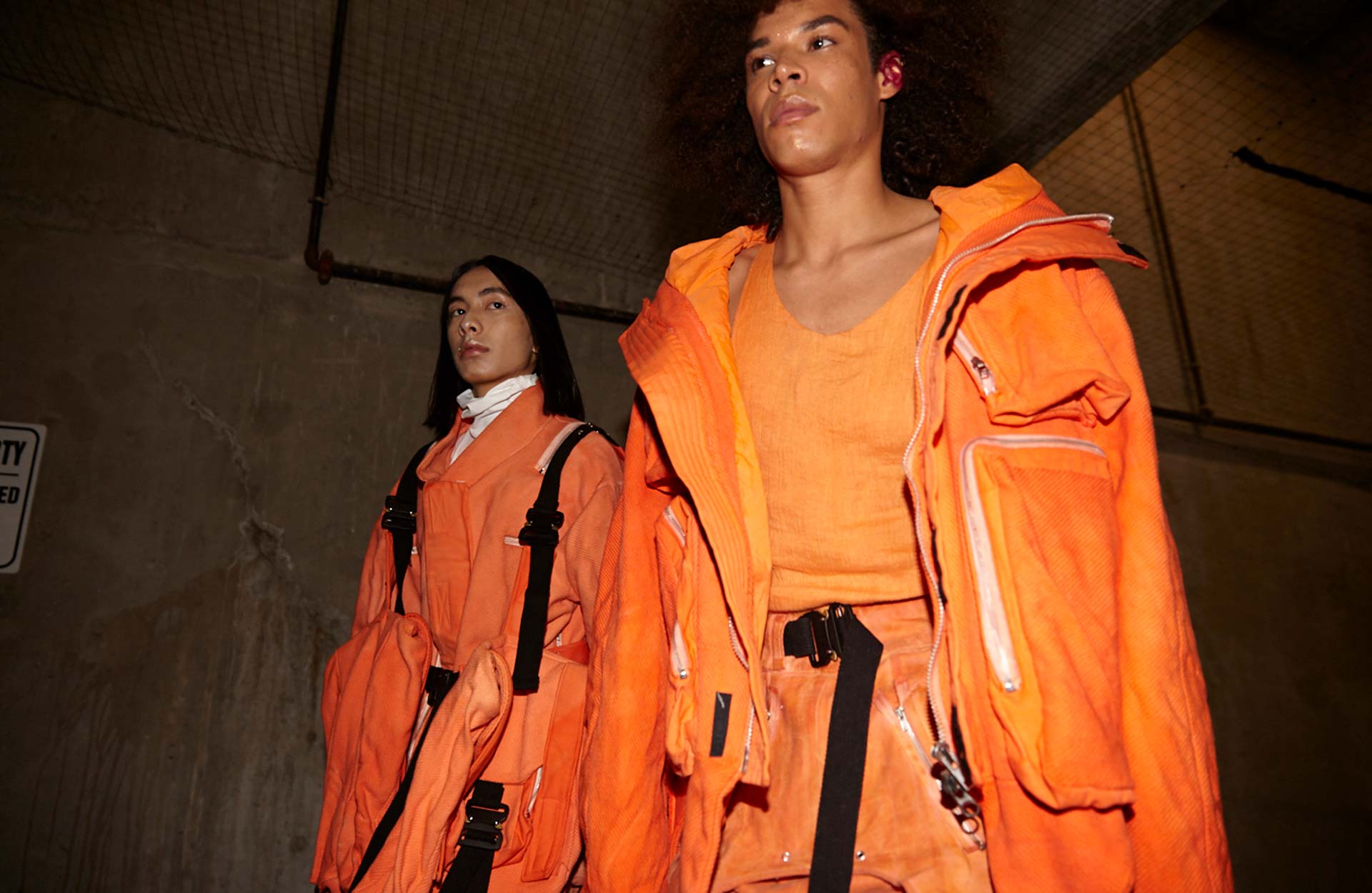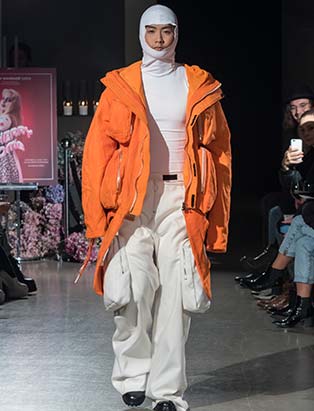 Aaron Pharness was halfway through a Fashion Design program at another Fashion School when he realized that he needed a change.
"It wasn't working out for me," he admitted. "I'd heard a lot of good reviews about Blanche Macdonald so I took a chance, left that school and came here. I knew I'd made the right decision immediately. Blanche was a lot more intimate. There's more of a family feel here. The designer comes first. Our teacher, Sara Armstrong, is in a design position herself. We could all see her working hard on her own."
That inspiration led to an impressive menswear debut collection and a pair of awards for Portfolio Presentation and Patternmaking.
"I'm really into sci-fi, so movies like On The Silver Globe, Blade Runner and Beyond The Black Rainbow were big influences. I took a lot of inspiration from some of my favourite designers' early collections. The colour orange came to me from Rick Owens and Helmut Lang. I thought that was really cool and that I could use that in a uniform sense to create a style running throughout the collection.
"Lisa Gellert, our Illustration and Portfolio Instructor, helped me so much. I thought I was good at illustration but then realized I had a lot of work to do. She helped me keep my confidence while understanding the progression that I needed. She told me to go home and draw every night. That's what I did."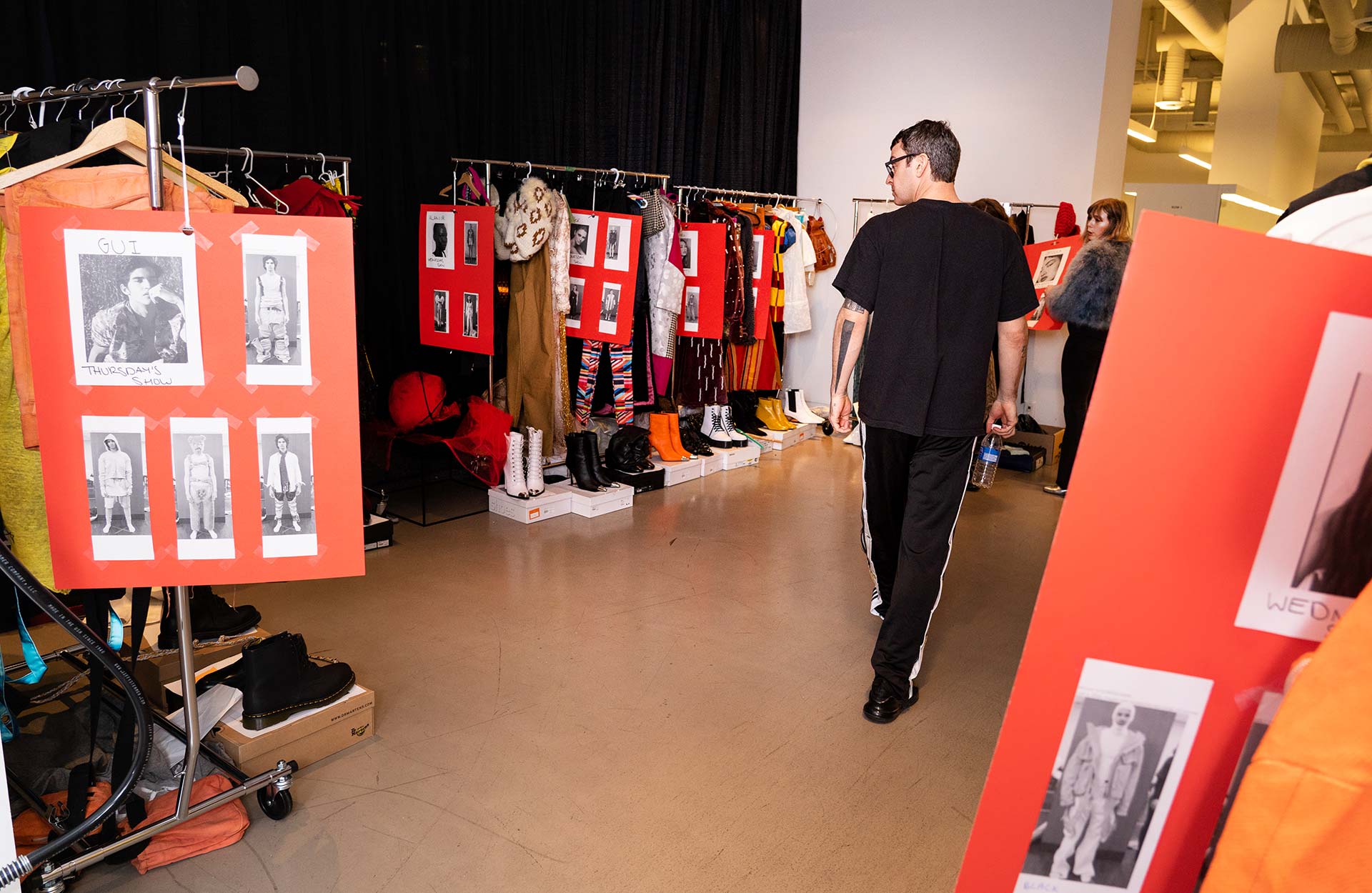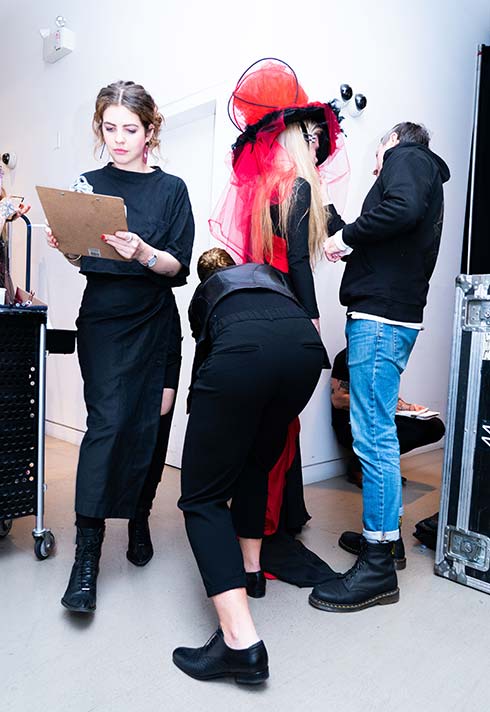 The graduates' hard work was a reflection of the standard set by Blanche Macdonald's passionate and ever-professional faculty.
"Sara Armstrong, our Pattern Making and Garment Construction Instructor, is a warrior!" continued Tyler. "I can't describe how passionate, earnest, organized and dedicated she is. We're lucky to have her. Our TAs – Lukas Daase, Aman Sandhu and Hannah Ericksson – are incredible. They're key members of our team and are growing into such strong, organized and talented designers.
"Jon Hennessey is a makeup visionary and he steers a tight ship. I have so much respect for him. Serendipitously we both came to the table with one strong reference we both felt passionately about. Thinking about the iconic Robert Palmer 'Addicted To Love' video makeup, we wanted to know what a modern take on that would be. That ended up being the look for Cherry Bomb.
"For the hair, I'd been looking at Joseph Szabo images of 70's teenagers. Lisa Callender was the usual dream to work with. She always adds her own special twist on things, which I love. Lisa brings so much positivity, enthusiasm and a genuine joy backstage, and her team mirror that leadership."
Putting on an elite graduate Fashion Show takes a coordinated effort from stylists, and makeup and hair artists to ensure every garment and model enters the runway looking perfect. It's also a wonderful opportunity to give Blanche Macdonald hair and makeup students their first taste of backstage professionalism.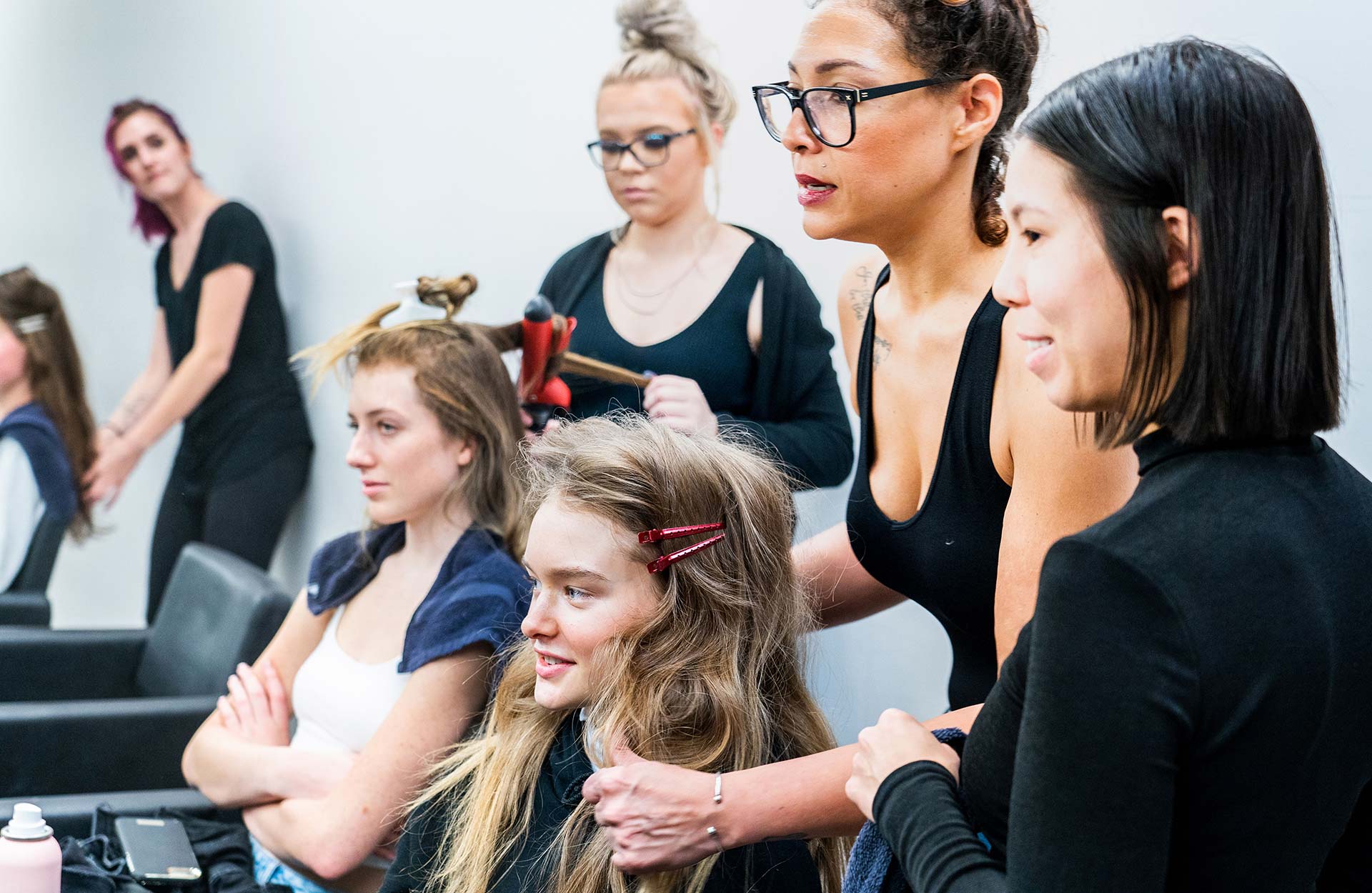 "I had a team of four current Pro Hair students for 23 models," explained Key Hair Stylist and Instructor Lisa Callender. "None of them have graduated but they all get it. I'd seen some of them work and I knew their work ethic. They're a good bunch.
"The inspiration for the male models was Edward Scissorhands. I knew I wanted that messy dishevelled look. For the women I wanted a Blondie 'Heart of Glass' look – like they were coming out of Studio 54 at the end of the night. As a teacher I like encouraging students to go back and look at imagery. If you're only looking at what's new you won't get inspiration from what's come before. If you want to do event work like this you need to know these references.
"I love seeing the collections and the students' creativity. Two shows means double the fun!"
"We had five artists working here tonight, all Blanche Macdonald graduates," explained Key Makeup Artist, graduate and Instructor Jon Hennessey. "I don't get to do that many runway shows in Vancouver these days, so when I do it's great to have a stacked team. With this type of makeup I want the best artists."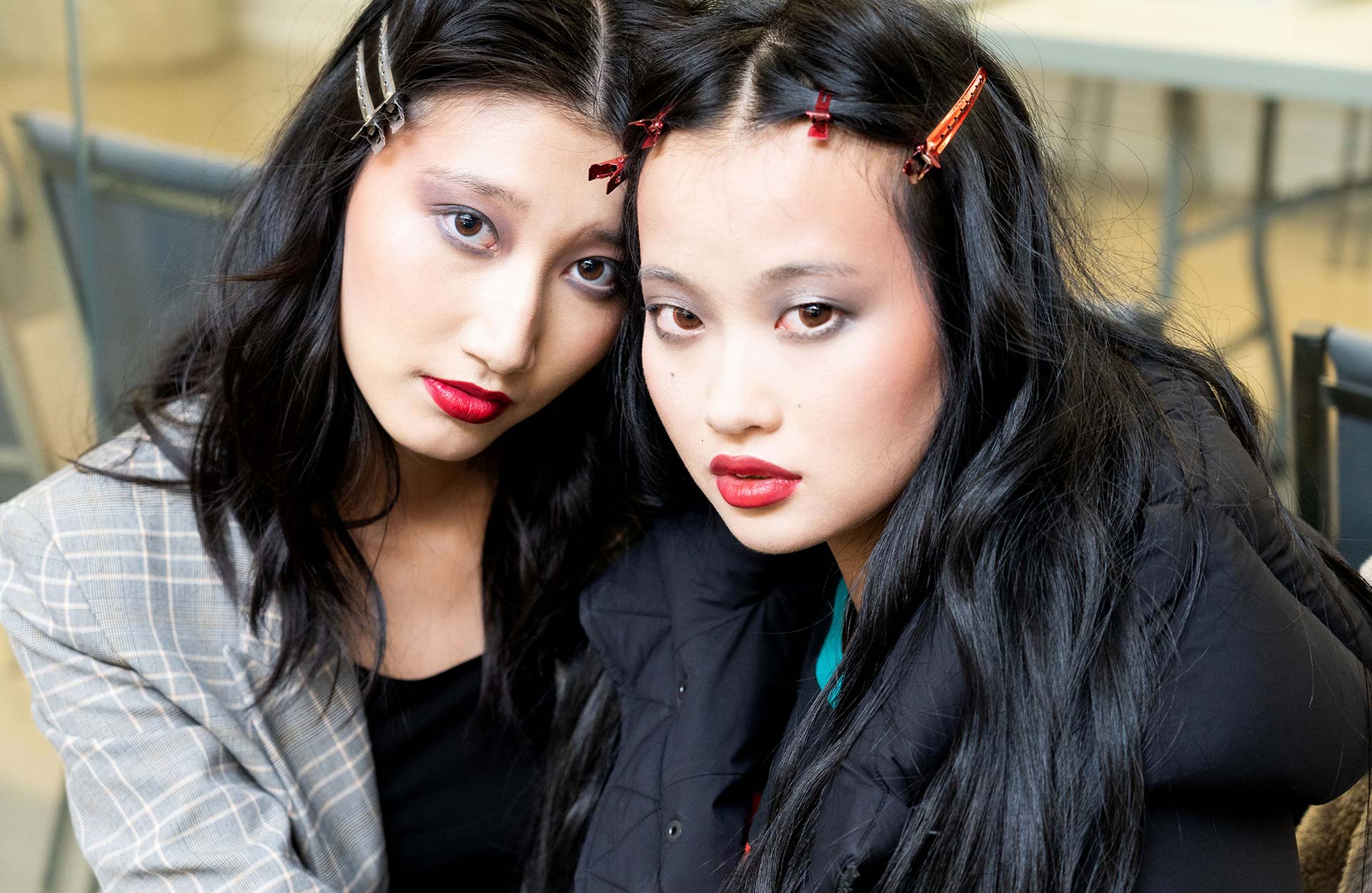 Understanding that the Blanche Macdonald Fashion Design Show is a group of collections rather than a singular vision gave Jon the challenge of creating a look that needed to be versatile yet still bold.
"When I started working on these shows, it was about keeping it simple. Now I want a full-face makeup. Tyler and I batted around ideas. At one point he asked, what do you think of a modern update on the 'Addicted To Love' look? I laughed because screenshots from that video were the next images I was going to show him. Year after year we end up vibing on similar things."
Along with this year's incredible designers the success of Cherry Bomb was a tribute to the hard work of the staff and students at Blanche Macdonald, with special mention due to the inspirational leadership of President Lily Lim, the endless efforts of Executive Director, Fashion Design Tyler Udall, Design Instructor Sara Armstrong, and Career Director, Fashion Department Mel Watts. Huge thanks must also go to Co-Executive Program Directors Peggy Morrison and Donna Baldock, Fashion Department Instructors Lisa Gellert, Matthew Burditt, Lyndi Barrett, Carlie Wong, and Wanda Sustersich, Teaching Assistants Lukas Daase, Aman Sandhu and Hannah Ericksson, Creative Director Liz Dungate, Associate Marketing Director Natasha Eng, Graphic Design Director Morgan Mallett, Social Media and Marketing Coordinator Jacky Le, Director of CurliQue Retail Operations Gina Hansen, Operations Director Peter Leung, and Social Media and Creative Content Coordinators Kendahl Jung and Mohamed Ibrahim Ali.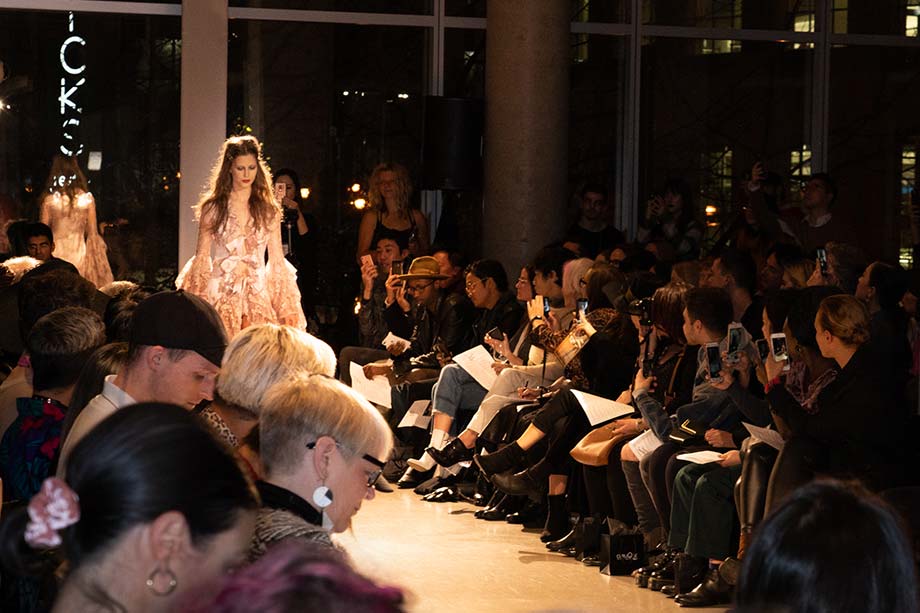 Infinite gratitude too, must be given to the backstage team, led by Tyler Udall, Sara Armstrong, stylist Lacey-June Berry and a team of volunteers from the Fashion Design and Fashion Marketing programs. While Key Makeup Artist Jon Hennessey, Key Hair Stylist Lisa Callender and a team of volunteer grads and students ensured the models looked as spectacular as the collections. Huge thanks also to our fabulous emcee Jaylene Tyme and DJ Hana Pesut (Sincerely Hana) for providing an amazing soundtrack to the night.
The entire team at Blanche Macdonald would also like to extend its sincerest gratitude to our corporate sponsors, gravitypope, Kevin Murphy, Make Up For Ever and Oribe, along with huge thanks to our colleagues at CurliQue Beauty for putting our guests' goody-bags together.
Award Winners
Overall Achievement: Savana Sheardown
Academic Achievement: Nicole Joyce
Portfolio: Aaron Pharness
Illustration: Alice Colojacomo, Elham Mirhosseini (tie). Honourable mention: Vanessa Romman
Pattern-Making: Aaron Pharness. Honourable mention: Austin Playfair
Garment Construction: Bebeth Cohen. Honourable mention: Vanessa Romman
Textile Design: Savana Sheardown
Accessory Design: Marco Bruni