"I was 27 when I moved from Iran to Canada with my husband," explains Azita Abbaspour. "My English wasn't good and I was so shy. For two years I wouldn't get on a bus because I was afraid someone would talk to me."
Azita insists that she's still shy, but she lets her work do the talking these days. As a busy Film and TV Makeup Artist she's been a major part of the team on shows including Riverdale and Turner and Hooch, movies like Blackway, Scorched Earth, Love in Store, Violentia and Sailing into Love, and day called on a long list of hits filmed in and around Vancouver.
Azita's artistry was always there. She'd spent six years working as a Makeup Artist in Iran's TV and film community before moving to Vancouver, but transferring that experience to Hollywood North was merely a dream before she began the Makeup Program at Blanche Macdonald.
"At English School they asked us what we wanted to be. I said Makeup Artist. We were living in North Vancouver and I would see movie trucks all the time. I would tell my husband that if I could see what was going on inside those trucks for just one day that would be enough for me. He knew that was my goal and told me that I shouldn't settle for anything else."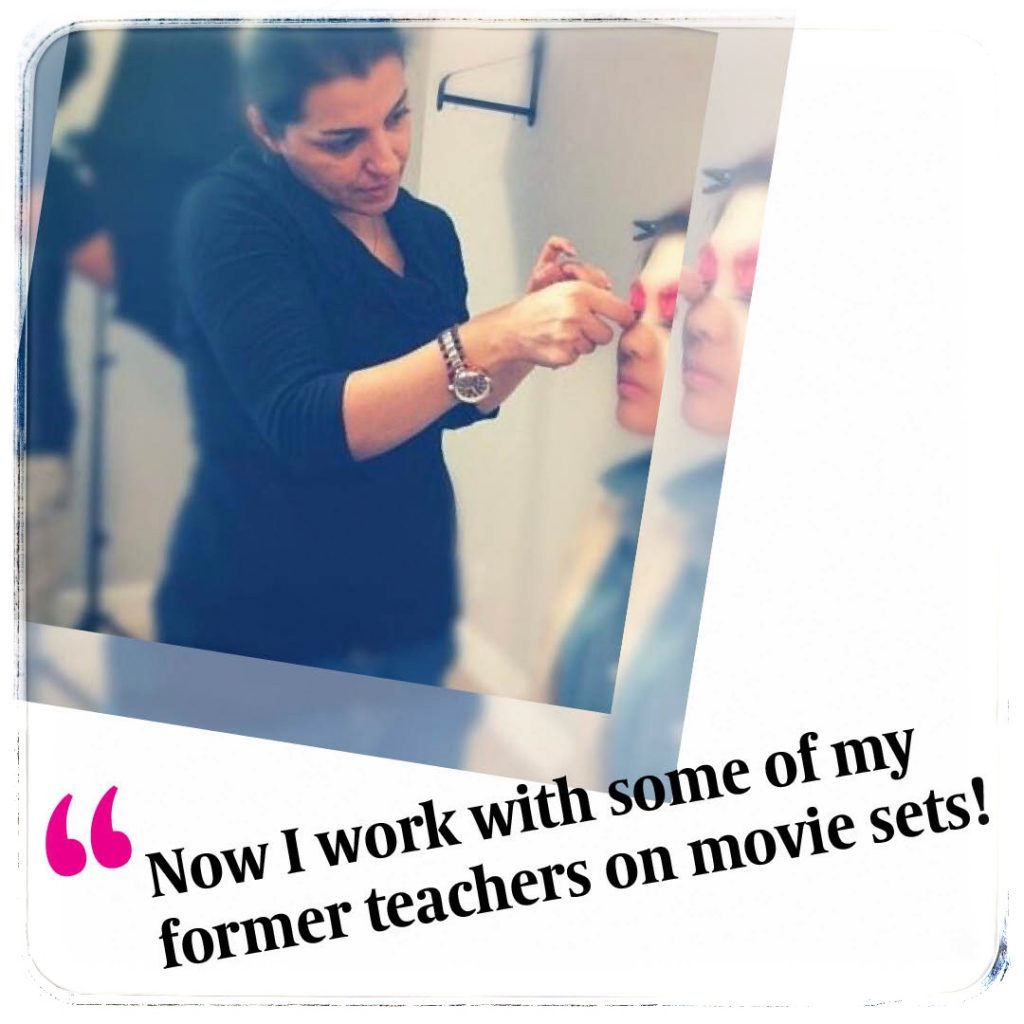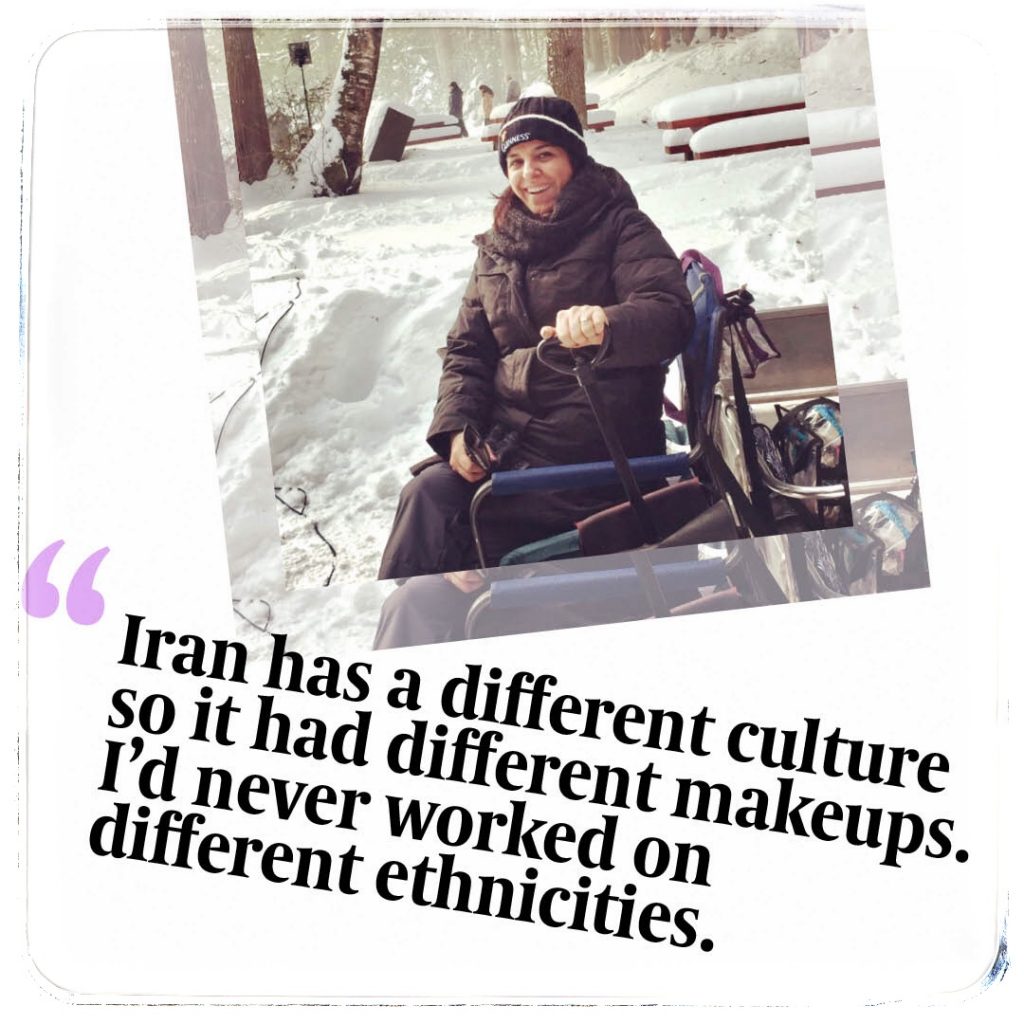 "When I came to Blanche I wanted to learn about Western Makeup, the latest products and the looks from different decades. Iran has a different culture so it had different makeups. I'd never worked on different ethnicities. Everyone in Iran has a similar skin tone! In Iran male Makeup Artists work on men and female Makeup Artists work on women. So I never had the opportunity to do male grooming before I came to Blanche. I still remember the first time I shaved an actor's face! That was stressful, but it isn't any more!"
Confident in her abilities if not her English, Azita admits that Makeup School was emotionally challenging until she made a connection with Instructor CJ Wills.
"In our Makeup Fundamentals classes we learned about bone structures and the layers of the skin. This was like a biology class for me. It was hard for me to even pronounce the words! CJ kept telling me that I was good and that she could tell that I understood what she was teaching. She helped me through the entire program. It's been 11 years since I graduated and we're still in touch."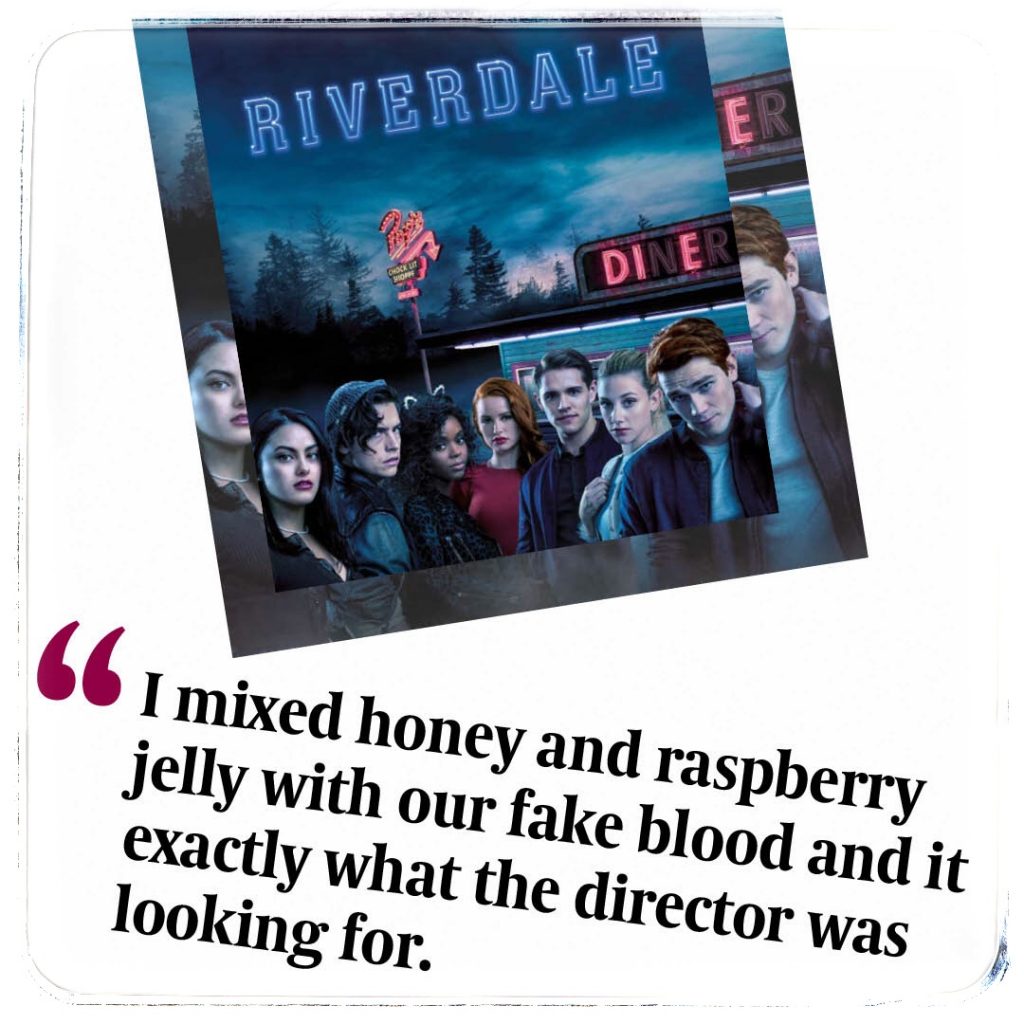 "Because I kept looking in the mirror when I was doing my makeups in class CJ pulled me aside and asked if I'd done makeup before. She could tell, even though I'd not told anyone I'd worked on movies in Iran. I wanted to learn from the beginning and make connections. I made good friends and learned from talented teachers. Now I work with some of those teachers on movie sets!"
---

I made good friends and learned from talented teachers.

---
As Azita's English improved and her confidence grew, opportunities began arriving.
"I didn't know anyone in the industry. I had no connections. Heather Sosa and Jen Brown at Blanche created opportunities for us to volunteer on makeup counters. I learned about so many different makeup products. Jen and Heather put me in contact with students and I started doing some indie films. That's how I built my connections. Never say no to small opportunities!"
Word soon spread of the arrival of a new Makeup Artist with the skills and professionalism to join any top department.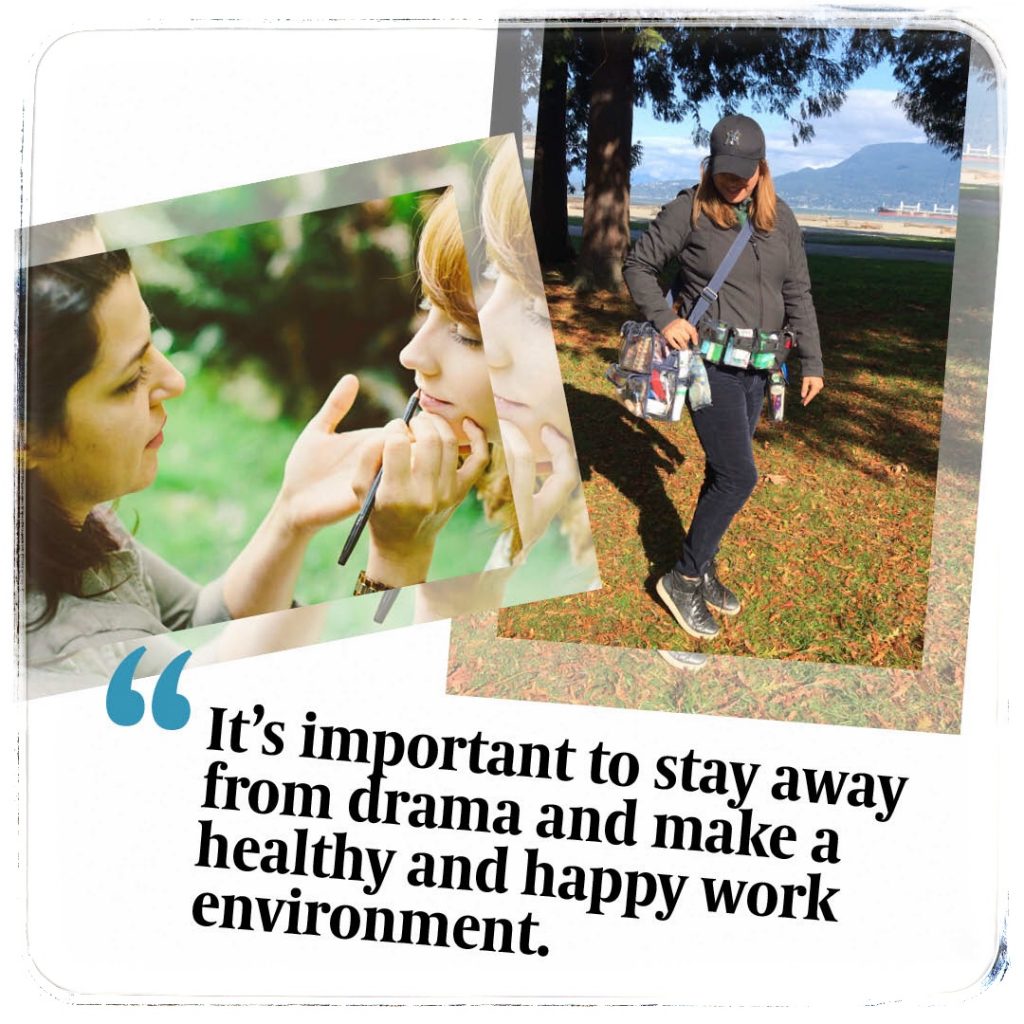 "My first big show was Continuum. I did a day call on a Friday. At the end of the day they asked, 'Are you available on Monday?' Yes! Nine years later I'm working with that same Head of Department, Jennifer Kipps, on Turner and Hooch. We formed a friendship and are still working together.
"Jennifer took me to another movie, Blackway. On that set I had the chance to work with an amazing cast and crew, including the legendary Antony Hopkins. It's still hard to believe I was part of that team."
---

Jen and Heather put me in contact with students and I started doing some indie films. That's how I built my connections.

---
"Soon after that I received an email from Erin McKenzie, the Head of Department of Riverdale, asking about my availability. Someone had passed my name to her. I was on the Makeup there for the first two seasons. It was a great show to work on!"
Off set Azita is making ripples with Monazi Bags, her own line of carryalls designed and built for Makeup professionals. That's the one time she operates solo. Because, whether she's working on a student film or forthcoming Disney+ series Turner and Hooch, Azita's understanding her role as a team player is the secret to her success.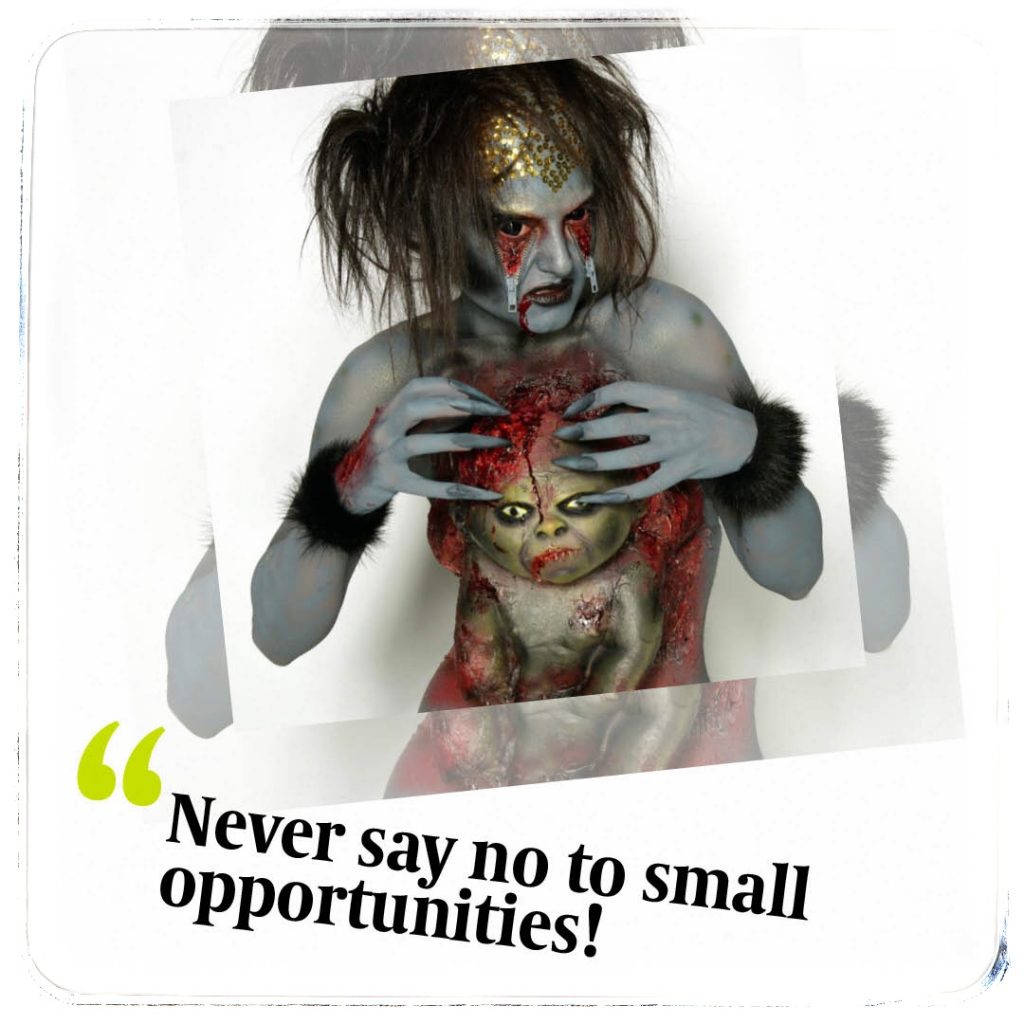 "I try to save everyone from drama. I'm a hard worker and try to do what's good for the team. It's not about our position or who appears where on the call sheet. We're helping each other create a show together and we're working long hours, so it's important to stay away from drama and make a healthy and happy work environment. Every day on set something different is happening and I'll do what needs to be done."
Azita is the essence of a team player, but her bursts of creative magic are what's turning her a Makeup Superstar.
"On Riverdale two of us had to do a scene where blood came from an actor's mouth. The director didn't want runny blood. It needed to look congealed. They were ready to shoot so I asked the actor if he was allergic to any food, ran to the craft services and grabbed some honey and raspberry jelly. I mixed that with our fake blood and was back on set in less than a minute. We put it in his mouth and it was exactly what the director was looking for. I love those moments. The entire crew was waiting for us to come up with a solution and we did it!"
---

We're helping each other create a show together and we're working long hours, so it's important to stay away from drama and make a healthy and happy work environment.

---
"I love that creativity. You can bring ideas to life as the shoot is happening. When ideas like that work we're so happy. The entire Makeup department will be smiling about these moments days later."