From the Met Gala to over 1 million Instagram followers to teaching jam-packed masterclasses around the globe, the mind-boggling creations of illusion makeup artist Mimi Choi are blowing up on the world stage!
---

We only live one life, right? You might find it bizarre that I like to paint weird things on my face and other people's faces to be happy, but that's what it is. It makes me happy so I'm going to continue to do it.

---
Just five years ago, Mimi Choi was making a living as a Montessori preschool teacher. But these days you're more likely to find her name plastered with praise on every major digital publication for her brilliance as an illusion makeup artist.

You may not know it but you've probably already seen—and been in awe of—her work. From the discover page of Instagram (where she's amassed over 1.1 million followers) to the red carpet where she impressed by creating her iconic "kaleidoscopic eyes" on actor Ezra Miller at this year's Met Gala, this Blanche Macdonald Global Makeup graduate's name and artistry has been popping up everywhere.

Her talent for illusions has led to numerous collaborations with incredible brands including MAC, Make Up For Ever and The Food Network. She's partnered with Garnier, wbgames, led masterclasses with Kryolan, and even created an exclusive Illusion by Mimi Choi palette with Mehron. And if that weren't enough, you can also catch Mimi jet-setting around the world teaching masterclasses in exotic locales like Argentina, Spain, Russia, Taiwan, Germany, Mexico, Italy, Brazil, France and Indonesia.

We're honoured to have played a role in Mimi's artistic journey! Here is just a small sample of the recent press coverage Mimi's received.

---

I had no art background. I was very heavily focused on academics when I was young because I was from Macau, close to Hong Kong and the education there is really heavy on sciences and math. Art was not something that I felt like I could pursue so I never really focused on it, but I always had an interest.

---
---

The most important thing for everybody, not just makeup artists, is to step out of your comfort zone. That's one thing that made me grow the most; whenever I feel comfortable in a situation for too long that means I'm not growing.

---
---

To me, Camp means ignoring the traditional definition of 'normal' and discovering what is normal to you. It's about expressing your true self without the fear of judgement. I consider my makeup style Camp because I go beyond the social norm to express my own unique visions.

---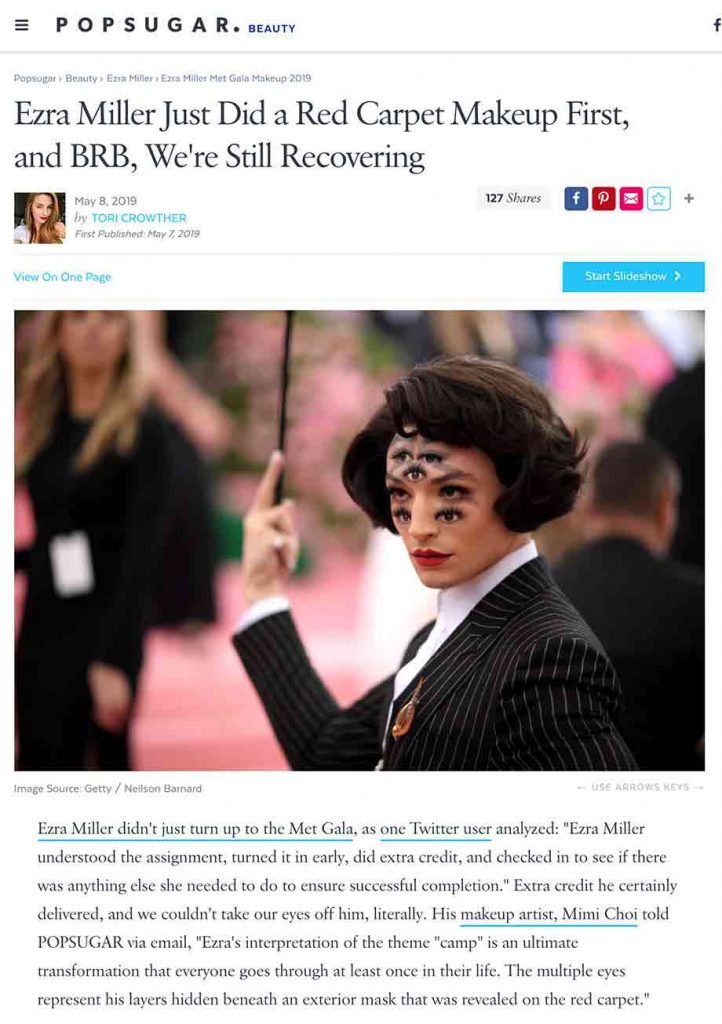 ---

Going to Blanche was great for me because that program made me realize makeup is so much more than beauty. What made me realize that I was really into illusion makeup was the special effects and prosthetic classes. I was able to create characters through makeup.

---
---

Instagram has been a huge help to me to share my art. I always encourage students to just take photos of your progress and utilize Instagram. When you click on somebody's layout, you can see all the visual work that they do, so I think it's the perfect platform for artists to showcase their work.

---
Read article on Harper's Bazaar.
---

I pretty much mixed 20 different tones of yellow, brown, taupe, grey, beige and red to make Ezra's eye white. A lot of people just use white.

---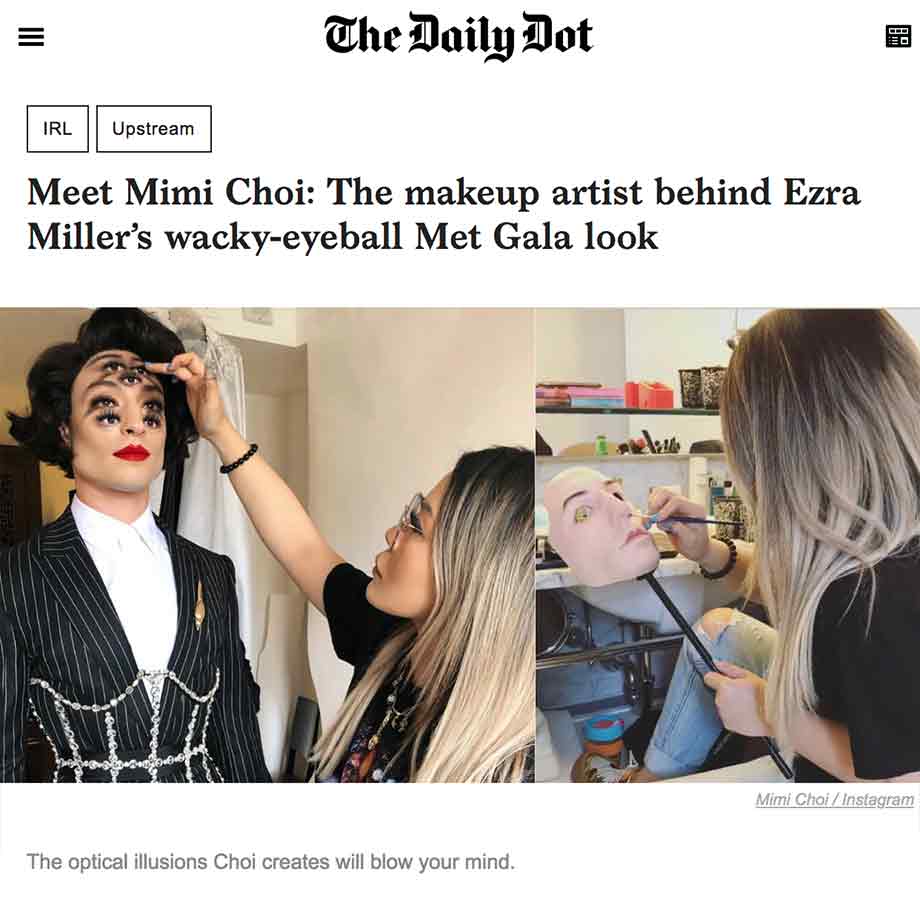 ---

It's really important to have a good attitude, because a lot of people have skills and talents and everything, but not a lot of people are pleasant to work with. So to stand out, to be visible, to have a place in this industry, it's important to have a good personality. To have grace, to be able to know how to work well with a team, to communicate well and be punctual and professional. I think that's really, really, important.

---
Read article on The Daily Hive
---

Multiple eyes is something that I created in 2014 and it's one of my first looks that went viral. To be able to create that look on Ezra and to present it on a larger stage was very meaningful for me.

---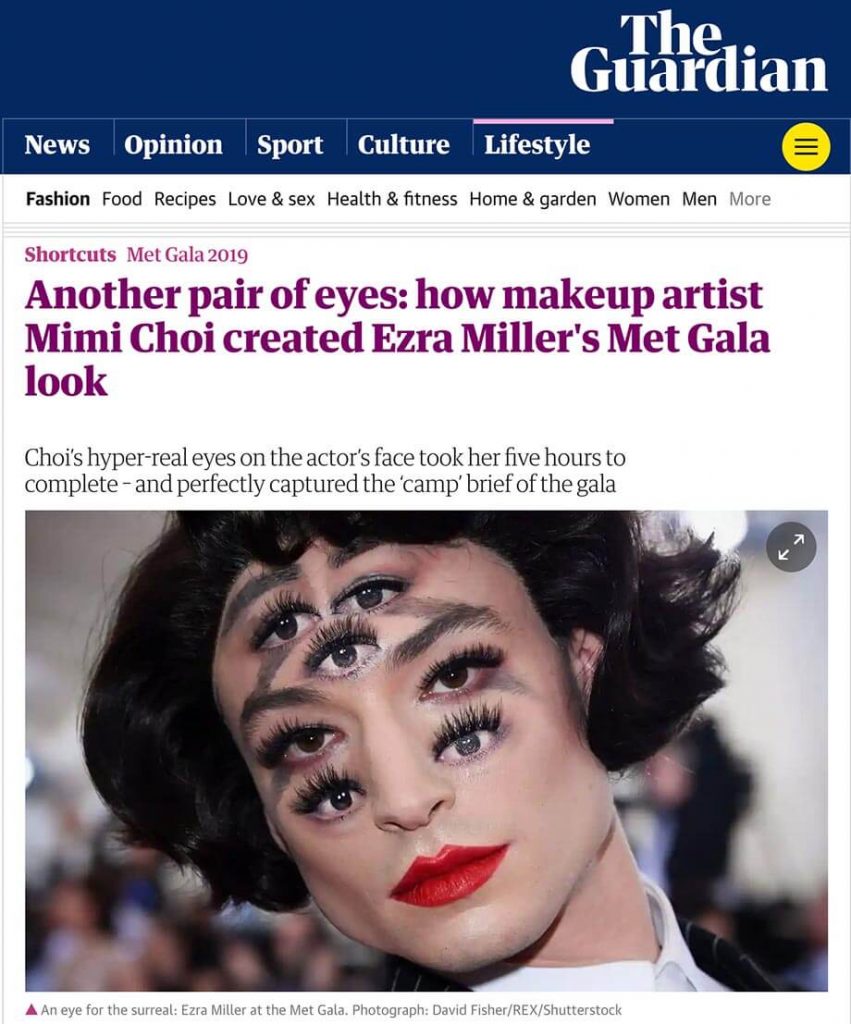 ---

My major concern was making sure that makeup lasted, so I used a lot of stable products and I set it really well with Green Marble before and after, as a sealer and a primer, and then used the sealer three times after. The makeup actually lasted more than 24 hours.

---
---

It is much more rewarding to discover your own unique style than to fade into what is trendy at the moment. Don't adapt to trends, let the world adapt to you.

---