In the midst of one of London's hottest summers in years, Meredith Lacosse sits on her patio looking incredibly cool. Catching up over Skype from the city she's called home for just about two months, Meredith's voice rings with confidence as she talks about life after makeup school in Europe with unabashed honesty, authenticity, and a great sense of humor.
"It's gross hot here right now! Everyone told me London doesn't really have a summer but it's been 35 degrees everyday. I just got back from Paris, where I was shooting with a client from New York. It was nowhere near as hot there so I'm readjusting to the weather. I'm melting here!"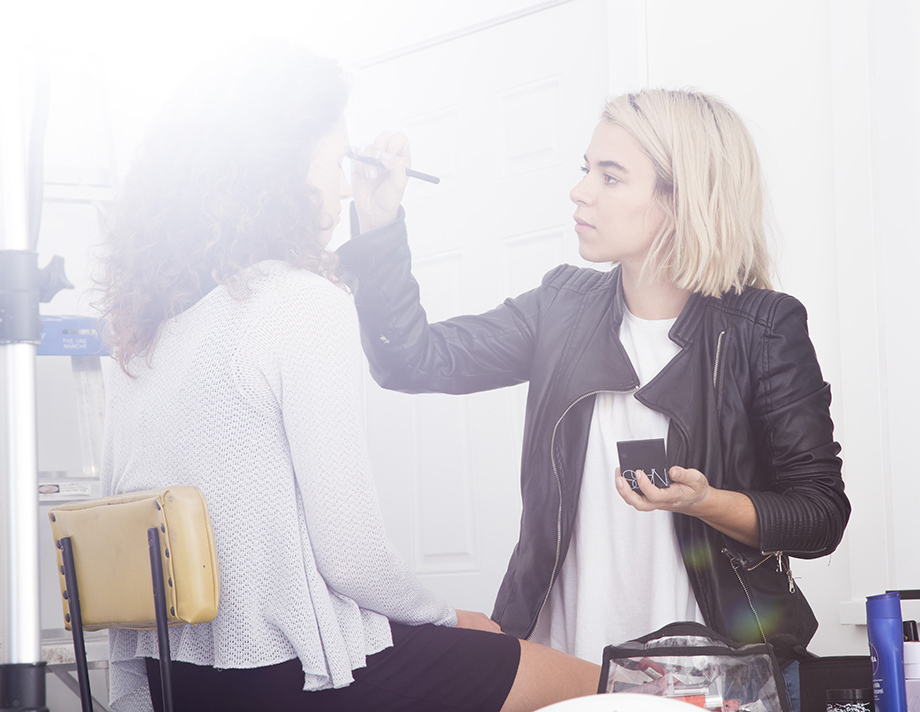 Meredith is an internationally renowned Makeup Artist and Male Groomer, based in London and New York, with an impressive list of clients including Fairmont Hotels, Coca-Cola, Lululemon, Mavi Jeans, Kit + Ace, Herschel Supply Co, MEC, Artizia, Gillette, Facebook, The Coveteur, Nintendo, Cadillac, Volvo, Subaru, Lexus, Toyota, Sport Chek, Chevron, Nicorette, Behr Paint, Jeep, HP, Nike, David Suzuki, and Oceanwise. Though she works almost exclusively on the international scene, the Vancouver homegirl is still repped by Vancouver cool kid agency, Nobasura, owned by fellow Makeup Artist powerhouse and Blanche Macdonald Graduate-turned-Instructor, Jon Hennessey. Who, as it turns out, is a big part of why Meredith's career has reached the heights it has!
---

My instructor Jon Hennessey has been the biggest part of why I've done as well as I have. He's my agent, but he's also my mentor.

---
"Jon was my instructor at Blanche Macdonald and he was so amazing. He was so patient and always had time to help me figure out what I was doing with my makeup. We got along really well and so we kept in touch once I finished the program. Once I had the start of a book, he kept putting me forward for little things with his agency, Nobasura, his artists couldn't do. After a while, we realized we had a good fit and so I signed with them. Jon and his wife, Ana, have been the biggest part of why I've done as well as I have. He's my agent, but he's also my mentor. He's my biggest cheerleader and was actually the first one who pushed me to think about going to New York originally!"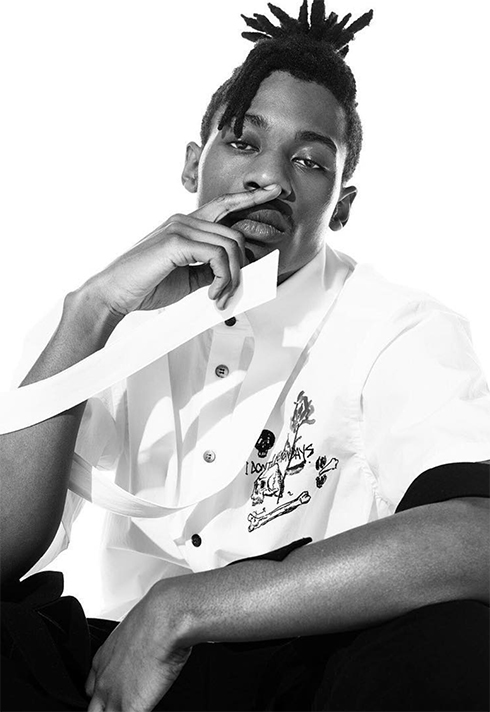 New York may be famous for a lot of reasons but affordability and ease of lifestyle aren't any of them. So what was it like for a Canadian Makeup Artist to transplant into the New York Makeup industry?
"I'd be lying if I said it wasn't hard! I worked exclusively in Vancouver for six years before I went to New York with one of my best clients to shoot. For seven days we ran around the streets of Manhattan, and I just fell in love with it. I started reaching out to people in the industry through social media and email trying to build relationships and a client base. One of my clients in Vancouver is actually based in New York and they were instrumental in helping me go to New York. I started setting up shoots and flying to New York on my own dime to shoot there. Then last year I worked with a lawyer building my book and visa application, and it worked! Being on the ground and willing, no matter what city, always finds you success."
Meredith, however, is an unbelievably talented over-achiever and found herself on the lookout for another international city to call home.
---

There was just this electricity in the air I couldn't ignore. I applied immediately, got accepted, and a week later, I dropped out of university and moved to Vancouver.

---
"I'd come to London a few times this year and I just fell in love with the city, art, and culture. I applied for a Commonwealth Visa that you can apply for until you're 30, and I'm 29 so it was my last chance! Since London is so close to everything, I work all over Europe and it is so exciting!"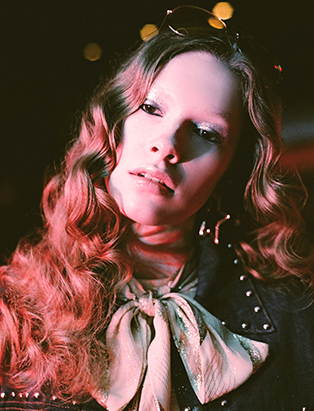 Considering the beauty of her work and the success she has already found, you'd never think that Meredith was destined for anything other than a career in Makeup. And yet, she made it to her third year of university in Manitoba taking a Bachelor's of Psychology and Sociology before she realized she didn't know what the rest of her life was going to look like. After seeing a makeup tutorial on a daytime talk show, she began researching makeup schools all over North America. But when she came to Blanche Macdonald for a tour, it was clear to Meredith that there was something there beyond a center for education.
"Everyone was just so nice. The students were so excited, there were photo shoots happening and people were running everywhere—there was just this electricity in the air I couldn't ignore. I applied immediately, got accepted, and a week later, I dropped out of university and moved to Vancouver."
Once she made the move, Meredith had barely settled into her new life in makeup school when she realized that she had stumbled upon everything she knew was missing from her life in Manitoba.
---

I did demos at Shoppers Drug Mart, student films, photo shoots, music videos—anything I could. They were a huge help in finding me work and helping me build a book and a reputation.

---
"Within the first couple days, I could feel that everything was clicking into place like a puzzle. I loved it instantly! I had CJ for Fundamentals and just the way she laid it all out, and talked about work and Makeup as a whole, it just excited me in a way that never turned off. I'm still as excited now as I was then when I wake up and get to go to work.
"Every module we started I was sure would be my favourite. But then we'd start the next one and I'd fall in love with that one and it would become my favourite. Even Special FX, I'd never considered things like that interesting but I fell in love with everything makeup school covered!"
It's no surprise that Meredith took full advantage of everything our Makeup Program offered, right from day one.
"I was in the Career Offices almost every day! I'm sure Jen and Heather will remember me constantly being there. I wanted to learn as much as possible so for the four days that we weren't in class, I did demos at Shoppers Drug Mart, student films, photo shoots, music videos—anything I could. They were a huge help in finding me work and helping me build a book and a reputation. They were always there to help me or answer questions; Jen and Heather were really some of the most incredible and nicest people I met at makeup school."
Meredith ended up becoming a staple on the Makeup scene in Vancouver, which is where she ended up learning a skill set that would be a huge aid in her career later down the line—male grooming.
"Men's grooming is its own beast. I learned out of necessity when I worked on commercials in Canada because Hair and Makeup Departments aren't divided in unions so you just do what you have to to get the job done. I learned on the job, and day-by-day and it actually ended up taking over as one of my biggest bookings and setting me apart from other Makeup Artists once I started booking in big cities like New York."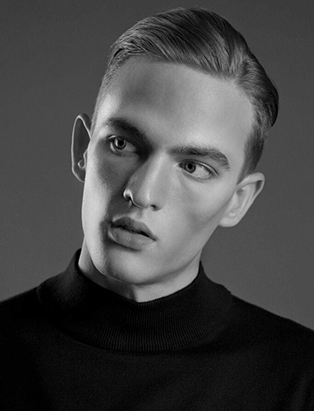 So what differentiates Makeup from Male grooming?
"Skin texture! Covering anything is so much different. Most women spend time on their skin on their own so you mostly need to amplify a feature of theirs and smooth things out. For men, you're moisturizing, tending to ingrown hairs, razor burn, and correcting their skin."
Meredith now spends her days among the streets of New York or buried behind the scenes of major European shoots with globally renowned clients. As you can imagine, it's hard to pick career favourites when every day seems to be better than the last.
---

Show up and do the job. The biggest thing is to stick with it.

---
"I've been really, really lucky in my career. I've put in a lot of hours and free days passing my kit around but it seems to have worked out. I've stumbled into jobs I didn't know that I was even capable of doing! I've done festival circuits, and seen Dead Shack—a feature I worked on—win awards. I've been incredibly blessed to cross paths with the people I have.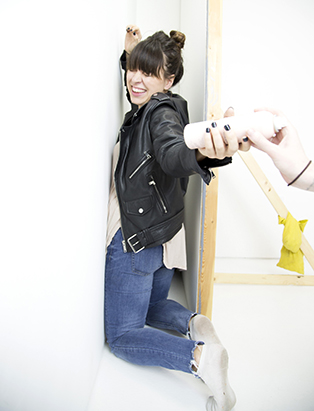 "One of my favourite jobs ever though was with Herschel Supply Co, who incidentally are one of my fav clients. We spent a week in Cuba, shooting in people's homes, in the ocean, in the streets, outside of restaurants—it was mind-blowing. It was also my first time leaving the Lower Mainland with my kit!"
Leaving the Lower Mainland with her kit is no longer a new thing for Meredith. She's travelled across Europe and North America, turning each creative she touches into shimmering works of genius. And as somewhat of an expert on creative scenes, Meredith still has a special place in her heart for the one here in Vancouver.
"The creative teams in Vancouver are so incredible. There's a really huge scene of artistic people doing great things there. I think the only real difference between the teams I work with internationally and the teams I've worked with in Vancouver is access to clothes. Other than that, the only difference is location! I learn so much from the people in Europe and the teams in New York are some of the absolutely nicest people I've ever worked with. But Vancouver will always be my home, especially my family at Nobasura. I hope to work with them forever."
Meredith may still be learning from the international artists she works with on a daily basis, but she's definitely become something of an authority on succeeding in the makeup industry. Receiving more messages than she can count from aspiring artists all over the world asking how they can find success like her, Meredith shares her golden bits of wisdom as widely as she can.
"I always tell people who ask me how to get connected, 'Send the email. Show up and do the job.' If you are nice, go early, stay late, help out in other departments, even! Just do your job and get along with people and things will fall into place. The biggest thing is to stick with it, it's not a quick game. It might feel like you're running uphill sometimes but always, always, always do your best and it'll happen!"