Sally Sue, Sales and Operations Manager at Soluzione Spa Products, has earned the right to talk about chasing dreams. She's running the day-to-day business for the Vancouver-based, Italian-inspired company, managing the Canadian distribution, sales and training for a dozen major spa product lines. It's a position that regularly takes her across North America on training missions. And out of all the various spa jobs available for esthetics graduates, it was exactly the type of position she was aspiring to when she was a student at Canada's #1 Spa School.
"Follow your heart towards what you want to do, not what other people want you to do," she insists. "Start at the bottom and it will grow into something big. Everyone thought I wouldn't be successful. But as long as you keep following your heart and believing in yourself, it will happen."
You'd be forgiven in thinking that Sally's can-do attitude and school-to-success story sound like motivational fiction. But Sally's journey, from being discouraged to enter Esthetics School to a position with Absolute Spa at one of Vancouver's best hotels to her Management role and global travels, is all absolutely true.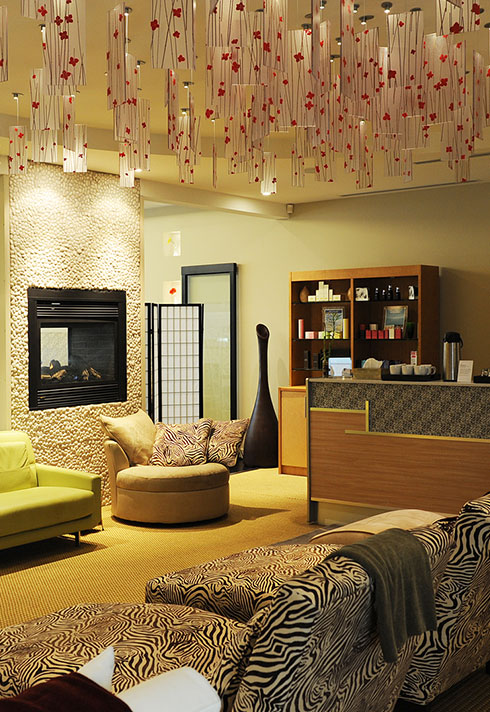 "Growing up in an Asian family they believe in you being a doctor or an accountant. That's not a cliché. In my family it was real! I was studying marketing after high school when I discovered that one of my friends had a girlfriend that was attending Blanche Macdonald and was really enjoying it. I did some research and went there to check it out. Lise Graham showed me around and I fell in love with it. Everyone had huge smiles and open arms, and they told me that I would fit in well at school. My parents thought I shouldn't do it but I had no doubt that I wanted to be a student at Blanche Macdonald. So I dropped out of college and registered."
---

When I had my interview with Absolute Spa I brought all my marks from school with me! They had so much belief in Blanche Macdonald that I didn't even have to do a practical.

---
Once Sally arrived at Esthetics School her high expectations were soon exceeded.
"When I love something I put my whole heart into it, so I knew I'd do well. The instructors made studying such a joy. I strived for perfection on all my exams. Everything was so welcoming and everyone made learning so pleasurable. I hated biology at high school but I studied anatomy so hard at Blanche Macdonald. It was made meaningful. I still have the folders of everything I learned there."
Thanks to a thorough understanding of the spa industry and visits from numerous guest speakers, Sally also discovered the career path she intended to follow.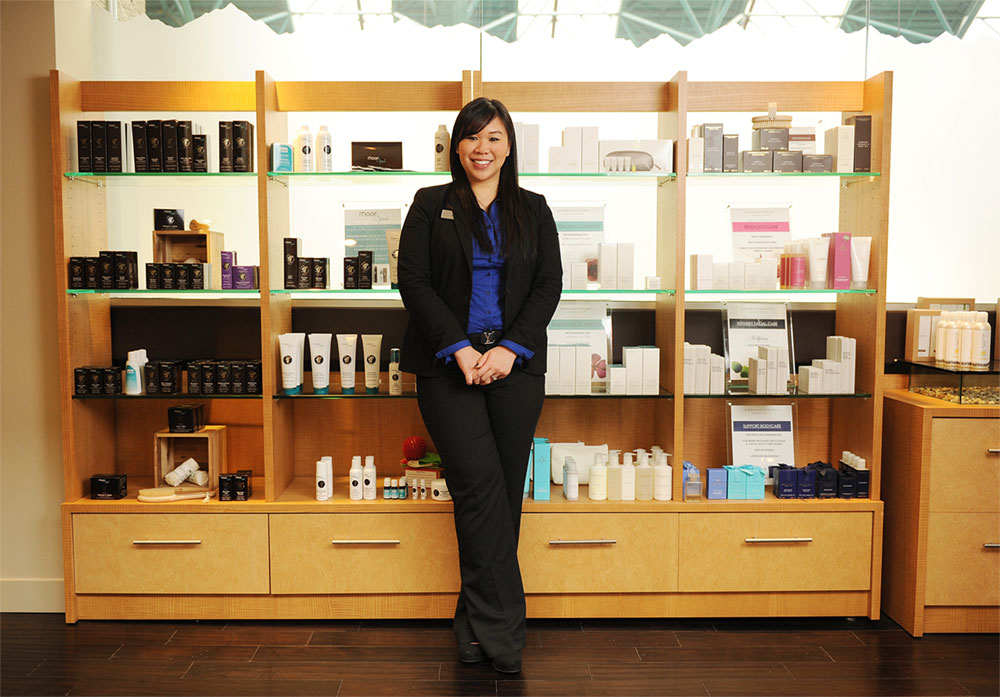 "You can really find yourself in the Esthetics Program. After the speakers from product lines came and spoke to us, I knew I eventually wanted to be an educator and trainer after I'd worked in a spa. Interacting with people in the industry looked so interesting. Before that though, I wanted to get some hands-on spa experience. Once I visited the Absolute Spa at the Fairmont Vancouver I knew that was the spa I wanted to work at."
With her mind set on her ideal spa, it wasn't long before that perfect position became a reality.
"When I had my interview with Absolute Spa I brought all my marks from Esthetics School with me! The manager said that no one had brought their marks with them for an interview before. They had so much belief in Blanche Macdonald that I didn't even have to do a practical.
---

I'm doing what I envisioned myself doing. I know I've succeeded in my career.

---
"I loved every single minute of my time at Absolute Spa! Working there made me feel like I had a second home and family. The ambience at the spa was so great. Most of all, I loved repeat clients who would ask for me personally. The most rewarding part of an esthetician's job is when your clients leave delighted. Sometimes clients would arrive miserable, but I could always change their mood to happy. That gave me a lot of satisfaction. There were lots of celebrities there. I worked on Jared Padalecki of Supernatural and his girlfriend. I worked on Kid Carson and some of the girls from America's Next Top Model, just to name a few. The Absolute Spa is known for treating celebrities. We'd even go out and provide mobile spa treatments sometimes when they couldn't come to the hotel."
Her easy way with clients, and skill translating that connection into retail sales, won Sally multiple 'Absolute Superstar' Employee of the Year Awards, and led to opportunities with Absolute Spa's sister distribution company, Soluzione.
"They kept asking me to take time away from the Spa and join them at trade shows and training events with Soluzione. I was eventually approached about a full-time position. They wanted me to take the position of Sales Representative. I wasn't sure if I was ready for the next step, but I knew it was a great opportunity.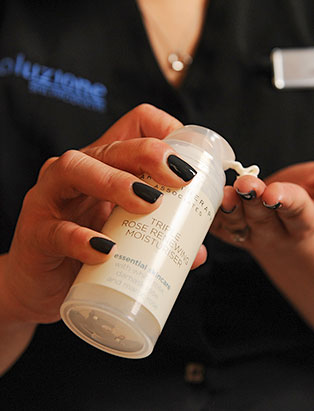 "My initial responsibilities were selling our product lines, and training and educating estheticians in spas across Canada on how to use and retail the products. I always loved the training and education, although I must admit, I hated cold calling and wasn't very good at it. People were constantly hanging up on me. But I learned to love it and eventually I became good at it."
Showing the kind of determination that marked her time at Blanche Macdonald and Absolute Spa, Sally worked until she excelled. When the time came to fill the position of Sales and Operations Manager, she put herself forward to co-owner Sergio Cocchia. He wasn't used to working closely with Sally, but after she'd assisted him at one of Soluzione's most successful spa shows, Sergio was convinced that she was perfect for the position.
"Now I can run everything the way I want to run it!" she smiles. "I love seeing things through from start to finish so it's perfect for me. A typical day involves managing the sales team and the operations of the company, marketing, ordering products, communicating with vendors, sourcing raw materials for Spa Binge and Y-Spa for Men, two product lines we manufacture here. I'm really involved in production. Wendy and Sergio, the owners of the company, have the final say in products, but they'll always be interested in my opinion. Sergio will ask me about naming products or putting directions on them. I'm extremely lucky to be able to work very closely with Wendy and Sergio. Regardless of how busy they are, they'll always take time out of their loaded schedules to talk to the team and see how we're doing. That means a lot to us because they care.
"I also get to do a lot of traveling for spa shows, trainings and distributor conferences across Canada and the USA, which I love. I've travelled to Calgary, Edmonton, many cities on Vancouver Island, Laguna Beach, Las Vegas, Los Angeles, Toronto, Winnipeg. Even small cities like Fort St. John and Minett! It's tiring but fun. I've met estheticians from the UK, Sweden, Singapore, Hong Kong, Australia, Thailand and many other countries. It's so great meeting people who do the same job as you in a different part of the world. The industry has definitely changed and grown since I left Esthetics School. People weren't worried about parabens eight years ago. Now people are asking for gluten-free products."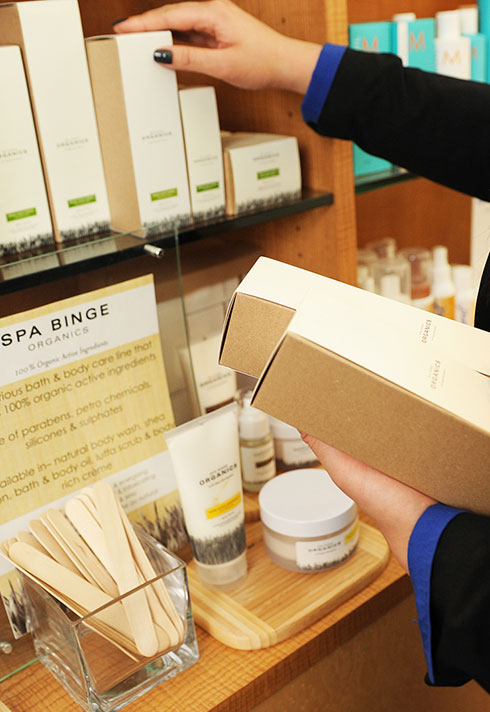 Her industry has changed, but Sally's enthusiasm for it remains stronger than ever. She still loves meeting fellow estheticians, sharing new ideas and information. She still embraces the core values, and enjoyment, that come with taking care of people. And she still cherishes returning to the Esthetics School where she trained, providing information and inspiration to the next generation of spa superstars.
"It feels awesome coming to speak about our lines at Blanche Macdonald, knowing I was in the students' shoes eight years ago. It's such a satisfying feeling. And it's great being friends with my previous instructors."
Sally's triumphs are testament to the power of aiming high and working hard. She's proven what's possible. And she's enjoyed every step on the journey.
"I'm doing what I envisioned myself doing," she smiles. "I know I've succeeded in my career."