From London to Vancouver and back to London again, wherever David Jack calls home, fashion flows from his creative soul. Whether the Stitched Fashion Designer is creating bespoke ball gowns, running his Men's Underwear label Jack or triumphing in reality TV competitions, the Blanche Macdonald Fashion Design graduate has a natural flair for the dramatic.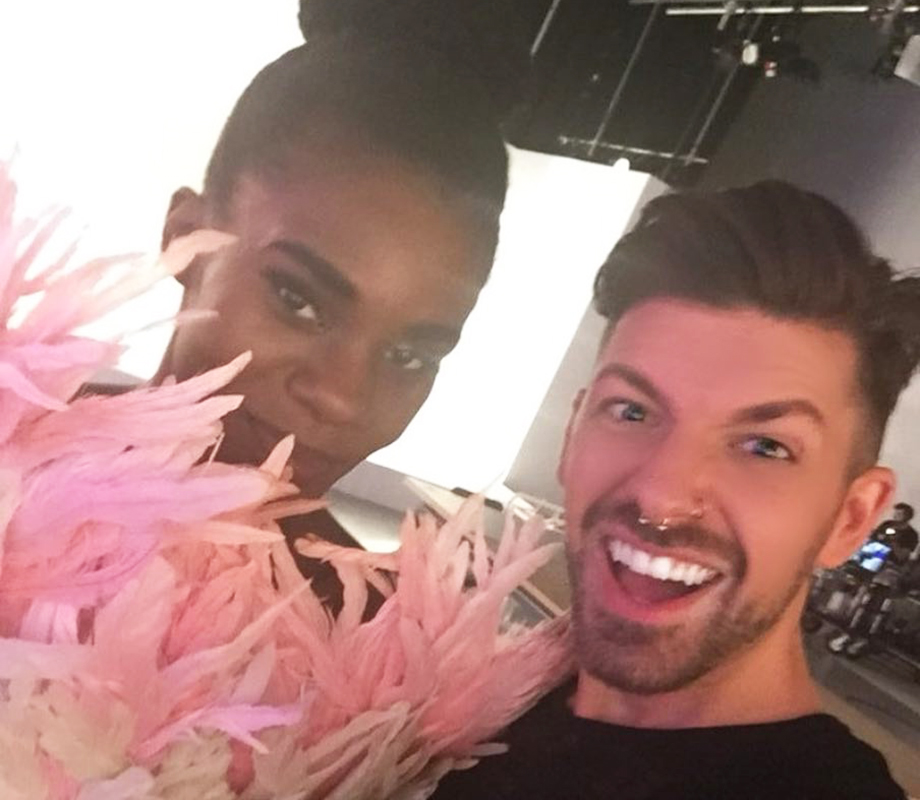 "I've always been interested in fashion," he explains. "When I was growing up my dad used to take me into Central London and we'd look around high-end shops like Vivienne Westwood. I'd make dreadful things back then. I attempted to make a corset for a girlfriend of mine from some old soccer shin pads. Needless to say, it wasn't very good. My Mum found it recently. She was like, 'What the hell is this?'"
After moving to Vancouver in his late teens, David soon learned how to locate like-minded individuals. A big part of that was finding a Fashion Design Program that fit his personality and career aims.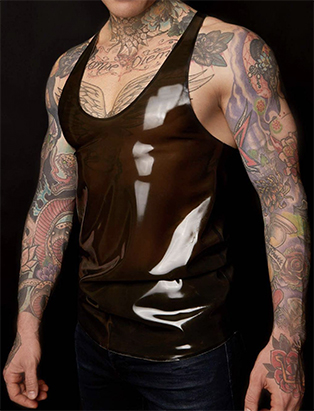 "When I first moved to Vancouver I was quite punk. I missed seeing people have their quirky styles. There are creative people. You just have to fish them out. I did some research on Fashion Schools, and Blanche Macdonald stood out to me. It seemed like an overall good package. Everyone told me that it would be a lot of work and consume my life, but I was ready for that" explains David.
"It was hard. I had a roommate at the time and our whole living room was full, wall-to-wall, of projects and paper and fabric for the entire year. I remember the final Fashion Show always seemed like it was months away. Suddenly, our instructor said, 'We're going to start sewing tomorrow' and everyone jumped out of their seats. I'd picked one of the most difficult garments to make. It had fibreglass wires within its construction. I panicked but it got done."
Photos courtesy of Slice TV
The future Stitched Fashion Designer had honed his ideas into incredible garments at Fashion School. After graduation, it was his refusal to settle for the conventional that got him noticed in Vancouver's fashion circles.
"I knew it would be a struggle," he admits. "My designs weren't your conventional Vancouver looks. They were quite outrageous. But I knew, no matter what, that I wouldn't compromise my designs. I did a lot of showpieces for stage performers and drag queens. My first big job after graduating was a big fibre-optic piece for a drag queen called Raye Sunshine for a New Years Eve performance. She was lowered down on strings, someone flicked a switch and the whole dress was lit up! After that I did a spiked leather jacket for Steve Bays of Hot Hot Heat for a music video. Everything was through word of mouth. It was something different that Vancouver wasn't used to. The ball just started rolling."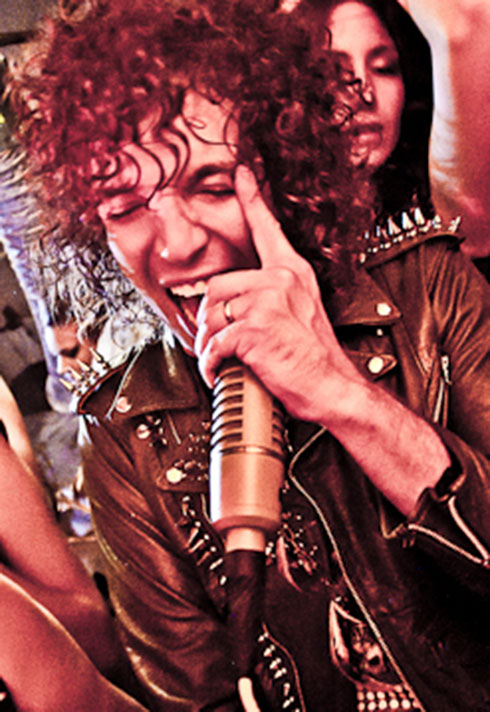 ---

Vancouver was a great city, platform and starting point

---
That ball eventually came to rest with a rapturously received debut collection show. Two years in the making, it was an evening offering confirmation that all his hard work was time well spent.
"That show made a statement of who I was. When you're doing your first collection you want to do everything. Being a designer is more sweating over a machine than glamour. I knew what I was getting into. Designers come out on the runway after their shows and you can see that
they're haggard and have been up for nights sewing and putting on buttons."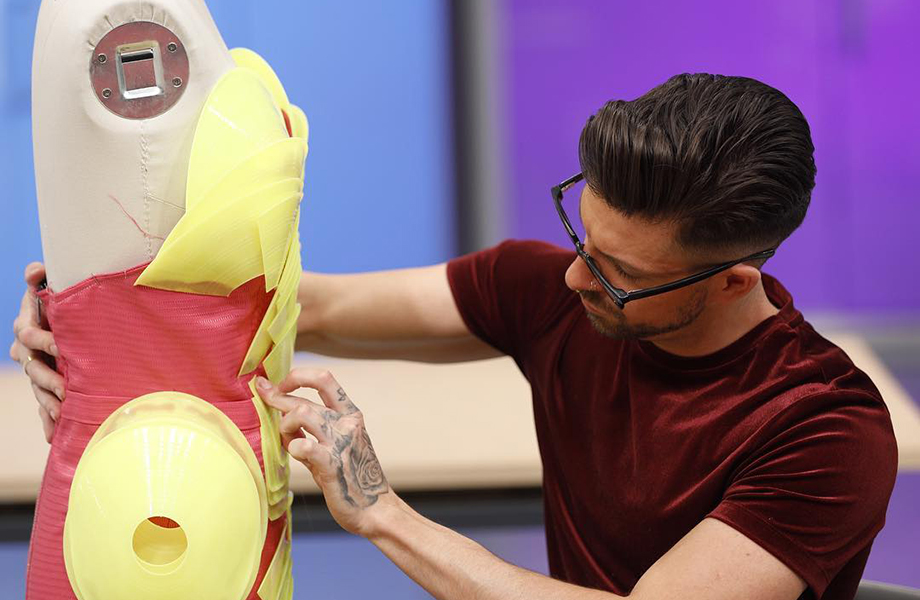 Photo courtesy of Slice TV
David had arrived on the Vancouver Fashion Scene and stayed busy, designing for clients including Jody Claman from the Real Housewives of Vancouver and Josh Ramsay of Marianas Trench. He'd grown into a big fish
in the Canadian West Coast fashion pond, but the time to dust off his British passport and return to his London roots had arrived.
"Vancouver was a great city, platform and starting point," David insists. "But I had bigger dreams. So I put my entire life in storage and bought a one-way ticket to London. I needed to start at the bottom again. I didn't even know where to buy thread or fabric. I had no equipment and no clients. I would knock on everyone and anyone's door. I had no option but to push forward. I emailed every fashion house and stylist I could get hold of. Claudia Behnke styled for London Fashion Week. She put me in touch with some good people. I was around fashion forward people all the time. Being back in London gave me my buzz back."
---

I'd always loved underwear and latex. When dad used to take me into Camden Town I'd see the fetish shops. As a 15-year-old I thought it was nuts.

---
Inspiration rediscovered, David's next step was more practical. He needed to earn some money.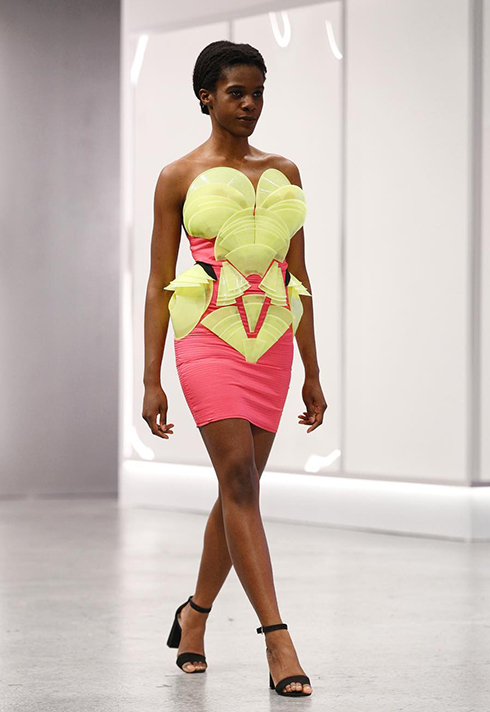 Photos courtesy of Slice TV
"I wanted to create a London-based brand and a business that could expand. My passion is making one-off garments, but in the long run I needed to make something I could put in shops and grow into a proper business."
That marriage of passion and pragmatism bore fruit in the shape of Men's Underwear line Jack.
"I'd always loved underwear and latex. When Dad used to take me into Camden Town I'd see the fetish shops. As a 15-year-old I thought it was nuts."
David's original plan was to create both a men's and women's line, but when men's underwear stores in London and Berlin starting stocking and restocking his collections and his own online store started blowing up, the future of the business became clear.
"Anything that I design is always going to stand out. This isn't Calvin Klein! I don't think like that. People asked me, who's going to wear latex underwear? You'd be surprised! Where they're wearing it, I don't know!"
Relocating to a new country and starting a new business weren't quite enough challenges for David. When an email arrived asking him if he'd be interested in appearing on Slice TV's design competition Stitched, he could only say no for so long.
"I thought I didn't want to do a reality fashion challenge. I would watch Project Runway and feel such anxiety for the designers. I ignored the email for two months but I eventually realized it could be a good opportunity.
"I did a few Skype interviews with the Production Company and they offered to fly me to Toronto. It was a four-day long process. All the designers had our phones taken away and for the duration of the show we lived in a house together. I was so nervous because I felt I was out of practice. I hadn't pattern drafted a garment from scratch in two or three years. I'd just launched Jack so I was worried I'd get eliminated and look like a fool. But in the end I loved it! It was so fun and such a good challenge. I learnt a lot about myself too: not to be afraid to jump in the deep end."
---

I could never do a 9-to-5 job. I'm not that kind of person

---
Over the course of three challenges, David's willingness to design from the heart provided the winning edge. After successfully crossing unfamiliar territory with a Vivienne Westwood/Burberry-style jacket for men, he overcame the difficulty of the 'Yard Sale Challenge' with an 80s-inspired neon prom dress, despite his initial reaction to the less-than-high-quality materials provided, "I wanted to see some fabric, not a load of shit!"
For his final challenge, titled 'Flight of Fancy,' David needed to create a couture runway gown inspired by birds. Over ten tough hours the Stitched fashion designer crafted a runway-ready dress that the judges commended for it for "impeccable workmanship," gleefully declaring that it was "so over the top it practically soared."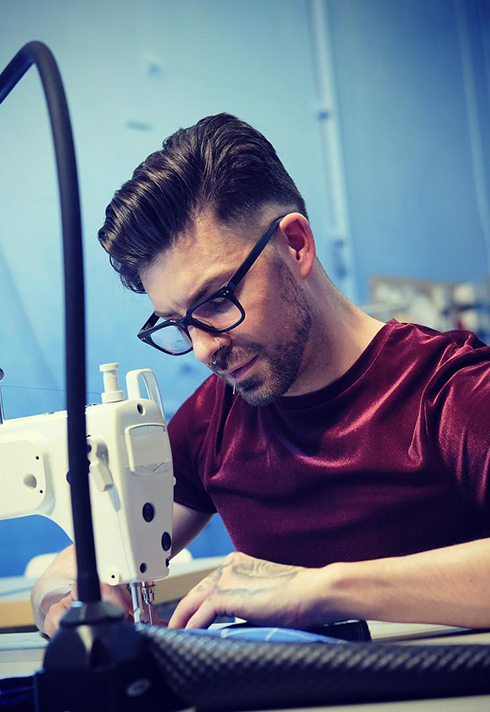 Photo courtesy of Slice TV
"When my final design was revealed, and I was named the winner it didn't even register. It had been such an intense four days—from six in the morning until midnight—and they were filming and asking questions the entire time. You're trying to make something and you're on TV, so you need to look and sound good. They were supplying us with Red Bull all the time!"
The future remains beyond bright for David. From haute couture to underwear to reality TV, he triumphs in every field he turns his creative hands to. Most importantly, he's enjoying every minute of it.
"I love that I'm in control of what's going on. It's my vision and I'm not answering to anyone. I could never do a 9-to-5 job. I'm not that kind of person. Of course, the photo shoots with half naked men in my underwear are always fun too."