Timothy Hung is Makeup Aristocracy. Even when he's not jetting to sets in Milan, Taipei, New York and Los Angeles, and collaborating with major players in the beauty industry like Make Up For Ever, Nars, Christian Dior and Giorgio Armani, this Blanche Macdonald Makeup program graduate keeps a tight schedule. Looking through images of his diverse and creative looks, it's easy to see why everyone is so eager to work with him. His raw talent, particularly in creating editorial makeup, is astounding.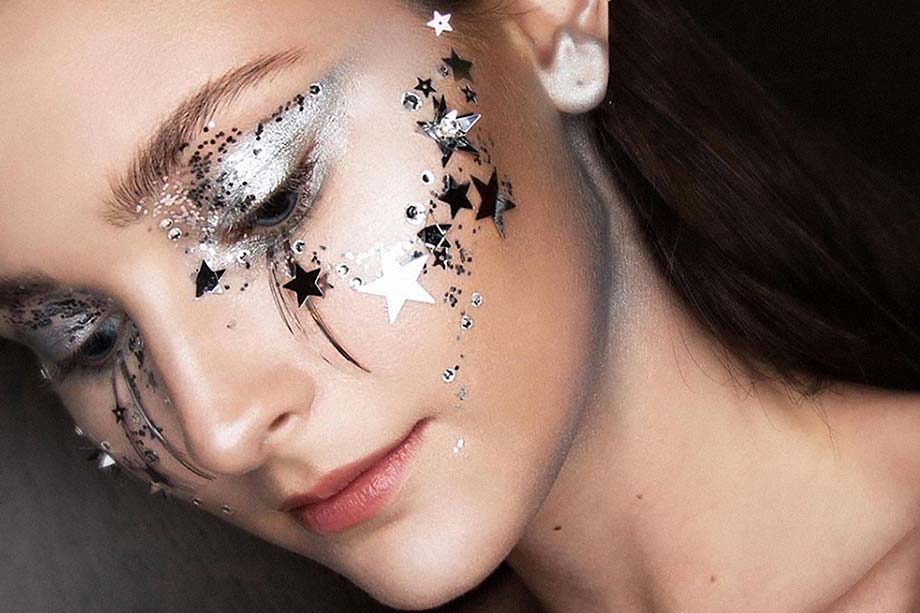 Photo and Artistry by Timothy Hung @timothyhungcom
Which is why Makeup Students and faculty were beyond fortunate when he returned to Blanche Macdonald's Atelier Campus to educate, inspire and demonstrate a few of his signature looks at an exclusive SmithxCurliQue event to kick off CurliQue Beauty Boutique's official launch as the first Canadian retailer of the insta-famous Smith Cosmetics makeup tools!
Timothy has a unique process when it comes to makeup. His methods seemed paradoxical at first. The way he applies makeup is thoughtful, methodical, and strategic, yet free flowing and organic at the same time.
Timothy has achieved celebrity status online for his refined treatment of the skin and the dazzling embellishments he adorns his looks with. And at SmithxCurliQue he demonstrated his go-to routine for skin preparation and distinctly elaborate makeups to audiences that hung on his every word. Over the course of two sessions he created a fiery look inspired by the colour red, followed by an ethereal and dreamy star-filled face, inspired by silver.
Both these looks were exquisitely detailed. There wasn't a step along that way that he didn't pay meticulous attention to, his audiences marvelling at every stage on the journey.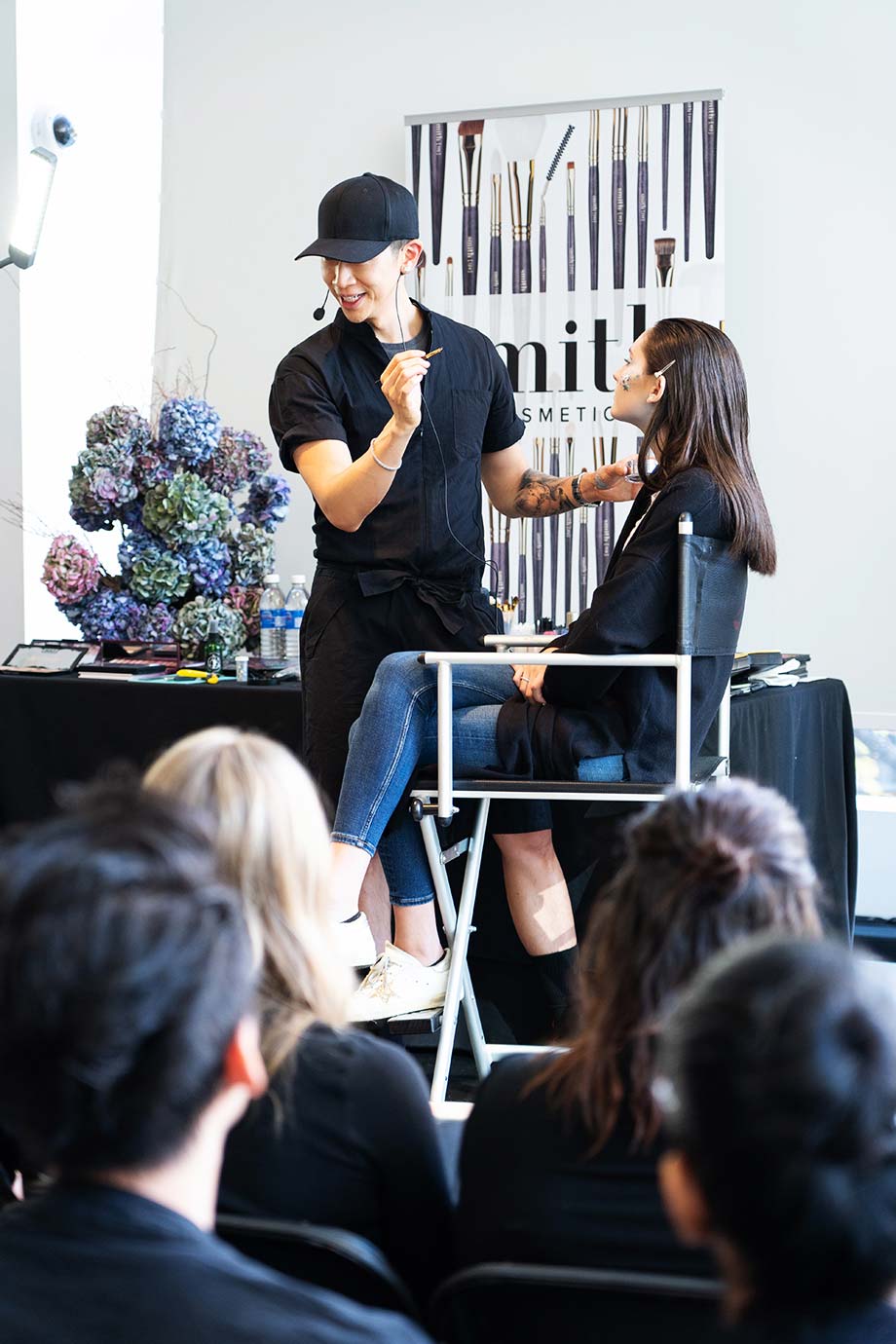 The starting point for both these looks, like every one that Timothy creates, was the complexion. He began by analyzing his model's face and applying carefully-selected skincare products including sheet masks, beauty oils and moisturizer from cult-fave French brand Embryolisse, before going in with base makeup. The first layer of makeup he applied was an illuminating primer. He mixed Danessa Myricks Illuminating Veil, a cream highlight, with a few drops of a beauty oil to create a base for the luminous complexion that he was looking for. Using an oil is something that many beauty lovers and even pro makeup artists shy away from, but Timothy explained why it's integral to his routine.
"If you've done a base that doesn't sit well on the skin," he pointed out, "it will only get worse once you start to layer products. Beauty oils not only hydrate the skin, but help you get transparency back."
Adding translucence helps to soften the appearance of heavy makeup. Timothy used Smith #115 Foundation Brush to blend this mix into the skin.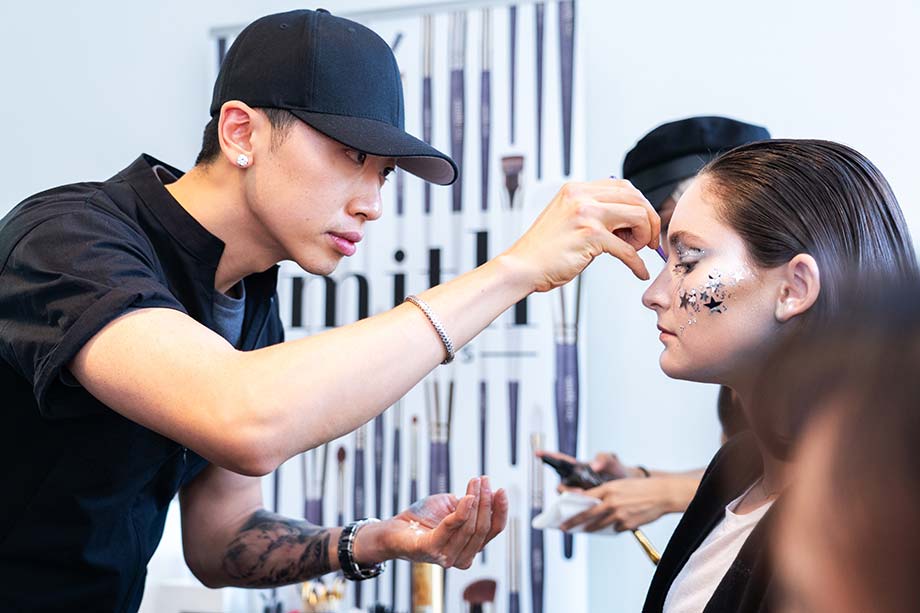 Next in Timothy's routine came foundation, which he applied to even the skin's texture and disguise discolouration. He reached for Danessa Myricks once again, this time selecting the Vision Cream Colour Foundation, adding another drop of beauty oil to introduce additional radiance to the foundation. Using Smith #115 Foundation Brush, Timothy glided the product from the centre of the face outward, creating coverage that looked soft and lightweight on the skin.
Timothy explained in detail why carefully layering of products is vital to his work.
"By building up the makeup slowly and through multiple steps," he revealed, "I can achieve a seamless finish, making editorial makeup appear congruent and as though it belongs on the model."
With this in mind, Timothy went in with additional layers of highlights. He applied MAC Luna Cream Colour base and Ben Nye Lumiere Luxe in Ice. When selecting illuminators, Timothy explained that it's necessary to "find good buildable highlights that have different textures. That way you can layer to get the desired finish you like."
Each look began to materialize as Timothy picked up a pair of Danessa Myricks Colorfix creams; in red for the first look and silver for the second. Using Smith #247 Flat Round Crease Brush and #235 Flat Quill Crease Brush he blended the pigments around the eyes, creating a soft halo of colour.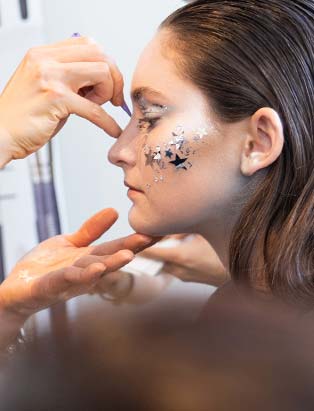 Despite his renowned ability to create perfect skin, Timothy's greatest fame is for the detailing and embellishment he regularly adds to his looks. His career started in fashion where he discovered a love for creating intricate beadwork. He has transported this trademark style into his makeup career with his signature use of crystals and sequins for editorial looks. But Timothy is never satisfied by simply applying sequins. He insists on customizing each and every jewel he uses.
"If I just stick on the sequin, it's boring. Anyone can stick on a sequin. So that's why I create different shapes out of what I have. I can build a story up around that."
---

It's important that you don't become a cookie cutter makeup artist. If you really want to get somewhere you have to be original and find something that you're passionate about.

---
As he shared this with Blanche students, Timothy folded up a sun-shaped sequin resembling a flower. Little touches like these make his work so transformative.
Timothy finished the two looks by creating fine details to complement the beading. He also reached for Smith #202 Microliner Brush and #302 Lip Brush to add a few final touches, such as softening the edges of the lips and further diffusing the pigment around the eye, to complete his masterpieces. These tiny details have become especially vital as Timothy fully understands his position in the makeup social media landscape.
"With social media sometimes I need to focus on a really tight, tight area," he revealed. "I always want to make sure that even a small area is impactful on its own."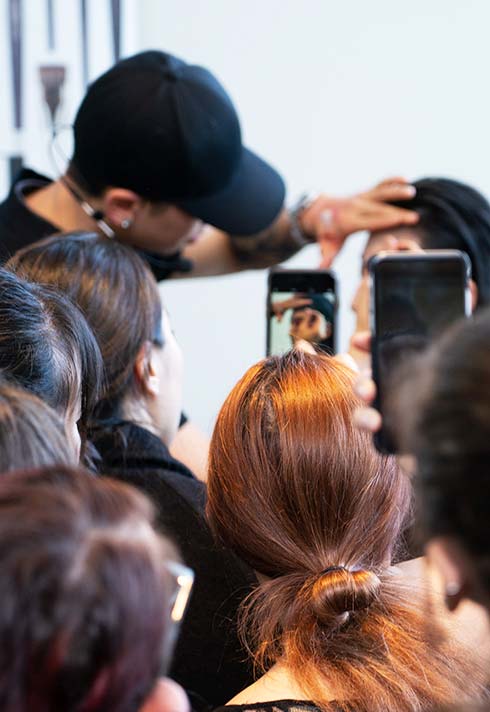 Always keen to share his insight and expertise, Timothy didn't just talk makeup and crystals; he also spoke about his experiences in the industry and how straight-out-of-school makeup artists can find their own path to success. In his opinion, celebrating what makes your art unique is key to succeeding as a makeup artist.
"There are so many makeup artists today and we all dream of success. It's important that you don't become a cookie cutter makeup artist. Everyone's trying to copy the 'it' look to gain a following or fame. But that's not how you do it. If you really want to get somewhere you have to be original and find something that you're passionate about."
Timothy's refusal to follow the norm has allowed him to stand out in an ultra-competitive industry.
---

When I first started doing makeup I just wanted to make women pretty. But now it's so much more than that. I'm an artist. I need to be able to express my creativity.

---
"I like to do things that are kind of unconventional. I like to play with adding different elements to my work."
By focusing on artistic concepts and looks that he's passionate about, people have taken notice. Timothy's unique style has garnered collaborations with brands like Kat Von D, Shu Uemura, and Yves Saint Laurent. Of course these companies admire his elegant yet original take on beauty, but Timothy insisted that perseverance and passion are really what takes a makeup artist to the top.
"When I first started doing makeup I just wanted to make women pretty. I just wanted to make them feel good. But now it's so much more than that. I'm a makeup artist. I'm an artist. I need to be able to express my creativity. Otherwise I can't do makeup anymore."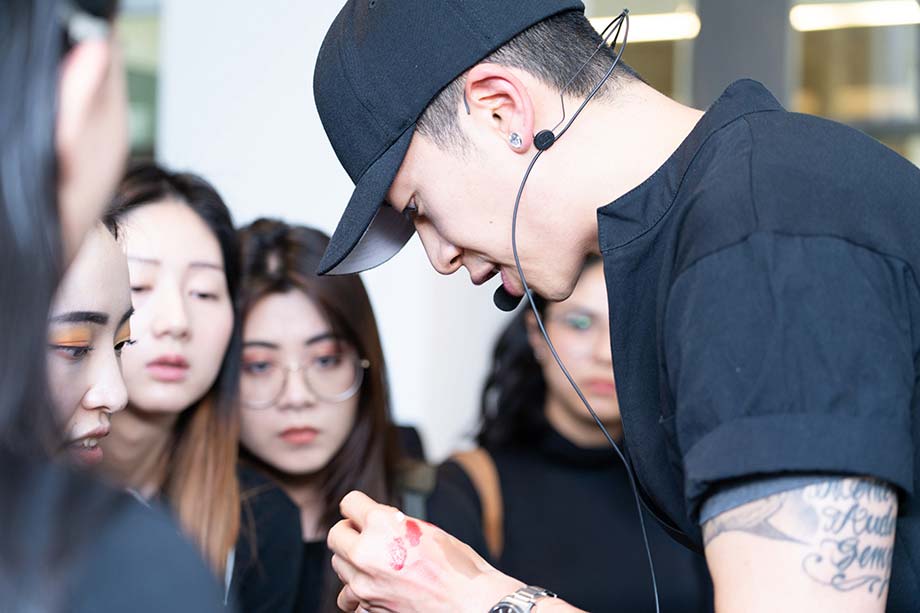 Watching Timothy work was inspirational. In part because of his captivating artistry, but also because of his passion for educating and mentoring ambitious new makeup artists. He's determined to pass on his knowledge, inspiring a new generation of artists with creativity, passion, and kindness.
"You just have to keep up with it and push yourself," he smiled. "It's never impossible to create art and make a living out of it if you're passionate."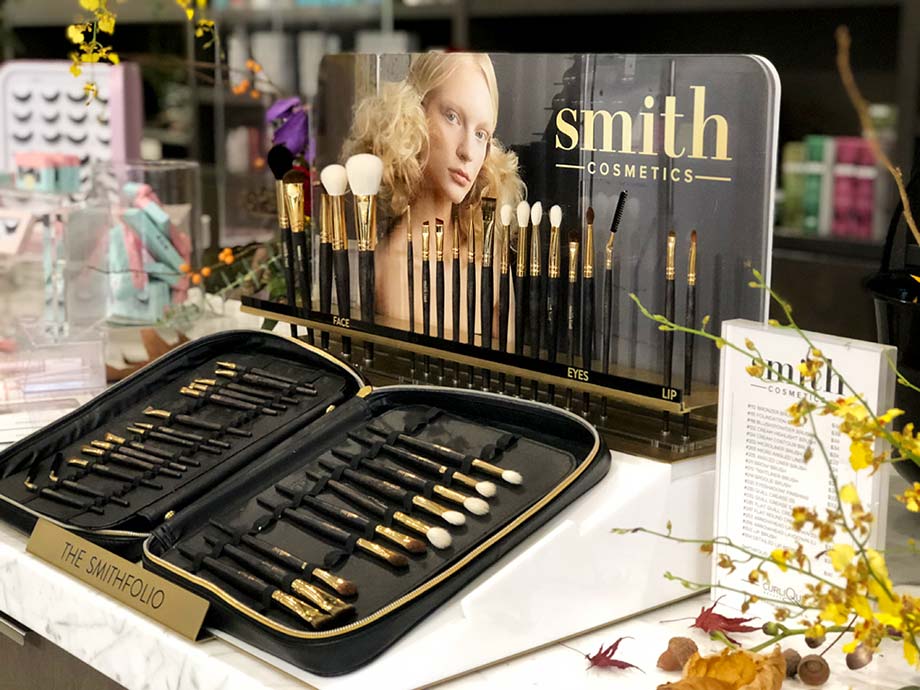 Shop Smith Cosmetics' luxe makeup brushes and their one-of-a-kind Smithfolio Makeup Brush Case at their first Canadian retailer: Blanche Macdonald's very own CurliQue Beauty Boutique, 410 Robson Street! @CurliQueBeauty