Ghazal Elhaei is a creative force to be reckoned with. Between running her self-started digital marketing and events agency, Capital G Creatives, styling as part of her core creative team, and working on visual art while developing related side projects, I marvel aloud at the enormity of her typical workday when she stops by the Blanche Macdonald Atelier campus in the morning on her way to her studio. But a full calendar isn't daunting to this Global Fashion Marketing grad: "If you want to make time, you make time," she assures me, and laughs.
Warm, charismatic, and brimming with ambitious energy, Ghazal is an astonishing do-all fashion industry insider unlike anyone you've met before. But don't just take my word for it: Here she is, in her own words, on being fearless in fashion, building a dynamic business from the ground up, and what it's like to be an integral part of Vancouver's vibrant creative community.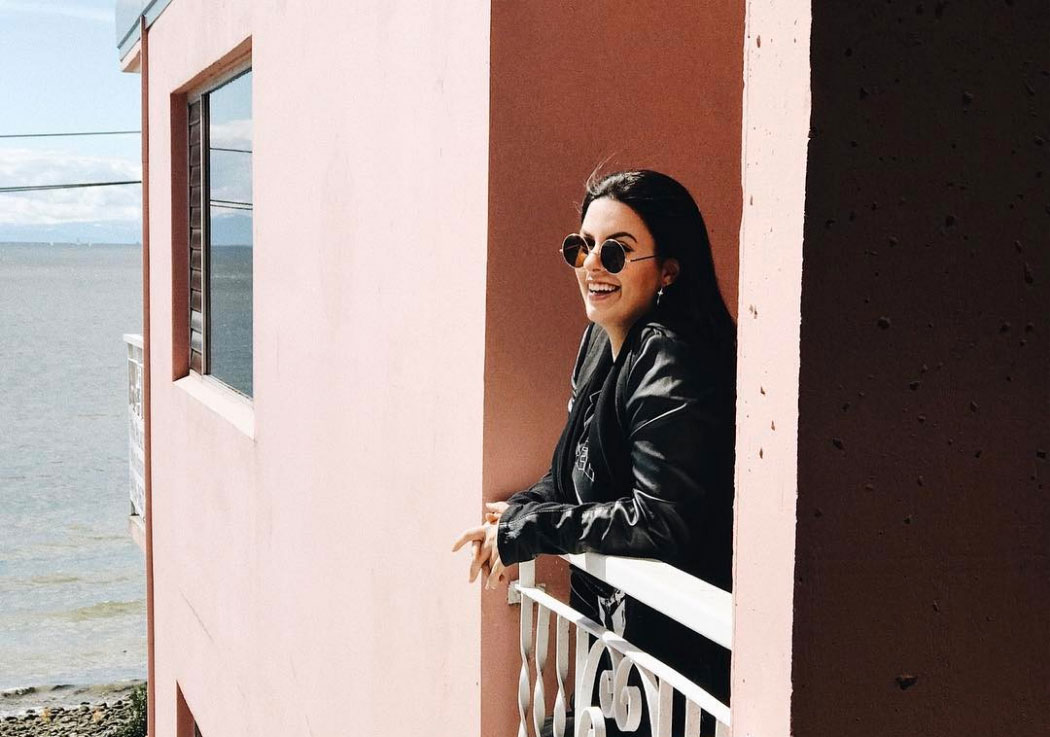 How did you know you wanted to pursue a career in fashion, and what made you choose to study Fashion Marketing at Blanche Macdonald?
Fashion has always been very relevant to my life, but I'm not one of those people where, growing up, I had a passion for fashion. I wanted to be a writer like Diane Sawyer and to work for Vanity Fair or The New York Times.
I spent a couple years pursuing music before I went to Blanche Macdonald. I was a singer. A big part of my music career was creating my brand, my image, and the different outfits onstage. When I was making the transition from music to the next phase of my life, fashion made the most sense. It's more behind-the-scenes than music; it's about design, not about what's happening in front. That's something I've always enjoyed: Seeing how everything gets put together.
While putting on big shows and photoshoots for myself, I developed this—intrigue, I guess you could say, for the fashion world. I met with [Blanche Macdonald Admissions Associate] Pam [Chong] and it seemed like a good fit.
Going into any situation, you have to do your research. Blanche Macdonald had the energy that I liked. Right off the bat when I walked in and met everybody, I saw the teachers running around, and the students, and I thought, "This is totally my kind of vibe!" When there's someplace that makes me feel that way, I jump right in. I started about a month after I applied.
BMC: What thrills you about the marketing, merchandising, and styling side of the fashion industry?
GE: I get bored very easily—but marketing is a continual evolution, almost like a rebirth every single season. You're redeveloping your plan every four months; sometimes it's every month or day. You're doing something different to push your brand or your client's brand forward. I like that. It keeps me on my toes and it's a continual challenge.
As for styling: As much as I loved [Blanche Macdonald Fashion Director] Tyler Udall's class, I still wondered, "How can people do this all the time? Pulling clothes, taping shoes?" I would volunteer at a bunch of shows to get the experience, but I thought I was going to be a fashion editor. I was going to write.
I fell in love with styling when I did Eco-Fashion Week through Chic Challenge. I was forced to apply for it by another grad from Blanche Macdonald. I didn't think I was going to get picked. But I did, and I didn't know what to do! I thought – and this was my cheeky side – "I'm just going to do menswear." I ended up falling in love with the whole process of suiting and tailoring. That was where, all of a sudden, I felt like I had an "aha!" moment. That's always the case: It's when you stop thinking about it that you start finding things you love to do.
BMC: You're the founder of the incredibly cool, Vancouver-based digital marketing and event agency Capital G Creatives. Tell us about its inception! How did you turn your vision into reality?
GE: First, I founded and ran a magazine called ONE1ONE with my friends in my last month at Blanche, and it took off for a year. It was great! One of the things I didn't understand about the magazine was how to make money, but what happened was that even though we had some great interviews and opportunities, I was also getting contacted to be asked, "Do you know a photographer?" Or, "Do you know a makeup artist?" So, it came to me; I started getting all these requests: Can you organize this shoot, can you come help us with this pop-up shop.
Capital G came about from 1ONE1. I noticed we were making money doing [those requests], and I was meeting so many people. That's where the birth happened. Again, it was just something I fell into. From there, I developed it.
The company's been running for over two years and we've been really lucky. We've done pop-ups with incredible brands; we've done photoshoots, catalogues, and e-commerce. We've travelled to LA and Toronto. It's been fun! Now, Capital G is slowly transitioning into an agency. We're pushing styling and production, but consultancy is also a big part. I find I spend more time working with brands on guidance for social media content.
BMC: What goes on "behind the scenes" at Capital G Creatives? How do you manage your own company while working as a stylist at the same time?
GE: My core team is three people, but Capital G is network-powered. It's not about having a big staff, but about finding the best person for the job. In our immediate family, we have about 20 people that we'll call depending on what's going on. There's a huge variety of skillsets. I've even had girls from Blanche come work with us as interns or volunteers—and they still do work for us on gigs, even when they're in the next phases of their careers.
For me, it's important that everyone builds their own businesses. I believe in the power of small and local businesses. If fewer people are starting their own, where's the community going to go? I'd rather encourage people to push themselves and we collaborate when it makes sense.
BMC: What are some important skills you learned while studying Fashion Marketing at Blanche Macdonald that you now use on a regular basis in service of your fashion career?
JL: When I was in school, I was still working full-time, as well as interning and trying to get as many volunteer hours in as I could. The biggest takeaway was learning how to multi-task and manage my time, and how to prioritize what needs to be done.
Also, knowing how to work with different types of people. I've now worked and collaborated with people who were my teachers, and I learned how to work with my classmates, who had a variety of skillsets, backgrounds, first languages, and were in different stages of their lives. Now I feel like a mini-teacher: I've saved notes about how Lyndi used to showcase stuff, or Tyler, and I use that as input for how I deal with my [Capital G] team, to better work with them.
BMC: What advice would you give to a new Global Fashion Marketing student at Blanche Macdonald about to start their own career journey?
JL: My advice would be to be open-minded and stay humble. If your job is to clean up trash at the fashion show all day, do it and do it well. Anything you end up doing, take ownership of it. I believe in taking initiative, and I live by this motto: I ask for forgiveness, I don't ask for permission. I do it, and if something goes wrong I say, "I'm sorry, my bad!"
And do everything. Do everything! Take advantage of people like [Fashion Career Director] Mel [Watts] and her team, who are posting opportunities every day. I still volunteer for stuff just so I can learn it.