Tania Becker is one of Vancouver's top hairdressers. Every season she travels to work her styling magic backstage at Paris, London, New York and Milan Fashion Weeks, often in tandem with Blanche Macdonald's own Prince of Fashion Makeup, Jon Hennessey.
When Tania's not travelling between the World's fashion hotspots, she's the Chief Hair Officer at Moods, one of Vancouver's very best salons. She's always looking for the city's top emerging talents. Which is why she hired Blanche Macdonald Pro Hair graduate Freddy Sim.
"Freddy is a spectacular person!" she insists. "He has a lot of drive. We're all hair geeks at Moods, so we're drawn to other hair geeks. Being around that energy inspires me. We do hair on the fashion side of things and we're attracted to people that have that interest. We want people who are inspired by fashion and runway hair."


"When I was a student I really wanted to do some work experience at Moods," explains Freddy. "I knew that Tania and her co-owner Chad Taylor would go to the major Fashion Weeks every season and that they'd compete at the Contessa Awards, which is Canada's biggest hair contest. Fashion styling and hair competitions really excited me. So when I was a student I gave them a call and they had me in for work experience at Moods for four days. On the third day Johanna, one of the stylists, asked me to shampoo her hair. When she started blow-drying herself I asked if she wanted me to do it. She said 'sure,' and within 20 minutes I'd done a perfect, smooth bob blow dry. Johanna took a photo, sent it to Tania, and said that she should hire me. I started working here the day after I graduated from Hair School!"
It's only natural that Freddy's enthusiasm for hair has taken him to one of Vancouver's best salons. It was a passion he embraced before he'd even arrived in Canada.
"I was born and raised in Brunei until I was 18. It's a small country and it isn't exactly fashion orientated. But since I was little I'd always dress and do my hair differently than most people there. Why be same when you can be different?
---

I remember one day my Mom's stylist said, 'I can see Freddy becoming a stylist when he grows up.' She was right!

---
"I knew I wanted to be a hair stylist since I was a little boy. A lot of people like to go the salon to get their hair washed. It's not just relaxing, it's really cheap as well. My Mom loved going to the salon and getting shampooed for half an hour. I would follow her there and loved the atmosphere. I would look at them and try to figure out how they would cut hair, blow-dry and colour. I enjoyed the friendly environment, but I loved the creativity. I found it fascinating. What can you do with someone's hair? There are a million things you can do. I remember one day my Mom's stylist said, 'I can see Freddy becoming a stylist when he grows up.' She was right!"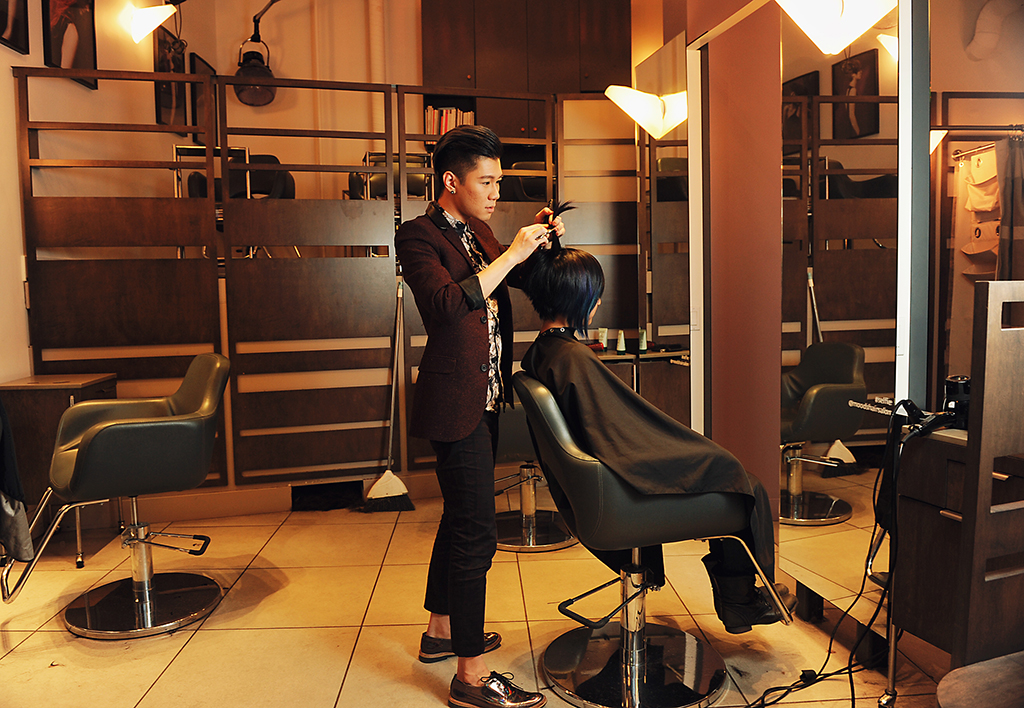 Freddy moved to Canada when he was 18 and immediately started exploring his creativity, both as a dancer and an aspiring beauty professional.
"I worked in a clothing store and a Japanese restaurant. I enjoyed providing good customer service but I knew I wasn't going to become a store manager. I started doing the makeup and hair for my dance friends and people kept telling me I should go to Hair School. I would watch music videos and look at fashion magazines and try to figure out how they achieved the looks.
"At the time my Dad expected me to go to university, but that wasn't me. Being a hair stylist was always my dream so I was willing to fight for it. I started cutting my family's hair and they helped persuade my Dad that I should go to hair school."
Once the decision to attend Hair School had been made, it didn't take long to choose where he'd be studying.
"Blanche Macdonald has extremely solid training," explains Tania. "Not only in technical expertise, but in the equally important skills of attitude and work ethic. We hire more people from Blanche Macdonald than any other hair school."
"It had such a good reputation," agrees Freddy. "I asked around and my friends knew people who had studied makeup or hair at Blanche Macdonald. People in the fashion industry told me to check it out too, and I could see the quality of the work that they were putting on line. I just went for it!
"Once I was there I took the program seriously, but I wasn't stressed at all. I had so much fun. I was always excited about what I was going to learn each day. I didn't have to hand in math homework, so it didn't feel like school to me. I loved styling, I loved photo shoots and I loved working backstage!"
---

I get satisfaction from doing a good job, but the real pleasure is from the client's feedback when they love it. They don't only look pretty. They feel pretty.

---
Freddy's infectious enthusiasm and natural talent were recognized by his instructors at Hair School, one of whom gave him the ultimate vote of confidence by sitting in his chair to get her hair coloured.
"When we started taking clients in the School Salon I was nervous at first. But every time I finished a cut it wasn't bad at all. The instructors trusted me and I was making clients happy. Tyana Nichole, one of our instructors, was my first ever colour client. She was so confident that I could do it. She sat down and told me to get her coffee and Timbits.


"One day Shashi Seth came into the School Salon and announced that two hair stylists had bailed on a fashion show at the Ferrari dealership downtown and they were looking for volunteers. My instructor suggested me so I guess I was capable. I thought, why not? We took a cab there and suddenly there were nine models staring at me and my classmate Angelina. I felt so happy seeing the models on the runway and thinking 'I did that hair.' I realized that this was what I wanted to do. I enjoyed the pressure."
Now Freddy is relishing the pressure at Moods. Even though he's surrounded by experienced stylists, many of the salon's regular clients, inspired by Freddy's unmistakeable flair and passion, have started personally requesting that he colours, cuts, styles and blow-dries their hair. Back in Brunei, Freddy was inspired by the creative potential of being a hair stylist. Now he realizes that there's something even more profound at work.
"I thought I liked to do hair because it's an art and I could show my creativity. So when I started it was all about me, me, me! I still love to do funky, crazy stuff, but once I started working as a stylist, even at Hair School, I realised that it's not about me. I get satisfaction from doing a good job, but the real pleasure is from the client's feedback when they love it. They don't only look pretty. They feel pretty. That means a lot to me. I want to see the big smile on their face. Return clients come back for a reason."
Freddy's just beginning to make his mark in the hair business. He's come a long way already, but with mentors like Tania and Chad, his creative journey could take him anywhere.
"Chad is amazing," insists Freddy. "When I came to Moods he personally took over my training. He's a Stage Artist for Joico's National Artistic Team and an award-winning stylist, so it was inspiring having him bring the strong foundation I had from Hair School to the next level.



"There's still so much to learn. The minute you stop making mistakes is the minute you stop learning. Obviously a top hairdresser doesn't want to make mistakes, but you have to try to push yourself and do your best. Trust yourself! Fashion is changing so fast and everyone's hair is different. I work with stylists who have 20 years experience and we're all still learning.
"Don't doubt your vision. Whatever the vision is, you can achieve it! If you don't do it you'll never know how amazing it could turn out. Stay motivated, stay passionate and stay humble!"