JoAnn Fowler was a late starter in the Makeup Industry. She's been making up for lost time ever since.
"When I was 16 I asked my mother if I could take a makeup course," she recalls with a smile. "She did not approve of makeup at all, so I didn't take it. I became a childcare counsellor and worked with kids for almost 10 years. Then when I was 30 I signed up at Blanche Macdonald, the Vancouver Makeup School I thought would kick start my career."
JoAnn has proved her mother, and any other doubters, wrong. After graduating from Canada's #1 Makeup School, JoAnn became one of the country's best TV and movie Makeup Artists, bringing her incredible talents to television shows including The Commish, The Crow and The L Word, and movies like The Twilight Saga, X-Men 2, Air Bud, and Final Destination 3 and 5. JoAnn garnered an Emmy nomination for Best Makeup in 2004 for Reefer Madness and two CNoMA nominations for Best Makeup for The L Word that same year. These incredible experiences led JoAnn to her greatest triumph so far; developing and launching her nationally distributed, eco-conscious, non-toxic and organic makeup line, Sappho New Paradigm.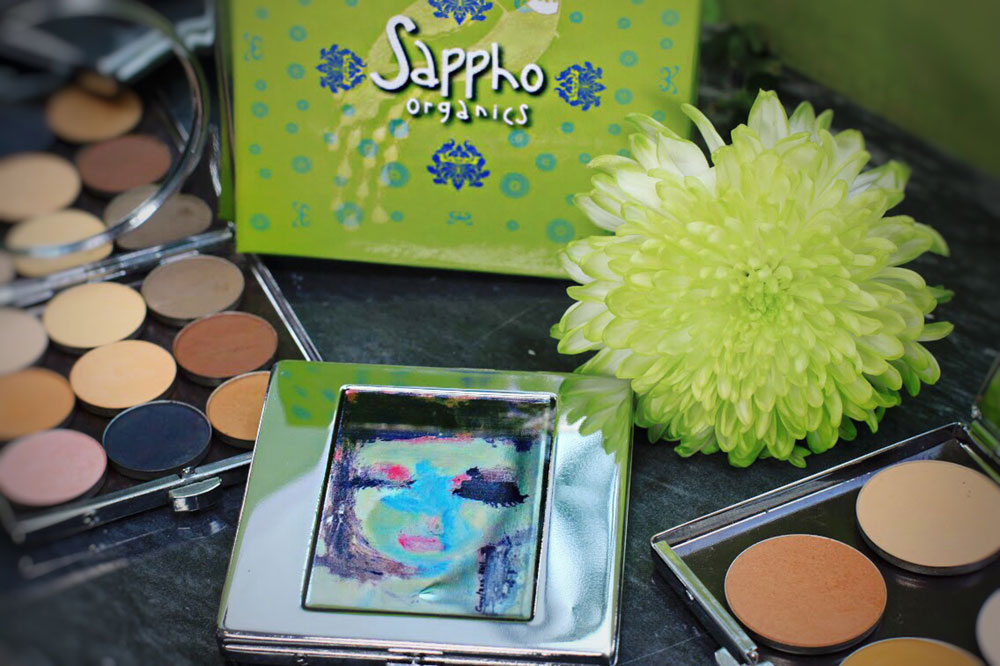 It's a remarkable success story, fuelled by a passion for makeup that even her mother's disapproval couldn't contain.
"I used to be very much into punk rock and fashion in the mid-1980s," she explains. "I hung out with musicians and avant garde artists. I would do a lot of friends' makeup, which was really wild in those days. I ended up helping a friend doing makeup for her underground fashion shows without really knowing what I was doing. But I liked it and people liked my work. That's when I decided to take a course."
JoAnn had always loved makeup. Blanche Macdonald taught her professional techniques and inspired her creativity.
---

Little did I know how long my relationship with Blanche Macdonald would last when I walked through the doors in the mid-80s.

---
"I'm not a person that has to wear makeup every day. I've always used makeup as an adornment: as an art or fashion statement. The creative process is what drew me to it. When we got into really changing features and doing corrective makeups, that was fascinating to me."
JoAnn was working shifts at CKVU (later renamed Citytv) when she was still a student. As Vancouver's TV and movie industry exploded, JoAnn was in the right place at the right time, with the right skills, to create a place for herself in its heart.
"When I started Makeup School there were only three shows being made in Vancouver, Danger Bay, Wiseguy and 21 Jump Street. I worked with Todd McIntosh on Wiseguy. I was mostly working with extras, but I loved it and I wanted to do a good job. I'd stay after I was wrapped just to see Todd working with blood. I watched him like a hawk. I could do 18 or 20-hour days and it didn't bother me. I was happy to be there.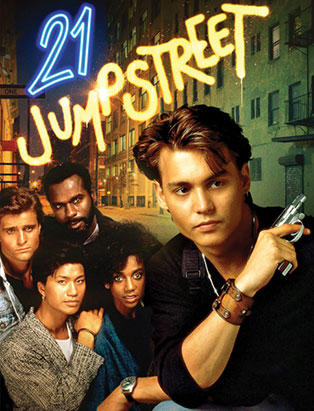 "I did a year on MacGyver and a few days on 21 Jump Street. I didn't work directly with Johnny Depp – Sydney Silvert was Head of Department at that time – but I did meet him quite drunk on the street one night. For some reason he wanted to know what my favourite line from a movie was. On Wiseguy the night before we had been laughing about this one line – 'I keeel your mother! I feed her to theee peeegs!' Johnny Depp liked that, which was very cool."
As JoAnn's reputation grew, so did her résumé.
---

The creative process is what drew me to it. When we got into really changing features and doing corrective makeups, that was fascinating to me.

---
"It was totally exciting. It was so intense and interesting. My first show was Wiseguy, which starred Kevin Spacey and Ken Wahl. I thought my whole career was going to be like that. I wasn't much of a schmoozer, but I worked hard, looked after a few second units and then got my first chance to key on Nancy Drew, which was a bit of a disaster, although not because of the makeup! My second key was The Commish."
JoAnn's been busy ever since. You can see her work in Air Bud, the top grossing Canadian movie of all time, two chapters in the Final Destination horror series, recent hit The Possession and The Twilight Saga.
"I knew Twilight was going to be big," she continues. "I was keying the second unit so we had a lot of fun, particularly on Eclipse. I'd go to work at about four in the morning and I had 12 or 13 makeup artists working for me. We'd need to have 27 vampires ready for 7.30 every morning. Second units on big movies are way more fun than main units. Actors always love working with us because they know we can get the job done without the stress of main unit. We did a lot of work with the main characters, a lot of stunt stuff, and we laughed a lot."
It was during JoAnn's time as Key Makeup Artist on the classic series The L Word that she had an encounter with an actress that would take her career in remarkable new directions.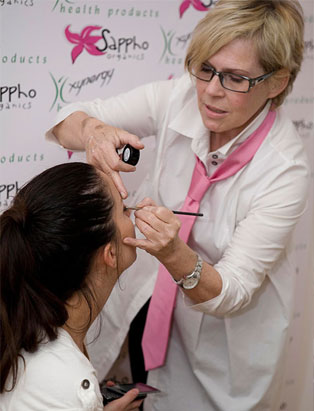 "Mia Kirshner came in one day and announced to me that she wasn't going to wear any more parabens in any of her makeup products. I told her she didn't have to wear them under any circumstances, even though I didn't know what they were. I started to do some research. Norma Hill Patton, a remarkable Makeup Artist, gave me this book called Not Just A Pretty Face. There's so much in that book indicating we're polluting our bodies with petro-chemicals through cosmetics. It's not a conspiracy theory. The evidence is all there.
"Soon all the girls on the show wanted to go organic. All the organic lines were sent to us but none of them stood up to the demands of HD. Jennifer Beals always used to say to me, you should start your own makeup line, and I would always say to her, the world doesn't need another makeup line. Then I realized the world did need another makeup line, because I needed it to go to work."
Inspired by the cast of The L Word, Sappho New Paradigm had been born.
"I researched for months, threw myself into it and found a lab to work with. I made a lot of mistakes and learned an incredible amount.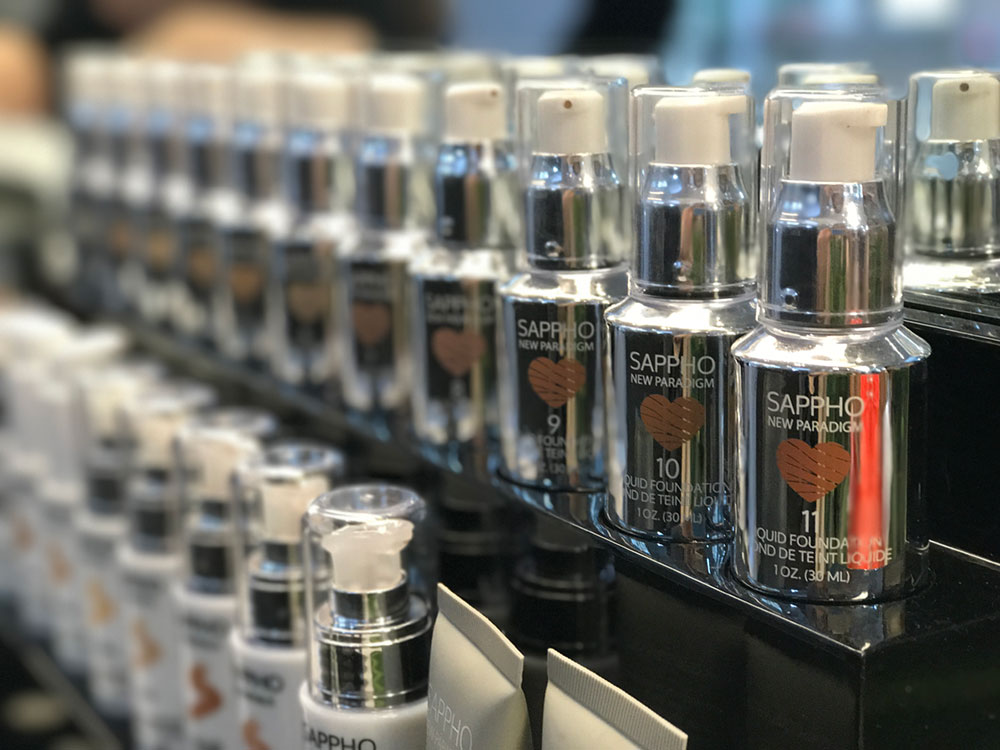 "The first products were liquid foundations. That was what was missing as far as I was concerned. I had high expectations and so did my clients. I used all the girls on The L Word as guinea pigs. I always say my line is tested on movie stars, not animals. I'm still in touch with those women and all the colours are named after them."
What had been created as an organic solution to an HD problem soon took on a life of its own.
---

Then I realized the world did need another makeup line, because I needed it to go to work.

---
"People needed it!" insists JoAnn. "When people put it on for the first time they say it smells incredible because it's all preserved with essential oils. The second thing they say is that it feels like they're not wearing anything. That's because there's no silicone or dimethicone in it, so your skin breathes the whole time. When we do makeovers people buy it immediately.
"For the first five years Sappho was in six stores in Vancouver and I sold it on-line. It was doing pretty good. Now we're in over 50 stores across Canada, selected stores in the US, UK and Saudi Arabia, and we're negotiating with some very large chains. My vision is to create a natural line that can stand up on any runway and that anyone can wear and feel confident. I'm working on lipsticks and lip stains that are just coloured with fruit juices. I've been cooking hundreds of them in my kitchen. It's quite the challenge."
It's only natural that Sappho New Paradigm is one of the key lines carried at Blanche Macdonald and Vancouver's incredible Beauty Boutique, CurliQue.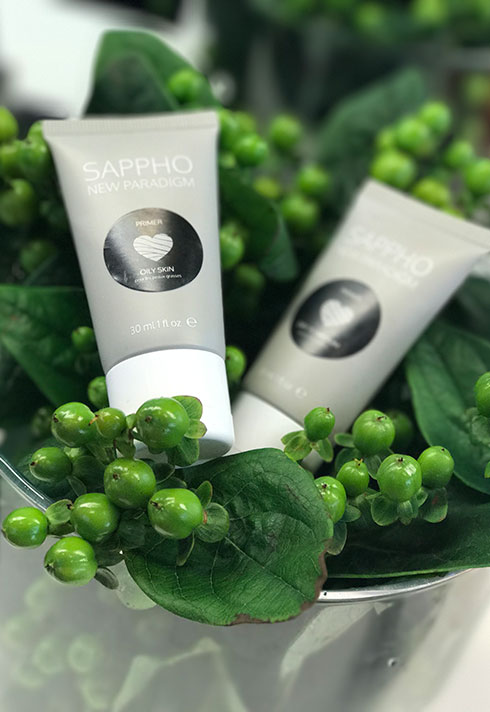 "I'm very happy about the kind of support that Blanche Macdonald is giving to Sappho New Paradigm. Little did I know how long my relationship with my Vancouver Makeup School would last when I walked through the doors in the mid-80s. From my education with Todd McIntosh to teaching there to working with CurliQue my involvement with the school has always been positive; so much so that we have designed a copper and bamboo makeup display specifically for the store and I can't wait to show it off!"
JoAnn is only doing selected day calls for TV and film these days. She's mostly busy managing the fast-expanding Sappho Empire. She understands that the Makeup Business is hard work, whether it's 20-hour days on set, countless hours refining organic makeup or the challenges of launching her line internationally. That suits her fine.
"Do what you're passionate about!" she insists. "Don't listen to anyone who says no to you. There are a million reasons in the world not to do something but if it's something you love you should just do it. No one has more fun than me. I've put my whole life's work on the line for Sappho New Paradigm. As stressful as it can be, I still get to play with makeup every day!"