Fashion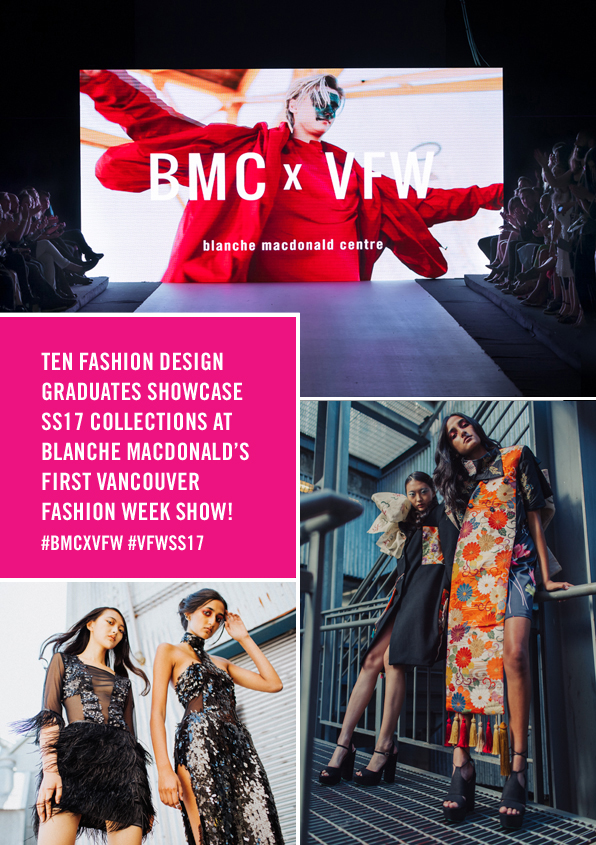 This year at Vancouver Fashion Week, there was a runway platform unlike any other: The first-ever collaborative show between Blanche Macdonald and the city's top-trending sartorial event unfolded under the eyes of the city's fashion and media industry elite.
From the moment the models began to emerge, it was clear that this showcase was a showstopper. Ten carefully curated Blanche Macdonald Fashion Design alumni from all over the world revealed three looks each to a packed forum of wall-to-runway journalists, bloggers, photographers, industry professionals, and fashion fans.
The audience found themselves whisked from one delight of to the next – first transported to the lively and eccentric world of Alex S. Yu; then to the fabulous collection of Evan Clayton's magical-girl couturiere; then awed by the hand-formed and dyed wool of Garret Alexander Elphee's singularly unique creations; then tantalized by the glittering animal prints and feathers put to use by Maryam Asgari. The startling range of stories, aesthetics and influences displayed by this prodigious international set of designers elicited the standing ovation that capped off the inaugural BMC x VFW show.
Read More

Think working as a wardrobe stylist means a never-ending stream of free clothes and cutting edge looks? For Blanche Macdonald Fashion Marketing graduate and Cross-Canadian stylist Jessica Clark the reality is a little different.
"As a stylist people think you're always working with high fashion. But on commercial jobs I need to make people look real. That's what my job is a lot of the time. My clients are trying to sell a product, so I'm trying to meet the creative vision of the ad agencies and art directors. How can I make this actor or model look like they own this product? How can I make them look like the target market?"
Jessica is adept at answering those questions. Regularly travelling across Canada, from her native Alberta to Vancouver to Toronto and beyond, she's styled for household name brands like Revlon, Maison Simons, Honda, Adidas, Kate Spade, Vince Camuto, Poppy Barley and American Crew. Her portfolio is understandably full of high end looks for magazines, designers and modelling agencies, but Jessica is acutely aware that being a successful stylist requires more than surfing the wave of the latest trends.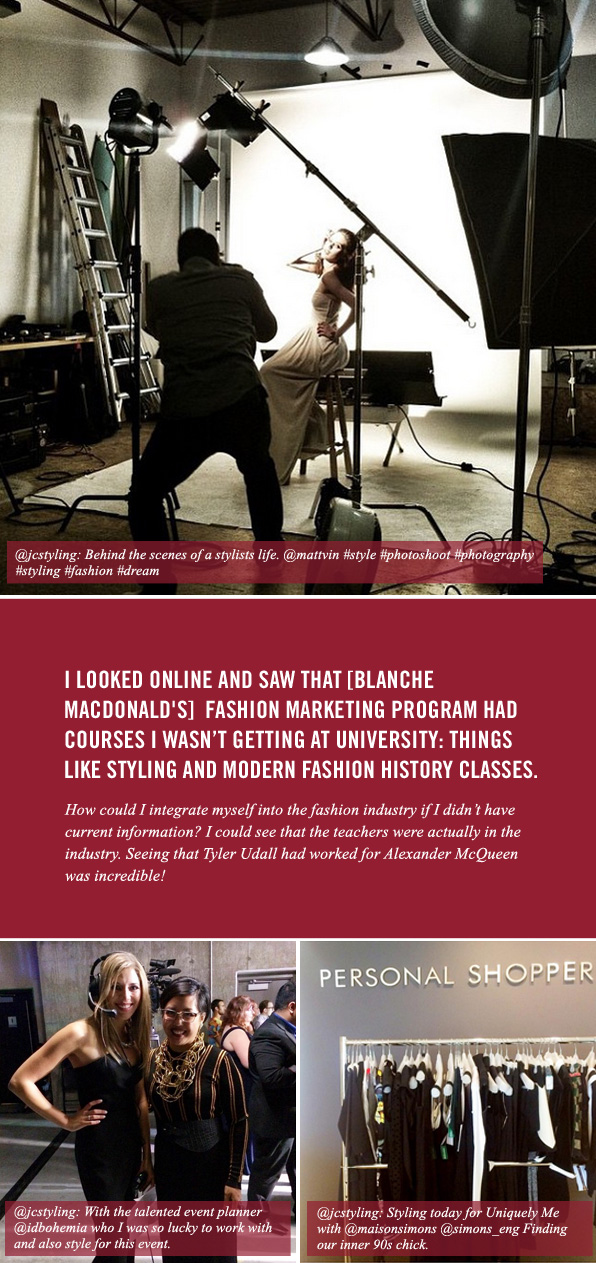 "I was recently flown to Toronto to work on an ad for an agricultural supply company," she continues. "It doesn't sound glamorous but it was an amazing campaign. A young farmer is proudly looking over the fields thinking 'This is all going to be mine some day.' If you're working on a farm, you're probably not going to be wearing an expensive jacket. I needed to make the clothing look like it had been worn for decades. The images are telling the story, so those images need to be believable. For a job like that I make mood boards so everybody is on the same page. We're a team, so I'm in constant communication with the clients and photographers. I want to be sure what I'm providing is what the clients want. And if they don't like my first choice, I have five other outfits on hand ready to go."
Professionalism comes naturally to Jessica. Her father is a commercial photographer and he provided the teenage Jessica with an introduction to the world of advertising, opening doors as she began a brief modelling career. It was on one of those modelling gigs where Jessica had her first encounter with the world of professional styling.
"Stylists weren't common growing up in Alberta, so when this guy started putting my belt on backwards, telling me to put my dress on backwards and throwing another dress over the top I thought it was so weird, even though I understand what he was doing now. I asked him what he did, and he said he was a stylist. I thought, that sounds like a fun job. I like putting outfits together."
Read More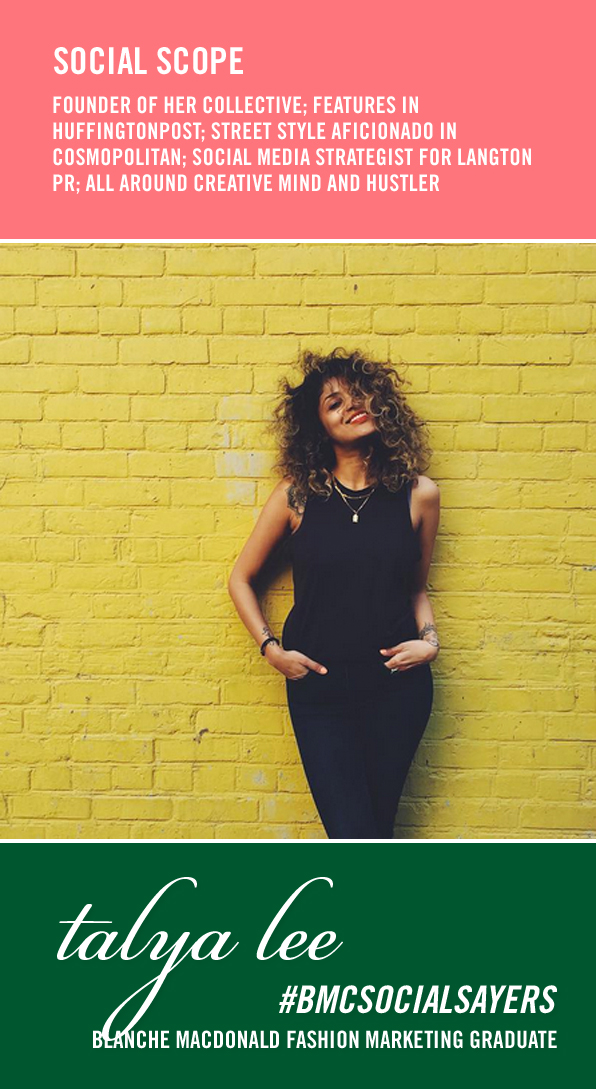 Public Relations maven Talya Lee is where effortless street style and old-school hustle come together. Following her love of the arts and honoring her wanderlust roots, she circled the globe after graduating from Blanche Macdonald's Global Fashion Marketing Program, dipping her toes in the most exotic of locales. Today, with her feet firmly planted in Toronto's bustling creative community and PR circles, Talya's days are a whirlwind of fashion, events, travel, and collaboration amid Canada's epicenter for the arts.
Streaming in via Skype from Toronto on a chilly afternoon, Talya's signature mass of dark brown curls vie for a majority the screen as her metal, minimalist accessories glint in the sunlight that haloes her head and shoulders. Everything about Talya—from her posture to her grin—speak volumes about this genuinely cool and humble social media maven. Leaning in eagerly towards the screen, Talya offers greetings and kind words from her bare-lipped smile that immediately sets a tone of old friends catching up rather than a cross-country Skype call. Talking New York Fashion Week, Canada's national treasure (hint: you probably know her too!), girl power and Toronto's artistic renaissance, here's Talya giving us an insight to her self-made, ultra-chic and creatively centered world.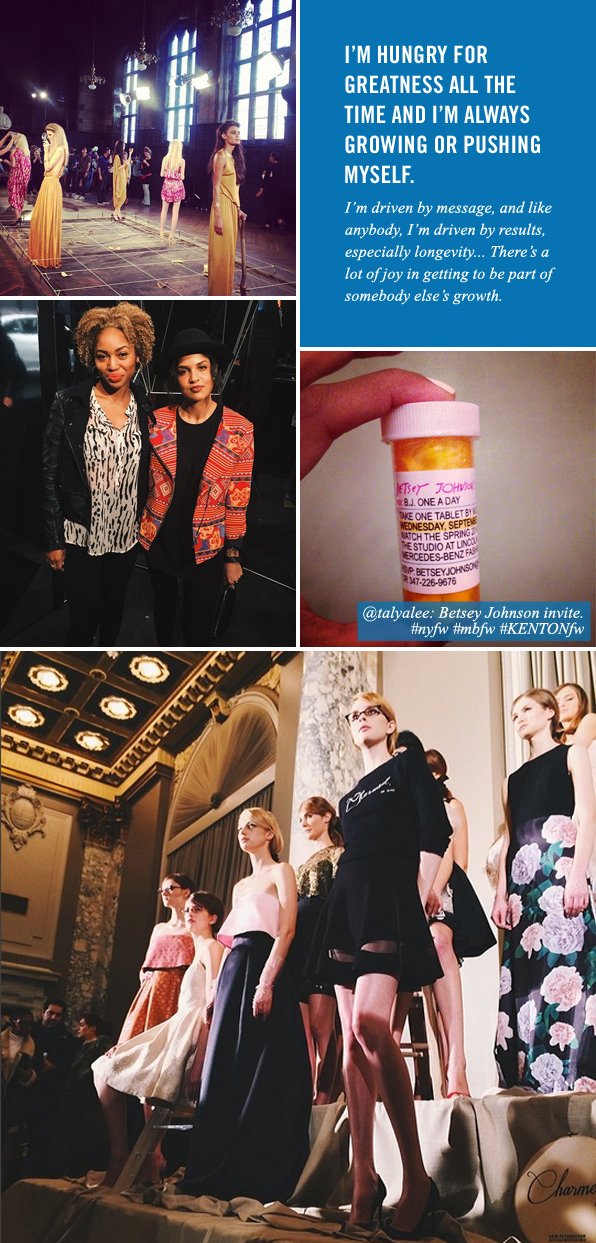 Blanche Macdonald: A quick glance at your social media platforms tells us that you do a lot, but your main gig is PR.
Talya Lee: PR is my bread and butter and my outlet. The reality is that if you want to be doing something creative, it can be hard to make money. I found that with my role at Langton PR, it was a really great spot for me to be and I'm actually good at it! But because I have a great day job, I can be a bit pickier about the other projects I take on. Those vary from creative direction to styling to branding awareness and strategy; basically, whatever is needed visually. I'm very familiar with all kinds of art so I can connect to it in a lot of different ways. PR helps me translate the visual aspect into branding strategy.
BMC: Tell us about the PR work you do with Langton. What kind of events do you go to? What types of clients do you work with?
TL: Working at Langton has been a great learning experience. We focus largely on beauty and lifestyle brands and build multi-tiered initiatives. I myself get to straddle a couple of different roles such as Account Management as well as Social Media Strategies. Every day is completely different. Some days I'm planning a big event for a new product launch for key VIP media and other days it's about driving a new social media campaign with influencers. We have been really lucky and worked over the years as a team and as individuals to build great initiatives around brands like Joico, Elizabeth Arden, Vita Liberata, and so many more. I think one very important lesson for all of us has been in learning the power of being a great team—working as a unit and not being afraid to get our hands dirty because the road to success isn't always glamorous.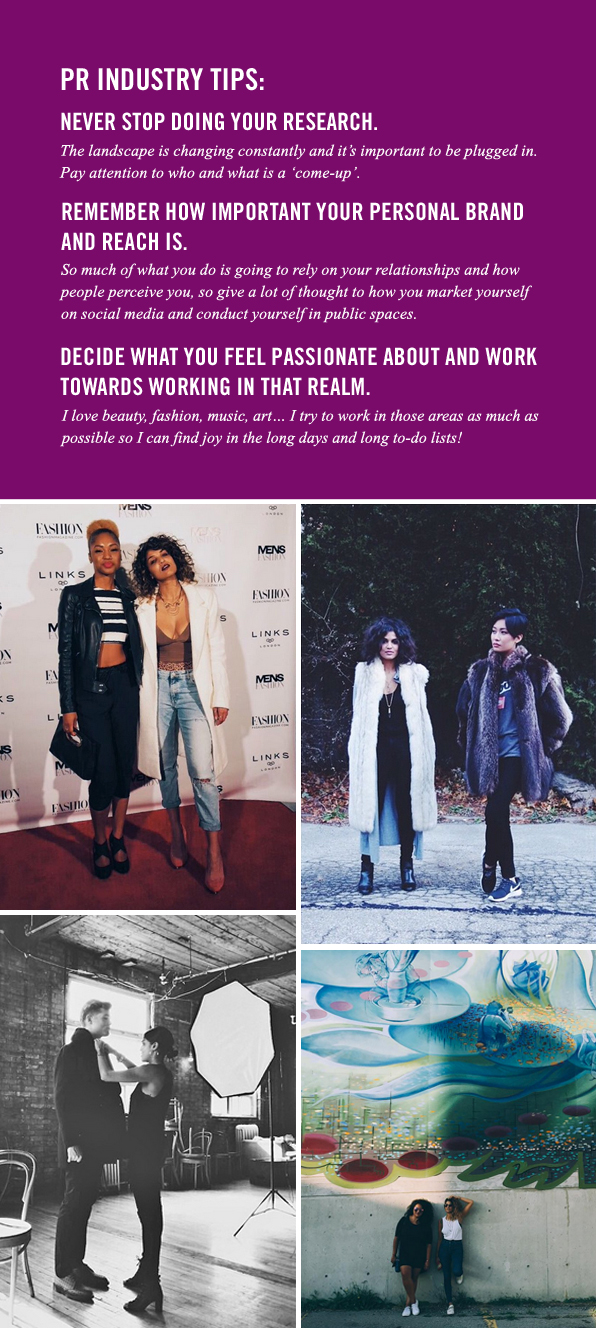 BMC: You must have made a lot of great connections so far in Toronto.
TL: It was a lot of pounding the pavement, but social media was really great for making connections and networking too. You can see someone's gallery, for example, and you can immediately understand their hustle. I met a lot of people who I love to work with now just by reaching out over social media. The thing is, in this city everybody is a mover and a shaker, so it's not weird to reach out to someone and say, 'Hey, I love what you do. Can we connect?' But I also did a lot of collaborations for free. As people started moving up in the world, they started taking me with them.
Read More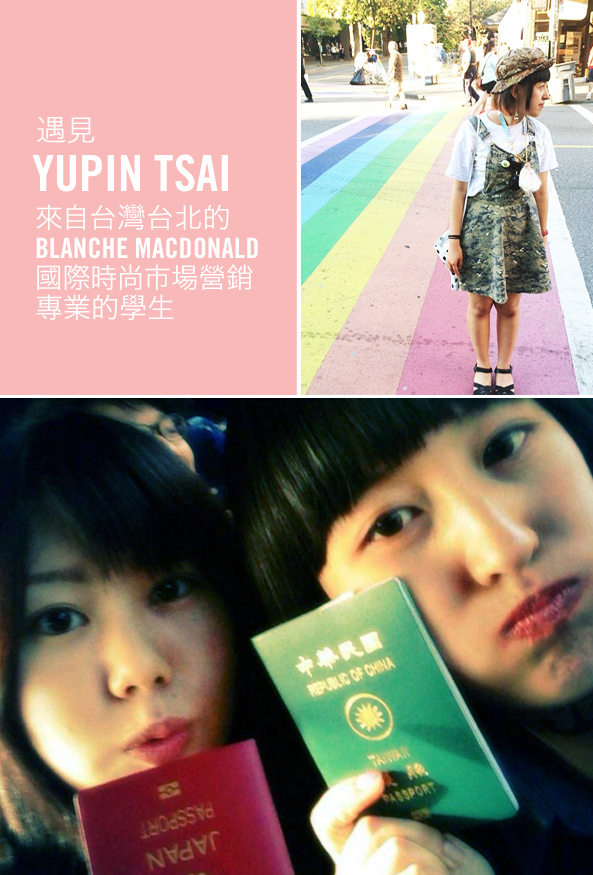 初次見到Yupin Tsai的人,都會立刻被她輕柔又有些害羞說話方式所吸引。這樣內斂的性格,却藏在她一頭紫紅色挑染短髮和高於眉梢的齊瀏海造型下,极具反差。 Yupin有著一顆樂於冒險,不安於現狀的心。她簡單又實事求是的處世以及學習態度,讓她成為深受老師喜愛的學生。
"在Blanche Macdonald,每個人都在為了成功而奮鬥著。"
零售業採購一直是她夢想的工作,也正是因為如此,Yupin懷揣著夢想選擇來這裡開始她的學習。她的目標一直非常明確,那就是尋找一座新的城市去鍛鍊以及培養她的獨立性。
"我聽說有個朋友在這裡學習國際市場營銷的專業後,毅然決定來到Blanche Macdonald學習。其實Blanche Macdonald在台灣非常有名!"
來到一座新的城市生活,對於一個國際學生來說,最大的挑戰就是語言。每天放學後,Yupin都會專門留下和時尚營銷專業的系主任還有任課老師, Donna和Peggy 一同再復習一遍學習資料。這也讓她感受到學校的老師們對於學生非常的關心和負責。
"Peggy和Donna在下課後花費了無數小時和我坐在一起,僅僅是為了確保他們能夠幫助我解答了所有的課業問題,讓我可以跟上學習的進度。我非常感激他們,也非常感動。"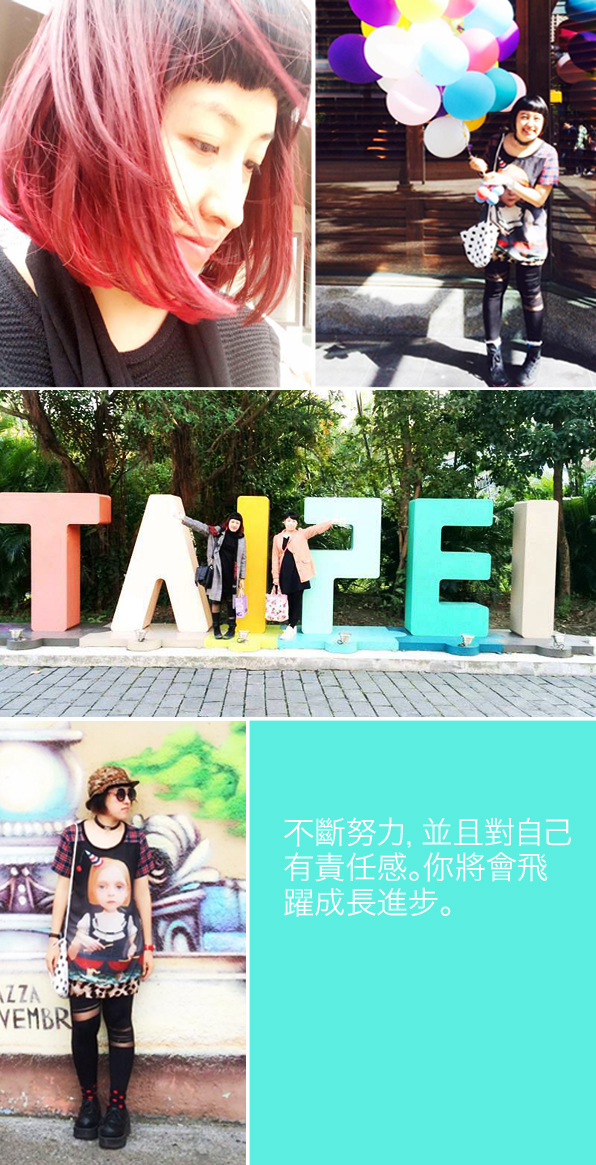 來到溫哥華生活和學習令她成長了很多,不僅僅是學業上。她的其它方面的能力也都得到了很大的提高,離開父母身邊後的每一天,她都在不斷的成長和進步。
"我變得越來越獨立。以前我屬於那種'媽寶'型的孩子," 她一邊回憶,一邊不由笑了起來。"自從來到這裡生活,現在的我學會了如果做飯,如何在新的地方不迷路。"
畢業回到台灣後,Yupin很快就發現曾經在課堂里學到的知識,在她離開溫哥華後對她產生了很大影響和幫助。在BMC國際時尚營銷專業的學習給了她創業的自信,並且這影響著她每一天在自己創辦的電商公司 Nine to Night上的決策。憑藉著對台灣時尚文化的敏銳嗅覺和分析,她能夠有針對性的不斷滿足客戶們的需求。Yupin主要穿梭往返於泰國以及韓國兩地進行採購,並且通過社交媒體渠道建立與客戶們的聯繫,提升客戶忠誠度。在短短一個月之內,她就已經收穫超過3500個"贊",並且這個數字還在不斷增長。
Yupin把所有她所學到的寶貴知識歸功與她的老師們,她已經具備了戰勝每一個挑戰的能力,變得更加獨立與自信。這一紙BMC的畢業文憑,不僅僅是一張文憑那麼簡單,而是一份她無限潛力的證明。
有沒有一些給其它學生的建議?
"不斷努力,並且對自己有責任感。你將會飛躍成長進步。"

The rain-heavy clouds have only just swept past this city block and a crisp beam of winter sunlight now rays down upon the shop front of Vancouver's Greenhorn Cafe. Blanche Macdonald Fashion Design graduate-turned-instructor and eponymous label owner Sara Armstrong ambles up the sidewalk, folded in to the dark cocoon of her coat, and we pause together to marvel at the timely turn of the weather. As we upright a couple of chairs outside, brushing off a few errant drops of water, our conversation turns to the magnificent line and craftsmanship of her jacket.
"I finished it just now, actually. I'd been feeling a cape, but I think I might stick with this," Sara says with a humble shrug. Her shoulders are framed in angled raglan seams, sloping and structured all at once.
When she speaks, it's with dream-like deliberation; every word—the right word—matters, her sentences themselves like sharp garments patterned and sewn with precision. "My style is a strange combination of fashion and sculpture," she says, "though I actually feel that combination should be more common. It's about transforming a two-dimensional to a three-dimensional form. I reference this a lot in my architectural seams. My background in sculpture has also been helpful in being a bit more fearless with materials."

Sara received her B.F.A in Intermedia & Sculpture from the University of Regina, Saskatchewan, the province she calls home and the city where her foray into art-as-career first began. Though she ultimately decided that sculpture wasn't the medium for her, her studies became the lens through which she developed her fashion aesthetic: Dynamically arching lines and intriguingly formulated silhouettes that have garnered international acclaim.
"When I was doing my degree," Sara says, "I was focusing mainly on public sculpture. I thought, 'Well, what do you do – work on one project for five years? How do you stay inspired through that?'" She smiles. "Fashion design is my own kind of public sculpture, I suppose. Everyone can take a piece, and what I want people to do is to make their own stories and life around them. I don't think of them as these trendy one-season pieces. I want the people who own them to incorporate them into their lives."
It's no secret that inspiration works differently for every artist, so as I sip the foam off my latte I wonder aloud how Sara goes about conceptualizing, building and showing a collection. "Silhouette, shape and form always come first when I'm thinking of a theme," she begins after careful consideration. "Then I think about what it sounds like or what kind of scene it would be in. From there it runs into runway, music, and video. All of those things together make a collection. I can't say that I'd be interested in showing a collection if I didn't have them all because they're what bring it to life. It's completely holistic."
Read More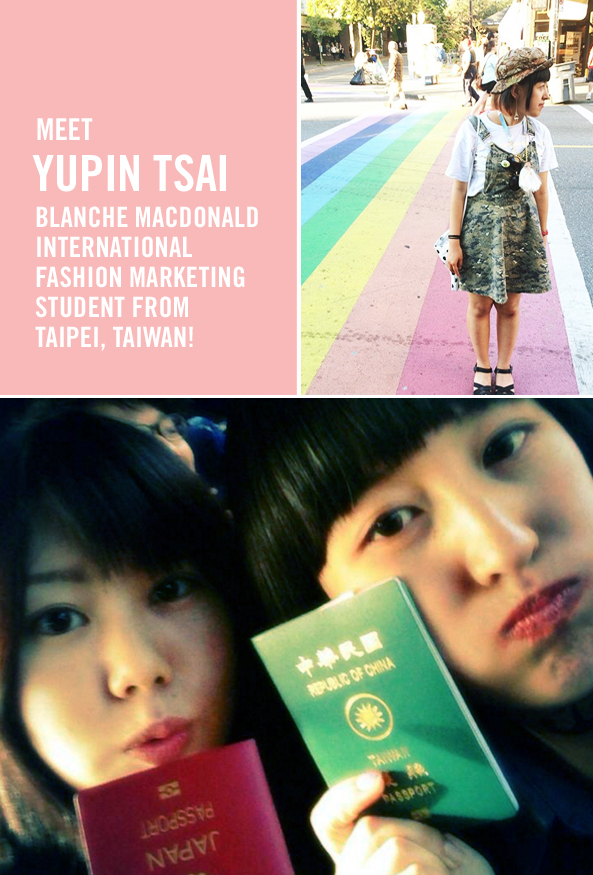 Anyone meeting Yupin Tsai is immediately drawn into her gentle soft spoken shyness. Her personality is tucked away underneath expertly clashed prints, with a touch of dipped fuchsia red hair tickling her shoulders. With her straight cut bangs landing just-so above her brow, Yupin is self-composed with an insatiable heart for adventure. Her simple matter-of-fact attitude landed her in the hearts of our instructors, where she became a cherished student.
"At Blanche Macdonald everyone is striving for you to succeed."
With a dream of retail buying on her mind, Yupin chose a fashion school to set her course. With her heart seeking a new city and her desire to develop her independence, the decision was clear.
"I decided to choose Blanche Macdonald after hearing about the school through a friend who also took the International Fashion Marketing program. Actually Blanche Macdonald is quite well known in Taiwan!"
While settling into a new city, the greatest challenge as an international student was language. Each day Yupin would stay after class to review the class material with Fashion Program Directors and Instructors, Peggy and Donna. This allowed her to see the deep care and responsibility the instructors invested in their students.
"I felt so appreciative and touched at the number of hours Peggy and Donna sat down with me after class just to make sure they had all my questions answered so I was able to keep up with the class."
Read More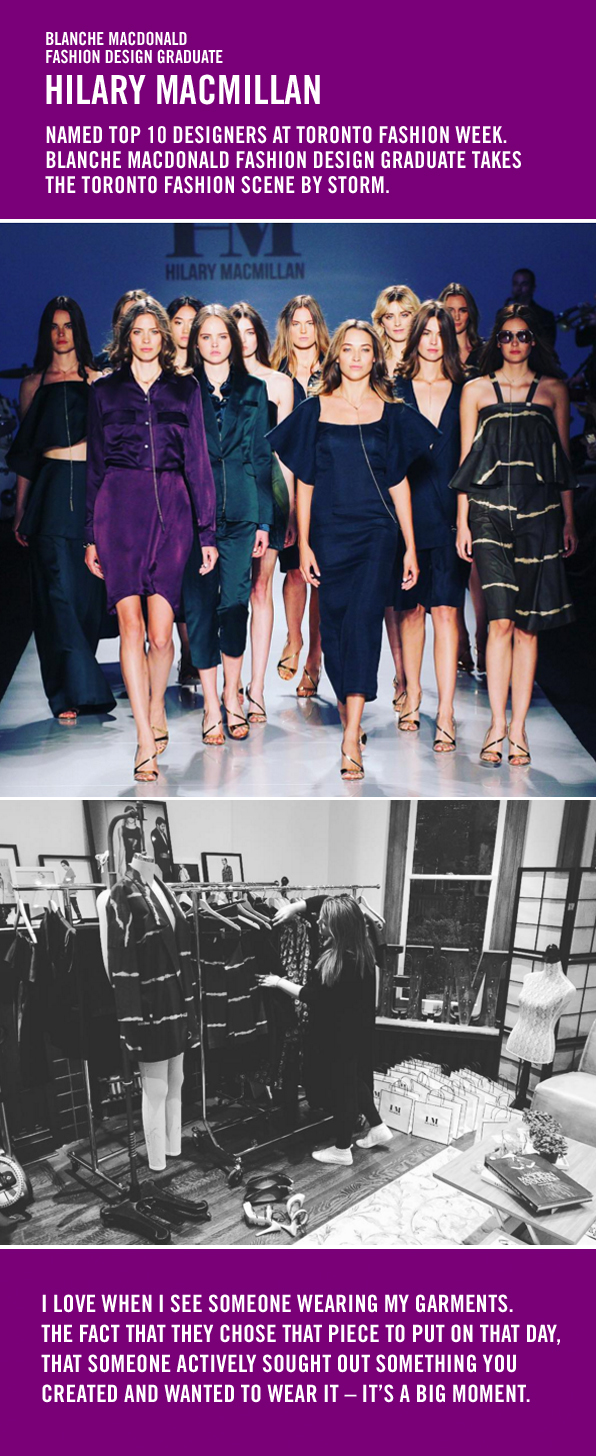 "My mother is an artist, so growing up I was always engaged in some art project. She encouraged me to be creative and to think outside of the box from an early age."
Every designer's story is a little different; for some it takes time for the realization to slowly dawn, but for others, it is an innate sense of purpose. For Blanche Macdonald Fashion Design graduate Hilary MacMillan, it's as though every step along the way was kismet, propelling her to where she is today.
Boston-born and Toronto-raised, it was an Undergraduate Degree at the University of British Columbia in Political Science and Economics that originally brought Hilary to Vancouver. However, it was during this time that she decided to change direction, recognizing that her life-long love affair with fashion could in fact become her career.
Her creative journey started at the Blanche Macdonald Centre, when she made the life-altering decision to scrap law school and pursue her unshakable passion for art and design. With a clear artistic vision and a passion to create for the modern urban women she was surrounded by, Hilary's namesake label has been turning heads since its inception in 2012. Fast forward to present day, Hilary has just established a new stockist in Morocco, allows celebrities to pull her garments for Toronto International Film Festival and is showing both Fall and Spring collections at Toronto Fashion Week. We've come to conclusion, this was always her calling.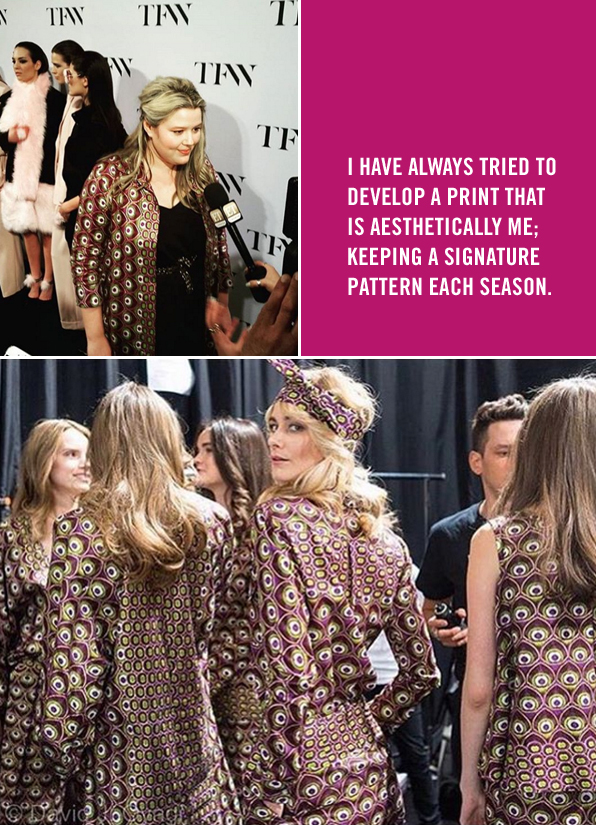 Following her graduation, Hilary moved back to Toronto to help her sister with her independent jewelry store, ELLE Hardware in the chic and artistic neighbourhood of Queen Street West. Toronto, often referred to as Canada's Fashion epicenter, is fueled by a collaborative creative energy. This vibrant and rich arts scene is home for Hilary, and using the skill set and training she took away from her time in Vancouver at Canada's Top Fashion Design School, her strength and aptitude for design was able to take flight. Maybe it was the ever-inspiring and creative climate of the neighbourhood, or just a yearning to create, but it was during this time that Hilary designed her first independent capsule collection.
"I had designed a capsule collection and I was able to sell it at ELLE Hardware. I was so fortunate to have this outlet to see how customers responded to my garments and reacted to each piece. From there, I started wholesaling to other boutiques and attending trade shows to gain contacts within the industry."
Armed with insider knowledge on her garments appeal, Hilary was ready to take the next big leap.
Read More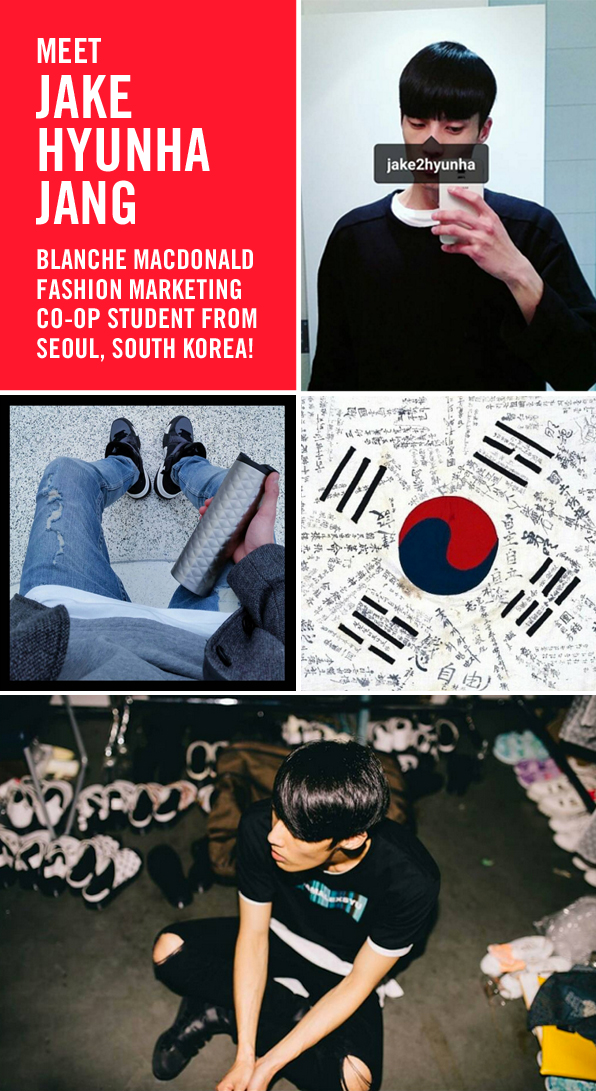 Fashion Marketing Co-op graduate Jake Jang may just be the friendliest head-to-toe-black-clad cool kid you have ever met. He lopes in, a towering silhouette wearing a self-possessed smile and a soft leather jacket that slips down the wide span of his shoulders. His manner is warm and easy (you can practically hear the lean-back in his speech), and he is liable to peel into bright bolts of laughter at any given turn of the conversation.
He cuts a distinct figure against Atelier Campus' expanse of white, where we sit huddled over an iPhone, sifting through a bright miscellany of squares.
"I spend a lot of time looking through street photos on Instagram's Discover section. Not this naked guy," he snorts, flicking away a particularly brazen bit of feed, "but a lot of these great fashion accounts will just randomly show up. I find new people to follow all the time. Like @GRINDmagazine! I know right? I didn't know about that one either, it just popped up one day. You gotta follow that one."
The army is that last place you would envision a character such as Jake, but in his home country of Korea, serving is simply run of the mill.
"Serving in the Republic of Korea Army is our national duty for two years; I was there because I had to be but it actually changed my life. Before that I was just wasting my time, drinking and partying, and I didn't know what I was doing. For those two years, I could think about my life, about what I wanted to do in the future. It played a big part in my decision to come to North America.
"Some time later, I applied for an internship with a Korean brand in New York but first stopped by Vancouver to study English. I met my girlfriend, decided to stay, enrolled in Fashion School at Blanche Macdonald and now – here I am," Jake grins.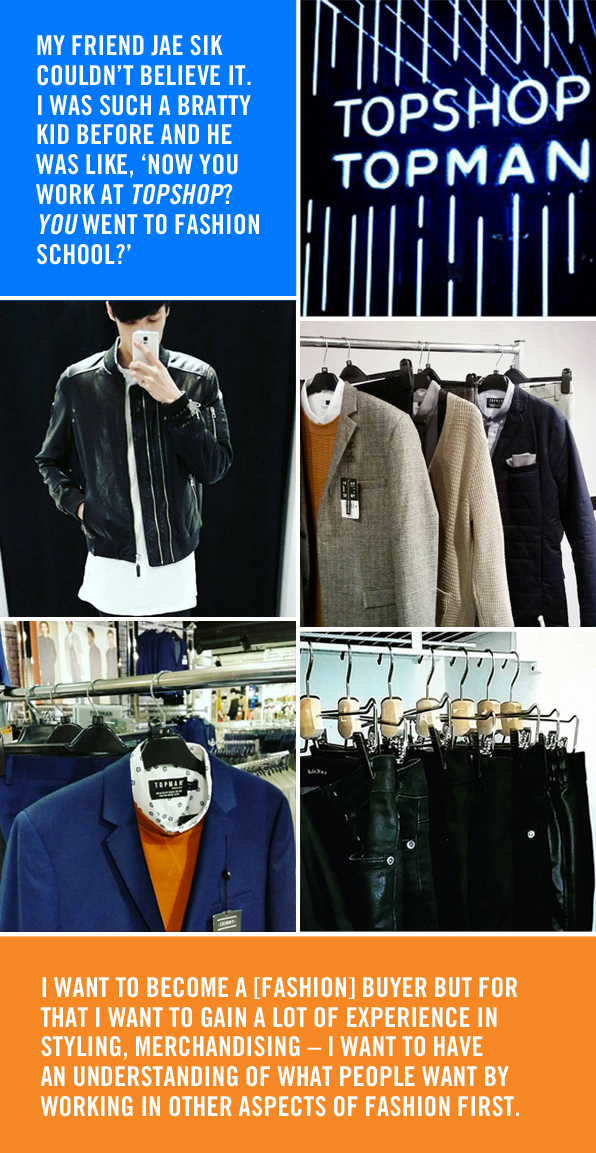 Jang's confident hold on the English language and cultural goings-on belie his relative new beginnings in Canada; in just the two years that he has lived in Vancouver, he has made fast friends of a wide array of the city's subculture coteries and fashion industry self-starters, and has landed himself in a choice slot at tip top trend arena, Topshop. And yet, even he'll admit that moving to a new country alone was hard-won.
Read More

Living the dream is dually exalting and exhausting. And when we reach Jayme Miller, dream-liver and Blanche Macdonald Fashion Marketing emigre, she's happily sprawled at the end of a long day of research, catching a bit of rest in the soft light of her London flat.
"We're researching for the cover story for the next issue of AnOther Magazine. It's really special actually because it's our 15th anniversary – so the 30th issue – and it's all about celebrations and parties and I'm really excited about it. It's cool to be a part of! And it's being shot in Paris," says Jayme, her poised drawl taking on a definitive note of excitement.
"Every day I am working with the people that I look up to so much – there's Jefferson Hack sitting a few seats behind me. It's all in the day-to-day but when I actually think about it, it's not normal."
Jayme's day-to-day is anything but run-of-the-mill. As Assistant to the Fashion Director of AnOther Magazine, she is not only sharing floor space with editorial legends such as Mr. Hack (who co-founded Dazed Magazine at the age of 19, and later AnOther) but is being mentored by world-renowned stylist and Gareth Pugh confidante, the impeccably cool Katie Shillingford.
"It's kind of hard to say what a typical day is because it's really different depending on what we're doing. The past few days have been the same thing – chasing requests, following up on things – which is nice, but then it's nice also to know that next weekend I'll be going to Paris," laughs Jayme (indeed, we think). "It's kind of the best of both worlds."

In the year since Jayme – a Kelowna, BC native at the cusp of an earnest 20 years – completed her Fashion Marketing training and hopped the plane to London, she's been not only exposed to, but completely immersed in worlds that a very select few ever become privy to: fervid and whirring worlds like those pressed into the pages of elite print, or tucked away behind the backdrops of Fashion Week. Her very first London editorial set teemed with legends like photographer Pierre Debusschere, fringe phenom Alex Brownsell, beauty babe Isamaya Ffrench and (of course) Katie Shillingford. And she had her first taste of London Fashion Week for this past SS16 season, tailing this latter editorial master through the realm of runway styling.
Read More