Events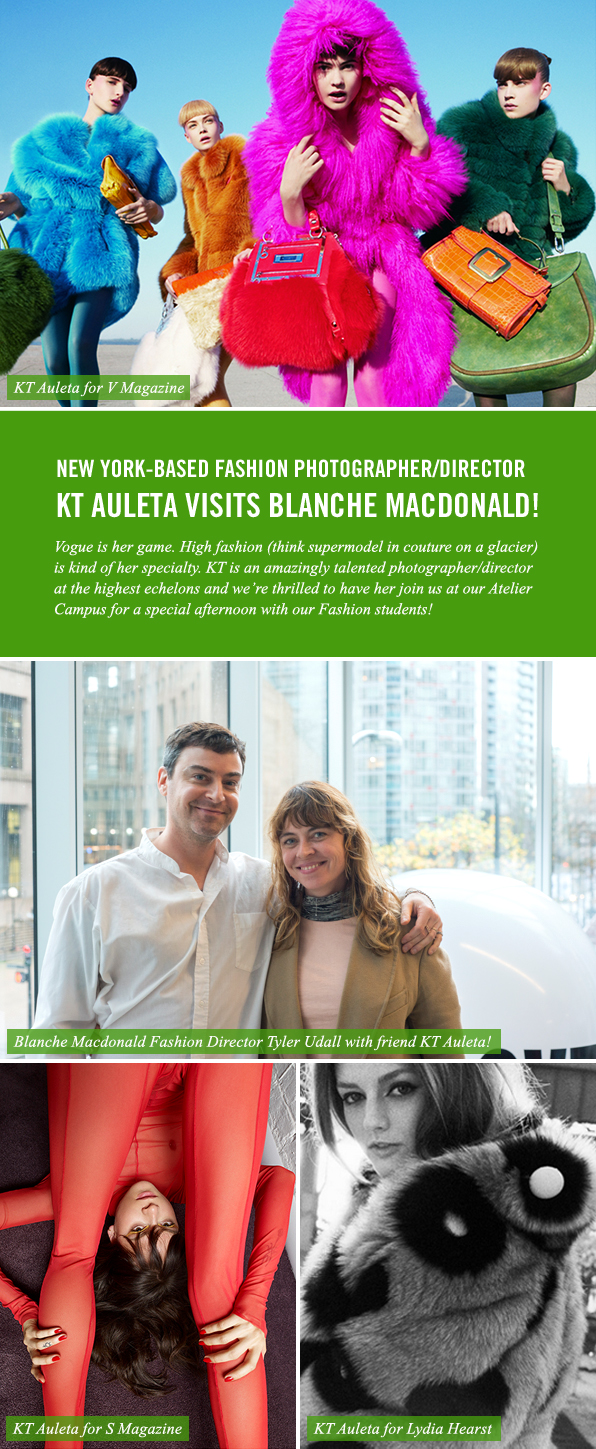 "What drew me to fashion was how it kept moving. Nothing's iconic any more. It's always, 'What's next? What's next?' I like that!"
KT Auleta's high velocity love affair with fashion continues to take her around the world. The New York City-based photographer and director is in perpetual motion, travelling from country to country shooting with clients like Hugo Boss, Sephora, Louis Vuitton, Tom Ford and Marc Jacobs, and titles including Vogue, GQ Style, Elle and Glamour. But on a layover en route to China she somehow found the time to visit Vancouver, Blanche Macdonald and her close friend, Fashion Director Tyler Udall, to give an engrossing presentation to students at Canada's top Fashion School.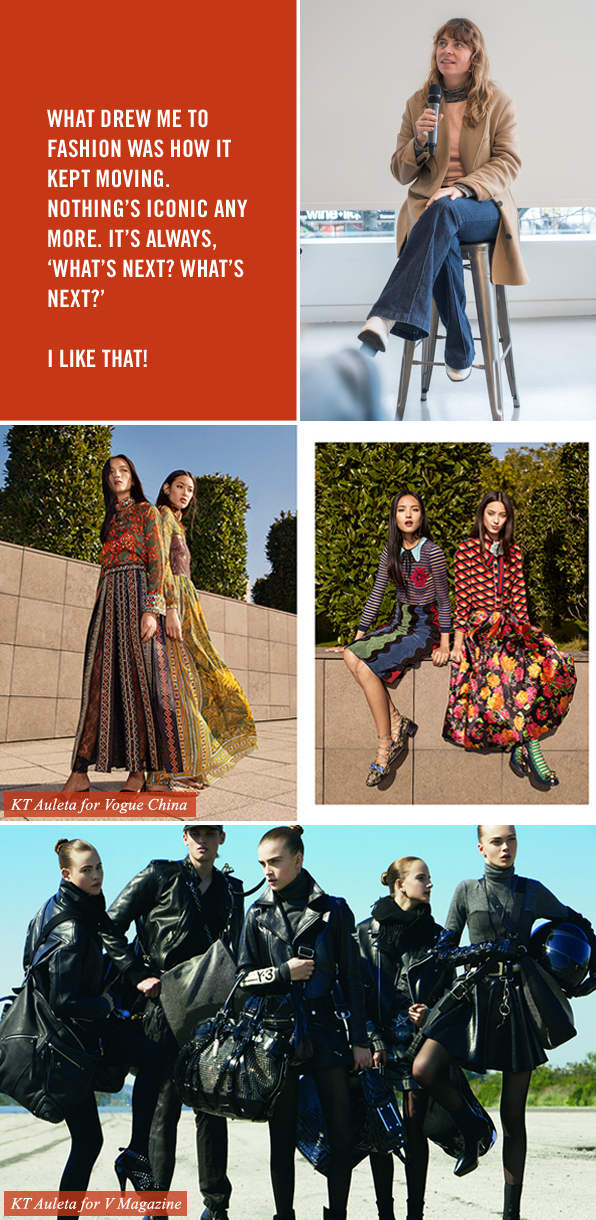 Over the course of a fascinating hour KT revealed her journey from intern to globetrotting photography superstar, the changing face of fashion imagery (including why she now shoots stills and video simultaneously) and the art of building a great creative team.
"I'm looking for good communicators," she explained in response to one of many questions from the floor. "I want people to take pride in their work. I want people I can trust to do their job well. I want them to feel empowered. I love working with new models, giving them wings and watching them blossom."
Read More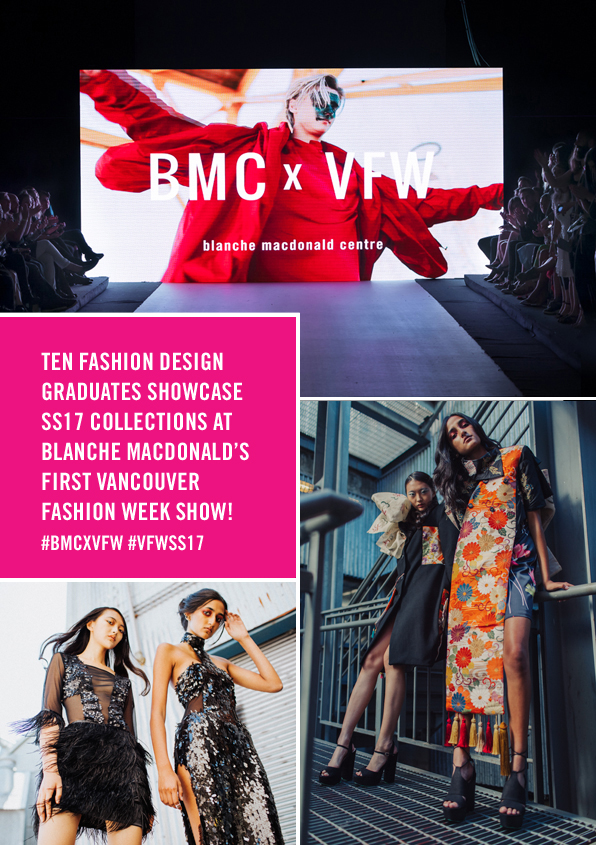 This year at Vancouver Fashion Week, there was a runway platform unlike any other: The first-ever collaborative show between Blanche Macdonald and the city's top-trending sartorial event unfolded under the eyes of the city's fashion and media industry elite.
From the moment the models began to emerge, it was clear that this showcase was a showstopper. Ten carefully curated Blanche Macdonald Fashion Design alumni from all over the world revealed three looks each to a packed forum of wall-to-runway journalists, bloggers, photographers, industry professionals, and fashion fans.
The audience found themselves whisked from one delight of to the next – first transported to the lively and eccentric world of Alex S. Yu; then to the fabulous collection of Evan Clayton's magical-girl couturiere; then awed by the hand-formed and dyed wool of Garret Alexander Elphee's singularly unique creations; then tantalized by the glittering animal prints and feathers put to use by Maryam Asgari. The startling range of stories, aesthetics and influences displayed by this prodigious international set of designers elicited the standing ovation that capped off the inaugural BMC x VFW show.
Read More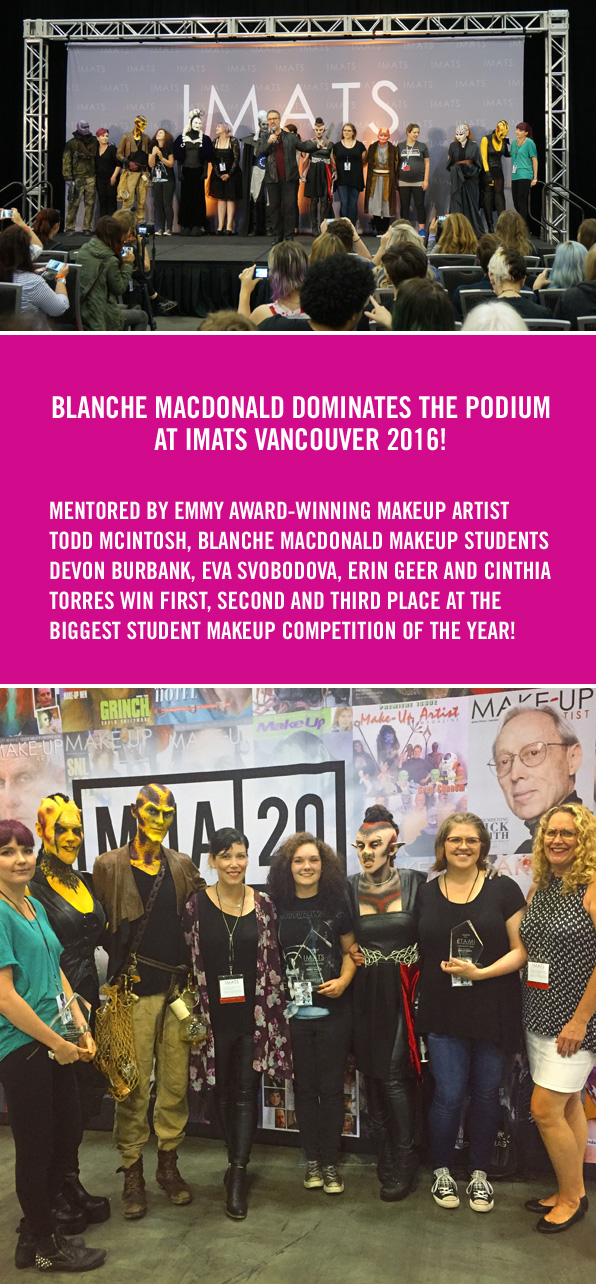 What a weekend! The 2016 edition of the Vancouver International Makeup Artist Trade Show (IMATS) was the best yet, as thousands of Makeup Artists, ranging from the professional to recreational, descended on the Vancouver Convention Centre to stock up on product and inspiration.
Both were in plentiful supply on the Blanche Macdonald/CurliQue Beauty stand, which drew large crowds as Makeup Program Director and industry legend Todd McIntosh demonstrated his prosthetics wizardry over the course of a Sunday afternoon. Proving that the possibilities of Makeup are indeed limitless, Todd created a realistic alien in a matter of hours – using discarded prosthetics pieces he retrieved from the bottom of a cupboard in his studio!

It wasn't just industry veterans creating magic. In the Battle of the Brushes, the ultimate competition for new Makeup Artists, Blanche Macdonald students shone, taking a superb second in the Beauty/Fantasy category, and filling the podium – taking first, second and third – in a hotly contested Prosthetics competition, crafting aliens on the theme of Four Decades of Star Wars.
For Prosthetics first place winner Devon Burbank, her victory was a triumph of tenacity over setbacks.
"My airbrush broke a few days ago so I bought a new airbrush and that broke too," she revealed, minutes after her victory. "We fixed it yesterday and today it broke again. So today's paint job was sponges and q-tips. Today's been a flux of emotions. It was an incredible experience and an amazing opportunity to be part of this event. I'm filled with joy. When they said my name I thought I was going to hit the floor. But I didn't!"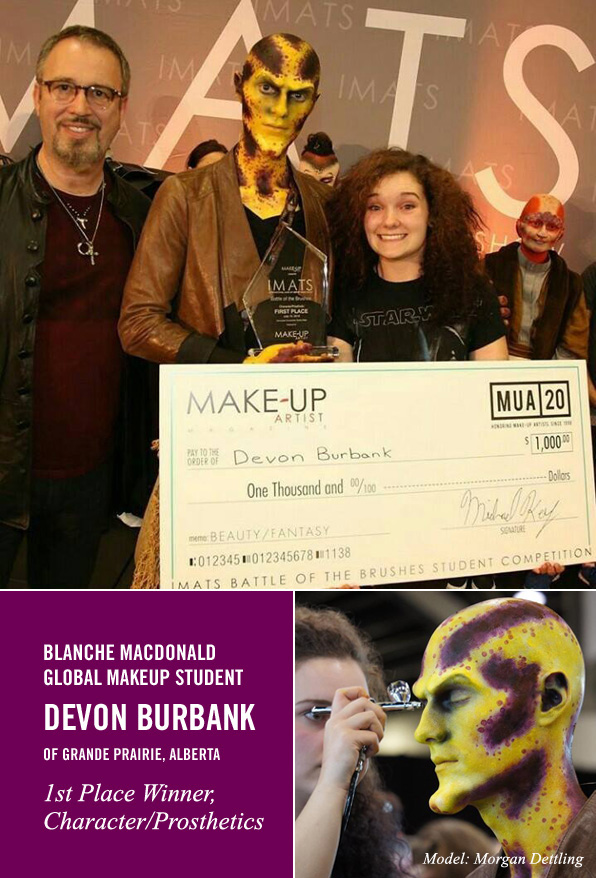 The Battle of the Brushes Prosthetics Competition is the ultimate mix of preparation and inspiration. With prosthetics pieces handed out at random 20 minutes before the contest begin, an artist's ability to instantly harness creativity is invaluable.
"I was excited to have random prosthetics thrown at me," continued Devon, "Because I love creating on the spot. I like doing makeup on the spur of the moment. That's when I feel my heart is into it. I was going to use a bald cap but that was all I knew. I was given two eyebrow pieces, a chin piece and two cheek pieces. The cheeks didn't fit well or look right, so I flipped them and added them to my model's collarbones, which made them look so defined."
Read More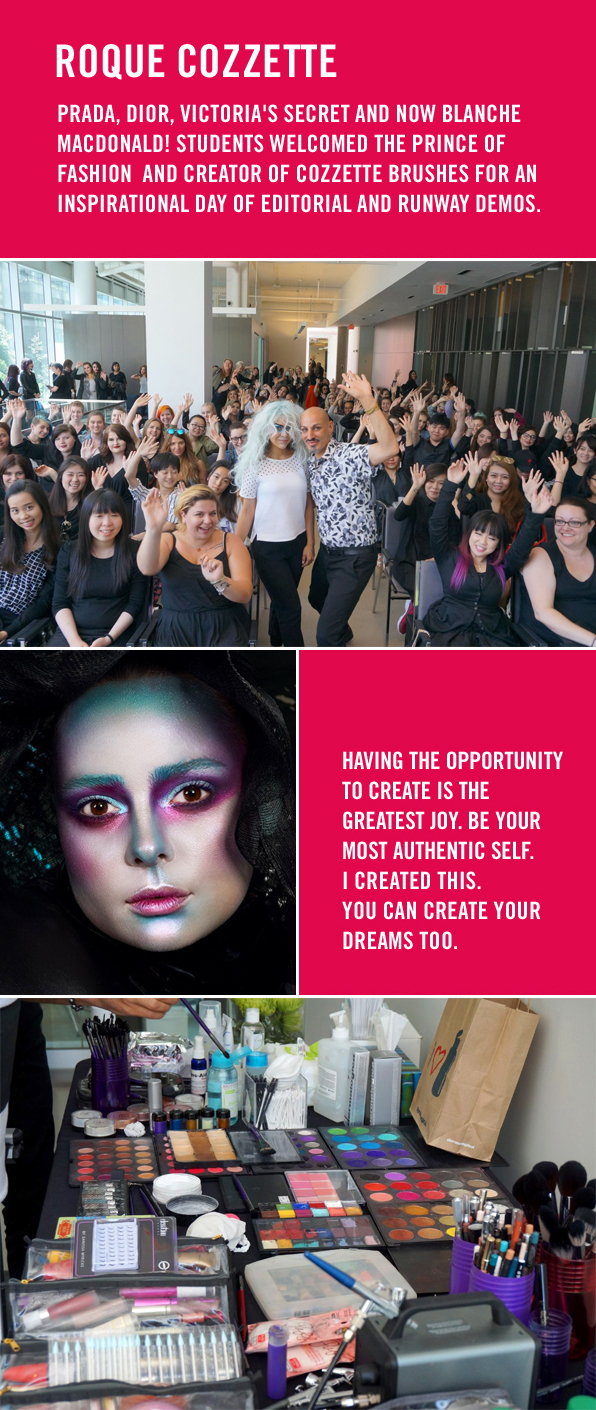 "Thank you for being alive and for following your heart."
Makeup Superstar Roque Cozzette knows how to make a great first impression. And his beautiful opening words at his magical presentation at Blanche Macdonald's Atelier Campus provided an apt introduction for a morning coloured with splashes of emotion, inspiration and creativity.
Roque's makeup has appeared on runways and in print for Christian Dior, Valentino, Y3, Louis Vuitton, John Galliano, Yohji Yamamoto, Victoria's Secret, Prada and Givenchy. Creating professional grade products alongside high-end fashion looks; he's also turned Infinite Makeup and his own Cozzette vegan brushes into global brands. In short, Roque Cozzette is makeup royalty.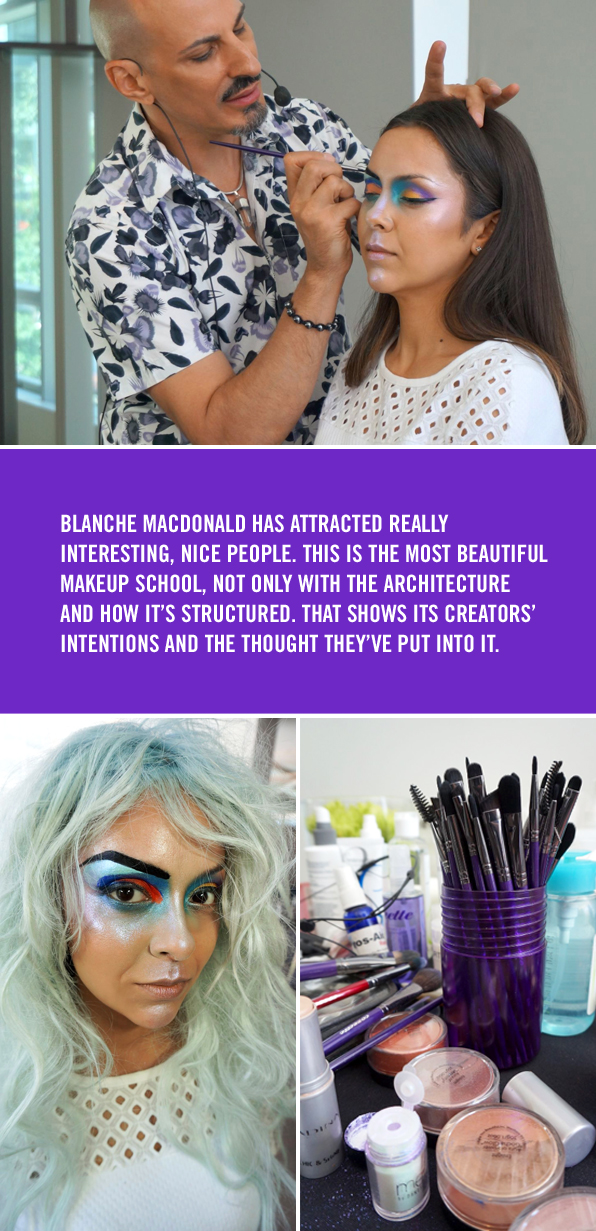 Both his artistry and products were on display throughout a fascinating makeup demo, as Roque transformed Blanche Macdonald grad-turned-youtube beauty queen Trina Duhra into a shimmering explosion of fashion editorial colour. Throughout the application Roque answered questions from host, CurliQue Beauty Team Leader Jaylene McRae and students, covering topics ranging from Photoshop ("think about it as a colour tool"), to confidence ("It comes from having a standard look and building colour theory into my plan") to the often underrated art of assisting ("You're serving the higher good, and there's greatness in that").
Most of all though, Roque came to Canada's top Makeup School to reinforce the importance of emotion, intuition and inspiration, whether it comes from individuals' faces or motorcycle gas tanks.
"Being here means you've already taken the first step," he explained. "Having the opportunity to create is the greatest joy. Be your most authentic self. I created this. You can create your dreams too."
Read More

On a crisp, clear November night, under the glorious art deco dome of Vancouver's historic Permanent Building, a new pack of Canadian and International design talents introduced themselves to the fashion world with brilliance and boldness at The Places in Between, the 2015 Blanche Macdonald Fashion Design Graduate Showcase.
The Permanent Building, a converted bank built in 1907, provided a suitably spectacular setting as work from 32 new designers literally stepped out of the vault in front of two audiences of friends, family and Vancouver's fashion elite.
For Blanche Macdonald Fashion Director and The Places in Between's Creative Director Tyler Udall, the combination of a special group of students and a magical venue was always destined to create an unforgettable night.
Read More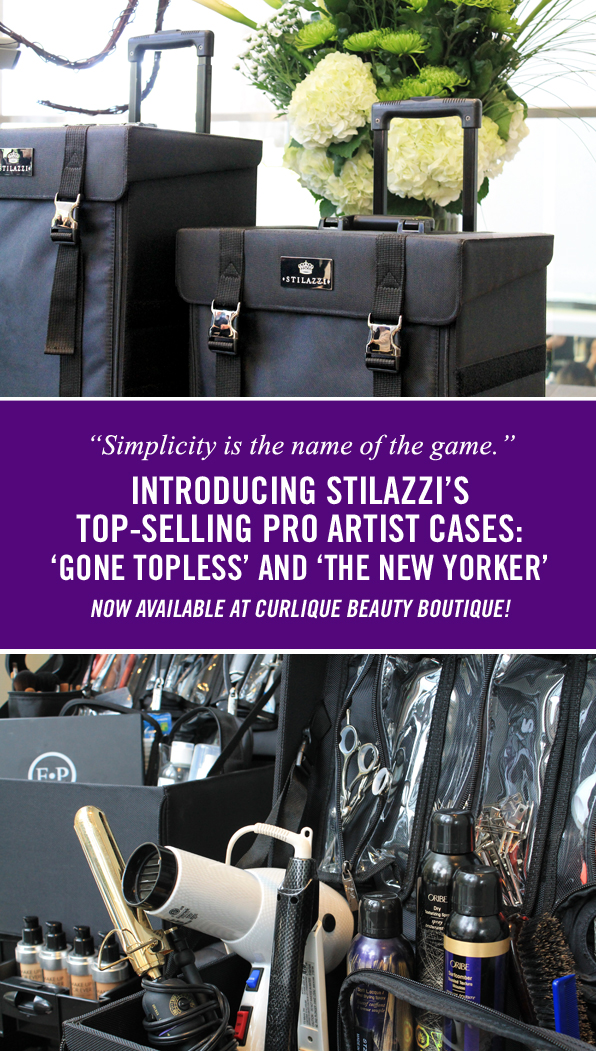 One could argue that the most MUST Kit Must-Have is the kit itself – which is why we've been lusting after Stilazzi's covetous pro cases since we first opened shop. We pulled some strings, called some FRENDS and made it happen, now making us the ONLY brick-n-mortar store to carry them this side of the coast. That makes us feel pretty darn special. So, to celebrate and to welcome them to the CurliQue Beauty floor with zazz, we're offering up a debut deal of 30% off both styles – the 'Gone Topless' and 'The New Yorker'.
Read More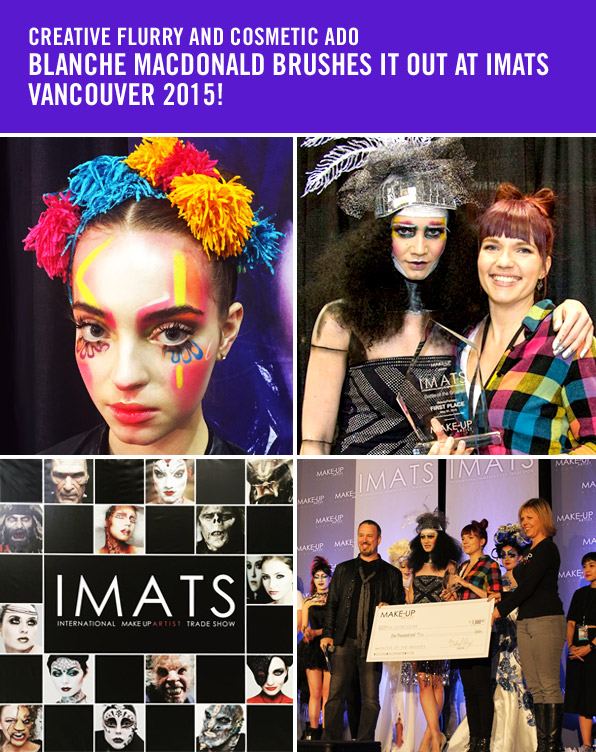 Makeup mavens and film devotees were sent into flurries of passion this past month as the International Make-up Artist Trade Show (IMATS) rolled into Hollywood North, transforming the cavernous sprawl of the Convention Centre into a cosmetic Wonderland. Held annually in six cities across the globe (LA, New York, Vancouver, London, Toronto and Sydney) IMATS is the event of the year for the Makeup obsessed, where we get to be loud about what we love to do amongst friends such as tip-top Makeup industry leaders, Award-Winning Artists, beauty product innovators, and fill our kits to the brim with our favourite cosmetic treats.
This year saw the Blanche Macdonald x CurliQue booth in a glitzed-out blitz of artistry and ado: Dolly Parton dance parties, mega-pro run-ins and, most thrilling of all, two top wins in the show's centrepiece student competition, the Battle of the Brushes (BtoB).
On the closing day, four Blanche Macdonald Makeup prodigies – recent graduate Shino Chen and current Co-op Makeup students Eva Svobodova, Agnes Liu and Yangi Kang – took to the BotB platform for a high-octane Beauty/Fantasy brush-off, each tasked with the conceptual reimagining of 'Historical Beauty Trends.' Time turned back as looks spanning the Qing Dynasty to the rabble-rousing '80s strutted out of the archives as creative wonders, and the seconds seemingly stopped as the last two envelopes were split to reveal the names of Yangi and Eva to a roar of applause.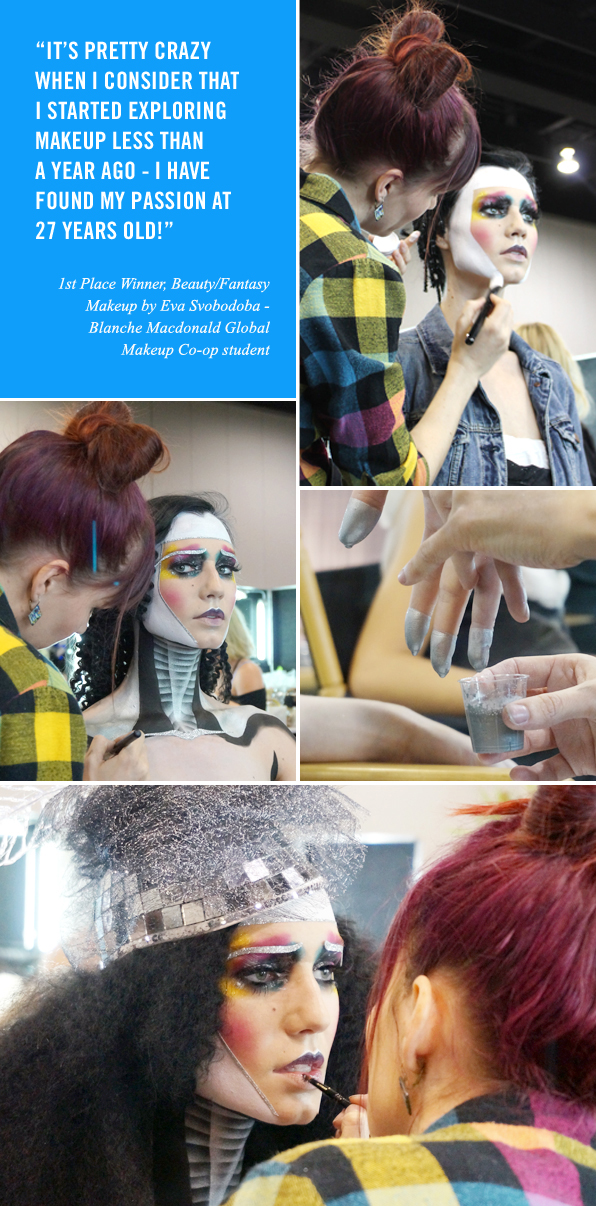 Czech-native student Eva Svobodova, who took First for her 'futuristic flapper' look, stepped away from her post-stage interview with IMATS Executive Producer Michael Key, giant cheque clutched tight and forgotten in the daze of her win.
"I am still shaking. I can't believe it," gasps Eva. "It definitely came as a shock. Inside I was hoping I would win, but you never know. The whole experience, and meeting all of these amazing artists was incredible. It was all so intense – I still need to process it!
"It's pretty crazy when I consider that I started exploring Makeup less than a year ago – I have found my passion at 27 years old! I went to my first IMATS last year; I saw the Battle of Brushes and was so excited by it. I told myself that the next year it would be me up on stage. I didn't think about winning or losing – I just wanted to do my best.
"It's proof that if you really want something, go for it, and go for it in a way that's your own, you can achieve it."
Read More