Events

Amidst the sprawling metropolis of New York City, film fanatics and beauty aficionados flocked to Pier 94 New York, New York this past month to take in everything Makeup at the prestigious International Make-up Artist Trade Show (IMATS). Held annually in only six mega makeup hubs across the globe (LA, New York, Vancouver, London, Toronto and Sydney) IMATS is a cosmetic wonderland and an opportunity to rub shoulders with the best of the best: from tip-top Makeup industry veterans and innovators, to Award-Winning Artists and YouTube/Vlogger sensations. This year, two superstar Blanche Macdonald Makeup prodigies – recent Global Makeup graduate and first time competitor from Ottawa, Ontario Aurezo Sanari as well as Global Makeup Co-op graduate and two-time competitor from Monroe, Michigan, Erin Geer – were selected to compete in the hotly contested Battle of the Brushes competition at this renowned event. With thousands milling about and Facebook live feeds streaming away, these two took to the stage with a carefully selected group of outrageous new makeup artists to battle it out for those coveted podium spots.
Blanche Macdonald: How did you prepare for this event?
Erin Geer: With the Battle of the Brushes Prosthetics category you aren't told how many pieces or even what exact pieces you will be getting. Because of this, there is only so much prep you can do. I practiced at home for the last two months, making sure I knew my layers and the order I would do things in so that I didn't get lost. This helped a lot in my time management.
Aurezo Sanari: I received the news that I was a finalist seven weeks before the show, which is exactly when the preparations began! In terms of preparing for the day itself, I packed doubles of every product I used just in case something didn't work!
Read More

Makeup legend Todd McIntosh is more than a guest on his regular visits to Blanche Macdonald. Todd is family.
As our Makeup Director, Todd's expert fingerprints – the same ones that won Emmy Awards for Buffy the Vampire Slayer and Pushing Daisies – can be found over Canada's ever-evolving and most complete makeup curriculum. He's been at the helm of Blanche Macdonald's Makeup Program for nearly 30 years now. So when Todd makes one of this regular pilgrimages to Vancouver, it's more than business. It's pleasure too.
That pleasure was shared with Blanche Macdonald's students and instructors as Todd spent a week and half with us this summer, providing multiple days of detailed artistic and career advice with the next generation of makeup superstars.

Todd's time at Canada's Top Makeup School began with one-on-one sessions with our Battle of the Brushes contestants at the Vancouver IMATS, delivering wisdom that helped our graduates to a clean sweep of the podium – first, second and third – in the Character Prosthetics category and a superb second in the Beauty/Fantasy.
"I've been a huge fan of Todd since I was ten years old, when I watched Buffy the Vampire Slayer," explained Battle of the Brushes first place winner Devon Burbank. "The fact that he took time to critique my work was amazing. He suggested so many ideas about hiding edges and folding things out. Todd is incredible. At the end he gave me a full hug and I freaked out."
Todd went on to spend two days visiting classes in progress, meeting students while providing hefty doses of inspiration and hands-on expertise.
Read More

There's no substitute for genuine glamour. Which is why, when Blanche Macdonald was seeking a venue to host the 2016 Fashion Design Graduate Show, once we set eyes on the Grand Ballroom at the historic Hotel Vancouver, the decision was easy. The contrast of Imperial Russian style elegance with the bold, ultra-modern debut collections from some of Canada's most promising new designers was too tempting to resist.
The result was Neon Dreams, the most spectacular – and to many attendees the best – Blanche Macdonald Graduate Fashion Show in the School's storied history.
"The Hotel Vancouver is such an iconic piece of this city," explained Fashion Director Tyler Udall. "They've done an incredible job preserving the original designs and over the years the hotel has been peppered with bits of luxury. Incredible fashion houses like Dior, Gucci and Louis Vuitton are now occupying retail space in the hotel. It seemed like a fitting space for our show."

Under the sparkle of Vancouver's most magnificent chandeliers Blanche Macdonald's grads' collections shone, as two glorious fashion shows unfurled on a chilly November afternoon and evening, the first for graduates' friends and families; the second for the city's assembled fashion media. For Tyler, presenting collections that could hold their own in the most extravagant surroundings was a testament to a special group of graduating designers.
"This group had more than a few extremely focused students. There are always a handful who come in and treat Fashion School like a military operation: up at 5am, working until 11pm and really pouring their blood, sweat and tears into their collections. There were several of them this year and it was a treat to see how well they worked and how much they bonded as designers and friends."
Read More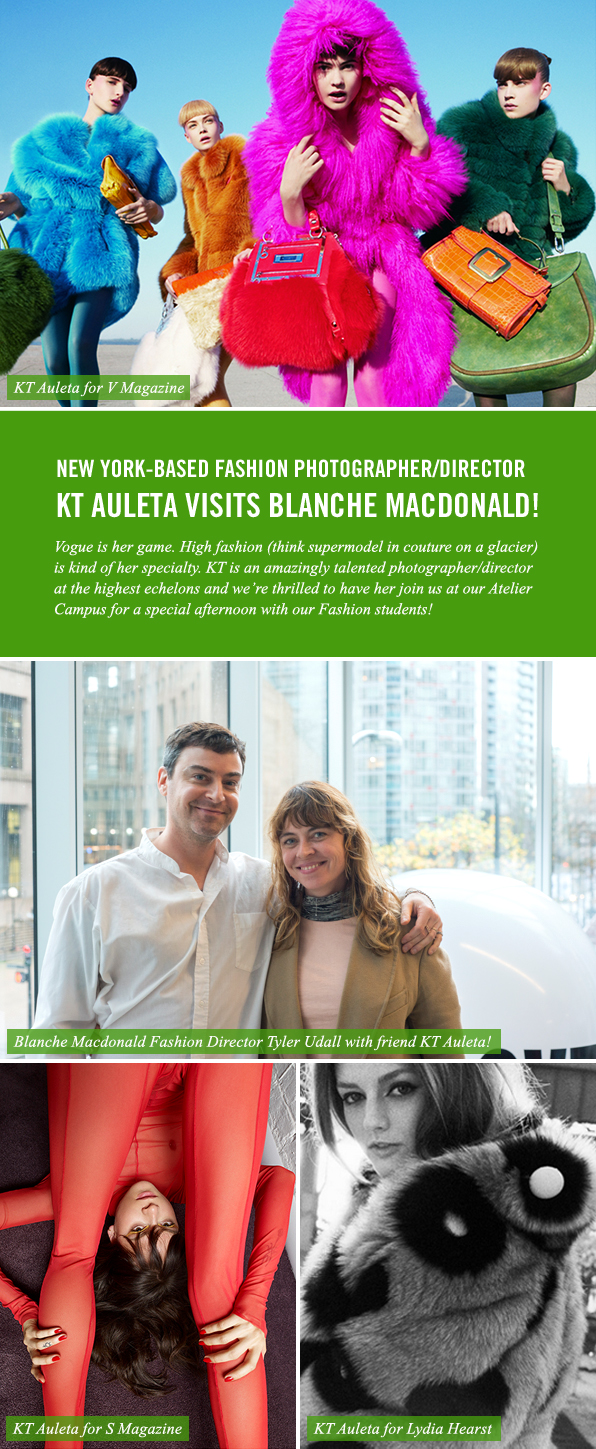 "What drew me to fashion was how it kept moving. Nothing's iconic any more. It's always, 'What's next? What's next?' I like that!"
KT Auleta's high velocity love affair with fashion continues to take her around the world. The New York City-based photographer and director is in perpetual motion, travelling from country to country shooting with clients like Hugo Boss, Sephora, Louis Vuitton, Tom Ford and Marc Jacobs, and titles including Vogue, GQ Style, Elle and Glamour. But on a layover en route to China she somehow found the time to visit Vancouver, Blanche Macdonald and her close friend, Fashion Director Tyler Udall, to give an engrossing presentation to students at Canada's top Fashion School.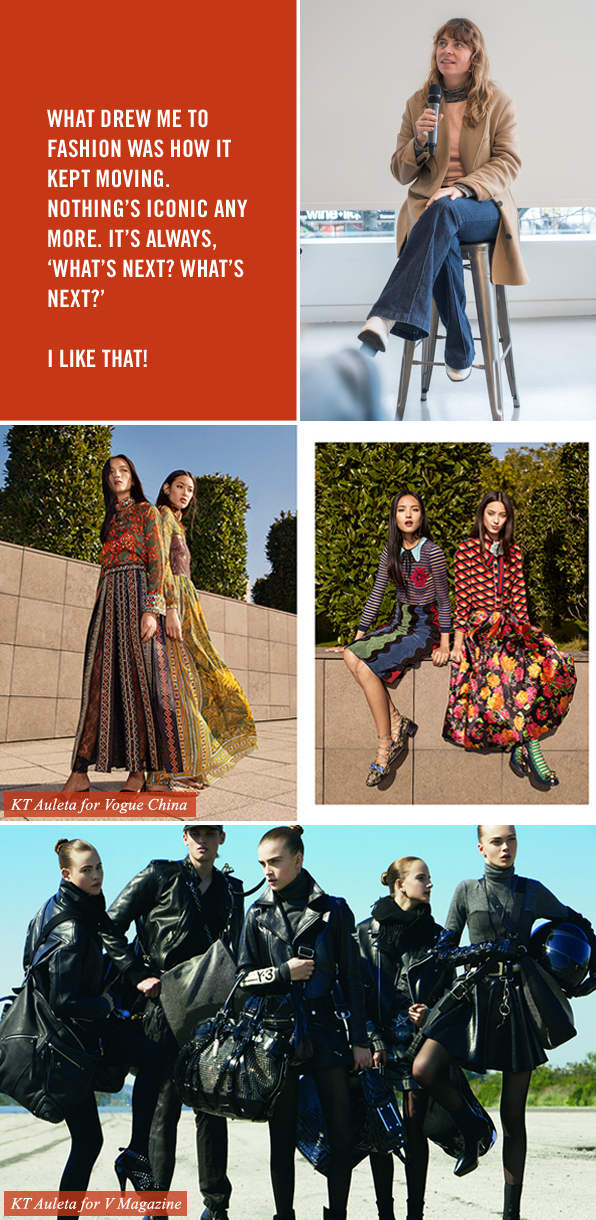 Over the course of a fascinating hour KT revealed her journey from intern to globetrotting photography superstar, the changing face of fashion imagery (including why she now shoots stills and video simultaneously) and the art of building a great creative team.
"I'm looking for good communicators," she explained in response to one of many questions from the floor. "I want people to take pride in their work. I want people I can trust to do their job well. I want them to feel empowered. I love working with new models, giving them wings and watching them blossom."
Read More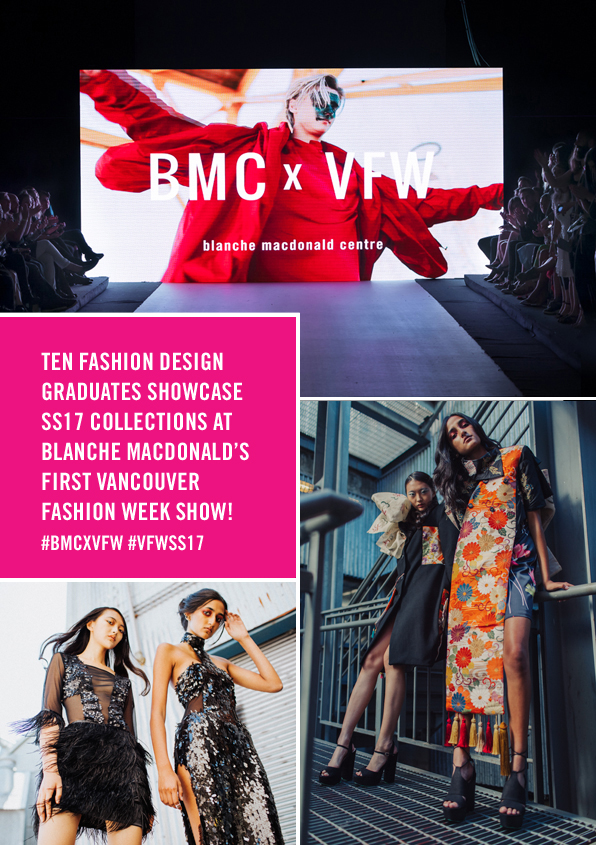 This year at Vancouver Fashion Week, there was a runway platform unlike any other: The first-ever collaborative show between Blanche Macdonald and the city's top-trending sartorial event unfolded under the eyes of the city's fashion and media industry elite.
From the moment the models began to emerge, it was clear that this showcase was a showstopper. Ten carefully curated Blanche Macdonald Fashion Design alumni from all over the world revealed three looks each to a packed forum of wall-to-runway journalists, bloggers, photographers, industry professionals, and fashion fans.
The audience found themselves whisked from one delight of to the next – first transported to the lively and eccentric world of Alex S. Yu; then to the fabulous collection of Evan Clayton's magical-girl couturiere; then awed by the hand-formed and dyed wool of Garret Alexander Elphee's singularly unique creations; then tantalized by the glittering animal prints and feathers put to use by Maryam Asgari. The startling range of stories, aesthetics and influences displayed by this prodigious international set of designers elicited the standing ovation that capped off the inaugural BMC x VFW show.
Read More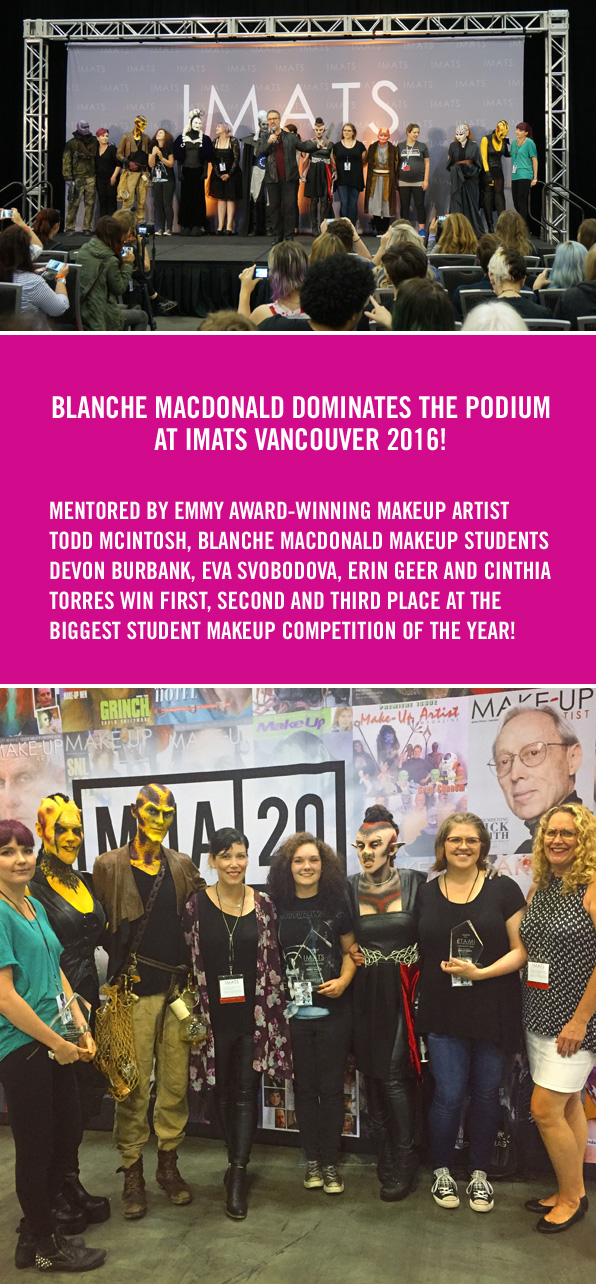 What a weekend! The 2016 edition of the Vancouver International Makeup Artist Trade Show (IMATS) was the best yet, as thousands of Makeup Artists, ranging from the professional to recreational, descended on the Vancouver Convention Centre to stock up on product and inspiration.
Both were in plentiful supply on the Blanche Macdonald/CurliQue Beauty stand, which drew large crowds as Makeup Program Director and industry legend Todd McIntosh demonstrated his prosthetics wizardry over the course of a Sunday afternoon. Proving that the possibilities of Makeup are indeed limitless, Todd created a realistic alien in a matter of hours – using discarded prosthetics pieces he retrieved from the bottom of a cupboard in his studio!

It wasn't just industry veterans creating magic. In the Battle of the Brushes, the ultimate competition for new Makeup Artists, Blanche Macdonald students shone, taking a superb second in the Beauty/Fantasy category, and filling the podium – taking first, second and third – in a hotly contested Prosthetics competition, crafting aliens on the theme of Four Decades of Star Wars.
For Prosthetics first place winner Devon Burbank, her victory was a triumph of tenacity over setbacks.
"My airbrush broke a few days ago so I bought a new airbrush and that broke too," she revealed, minutes after her victory. "We fixed it yesterday and today it broke again. So today's paint job was sponges and q-tips. Today's been a flux of emotions. It was an incredible experience and an amazing opportunity to be part of this event. I'm filled with joy. When they said my name I thought I was going to hit the floor. But I didn't!"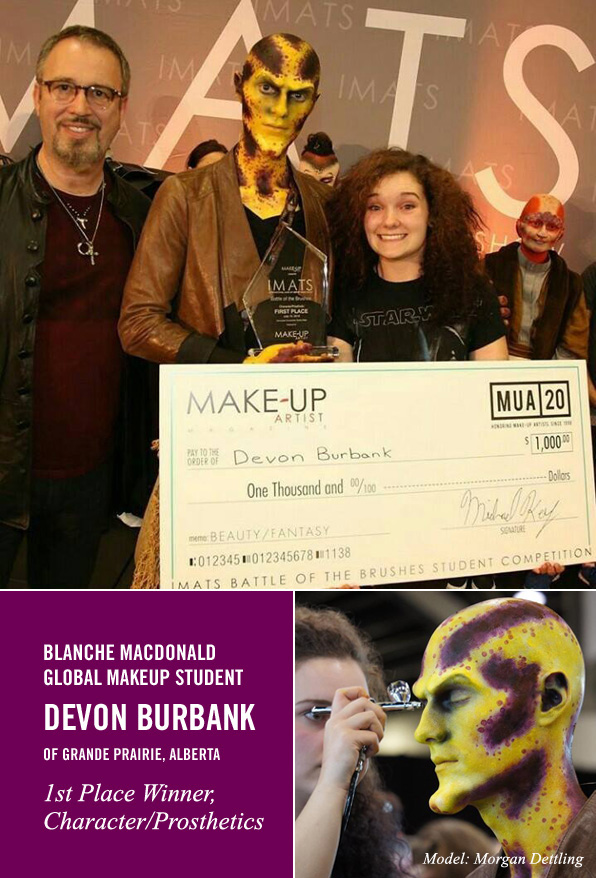 The Battle of the Brushes Prosthetics Competition is the ultimate mix of preparation and inspiration. With prosthetics pieces handed out at random 20 minutes before the contest begin, an artist's ability to instantly harness creativity is invaluable.
"I was excited to have random prosthetics thrown at me," continued Devon, "Because I love creating on the spot. I like doing makeup on the spur of the moment. That's when I feel my heart is into it. I was going to use a bald cap but that was all I knew. I was given two eyebrow pieces, a chin piece and two cheek pieces. The cheeks didn't fit well or look right, so I flipped them and added them to my model's collarbones, which made them look so defined."
Read More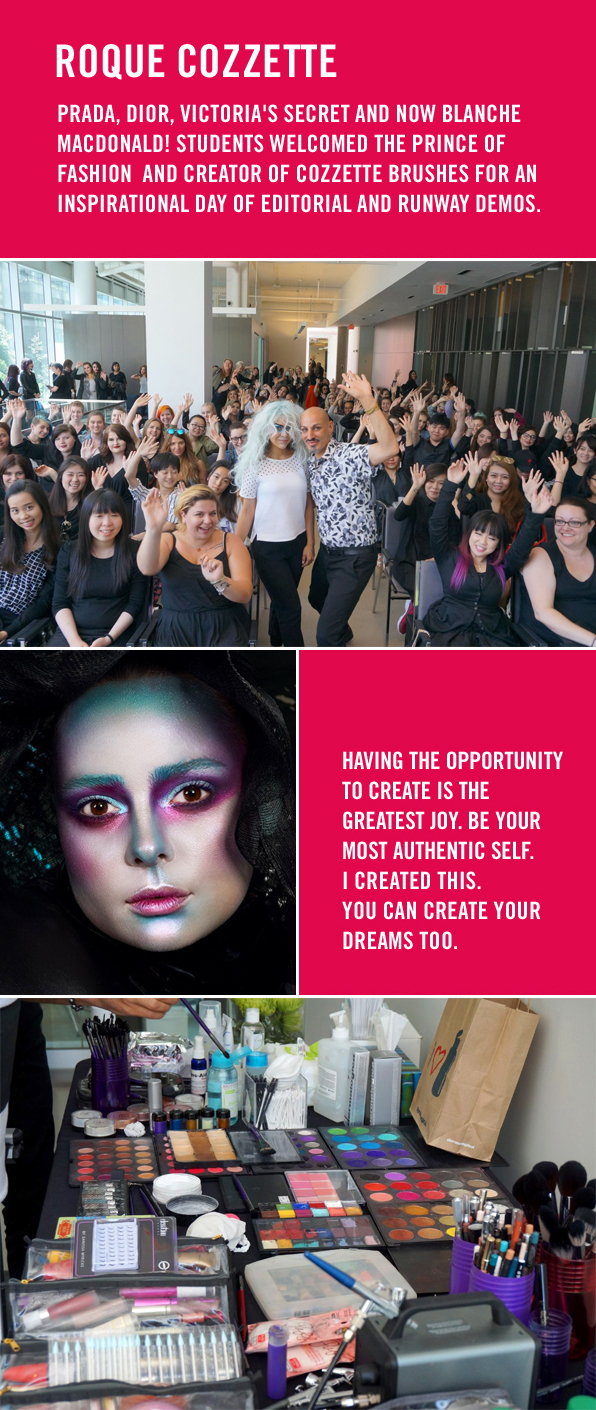 "Thank you for being alive and for following your heart."
Makeup Superstar Roque Cozzette knows how to make a great first impression. And his beautiful opening words at his magical presentation at Blanche Macdonald's Atelier Campus provided an apt introduction for a morning coloured with splashes of emotion, inspiration and creativity.
Roque's makeup has appeared on runways and in print for Christian Dior, Valentino, Y3, Louis Vuitton, John Galliano, Yohji Yamamoto, Victoria's Secret, Prada and Givenchy. Creating professional grade products alongside high-end fashion looks; he's also turned Infinite Makeup and his own Cozzette vegan brushes into global brands. In short, Roque Cozzette is makeup royalty.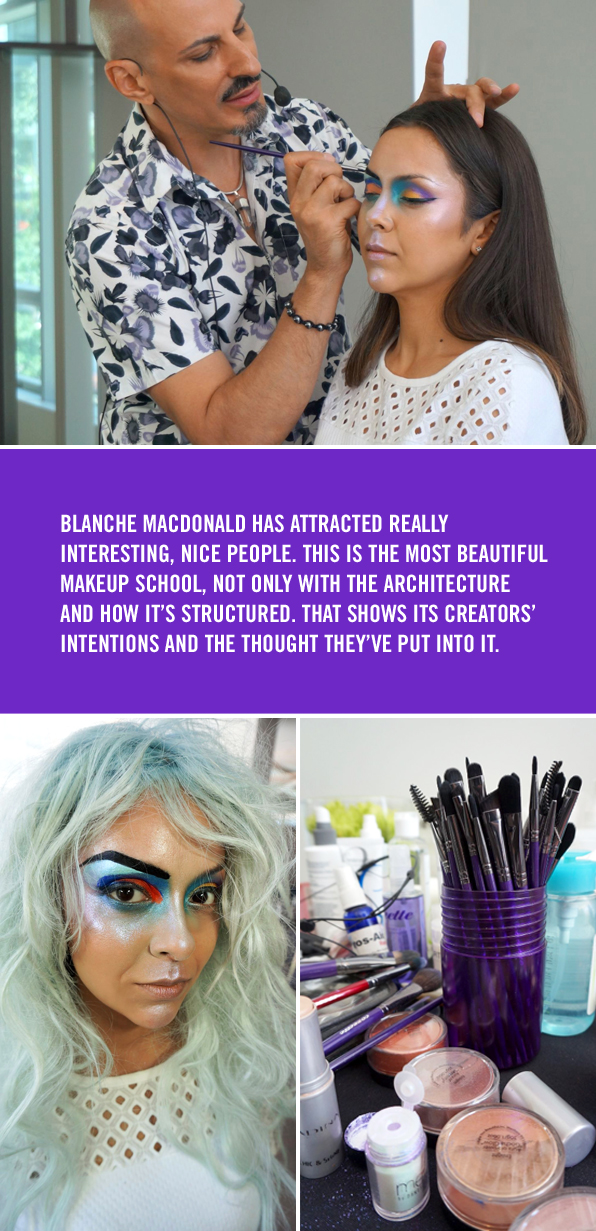 Both his artistry and products were on display throughout a fascinating makeup demo, as Roque transformed Blanche Macdonald grad-turned-youtube beauty queen Trina Duhra into a shimmering explosion of fashion editorial colour. Throughout the application Roque answered questions from host, CurliQue Beauty Team Leader Jaylene McRae and students, covering topics ranging from Photoshop ("think about it as a colour tool"), to confidence ("It comes from having a standard look and building colour theory into my plan") to the often underrated art of assisting ("You're serving the higher good, and there's greatness in that").
Most of all though, Roque came to Canada's top Makeup School to reinforce the importance of emotion, intuition and inspiration, whether it comes from individuals' faces or motorcycle gas tanks.
"Being here means you've already taken the first step," he explained. "Having the opportunity to create is the greatest joy. Be your most authentic self. I created this. You can create your dreams too."
Read More

On a crisp, clear November night, under the glorious art deco dome of Vancouver's historic Permanent Building, a new pack of Canadian and International design talents introduced themselves to the fashion world with brilliance and boldness at The Places in Between, the 2015 Blanche Macdonald Fashion Design Graduate Showcase.
The Permanent Building, a converted bank built in 1907, provided a suitably spectacular setting as work from 32 new designers literally stepped out of the vault in front of two audiences of friends, family and Vancouver's fashion elite.
For Blanche Macdonald Fashion Director and The Places in Between's Creative Director Tyler Udall, the combination of a special group of students and a magical venue was always destined to create an unforgettable night.
Read More