Master executor of the Insta-famous 'soul eater lips', Kelseyanna Fitzpatrick's avant-garde makeup looks are haunting, ethereal, and exquisite, but above all, they speak of her immense talents. The further you delve into her feed, the further you fall down Kelseyanna's beautiful rabbit-hole and the more you understand her well-deserved reputation in the beauty industry. As the creator of looks that belong both in a museum and on a runway, it would be understandable if Kelseyanna was just a tad bit boastful. But instead, her voice rings through the phone, humble and soft-spoken—though punctuated with the odd 'meow' as her rescued kitties compete for her attention. As we begin our conversation, she unfolds her story from the beginning, from where it deserves to be told.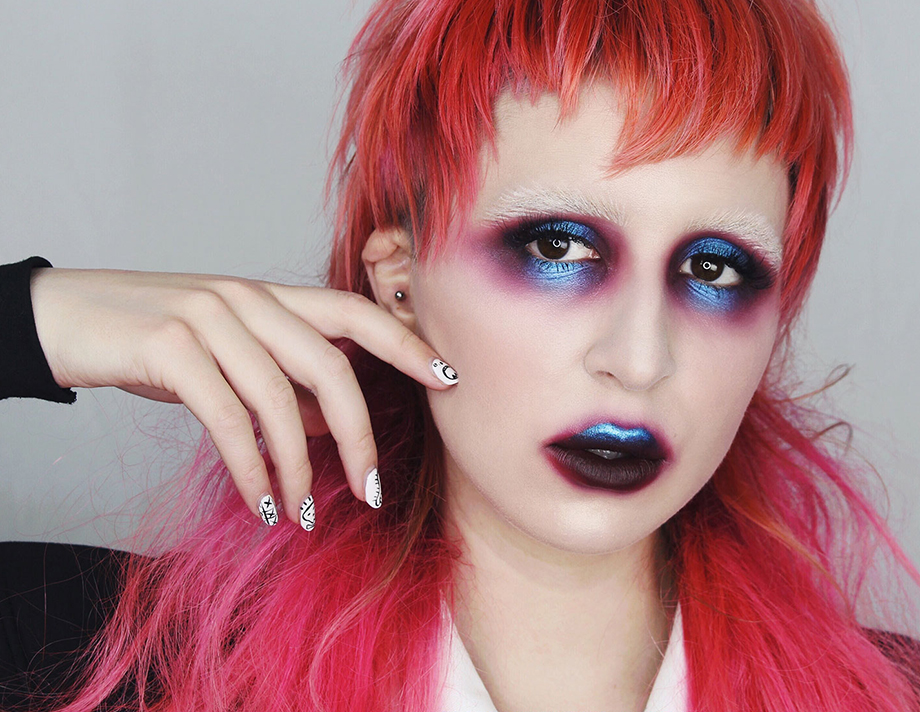 You were born in Australia but have lived in Holland, the Czech Republic and Canada. Where did you spend the majority of your time growing up?
I spent most of my young time in Australia and the Czech Republic. I didn't move to Canada until I was eight years old.
How did traveling to and living in such varied places shape your perception and understanding of the world as you grew up?
It changed me a lot! I never felt tied to anywhere because we moved around so much. But in these places, I was lucky enough to grow up in classes with 20 kids where everyone was from somewhere different. The biggest culture shock was moving to Canada where people weren't used to others being from a different place. I depended on myself a lot so it didn't really matter what people thought of me, but it definitely made me feel like an outsider. That's why I did a lot of art and tried to focus on myself. I'm autistic so I was never socially inclined anyways. Finding ways to block out the world is crucial for me and deep diving into art is a good outlet.
And what was it that made you decide to pursue makeup over another artistic medium?
Art was always my favorite thing in the world. School was kinda hard for me so I spent every minute that I could in the art room. I loved abstract painting and I wanted to paint on all kinds of different canvases, specifically the human body, which I ended up doing for a project. That kind of sparked my interest in body painting and makeup.
It seemed to work out pretty well—you ended up as the youngest member and one-quarter of Kat von D's Artistry Collective for a while! Can you tell us a bit about what you did there?
Yes, I was! We traveled the world teaching and educating consumers and other professionals about the line, doing editorials, campaigns, product development—basically anything that the brand needed.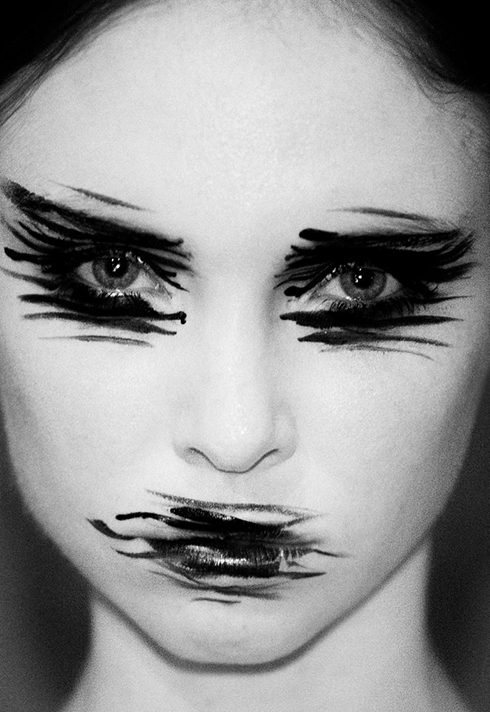 It's no secret that Kat plucked you from the depths of Instagram herself based on your beautiful creations. How did you get her attention? Is there a secret to the tags, hashtags, or frequency of posts?
I'd say it's more about the content of your work than anything that you could hashtag or post about. I took the time to learn how to take nice photos, for example. My Instagram is really just me being myself and being different from the other stuff out there. It can be scary to just be yourself but for me, it's been kinda amazing to see how people respond when you do something different.
That's so cool. How did you end up choosing our Global Makeup program?
At the time I didn't know anyone who was into Makeup or working as a Makeup Artist. I had some meetings at a few schools but when I went to Blanche Macdonald, everyone was so inspiring and made me excited for my future in Makeup. That's why I chose to come to Blanche Macdonald.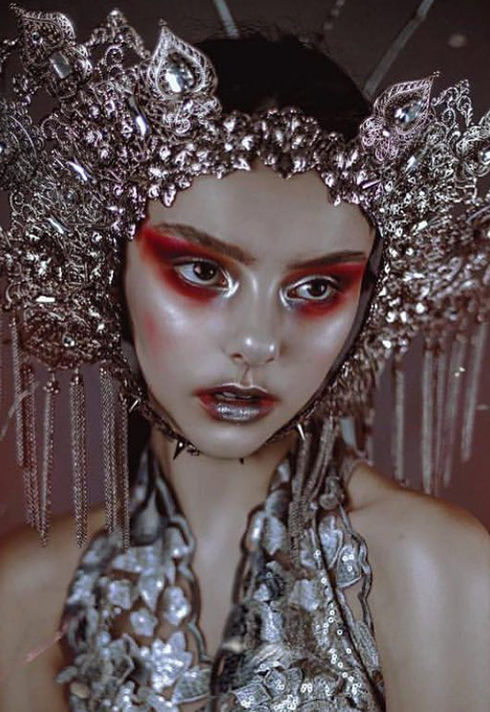 And how would you describe your time here?
AMAZING! Going to Blanche Macdonald has had ripple effects throughout my career, for sure. Everything really awesome that has happened to me has tied back to going to school there. It was so much fun and very humbling—it was where I learned how to be professional. I definitely want to thank the teachers and staff there who have supported me all throughout my career.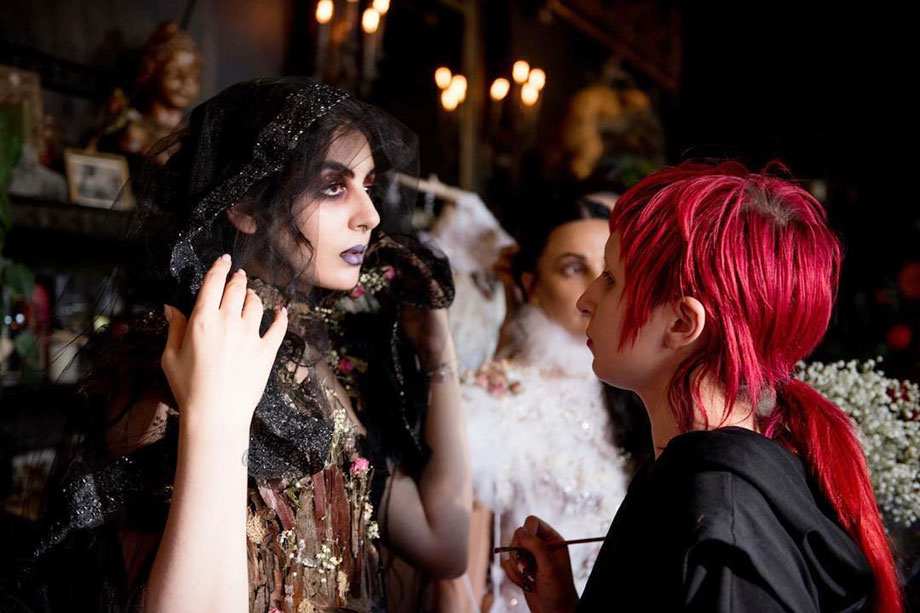 That is so great to hear. What was your experience like with our Makeup Careers Department?
I spent a lot of time communicating with them. They're really amazing because they pushed me to enter the Battle of the Brushes competition at that year's IMATS, which was huge for me. They also constantly shared my work which helped people know who I was when I was trying to start my career.
Is there training you received here that still plays in your mind when you're out working?
Oh, absolutely! There are three teachers, specifically, who have really inspired me to become the artist I am today. The first would be Timothy Hung who always told us to "take your time and learn to do your craft right the first time." That has always stuck with me when I'm working. The second would be Dae[mon Cadman]. Her dedication to perfection is astounding and she's so hilarious. She taught me everything to do and not do on set. The third would be Holland [Miller]. His prosthetics work was so intricate and difficult! I always remember the time I was working on a short film in the middle of nowhere and I had to make a blood pump from nothing and Holland let me call him and he helped me figure it out on the phone! His dedication to learning is amazing and he's so kind and humble. His demos in Special Effects still play in my head, even when I'm working in fashion. I think about the stuff they taught me every day and they all still support me to this day—I just feel so lucky to know them all.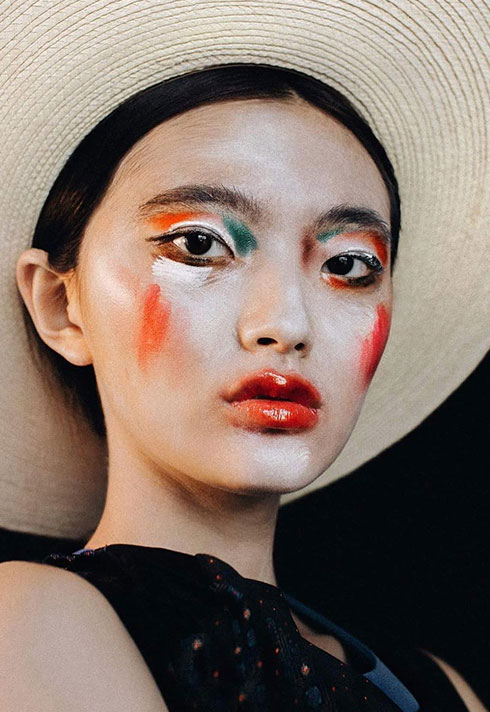 They are very special people. Looking at your portfolio, even before working with KVD, you were making a name for yourself as an integral and unstoppable force on the Vancouver creative scene. Your name is on tons of editorials for publications like I-D, Dazed & Confused, Toksick Mag, Schon Magazine, Fucking Young!, LEEN Mag, as well as lookbooks, eCommerce, and campaign beauty stories for Aritzia, Kit & Ace, Herschel Supply Co., and Burton Snowboards. You also competed in the 2014 IMATS Vancouver Battle of the Brushes Competition where you took 3rd place in the Beauty/Fantasy category. So what are you doing in Makeup now?!
I was so lucky to get the jobs I did in Vancouver and make the connections I did. And it's been so great to return to them full-time. I wanted to make sure to take some time to really recharge myself and get ready to create again. I've started with a few shoots with some of my friends here and I recently did the makeup for the Blanche Macdonald Annual Fashion Showcase photo shoot which was incredible. It's so great to work with them after going to school there. But I'm pretty much just back to working behind the scenes. That's my true love and the way that I feel I pursue my art best.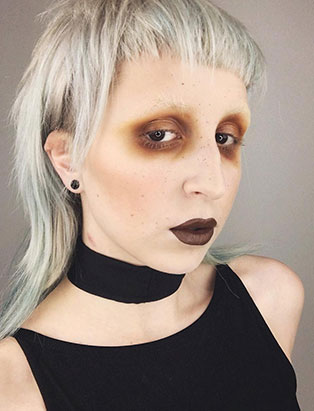 You're repped by Vancouver creative agency, NOBASURA worked with NOBASURA Director Jon Hennessey quite often. How did you make that initial connection with Jon? What has your experience been like with Jon and Nobasura?
Luckily for me, Jon followed my work on Instagram and he believed in me in the early stages of my art. He would come to see me at the makeup counter I used to work at and one time he asked me to assist him which was THE COOLEST THING THAT HAD EVER HAPPENED TO ME—at the time! We became good friends and he invited me to become part of the NOBASURA family, they gave me a place to belong that always feels like home. I transitioned from assisting to also working on my own on many sets I couldn't have imagined, thanks to him. Between assisting Jon & fellow member Christopher Deagle (Hair Artist), they have pushed me to be the best artist I can be and changed how I work forever. I couldn't be more grateful. BE GLOBAL, ACT LOCAL.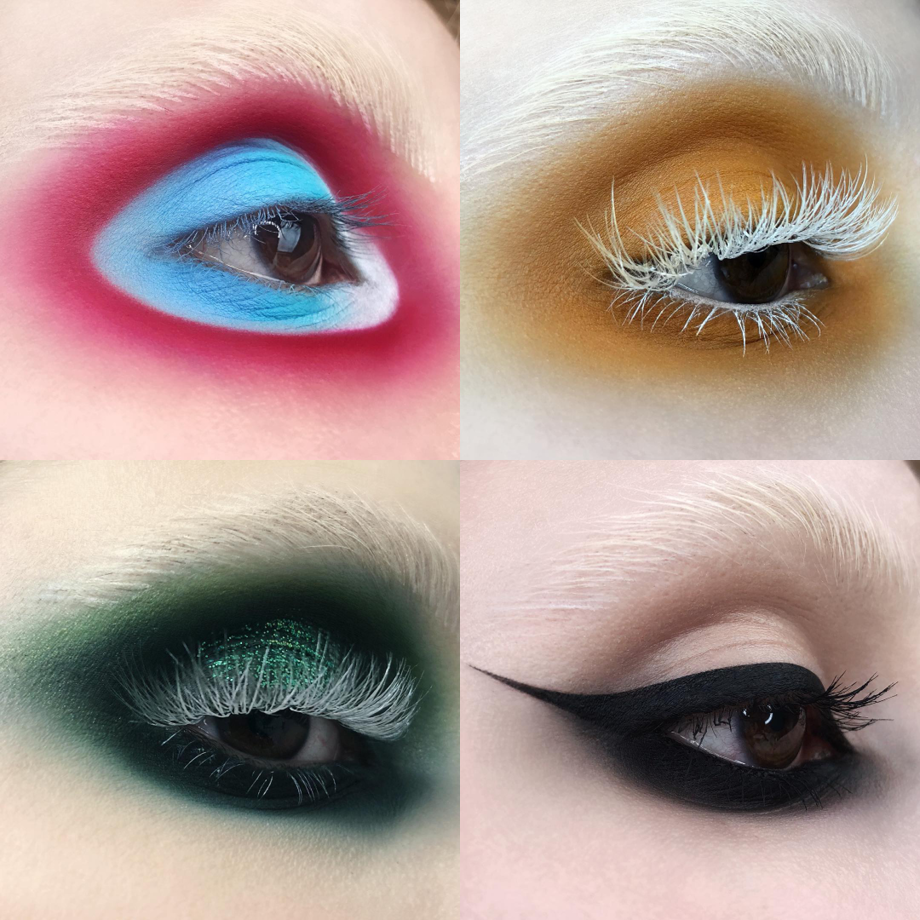 What would you tell other up-and-coming Makeup Artists about marketing themselves on social media hoping to attract the brand of their dreams?
Use it to your benefit and have fun! Be yourself and if you like being different, go for it. That's what's going to get attention. Make sure to tag brands you like, too!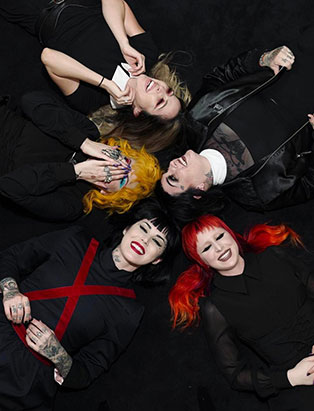 Your style has remained uniquely yours. How did you tap into that style of art and what made you decide to keep going with it?
I feel like my style is always evolving but mainly it comes from my art background. I get inspiration from everything I see. When I first started, I was doing regular beauty looks but I found that in order to stand out, you have to be different. The most powerful thing you can do with art is make people have a reaction—even if they don't like it. So I'm always pushing myself to do stuff I haven't seen or haven't done myself. I have always been drawn to things that are shocking and bizarre and that's definitely influenced my makeup style.
Alongside avant-garde makeup, a big part of your Instagram shows you, alongside other animal-friendly humans, participating in anti-slaughter protests. Has this always been something that's close to your heart?
Animals have always been super close to my heart. When I was little, my interests were art and animals. I've made stands where I could, like using cruelty-free makeup and transitioning from being a vegetarian to being a vegan. Within past year, I've gotten into activism as well. Sometimes that involves going to vigils which is where you stand outside of slaughterhouses and hold signs in support of the animals. Sometimes it's giving pigs water as they go by in the truck on their way to the slaughterhouse. It's just about showing support to the animals and being their light and voice as much as you can. I think the best thing I can do is share what I've learned and what I see on my Instagram and use my platform for that.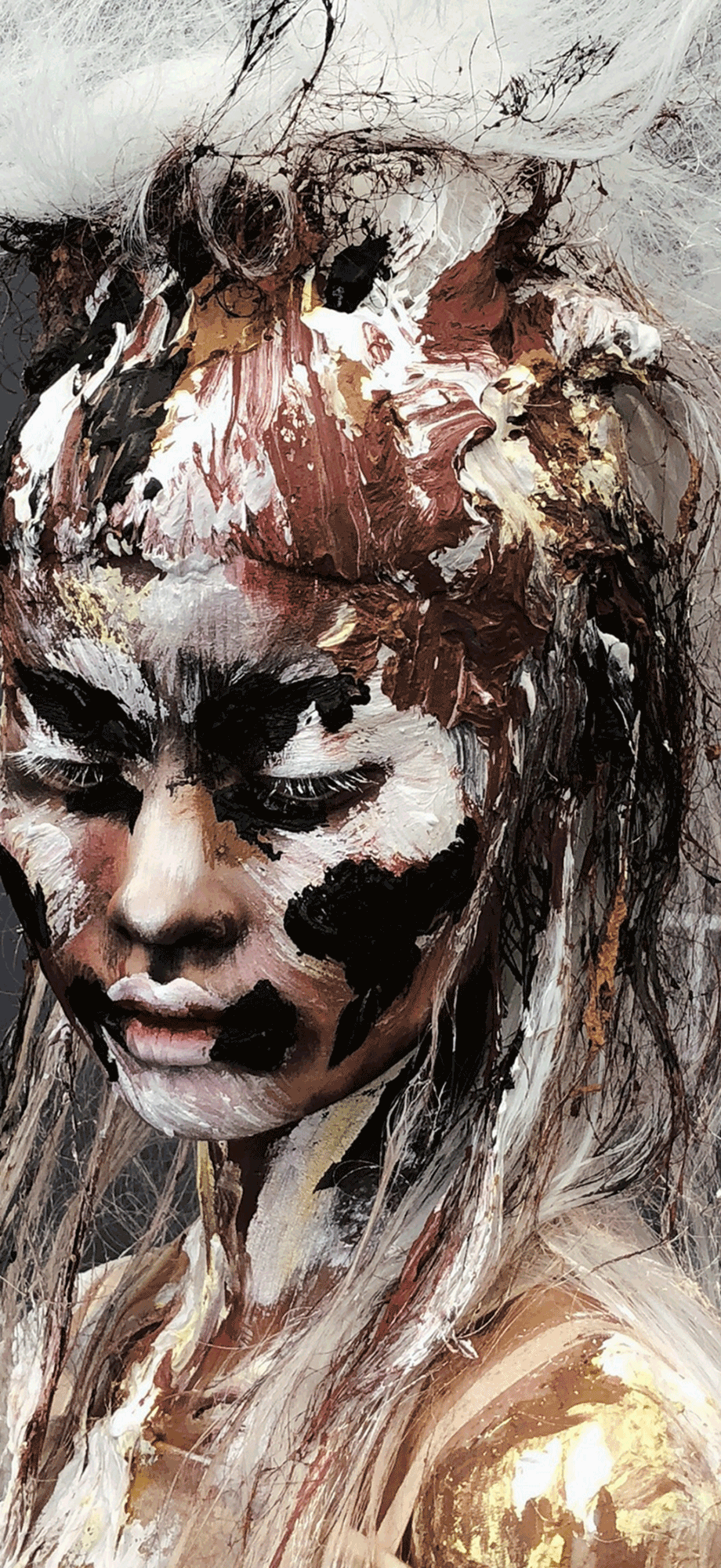 Speaking of, your platform has blown up over the last few years. How did it start? Do you find yourself getting recognized when you go out?
I started for fun really just posting makeup looks that I would do, and then take off very fast! As a socially awkward person, I took advantage of this as a way to get myself out there. I started putting a lot of work into my own posts and was doing shoots every week with my friends. I no longer have time to post consistently, but when I do it is very important to me that my heart & integrity is in everything I post. I am so thankful for everyone who supports my work—my life would be very different without them. And yes, I get recognized a lot it surprises me always, haha!