If we could sum up our weekend at IMATS Vancouver 2018 in just a few words, we could call it "a whirlwind of excitement"! With makeup demonstrations, on-stage panels and presentations, and the chance to shop all of the newest releases from the world's top beauty brands, inspiration could be found around every corner. In typical IMATS fashion, there was so much to do and so much to see; Vancouver's most enthusiastic makeup lovers could not contain their excitement.
Even though there were many keenly awaited moments, the most hotly anticipated aspect of IMATS Vancouver had to be the abundance of opportunities for spectators to learn from some of the true masters of the art of Makeup. Presentations by beauty legends like celebrity artist Roque Cozzette, film artist Ve Neill, and Suva Beauty's founder Shaina Azad inspired the crowds that gathered around the main stage.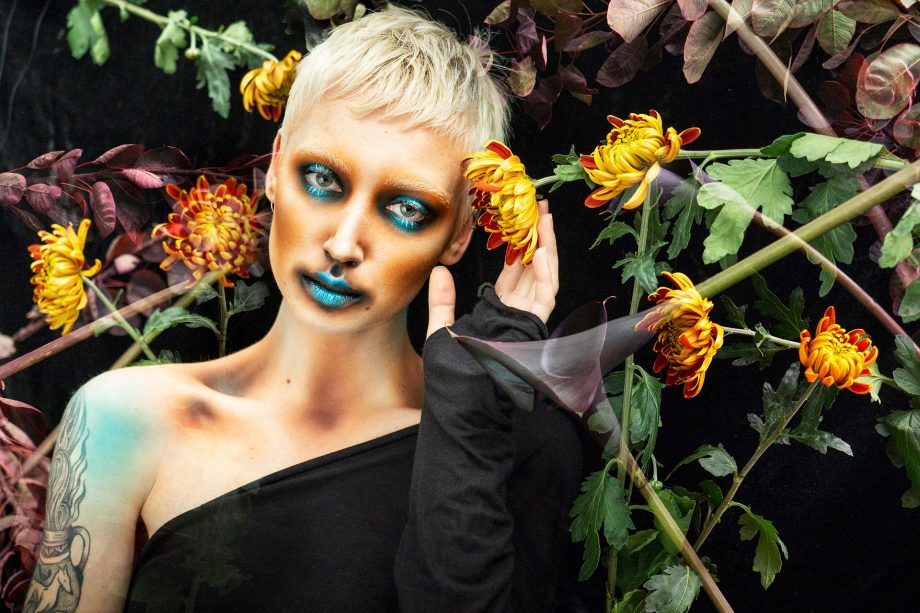 Insta-famous Makeup Artist and Blanche Macdonald graduate Kelseyanna Fitzpatrick took to the IMATS Vancouver stage on Saturday morning. She guided the crowd through her process for creating one of her trademark avant-garde looks. Informed by her background as an oil painter, Kelseyanna brushed on thick, impasto-like layers of cosmetic paint. The result was one unbelievably cool look that blurred the lines between beauty and art. It makes sense that this is an approach that Kelseyanna would bring to the beauty world, "I started as a painter and I got into makeup because I wanted to play around on a new canvas, using a new medium. I came at it from an art perspective and my style has always been more avant-garde and abstract. I've always been into dramatic art that makes you think."
On Sunday, Kelseyanna brought her artistic perspective to the Blanche Macdonald/CurliQue Beauty booth, where she showed off an ethereally gothic look. This time she was influenced by the idea of juxtaposing something beautiful with something grotesque. "For the past little while I've been really inspired by combining beautiful with horrific," she explained. "that's why I used the kind of 'gross' colours with beautiful shimmery ones. I've also been exploring the idea of emphasizing certain features in a more horrific way like I did around the lips." The shimmering jewel-toned blue shadow placed on the lids partnered with the muddy brown and mustard yellow contour shades helped bring this vision to life.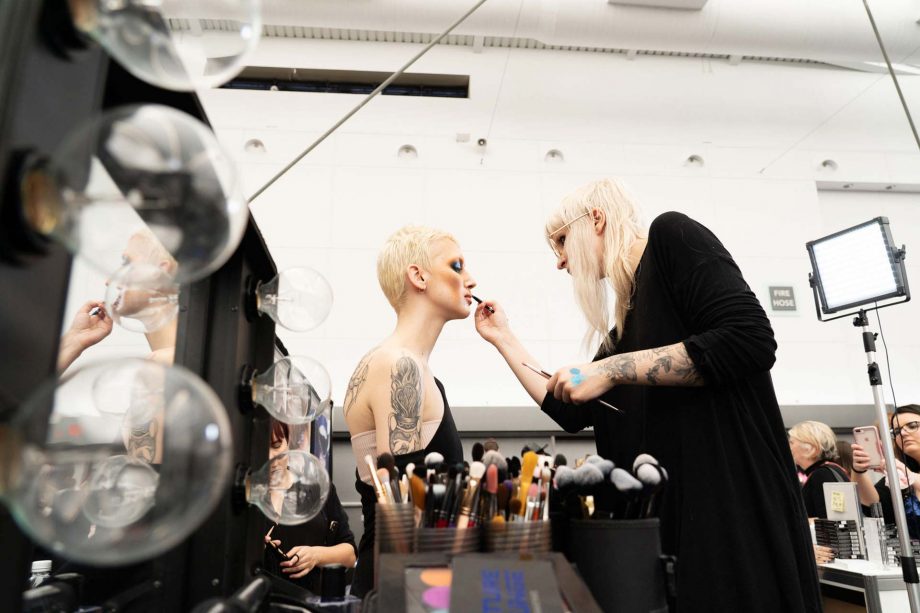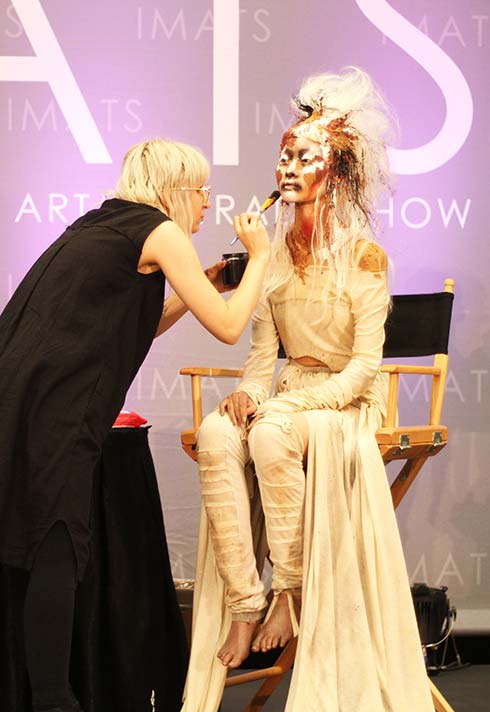 Internationally acclaimed makeup artist, famed illusionist, and Blanche Macdonald graduate Mimi Choi was also on hand to serve up wisdom and inspiration to beauty lovers. Saturday, fans had the chance to witness Mimi's makeup magic in person as she painted a bewitching skull illusion at Makeup Artist Magazine booth. Sunday, she joined Kelseyanna at the Blanche Macdonald/CurliQue Beauty booth where she once again showed the precision that goes into crafting one of her makeup illusions to ultimately create a stunning monarch butterfly illusion, richly painted in purples and oranges.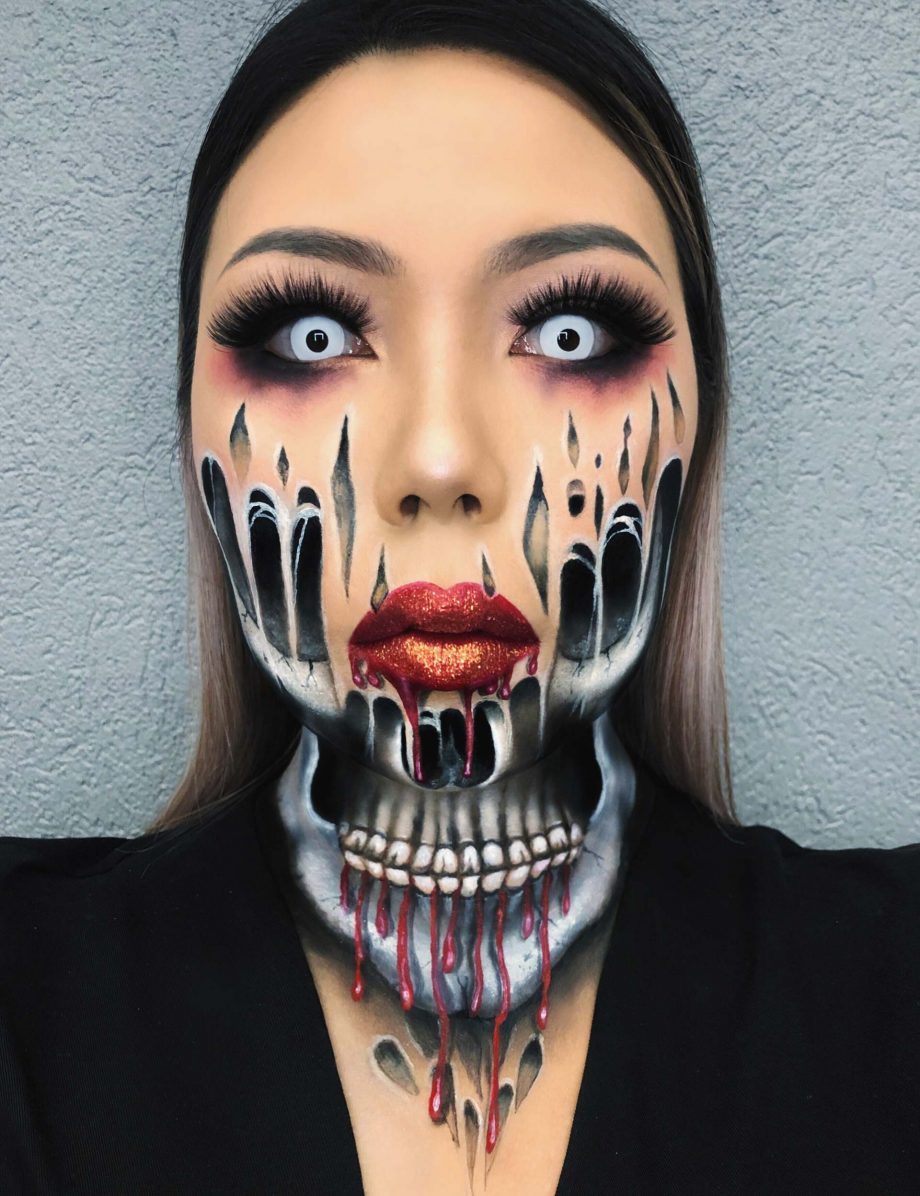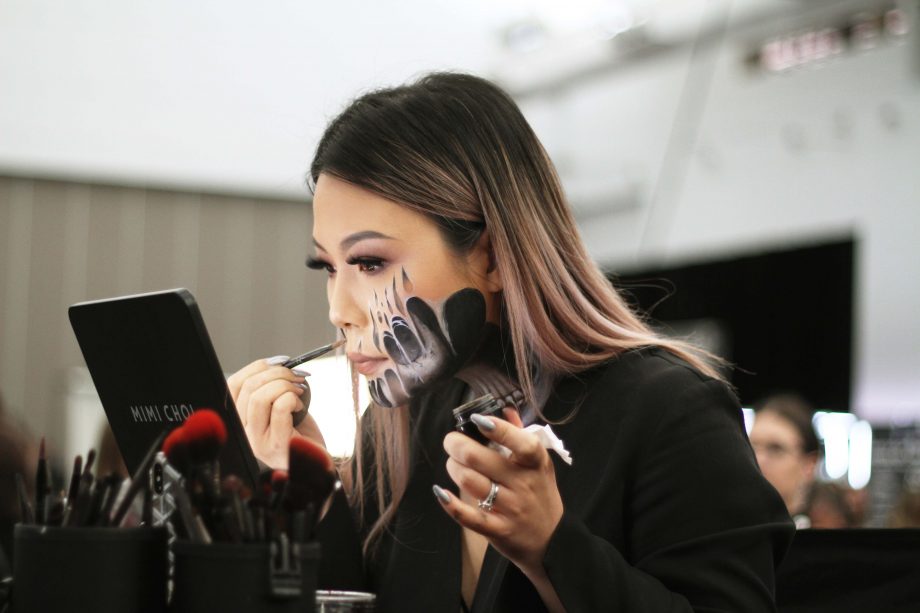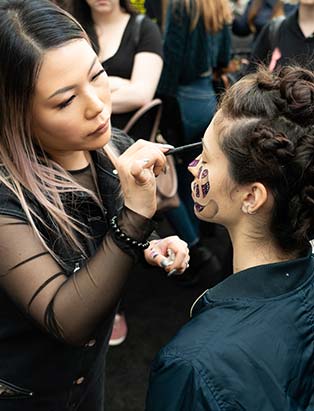 More excitement came to IMATS Vancouver with the arrival of the highly revered, new-makeup-grads-only competition—Battle of the Brushes. The Battle debuts new Makeup Artists and gives them the chance to show off their skills in a professional competition for the very first time. Saturday's competitors duked it out in the Character/Prosthetics category, where they challenged to create eccentric characters based on a Victorian Emporium theme. Sunday's Beauty/Fantasy competition brought two Blanche Macdonald graduates, Li Wei He and Emily Ngo together; stepping up to the plate and competing in the city's most competitive makeup ring. The freshly minted Makeup Artists were tasked with creating wondrous Wildwood Warriors that encapsulated feelings of fantasy, earthiness, and female empowerment.
A competition of this calibre can be intimidating, and behind-the-scenes emotions were running high. "I feel so excited," Li-Wei gushed. "I feel like my one year of hard work is paying off!" Going into the battle, Li-Wei had a clear vision of what he wanted to create. "I love the idea of Mother Nature as a warrior," he said of his inspiration. Li-Wei's goal was to capture the complexities of women by showing both the powerful and sensual sides of his warrior. "There's something sexy inside. I love the idea that women can be tough and sexy at the same time." For Li-Wei, the competition was a way to reflect on everything that he has learned so far as a Makeup Artist and to show his appreciation for support system, remarking "it's a way to honour everyone who supports me".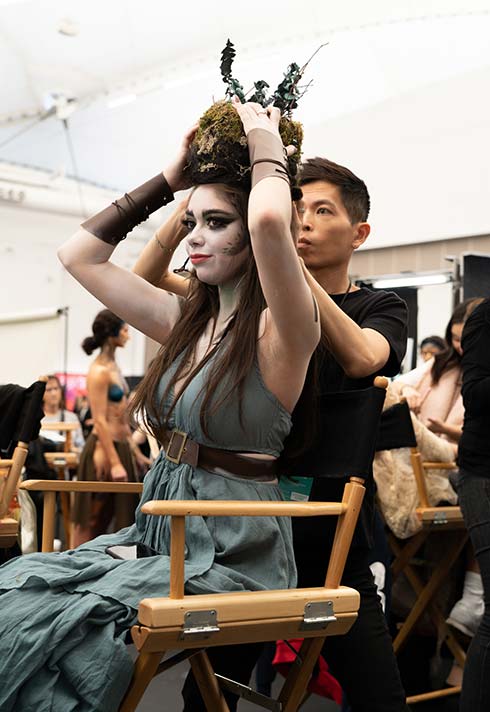 For Emily, the battle's early moments brought on nerves, "starting off I was kind of scattered. Getting the ball rolling was the hardest part," she explained. The battle was not without its challenges, but Emily found her footing along the way, "my airbrush stopped working so I had to adapt and paint her hands by hand. But it still worked out! I'm really proud of what I did." Emily's interpretation of a Wildwood Warrior was influenced by Athena—the Greek goddess of war and wisdom.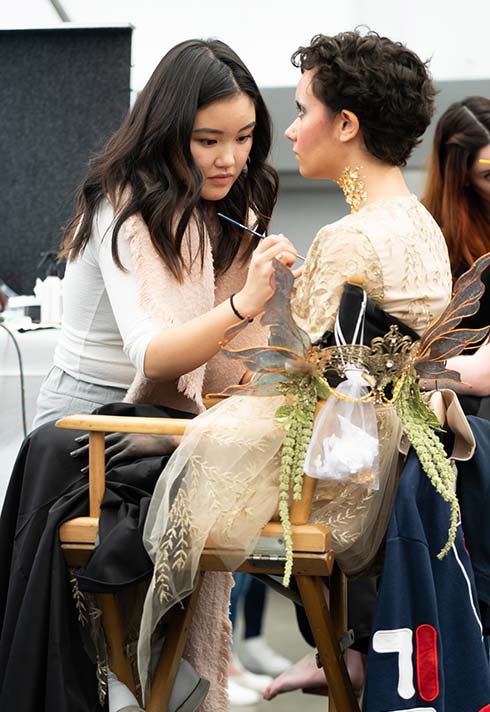 Emily viewed the competition as not only a way to express who she is as an artist, but also as a chance to test her boundaries. "A lot of competitors have done darker looks, but that's not really the kind of artist I am. I like ethereal and my work tends to be more natural. It's a real push for me to be competing in this and to do more dramatic makeup." Her final look incorporated regal purple tones and soft touches of gold leaf that kept the look dramatic, while still reflecting her affinity for the ethereal.
In line with the event's mood, the Blanche Macdonald/CurliQue Beauty booth was rife with inspiration and education as well. Saturday's line up included demonstrations from artists and Blanche Macdonald instructors Jennifer Little and Daemon Cadman, who showed off their skillful airbrushing abilities. Airbrush in hand, Jennifer created an intricately layered body art piece entitled Sacred Energy. "I've been dreaming up this one for a while," Jennifer explained. "I wanted to do something really bright and energetic, so I knew that I wanted to have the electricity in there. And sacred geometry is something that has just been really intriguing to me recently, so I just went with it." Going with the flow is how Jennifer found her love for airbrushing in the first place, "I've always been really creative and into painting and making a mess. It was just kind of a natural progression into makeup. And with makeup I started on the face, the body is just a bigger canvas so I just naturally gravitated to it."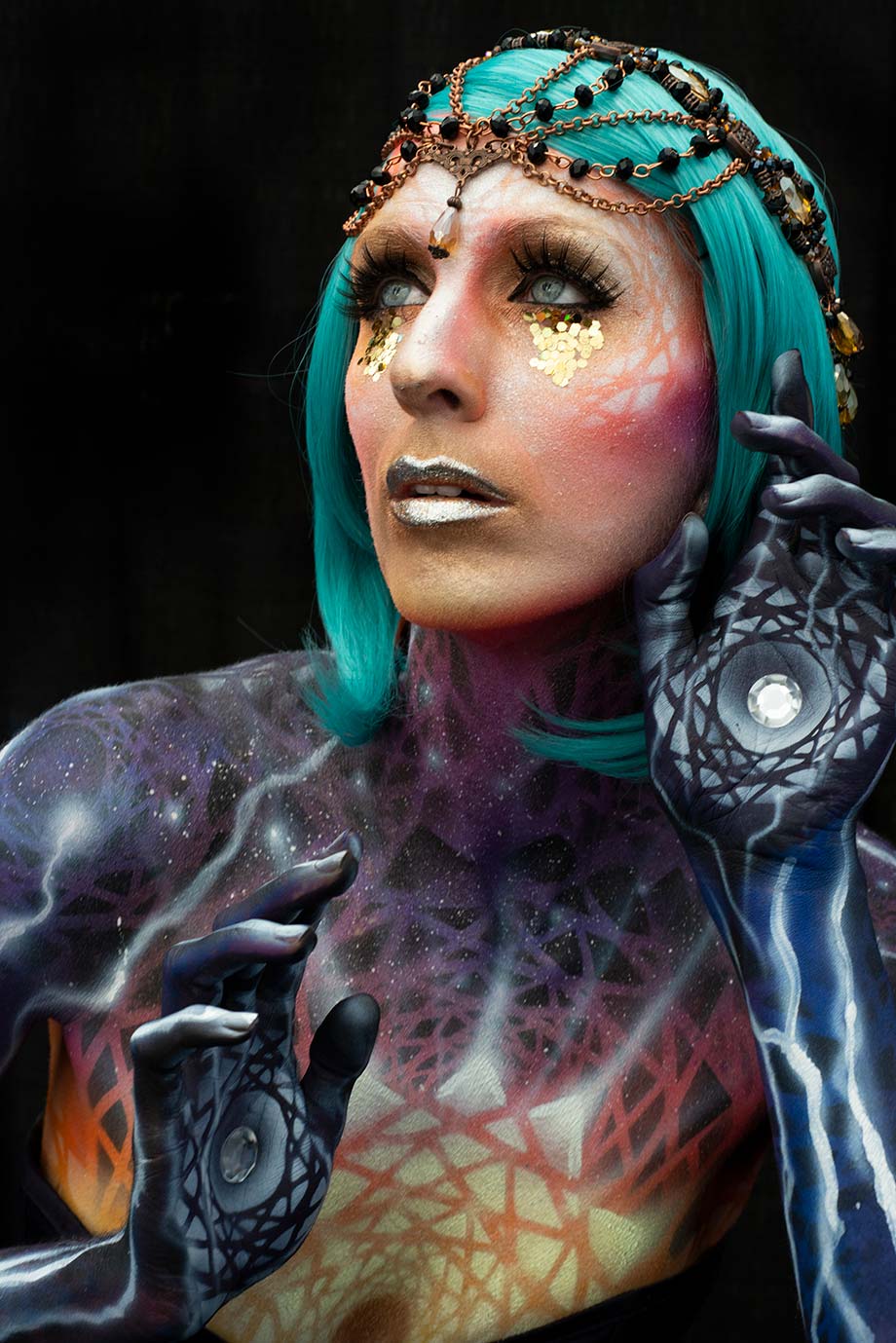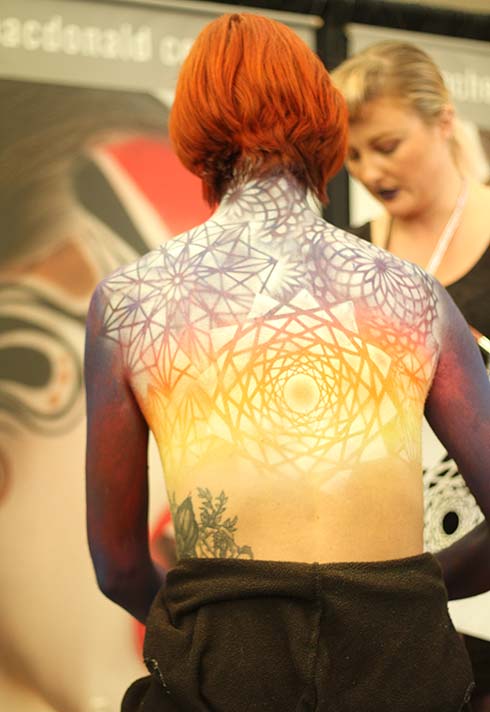 Drawing from the idea of gothic golds, Daemon painted her model in metallic armour accented with touches of red and black. Outlining her creative process Daemon explained, "I usually start with the wardrobe because that's what going to take me the longest. I can build the makeup around that. With this one, I was just going for gold, goth, and Halloween." Daemon didn't need to look too far for inspiration, "I'm a recovering goth and I love Halloween so those are my reference points! I didn't even have to research it."
As a frequent collaborator on film sets, Daemon often has to strictly adhere to a shared vision. However, creating at IMATS Vancouver presented a unique opportunity to improvise. "Most jobs I have you have to execute exactly what is laid out in front of you. That's actually what's great about being at IMATS. It's kind of a free-for-all!" Daemon stresses that no matter what she's working on, flexibility is essential. "Adapting is key. That's part of being a makeup artist, you've got to adapt. You can't always start over so just make it work and turn it into something. This makeup changed about four times today!" she laughed.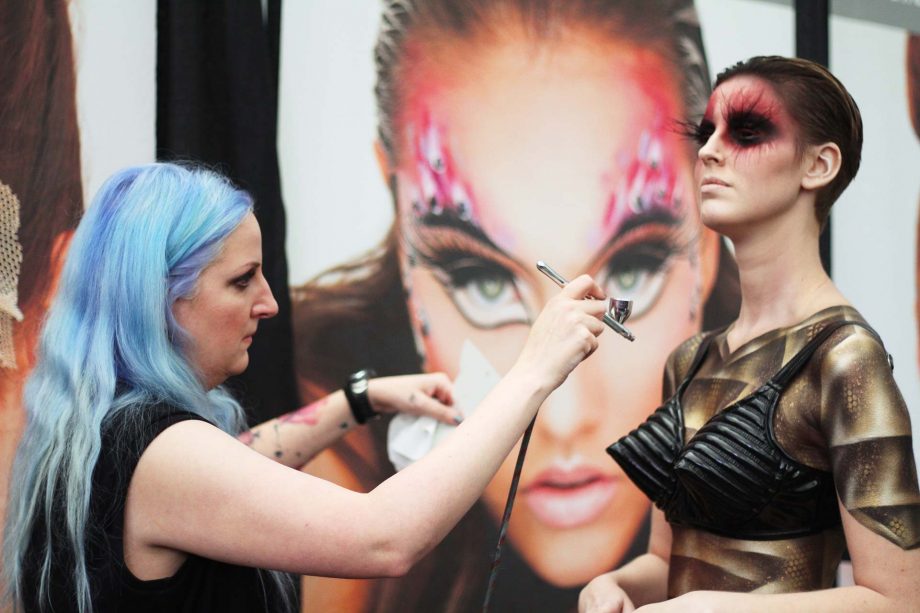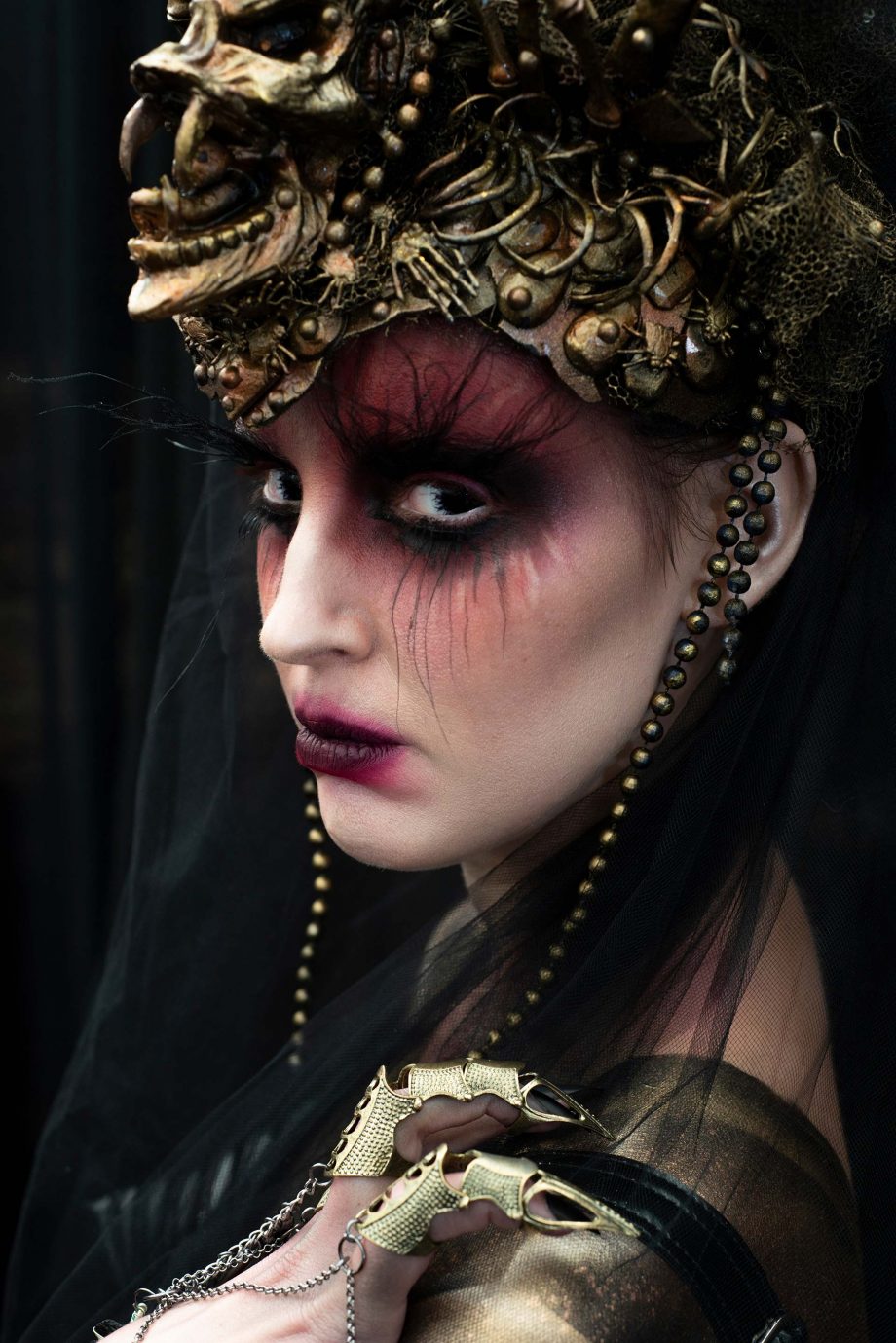 Something that every demonstrator stressed was just how significant IMATS Vancouver is to them. Jennifer summed it up simply as "creativity, artistry, beauty, and fun." Daemon spoke about her love for the connectivity IMATS affords. "IMATS is all about creativity. It's the chance to get together with peers to see what everyone is [working on]." Kelseyanna emphasized not only the excitement of IMATS Vancouver, but also how the event inspires prolific artists to keep challenging themselves. "I love IMATS. I've been coming since I was 15 years old. It's always exciting. My favourite thing is getting to watch other artists do presentations. I always learn so much. Sometimes when you're working you stop learning, so any chance to learn new things is the best."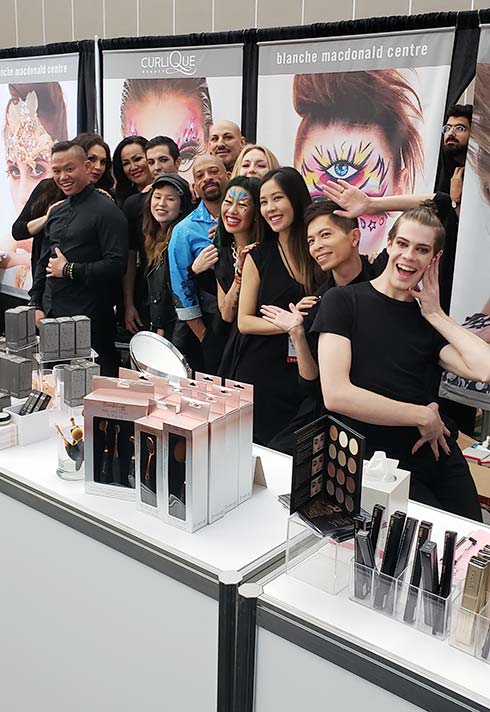 At the end of two action-packed days at IMATS, we couldn't help feeling inspired, elated, and in awe of the artistry and the industry we are so lucky to be a part of. The outpouring of creative energy that surrounds IMATS Vancouver is something that enriches all of the attendees. The bountiful enthusiasm and passion for all things beauty was something that every makeup artist at the event had in common, and it was completely infectious to other attendees. IMATS Vancouver has always been the ultimate space for artists to celebrate their love for makeup, and this year's event was no exception.