Fashion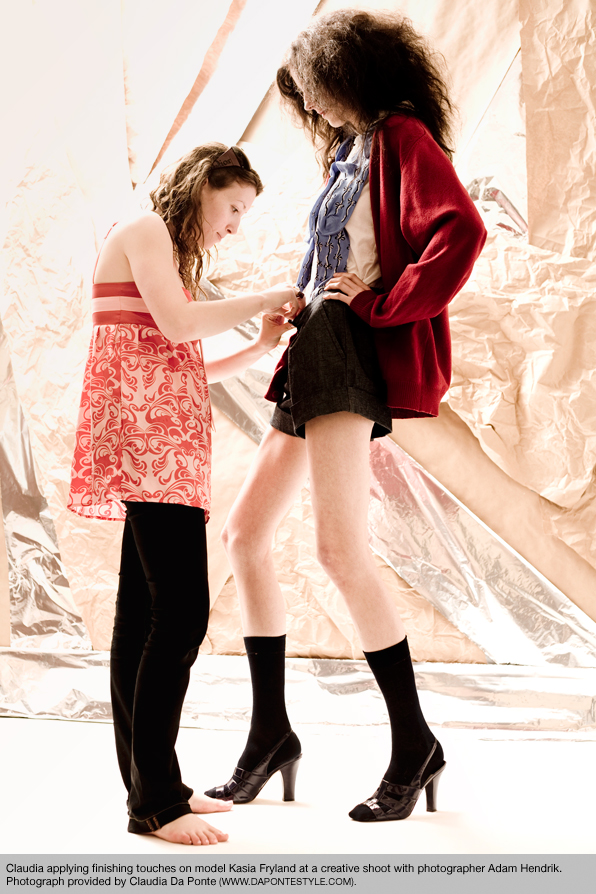 No one is going to hand your dreams to you. Blanche Macdonald Fashion Merchandising Program graduate Claudia Da Ponte understands that.
She's talented, of course. But it's Claudia's positive attitude and work ethic that's turning her into one of Canada's leading young professional stylists. The Vancouver native has worked backstage at concerts by Céline Dion and Britney Spears. She's styled models for European fashion magazines and high profile advertising clients. She's even appeared on Entertainment Tonight Canada, providing the fashion expertise for Cheryl Hickey's Makeover segment. In fact, she's rapidly approaching celebrity status. The facebook page for her company, Da Ponte Style, now has over 850 official fans.
That number is poised to grow as she's recently taken the plunge and relocated from Vancouver to Canada's fashion epicentre, Toronto. Looking back, it was a move that was almost inevitable.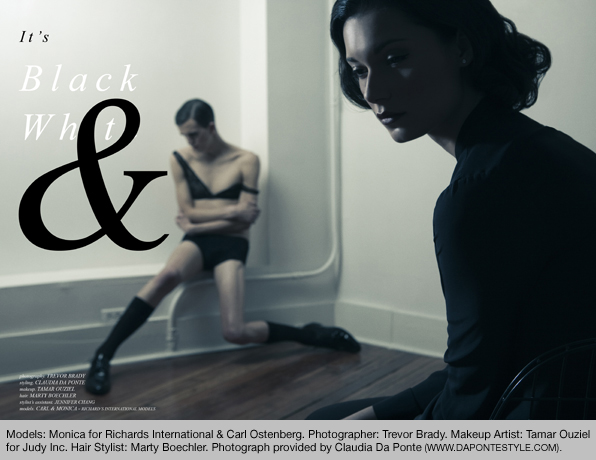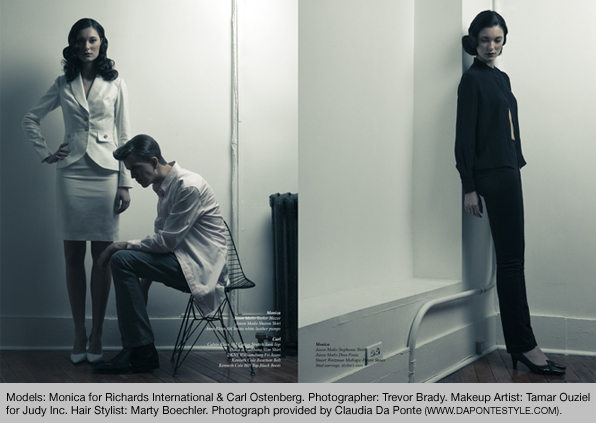 "As a kid I was always into fashion," she recalls. "Even when I was six my mum would say, 'Wear this'. I'd be like, 'Er, I don't think so'. I always had my own opinion about clothes.
"I figured that I wanted to do styling when I was sixteen. I was into acting when I was younger and from that I went into modelling. Then I realised I could actually make a living putting clothes on people. Now when people ask, I say I'm a professional Barbie dresser."
It's Claudia's typically fun way of approaching her chosen career in one of the most competitive businesses out there. It's an outlook that was honed during her time on the Fashion Merchandising Program at Blanche Macdonald. She put in the hard work, in and out of the classroom, but she made a point of enjoying her fashion education too.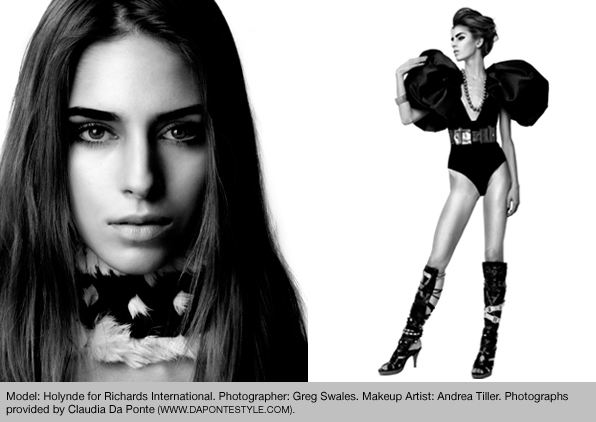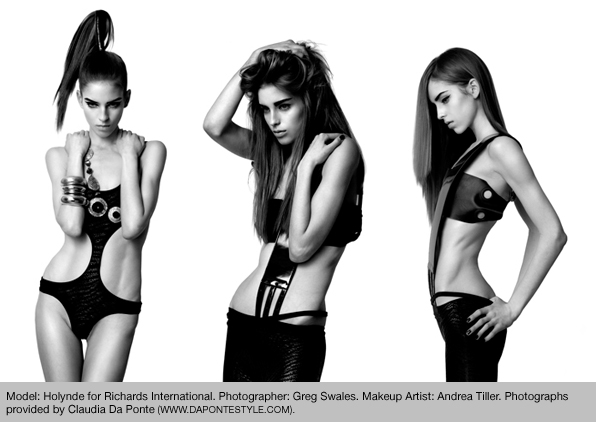 "Blanche Macdonald was intense but I loved the whole program. Melanie Watts' styling course stood out for me, although I had to miss one of her classes because I was styling the Coquitlam Centre ad campaign. I was volunteering all the time, but that was a paid job. It was literally sleep, eat, Blanche, volunteer. And it paid off! I had a lot of contacts when I left school. I still keep in touch with my teachers too. If you're good in class, they'll help you out when they can.
"I knew styling was what I wanted to do. The program covered all the elements. We had guest speakers and photographers coming to speak to us. The whole Fashion Merchandising Program verified that styling was what I wanted to do. I always tried to figure out how everything was relevant to that. I knew I didn't want to do manufacturing, but it's useful to understand the process of garments from design to how they end up in the stores. Fashion is your industry and the more knowledge you have about it, the better off you are. I picked up my fashion knowledge and history from Blanche. They really drill it through you in Peggy Morrison's classes, learning about all the different designers and how they got to be where they are."
Claudia graduated in 2006 and soon her acting background took her back to the theatre, working in the costume departments for major productions visiting Vancouver including Spamalot, Cats, High School Musical, Annie and Cirque Du Soleil.
"I jumped on it," she explains. "I'd do the dressing, wardrobe prep and repair costumes. It's dealing with costumes as opposed to actual fashion. For Spamalot I was the dresser for the Lady of the Lake. She wore these stunning beaded gowns. I did a lot of polishing."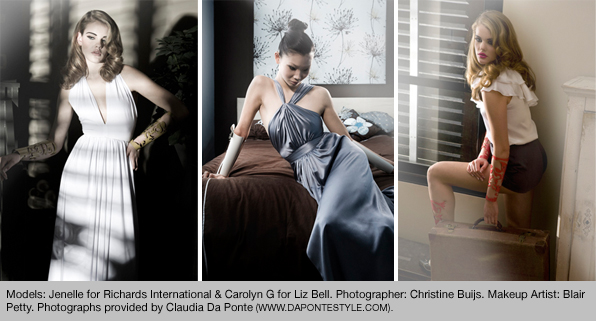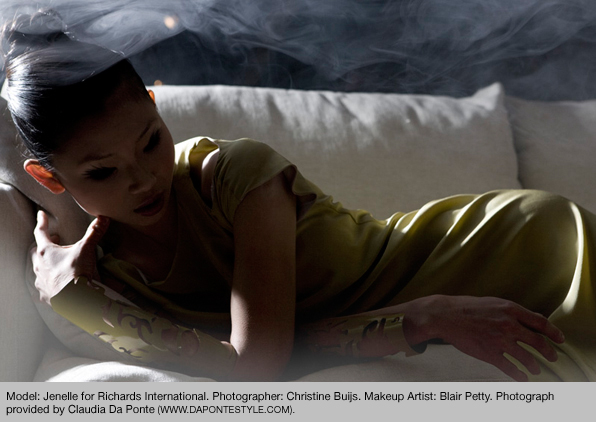 With a growing reputation as a hard worker and a fun person to have backstage, Claudia's name was put forward when touring music superstars came into town; stars like Céline Dion and Britney Spears.
"When you're working on a big concert your level of professionalism has to go up even more," explains Claudia. "You're dealing with bigger names, both on stage and costume wise, but it's still costume prep, getting dancers and everyone dressed properly, and watching for cues. It can be a bit nerve-wracking but it's a lot of fun. At Céline Dion I was having dinner while she was warming her voice up. I had my own Céline Dion concert!"
She's worked in theatre, touring music productions and on TV shows and movies, but Claudia's greatest passion has always been fashion. It's the reason she came to Blanche Macdonald to begin with. It's also arguably the toughest industry to fight your way into. But she's working her way there. She was still in Vancouver when she starred on Entertainment Tonight Canada.
"Cheryl Hickey does a makeover segment for deserving people," explains Claudia. "The girl we worked with had lost over 150 pounds. She deserved a gold medal. I was on ET Canada shopping with her. A lot of people sent me text messages and called that night."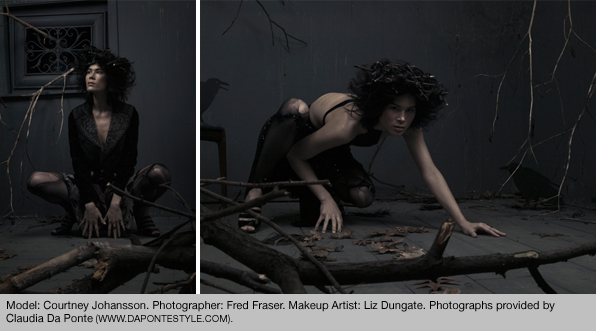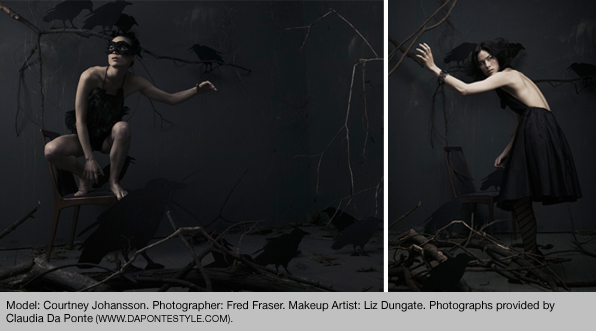 Another great experience was a week with Canadian fashion expert Catherine Dunwoody organizing a private fashion event.
"Working with Catherine was an absolute pleasure!" promises Claudia. "I was able to learn a lot from her. She is very organized and on top of her game. She also has a great sense of humour and amazing bow tying skill s! That came about through Blanche's Career Director, Brenda Wong. She knew Catherine was looking for people, so she told me, I sent Catherine an email and we got along great from there."
Claudia had worked her way into the heart of Vancouver's fashion industry. The dream had become reality.
"I did a photo shoot with Jessie Farrell, the big time country singer, recently. We had this $3000 gown. I thought. 'How do I get paid for this?' This is exactly what I wanted to be doing."
Although Claudia's career was going from strength to strength, she appreciated that to keep in moving in the right direction, the big fish in Vancouver needed a bigger pond. Destination Toronto.
"I want to style for bigger magazines and bigger celebrities," she admits. "I wanted to keep moving forward. The sky's the limit. If you believe in yourself and can dream big enough, you can do anything. It's not going to come to you. You have to go out there and push yourself. I'm constantly emailing people and going for coffee with contacts.
"I get emails from girls all the time, asking for recommendations of how to get into this business. I always stress volunteering. At the end of the day it's about who you know. People remember when you helped them on a project for nothing and they'll come back to you. Some people want things handed to them on a platter. Some people expect to graduate school and go straight into a job. It doesn't work that way. Paying your dues isn't just going to school. You have to go out and meet people."
Escaping scenic Vancouver for the biting Ontario winter isn't everyone's idea of career development but Claudia puts her typical positive spin on it. Colder weather just means more fashion opportunities.
"I visited Toronto last January to make sure I could survive the winter," she laughs. "It's all about layers. That's why I could never live somewhere like LA. I like good weather, but I love fall and winter clothes too much to give them up. The colder it is, the more clothes you can incorporate into an outfit!"