Fashion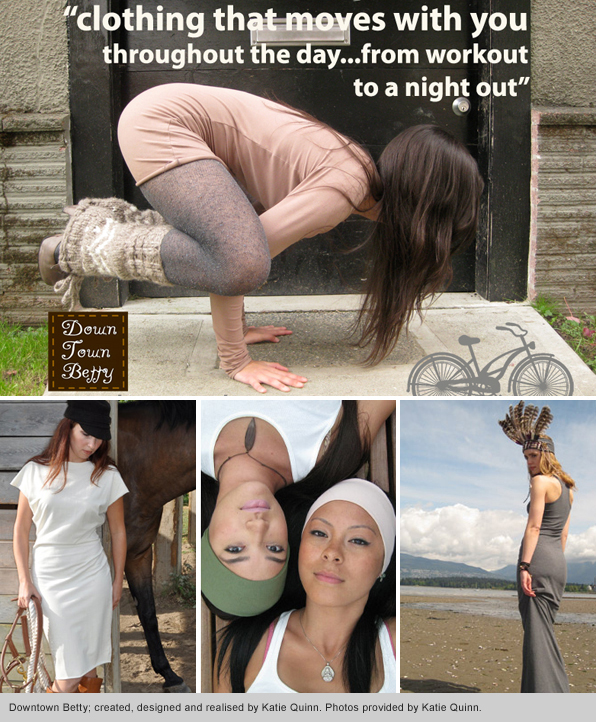 If you visit the Downtown Betty web site one of the first things you'll read is the casual glamour label's mission statement.
"It is the goal of Downtown Betty to make products that last a lifetime in the heart of the owner, not as overflow to the landfill".
For owner and designer Katie Quinn, there's more to fashion than what's appearing in that month's magazines. She wants her clothes to be ethically made, timelessly stylish and most of all, comfortable.
"Downtown Betty isn't trendy or seasonal," she explains. "They're comfortable and mobility-focussed pieces. I don't think people get tired of the pieces. They're cosy. It's the type of clothing you put on and it transforms with you for three or four days until you absolutely have to wash it."
It took a while for Katie to realise that there was a fashion designer inside her waiting to get out. Other people had spotted it long before Katie even considered taking the Fashion Design Program at Blanche Macdonald.
"My mother always had a sewing machine and my aunt told me that she figured I was going to become a fashion designer. She told me that she never met another 13-year old who would run into the house for a couple of hours, sew something up and run out again with a new skirt."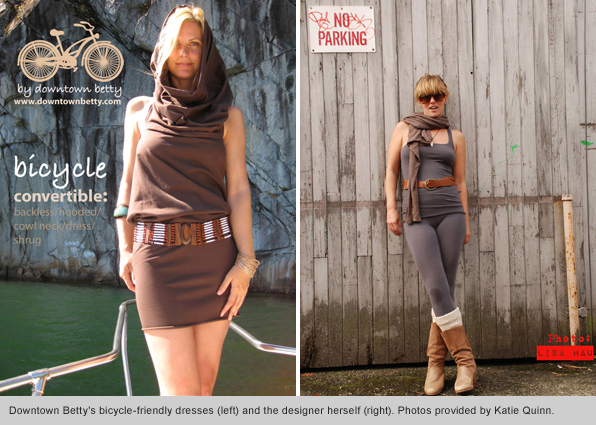 Katie's fashion connection was never in question. Even as a junior high school student starring on every sports team, she had one eye on what her colleagues should be wearing.
"I had a fashion column in the school newspaper where I'd basically recommend whatever I was wearing," she laughs. "And my aunt had a clothing store. My first job was dressing 50-year-old women in Espirit and Jones New York."
Katie originally moved from her home in Ontario to the West Coast to attend Outdoor Recreation School in Nanaimo. Let's just say the dreams of a career in Canada's great outdoors didn't last too long.
"I was there for six hours and realised I'd driven across Canada to go from one small town to another. I got on the last ferry of the night and moved to Vancouver."
Katie moved back and forth from BC to Ontario three times in total, but her wandering spirit didn't hold back her fashion career. Her early experience in her aunts' store led Katie to positions managing branches of The Gap in Ottawa and Vancouver. Later she went to university and worked in Vancouver's movie industry as a visual effects assistant and training assistant director. She was busy, but there was something missing. Deep down, the urge to design was still there.
"I ended up talking to a girl on Wreck Beach one day. She said she had just finished Fashion School at Blanche Macdonald and was in love with the program. It sounded really invigorating and it got my heart pumping. I thought, that's what I'm going to do. I visited the school and it felt like a really professional environment. I knew I would be in good hands. It's an exciting little hub of energy. So I applied! I remember the first day at school thinking, these people are cool."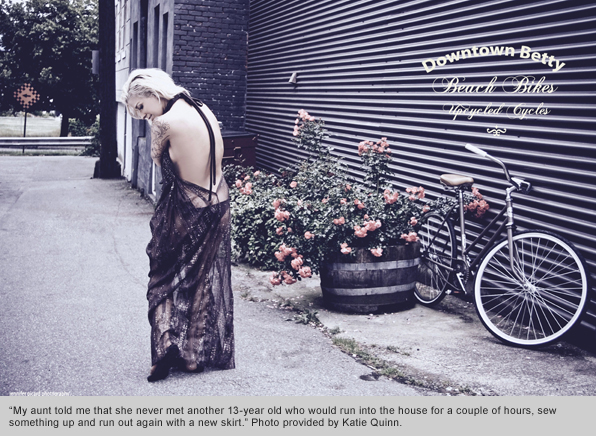 Katie came to Canada's top fashion school with ideas floating around her head. The Fashion Design Program gave her the ability to make them reality.
"For me it was about completion," she continues. "I had pants that I'd started but never put a snap or a button on it. At Blanche Macdonald you were driven to finish every piece. You'd come up with an idea, draw it, make it happen and you'd see it on the runway. The structure and the process really worked for me. It gave me confidence and streamlined my capabilities. I was always making clothes, but I'd get other people to cut my patterns. The whole idea of going to Blanche Macdonald was to learn the rules so I'd know how to break them. It helped me let go of the rigidity and go with the flow. When we drew our first collections once they stumbled out of our heads, everything else stumbled out too.
"I really loved my instructor, Lisa Gellert. I think our creative pathways work the same way. We connected so deeply. She was my go-to woman. She's got a good instinct and channel of thought. There was one class where we had to work as a group of people to come up with a collection with a theme. It taught us that nothing is wrong. The more ideas the merrier. You can always edit afterwards."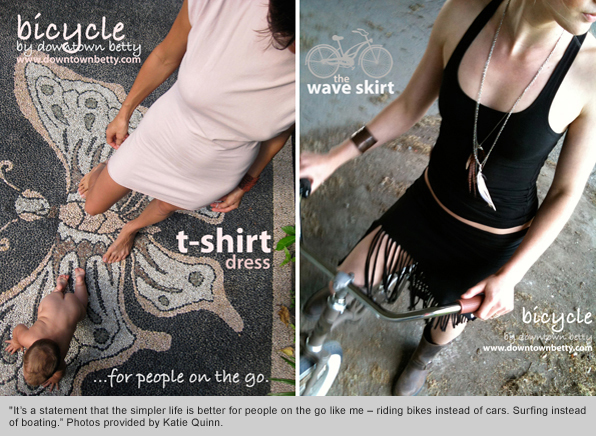 By the time of the Graduate Fashion Show, Katie was an accomplished designer matching concepts with finished pieces.
"My theme for the Graduate Fashion Show was the cowgirl that ran away from the cowboys to be with the Indians. I can bring out that inspiration even now. Just recently I did a headdress on a model for eco fashion week. It's a storyline that I haven't left behind. It's perfect for the West Coast. For me it's a statement that the simpler life is better for people on the go like me – riding bikes instead of cars. Surfing instead of boating."
Downtown Betty was a concept that had been with Katie for years. It was at Fashion School where it turned into something a little more concrete.
"I'm big into making what's needed. I was skimboarding at the time and I needed a skimboard bag. So I made one and Lisa Gellert said, 'this is super cool'. That was the beginning of Downtown Betty. I thought of the name back in 1999 but it was a concept just waiting to be fleshed out."
Downtown Betty started expanding after Fashion School. Katie didn't know it yet, but she was on her way to becoming a full-time professional designer.
"I took the skimboard idea and turned it into a guitar pack, a diaper bag and then a yoga bag. I went to study yoga in India and started making t-shirts before I left. I made seven t-shirts and girlfriends started buying them quicker than I could keep them in my suitcase. I started sketching and coming up with concepts. I suddenly realised, I'm a fashion designer."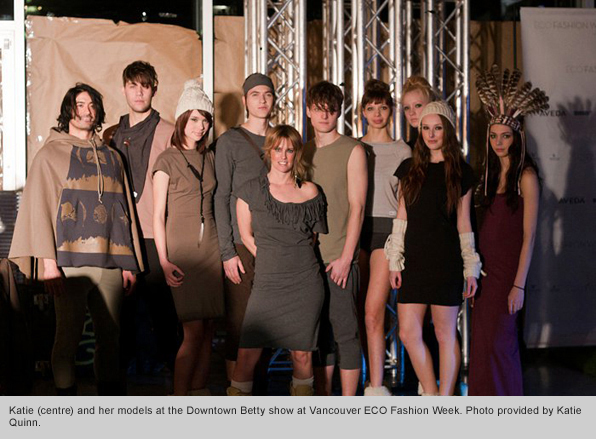 Boosted by this realisation, Katie has turned Downtown Betty into a thriving business. Its growing lines can now be found in stores across Canada.
"It's in yoga and fashion boutiques from Halifax to Shearwater, BC. When I was in Toronto I hustled it and took my clothes around to yoga stores. And I still like to represent at The Yoga Show.
"I really like the term 'Slow Fashion'. Somebody calls me and makes an order. I cut the fabric, send it to my sewers, I do a quality control check, hand sew the labels and ship it. I prefer to do it that way rather than ordering a collection six months in advance.
Downtown Betty's business continues to grow, but it's the creative side of the job that's still the most exciting part of the day for Katie. It is a direct extension of her personality, after all.
"I love making things I need and people need," she smiles. "It's great to sit around with fun and talented friends who'll say things they need and make suggestions. I can make things that I think are missing from the world. Like my poncho hoody. The world needed a poncho hoody!"