Fashion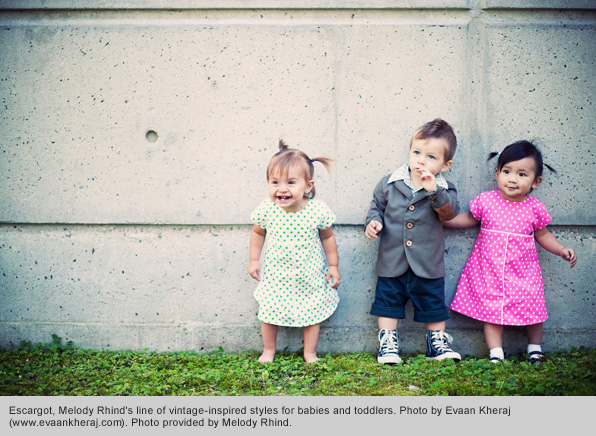 One of the great things about car journeys across Canada's vastness is that it gives travellers time to think. And it was on one of Melody and Jared Rhind's regular drives from their home in Calgary to Edmonton, that a conversation about kids clothing gradually turned into an idea for a business. That idea eventually became Escargot, a fabulous line of vintage-inspired styles for babies and toddlers.
"We used to live in Calgary and we'd often drive to Edmonton and back, having long discussions," recalls Melody. "On one of those three-hour drives I had the idea that when Jared and I eventually had kids of our own, we should make clothes for them that looked just like ours. We were joking back and forth, and gradually realised that this might be a good idea. I'd always been interested in fashion, but I wasn't making clothes at all back then and had never thought about doing it professionally."
Back then Melody was stuck in a Calgary-shaped rut, living day to day with a career that didn't exactly test her creative resources.
"I was working at a box factory," she laughs. "Not making, but selling the boxes. It was a very uncreative place to work. It was pretty much exactly like the show The Office. Although you'd be amazed at how many emergencies can come from a lack of boxes."
When Jared was accepted to industrial design school in Vancouver, Melody was glad to travel with him and head to the coast. A new city came with new opportunities. And Melody knew that the time was perfect for learning how to make the dream of owning a label a reality.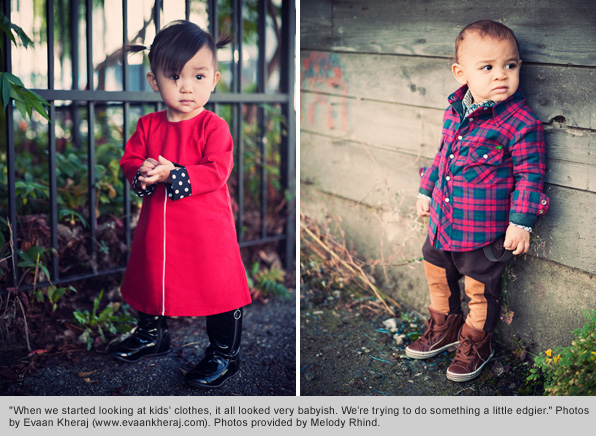 "I came to Vancouver with my Dad and looked at the fashion schools. When we came to Blanche Macdonald we met Admissions Director, Irish Webb. The way she described Blanche, it seemed more like a family than a school. She told me about the small class sizes and I got excited about going there."
With the idea of a kids' label planted in her brain, Melody began her studies at fashion school firmly aware of what she was aiming for.
"I tried to gear my projects at Blanche Macdonald towards what would become Escargot. You got a real overview of everything you could do, and I liked that it covered every angle. I liked the business courses. I figured I needed to know the business of fashion, and I learned enough about that side of fashion to realise that I could hire someone to make a pattern. The business plan I used to start Escargot was the same one that I did as a project in that business class.
"I think the biggest thing I got out of fashion school were the relationships I formed with the teachers. Even since I graduated, there have been so many times I've emailed instructors like Peggy Morrison, Donna Baldock and Mel Watts, asking them questions. Mel helped me a lot when I was working as a stylist when I got out of school, and my Fashion Wholesaling instructor helped hook me up with a rep that specialises in kids' clothes. Every time I've emailed a question to an instructor, I've always got a response back. I don't think you'd get that from other schools. The instruction was great and the classes were awesome, but staying in touch with those teachers has been instrumental in our success."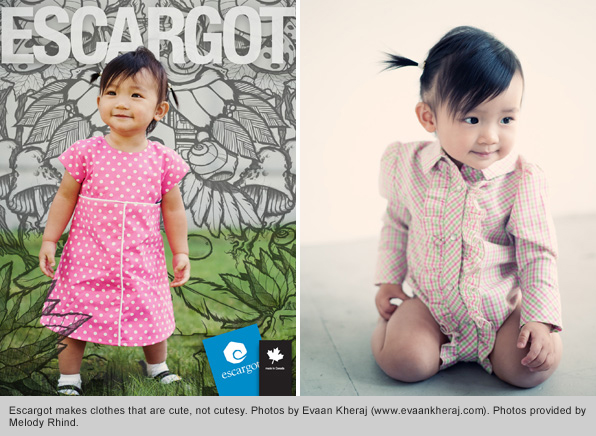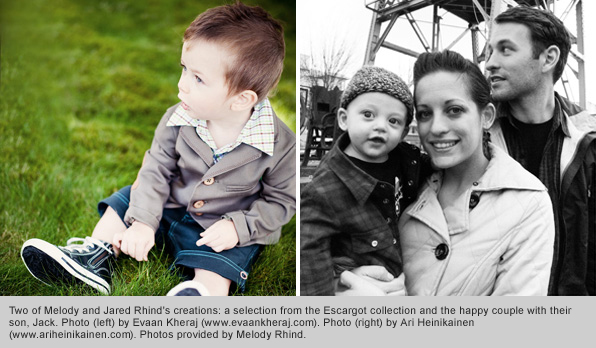 Even before she'd graduated, Melody was expanding her knowledge of Vancouver's fashion scene, interning at the Lizbell Agency and clothing line Gentle Fawn.
"I was interested in styling and Lizbell had lots of stylists on their roster. I worked in the office one day a week and towards the end of my time there Luisa Rino, one of their stylists, was looking for an assistant. As soon as I finished fashion school I started working as her assistant – almost full time."
Styling was keeping Melody busy, but the idea born on that road trip was alive and kicking. The Rhinds knew what they wanted. It was just a matter of turning the concept into reality.
"Not being cutesy was important for us," she explains. "When we started looking at kids' clothes, it all looked very babyish. Blue for boys. Pink for girls. We're trying to do something a little edgier. A bit more rock and roll.
"We started being inspired by our own clothes and stuff that we liked, and making it small. Now it's evolving into something that's actually unique for kids. Our very first idea was to make cowboy shirts into onesies, and our first line had the cowboy onesies, two dresses and a pair of pants. We'd design them, draw them up and a pattern maker would help us from there. She made the initial pattern, made prototypes and we went back and forth until it was right. From there I started sourcing fabrics, snaps and all the little pieces. I took everything I'd learned at fashion school and was able to apply it in the real world – everything from sourcing fabrics to marketing and PR to finding a manufacturer.
"Once we had finished samples I started taking them around to stores and a couple of them started carrying our line. I found that if I could speak with the store owners directly and they actually saw the clothes and the quality, they almost always placed an order."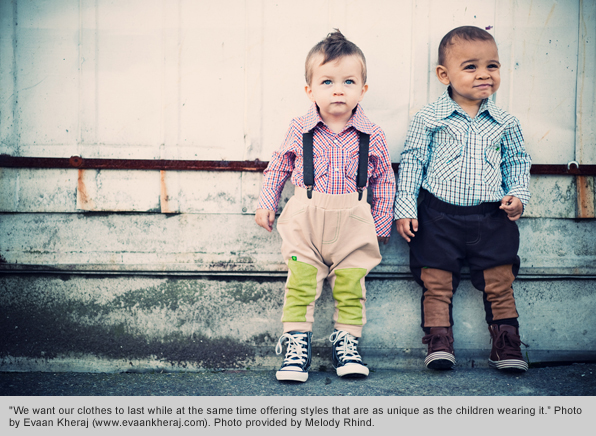 Escargot isn't Melody and Jared's only creative endeavour. Since starting the label they've also produced a pair of sons, Jack and Laird. Becoming parents has meant they can't devote their energies to the label full time. But it also means they've become smarter designers.
"We're better with the practical side of things now," smiles Melody. "Like how you put something on and constructing the garment so it lasts a long time. Kids grow so fast. We're trying to incorporate design features that make our clothing more versatile and increase the durability. We want our clothes to last while at the same time offering styles that are as unique as the children wearing it."
Business at Escargot isn't moving at a snail's pace. Its lines are already sold in Vancouver, Edmonton and Calgary (and through their web site), and since Melody and Jared have employed a sales rep, they'll soon be available in stores in Manitoba and Saskatchewan too. They've produced four tremendous lines and Melody has become an expert in the design, creation and marketing of children's clothing. In fact, the only thing she admits she'll never be expert at is coordinating toddlers for the label's adorable photo shoots.
"Luisa, the stylist I used to work with, her husband is a fashion photographer. He just had an editorial in Flare. He's used to working with professional models, but when he did our shoot there were 18 -month old kids running everywhere. Mel Watts at Blanche Macdonald helped us recruit a few of our models. It was a pretty fun day, but a little stressful managing five kids. We would just throw whoever wasn't crying into the frame!"