Fashion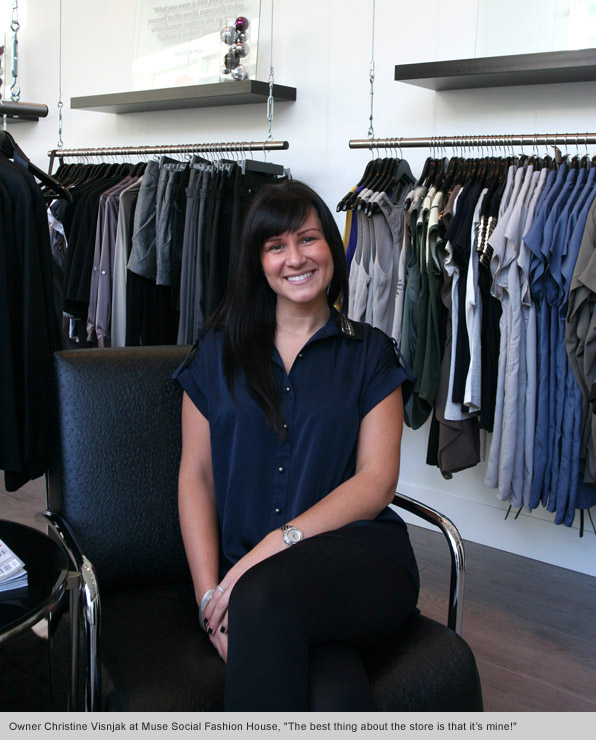 Muse Social Fashion House has only been open a few months, but it's already changing lives in South Surrey, BC.
"When a lot of people come in here for the first time the one thing they say is 'Finally!'" explains owner and Blanche Macdonald Fashion Merchandising graduate Christine Visnjak. "That's probably the biggest compliment, hearing people say that finally there's something unique out here."
As one of the Lower Mainland's fastest growing towns, South Surrey has been a prime target for chain stores seeking new markets. One thing it was lacking was an independent, fashion-forward boutique. Christine changed that.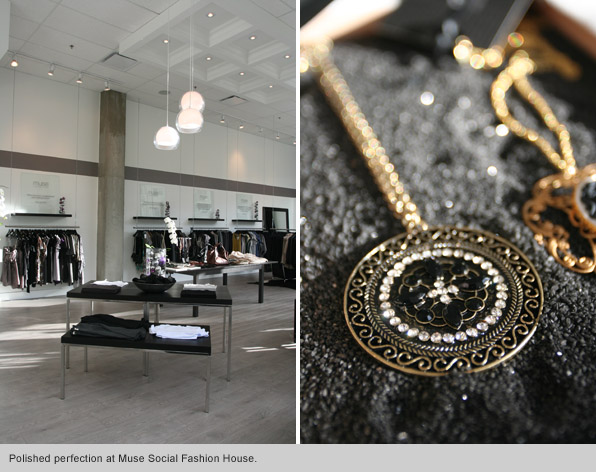 "People here like to look good," she continues. "Polished and fashionable. I've lived here since I was 18 and know you can go from one store to another and see the same product being sold. I didn't like that. I like unique pieces. When I'd go on trips I'd do a lot of shopping because I didn't want what everyone else was wearing. I wanted to bring that idea here."
Long before Christine became a fashion pioneer, she was already full of entrepreneurial spirit.
"As a girl there was always a love for clothes and putting outfits together. I was always into fashion magazines and seeing what people were wearing. I remember my sister coming into my closet and stealing my clothes. It got to a point when I was charging her to borrow them."
Even though Christine's fashion business brain was working from an early age, she wasn't thinking of a career along those lines. After finishing high school Christine went to university, graduating with a Bachelors Degree in Criminology (shoplifters beware!) and thoughts of attending law school.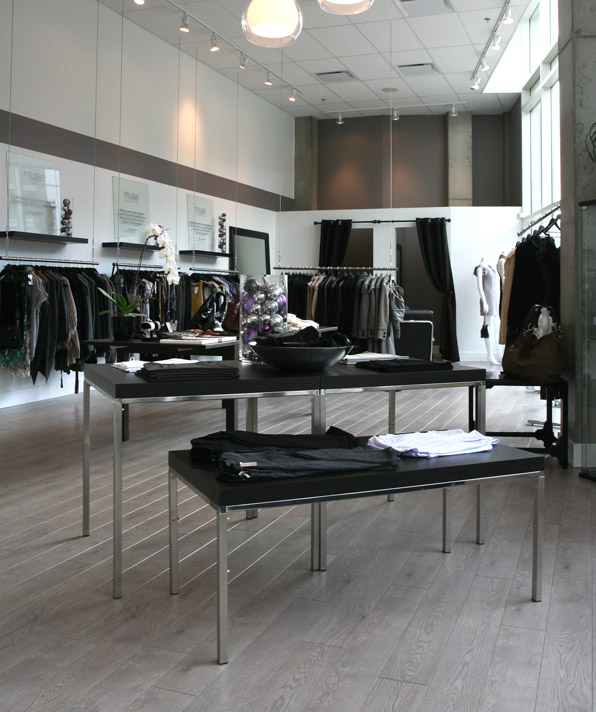 "I did a practicum in my last semester in a law firm downtown," she recalls. "I liked it, but realized it wasn't something I could do forever. People had told me that I should pursue a career in fashion so I started doing some research. Up to then I'd never really thought about it. I knew I wasn't a designer. I can visualize, but I'm not great at drawing or sewing. I knew I enjoyed the business aspect and the merchandising."
The Fashion Merchandising Program at Blanche Macdonald fit the bill perfectly.
"I liked that it was only a one-year program. I wanted something that was concise and direct. When I went to speak to the different teachers I liked the concept and how everything worked. Looking at what the courses included, it looked like a good fit for me."
Christine started at Canada's best Fashion School in February 2007.
"People in my class wanted different things from the program, but we were all there for the same reason and everyone was very supportive of each other. It was a great little family. We got along because we all had the same passion, even when we didn't agree with each other.
"Blanche Macdonald was more project-oriented than university. I'm a creative person, so that fit me better. Exams were never my strongpoint. Of course we had exams at Fashion School, but I found them easier to study for because I was so intrigued by the subject.
"Peggy Morrison's classes were intense but I loved them! She's so interesting! I'm a visual person so seeing the objects she'd bring in always had me in total awe. Actually seeing clothes worn by classic movie stars that everyone knows and loves. How fabulous is that?"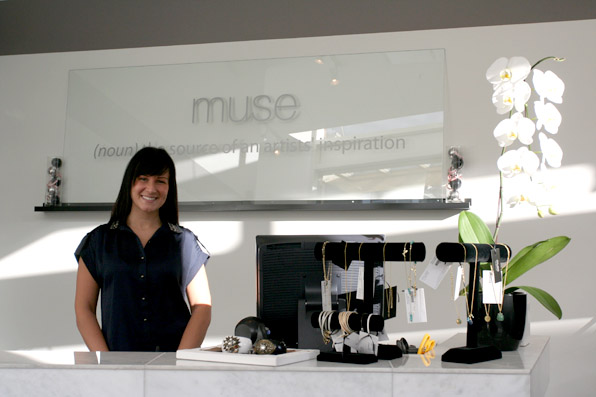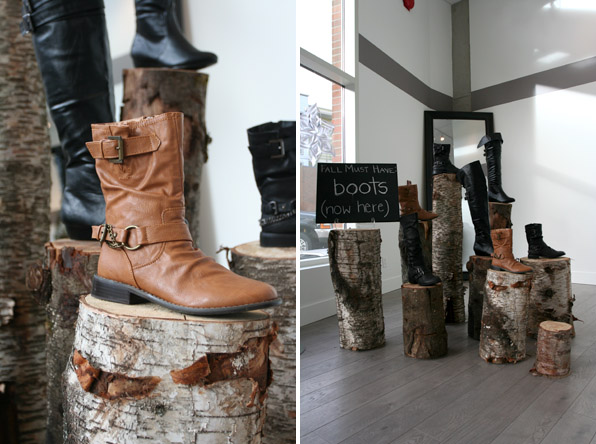 Christine graduated from Blanche Macdonald with the seed of the idea of her own store planted in her head. That seed would need watering with some real world experience.
"After graduating I went to a career fair at Blanche Macdonald. Le Château was there, so I spoke with them and it turned out they were looking for a merchandiser for a store near where I lived. The next day someone called to arrange an interview. I did an in-store merchandising test when I was there, and a couple of days later that position was offered to me.
"I worked as a merchandiser in two different stores for almost a year. Then I heard that this development at Morgan Crossing in South Surrey was opening. I thought that if I was going to open a store of my own, the timing was right. This area has expanded so much in the last ten years. It's huge now. It was a good opportunity to open a woman's boutique that was fashion-forward but not pricey. I'd love to have an upscale boutique eventually, but the reality is that even though this is a wealthy area, everyone likes a good deal!"
Christine knew fashion. But with zero experience when it came to turning an empty retail space into a living, breathing boutique, she had to improvise.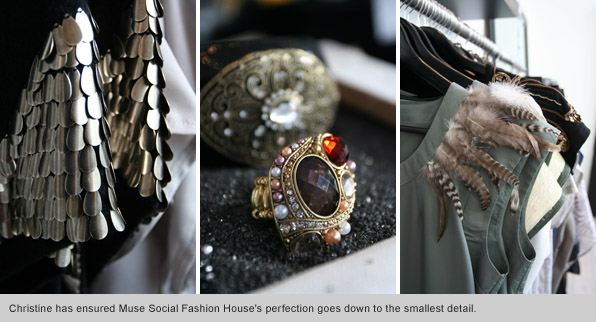 "There was no ceiling. No floor. Just an empty space. Other units were being developed, so I called a couple of people who were working on other units and got their costs and ideas. I grew each time I met someone new and gathered more and more idea.
"I always wanted white walls. They make your clothes pop. You want your store to look nice, but you want people to concentrate on the clothes. I wanted it to be polished and modern, with an element of roughness to it. That's why I left the concrete columns exposed and the steel racking system suspended from the ceiling. We haven't had children swinging from them yet."
Christine knew what she wanted from the design. The marble counter, comfortable chairs and adorable baby Buddha (joyously holding an equally adorable pair of bags) were all parts of her vision. Equally important was the concept behind the name, Muse Social Fashion House.
"I wanted this store to be more than about fashion," she insists. "If friends and clients want to come in and sit down, that fine. My chairs are very comfortable. I have women and men's magazines so people can relax if their friend or partner is shopping. I want coming here to be a fun experience. I understand that not everyone enjoys shopping. I find that bizarre, because I love shopping.
"I offer people a hand if they need it, but I prefer to let customers have a look around on their own. I love it when they turn around and tell me that I have some really great pieces in here! That gives me the feeling of achieving what I set out to do. This is my house, my heart and my soul. I want it to be fun for everyone else who comes in."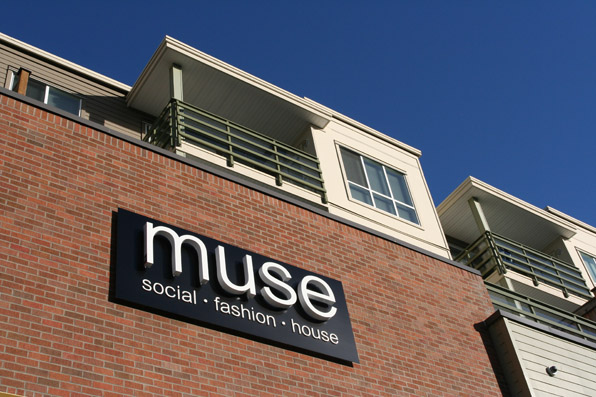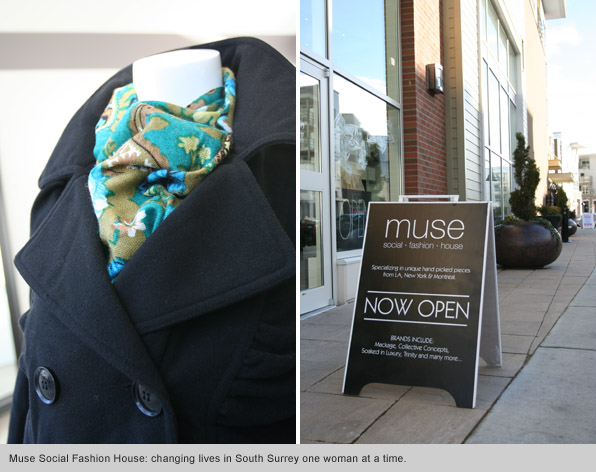 Christine brought more than heart and soul to Muse Social Fashion House. She brought the experience of a year at Vancouver's finest Fashion School too.
"Donna's textile and merchandising classes proved invaluable. I understand the way people shop and see things. I can combine what I learnt in the classroom with my year at Le Château and I've been able to try ideas out. I know what works with different body types so I can help women choose clothes that are right for them. And when I first drew up my business plan for the store, I'd written one in class already. I was able to go to the bank and impress them."
Muse Social Fashion House has only been open a few months, but it's already made a splash. The women of South Surrey are thankful, but the person happiest with the boutique is also the one who created it.
"The best thing about the store is that it's mine!" beams Christine. "No one is there to say, 'you can't do that'. That's also the hardest thing, because there's a lot of pressure. There's trial and error. What's the best way for me to showcase my clothes and market myself? There are so many variables. But it's fun that it's my store I'm learning these things for."