Fashion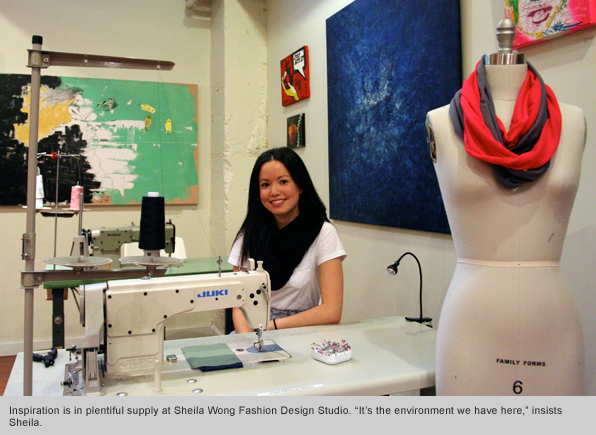 Inspiration comes in many forms.
For Fashion Design graduate Sheila Wong, inspiration blooms when art and ideas flow naturally and everything a designer could ever need is close to hand. Which is why inspiration is in plentiful supply in Vancouver's Gastown at Sheila Wong Fashion Design Studio (SWFDS), a space where experienced and novice designers can unleash their talents in the company of likeminded fashion fanatics.
"It's the environment we have here," explains Sheila. "This space generates the inspiration and the networking opportunities. People come here and are able to speak to other designers, meet new clients or just show they exist. If you're an artist working by yourself, it can be a lonely lifestyle. When they get out and get the chance to be creative with someone else, they can find the inspiration and get things going. Designers always say to me, if it weren't for this space, I wouldn't have gone this way with the design."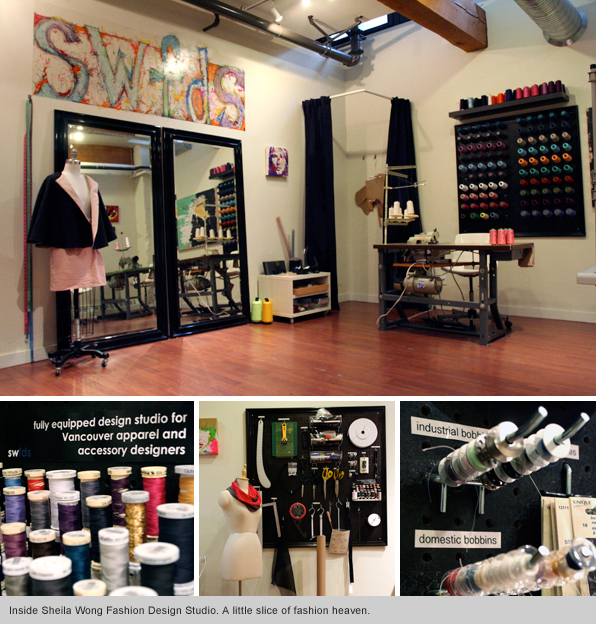 Sheila delivers more than the inspiration of a location alive with colour and the latest works from some of Vancouver's best visual artists. For budding fashionistas looking to take their first steps into the world of design, Sheila teaches beginning, intermediate and private sewing classes. For experienced designers, she provides everything they need to produce work that matches their visions.
"I'm the sewing teacher here," she smiles. "I'm relaxed and laid back, but I make sure people actually learn. Once students have done a project I'll ask them questions about what they did and test them a little bit. That way they actually learn and remember, rather than just follow my instructions.
"If you know what you're doing already, everything is here from industrial sewing machines right down to measuring tape, pins and needles. My job is to make sure people are happy once they're here. The equipment must be running properly, so I've become quite a machinist. If something is missing, it's my job to get it for them. The only thing I don't supply is fabric, but there are stores within walking distance. That's why I chose to open in Gastown. I told my broker I wanted to be in this area, within walking distance of at least three fashion schools and two fabric stores."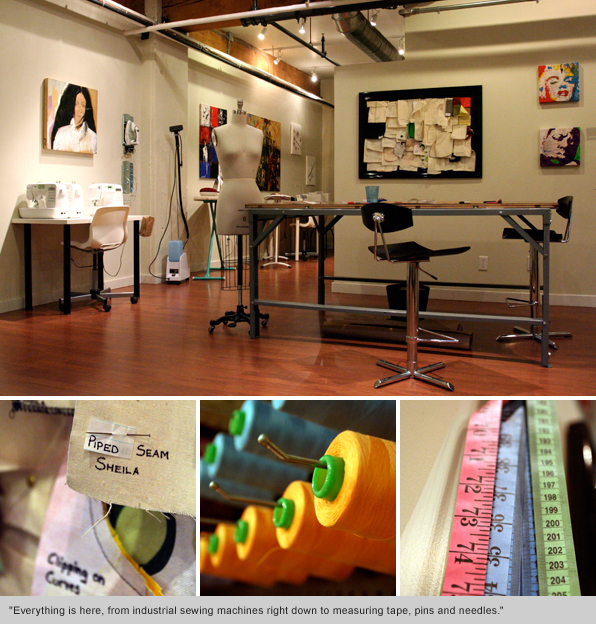 One of those fashion schools, and Sheila's school of choice, is Blanche Macdonald. Sheila came to Vancouver from her native Calgary in 2005 with the sole purpose of attending design school. As soon as she walked through Blanche Macdonald's doors, she knew she'd made her decision.
"Blanche Macdonald was by far the friendliest school that I visited. When I arrived I met Mary Hombrebueno and she was so lovely. Her energy sucked me in. She was so professional, the way she explained the school and the program, and to me that's really important."
Sheila was already committed to higher education, three years into an International Business degree in Calgary, when she realised that she couldn't deny her passion for fashion any longer.
"Fashion was something I always wanted to do. My Dad freaked out, obviously, but then he was very supportive when he realised that I was actually quite good at this.
"I'd been sewing for as long as I can remember. My grandmother taught me and ever since then I'd loved it. When I was 18 I started a company designing dance costumes for girls that I managed, who would dance professionally at club nights and raves. I wanted to run my own business and doing something creative that involved sewing, dancing and music. That combined all three! I eventually realised that I didn't need the dancing or music in my business life, but I loved the sewing part of it and the actual garment construction.
"I knew I needed to learn how to create patterns correctly, not go with what I taught myself. The year at Blanche Macdonald went by so fast. I learnt so much! I learnt the exact ways of doing things. For example, how to install a zipper. There are steps you can take to get it right. Now I know those steps and can teach them to my students."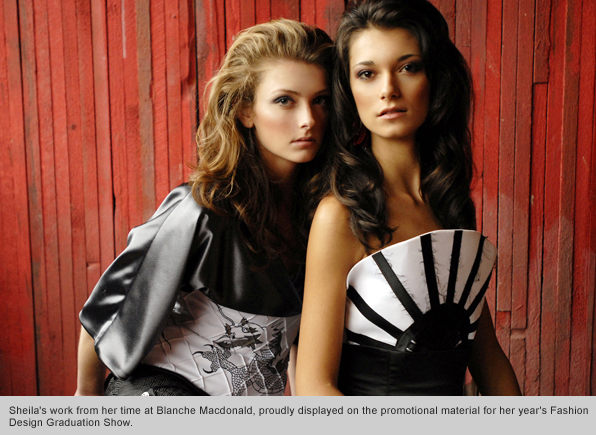 Sheila's final collection for the Graduate Fashion Show took inspiration from Japanese Kabuki Theatre and combined her twin loves of fashion and art. That collection was so impressive; it was chosen to appear on the promotional material for the show itself.
"I got to be on the front of the programme," she smiles. "My boyfriend actually stole a poster from the show when we were leaving."
After graduation Sheila returned to Calgary to complete her International Business degree. In her final semester there, the opportunity to get a foot into the fashion industry's door presented itself.
"I had to do a work placement and it had to be international business related. I'd once spoken to a friend of a friend who worked at Aritzia, and a year later she called me out of the blue when they had an opening for a production associate. Perfect timing! The job involved contacting and talking to factories all over the world on a daily basis and helping the production managers do their jobs. After three months I was promoted to production manager! I managed the production for their accessories and eventually the Talula Babaton cut and sew knits. I was negotiating costs, deliveries, making sure the designers' ideas were followed through and the whole thing was getting done on time. It was stressful, but I learnt a lot."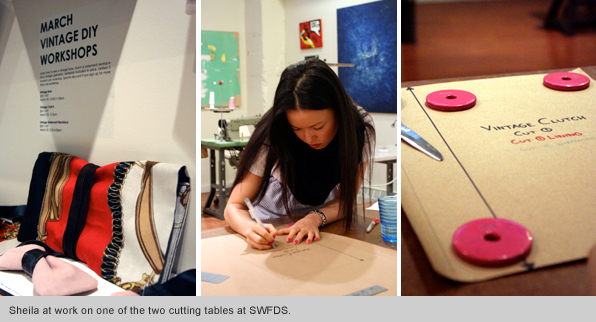 Sheila worked at Aritzia for just under a year, because the idea of a place of her own had been fermenting even before she'd entered the fashion industry.
"I always wanted to open a boutique that showcased local designers in a way that's styled like an art gallery. Every piece would be a one-off. You'd come in for your first fitting and a final fitting. It'd be bringing the designer directly to the client.
"I had a few friends who were always saying, I need a place to prep or do a photo shoot or learn to sew. I thought, why don't I create this place? I started working on business plans, doing the concept and putting this studio into motion.
"Every day is different. I never know what's going to happen. When I get in and check my voicemail there will probably be someone asking about taking a sewing class. It's normal for me to see a half-naked man walking about for a photo shoot. A designer might come in to do bathing suits. Someone might be doing socks! I can have up to four designers here at once, depending on what they want to do. There are two big cutting tables and we have a wireless connection here too. Some people come here just to meet clients or show their samples. In two years' time I'm hoping that I have the boutique space attached to this production space; somewhere where I can show the fashion that's created here."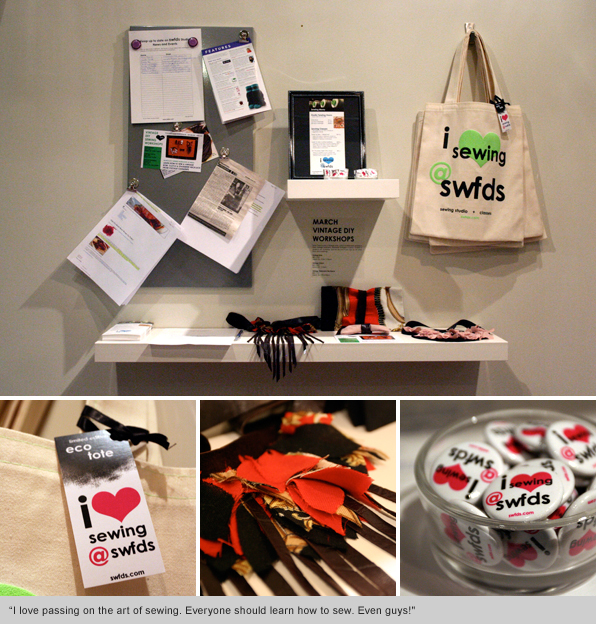 Sheila has stayed in touch with her old instructors at Blanche Macdonald too. She returned to Fashion School to teach Business and Marketing for a semester, and regularly has students and students-to-be in the studio.
"I get clients from Blanche Macdonald," she smiles. "I have an Fashion Merchandising student now who's taking my sewing classes. She's a stylist who wants to get into design. Coming here is her tester to see if she really wants to pursue it. And she loves it!
"[Career Director] Mel Watts recently sent two people over to me to get their sewing up to scratch before they went to Blanche Macdonald. One has been accepted already!"
Sheila has her long-term visions for the growth and development of SWFDS, but at the most basic level, the pleasure of running a fashion studio is all about the connections she's making daily.
"I love passing on the art of sewing. Everyone should learn how to sew. Even guys! And it sounds cheesy, but I love seeing clients' faces when they leave. Being able to inspire people is why I do what I do!"