Fashion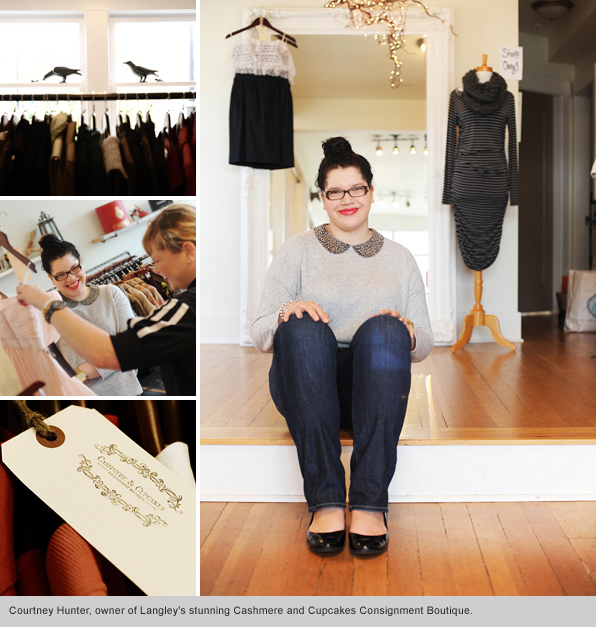 The Vancouver suburb of Langley wasn't always known as a fashion hotspot. Everything changed when Blanche Macdonald Fashion Merchandising graduate Courtney Hunter opened Cashmere and Cupcakes there. Now fashionistas are making the drive from as far as Downtown Vancouver to pay a visit to the Lower Mainland's most stylish High End consignment boutique. The bargains there are too good to resist.
"It doesn't look like a normal consignment store," explains Courtney. "It's nothing like a thrift store. You're getting designer clothes in really great shape. I love that we never know what's coming in. We just had a Prada sweater arrive with the labels still on. We've had Versace bags, Alexander Wang bags, an Alexander McQueen shirt and a lot of great vintage pieces.
"Consignment stores are the ultimate sale shopping. I just found a brand new Victoria Beckham dress for $300 that would have been $1500 new. It's stuff that's different too. It's not like going to the mall and seeing the same clothes as everyone else. Once you find a great deal you're hooked."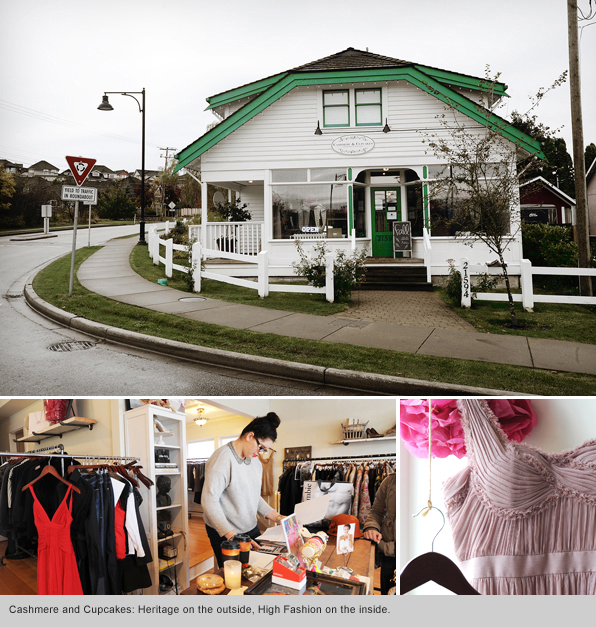 It's only natural that Courtney chose to bring high-end chic to Langley. It's where she grew up and fell in love with fashion to begin with.
"In first grade I picked up one of my mom's Vogue magazines. Those editorials captivated me. I learned when I was a bit older that they were by Grace Coddington. She's still one of my big fashion heroes. In high school in Langley everyone was wearing lululemon. I was different. I went through a big Blair Waldorf stage. I loved dressing up and how clothes could change your whole attitude."
Courtney's original idea for a route into the fashion world was through the pages of a magazine. She started writing, instigating a Style Page in her high school yearbook that's still going today. Vogue was always the number one option, but the reality of a publication closer to home was pretty exciting too.
"Flare Magazine would visit places like Oakridge Mall or The Bay to give Trend Reports. I met Lisa Tant, who was Editor-in-Chief, a few times. Lisa would hang around and answer questions after she spoke at the events. She's such a lovely woman to talk to. Very down to earth. She gave me some wonderful advice. She signed my September issue and told me not to back down."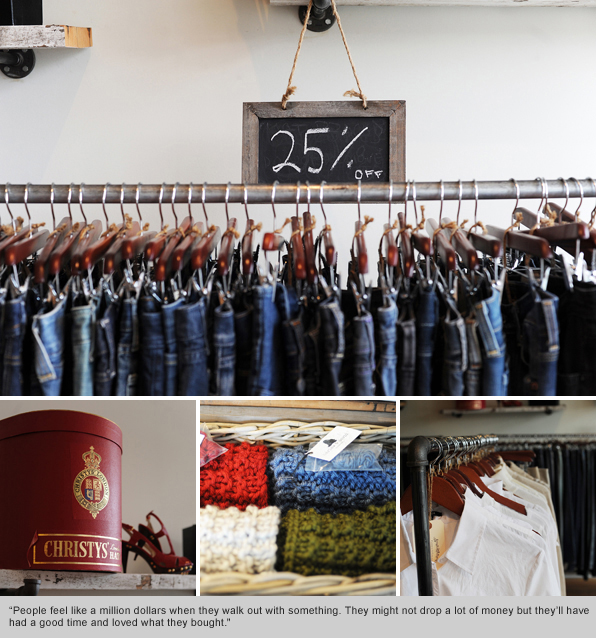 The time had come to get a fashion education. That meant enrolling at Vancouver's top Fashion School.
"I took a tour with Jaye Klippenstein and fell in love with the space. I met some of the teachers and students while I was there and they all seemed super nice.
"Once I started it was amazing! One of my favourite teachers was Lyndi Barrett. She still goes to New York every year for Fashion Week. The experiences she's had and was able to bring to us were incredible. That's someone actively working in the Vancouver and New York fashion industries. I loved Peggy Morrison and her Fashion Awareness classes. Everything she taught us just stuck in my mind. I loved going through her books. I'm a huge fashion coffee-table book collector and she has so many that you can't find anywhere else. She was so inspiring."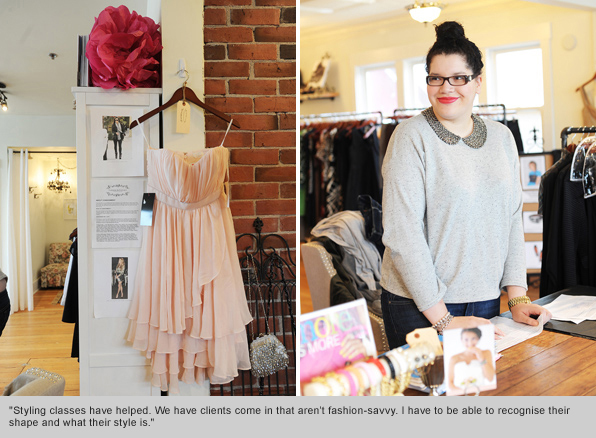 Courtney was also a regular visitor to the office of the Fashion School's Career Coordinator, Mel Watts.
"I was always knocking on Mel's door with even the smallest question," she laughs. "She was always helpful. The opportunities were mind-blowing. Through her I was able to work with a couple of incredible stylists, Claudia Da Ponte and Sarah Danniels. I did a 54-40 video with Claudia. I volunteered with Jeanne Bekker. I did presentations at The Bay.
"A lot of the people I was able to meet also went to Blanche Macdonald. You'd feel part of a club. We had guest speakers at Fashion School who I'd see a few weeks later at an event and we'd have a chat. Then they'd introduce you to even more people. This business is all about networking and Blanche Macdonald is great for that. They've always been there when I needed them, even after I graduated."
Experiencing the reality of fashion taught Courtney that to make the glamour possible, it takes plenty of hard work.
"I did a shoot with Sarah Danniels in the forest and I was continually slipping in mud," she laughs. "I was doing PR for fashion shows looking after the guest list standing outside in the freezing cold. It's not glamorous at all. But then you see the fashion show or the music video come together and it's gorgeous. It was the end result that I loved and I never minded doing the work."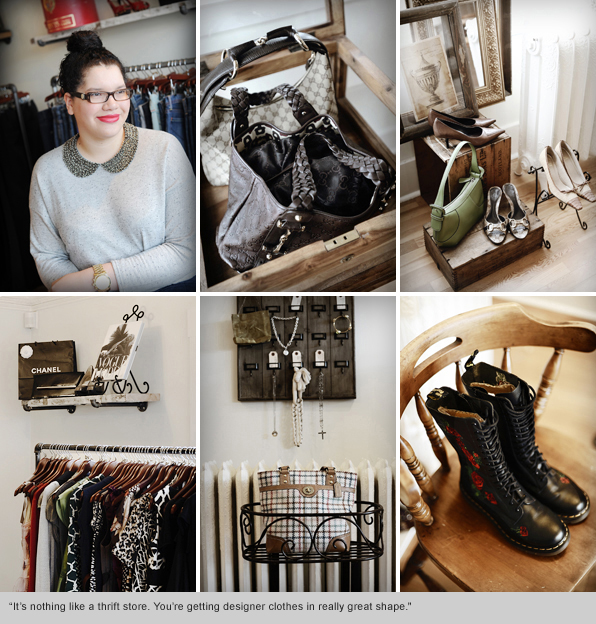 Courtney asked Mel if she knew about any part-time fashion jobs near Langley. That's when she was introduced to a graduate who demonstrated that a successful boutique wasn't just possible. It was profitable.
"Mel came to find me, told me about Christine Visnjak and I went to meet her. I ended up working at Muse Social Fashion House Mondays and Tuesdays. Christine let me bring all my projects from School and work on them while I was in the store. She gave me a lot of advice and a ton of magazines. Literally, a closet-full of magazines. She's been a huge mentor to me. Even when I told her I was opening my own store she was supportive. She even consigned things here."
Before Courtney opened Cashmere and Cupcakes she soaked up the benefits of another spectacular and well-deserved opportunity.
"I applied for Teen Vogue Fashion University and was the only person from BC to get accepted. It was my first time in New York and I hardly got to see anything. I was inside listening to lectures by Alexander Wang, Proenza Schouler, Michael Kors, Linda Fargo of Bergdorf Goodman, and Katherine and Hilary of Who What Wear. We went into the Condé Nast building and saw what it would be like to work there. I'd already decided to open the store by then, so I would walk around New York checking out stores and looking at how they laid out their space."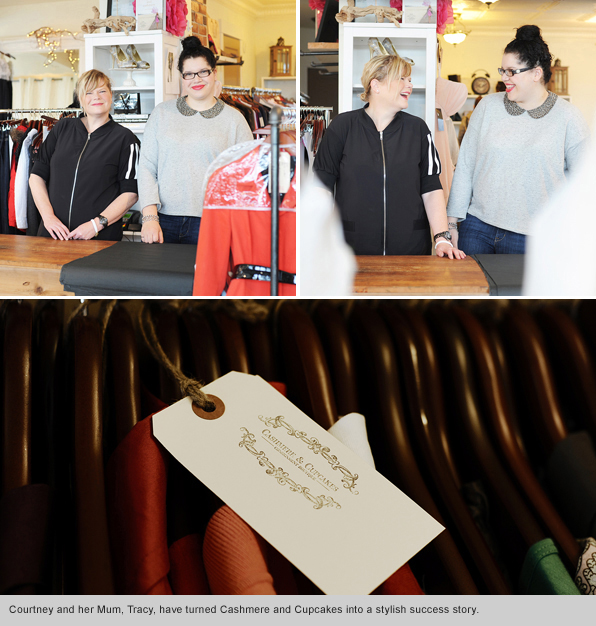 It all fell into place when Courtney and her Mother opened Cashmere and Cupcakes. Located in a spectacular heritage building on the edge of Langley, it's a cosy Canadian home for Carrie Bradshaws on a budget.
"It took a month to open up. Everything I learned at Blanche Macdonald has been so helpful! My fashion awareness and fashion elements classes definitely helped. Buying classes helped. PR classes have helped so much. Social Media is everything. So many people have discovered us through facebook, and we did some advertising on blogs that brought a lot of people through our doors. Styling classes have helped. We have clients come in that aren't fashion-savvy but are looking for the whole package. They don't know how to wear things so I have to be able to recognise their shape and what their style is. You need all the knowledge you'd have if you were running a regular boutique."
The application of that knowledge has paid off. Cashmere and Cupcakes has become a sensation, generating stories in newspapers, magazines and countless Canadian fashion blogs. Still, the most fun part for Courtney is the wave of appreciation that comes when a customer falls in love with their perfect piece.
"People feel like a million dollars when they walk out with something. We get a lot of mums in here who don't get a lot of free time. They might have an hour before they have to pick up the kids, so we make that hour a relaxing experience for them. They might not drop a lot of money but they'll have had a good time and loved what they bought. As long as they feel special and beautiful, that's what we're here for."