Fashion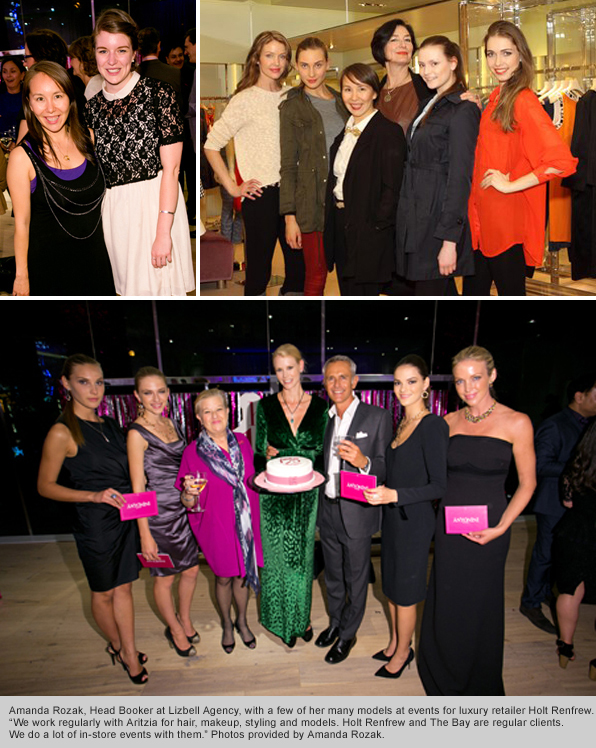 As Head Booker at powerhouse Vancouver Model and Artist Agency Lizbell, Amanda Rozak knows every day will bring new challenges. Working with dozens of models, makeup artists, stylists and actors, along with high profile clients like The Bay and Holt Renfrew, demands a deep understanding of the fashion industry and major league powers of organisation. Which is why it suits Amanda perfectly.
The Victoria native had a passion for the modelling industry before she came to the Fashion Merchandising program at Canada's #1 Fashion School. The rest came with time.
"I was always fashion obsessed," explains Amanda. "I would spend summers with my Dad in Port Hardy on Vancouver Island. He was a commercial fisherman so I would spend those summers on his boat. Every time I could go into town I would pick up every new issue I could get my hands on. I became model-obsessed. I loved Linda Evangelista and her transformations. I collected every tear sheet I could find of her and I'd figure out who the names and the companies were. I became as immersed in it as I could be in Port Hardy and Victoria. I would dream about this world where they created these beautiful things and clothes. I loved that world. These snippets of people's lives were so intriguing. I didn't know what I could do in the industry, but I knew I wanted to be part of it. At first I thought I wanted to be a stylist, because that was the only real job term I could find.
"My parents thought I needed something secure so I got a job at a government agency called Vital Statistics, which was stable, well-paid and so boring. I saved up, went to Europe and said that when I came back I'd go to Blanche Macdonald to pursue fashion."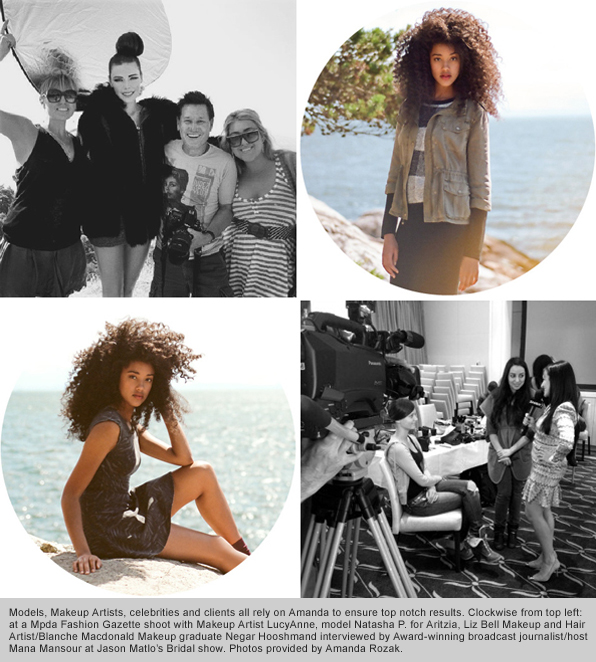 Amanda had made her decision to enter the Fashion Industry. Her year on the Fashion Merchandising program helped Amanda figure out how she was going to make it a reality.
"I chose Blanche Macdonald because I liked the courses they offered. It seemed perfect for someone like me who had no previous experience in the Fashion Industry. My year at Fashion School was great. I was getting this broad scope of the industry, which was what I needed to narrow it down, even though I was initially telling myself that styling was what I wanted to do.
"I still remember my final Fashion Styling shoot. I'd come up with a grunge rocker concept married to the visual element of the tornado from the Wizard of Oz. It seemed like an abstract idea but I turned up prepared, stayed true to the concept, got it shot really quickly and received the highest grade in the class. I was so proud that that was my first shoot. That was a really big moment for me."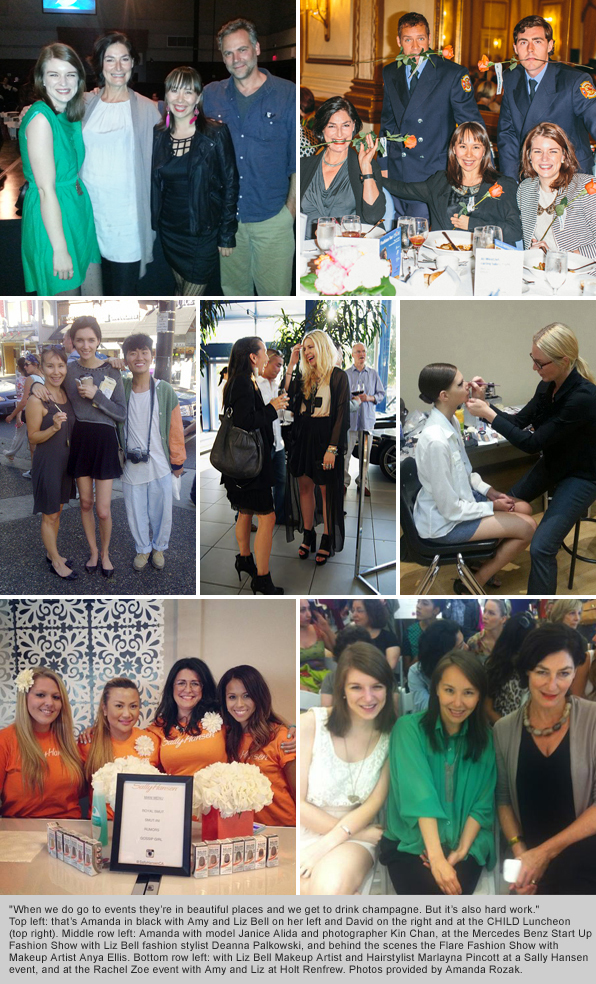 Amanda was excelling in and outside the classroom, making contacts and volunteering wherever the opportunities arose. One of those contacts opened the door to Lizbell.
"One of Liz's friends was a regular customer in a restaurant I was working in. We started talking, I told him my story and he told me Liz was looking for an intern. The movie S1m0ne had just came out and Liz was representing the star, Rachel Roberts. That's how I'd heard of Liz. I emailed her that day and within a week I was in the office doing intern duties."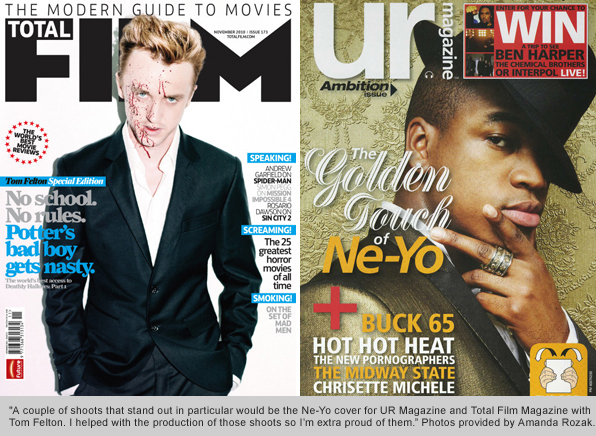 Foot in the agency door, the opportunities kept coming.
"I started working with the Agency's stylists and met Hans Koechling who was running a production company called The Image Is. Hans offered me a position as a junior stylist working in Montreal and I ended up spending a season there for Montreal and Toronto Fashion Week. I got to meet Jeanne Beker and Michael Bublé. I'd just moved to Toronto when I got an email from the Head Booker at Lizbell, who was going on maternity leave. They wanted me to fill the position. I came back to Vancouver and I've been here ever since."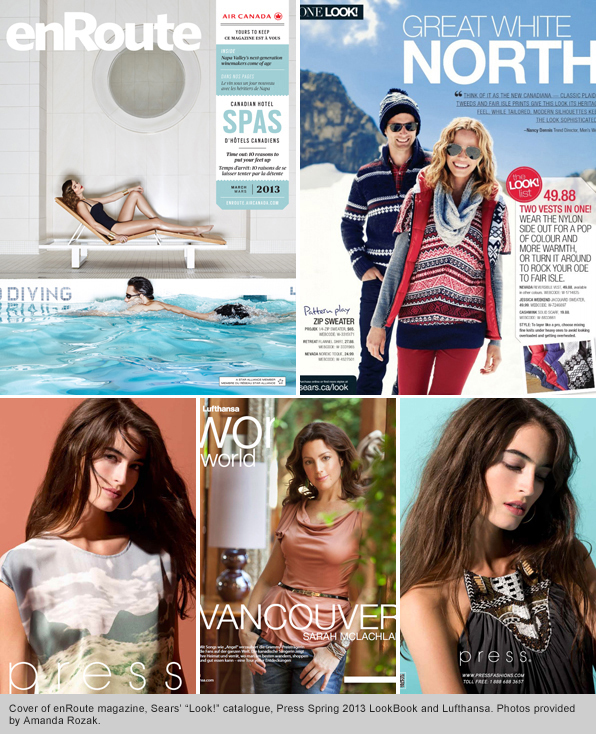 Liz and her colleagues didn't have to go across Canada to find their next Head Booker, but they knew Amanda had the potential to deliver something special.
"As much as some elements of my intern work weren't that thrilling, I was still excited about being in the industry and part of the booking table. I was still an intern when I got to go to a Nike casting with 50 models. I was involved and watching Liz talk to the international fashion agencies. It was exciting and overwhelming. I had the terminology and the knowledge of the industry from Fashion School, but there's no real training for this job. Liz knew that I was here to learn."
Amanda did learn, and having been with Lizbell for nearly ten years it's now her responsibility to ensure the Agency's business runs smoothly across Vancouver. Even under the most strenuous demands.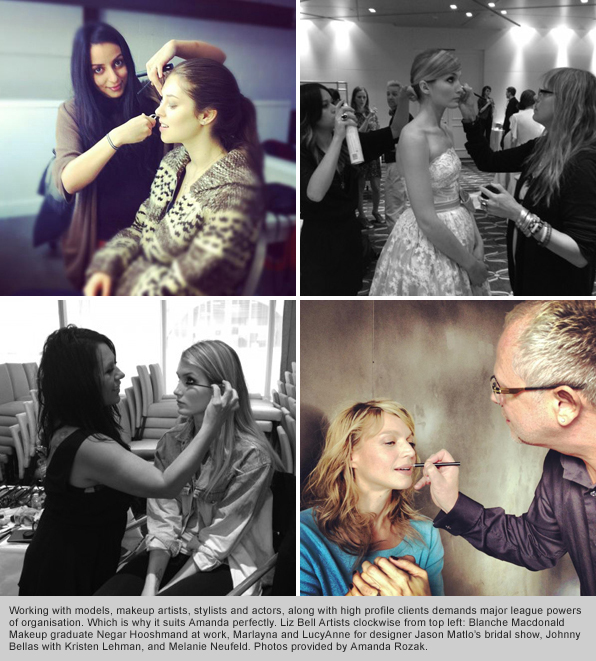 "I need to prioritise every day. Sometime I'll get an email like, 'We need a fit model with these measurements in one hour!' There are always about 40 bookings on the go. Some only need a couple of emails to arrange. Others need image terms and contracts. It can be a seven days a week job too. I have to deal with it as it comes. I have to be clear and concise in communication. Clients need to believe in my word too. If I suggest that someone is right for a job, clients respect my opinions. Trust comes with time. Clients get to know me as a person and they get to know our policies. In an office this size you get an overview of the business as a whole. I'm not just a booker. I also follow up with accounts and all aspects of the business.
"We work regularly with Aritzia for hair, makeup, styling and models. Holt Renfrew and The Bay are regular clients. We do a lot of in-store events with them. When Victoria Beckham was in town we sent models for her show. And we have long standing clients like Amazon, Mountain Equipment Co-op, Guess, Bootlegger and Arc'teryx. A couple of shoots that stand out in particular would be the Ne-Yo cover for UR Magazine and Total Film Magazine with Tom Felton. I helped with the production of those shoots so I'm extra proud of them."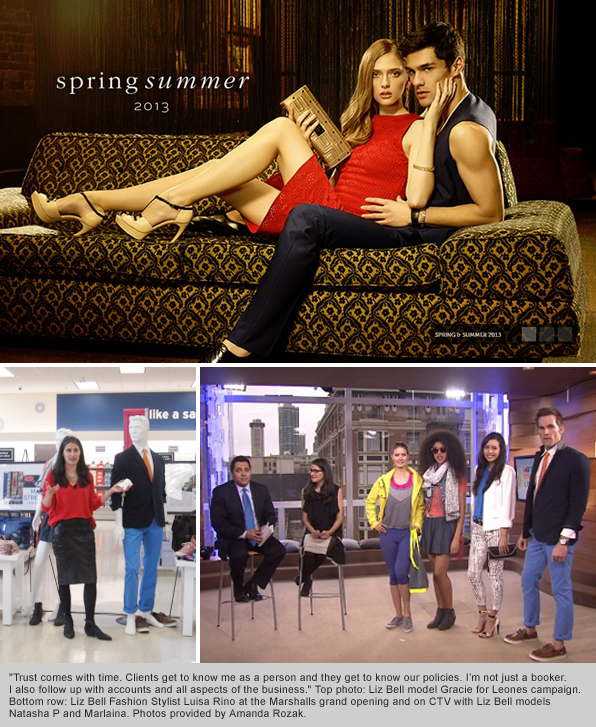 Working in the heart of Vancouver's fashion industry, Amanda is in the position to explain exactly what agencies are looking for. Not just from models, but from Makeup Artists, Hair Stylists and Fashion Stylists.
"You need to have a portfolio strong enough for me to present to a client straight away," she insists. "You need to be ready. We look for a varied portfolio. I don't want to see just one image from a shoot. I want to know that you can carry a story with four to six images from each shoot. A portfolio should have about 15 shoots, all telling a story. And of course, printed editorials make a huge difference too."
From a fishing boat to the heart of the Fashion Industry, Amanda has proven that it's entirely possible to reach your dream position. Although admittedly, it's not exactly what she expected. It's better.
"What I thought the fashion world would be like as a teenager is different to the reality. Sure, when we do go to events they're in beautiful places and we get to drink champagne. But it's also hard work. The cliché that fashion people are mean is 95% not true. The models and artists become your family and you look forward to seeing the special moments in their career.
"I still get a lot of satisfaction in a job well done. A simply thank you from a client can really make my day."