Fashion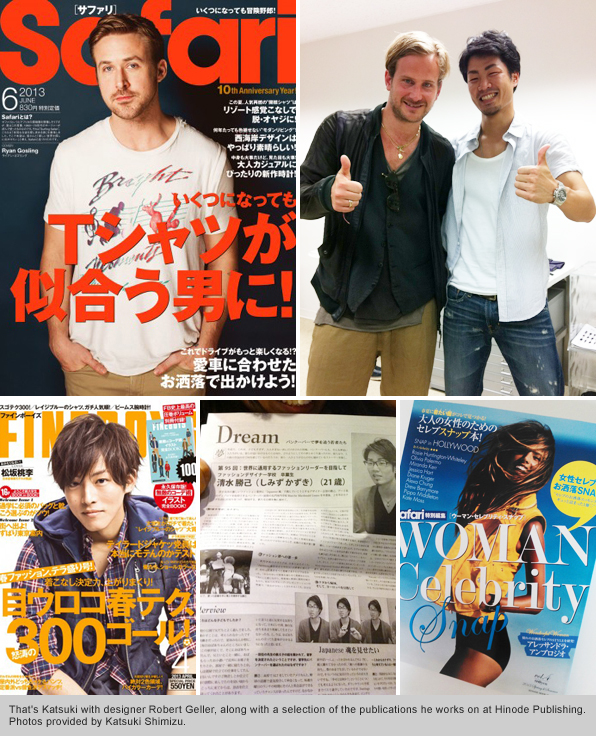 Don't let Katsuki Shimizu's modesty fool you. The Fashion Design graduate from Canada's #1 Fashion School is a rising star in the Japanese publishing industry, putting his eye for style into action as an Editor for Men's Fashion Magazines Safari and Fineboys. It's a fabulous position, fully deserved by one of the hardest working students to ever pass through Blanche Macdonald's doors.
Growing up in Japan with the twin loves of baseball and fashion; an injury forced the young Katsuki to trade his cap and uniform for an entirely new wardrobe.
"My whole life at high school was baseball. It's a very Japanese thing. I was practicing and playing almost every day. But I hurt my back and thought I just wasn't good enough to go professional, so I decided to go to Canada to study English. My English was improving and I was looking to study either fashion or photography. That's when one of my English teachers told me that Blanche Macdonald was probably the best Fashion School in Vancouver."
Katsuki's English wasn't quite fluent when he first sat down with Admissions Director Jaye Klippenstein. Even when he couldn't find exactly the right words, his enthusiasm was evident.
"I told Jaye I wanted to create things and she was sure I could do it. So I decided to go for it!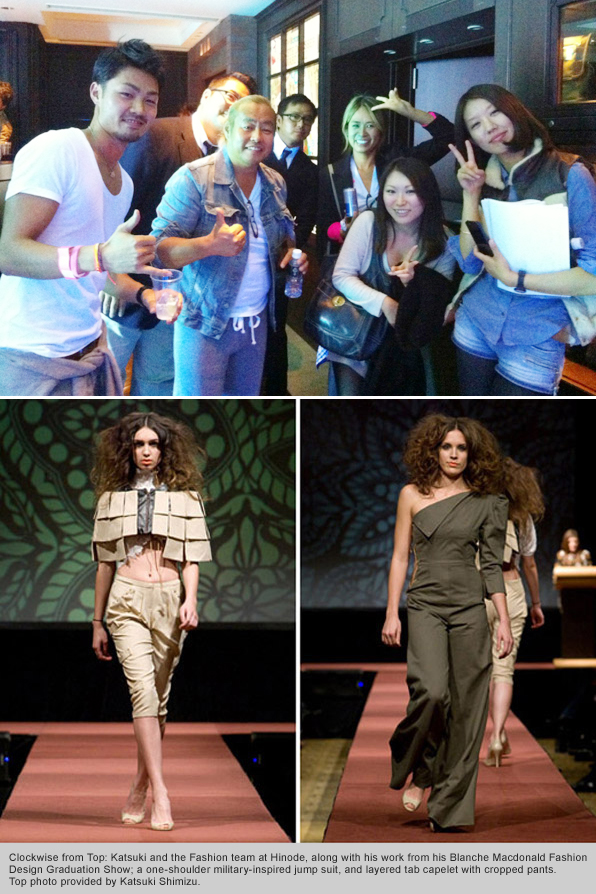 "When I started Fashion School I was still worried about my English. I'd have to ask my instructors a lot of questions after class about all the things I didn't understand."
All Katsuki's instructors were impressed with his determination to understand every aspect of every class. Program Director Donna Baldock began as one of those instructors. She soon became a friend. She'd provide Katsuki with all the information and inspiration he needed. It was a fair trade. He was inspiring her at the same time.
"We had a standing appointment every Friday after my class with another group," explains Donna. "He was super organised! We would review any Fashion History questions he had and then if he had any questions about Textiles, we would go over those too. The fact that he was so appreciative and grateful made it all worthwhile. He would always thank me for my time and always had a smile on his face. It was contagious! It was a pleasure to teach and to watch him grow in so many ways."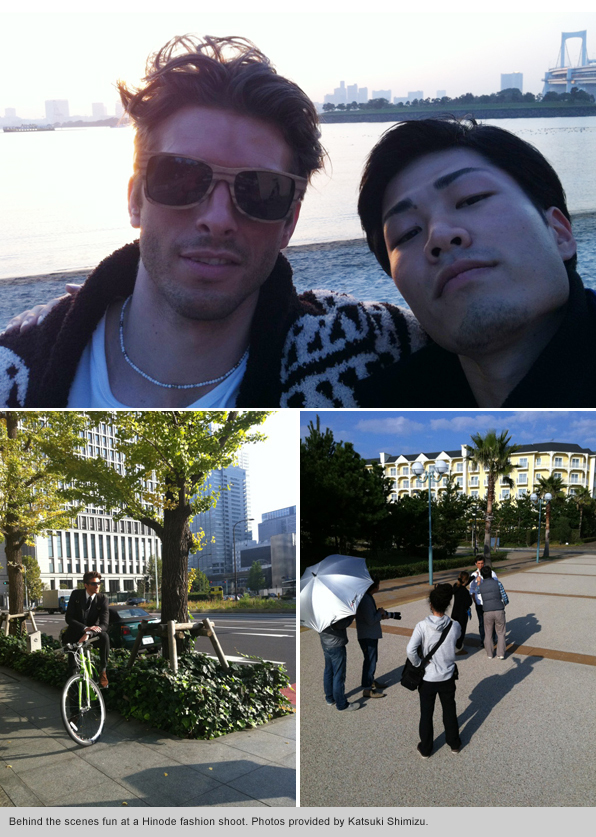 Katsuki's work ethic and enthusiasm were recognised at his year's Graduate Fashion show, where his military-inspired single-sleeved jumpsuit, and blouse and cropped pants combination won him the Award for Most Improved Student.
"Now I look back, I don't really understand my concept," laughs Katsuki (there's that modesty again). "That was really kind of Donna and Peggy Morrison to give me an award. I always came into Blanche Macdonald, even on Saturdays, to work on my stuff. They knew that I spent all my time on patternmaking, designing and sewing, and I was really moved to receive an award."
Katsuki returned to Japan eager to continue designing but also looking for a job in the fashion industry. He was working part-time in retail when he saw a newspaper ad looking for Fashion Editors.
"The company, Hinode, asked me to come in. I talked about fashion design and my passion for it. I brought my portfolios from Blanche Macdonald with me. Even though I'd done women's designs too and the job was on Safari, a men's fashion magazine, they still liked it. I had no experience in magazines, but I spoke English, I'd been to Fashion School and they thought I could be an editorial assistant.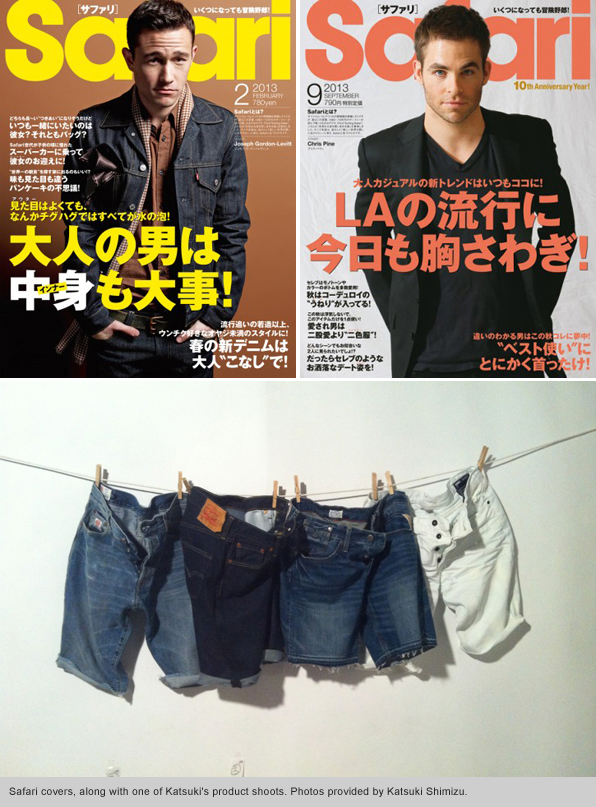 "I worked Monday to Friday as an assistant on Safari, which is a high-end men's fashion magazine aimed at men in their 30s and 40s. A lot of its style is based on California culture and lifestyle and fashion. When the editors needed me to translate something or borrow clothes for photo shoots, I'd do it. A lot of the models will be holding surfboards and we use a lot of European and North American models. That's why I needed to do a lot of translation.
"The knowledge of fashion I took from my time at Blanche Macdonald was helpful with a lot of things, even though my knowledge was mainly in women's fashion and I was doing men's fashion. It still helped. Now I'm working with labels like Louis Vuitton, Gucci, Prada, Dsquared2, Fendi, Dior and Emporio Armani."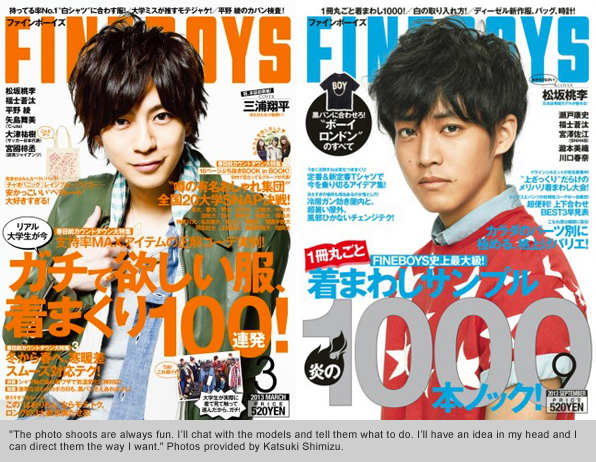 After a year learning the ins and outs of the magazine business as an assistant, Katsuki was promoted to the position of Editor, continuing to work on Safari before moving to a new title, Fineboys. Now every month is a creative and organisational challenge.
"Once the Chief Editor decides what the theme of an issue will be, we'll do some rough drawings of ideas and titles. Once he approves them we'll start finding the models, stylists and makeup artists for the shoots. I can make those decisions on who to use. I'm still the youngest editor, so people will tell me if I do something wrong. The hardest part of this job is writing.
"The photo shoots are always fun. I'll chat with the models and tell them what to do. I'll have an idea in my head and I can direct them the way I want. It's fun to create things. That's the most interesting part of being an editor. You can come up with ideas. It's all about creative designs."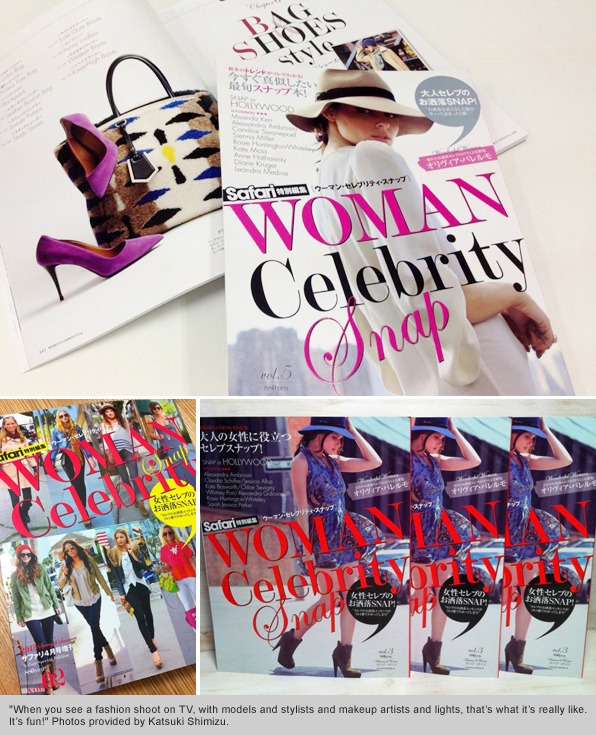 For a young man who came to Canada to learn English and left with a fashion education, the reality of the industry has been as exciting as he'd always imagined.
"It's really happening!" he smiles. "When you see a fashion shoot on TV, with models and stylists and makeup artists and lights, that's what it's really like. It's fun. You meet a lot of people from the industry and that's always interesting.
"Maybe I'll go back to designing at some point in the future. I still think about it all the time. When I look at the clothes we're featuring I'm always thinking about how they could be changed. I still have a designer's mind, and I do miss women's fashion. But right now I want to put that energy towards editing."
Katsuki is putting his designing desires on hold or the time being. Until then readers of Fineboys and Hinode's other magazines are reaping the benefit of his style and expertise. Katsuki is reaping the benefits too.
"When I'm doing my job it doesn't feel like work. It feels like a hobby. If you want to work in the Fashion Industry you have to love it. So study! You have to know about brands and their designers. Learn about textiles. Read magazines. Know what's going on in the world, not only in the fashion industry but also in any industries. Have your own taste and opinions about fashion too. If you can tell people what you think, that's a great way to make it happen."