Fashion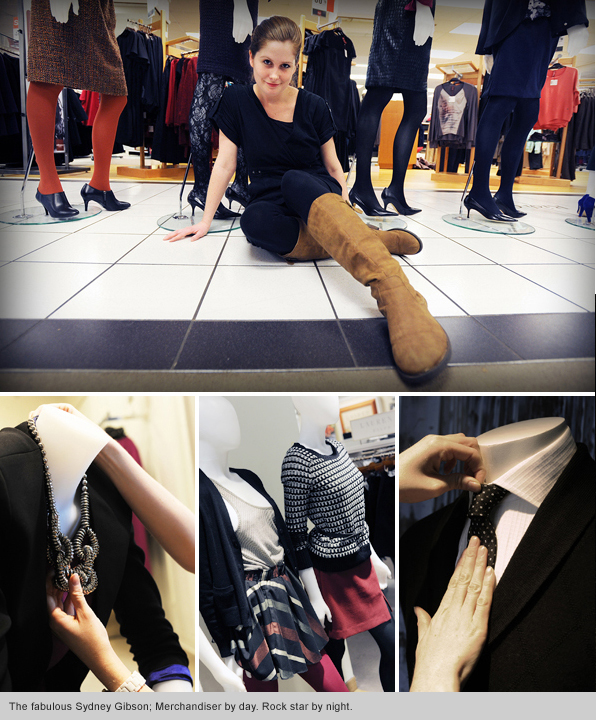 Sydney Gibson's love for fashion started early. It didn't hurt that her mother, Bet Gibson, was a Fashion and Makeup Instructor at Blanche Macdonald.
"I always liked fashion, even through Elementary School," explains Sydney. "I always loved clothes and dressing differently. I like to think I started some trends within my set of friends. In Elementary School I had parachute pants, huge hoop earrings, and a weird gypsy look. At that time I was really into Nelly Furtado. People used to say I looked like her. That was me being influenced by music."
Today Sydney balances her twin loves of fashion and music. By day she's a Merchandiser at the Park Royal, West Vancouver branch of The Bay. By night she's the lead singer of Vancouver rock band Hunger City.
"Music always came before fashion," she admits. "Even with what I'm wearing I've always been influenced by musicians and their styles: female singers like Gwen Stefani and Lana Del Rey. I always knew I was good at singing and knew I wanted to sing, but when I took the program at Blanche Macdonald and started to go a little further with my job at The Bay, that's when I realised I was good at fashion too."
It almost seemed inevitable that Sydney would end up on a program at Vancouver's top Fashion School. Her Mum was a core member of the Blanche Macdonald family. Which meant young Sydney was too.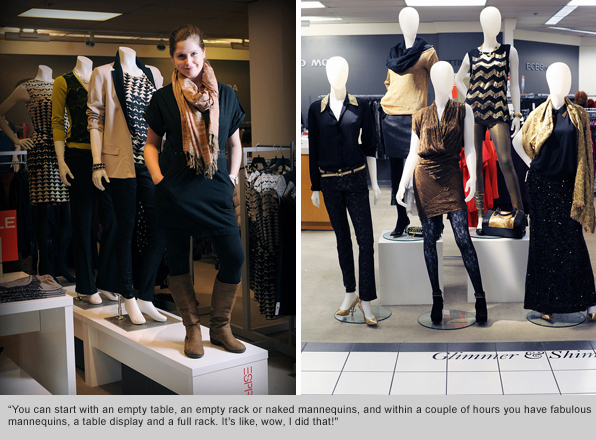 "It was a big adventure for me to go to Blanche Macdonald when I was little. I would help my Mum with photocopying and check her mail. Really good memories!
"Because my Mum worked at Blanche Macdonald it seemed like a natural transition to go there. I knew I wasn't going to do Fashion Design. I couldn't sew! But I wanted to learn the business of fashion."
Arriving at Fashion School knowing many of her instructors, including Program Director Peggy Morrison, could have led Sydney down an easy path. The reality was exactly the opposite.
"My friends thought Fashion School would be easy. 'You just draw pictures of clothes, right?' No, I stayed up all night working! Whether they were real or not, in my mind people's expectations of me were super high. Everybody there had known me since I was a little kid. When I did a project or had a test I was so worried what people would think. I felt like I had to prove something – especially with Peggy. Her opinion is huge to me, and I would be so embarrassed if I didn't measure up. I created a lot of pressure for myself."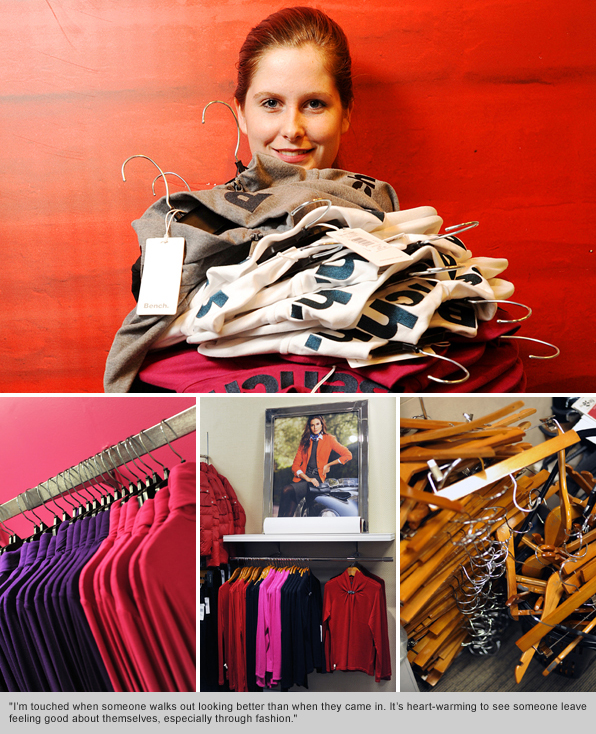 Sydney landed what she thought would be a part time job at The Bay while she was still a student at Blanche Macdonald. She's been there ever since.
"I was hired before Christmas to do seasonal help. They liked me, and that blossomed into the start of a career."
As a Merchandiser it's Sydney's responsibility to ensure that the womenswear department always looks its pristine best, and that its lines are shown off to their ultimate potential. It's a job that can be as creatively satisfying as it is practical.
"Seeing your work is so rewarding," she continues. "You can start with an empty table, an empty rack or naked mannequins, and within a couple of hours you have fabulous mannequins, a table display and a full rack. Wow, I did that! As long as I stick to the marketing standards and respect the brand, then I have the creative authority to fold the way I want to fold and hang what I want to hang. With the mannequins, a lot of the time I get to choose what they're wearing. I'm touched when someone walks out looking better than when they came in. It's heart-warming to see someone leave feeling good about themselves, especially through fashion."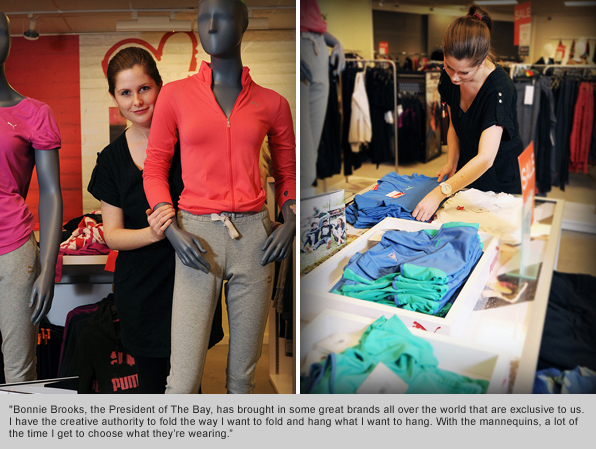 Sydney is continually referencing the lessons learned at Blanche Macdonald in her work.
"One of the biggest things was Fashion Elements class. If customers or co-workers say that they're looking for this collar or sleeve, I know all the terms. A lot of people don't. I know the fabrics from textiles class. I know the designers from Fashion Awareness classes. And I recently found all my notes from Visual Display classes. That's exactly what I do now! "
Her position goes far beyond keeping West Vancouver's biggest clothing store looking good. It's about making West Vancouverites look great too.
"Bonnie Brooks, the President of The Bay, has been huge catalyst for change in Canada. She has a huge fashion knowledge and a rapport with different designers and brands. She brought in some great brands all over the world that are exclusive to us. She's definitely made The Bay more fashionable."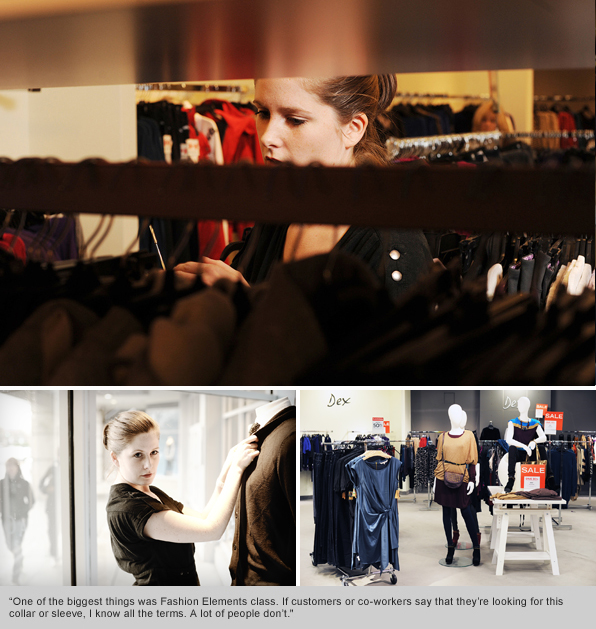 The Bay has also been massively supportive of Sydney's rock and roll career.
"Some of my best friends in the whole world are at The Bay. They've always been really great about me taking days off for gigs.
"With Hunger City we practice all the time and play gigs at least once a month. We've played the Media Club, The Roxy and Joe's Apartment. As long as I let work know in advance they'll give me the day off after a late show.
"There's no way I'm getting in early the next day after those nights!"