Fashion

On a crisp, clear November night, under the glorious art deco dome of Vancouver's historic Permanent Building, a new pack of Canadian and International design talents introduced themselves to the fashion world with brilliance and boldness at The Places in Between, the 2015 Blanche Macdonald Fashion Design Graduate Showcase.
The Permanent Building, a converted bank built in 1907, provided a suitably spectacular setting as work from 32 new designers literally stepped out of the vault in front of two audiences of friends, family and Vancouver's fashion elite.
For Blanche Macdonald Fashion Director and The Places in Between's Creative Director Tyler Udall, the combination of a special group of students and a magical venue was always destined to create an unforgettable night.

"We really pride ourselves on transforming spaces into fashion friendly venues year after year," explained Tyler. "It's great for students and all the attendees to experience these unique and special spaces in such a celebratory way. When we first saw the beautiful century old vault door, we instantly knew that would be the start of the runway. That was our point of departure and we built the rest of the logistics around that element."
Led backstage by the multiple powerhouses of Fashion Department Director Peggy Morrison, Fashion Marketing graduate-turned-Vancouver-stylist extraordinaire Lacey-June Berry, Key Makeup Artist Tim Hung and Key Hairstylist Lisa Callendar, teams drawn from Blanche Macdonald's faculty and classrooms did the impossible, successfully putting on two different shows in one evening.
"This is the first we've done the Friends and Family Show and the Media Show on the same day," smiled Peggy Morrison at the night's conclusion. "Somehow we did it, throwing shoes on the girls at the last minute! Everyone loved it and it all looked beautiful.
"Lacey-June Berry was styling the show and she was a pleasure to work with. I worked with her as the voice of the students. I discussed their visions with each of them so I could reflect what they wanted with the styling.
"This group has been amazing. They're really great people. We loved them all and are so sad to say goodbye."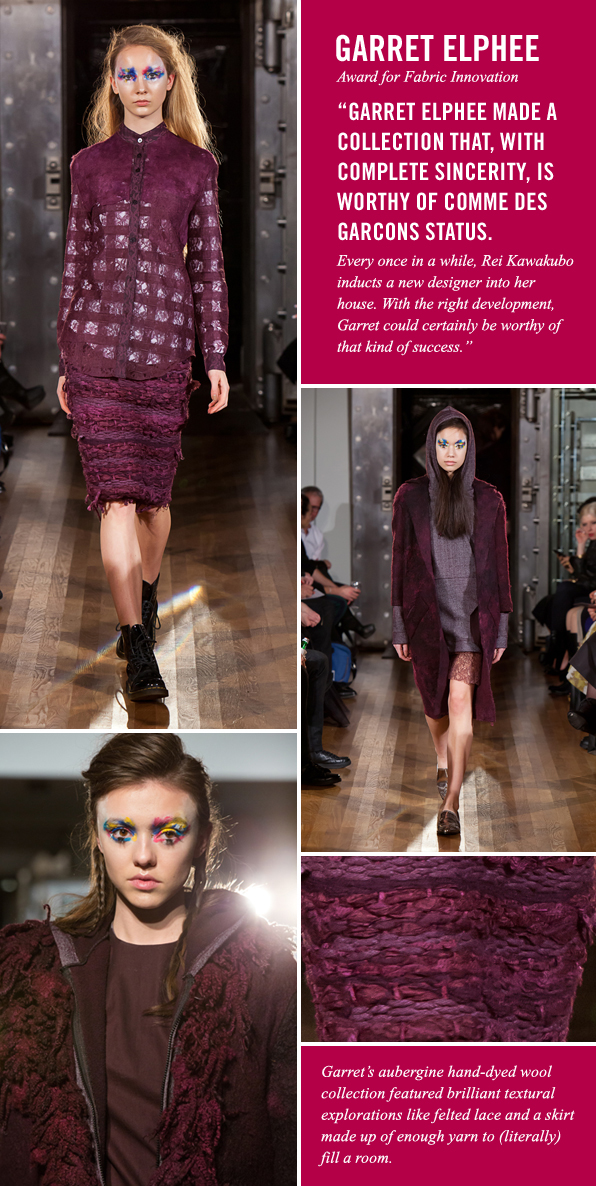 "There were students this year who, for lack of a better word, wowed me," he continued. "The kind of potential I saw in the students this year is the kind of potential you might come across a few times in a career. Garret Elphee made a collection that, with complete sincerity, is worthy of Comme des Garcons status. Every once in a while, Rei Kawakubo inducts a new designer into her house. With the right development, Garret could certainly be worthy of that kind of success. When I see designers like him, Maxine Siperko and Lindsey Kapitzke, I get very excited to think about where they will be in ten years. I should buy a crystal ball already!"

"Tyler could tell that I'm driven and that this is my passion," agreed Maxine, one of his select protégées. "He knows I take this very seriously and wants to see what I do next!
"I'm really glad I chose to come to Blanche Macdonald. The instructors treat you with a lot of respect and care about you personally. It's one year, but that year pushes you to your physical and mental limits. If you make the right sacrifices you will succeed. It taught me so much. Being taught by Peggy Morrison – the stories and information she shared – was inspiring. And Tyler is a great Creative Director. He knows this business inside and out."
Adorned in rattlesnake vertebrae, silk, grommets and the hard cut of mirror, Maxine's collection showed exquisite dexterity between strength and softness, and an outstanding sophistication in tailoring that won her one of two shared Awards for Overall Achievement. The black leather coat, trimmed with horsehair and cleverly placed parades of studs, wouldn't be out of place on a luxury boutique rack, or tossed over the shoulder of a particularly chic CEO.
"I was inspired by the strong and independent women in my life that work so hard to battle and conquer the world around them," she continued. "I researched different cultures' mythology and folklore constructed around warriors, powerful female figures and female deities. This collection hints at the contrast and balance of light and dark, soft and hard, masculine and feminine."

The other Award for Overall Achievement went to Lindsey Kaptizke, who also took home the Award for Best Portfolio. Her collection, Luxury Lunacy, was a revelrous fantasy that balanced waggish gestures (latex jackets and acid fringe swinging from shoulder tops) with beautifully executed silhouettes. The true showstopper of Lindsey's blitz of looks, however, was the underlying artistic process that brought them about, inspired by the work of cult English comedian (and half of The Mighty Boosh) Noel Fielding.
"Noel Fielding is such a beautiful creature!" laughed Lindsey. "There is so much colour in his latest show. I love laughing and making people laugh. I tried to incorporate those ideas into my work. I wanted to create an experience for the audience who watch the show, with an instant reaction of joy or laughter when it's received. That's what I love doing.
"My year at Blanche was so artistically challenging. At first I was worried that my ideas would be too out there. I was very hesitant on the day that we were presenting our mood boards. But the exact opposite happened. Everyone seemed so excited about the concept. Tyler pulled out his phone, took a picture of my board and said 'I have to take a picture of this because Noel Fielding is going to love this.' It blew my mind that one of our instructors had such incredible connections. There are brilliant professionals here who have worked in the industry for years. They're resources I wanted to take advantage of."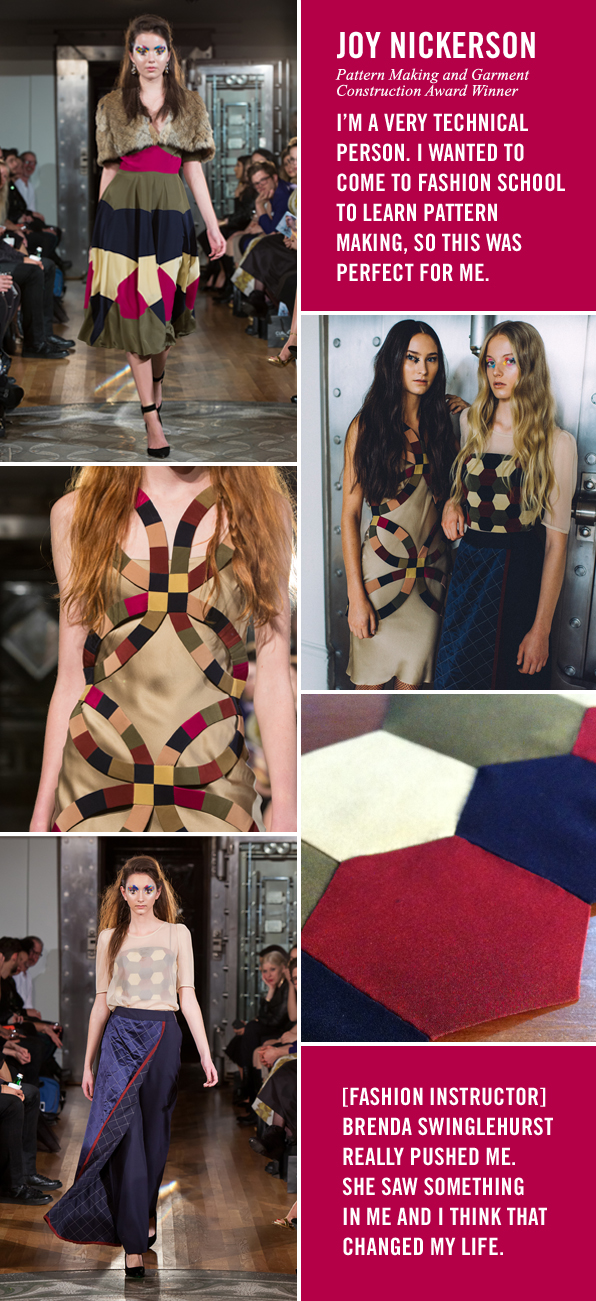 Another double award-winner was Joy Nickerson, who took home prizes for Garment Construction and Pattern Making. Taking off from the feed sack patchworks of Depression-era quilts and rising up through the dawn of Hollywood glamour in the 1930s, Joy's collection earned its technical clout through complex geometries of pattern. Her standouts were a quilted lattice over a golden starlet slip, and an impeccably tailored pant with demi skirt overlay, fastened about one hip like the warm remainder of a midday doze.
"I'm a very technical person," confessed Joy. "I wanted to come to fashion school to learn pattern making, so this was perfect for me. Brenda Swinglehurst really pushed me. She saw something in me and I think that changed my life. At one point I was trying to change a design from how I'd originally drawn it. Brenda told me that I couldn't. She said I needed the challenge of constructing it to my original design. I tried to reach Brenda's standard and I think it paid off. Challenging myself to complete that garment proved to myself I could do anything.
"I'm hoping to start my own pattern making company for home sewers. That's part of what I want to do. Although I'm already working as a Teaching Assistant in pattern making and garment construction at Blanche. Our classes finished on a Wednesday and on Monday I was introducing a new class to pattern making."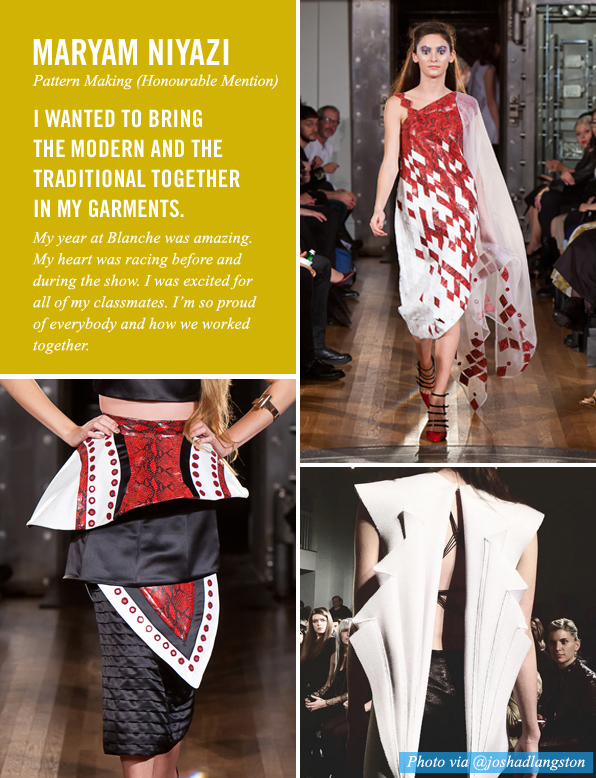 For Maryam Niyazi, her Honourable Mention for Pattern Making Award was the most recent step on a journey that began in Afghanistan and went through London, England before finding a home at Vancouver's top Fashion School.
"My year at Blanche was amazing," insisted Maryam. "I learned so much in such a short amount of time. I'd taken three years of a Fashion Degree in London out. I feel like we did three years work in a year here. There were tears, laughter, everything!"
Taking inspiration from 'Sacred Geometry,' a conceptual force that unites nature and architecture, Maryam's collection took on grand forms in the vaulting eave of a peplum and in the sharp cascade of origami folds which framed the back of a top. Ruby diamond shapes scattered about the face of a dress woven from lambskin leather hinted at the invisible mathematics behind beautiful design.
"I wanted to bring the modern and the traditional together in my garments," she continued. "My heart was racing before and during the show. I was excited for all of my classmates. I'm so proud of everybody and how we worked together."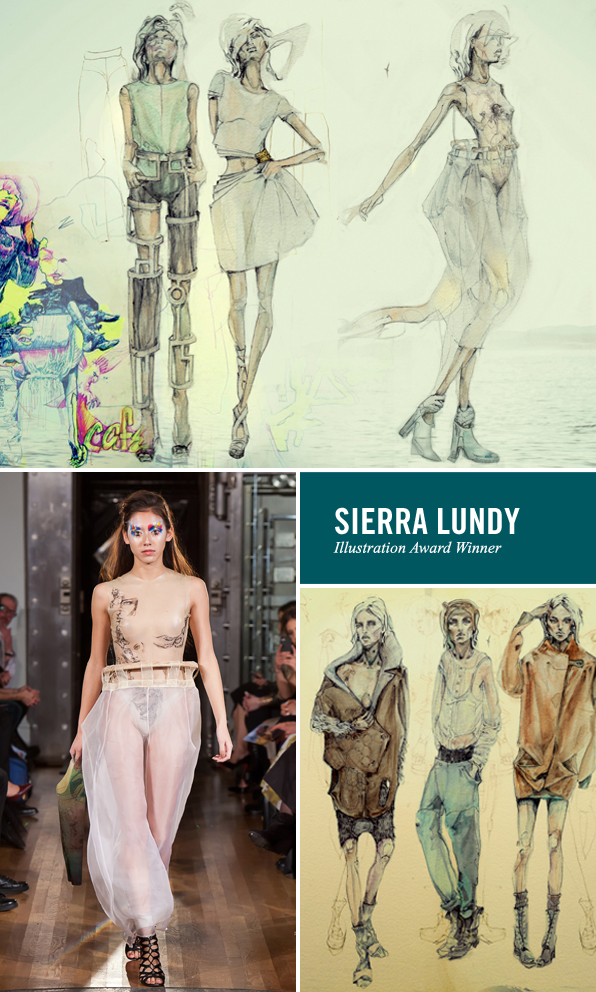 It wasn't just Blanche Macdonald's Fashion Department that had reason to be proud of The Places in Between. The night was also a triumph for the Hair and Makeup Teams, with the latter led by graduate-turned-instructor Tim Hung.
"When Tyler approached me to key the Makeup for the show he already had an idea where he wanted to go," recalled Tim. "He gave me some reference images that were very colourful; the same colours we're using for the show today. I just took it a bit more abstract.
"Of course, I wanted to use the best artists on my team. So I asked the team at CurliQue Beauty and the instructors I work with at Blanche – Win Liu, Jaylene McRae, Mimi Choi and Vanessa Wong. I also reached out to the Makeup department and recruited some great grads so they could experience what's always an exciting night. The number one thing for me is to ensure everyone has a really good experience together. We were able to have fun with the look. It was like a painting class!"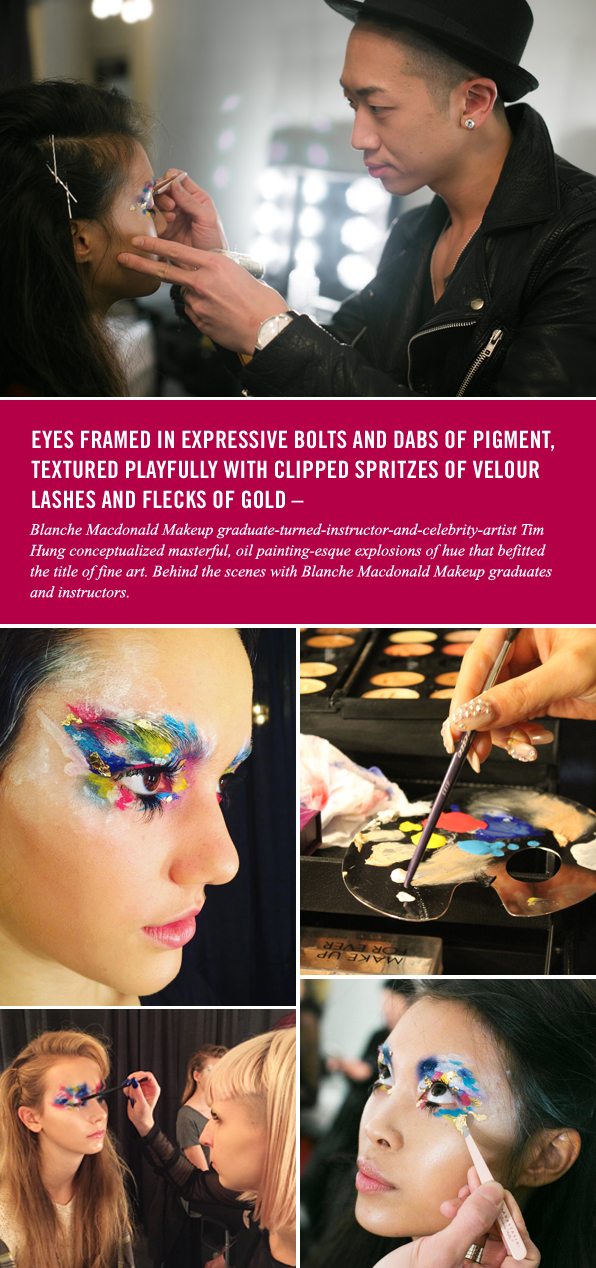 Catching inspiration from David Bowie, vintage tribal photos and the simple fact that so many models had beautiful long locks, Blanche Macdonald instructor Lisa Callendar keyed a Hair Team made entirely from current students.
"When Tyler sent me reference images, I got a feel for early 80s Bowie and 90s grunge. Not messy like a next morning walk of shame," she clarified, "but too cool to care.
"We had two groups for the two shows and everyone had a blast. One group is only halfway through the program, so this was their first fashion show. I wanted to have fun as well as be creative. This is a different skill than working behind a chair in a salon. You're working with a creative director here, so you have to be able to take constructive criticism and make changes quickly. We have a great creative director in Tyler and I have great students. I want to inspire them to continue on this path."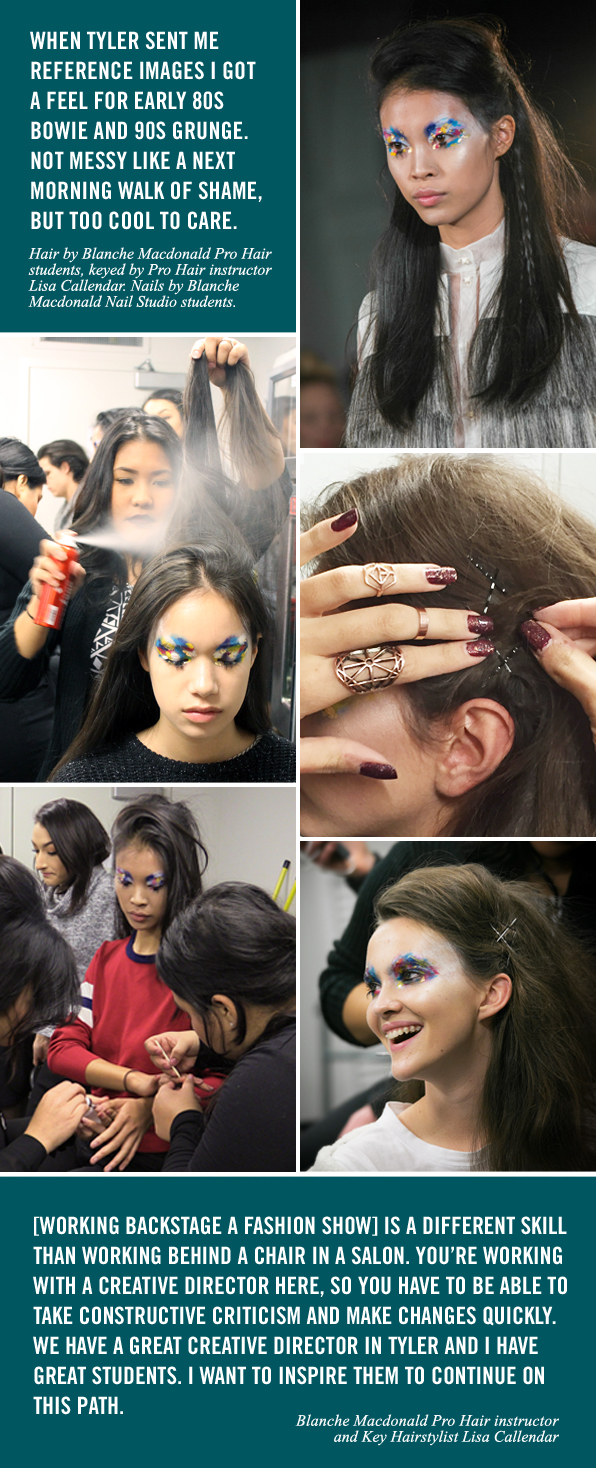 The success of The Places in Between was a tribute to the hard work of the students and staff at Blanche Macdonald, with special mention due to the inspirational leadership of President Lily Lim, the endless efforts of Executive Program Director/Show Coordinator Peggy Morrison, Executive Program Director Donna Baldock, Fashion Director Tyler Udall, Career Director, Fashion Department Mel Watts, the expertise and support in the Sewing and Pattern Labs of Instructors Brenda Swinglehurst and Jenny Hedberg, and creative catalyst Lisa Gellert. Special thanks must also go to Instructors Carlie Wong, Mariana Prins, Maneli Nourbakhsh, Rose Aiello, Emmanuel St. Juste and Wanda Sustersich, Lab Assistants Kari Appelquist and Hana Chiang, Creative Director Kelly Schmidt, Social Media and Marketing Manager Natasha Eng, Social Media and Marketing Coordinators Laila Fox, Rheanna Miller and Allie Samborn, Graphic Design Assistant Esther Chaye, Instructor and Backstage Coordinator Lyndi Barrett and the team at Heth PR.
Infinite gratitude too, must be given to the backstage team, led by Peggy Morrison, along with Lacey-June Berry and a team of volunteers from the Fashion Design and Fashion Merchandising programs. While instructors Tim Hung, Lisa Callendar and Simona Gozner and their volunteer graduates and students from the Blanche Macdonald Makeup, Hair and Esthetics Departments ensured the models looked as spectacular as the collections. Thanks also to our fabulous emcee Jaylene McRae and DJ Hana Pesut (Sincerely Hana) for providing an amazing soundtrack to the night.
The entire team at Blanche Macdonald would also like to extend its sincerest gratitude to our corporate sponsors, Make Up For Ever, Oribe, Dermalogica, Embryolisse, Aldo & Aldo Accessories and Town Shoes, along with huge thanks to our colleagues at CurliQue Beauty for putting our guests' goody-bags together.
For more photos of each collection, click here to be directed to the official Blanche Macdonald Facebook album.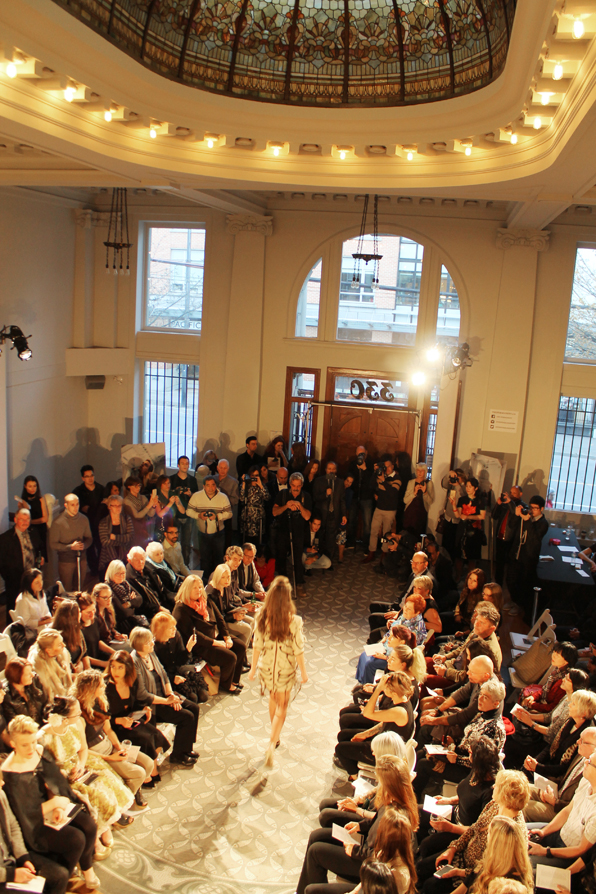 Full List of Fall 2015 Fashion Design Graduates and Award Winners
Overall Achievement: Maxine Siperko and Lindsey Kapitzke (tied)
Pattern Making (tie): Joy Nickerson and Alsi Katerina Bozdag (tied)
Pattern Making Honourable Mention: Maryam Niyazi
Garment Construction: Joy Nickerson
Garment Construction Honourable Mention: Chloe Prusa and Sadife Bakar Carne (tied)
Illustration: Sierra Lundy
Design Innovation: Caitlyn Bellavance
Portfolio: Lindsey Kapitzke
Fabric Innovation: Garret Alexander Elphee
Sadife Bakar Carne
Zuleika Castro
Sissi Chen
Adam Fawcett
Doris Helena Granados
Caitlin Hall
Robert Higgins
Nikita Ann Hynes-Wall
Esther Lee
Kady McCappin
Jeanette Macdonald
Sheena Naicker
Elora Santos
Sabrina Specht
Irina Warkentin
Karen Yun Wu