Fashion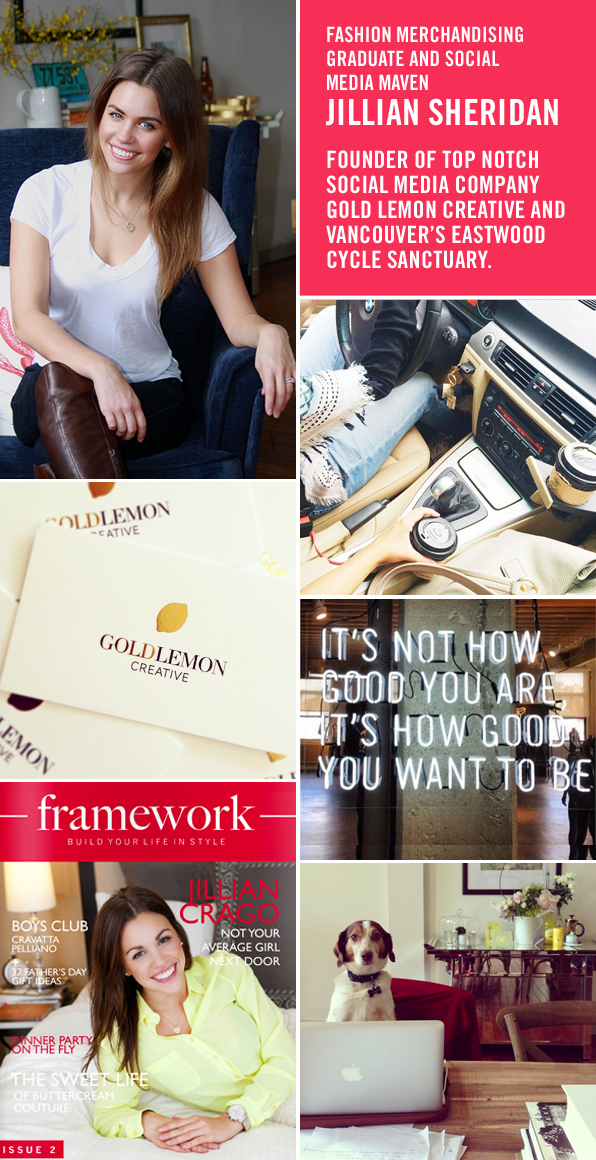 "There are three important messages I carry with me on a daily basis. One: if something isn't working, look to yourself first. Are you effectively communicating or managing your team? Two: sales solve everything. And three: don't get caught up working in the business. Create time everyday to work on the business."
Blanche Macdonald Fashion Merchandising graduate Jillian Sheridan knows a thing or two about communicating important messages. Just over two years ago she founded Social Media Company Gold Lemon Creative, building a client list including Vancouver boutique BluBird and Fidelity Denim in Los Angeles. Now she's refocusing her limitless energy on a second project, opening spin centre Eastwood Cycle Sanctuary in Vancouver's fashionable Gastown neighbourhood with her husband, Craig Sheridan.
Gold Lemon headquarters in the heart of Gastown is the ideal combination of contemporary design and Vancouver heritage. Jillian has certainly made it her own: high vaulted ceilings and exposed brick are juxtaposed with an abundance of candles, filling the space with warm, golden light.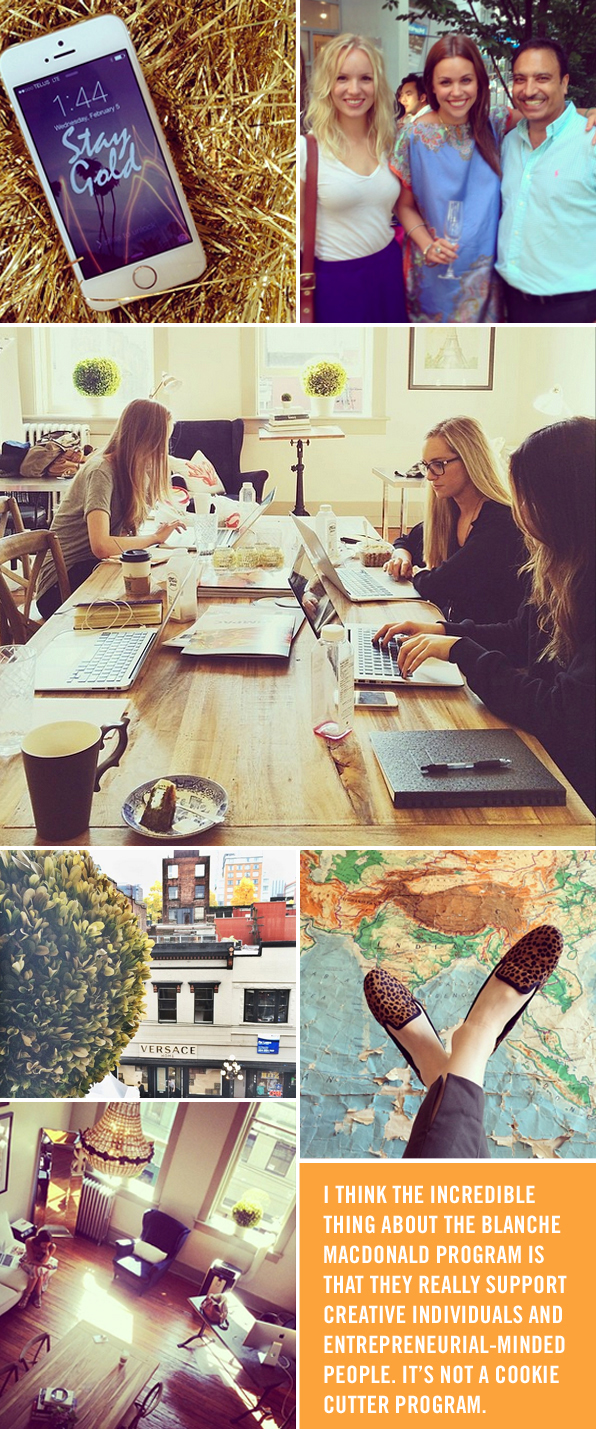 Style comes naturally to Jillian. Growing up in Cranbrook in the BC interior, she was drawn to fashion long before she moved to Vancouver to attend Blanche Macdonald.
"Fashion was always something my mom was really passionate about and so I inherited that that from her. Seeing new issues of Vogue was like opening up this whole other world for me. It was this glamorous and beautiful industry, one that I was really drawn to. And it became this challenge, an attainable goal, for me to move to Vancouver to pursue fashion."
Jillian's decision to move to Vancouver was part of a thoughtful and well-researched process; setting goals and carving out her own future.
"I did a few phone interviews with other school but always found that Blanche Macdonald had the most amazing Directors. They were so supportive and welcoming they made the decision very easy for me."
At Blanche Macdonald Jillian took advantage of every opportunity outside of the classroom, making contacts and volunteering wherever and whenever the chance arose. She still sees those experiences as the foundation of her career.
"I did a ton of volunteering at Fashion School which was fundamental to my success after I'd finished the program. It was a bit scary, stepping out of your comfort zone, especially being new to the industry, but after you do that first one, you realize they're really fun and you get to meet such great people, all the while making inimitable connections. I couldn't imagine doing the program and not doing all that volunteering. Those connections the Career Directors helped me to create are huge."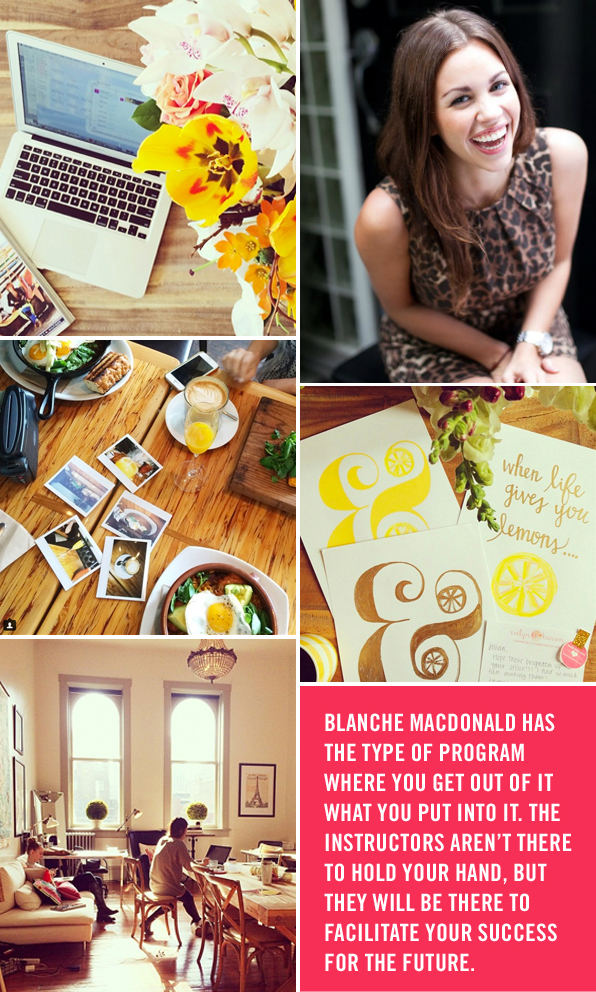 "I think the incredible thing about the Blanche Macdonald program is that they really support creative individuals and entrepreneurial-minded people. It's not a cookie cutter program. There are so many different classes that you have an introduction into a broad scope of the industry. I've used something from each of my classes for every one of the jobs that I've done. You leave Blanche Macdonald with this plethora of knowledge and this huge variety of things to pull from, both creatively and regarding the business. Blanche Macdonald really facilitates getting you out and doing things. You just have to decide that you want to start a career from the program, and put in the effort accordingly."
After graduating, Jillian continued to say yes to every opportunity, doing a myriad of industry jobs in Vancouver. She worked as a freelance Stylist, spent time at the Dakota Group, a prominent Wholesaling team, and also managed a boutique in Yaletown. However, her love of social media and inspiring visuals kept drawing her to one particular aspect of the business.
"Throughout each job I did in the Fashion Industry, I always ended up contributing extensively to social media for the companies I worked for."
Jillian's friends soon became aware that she had knack for on-line sociability and communication. As the requests came in asking if she could social media platforms for their companies, she gladly obliged.
"I had five or six accounts!" she smiles. "That's when I realized it was time to get a small business license."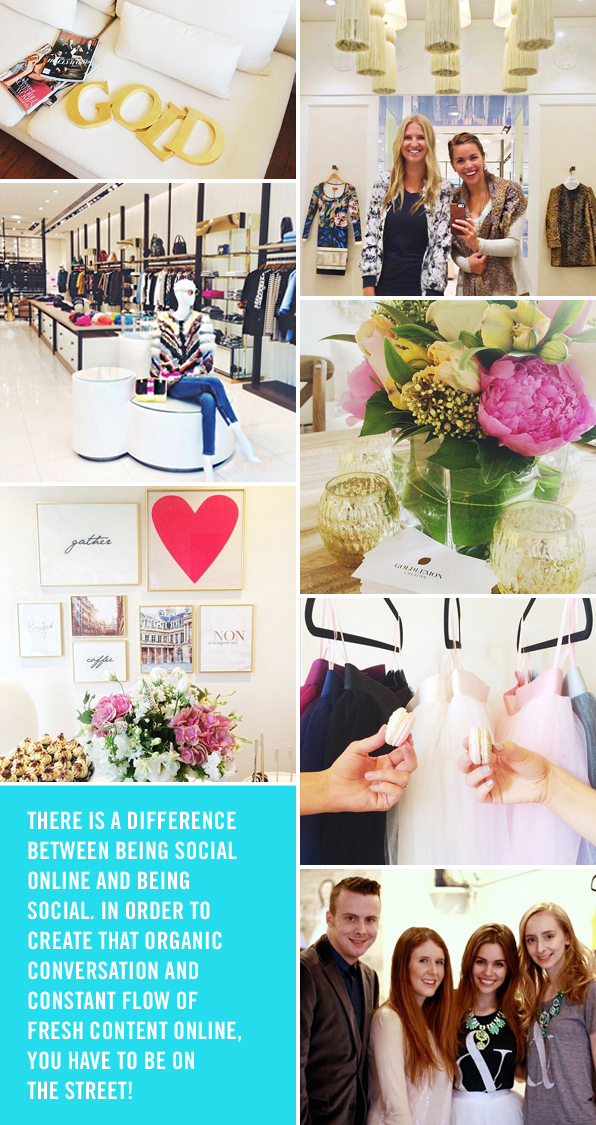 As the head of her own successful company, Jillian knows that it takes hard work and passion. She exudes both qualities from the moment you meet her. Built from the ground, Gold Lemon Creative is a refection of her dedication and her love for what she does.
"I worked from home for the first year and that was challenging in itself, not having the separation of work and home. But I finally found a space that I love! Finding the right team also brings its own challenges. I needed individuals that had the same vision as well as that level of trust, and that came in time as well."
Jillian has found both in the shape of her colleagues Samantha and Stephanie. Reflecting Jillian's kindness and intelligence, these three power ladies make up the Gold Lemon dream team!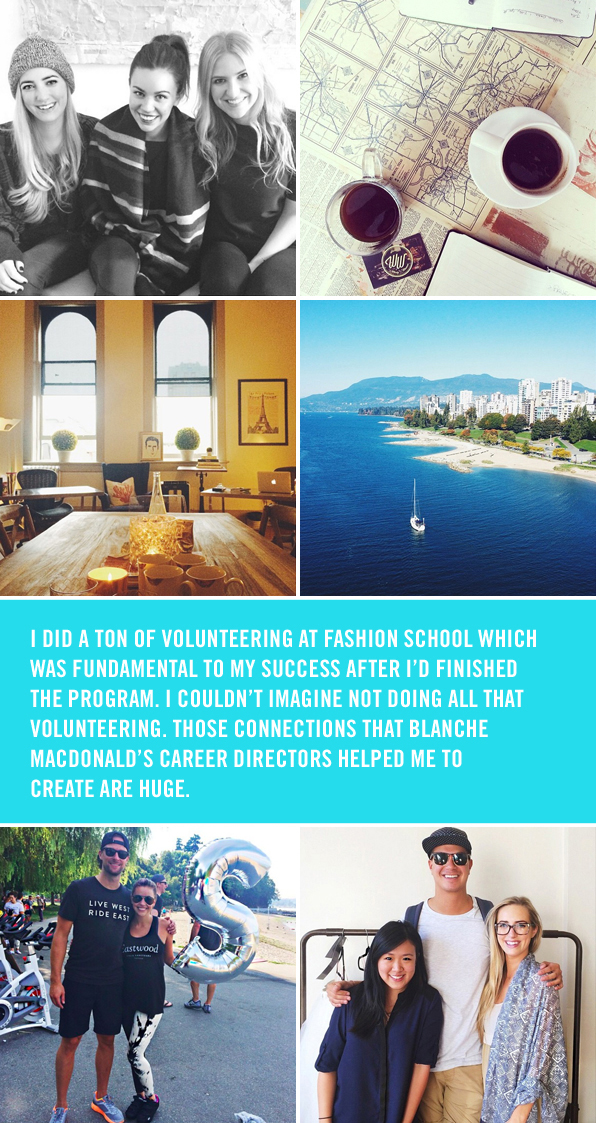 Jillian knows every day brings new challenges. That's what makes her job fulfilling and gratifying on many levels.
"Working for a small company you have the privilege of autonomy. And I love that each day is unlike any other! The morning usually begins with coffee and brainstorming, followed by client meetings or client interactions. In addition, we are always focusing on trying to be social. There is a difference between being social online and being social. In order to create that organic conversation and constant flow of fresh content online, you have to be on the street!"
For Jillian and the girls of Gold Lemon Creative the motto is that as long as we are taking care of our clients and getting the work done, we create our day. It's a philosophy that stems from her time at Blanche Macdonald.
"Blanche Macdonald has the type of program where you get out of it what you put into it. The instructors aren't there to hold your hand, but they will be there to facilitate your success for the future."
Eastwood Cycle Sanctuary is now keeping Jillian immensely busy. Of course, she's managing its visually wondrous and inspiring Instagram account! It's no coincidence that Eastwood has grown into one of the most popular athletic studios in the city. And because of its tremendous success, Jillian has decided to focus her energy solely on Eastwood Cycle Sanctuary, closing the doors of Gold Lemon Creative after three successful years in business.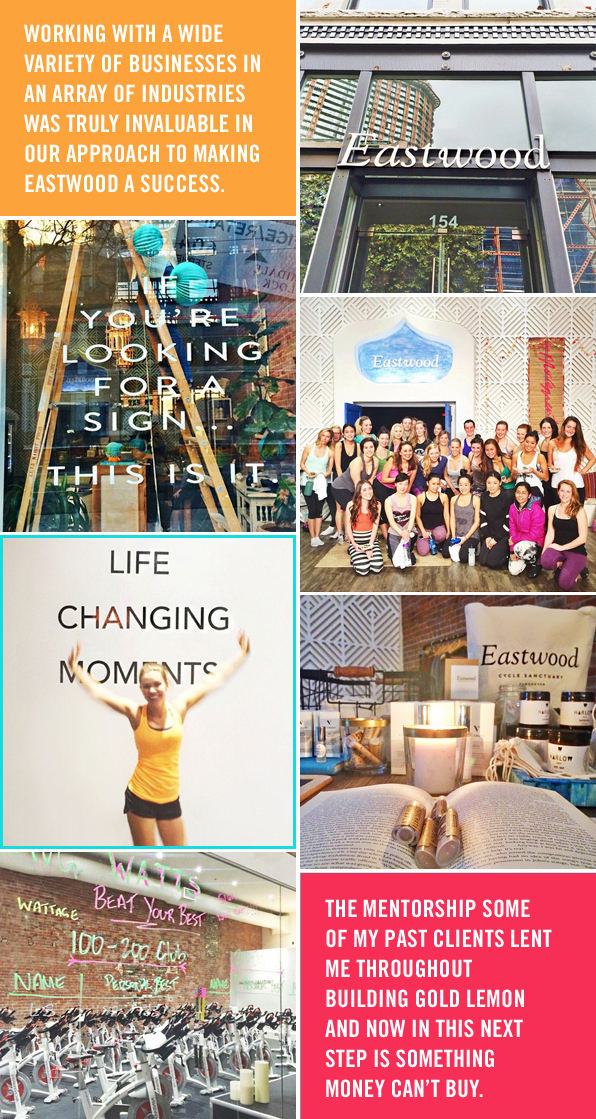 "Working with a wide variety of businesses in an array of industries was truly invaluable in our approach to making Eastwood Cycle Sanctuary a success. Getting a first hand look at how they operate gave me a fresh approach as to how I would want to run my new business, tools I would utilize, different strengths I would need in team members, and ideas I perhaps would never have thought of on my own. Working closely with some incredible business owners was a true inspiration. The mentorship some of my past clients lent me throughout building Gold Lemon and now in this next step is something money can't buy."
Jillian has created success through passion. Now that's truly inspirational.