Fashion

There's no substitute for genuine glamour. Which is why, when Blanche Macdonald was seeking a venue to host the 2016 Fashion Design Graduate Show, once we set eyes on the Grand Ballroom at the historic Hotel Vancouver, the decision was easy. The contrast of Imperial Russian style elegance with the bold, ultra-modern debut collections from some of Canada's most promising new designers was too tempting to resist.
The result was Neon Dreams, the most spectacular – and to many attendees the best – Blanche Macdonald Graduate Fashion Show in the School's storied history.
"The Hotel Vancouver is such an iconic piece of this city," explained Fashion Director Tyler Udall. "They've done an incredible job preserving the original designs and over the years the hotel has been peppered with bits of luxury. Incredible fashion houses like Dior, Gucci and Louis Vuitton are now occupying retail space in the hotel. It seemed like a fitting space for our show."

Under the sparkle of Vancouver's most magnificent chandeliers Blanche Macdonald's grads' collections shone, as two glorious fashion shows unfurled on a chilly November afternoon and evening, the first for graduates' friends and families; the second for the city's assembled fashion media. For Tyler, presenting collections that could hold their own in the most extravagant surroundings was a testament to a special group of graduating designers.
"This group had more than a few extremely focused students. There are always a handful who come in and treat Fashion School like a military operation: up at 5am, working until 11pm and really pouring their blood, sweat and tears into their collections. There were several of them this year and it was a treat to see how well they worked and how much they bonded as designers and friends."

One of those students putting their heart into their work was the Award Winner for Overall Achievement, Kirsten Ley. Her collection had the honour of closing the shows, brilliantly juxtaposing the constriction of leather body casts with the free-spirited escapism of billowing silks.
"I was humbled and honoured that I could carry that weight," she beamed. "Tyler, Peggy Morrison, Sara Armstrong, Mel Watts – everyone who has been a part of this process has been so encouraging and good to me. I'm blown away that they picked me as an Award Winner.
"One of the ideas that sparked this collection was my own personal experience. I was diagnosed with scoliosis when I was 13 and was put in a back brace for 22 hours a day. I was an actress, dancer and opera singer and the only time I was out of the back brace was when I would dance or sing. I was out of the back brace when I would perform. The dichotomy of the bound leather garments with the flowing silks is like breaking free of the confines I grew up with. When I first spoke to Tyler about this idea he got it right away. He instantly understood what I was doing. I'd already done a lot of research; then he came back and threw new ideas at me. I absorbed and digested everything he brought to me. I'm forever indebted to Tyler for that. He's incredible.
"I'm starting my own line as soon as possible. I'm already working on a new collection. I want to show at Vancouver Fashion Week next year!"
Walking away from the Hotel Vancouver with two well-deserved Awards – for Portfolio Presentation and Illustration – was transplanted Brazilian Natalia Pavanelli, whose free-flowing, ghostly shapes incorporated her own illustrations telling stories about her roots and beliefs.
"It's such an honour to see your creations on the runway, knowing that you've achieved something," she declared with pride. "The team at Blanche do an amazing job putting it all together.
"Before I came to Canada I was working in fashion in Brazil for three years and in France for another year. I didn't want to become a manager so I wrote some emails to see what else was out there. Blanche Macdonald called and invited me to Vancouver. That was destiny calling. I sold everything I owned to come here and start a new life. The program was exactly what I wanted. There were a lot of tears, both happy and stressful, but the teachers were great and my experience was amazing.
"Now I'm starting a great job as a manufacturer here in Vancouver. I get to actually design and build clothes. I want to start my own brand too. I'm ready to take the next step."

Also keen to continue the fashion adventure was graduate Julian LeClerc whose journey from the Northern BC town of Fort St John to the heart of Vancouver's fashion world concluded by being named 2016's Award-winner for Achievement in Design. His post-apocalyptic-inspired collection incorporated military shapes with repurposed and natural textiles, hand-treated with bleach to create unique prints and textures.
"I was awestruck to see my collection on the runway. I'd seen it on the table and on a mannequin for so long, so to see it moving left me speechless. The show experience was wonderful and I'd love to be part of another one sometime in the near future.
"I didn't know a whole lot about fashion when I started so I needed a crash course for the first couple of months about what it actually is. It took me a while to get on board because I had so much to learn but once I fell into the groove I loved it. My designs have grown so much since my first meeting with Tyler. My ideas were so raw then. It's amazing how they've transformed over the past five months."

Transformation is a major component of everything we do at Blanche Macdonald. That extends from our Fashion Design students to our Hair and Makeup departments. Both were on hand to ensure that all the models looked as spectacular as the clothes and the venue.
"A lot of the hair and makeup decisions were made to temper the environment," revealed Tyler. "We wanted some extremely modern elements to counter the historical and ornate space."
Neon Dreams' Hair Team was staffed entirely by current students, ably led by instructor Lisa Callender.
"I hand-picked a team of stars!" she boasted. "I'd worked with them before so I knew they were focussed and could work together. I wanted people with passion and drive. Enthusiasm is what makes me want to have you on my team.
"Tyler gave me some images and instructions of what he wanted to go for. The look was a diagonal side-part and side ponytail, with colour in that part. That's where Neon Dreams came into play. With quick changes and a tight backstage space, there are always technical challenges but it looked beautiful. We had a dark skinned black model and a pale white model and the look we chose worked amazingly on all the different ethnicities. Being mixed race myself, I was like 'That's right! We're coming together!'"

Two years ago Kelseyanna Fitzgerald was graduating from Blanche Macdonald's Makeup Program. This year she was Key Makeup Artist at Neon Dreams. Heading a team of nine Makeup Artists (eight Blanche Macdonald graduates and one current student), Kelseyanna brought a stunning modernity to the stately elegance of the Hotel Vancouver runway.
"I was looking for Makeup Artists with good attitudes who are chill and like doing weird Makeups. Tyler collected looks I'd previously done and showed me which ones he liked: the bold and glossy ones. We wanted it weird, so I chose colour combinations for each model that were a little bizarre and bold. We had 20 models, 16 girls and four boys, but I had a big crew so no one needed to rush. It was so cool to see these artists that I admire interpret my look."

Along with this year's incredible designers the success of Neon Dreams was a tribute to the hard work of the staff at Blanche Macdonald, with special mention due to the inspirational leadership of President Lily Lim, the endless efforts of Executive Program Directors Peggy Morrison and Donna Baldock, Fashion Director Tyler Udall, Creative Director Kelly Schmidt, and Career Director, Fashion Department Mel Watts. Endless thanks must also go to Instructors Sara Armstrong, Lisa Gellert, Dana Johnson, Lyndi Barrett, Carlie Wong, Wanda Sustersich, and Morgan Mallett, Lab Assistants Kari Appelquist, Joy Nickerson and Anahita Monzavi, Associate Marketing Director Natasha Eng, Social Media and Marketing Coordinators Rheanna Miller, Allie Samborn and Jacky Le, Social Media, Creative Content Coordinators Kendahl Jung and Mohamad Ali Ibrahim, Resource Development Coordinator Liza Knobel, and the team at Brix PR.
Infinite gratitude too, must be given to the backstage team, led by Tyler Udall, Sara Armstrong and Shelby Schramm along with Tracey Pincott and a team of volunteers from the Fashion Design and Fashion Marketing programs. While Key Makeup Artist Kelseyanna Fitzgerald, Key Hair Stylist Lisa Callender and Nail Parlour graduate Stefania Flex and their volunteer grads and students ensured the models looked as spectacular as the collections. Huge thanks also to our fabulous emcee Jaylene McRae and DJ Hana Pesut (Sincerely Hana) for providing an amazing soundtrack to the night.
The entire team at Blanche Macdonald would also like to extend its sincerest gratitude to our corporate sponsors, MAKE UP FOR EVER, Oribe and Eminence along with huge thanks to our colleagues at CurliQue Beauty for putting our guests' goody-bags together.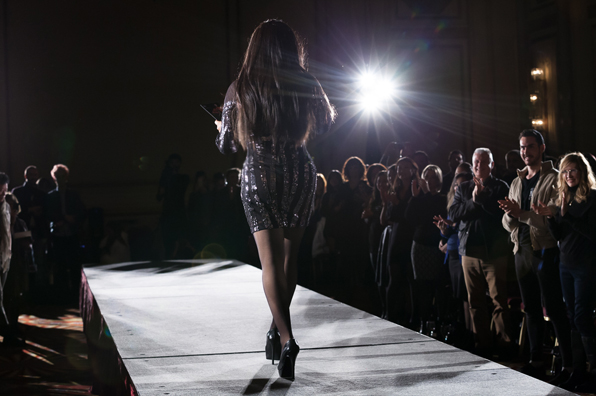 Full List of Award Winners
Overall Achievement: Kirsten Ley
Overall Achievement Honourable Mention: Isabelle Stewart
Achievement in Pattern Making: Phebe Menard
Achievement in Garment Construction: Josephine Mante
Achievement in Illustration: Natalia Pavanelli
Portfolio Presentation: Natalia Pavanelli
Achievement in Design: Julian LeClerc
Textile Innovation: Ninon Parent
Sustainable Fashion Award: Gala Peters