Hair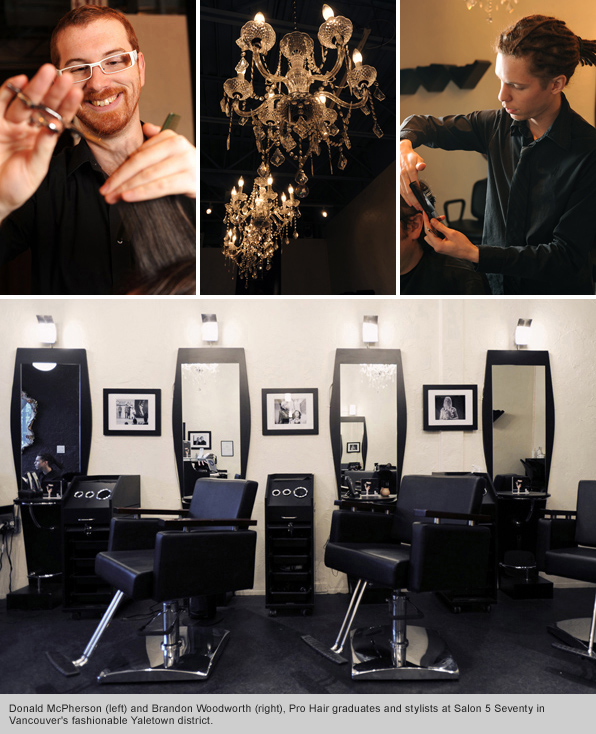 Denise Meikle, owner of Salon 5 Seventy in Vancouver's fashionable Yaletown district, knows talent when she sees it. As an ID artist with L'Oreal Professional and Award-winner, she insists on having only the best stylists working in her salon. Which is why it's no coincidence that she employs two graduates from the Pro Hair Program at the Blanche Macdonald Centre, Donald McPherson and Brandon Woodworth.
"What makes them special?" smiles Denise. "Their passion and their desire to better themselves all the time. Having seen people that have come through Blanche Macdonald, I see a school that teaches students the full realm of the industry. Not just cutting but how to build a business and customer service. They're number one in this industry. We've formed a really good family here and that's what I like."
Family is a fine way to describe the team at Salon 5 Seventy. The stylish, relaxed atmosphere is unmistakable. So is the shared sense of humour, drier than a vintage Cabernet Sauvignon.
"Everyone's comfortable here. There's a camaraderie," explains Donald. "And there's free coffee for all employees."
"We're professional and courteous," adds Brandon, without batting an eyelid. "Customer service is a huge part of the job. The salon is kept well and we work in a professional demeanour. We all love coming to work."
Read More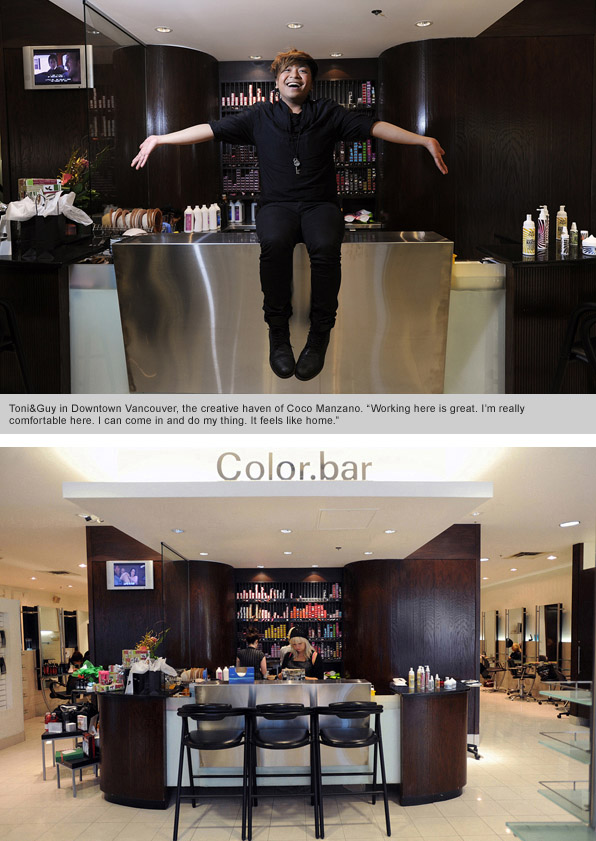 Coco Manzano has always had an affinity for hair. Just ask his family.
"My Mom says that when I was really young every time she got out of the shower I wanted to brush her hair," he recalls. "When I was in Grade Seven bangs were really in fashion so I asked my sister if I could cut her hair, which was really long. She said no, so when she was sleeping I chopped her hair really short – just above her eyebrows. Everyone was so mad at me. She has a really small forehead so it looked extra funny. She still won't let me cut her hair."
Plenty of people in Vancouver would leap at the offer of a cut from one of the city's most exciting young stylists. It's been a year since the Blanche Macdonald Pro Hair graduate dropped off his résumé at Toni&Guy and became a permanent member of the team at one of BC's busiest and best salons.
"Working here is great," he continues. "All the employees are really humble. I'm really comfortable here. I can come in and do my thing. It feels like home."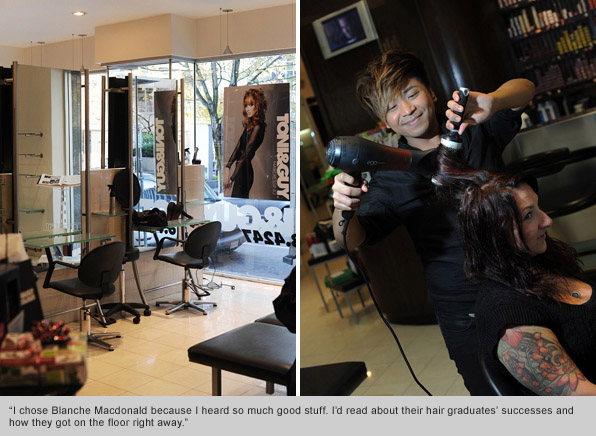 Read More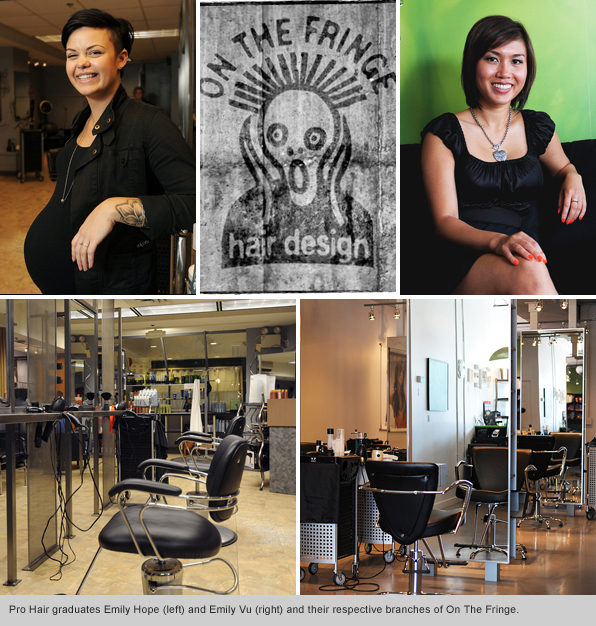 There are two branches of the supremely hip hair salon On The Fringe. One is on Vancouver's ever-fashionable Main Street, delivering cutting-edge styles and hosting competition-standard photo shoots. The other is in the student union building at the University of British Columbia, introducing students from across Canada to the world of amazing hair. The commitment to excellence is the same at both. And it's no coincidence that each salon has a Blanche Macdonald graduate on its floor – Emily Vu at Main Street and Emily Hope at UBC.
"I like the education at Blanche Macdonald," explains On The Fringe's owner, award-winning stylist Shannon Simmonds. "The people that come through there are good stylists. There are certain schools that I won't take stylists from. I will take students from Blanche Macdonald.
"Emily Vu is great. She has an innate talent, which is a pleasure. She's open to learning, she's always in a good mood, she's great with her clients and she understands hair, which is really important. A lot of stylists have taken courses but don't really get it. She gets it.
"Emily Hope has an amazing talent. She's a joy to be around. We're very team orientated, and I look for people who can bring something to the team."
Read More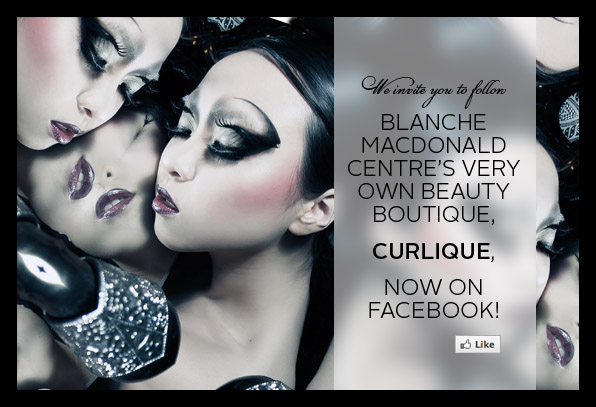 In just a few weeks, the corner of Robson and Homer will be transformed into Vancouver's newest go-to store for the best Makeup, Skin, Hair and Nail products. Introducing Blanche Macdonald's very own Beauty Boutique, CurliQue!
We invite you to follow CurliQue Beauty on Facebook for Facebook-exclusive offers, invites, contests and opportunities you won't want to miss. Plus, learn about the hot celebrity lineup of brands we'll carry and be the first to know about special guest appearances and free seminars!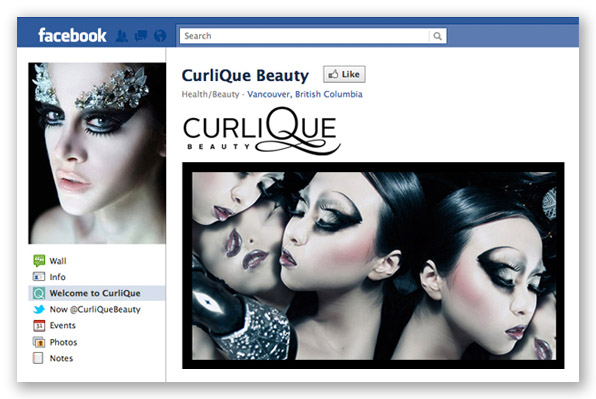 Read More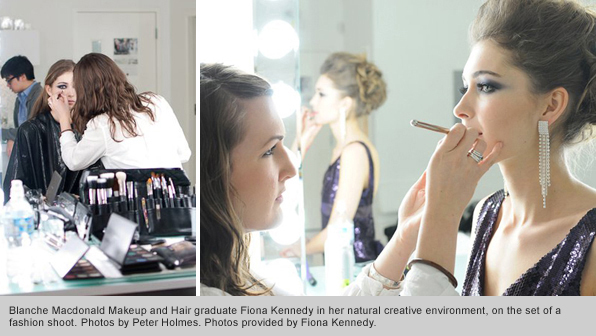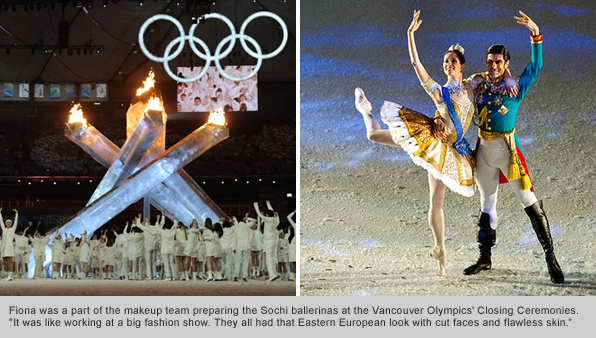 Fiona Kennedy came to Makeup School at Blanche Macdonald with some bold ideas about where she wanted to take her career.
"On the first day of classes, the instructor asked what we eventually wanted to do," she recalls. "I said, 'I'm a musician and an artist and I'd love to combine the two, touring with a band that has really fun makeup like Lady Gaga or Kiss.' I thought that would be living the dream."
She hasn't worked with Lady Gaga or Kiss. Not yet anyway. But the Makeup and Hair graduate has fulfilled her creative dream of working at the heart of the music business. You've seen her work in videos for Hedley, Marianas Trench, Band of Horses and many more. Rock and roll.
"It's such a fascinating industry to be a part of," she continues. "Bands need to be actors, writers, performers and models to be what they are. Josh Ramsay from Marianas Trench, he can do everything. I got shivers watching Jacob Hoggard from Hedley perform. It was so intense. It's great to work and be around people like that. You totally vibe off it and it enhances what you're doing. And they're all so bloody nice! They'll come and give us a hug at the end of the shoot and say how much they appreciate what we do.
Read More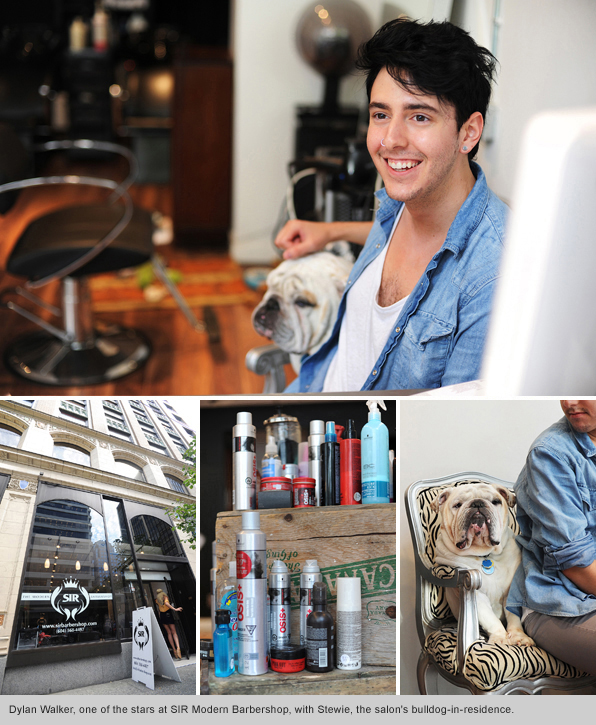 Let's make one thing clear. Dylan Walker is a hair stylist, not a barber. Still, when you work at a salon called SIR Modern Barbershop, it's an easy mistake to make. Which is why, once in a while, the barbering skills he's picked up from some of his colleagues come in extremely helpful.
"In November, which was Movember, the moustache-growing charity month, an office nearby was having what they called a small event," recalls Dylan. "The boss there had had a moustache all his life and if the office raised some crazy amount of money he said he'd get it shaved off. My co-worker and I went there and she was meant to straight shave him, but she got all jittery that day and made me do it. Up to that point I'd only ever straight shaved friends and my brother. I got there, and 100 people are in the room all taking photos. We didn't even have a proper barber's chair. He was sitting upright. It was scary, but I did it and didn't cut him.
"Looking back, the moustache actually suited him," he laughs. "He was bald, so he didn't have much else going on."
Holding a straight razor to a prominent Vancouver businessman's neck is a long way from Dylan's previous job, working behind the counter at Starbucks. He had been at the coffee chain for two and half years after graduating high school when the idea of capitalising on an old habit came to him.
"I was pretty awkward in high school," he smiles. "Creative. Drunk. But mainly awkward. I didn't see a career in it, but I would always cut my own hair and my friends' hair. I was persuasive. I thought it was good, but looking back, it wasn't. I would often have an uneven mullet. At the same time, I was never happy when other people would do it. To this day only two people have cut my hair more than once. I'm picky, I guess."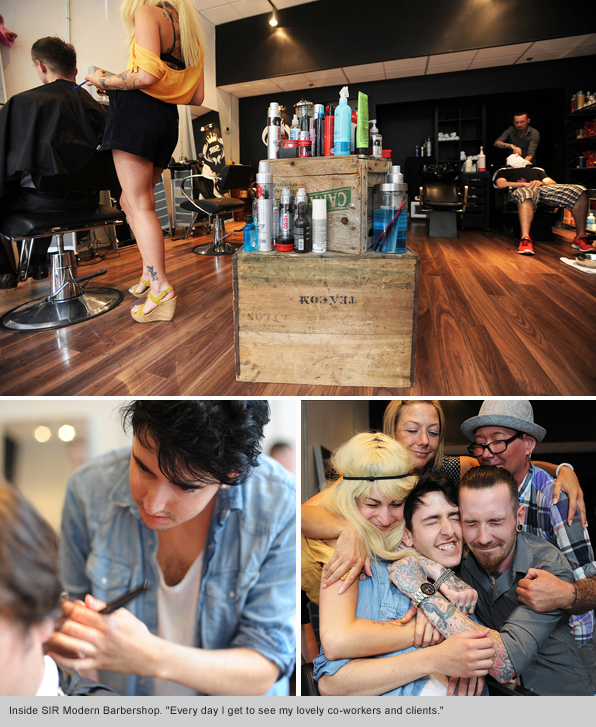 Read More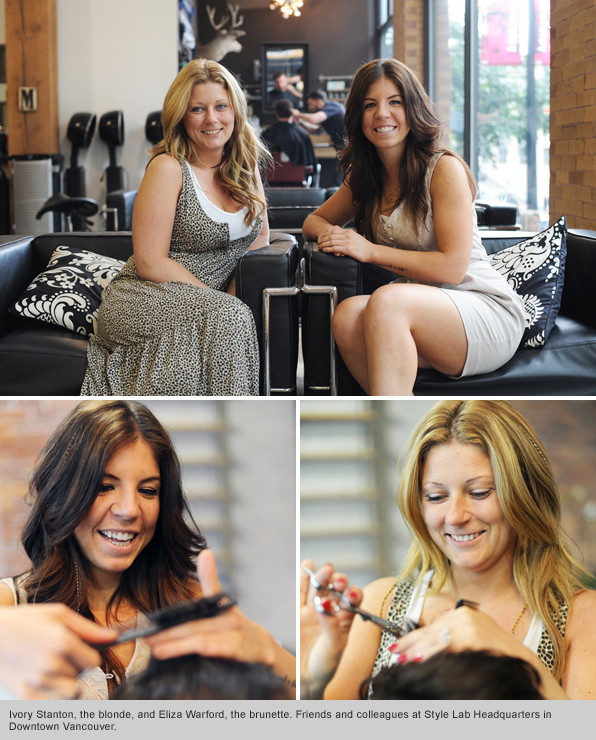 One of the very first people Eliza Warford met when she began her work experience at Style Lab Headquarters was Ivory Stanton. Back then Eliza was close to graduating Hair School at Blanche Macdonald. Ivory had graduated six months earlier. They immediately hit it off.
"I asked a ton of questions," recalls Eliza. "I was just about to graduate so I had a million fears. I didn't know if I'd be working here."
"We talked about school and I helped her out with the things that were coming," confirms Ivory. "Of course we're friends now. Everyone in the salon is friends."
That's the kind of salon it is at Downtown Vancouver's Style Lab Headquarters.
"I knew I wanted to come here from day one," continues Ivory. "Even before I went to Hair School I came to this salon as a client."
"One of my classmates had come here and she'd loved it," explains Eliza. "I'd never been to a salon that has an atmosphere like this. The second I arrived everyone was so welcoming and so laid back. I begged the owner, Leo Tioseco, for a job. And Ivory made it happen!"
Read More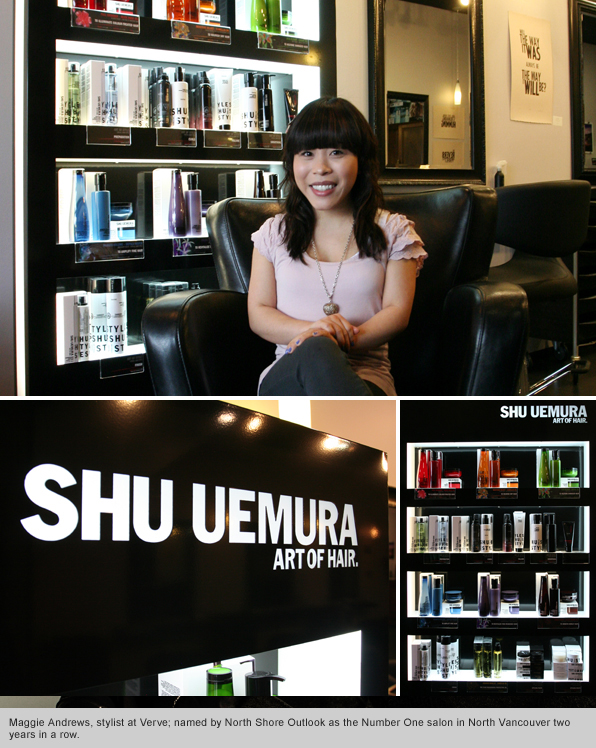 Walk through the doors of Verve Hair Lounge in North Vancouver and within seconds, you'll realise you're in a special salon. It might be the wearable designs and prints from local artists lining the walls. It might be the shelves full of high end products from Redken and Shu Uemura (Verve is the only salon in the entire North Shore to carry the Shu Uemura line). But it'll most likely be the warm welcome you receive from Blanche Macdonald Pro Hair graduate Maggie Andrews. She fell in love with Verve the first time she saw it too.
"I saw Verve when I was in Hair School," she explains. "I wanted to do my work experience here but I was way too chicken. I really wanted to work here, so what if they hated me? I creeped them, looking at their web site and twitter account. I'd get upset when they'd announce that they had a new teammate. I was like, that could be my job!
"After I graduated I was trying to figure out how to apply here and saw Verve was hiring on Craigslist. The ad said they wanted minimum three years experience, but I sent my résumé and a cover letter anyway. I said that I realise I'm young and straight out of hair school, but I love doing hair and I'm willing to work hard and learn. Amber George, the owner, called me the very next day and asked me to come in for an interview. The assistant job had come open. 'Just so you know,' she said, 'all my assistants in the past haven't made it. We'll try you out but we probably won't keep you'."
Read More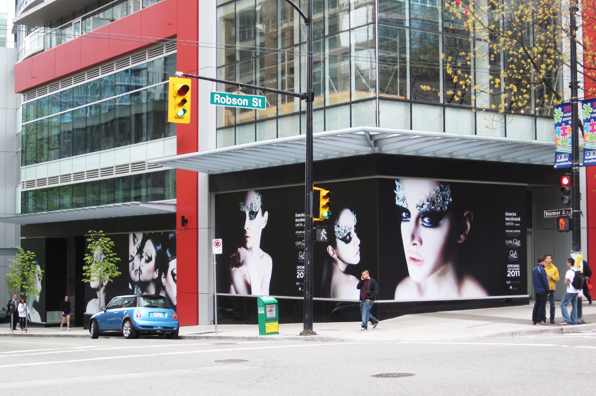 My, how things have changed. Just a few months ago, we were ramping up to do our anticipated renovations of our Uptown City Square Campus and lo and behold, like the law of attraction, some gifts came in really BIG packages. Who would've thought that we would be taking over our own Robson block? The Blanche Macdonald Block. Now, that sure does have a nice ring to it, doesn't it?
Right beside our Downtown Robson Campus, we've landed the deal of the century or dare we say, millennium? Blanche Macdonald has started the build-out of our third campus, Atelier, including our first ever student-operated Hair Salon - Q & A, and our own beauty boutique - CurliQue. Racking up over 25,000 square feet with a huge retail presence on the ground floor, flagship corner space and the entire second floor, watch for the launch in the late summer, early fall!
Already, the celebrity line up of brands has left us breathless.
Read More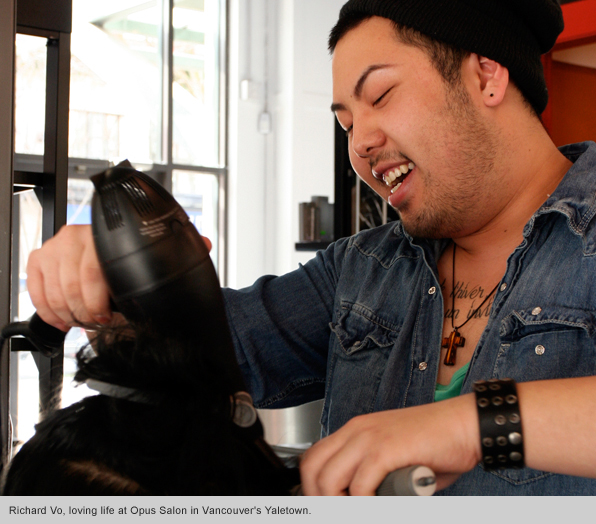 "Au milieu de l'hiver, j'ai découvert en moi un invincible été."
Those words, tattooed across the chest of Blanche Macdonald Pro Hair graduate Richard Vo, were written by the French author and philosopher Albert Camus. They're words of courage, optimism and inspiration. And the ideas behind those words have led him to his current position as a stylist in the fabulous Yaletown salon, Opus.
"My parents wanted me to be a doctor, lawyer or accountant," recalls Richard. "In school math was my niche. I did calculus and all that fun stuff. My original career goal was to become an accountant. So I went to college to do my BBA in accounting. But I knew it wasn't for me. Accounting is really tedious. I remember picturing myself sitting at a desk every day crunching numbers for decades. So I decided not to continue with it."
Realising you're travelling down the wrong path is one thing. Having the courage to change direction is another thing entirely. Richard was working at an East Vancouver Starbucks when the realisation dawned that his natural warmth and a growing passion for hair could be the keys to a new career.
"I loved getting to know my everyday customers at Starbucks and hearing their stories. That connection is something I consider very valuable. And I'd always loved doing my own hair and getting my hair done. Walking down the street I'd always think, 'this person could look great if they wore their hair differently'. A lot of my girl friends would ask me what I thought they would look like with highlights. I could visualise it straight away. I was thinking about going into hair, but I was pretty nervous about it. I still didn't think I was going to become a hair stylist."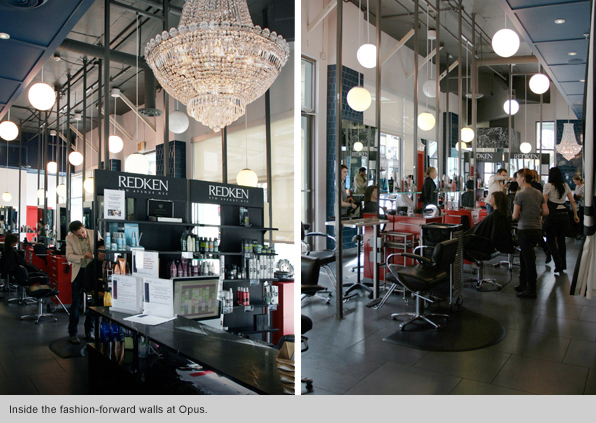 Read More