Events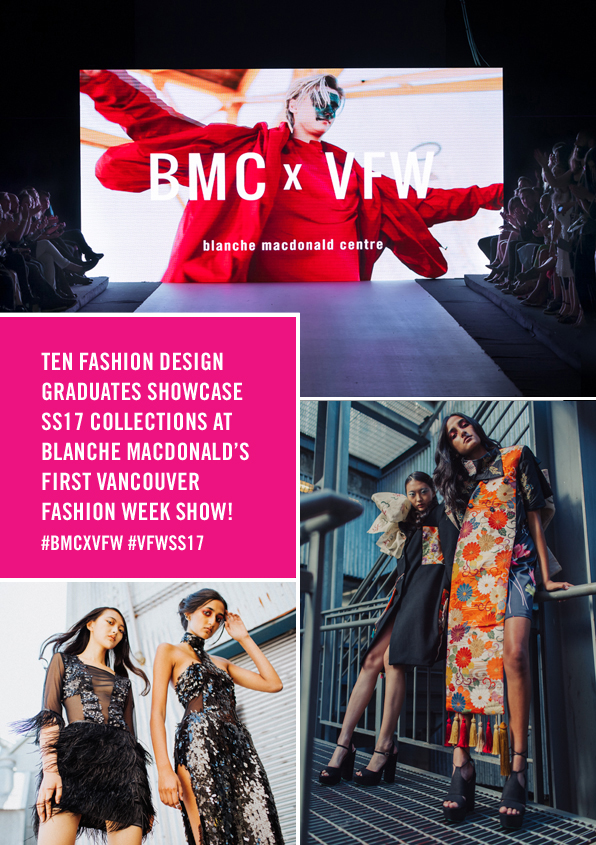 This year at Vancouver Fashion Week, there was a runway platform unlike any other: The first-ever collaborative show between Blanche Macdonald and the city's top-trending sartorial event unfolded under the eyes of the city's fashion and media industry elite.
From the moment the models began to emerge, it was clear that this showcase was a showstopper. Ten carefully curated Blanche Macdonald Fashion Design alumni from all over the world revealed three looks each to a packed forum of wall-to-runway journalists, bloggers, photographers, industry professionals, and fashion fans.
The audience found themselves whisked from one delight of to the next – first transported to the lively and eccentric world of Alex S. Yu; then to the fabulous collection of Evan Clayton's magical-girl couturiere; then awed by the hand-formed and dyed wool of Garret Alexander Elphee's singularly unique creations; then tantalized by the glittering animal prints and feathers put to use by Maryam Asgari. The startling range of stories, aesthetics and influences displayed by this prodigious international set of designers elicited the standing ovation that capped off the inaugural BMC x VFW show.
Read More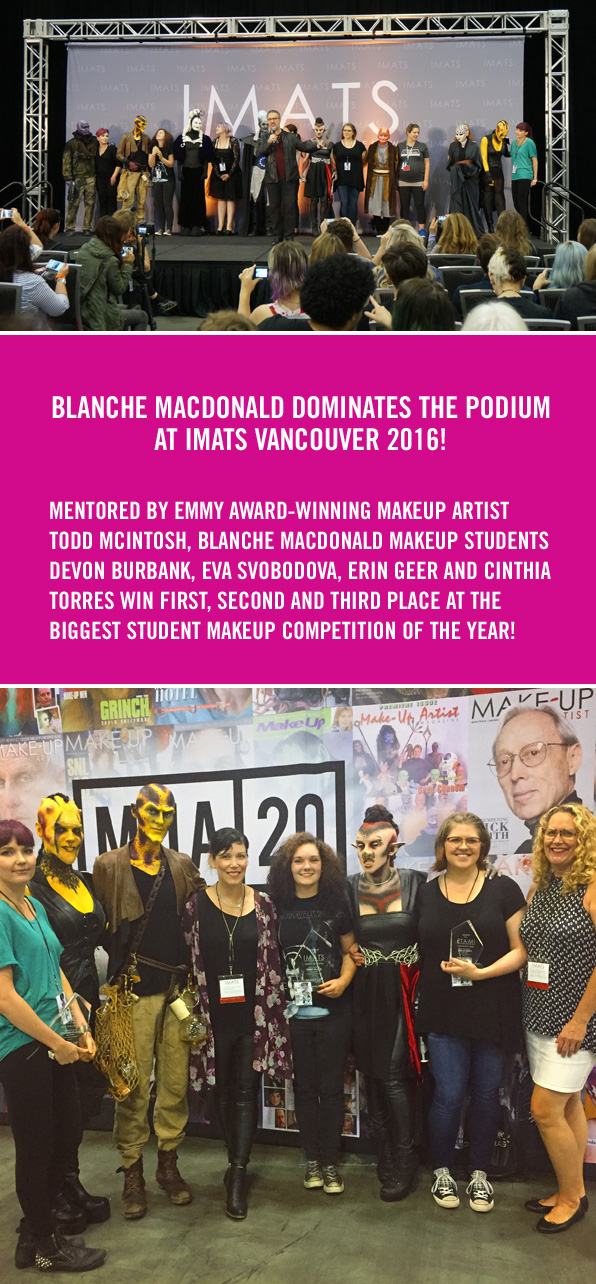 What a weekend! The 2016 edition of the Vancouver International Makeup Artist Trade Show (IMATS) was the best yet, as thousands of Makeup Artists, ranging from the professional to recreational, descended on the Vancouver Convention Centre to stock up on product and inspiration.
Both were in plentiful supply on the Blanche Macdonald/CurliQue Beauty stand, which drew large crowds as Makeup Program Director and industry legend Todd McIntosh demonstrated his prosthetics wizardry over the course of a Sunday afternoon. Proving that the possibilities of Makeup are indeed limitless, Todd created a realistic alien in a matter of hours – using discarded prosthetics pieces he retrieved from the bottom of a cupboard in his studio!

It wasn't just industry veterans creating magic. In the Battle of the Brushes, the ultimate competition for new Makeup Artists, Blanche Macdonald students shone, taking a superb second in the Beauty/Fantasy category, and filling the podium – taking first, second and third – in a hotly contested Prosthetics competition, crafting aliens on the theme of Four Decades of Star Wars.
For Prosthetics first place winner Devon Burbank, her victory was a triumph of tenacity over setbacks.
"My airbrush broke a few days ago so I bought a new airbrush and that broke too," she revealed, minutes after her victory. "We fixed it yesterday and today it broke again. So today's paint job was sponges and q-tips. Today's been a flux of emotions. It was an incredible experience and an amazing opportunity to be part of this event. I'm filled with joy. When they said my name I thought I was going to hit the floor. But I didn't!"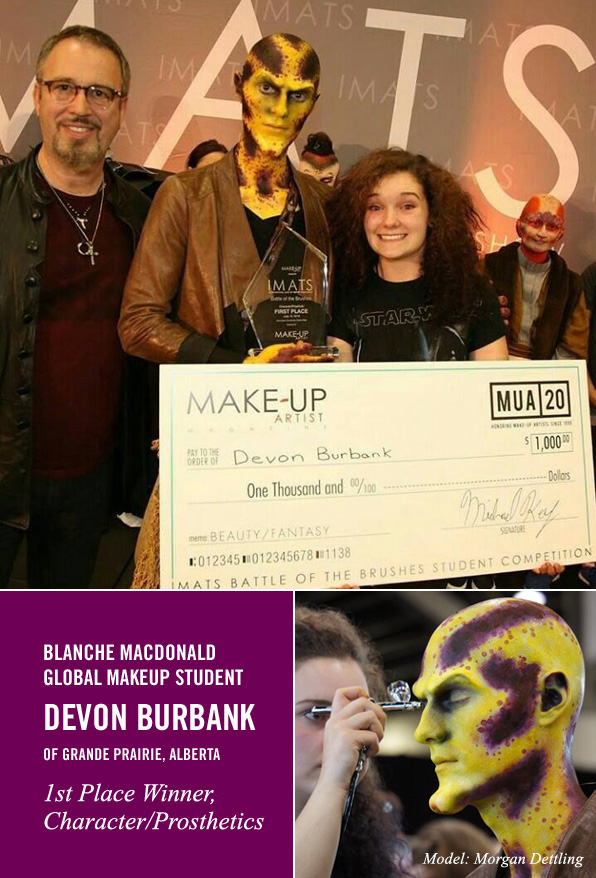 The Battle of the Brushes Prosthetics Competition is the ultimate mix of preparation and inspiration. With prosthetics pieces handed out at random 20 minutes before the contest begin, an artist's ability to instantly harness creativity is invaluable.
"I was excited to have random prosthetics thrown at me," continued Devon, "Because I love creating on the spot. I like doing makeup on the spur of the moment. That's when I feel my heart is into it. I was going to use a bald cap but that was all I knew. I was given two eyebrow pieces, a chin piece and two cheek pieces. The cheeks didn't fit well or look right, so I flipped them and added them to my model's collarbones, which made them look so defined."
Read More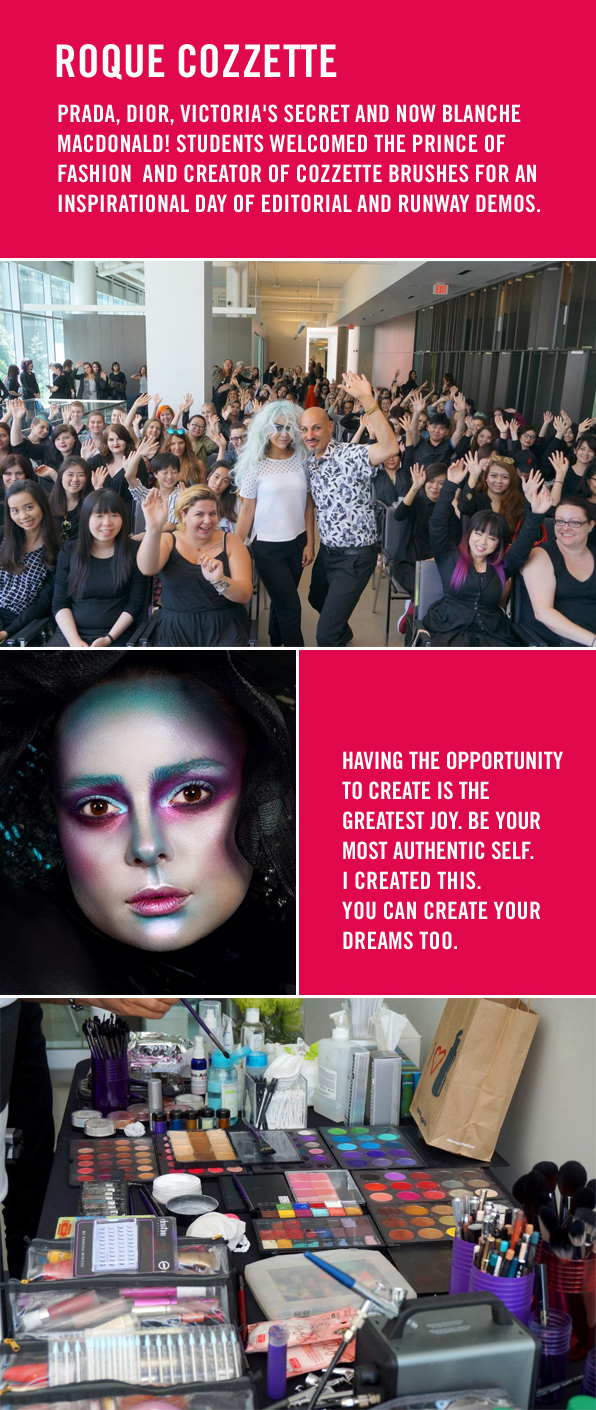 "Thank you for being alive and for following your heart."
Makeup Superstar Roque Cozzette knows how to make a great first impression. And his beautiful opening words at his magical presentation at Blanche Macdonald's Atelier Campus provided an apt introduction for a morning coloured with splashes of emotion, inspiration and creativity.
Roque's makeup has appeared on runways and in print for Christian Dior, Valentino, Y3, Louis Vuitton, John Galliano, Yohji Yamamoto, Victoria's Secret, Prada and Givenchy. Creating professional grade products alongside high-end fashion looks; he's also turned Infinite Makeup and his own Cozzette vegan brushes into global brands. In short, Roque Cozzette is makeup royalty.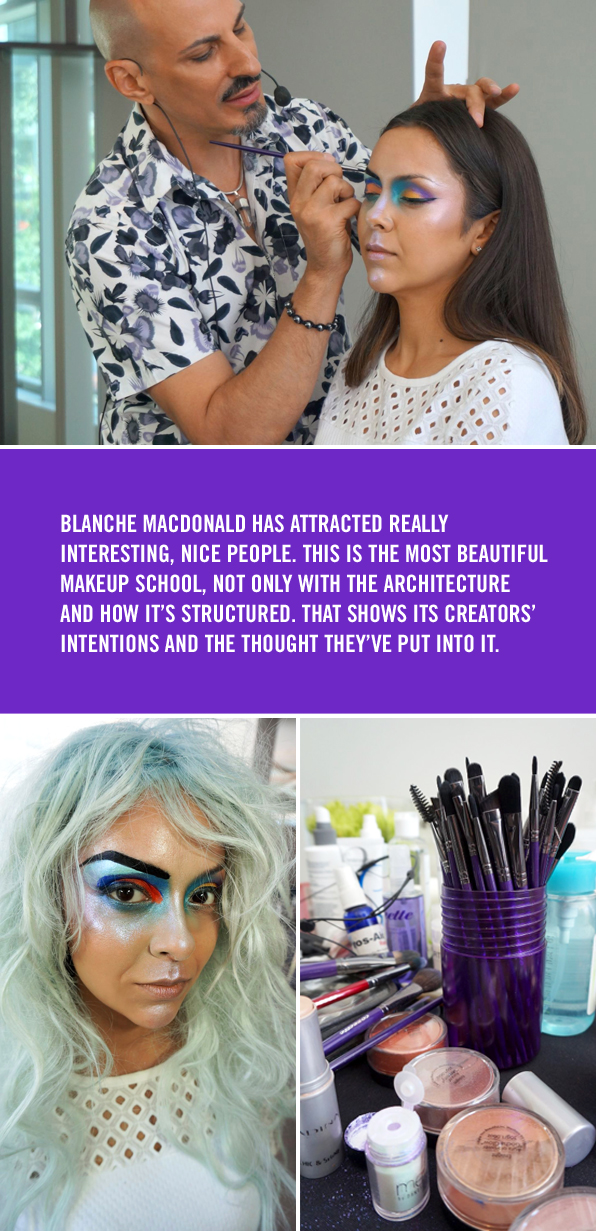 Both his artistry and products were on display throughout a fascinating makeup demo, as Roque transformed Blanche Macdonald grad-turned-youtube beauty queen Trina Duhra into a shimmering explosion of fashion editorial colour. Throughout the application Roque answered questions from host, CurliQue Beauty Team Leader Jaylene McRae and students, covering topics ranging from Photoshop ("think about it as a colour tool"), to confidence ("It comes from having a standard look and building colour theory into my plan") to the often underrated art of assisting ("You're serving the higher good, and there's greatness in that").
Most of all though, Roque came to Canada's top Makeup School to reinforce the importance of emotion, intuition and inspiration, whether it comes from individuals' faces or motorcycle gas tanks.
"Being here means you've already taken the first step," he explained. "Having the opportunity to create is the greatest joy. Be your most authentic self. I created this. You can create your dreams too."
Read More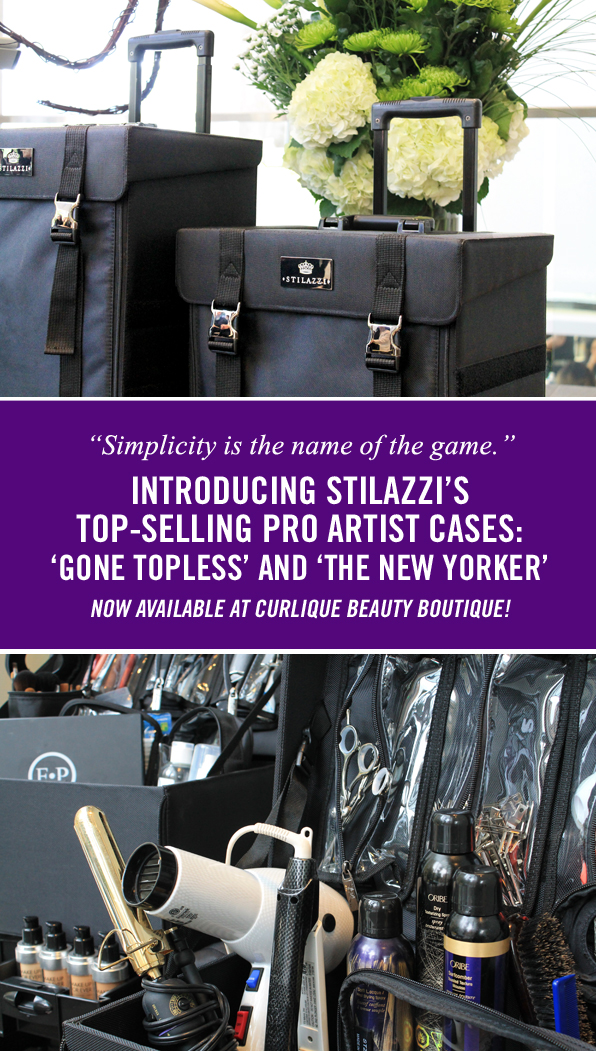 One could argue that the most MUST Kit Must-Have is the kit itself – which is why we've been lusting after Stilazzi's covetous pro cases since we first opened shop. We pulled some strings, called some FRENDS and made it happen, now making us the ONLY brick-n-mortar store to carry them this side of the coast. That makes us feel pretty darn special. So, to celebrate and to welcome them to the CurliQue Beauty floor with zazz, we're offering up a debut deal of 30% off both styles – the 'Gone Topless' and 'The New Yorker'.
Read More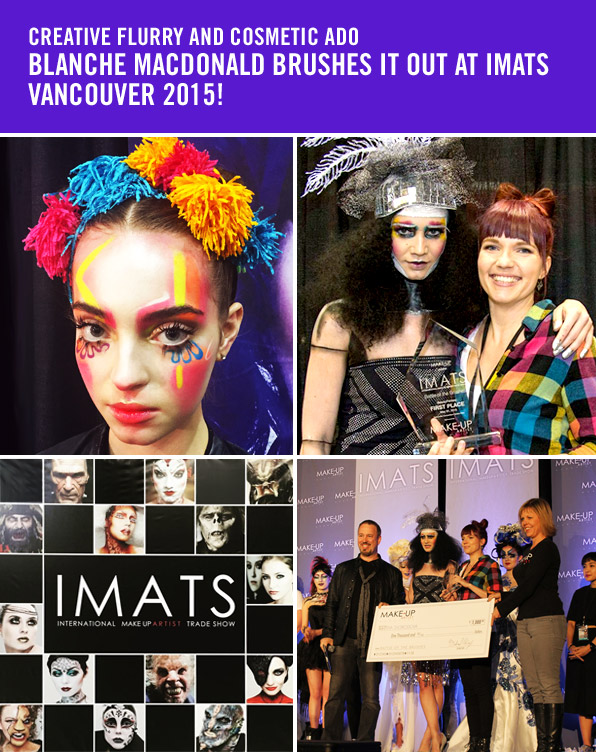 Makeup mavens and film devotees were sent into flurries of passion this past month as the International Make-up Artist Trade Show (IMATS) rolled into Hollywood North, transforming the cavernous sprawl of the Convention Centre into a cosmetic Wonderland. Held annually in six cities across the globe (LA, New York, Vancouver, London, Toronto and Sydney) IMATS is the event of the year for the Makeup obsessed, where we get to be loud about what we love to do amongst friends such as tip-top Makeup industry leaders, Award-Winning Artists, beauty product innovators, and fill our kits to the brim with our favourite cosmetic treats.
This year saw the Blanche Macdonald x CurliQue booth in a glitzed-out blitz of artistry and ado: Dolly Parton dance parties, mega-pro run-ins and, most thrilling of all, two top wins in the show's centrepiece student competition, the Battle of the Brushes (BtoB).
On the closing day, four Blanche Macdonald Makeup prodigies – recent graduate Shino Chen and current Co-op Makeup students Eva Svobodova, Agnes Liu and Yangi Kang – took to the BotB platform for a high-octane Beauty/Fantasy brush-off, each tasked with the conceptual reimagining of 'Historical Beauty Trends.' Time turned back as looks spanning the Qing Dynasty to the rabble-rousing '80s strutted out of the archives as creative wonders, and the seconds seemingly stopped as the last two envelopes were split to reveal the names of Yangi and Eva to a roar of applause.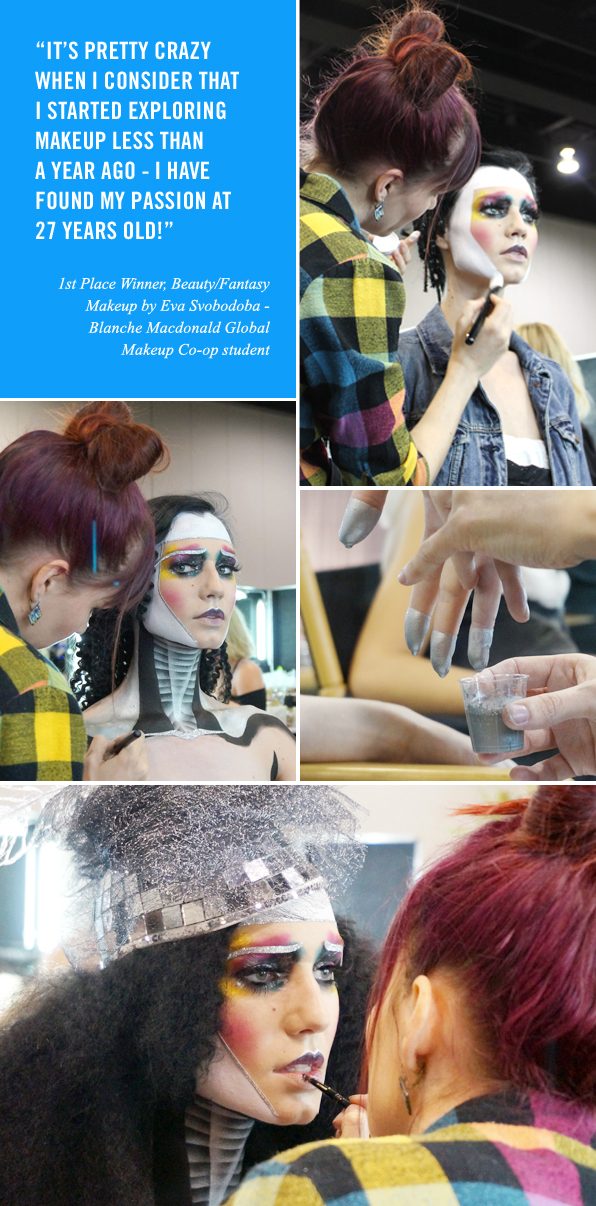 Czech-native student Eva Svobodova, who took First for her 'futuristic flapper' look, stepped away from her post-stage interview with IMATS Executive Producer Michael Key, giant cheque clutched tight and forgotten in the daze of her win.
"I am still shaking. I can't believe it," gasps Eva. "It definitely came as a shock. Inside I was hoping I would win, but you never know. The whole experience, and meeting all of these amazing artists was incredible. It was all so intense – I still need to process it!
"It's pretty crazy when I consider that I started exploring Makeup less than a year ago – I have found my passion at 27 years old! I went to my first IMATS last year; I saw the Battle of Brushes and was so excited by it. I told myself that the next year it would be me up on stage. I didn't think about winning or losing – I just wanted to do my best.
"It's proof that if you really want something, go for it, and go for it in a way that's your own, you can achieve it."
Read More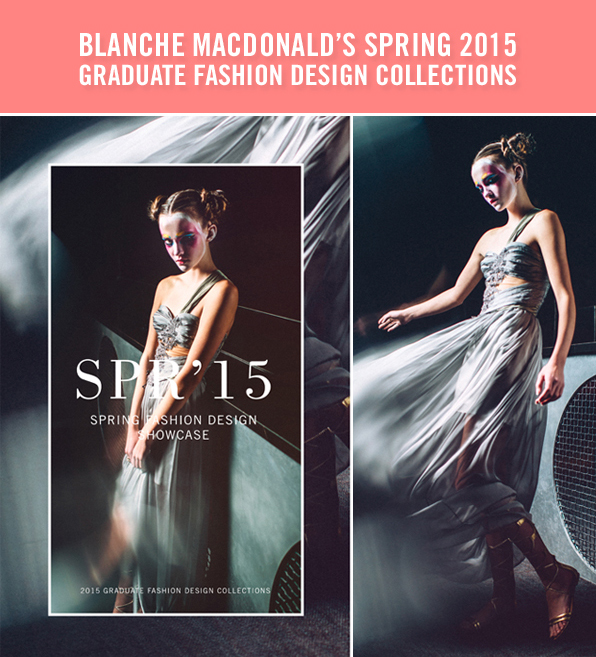 Fashion wonders unfurled last week before a house packed with family, friends and faculty, as we ushered in a bright new lot of talent at our Blanche Macdonald Spring Fashion Design Showcase! The spotlight-spangled sweep of our Atelier gallery saw Design visions vaulting from the earthy whorls of South Iranian textile, to the space-slick daze of star-hopping bohemians. As always with our Showcases, the unifying factor was the impassioned distinction in concept and design. We caught up with our ten Spring '15 graduates to talk the translation of inspiration, dynamism in process, and the rewards of welcoming challenge throughout their year. Congratulations to each on a most brilliant debut, and thank you to all who joined us in fêting their sublime fashion feats!
Read More

A runway framed by candlelight. Stained glass and gothic arches. Shimmering, gold-kissed hair and makeup. A gathering of Vancouver's fashion and media elite. And, of course, the debut collections from more than 30 Fashion Designers with bold futures ahead of them. A myriad of talent and creativity combined to ensure that Wandering Stars, the 2014 Blanche Macdonald Fashion Design Graduate Show, was the most memorable and best Blanche Macdonald Fashion Show yet.
The venue: Vancouver's spectacular St Andrew's-Wesley Church.
The concept: a yearlong collaboration between Blanche Macdonald's industry-leading instructors across the School's Fashion, Makeup and Hair departments.
The clothes: the work of a remarkable class of Fashion Design students.
"This was an amazing experience for everyone," smiled Executive Program Director Peggy Morrison, taking a well-deserved rest in a still-buzzing dressing room minutes after the Show's conclusion. "We had exceptional collections. I'll look back on this year's Fashion Design grads with great love. They were exceptional groups and it was a wonderful experience for me to teach them. They were diligent, dedicated, focused and talented. And nice! A great bunch to be with! So many of the collections were very innovative. We loved the use of plastic and neoprene, which was everywhere. There was beautiful colour and lots of hand-rendered work.
"The hair and makeup looked beautiful and so did the venue. I loved doing the show here. I hope we're going to be back."

Great designers deserve a great show. Thanks to the hard work of Peggy, Fashion Department Career Director Mel Watts, Creative Director Kelly Schmidt, Fashion Director Tyler Udall and countless others, that's what they received.
"With any show as diverse as this, there's never an official 'concept,'" explained Tyler. "We were working with more than 30 designers and the whole point was to elevate them and their work to the highest levels possible. Fortunately, this year's show included a large number of students exploring quite grandiose designs. The space and the aesthetics we chose complimented that. Our President, Lily Lim and her husband Perry Jung were married at St Andrew's-Wesley, so it holds extra special meaning for them and the Blanche Macdonald family. It's an exceptionally beautiful and very grand venue. Transforming it into a space used for a fashion show presented us with some exciting challenges. I worked very closely with Kelly and Mel on so many details your eyes might cross; casting models, developing hair and makeup treatments with the other departments' Directors, working on audio direction with our amazing DJ. The list went on and on."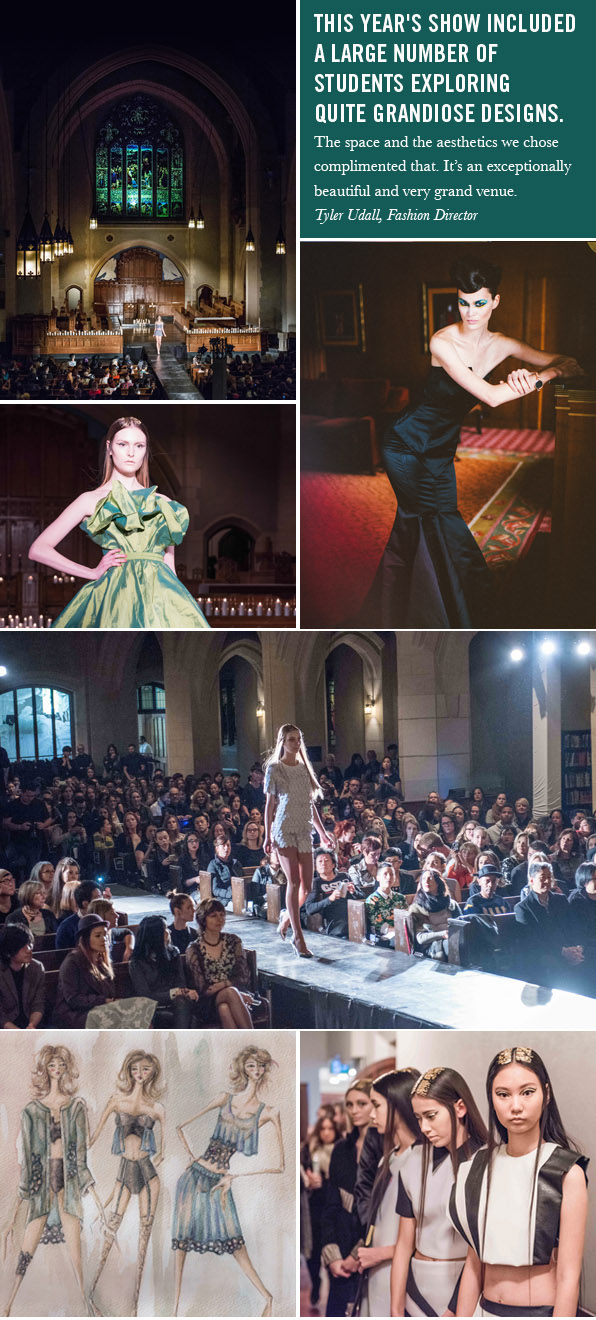 Making the venue fashion-functional was only one of Tyler's many vital roles. Equally important was ensuring every student was able to harness their skills and creativity to their maximum ability.
"My Fashion Director responsibilities start right at the beginning of each student's year," he continued. "We have many one-on-one meetings, looking at and discussing inspiration, sketches, fabrics, construction. I'll help them translate their vision in a concise fashion voice that's both runway ready and visually appealing to a discerning media. It's 100% about the students. This night is the launch pad to their future careers and seeing the pride and success on their faces is utterly priceless. This year we had a particularly strong group of young women who were such delights to work with. All the award-winners deserved their accolades. They were mature and talented beyond their years. Their overall work ethic, creativity, adaptability and professional aplomb were more than noteworthy. Hire them! People as well-rounded as these women do not come into the industry often!"
This year's Award for Overall Achievement was shared between Daria Volokhova and Liis Sober. For Daria, hearing her name announced at St Andrew's-Wesley was a fitting end to a magical year.
"I had a phrase in my mind since I started," recalled Daria, taking a break backstage from an avalanche of well-deserved congratulations. "Robyne Nessel-Smoot enrolled me. When we met I showed her my work and she told me I was going to be a star. I never told anyone this, but I held onto her words and they helped move me forward. Tonight I'm the Wandering Star!"
Our Admissions Directors' prophecies are often on the button. Robyne's prediction came true as Daria's collection charmed the house with its elegant balance of Russian lavishness and youthful romance. A crimson silk satin blouse smocked and gathered delicately at the bust, as petals, and paired with a lushly woven velvet skirt was as easily conceived as opulence for the office or enchanting evening finery.
"The inspiration for my collection was peonies. I love these flowers! They're part of my memory of childhood in Russia, from my Grandma's back yard.
"My year at Fashion School was great. I met so many amazing people who were so supportive. It was the perfect place and the perfect time for me to show my skills and to grow. I grew professionally at Blanche Macdonald. I learned a lot about the fashion industry and how to work with creative people as a team. I always worked hard to have the best results I could.
"The night was so exciting! Everything went well and I'm so happy. This was my first big show and the location was amazing."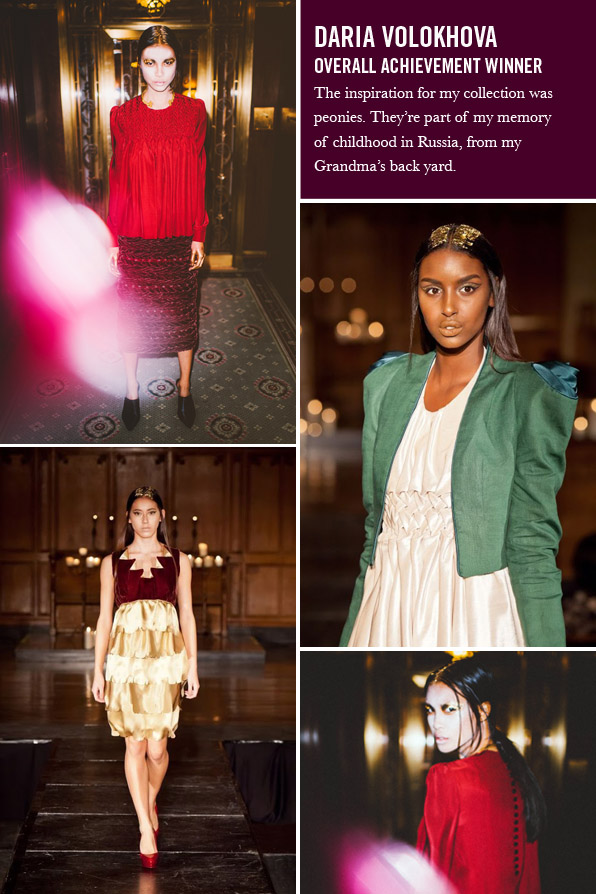 Co-winner Liis Sober had years of fashion industry experience under her belt before arriving at Blanche Macdonald. Even so, seeing her debut collection on this spectacular runway was an unforgettable experience.
"I have a degree in Merchandising from the University of Kentucky, where I played tennis collegiately. I've been working at lululemon for two years as a Merchandise Information Associate, which is basically an assistant buyer. But I wanted to be creative. I did my research and knew designers who'd been to Blanche Macdonald and had been successful."
Liis combined her real-world experience and passion for tennis to deliver an ace debut collection, ready for the racks of Vancouver's thriving boutique scene. Set in creamy silks and crisp linens, Liis' looks riffed on vintage tennis-wear of the 1920s and 30s, seeing the playful proportions of a pleated high-waist linen short pant with entredeux hem detailing, and silk lattice cutwork on a varsity jacket and tunic that echoed racket strings. The collection on a whole felt refreshing, and the impeccable tailoring only added to its allure.
"Tennis was my first love. Vintage tennis looks were so beautiful with their long skirts, pleats and sweaters. That was my inspiration. I took tennis equipment, like the strings on the racket, and interpreted that with the clothes. I wanted to play with the textures, which I knew would show up because it's all white, in true Wimbledon style.
"It was an intense course but I knew that going in. I knew what I got out of the program would depend on what I put in. The teachers are amazing at Blanche Macdonald. If you work hard they'll help you hard. The show was breathtaking. Watching my and everyone else's clothes was magical. Seeing the sketches come alive on a model was so rewarding."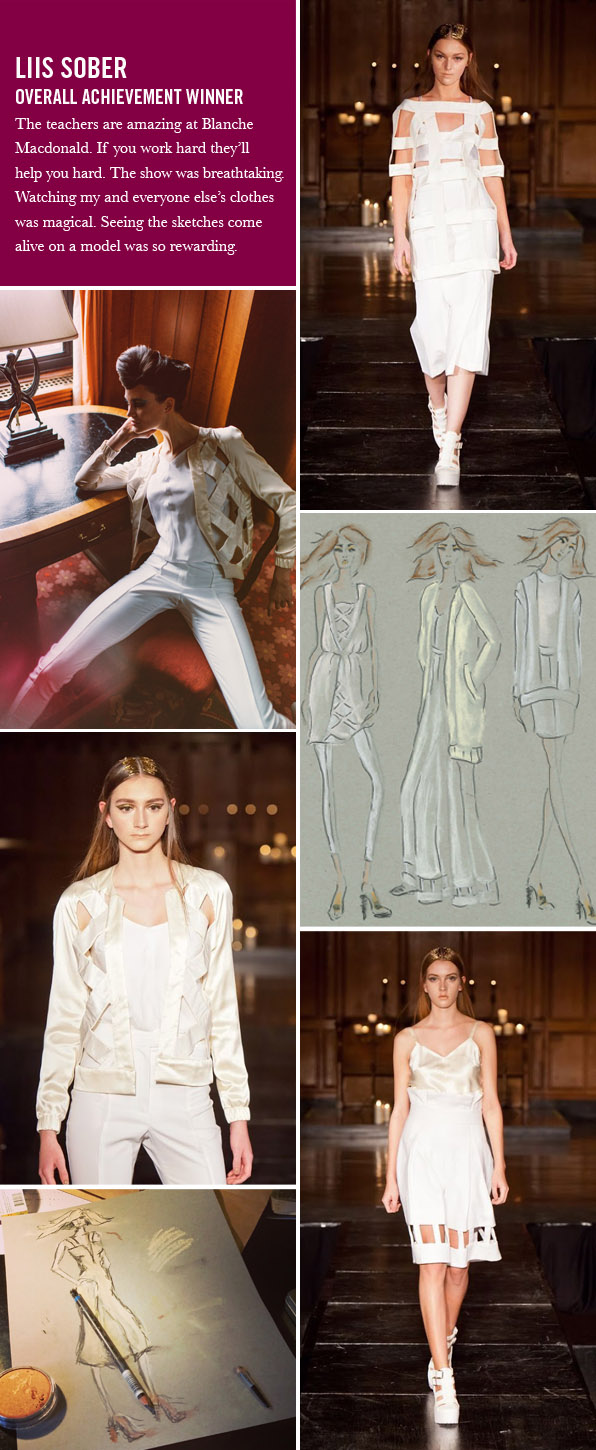 The perfectly prepared venue and the pristine collections were only two dimensions of what made Wandering Stars so spectacular. Completing the event's commitment to the very highest professional standards was the beauty team, headed by Blanche Macdonald Makeup Director Jon Hennessey.
"For this show the challenge is to find a central theme or look that works effectively across the board with all the designers," explained Jon, relaxing with his team of Blanche Macdonald Makeup grads after the show. "Tyler and I bounced ideas back and forth. In this case, the venue was a huge part of where the look came from, as the church has such a majestic quality. You're surrounded by incredible stained glass and the runway is lined with candles. How can you honour that environment?
"I wanted something that was texture heavy in terms in reflection. When the models blinked I wanted to show the reflection in their eyelids. We created a craft glitter and an eye with a bird of prey quality to it, with a crisp black frame for the reflective glitter. But the main focus for me was the skin. I wanted to create the most luminous, reflective, ethereal quality to the skin. Highlights were painted in as strokes of light. There was nothing formulaic about it. Every girl was different. You might not have caught it. If it's obvious it's too much. The subtlety should creep up on you.
"Tim Hung designed the look for the Wandering Stars photo shoot. He and Tyler discussed using Gold Foil on the hair, giving it a gold flake texture. We kept that clean centre part and used a gold leaf to define the part and diffused the leaf by breaking it up with a spatula and fork. I was working very closely with Renata Trebacz who was keying the hair. She adhered the gold leaves and we diffused it in our room like we were blending a makeup."

For a Makeup Artist of Jon's calibre, used to the backstage facilities of New York and Europe's finest fashion venues, working in an 80-year old church still brought some novel challenges.
"It's a unique environment!" he laughed. "Hair is another floor away and so was the dressing room. I had no concerns about capabilities with my team of grads. They were confident and competent. We had two hours to process 19 models. It was a pushed pace, and it was a challenge, but we got it done!"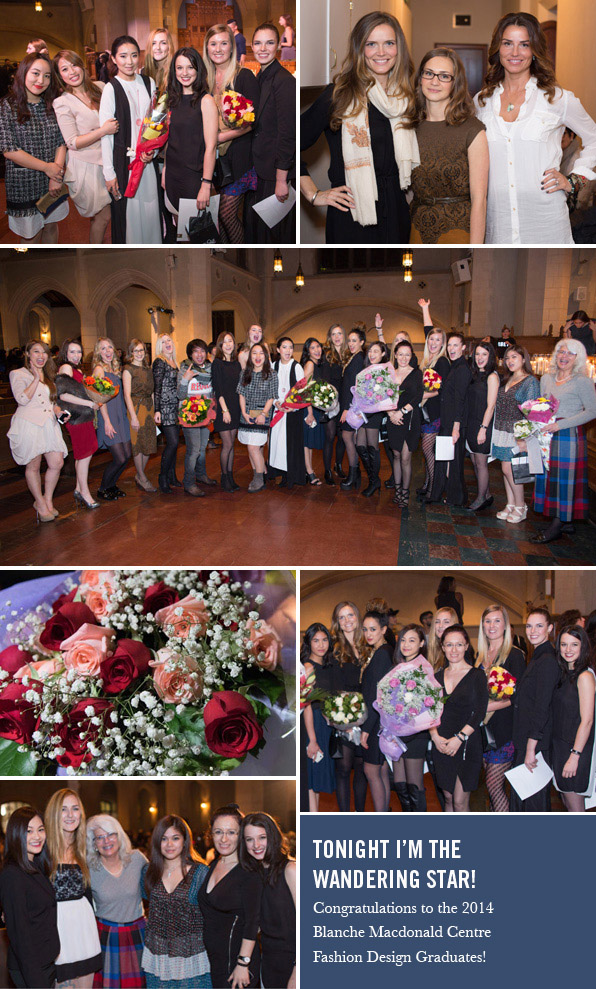 The success of Wandering Stars was a tribute to the hard work of the students and staff at Blanche Macdonald, with special mention due to the inspirational leadership of President Lily Lim, the endless efforts of Executive Program Director/Show Coordinator Peggy Morrison, Executive Program Director Donna Baldock, Fashion Director Tyler Udall, Career Director, Fashion Department Mel Watts, the expertise and support in the Sewing and Pattern Labs of Instructors Brenda Swinglehurst and Jenny Hedberg, and creative catalyst Lisa Gellert. Special thanks must also go to Instructors Carlie Wong, Mariana Prins, Maneli Nourbakhsh, Rose Aiello, Emmanuel St. Juste and Wanda Sustersich, Lab Assistants Kari Applequist, Hana Chiang and Jill Kacic, Creative Director Kelly Schmidt, Social Media and Marketing Manager Natasha Eng, Social Media and Marketing Coordinator Laila Fox, Graphic Design Assistant Esther Chaye, Instructor and Backstage Coordinator Lyndi Barrett and the team at Heth PR.
Infinite gratitude too, must be given to the backstage team, led by Peggy Morrison, along with Leila Bani and a team of volunteers from the Fashion Design and Fashion Merchandising programs. While instructors Jon Hennessey, Renata Trebacz and Barb Baker and their volunteer graduates and students from the Blanche Macdonald Makeup, Hair and Esthetics Schools ensured the models looked as spectacular as the collections. Thanks also to our fabulous emcee Jaylene McRae and DJ Hana Pesut (Sincerely Hana) for providing an amazing soundtrack to the night.
The entire team at Blanche Macdonald would also like to extend its sincerest gratitude to our corporate sponsors, Make Up For Ever, Oribe, Dermalogica, Aldo & Aldo Accessories, Town Shoes, Embryolisse, and Linacare, along with huge thanks to our colleagues at CurliQue Beauty for putting our guests' goody-bags together.
Full List of Award Winners
Overall Achievement: Liis Sober and Daria Volokhova (tied)
Overall Achievement (Honourable Mention): Elya Postma
Achievement in Pattern Making: Shin-Yi Chi and Joanna Pang (tied)
Achievement in Garment Construction: Joanna Pang
Achievement in Illustration: Marissa Campbell
Award for Portfolio Presentation: Kathryn Brown
Award for Design Innovation: Tia Zhen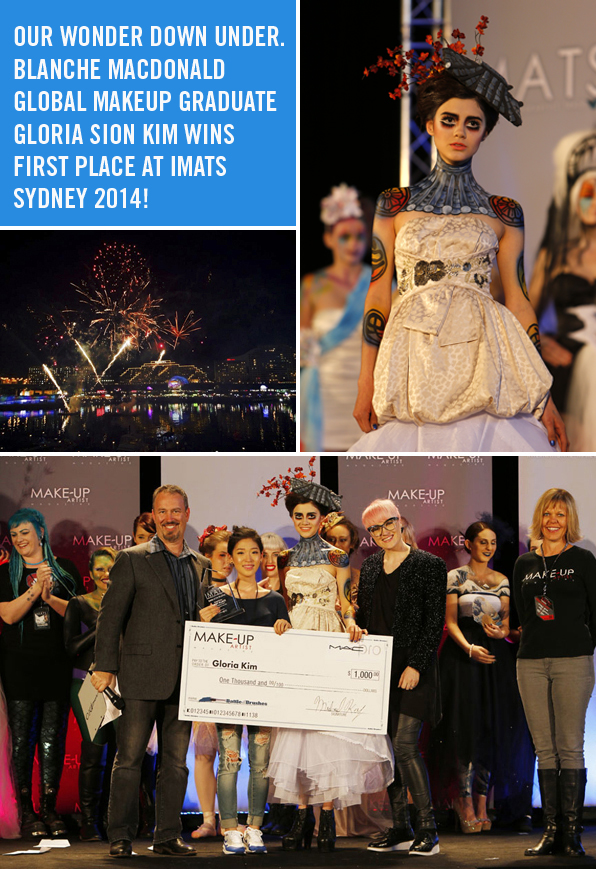 Gloria Sion Kim remembers discovering that she was going to embark on a Makeup adventure that would change her life. So does her family.
"I always check my email before I go to bed," recalls Gloria. "It was 2am, and my grandmother was asleep next to me. I saw a message from Heather Wisner from IMATS saying 'Congratulations: You've been selected to be a finalist at the Sydney IMATS'. I screamed, and of course my parents came rushing in. 'What happened!'"
The drama had just begun. One month later Gloria was on stage in Sydney, accepting the First Place Trophy having won the IMATS Beauty/Fantasy competition for her dazzling interpretation of a Ki-Wa, a traditional Korean House, giving a sense of time and place to the theme of Art Through the Ages.
Read More