Current Features

Sara Rose possesses what seems like an infinite amount of talent at her disposal. As a multi-hyphenate Blanche Macdonald Freelance Makeup graduate, Sara currently holds the title of Lead Makeup Artist on top of Hairstylist at one of Vancouver's most Instagram-worthy hair havens, BRUSH Salon.
But Sara's journey from makeup school into the beauty industry started out during a time when social media wasn't really a definitive tool for a Makeup Artist. "Instagram and Twitter were not huge at that time so you had to do groundwork of promoting yourself," she recalls. Putting her innate people skills to use as a self-marketing tool was second nature for Sara. She admits to us with no slight hesitation that she "talks a lot" - an attribute that has landed her a myriad of opportunities throughout her career.
"I love to meet people. I get to surround myself with the most amazingly talented people because of that. I was a server for years and that's where I would meet potential clients. I printed out my business cards and would slip it in with people's receipts at the end of their dining experience. Or I would find ways to incorporate conversation into my work, and I would meet brides and producers because of it."
That hustler mentality paid off for Sara, leading to job opportunities that most Makeup Artists only dream of. Sara has worked on music video sets, backstage at New York Fashion Week, and has also attended Toronto International Film Festival to work on Canadian actor Jacob Tremblay.
Read More

Not even the wettest day in Vancouver's recent history could dampen the spirits of the Blanche Macdonald Esthetic students eagerly filing into Blanche Macdonald's Atelier campus with boxes, bags, containers and armfuls of props - all things necessary to set the stage to pitch their business ideas in the first-ever Esthetics Dragon's Den. Tapping into their entrepreneurial spirits, each student group was tasked with formulating a unique facial masque and creating a brand to go along with it. The judging panel for the event consisted of various Blanche Macdonald Esthetics Program instructors and top skin care experts, including skoah co-founder and CEO, Andrea Scott - all of whom provided feedback directly to the students post presentation. Not only were the students able to draw from the panel's extensive knowledge of the industry, but they were also able to take Andrea's invaluable advice on their products. Firsthand expertise from the legendary brand creator and developer of skoah's in-house skin care line, which has garnered a cult-following of its own - is just one of the many benefits of being an Esthetics student at Blanche Macdonald.
Andrea's impressive history in the Esthetics industry spans nearly 17 years back to when she, along with her husband and co-founder, opened the first skoah location in Vancouver and shook up the Spa industry.
"Spas weren't for young people. You didn't go for just one service, you went for the afternoon. Everything was designed for the people who were going to the spas which were usually people over 50. And so we saw this opportunity to offer one service that was affordable, both in time and monetarily, for people from ages 20-50. We really turned the industry on its head back then. We came out of the gates offering one service at a time. We were professional but we wanted to break down the barriers of intimidation."

Branded around the idea of "personal training for your skin", skoah's values fit perfectly into the notorious love of fitness and well-being on the west coast, even going so far as offering their clients a 'skin gym' membership. Now, the West Coast-born brand, having already become a major player in the national skincare field, is well on its way to becoming a global facial brand with 14 locations all across North America, and one can only assume there will be many more to come. Andrea's outstanding business expertise and acumen were recently recognized when she was named the winner of the Veuve Clicquot Business Woman Award in 2016, an international award celebrating exceptional women business leaders and their entrepreneurial contributions.
Blanche Macdonald is very fortunate to have an incredible relationship with this powerhouse brand. Throughout the years, skoah has welcomed many Blanche Macdonald graduates into their spas. So many, in fact, that Andrea has nearly lost count.
"In the 17 years we've been open, there have probably been close to 100 graduates that have been with us from Blanche Macdonald. We have so many with us in the spas right now! There are so many reasons why we love to hire these grads but one big thing is the level of professionalism."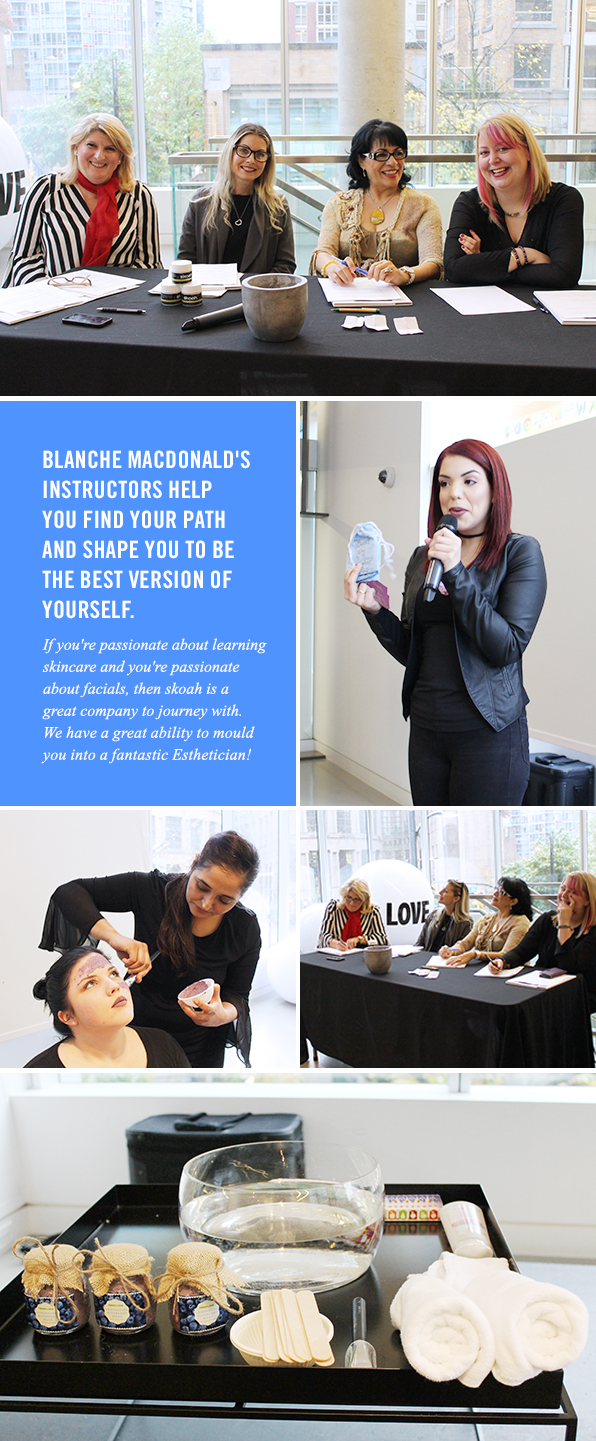 Andrea knows firsthand the level of professionalism that is imparted onto Blanche Macdonald students - she was one herself.
"I took the Makeup program and in that program too you're taught from day one, if you're not twenty minutes early, you're late. This is a professional environment. And that's how Blanche Macdonald graduates are. They come in, they take it seriously and they're extremely professional."
But if there's one thing that can rival Blanche Macdonald graduates' professionalism, it's their enthusiasm.
"The enthusiasm that they come with! They come to us and they feel ready to be working. They're not coming wondering if they're ready to work, they already know. There's just a level of confidence that they come with that we don't see with everyone."
As much as skoah loves our graduates, it seems that love is more than reciprocated.
Yolanda Ruiz, a Skin Care Trainer for skoah, was only a student when she and her class first toured a skoah spa. Her instructor encouraged her to apply because of her love of facials and nearly six years later, she's never looked back.
"Blanche Macdonald's instructors help you find your path and shape you to be the best version of yourself. If you're passionate about learning skincare and you're passionate about facials, then skoah is a great company to journey with. We have a great ability to mould you into a fantastic Esthetician!"
For Madeleine Gordon, a Skin Care Coach at skoah, the values that her 'Blanche Macdonald family' taught so closely resemble those taught by her 'skoah family' that it was a nearly seamless transition.
"Our training at Blanche Macdonald set me up for success by actually emulating a lot of skoah's Kore Values. Blanche Macdonald grads are an especially good fit because of the work we put in at school. Whether it is physical, mental, spiritual, or emotional work, we work hard every day. We understand that the work has to be done. Most of us go from walking in to Blanche with no training whatsoever and we leave with jobs and so much potential. You definitely don't leave the same person that you were when you started the program. Like we were told in school, 'Blanche is a family.' skoah is exactly the same. Everyone wants everyone to succeed, you always have a shoulder to help you up if you start to stumble. We're all in it together at the end of the day. I honestly couldn't imagine being at any other company."

"For generations in my family, it has been of great importance to appreciate handmade goods and support the industry as much as we could. And this is what I have tried to create with Natale: an experience where people are able to both learn, as well as value where their garments are coming from."
Blanche Macdonald Global Fashion Marketing graduate Mireille Kessler speaks with such warmth and clarity when describing her new artisanal shop, Natale, Main Streets' new handcrafted hub. Her little shop has already gained much recognition since it first opened its doors a little under a year ago (most recently, being named one of three best new shops on Main Street by the Georgia Straight) with a community of devoted clientele eager to support this growing movement. Her apt knowledge of textiles and handcrafted, fair trade goods, evident the moment you walk into her carefully curated space, goes back generations.
Mireille often travels back to her family's cottage industry in Lima, Peru, to observe and absorb the ins and outs of the textile industry. The impact these experiences have had on her heart and perspective are momentous, paving the way for her budding entrepreneurial career.
"My grandmother started a cottage industry when my dad was just a boy. She started it on the same property that we own now; it's actually still our family home. We have our family home on the back of the property, and then there are two other large buildings that have five or six floors, each floor dedicated to different textile processes.
"Since I was little, we've always travelled back and forth to Peru. At the time it was to visit family, but even as I child, I was aware of the industry. My grandma would explain what was going on and I always remember being very curious. As I got a older I began to really understand it: how it contributes to the sustainability movement, the importance of ethical practices and fair trade, and the quality of handmade goods."
Read More

Thomas Surprenant is an Emmy Award winning Makeup and Special Effects Artist whose illustrious career spans over 30 years in TV & Film. From Hollywood classics like Donnie Darko to present day blockbusters like The Maze Runner series, Thomas' credits are monumental and varied. There's hardly a genre of film Thomas hasn't touched his brush to. We were honored and so grateful to have Thomas stop by Canada's #1 Makeup School a few days before Vancouver IMATS and do a live demonstration of two of his most famous makeup looks for our eager Makeup students and staff. Sarcastic, witty, hilarious and of course - wildly talented, Thomas spilled the beans on everything from what's in his set bag to defining moments of his career, and that time that Orlando Bloom butt-dialled him!
"You kind of get to play God," Thomas remarks as he pauses his work and turns to smirk toward the audience. Even his model, mid-Klingon transformation á la his Star Trek days, breaks character to crack a smile. While he painted and blended his student model into a being fit for the Starship Enterprise, he regaled our students with tales of his favorite jobs "The Grinch that Stole Christmas was so fun, just a really good time," what movie changed his life and made him want to pursue makeup as a career, "Makeup was fascinating to me but I never thought about doing it for a living - until I saw Rick Baker's work in An American Werewolf in London," and the importance of having a well-stocked kit that goes even beyond makeup supplies, "I always have kleenex and a flashlight. You just never know!"
After an entertaining day of demonstrations and conversation at our Atelier campus, Thomas, along with the rest of the Vancouver creative community and some major members of the global community, hit up Canada Place for IMATS Vancouver that weekend. Thomas - a dedicated vegan who has earned the title of "Batman for Animals" among his friends - took part in Buffy the Vampire Slayer reunion panel and painted up a likeness of Mistfits guitar player Doyle Wolfgang von Frankenstein on the Open Forum Stage. When asked to share what made him choose this particular look from this particular band, Thomas said "My model is a fan and I'm a huge fan. Doyle is hardcore vegan and the guy is such an amazingly cool dude. The Misfits are clever and satirical but serious about their performances, music and writing. A lot of my music is punky, goth stuff. That was my era growing up!"
Read More
Frederic Chopin and Kurt Cobain. Not the most obvious musical bedfellows, but together they provided a major dose of inspiration for Nocturnes, the 2017 Blanche Macdonald Fashion Design Graduate Show, held for the second year in succession in the spectacular Grand Ballroom at the historic Hotel Vancouver.
"In the weeks leading up to the show I was listening to a lot of Chopin," explained Fashion Director Tyler Udall. "He composed many Nocturnes, which is a word typically used to describe a poetic scene set at night. It seemed like a good fit."

Nocturnes delivered a night to remember, as 30 designers from destinations as diverse as China, Syria, South Korea and Kelowna dazzled Vancouver with their debut collections.
"This group came into the program with an openness and curiosity about design that superseded any of the other groups I have been privileged enough to work with," continued Tyler. "They took direction well and dived deep into anything new that was introduced to them. Those are the kinds of students that are particularly fun to nurture. You keep setting a bar higher and higher for them, and they keep rising to the occasion. And beyond!
"Seeing the students buzzing after the show is always a treat for me. They are under a lot of pressure building up to the show so as you can imagine the tension levels are high. Seeing them relax and relish in their accomplishments is a very pleasant experience."
Read More
They're the pruners of our strands, the keepers of our secrets and the masterminds behind those picture-perfect balayages. These Blanche Macdonald Pro Hair graduates are just getting their feet wet in the whirlwind world of Hair, but already, they're making waves in their new careers. Spanning the scene from stylists and barbers to Pro-Educators and entrepreneurs, our grads own their very own hair salons, hold the hottest seats in top salons, and work behind the scenes to create stunning editorials. Armed with the knowledge of our internationally recognized training, and a pair or two of super-sharp shears, these remarkable individuals have heard the entrepreneurial call of the Hair world and they have answered back. With Contessa Awards and other prestigious national and international competition wins under their collective belts, our grads are climbing the ranks of local and international scenes one snip at a time. It can be hairy, but they're ready for anything!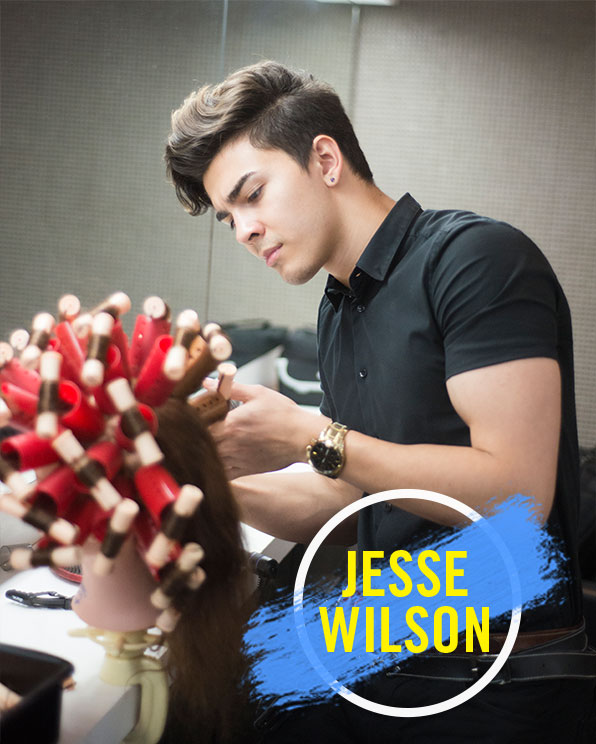 Take one part Calvin (or is it Hobbes? You'll never know!), a handful of dragon scales and an almost unspoken obsession with Dungeons and Dragons, shake and simmer under a winter moon and watch as your new dream stylist takes form. Despite only recently graduated the Blanche Macdonald Pro Hair program, Jesse has landed a chair at a branch of one of the most respected and popular salons in the Vancouver area - Hennessey Salon and Spa. Hilarious, dazzling and completely wacky, he's the unofficial Smile Specialist of Hennessey Richmond, a burgeoning hair artist and an Dragon enthusiast. Meet Jesse Wilson. Or, as he hopes to be known in his imaginary musical career, J. Beavis. And he promises not to mess up your hair because that would be entirely too upsetting for him.
Blanche Macdonald Center: Serious question first. Are you more Calvin or Hobbes?
Jesse Wilson: Definitely Hobbes. Why? Because I'm definitely more Calvin, and that's what he'd say to blow your mind.
BMC: Consider my mind blown! Now as far as hair goes, what would you say your specialty is?
JW: At this point, I don't think I can identify an aspect of my work that I would consider a specialty . . . I genuinely feel as though my best work comes from a solid communication between myself and my client whatever their service may be. I like making my client smile as many times as possible. I don't know if you'd call that a specialty, but it is special to
Read More

It's 11:30 PM on a Friday night and I'm standing in front of the bathroom mirror wearing half a face of makeup. On the counter: an old receipt from Holt Renfrew with product names from NYX Cosmetics scribbled across the back, a spillage of tubes, kits and compacts from my own collection, and my iPhone, which is paused mid-frame in the final few minutes of a fabulous smoky eye makeup tutorial.
This is anything but your typical step-by-step. On my mobile screen, Blanche Macdonald grad Bailey Van Der Veen looks every bit otherworldly with her jet-black hair, ivory complexion and aquamarine eyes—but she has a larger-than-life personality that transcends the lens and an easy, unscripted approach to being in front of a camera. She'll interrupt a technical explanation to exclaim over the beauty of a palette's colors, textures and finishes: the way a swatch of eyeshadow darkly pigments the pale skin of her wrist or a swipe of illuminator shines iridescent over her knuckles in the studio lights; she'll laugh and pull faces for her audience while demonstrating the desired effect of a brush or blender. It makes her lessons seem less like chilly digitized master-classes and more like a warm, veritable presence—as if she were a terrifyingly talented friend who's come over to your apartment on her night off with the contents of her work station to show you the latest and give you a few pointers.
With more than 103,000 subscribers to her YouTube channel and 30,000 followers on Instagram, it's obvious that makeup amateurs and aficionados alike regularly seek her counsel on hot products and inventive how-tos. It should come to no one's surprise, then, that it-brand NYX Cosmetics snapped her up to be their Regional Trainer in 2015, the year after she graduated from Blanche Macdonald's Global Makeup Artistry Program and dominated the vlog-based NYX FACE Awards—and that she keeps on creating despite her busy up-and-up career, regularly surprising and delighting her international fan-base on the internet.
Through a series of phone calls and emails, I spoke with Bailey—a small-town Manitoba native currently living in Toronto—about her path to becoming social media's makeup maven and the daily thrills of representing one of the coolest names in contemporary cosmetics. Like it or love it: Here's Blanche Macdonald's #flashchat with this artist extraordinaire.
Read More

The 2017 edition of Vancouver International Makeup Artist Trade Show (IMATS) was a true amalgamation of Blanche Macdonald creative talent. Makeup mavens, cosmetic aficionados and film professionals rolled into Canada Place this past weekend, for what is one of the most anticipated makeup events of the year. Held annually in six cities across the globe (LA, New York, Vancouver, London, Toronto and Sydney) IMATS is a true playground for the Makeup obsessed. The atmosphere of excitement is palpable and inspiring: industry leaders collabing with industry newcomers, beauty product innovators, educational demos and all the must-have kit products and accessories.
Our Blanche Macdonald/CurliQue Beauty booth was also a hub of activity, consisting of demonstrations from some of our most buzzed-about and industry-leading graduates, mega-pro run-ins (like Ve Neill!) and of course, our talented student finalists in the show's centrepiece student competition, Battle of the Brushes (BtoB).

Picked from thousands of applicants, this is the ultimate competition for budding Makeup Artists as it allows the opportunity to garner international recognition and perform amongst stars of the industry. Battle of the Brushes saw four talented Blanche Macdonald Makeup students and recent graduates take to the stage, with our own Nina Nettle competing in both Saturday's hotly contested Character/Prosthetic competition, crafting a creature on the theme of Guardians of the Galaxy, as well as in Sunday's fanciful and fabulous Beauty/Fantasy category.
Our other Blanche Macdonald finalists – recent graduates Anna Rudik, I-Lan Yang, and current student Ulayu Sequalukwho – took to the BotB platform for the Beauty/Fantasy brush-off, each tasked with creating their look based on the conceptual theme of International Beauty. It was a thrilling day of artistry and anticipation, as each of these competitors pulled out all the stops, creating unique works of art.
Read More

Whether she's living her best self at music festivals around the world or staying in the know with the latest fashion trends, Blanche Macdonald Nail Studio graduate Little Mythy is constantly gathering inspo for her nail creations. With just over 20K followers on Instagram in only a couple of years, she's carved a niche into the nail world for herself and her outlandish, quirky but always impeccable designs. One look at her pastel coloured, fruit-centric and googly-eye clad creations gives you all the insight you need into their creator: she's unique, bubbly, meticulous and a lover of absolutely everything that's cute. So let her tell you all about her "lyfe & nails. But mostly, N A I L S."
Blanche Macdonald Centre: What made you decide that doing nails was something that you wanted to pursue as a career?
Little Mythy: Well I was at a point where I felt like I needed something more but I wasn't really sure what that was. I was and still am interested in a bunch of very different things. That being said I was always super into nails . . . I'd get crazy things all the time – every nail different type-deal. My festival nails were always the biggest hit. In 2014 I was at one of my favourite music festivals (Bass Coast) and I had these rad fruit nails – the amount of people who would ask me over the weekend where I went to get my nails done was just crazy. In my head a lightbulb went off and I just thought, "I need to learn how to do this, all of these people could be my clients". I decided right there I was gonna go to nail school. I left the festival and I made an appointment with Blanche and I was signed up within a month.
BMC: So great to hear! What do you remember most about your time at Blanche Macdonald?
LM: There was a point during my time at Blanche where I was dealing with some pretty major personal things and I wasn't sure I was gonna continue with the program. It was extremely hard but with the support from my friends and family I was able to stick with it and complete the program. I'm proud of myself for that.
*Side note I also ate waaaaaay too many ham & cheese croissants at that little cafe next door.
BMC: Yaas, girl! Good thing you did stick with it! You've got some pretty rad and zany nail designs on your page! Where do you get your ideas for your designs / shapes / colour combos?
LM: I'm inspired by 80's/90's prints and artists. Saved by the Bell type stuff, lots of shapes and pastel colours. Also lots of fashion & things I see in everyday life.
BMC: What has been your favourite set of nails that you've done?
LM: That's hard. But probably anything I've done involving painted fruits or my retro pastel pattern nails. Oh actually! I did these nails with googly eyes on them the other day and I think those would be my favourites to date.
Read More

"For my entire life I felt that humans are boring looking," laughs Pepper Gallegos. "I always liked sci-fi growing up and thought people should have ridges, horns and tails like the aliens on Star Trek. Why don't we have these? So as soon as I started learning how to create them at Makeup School, I knew this was what I wanted to do. I wanted to turn people into aliens and make them look real. A new life exploded within me."
Life these days is a blur of creativity for the Blanche Macdonald Makeup graduate. Working in her home state of New Mexico she's brought a slice of Canadian makeup expertise to A-list productions ranging from TV masterpieces like Breaking Bad and Graves to on-line hits like T@gged to movie blockbusters including Transformers: Revenge of the Fallen, The Lone Ranger and Batman v Superman.
It's an incredible résumé for an artist who didn't even know a career as a movie makeup magician was possible until encountering Canada's Top Makeup School by chance on a visit to Vancouver.
Pepper always had natural talent. Before becoming a Makeup Artist she was working as an art teacher and had her sculptures and paintings exhibited across her hometown of Las Cruces. But that ability was paired with an eternally positive demeanour that allowed her to even turn tragedy into opportunity.
"To cut a very long story short, my mother was in terrible shape when she passed away," recalls Pepper. "She had a big laceration on her face. For my father's sake I wanted to make her look as good as possible, so I fixed her face using wax and makeup. Even though I had no idea what I was doing, that was my way of saying goodbye. I wasn't making career plans, but I thought if I could help people see their family members look their best at tragic times, that would be great."
Two years later, Pepper was on a road trip across North America to scatter her parents' ashes across their favourite cities. One of those stops was Vancouver.
Read More