Current Features
With thousands of artists soaring into our halls from around the world each year, our classrooms have become dynamic global communities under the unitedly diverse banner of our Blanche World – a United Nations of creativity! In a glorious culture clash, our International students import a vibrant collection of new customs, insights and inspiration that colour our world in exciting new ways. The leap from their home countries to our corner of Canada comes with big change, courage and incredible journeys. Speaking in the international language of passion, we sit down with our global talent to talk the dreams that brought them here, the challenges they overcame, and all about the power of being an artistic representative in a new country. Meet the burgeoning stars that have joined us from around the globe in our UN storytelling!

Beauty. For Global Makeup graduate Eva Svobodova, it has been a lifelong fascination.
At University in her home country of the Czech Republic, Eva earned her Bachelor of Arts Degree studying the question "What is Beauty?" analyzing the theories of critics, philosophers and art historians who, like Eva, were searching for the answer.
Now, halfway across the world, Eva explores that very same question as a professional Makeup Artist in Vancouver, Canada. Moving from the theoretical to the practical, and from the pen to the brush, Eva creates beauty through her daring and dazzling artistry. Through her bold, colourful work she challenges us to question, to interact with and marvel at the medium of makeup.
In her short career Eva has graced the podium three times at the IMATS (International Makeup Trade Show) Battle of the Brushes, and she is already working as an in-demand Freelance artist for editorial, fashion shoots and films. With all that Eva has achieved just a month after her graduation, you would think she was born a makeup artist. But before she stumbled upon Blanche Macdonald two years ago, she didn't even know makeup schools existed.
"I was 27 and I still didn't know what I wanted to do. I was googling one day and I found Blanche Macdonald by chance. I didn't know you could actually study Makeup Artistry! So when I found out about the school, I knew I wanted to do it."

Eva had always loved art, but she was left unfulfilled by her academic studies at University. Hoping that things would become clearer with a fresh perspective, Eva decided to travel and improve her English. She obtained a work permit for Canada, and landed on the West Coast ready for an adventure. But after a year in Vancouver, the only thing that was clear was that she wanted to remain in Canada. With work permit options exhausted, she decided to apply for a student visa. But to study what?
"I wanted to do something creative," she recalls. "That was when I discovered Blanche Macdonald. I came and met with a director, read the reviews and it was all great. Everyone was so excited about this Makeup program. The atmosphere was so professional and everyone was so nice. I was really excited. So I said okay, let's do it! And I am glad I did it!"
Read More

Makeup students lucky enough to be attending Leah Ehman's classes at Blanche Macdonald soon realize that they're being treated to more than expert training from a Gemini Award-winning artist. They are getting the opportunity to fall in love with the artistry and emotion that go hand in hand with the creative process.
"I was on the set of Tron: Legacy when I realized that I'd achieved what I'd set out to do," she smiles. "There is a scene where Garrett Hedlund enters the Tron world and is transformed into a computer program. The director asked us to come up with a look that had never been seen before. We were able to create some pretty amazing makeups that I'm very proud of on that show. On that set I was surrounded by international superstars like Jeff Bridges and Olivia Wilde. I'd already been working in film for many years, but that was a moment when I realized where I was and the level of work I was producing. That's when I realized my dreams were coming true."
Leah understood the magnitude of her achievement. She's been a major contributor on TV shows and films including Suckerpunch, Stargate Atlantis, I Robot, The Big Year and countless more. Coming from the tiny northern Alberta town of Athabasca, it's been a remarkable journey.
"Art has always played a major role in my life. Both my mother and grandmother were art teachers and my brother grew up to be a professional artist. Even today, one of my favourite things to do is spend an afternoon at galleries or museums. I remember being five years old scooping up clay to sculpt horses, and copying paintings from my parents' art books.
"Growing up I was often mistaken for a boy. I was an ugly duckling always wishing for the swan transformation. I would save up all my babysitting money and invest it directly into magazines, clothes and of course makeup. I used the makeup to paint a more feminine me."

Leah began her working career in hair salons, moving from Calgary to Edmonton and eventually Vancouver. By the time she reached Hollywood North, no one was mistaking her for a boy anymore.
"A talent agent spotted me and asked if I'd like to be an actress. I didn't have the personality for that, but I did work as an extra once and awhile."
One of those shows in need of a stunning extra was the X Files. It was where Leah's eureka moment arrived.
"I walked into the hair and makeup trailer and I couldn't believe it! They put me through the works. That's when I first saw the level of excellence involved in being a film and television Makeup Artist. I thought to myself, I could do this!
"I attended makeup school in Vancouver, but I didn't receive the level of education that Blanche Macdonald students get. Not even close. I had to seek out extra training on my own. Monique Venier was a teacher of mine. She was incredibly inspiring. She took me under her wing. I assisted her on photo shoots, runway shows, and even my first film. It was a cheesy film called The Fear Resurrection. It was so exciting. I couldn't wait to jump out of bed and get to work every day. Monique was everything I wanted to be. Now that I'm a teacher, I strive to do the same: share my knowledge, inspire and nurture creativity."
Read More

"I love the flexibility of being my own boss," insists Sabrina Beltrano, relaxing between clients at her professional home at Workshop, one of Downtown Vancouver's most beloved and fashion forward salons. "I like that I can create my own hours, charge what I want to charge, and use the colour lines that I love. I never want to stop getting more clients. Getting new people in my chair keeps me motivated."
Staying motivated is never a challenge for Sabrina. The Blanche Macdonald Pro Hair grad runs her own business as one of the independent hair professionals gathered under a single stylish roof at Workshop. A community of creative and entrepreneurial spirits, it's the perfect spot for stylists who enjoy working and playing by their own rules.
"I didn't want to be a regular stylist who'd do cuts and colours and then go home," continues Sabrina. "Renting a chair means it's my business and my responsibility. That means you have to make sure you're keeping up on Instagram, Facebook and Craigslist."
Was a career in hair Sabrina's destiny? Growing up in Kamloops, BC with a stylist mother meant it was always a distinct possibility, even when other passions took priority.
"I've had pretty much the same hairstyle since I was five. Long and dark! I knew I wanted to follow in my Mom's footsteps, but I was also a soccer-playing tomboy. I cared about my hair but I cared even more about sports."
It didn't take long after graduating high school to commit to a career in hair. And once that decision had been made the search for the perfect Hair School was swift and effective.
"I wanted to go to the best of the best. I googled 'Best Hair School' and Blanche Macdonald came up! I knew that when I would go for interviews employers would see the Blanche name and know that my training was really good."
Read More

Kirsten Ley won more than the Award for Overall Achievement at Neon Dreams, this year's Blanche Macdonald Fashion Design Graduate Show. She also received one of the all-time great compliments from Executive Program Director Peggy Morrison (not someone known for distributing praise lavishly), who declared Kirsten, "the Student of the Decade."
Since then Kirsten's been busy preparing to conquer the world with her eponymous label. And it'll be little surprise if Kirsten Ley becomes a household name in fashionable homes within the next five years. She's practically Wonder Woman.



"I get up at 5am every morning and go to bed around 2am every night," she explains. "When I was in the Fashion Design program at Blanche Macdonald I also had an internship and was teaching yoga every morning. I'm a night owl and a morning person. I find my relaxation and rest practicing yoga. I get enough rejuvenation from that to compliment my sleeping schedule, or lack of one!"
Channelling her endless energy directly from the universe (rather than the traditional method of sleep we mortals use), Kirsten's intellectual approach to creativity knows few bounds either. Her brilliant graduate collection juxtaposed concepts by matching the constriction of leather body casts with the free-spirited escapism of billowing silks.
"One of the ideas that sparked this collection was my own personal experience," continues Kirsten. "I was diagnosed with scoliosis when I was 13 and was put in a back brace for 22 hours a day. I was an actress, dancer and opera singer and the only time I was out of the brace was when I would dance, sing or perform. The dichotomy of the bound leather garments with the flowing silks is like breaking free of the confines I grew up with, which is one reason why I called my collection 'The Unbearable Lightness of Being.' That's one of my favourite novels too. Milan Kundera took Nietzsche's idea of eternal return, which I think is relevant to the cyclical nature of fashion.
"I'm also intrigued by the way the Victorians drew their anatomy diagrams. These diagrams were not just medical but extremely artistic and beautiful in a grotesque way. I was drawn to them in my own collection. The predominant colour in my collection is oxblood, and I jokingly refer to my leather bodice as a 'skin suit' because it reminds me of these Victorian Illustrations and the peeling back of layers of skin to reveal what lies beneath."
Read More

Makeup legend Todd McIntosh is more than a guest on his regular visits to Blanche Macdonald. Todd is family.
As our Makeup Director, Todd's expert fingerprints – the same ones that won Emmy Awards for Buffy the Vampire Slayer and Pushing Daisies – can be found over Canada's ever-evolving and most complete makeup curriculum. He's been at the helm of Blanche Macdonald's Makeup Program for nearly 30 years now. So when Todd makes one of this regular pilgrimages to Vancouver, it's more than business. It's pleasure too.
That pleasure was shared with Blanche Macdonald's students and instructors as Todd spent a week and half with us this summer, providing multiple days of detailed artistic and career advice with the next generation of makeup superstars.

Todd's time at Canada's Top Makeup School began with one-on-one sessions with our Battle of the Brushes contestants at the Vancouver IMATS, delivering wisdom that helped our graduates to a clean sweep of the podium – first, second and third – in the Character Prosthetics category and a superb second in the Beauty/Fantasy.
"I've been a huge fan of Todd since I was ten years old, when I watched Buffy the Vampire Slayer," explained Battle of the Brushes first place winner Devon Burbank. "The fact that he took time to critique my work was amazing. He suggested so many ideas about hiding edges and folding things out. Todd is incredible. At the end he gave me a full hug and I freaked out."
Todd went on to spend two days visiting classes in progress, meeting students while providing hefty doses of inspiration and hands-on expertise.
Read More
They're the pruners of our strands, the keepers of our secrets and the masterminds behind those picture-perfect balayages. These Blanche Macdonald Pro Hair graduates are just getting their feet wet in the whirlwind world of Hair, but already, they're making waves in their new careers. Spanning the scene from stylists and barbers to Pro-Educators and entrepreneurs, our grads own their very own hair salons, hold the hottest seats in top salons, and work behind the scenes to create stunning editorials. Armed with the knowledge of our internationally recognized training, and a pair or two of super-sharp shears, these remarkable individuals have heard the entrepreneurial call of the Hair world and they have answered back. With Contessa Awards and other prestigious national and international competitions under their collective belts, our grads are climbing the ranks of local and international scenes one snip at a time. It can be hairy, but they're ready for anything!
If you can't tell by her huge, lit up smile, Stefanie Middleton LOVES to do hair. Whether she's turning those dry strands into a luscious moisturized mane or helping you take your fringe to the next level with a funky chop, she's your girl. But a fresh look isn't the only thing that Blanche Macdonald Pro Hair grad Stefanie promises. The self-proclaimed "happy hair stylist" looks to keep your strands looking extra silky, but first and foremost to build each client's confidence higher with each visit to her welcoming chair. Tell us you don't want in on that deal! Coupled with her tenacity, Stefanie's desire to create exactly what her clients imagine has naturally placed her on the floor of Xziste Studio, whose mantra is exactly that – respect the utmost importance of the customer's needs. Daring enough to rock the latest trends on her own hair, Stefanie is at the ready to get your best hair on – and your best self!
Blanche Macdonald: What was your favorite part of our Hair program?
Stefanie Middleton: My favorite part of the program was our photo shoots. They were a lot of fun most of the time, but also extremely challenging. You need to keep your focus (which the instructors always helped us with) and then slowly watch your visions come to life. The toughest challenges are always the most valuable! The whole program taught me a lot about myself, especially how to trust my gut and to work under pressure - which is needed in this industry!
BMC: What is your specialty?
SM: COLOUR! Haha, I know I still have many things to learn about it, but color has been the biggest part of hair that my clients and myself love. I especially do well with the more creative punky colors. There's just something about seeing people rocking wild colors in a classy way that I love to create. The best is seeing the happiness from your clients with the work you do. It is literally the most satisfying feeling in the world.
Read More

Walking into Onyx Aesthetics Studio is like walking into a world where every day is a good nail day. It's a place where beauty is continuously unfolding; a place to be primped and pampered in total tranquility. In just two short years Onyx owner and Blanche Macdonald graduate Linda Trang Ly has cultivated the perfect space to showcase her inimitable esthetics skills: an IG-worthy salon with a killer team of estheticians and an impressive roster of clients.
Although Onyx has already achieved great success in its short life, the studio was a long time in the making. After completing the Nail Parlour program at Canada's Top Nail School, Linda spent nearly a decade doing nails in Ontario and Connecticut, until Vancouver's nail scene was finally established enough for Linda to bring her skills back home.
"When I was trying to get into the industry after school, everyone here wanted French manicures on sport length nails. I knew that if I stuck around I would change careers again, so I moved to Toronto. Because of that, I've been perfecting my skills and doing crazy long nails with art for the last 10 years! And this was even before all the gel polishes came out. I always knew I would come back home, but I needed it to be the right time for what I wanted to do. Once I saw on Instagram how things were evolving in Vancouver, I knew it was time to come back."
But having been out of the Vancouver scene for nearly 10 years, Linda had to quickly suss out what the new Vancouver had to offer to find the perfect place for the esthetics paradise she was planning to create. When her initial searches of Kitsilano and Kerrisdale proved unsuccessful, it was in a relatively unexpected neighborhood, on the suggestion of a friend, that Linda happened upon the ideal space for her studio – Gastown.

"The Gastown I knew was The Old Spaghetti Factory, The Purple Onion and some souvenir shops. But suddenly, Gastown wasn't just Water St. anymore! I saw this space and the shape of it and I knew that it was exactly what I had been searching for!"
Read More
With their unique fashion voices, these Blanche Macdonald Global Fashion Marketing graduates are taking the industry by storm. Articulating their story to the world, our grads have navigated their way through fashion's ever-evolving terrain, bridging the gap between knowledge and success: from luxury retail brands and glossy magazine offices, to prestigious PR firms and leading buying agencies. Our grads are 'serging' ahead of the trend, climbing the ranks of local and international scenes, one fashion forward trend at a time. Meet these burgeoning fashion mavens that have become part of this thrilling community in our Fashion Fervour storytelling!

Set your mind to it and it may happen. Do it with heart and it's guaranteed. Blanche Macdonald Global Fashion Marketing graduate Amanda Watt has approached her burgeoning career with this doctrine, hustling (with heart) on her way to become Marketing Coordinator at Vancouver's coveted luxury retail department store, Holt Renfrew. From setting up large scale events featuring the most buzz-worthy designers and mega-names in the industry, to coordinating intimate fêtes, prepping hundreds of swag bags and sourcing for what's to come next, she's always on her toes, ready to tackle the next big fashion moment. Meet Amanda Watt, gracious, accomplished and fanatical for Fashion.


Blanche Macdonald: What was your favourite part of our Fashion Marketing program?
Amanda Watt: All of it! It was such a truly amazing experience that I will always treasure. I remember being so inspired by [Blanche Macdonald Fashion Program Director and Instructor] Peggy Morrison's passion that no matter what she was teaching I loved it; her stories and Show and Tell were something that I would have never imagined I would be fortunate enough to be a part of. I truly believe that I would not be where I am today if it was not for Blanche Macdonald and the opportunities and goals it helped me realize.

BMC: How did the Blanche Macdonald Career Department help you in pursuing these goals?
AW: Honestly, if it wasn't for the guidance of [Blanche Macdonald Career Director] Mel Watts while I was in school, I would never have had the opportunity to intern with Holt Renfrew, and if it wasn't for that, who knows where I would be today! I truly believe that my internship was the first and most crucial step in starting my career in fashion. I fortunately still get to see Mel from time to time. I really should stop into the campus more than I do, though!
I have been lucky enough to now be heavily involved with the internship program here at Holts. It is an incredible way to get your foot in the door! The Internship Program is something that I hold very close to my heart and I have had the opportunity to meet some extraordinary Blanche students along the way.
Read More
With thousands of artists, stylists and designers soaring into our halls from around the world each year, our classrooms have become dynamic global communities under the unitedly diverse banner of our Blanche World – a United Nations of creativity! In a glorious culture clash, our International students import a vibrant collection of new customs, insights and inspiration that colour our world in exciting new ways. The leap from their home countries to our corner of Canada comes with big change, courage and incredible journeys. Speaking in the international language of passion, we sit down with our global talent to talk the dreams that brought them here, the challenges they overcame, and all about the power of being an artistic representative in a new country. Meet the burgeoning stars that have joined us from around the globe in our UN storytelling!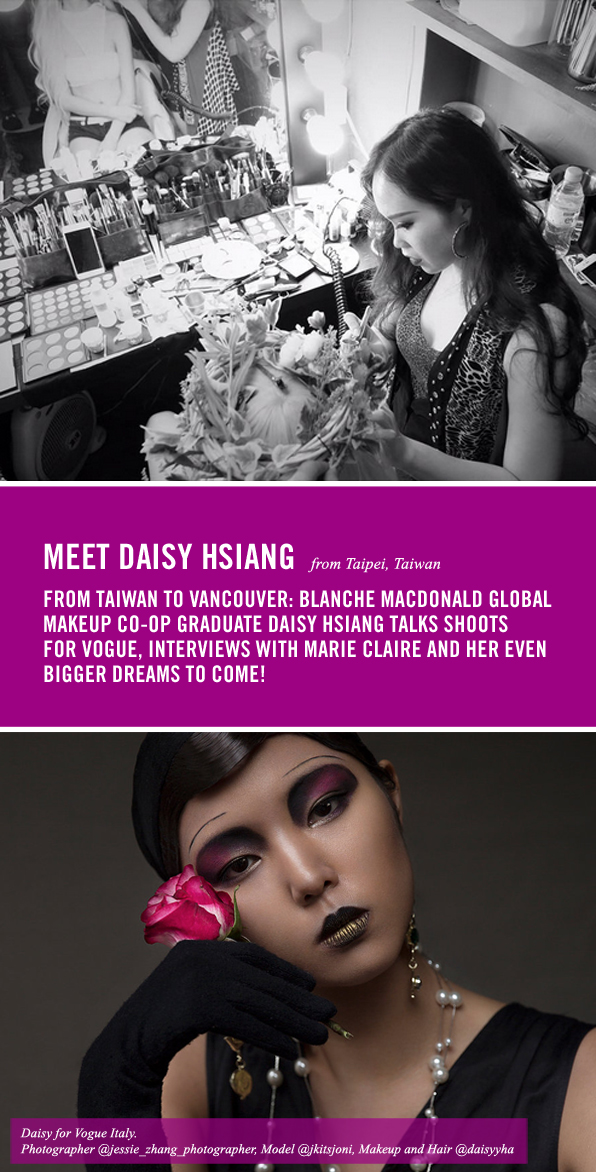 Hailing from Taipei, Blanche Macdonald Global Makeup Co-op graduate Daisy Hsiang has the start of a stellar resume. Having her work published in Italian Vogue and Marie Claire Taiwan, and being represented by an overseas agency, Daisy is already living what, for most makeup artists, is a dream career. But these achievements aren't the only cooler than cool things about this girl. Fostering her burgeoning career in Makeup from Industrial Management beginnings, Daisy had long ago made the decision to march to the beat of her own drum. Enveloping me in a hug and a squeal, you'd hardly expect the hustle that's housed inside this doll of a person. Dressed in chic street wear that's perfectly styled to her aesthetic, Daisy's vibes are all about cool, collected confidence. With bright eyes, a big smile and in the sweetest, most humble way, Daisy talks about the international makeup scene, her journey so far, and gives advice for those looking to make it big in the global makeup industry.
Blanche Macdonald: What were your experiences growing up in Taiwan that made you want to go into makeup?
Daisy Hsiang: I love art. I actually started to study Industrial Management in university in Taiwan, which is when I started playing with makeup for the first time - so late! I wanted to know more about beauty makeup so I took a basic photography and professional makeup class while I was in university. My makeup class made me so happy and that's how I decided that was what I needed to do with my life! The best thing is that my parents always support me when I want to learn something different.
BMC: What made you make the long journey to the Blanche Macdonald Centre?
DH: It's the best makeup school in Canada, right?! It's very famous all over especially in Asia. Everyone I talk to goes "Oh, I know that school!" I wanted to learn from the best so I came here! I visited Blanche Macdonald for the first time with my family and my Admissions Director Josephine Lee, I was so excited to be involved in this industry in Canada.
Read More

There's no substitute for genuine glamour. Which is why, when Blanche Macdonald was seeking a venue to host the 2016 Fashion Design Graduate Show, once we set eyes on the Grand Ballroom at the historic Hotel Vancouver, the decision was easy. The contrast of Imperial Russian style elegance with the bold, ultra-modern debut collections from some of Canada's most promising new designers was too tempting to resist.
The result was Neon Dreams, the most spectacular – and to many attendees the best – Blanche Macdonald Graduate Fashion Show in the School's storied history.
"The Hotel Vancouver is such an iconic piece of this city," explained Fashion Director Tyler Udall. "They've done an incredible job preserving the original designs and over the years the hotel has been peppered with bits of luxury. Incredible fashion houses like Dior, Gucci and Louis Vuitton are now occupying retail space in the hotel. It seemed like a fitting space for our show."

Under the sparkle of Vancouver's most magnificent chandeliers Blanche Macdonald's grads' collections shone, as two glorious fashion shows unfurled on a chilly November afternoon and evening, the first for graduates' friends and families; the second for the city's assembled fashion media. For Tyler, presenting collections that could hold their own in the most extravagant surroundings was a testament to a special group of graduating designers.
"This group had more than a few extremely focused students. There are always a handful who come in and treat Fashion School like a military operation: up at 5am, working until 11pm and really pouring their blood, sweat and tears into their collections. There were several of them this year and it was a treat to see how well they worked and how much they bonded as designers and friends."
Read More