Current Features
They're the pruners of our strands, the keepers of our secrets and the masterminds behind those picture-perfect balayages. These Blanche Macdonald Pro Hair graduates are just getting their feet wet in the whirlwind world of Hair, but already, they're making waves in their new careers. Spanning the scene from stylists and barbers to Pro-Educators and entrepreneurs, our grads own their very own hair salons, hold the hottest seats in top salons, and work behind the scenes to create stunning editorials. Armed with the knowledge of our internationally recognized training, and a pair or two of super-sharp shears, these remarkable individuals have heard the entrepreneurial call of the Hair world and they have answered back. With Contessa Awards and other prestigious national and international competition wins under their collective belts, our grads are climbing the ranks of local and international scenes one snip at a time. It can be hairy, but they're ready for anything!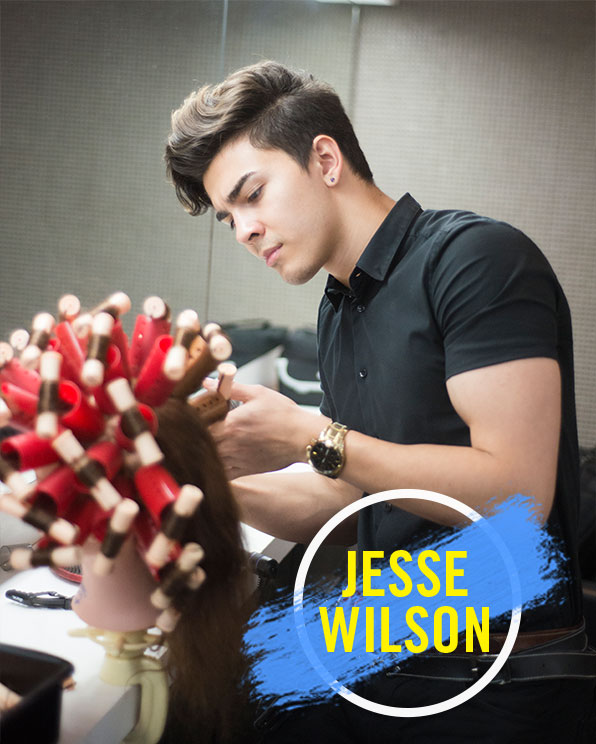 Take one part Calvin (or is it Hobbes? You'll never know!), a handful of dragon scales and an almost unspoken obsession with Dungeons and Dragons, shake and simmer under a winter moon and watch as your new dream stylist takes form. Despite only recently graduated the Blanche Macdonald Pro Hair program, Jesse has landed a chair at a branch of one of the most respected and popular salons in the Vancouver area - Hennessey Salon and Spa. Hilarious, dazzling and completely wacky, he's the unofficial Smile Specialist of Hennessey Richmond, a burgeoning hair artist and an Dragon enthusiast. Meet Jesse Wilson. Or, as he hopes to be known in his imaginary musical career, J. Beavis. And he promises not to mess up your hair because that would be entirely too upsetting for him.
Blanche Macdonald Center: Serious question first. Are you more Calvin or Hobbes?
Jesse Wilson: Definitely Hobbes. Why? Because I'm definitely more Calvin, and that's what he'd say to blow your mind.
BMC: Consider my mind blown! Now as far as hair goes, what would you say your specialty is?
JW: At this point, I don't think I can identify an aspect of my work that I would consider a specialty . . . I genuinely feel as though my best work comes from a solid communication between myself and my client whatever their service may be. I like making my client smile as many times as possible. I don't know if you'd call that a specialty, but it is special to
Read More

It's 11:30 PM on a Friday night and I'm standing in front of the bathroom mirror wearing half a face of makeup. On the counter: an old receipt from Holt Renfrew with product names from NYX Cosmetics scribbled across the back, a spillage of tubes, kits and compacts from my own collection, and my iPhone, which is paused mid-frame in the final few minutes of a fabulous smoky eye makeup tutorial.
This is anything but your typical step-by-step. On my mobile screen, Blanche Macdonald grad Bailey Van Der Veen looks every bit otherworldly with her jet-black hair, ivory complexion and aquamarine eyes—but she has a larger-than-life personality that transcends the lens and an easy, unscripted approach to being in front of a camera. She'll interrupt a technical explanation to exclaim over the beauty of a palette's colors, textures and finishes: the way a swatch of eyeshadow darkly pigments the pale skin of her wrist or a swipe of illuminator shines iridescent over her knuckles in the studio lights; she'll laugh and pull faces for her audience while demonstrating the desired effect of a brush or blender. It makes her lessons seem less like chilly digitized master-classes and more like a warm, veritable presence—as if she were a terrifyingly talented friend who's come over to your apartment on her night off with the contents of her work station to show you the latest and give you a few pointers.
With more than 103,000 subscribers to her YouTube channel and 30,000 followers on Instagram, it's obvious that makeup amateurs and aficionados alike regularly seek her counsel on hot products and inventive how-tos. It should come to no one's surprise, then, that it-brand NYX Cosmetics snapped her up to be their Regional Trainer in 2015, the year after she graduated from Blanche Macdonald's Global Makeup Artistry Program and dominated the vlog-based NYX FACE Awards—and that she keeps on creating despite her busy up-and-up career, regularly surprising and delighting her international fan-base on the internet.
Through a series of phone calls and emails, I spoke with Bailey—a small-town Manitoba native currently living in Toronto—about her path to becoming social media's makeup maven and the daily thrills of representing one of the coolest names in contemporary cosmetics. Like it or love it: Here's Blanche Macdonald's #flashchat with this artist extraordinaire.
Read More

The 2017 edition of Vancouver International Makeup Artist Trade Show (IMATS) was a true amalgamation of Blanche Macdonald creative talent. Makeup mavens, cosmetic aficionados and film professionals rolled into Canada Place this past weekend, for what is one of the most anticipated makeup events of the year. Held annually in six cities across the globe (LA, New York, Vancouver, London, Toronto and Sydney) IMATS is a true playground for the Makeup obsessed. The atmosphere of excitement is palpable and inspiring: industry leaders collabing with industry newcomers, beauty product innovators, educational demos and all the must-have kit products and accessories.
Our Blanche Macdonald/CurliQue Beauty booth was also a hub of activity, consisting of demonstrations from some of our most buzzed-about and industry-leading graduates, mega-pro run-ins (like Ve Neill!) and of course, our talented student finalists in the show's centrepiece student competition, Battle of the Brushes (BtoB).

Picked from thousands of applicants, this is the ultimate competition for budding Makeup Artists as it allows the opportunity to garner international recognition and perform amongst stars of the industry. Battle of the Brushes saw four talented Blanche Macdonald Makeup students and recent graduates take to the stage, with our own Nina Nettle competing in both Saturday's hotly contested Character/Prosthetic competition, crafting a creature on the theme of Guardians of the Galaxy, as well as in Sunday's fanciful and fabulous Beauty/Fantasy category.
Our other Blanche Macdonald finalists – recent graduates Anna Rudik, I-Lan Yang, and current student Ulayu Sequalukwho – took to the BotB platform for the Beauty/Fantasy brush-off, each tasked with creating their look based on the conceptual theme of International Beauty. It was a thrilling day of artistry and anticipation, as each of these competitors pulled out all the stops, creating unique works of art.
Read More

Whether she's living her best self at music festivals around the world or staying in the know with the latest fashion trends, Blanche Macdonald Nail Studio graduate Little Mythy is constantly gathering inspo for her nail creations. With just over 20K followers on Instagram in only a couple of years, she's carved a niche into the nail world for herself and her outlandish, quirky but always impeccable designs. One look at her pastel coloured, fruit-centric and googly-eye clad creations gives you all the insight you need into their creator: she's unique, bubbly, meticulous and a lover of absolutely everything that's cute. So let her tell you all about her "lyfe & nails. But mostly, N A I L S."
Blanche Macdonald Centre: What made you decide that doing nails was something that you wanted to pursue as a career?
Little Mythy: Well I was at a point where I felt like I needed something more but I wasn't really sure what that was. I was and still am interested in a bunch of very different things. That being said I was always super into nails . . . I'd get crazy things all the time – every nail different type-deal. My festival nails were always the biggest hit. In 2014 I was at one of my favourite music festivals (Bass Coast) and I had these rad fruit nails – the amount of people who would ask me over the weekend where I went to get my nails done was just crazy. In my head a lightbulb went off and I just thought, "I need to learn how to do this, all of these people could be my clients". I decided right there I was gonna go to nail school. I left the festival and I made an appointment with Blanche and I was signed up within a month.
BMC: So great to hear! What do you remember most about your time at Blanche Macdonald?
LM: There was a point during my time at Blanche where I was dealing with some pretty major personal things and I wasn't sure I was gonna continue with the program. It was extremely hard but with the support from my friends and family I was able to stick with it and complete the program. I'm proud of myself for that.
*Side note I also ate waaaaaay too many ham & cheese croissants at that little cafe next door.
BMC: Yaas, girl! Good thing you did stick with it! You've got some pretty rad and zany nail designs on your page! Where do you get your ideas for your designs / shapes / colour combos?
LM: I'm inspired by 80's/90's prints and artists. Saved by the Bell type stuff, lots of shapes and pastel colours. Also lots of fashion & things I see in everyday life.
BMC: What has been your favourite set of nails that you've done?
LM: That's hard. But probably anything I've done involving painted fruits or my retro pastel pattern nails. Oh actually! I did these nails with googly eyes on them the other day and I think those would be my favourites to date.
Read More

"For my entire life I felt that humans are boring looking," laughs Pepper Gallegos. "I always liked sci-fi growing up and thought people should have ridges, horns and tails like the aliens on Star Trek. Why don't we have these? So as soon as I started learning how to create them at Makeup School, I knew this was what I wanted to do. I wanted to turn people into aliens and make them look real. A new life exploded within me."
Life these days is a blur of creativity for the Blanche Macdonald Makeup graduate. Working in her home state of New Mexico she's brought a slice of Canadian makeup expertise to A-list productions ranging from TV masterpieces like Breaking Bad and Graves to on-line hits like T@gged to movie blockbusters including Transformers: Revenge of the Fallen, The Lone Ranger and Batman v Superman.
It's an incredible résumé for an artist who didn't even know a career as a movie makeup magician was possible until encountering Canada's Top Makeup School by chance on a visit to Vancouver.
Pepper always had natural talent. Before becoming a Makeup Artist she was working as an art teacher and had her sculptures and paintings exhibited across her hometown of Las Cruces. But that ability was paired with an eternally positive demeanour that allowed her to even turn tragedy into opportunity.
"To cut a very long story short, my mother was in terrible shape when she passed away," recalls Pepper. "She had a big laceration on her face. For my father's sake I wanted to make her look as good as possible, so I fixed her face using wax and makeup. Even though I had no idea what I was doing, that was my way of saying goodbye. I wasn't making career plans, but I thought if I could help people see their family members look their best at tragic times, that would be great."
Two years later, Pepper was on a road trip across North America to scatter her parents' ashes across their favourite cities. One of those stops was Vancouver.
Read More

Jesse Samuels never planned on entering the movie business. But when the aspiring designer was presented with a chance to create clothes for the entire watching world to see, she jumped at the opportunity. In her role as a seamstress in Vancouver's ever-busy film and TV industry, she's flexing her fashion muscles on a daily basis.
"You're making something brand new every day," she beams. "It's incredibly creative because you continually run into issues. You need to know how to problem-solve and use your skills to make it work. All I ever wanted to do was sew for a living so this is perfect!"
You've seen Jesse's clothes in Imaginary Mary, Legends of Tomorrow and The 100. You'll soon spot more on the forthcoming series Lost in Space and Snowpiercer. Sew far, sew good.
"When we're building costumes the designer will make sketches and bring those to a cutter, who will interpret it into a pattern," explains Jesse. "I work with the cutter to actually make the toile or the muslin, which are two terms for the first version of the garment. The designer will approve that and pick out fabrics and notions. At that point it also has to be approved by the producer and director. Then I make the finished garment. It can go surprisingly smoothly but if it's not approved we have to start from scratch. That can happen a day before we have to start shooting."
Read More

Making monsters comes naturally to Holland Miller. They're part of his psyche already. So why not bring them to the big screen?
"I've suffered from sleep paralysis and intense nightmares my whole life. In eighth grade I decided to face my fears and went to the opening night of Nightmare on Elm Street. I didn't sleep for the next two nights, but at the same time, I couldn't get enough of it."
The Blanche Macdonald Makeup School graduate-turned-instructor had caught the bug that would lead him to become an internationally renowned Makeup Effects magician. Now he's inspiring the next generation, on screen and in the classroom. You've seen his work in Deadpool, Death Note, Star Trek Beyond, Supergirl, The Magicians, Legends of Tomorrow, The Flash, The Cabin in the Woods, Elysium, Sucker Punch, Underworld Awakening, A Haunting In Connecticut, Fantastic Four: Rise of the Silver Surfer, Underworld: Evolution, The Chronicles of Riddick, Twilight: New Moon, The X-Files, Fringe, Supernatural, Once Upon A Time, Almost Human, Falling Skies, Stargate and (to the excitement of his current crop of students) Riverdale. It's an incredible résumé, considering his makeup career's unlikely beginnings.
"By facing my fears I thought that when I did have these nightmares, I wouldn't be scared. I wanted to know everything, so I bought all the Fangoria magazines and sci-fi and horror fanzines I could get my hands on. I went to community college when I was 17 and did some art courses. In a commercial illustration class I drew a coffin with a corpse coming out of it for a funeral home. I thought it was funny as hell. My instructors rejected it without even looking at it."
With an artistic career looking unlikely, Holland enlisted in the US Navy. On duty in the Persian Gulf during the First Gulf War, the opportunity to reignite his creative tinderbox arrived unexpectedly.
"We'd run emergency first aid simulation operations. They were looking for someone to simulate wounds. I told them I was into horror movies. I had cotton, latex, rubber and little bits of plastic. I made a broken femur and tibia from what I remembered from Fangoria. People were blown away with how graphic it looked. Seeing how shocked people were with how gross and realistic they thought it was, I knew I could do this."
Read More

Dedicated, determined and fierce Blanche Macdonald graduate Jena Hirsch took one step out our doors after graduating from our Fashion Marketing program and was swept away by the alluring tide of the fashion world across the pond. But to where exactly? Paris! For what? A dream internship in the illustrious atelier of Maison Margiela as their Artisanal (couture) press intern. Despite speaking basically no French, Jena has immersed herself in a new, beautiful dream world filled with couture, baguettes, endless Uber trips and of course, their show in Paris Fashion Week. And yes, she met John Galliano!
Blanche Macdonald Centre: First things first - we heard you met John Galliano! Tell us everything.
Jena Hirsch: I did! It's such a small company that all the teams work together often. The one time we had a conversation, it was about one of the looks coming back from a shoot damaged so it was both terrifying and exciting that he knew my name! My main interactions with him and his team were when they would hand select things for a shoot. They would need different pieces and I would bring the looks to them because it was my responsibility to know who had them and where the items were.
BMC: So amazing! And what was it like working their fashion show?
JH: That's when things got super busy! There were days I was there for 12 hours and I worked a couple weekends as well. This year was particularly hectic because the show was held at the Margiela headquarters. It was a fairly last minute change of plans so pretty much overnight the headquarters needed to be turned into a runway. It was so beautiful! They recreated John Galliano's office and had such a gorgeous white space. My job at the show was to sign in guests as they arrived and show them to their seats. This meant I got to greet a lot of celebrities and bloggers that I admire and even have an extended chat with people when they had questions.
Read More

Ghazal Elhaei is a creative force to be reckoned with. Between running her self-started digital marketing and events agency, Capital G Creatives, styling as part of her core creative team, and working on visual art while developing related side projects, I marvel aloud at the enormity of her typical workday when she stops by the Blanche Macdonald Atelier campus in the morning on her way to her studio. But a full calendar isn't daunting to this Global Fashion Marketing grad: "If you want to make time, you make time," she assures me, and laughs.
Warm, charismatic, and brimming with ambitious energy, Ghazal is an astonishing do-all fashion industry insider unlike anyone you've met before. But don't just take my word for it: Here she is, in her own words, on being fearless in fashion, building a dynamic business from the ground up, and what it's like to be an integral part of Vancouver's vibrant creative community.
Blanche Macdonald Centre: How did you know you wanted to pursue a career in fashion, and what made you choose to study Fashion Marketing at Blanche Macdonald?
Ghazal Elhaei: Fashion has always been very relevant to my life, but I'm not one of those people where, growing up, I had a passion for fashion. I wanted to be a writer like Diane Sawyer and to work for Vanity Fair or The New York Times.
I spent a couple years pursuing music before I went to Blanche Macdonald. I was a singer. A big part of my music career was creating my brand, my image, and the different outfits onstage. When I was making the transition from music to the next phase of my life, fashion made the most sense. It's more behind-the-scenes than music; it's about design, not about what's happening in front. That's something I've always enjoyed: Seeing how everything gets put together.
While putting on big shows and photoshoots for myself, I developed this—intrigue, I guess you could say, for the fashion world. I met with [Blanche Macdonald Admissions Associate] Pam [Chong] and it seemed like a good fit.
Going into any situation, you have to do your research. Blanche Macdonald had the energy that I liked. Right off the bat when I walked in and met everybody, I saw the teachers running around, and the students, and I thought, "This is totally my kind of vibe!" When there's someplace that makes me feel that way, I jump right in. I started about a month after I applied.
Read More

Jordy Poon commands an energetic, discerning and fiercely intelligent presence. Whether in the classroom, behind the camera at a fashion shoot, or touching up the face of an A-lister as she's about to step out onto live TV, the instantly-recognizable celebrity Beauty Expert and Blanche Macdonald Faculty member can produce a pithy mantra for his students to remember for each and every industry situation.
"We're just as good as our products allow us to be—and just as good as our clients allow us to be, too."
Yet another: "One day, you're going to not care about the wrong person so it's good practice to treat every subject who comes to your chair like royalty right away."
This last one is of both personal and professional importance to the industry star. He's a steadfast believer in the importance of meticulous conduct, and emphasizes this to aspiring Makeup Artists under his mentorship at Canada's Top Makeup School.
It's obvious that Jordy eschews "traditional" methods of teaching in favor of cutting-edge ones: His classes intersperse artistic technique with practical tips on how to be. He shares and enacts valuable information at the same speed he learns it, and always keeps one artistic eye trained on the ever-evolving worlds of beauty and fashion outside the classroom. It's no wonder he chose to teach at the Makeup School with an international reputation for its industry-forward programs and award-winning graduates.
Read More