Current Features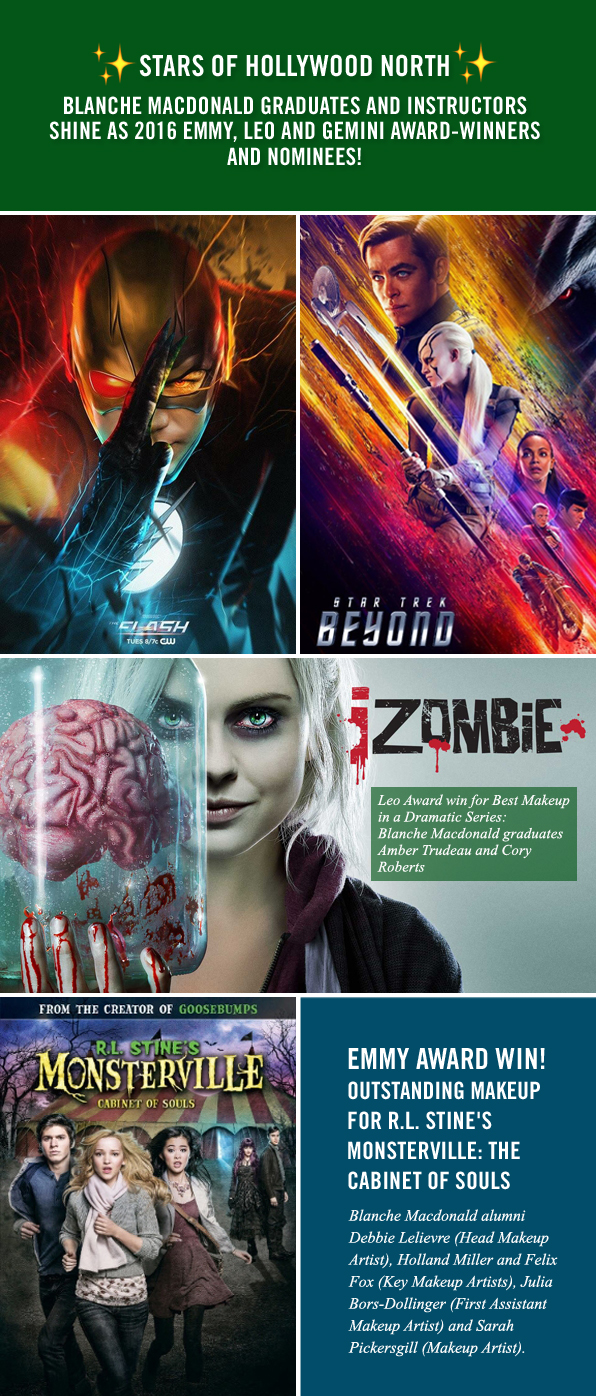 Canada's film and TV industry had one of its biggest and busiest years in 2016 and Vancouver, AKA Hollywood North, was at its epicentre. The city played host to superheroes and villains, monsters, romantic leads and sci-fi fighters, along with some of the world's biggest stars playing them. And none of them were coming for the weather.
There's a long list of reasons why Vancouver has become the ideal location for some of North America's most popular and best-regarded productions. Hollywood studios and networks love our architecture, our close-knit TV and film community, and the laid back atmosphere in a city that understands that even movie megastars are here to do their jobs.
They also love that Vancouver is blessed with some of the world's best TV and Film Makeup Artists and Hair Stylists, a once-select group growing exponentially as demand for their skills continues to boom. Our beautiful city's Movie Makeup family was beyond busy in 2016, with more than a few Blanche Macdonald graduates and instructors taking starring roles.
Read More
They're the pruners of our strands, the keepers of our secrets and the masterminds behind those picture-perfect balayages. These Blanche Macdonald Pro Hair graduates are just getting their feet wet in the whirlwind world of Hair, but already, they're making waves in their new careers. Spanning the scene from stylists and barbers to Pro-Educators and entrepreneurs, our grads own their very own hair salons, hold the hottest seats in top salons, and work behind the scenes to create stunning editorials. Armed with the knowledge of our internationally recognized training, and a pair or two of super-sharp shears, these remarkable individuals have heard the entrepreneurial call of the Hair world and they have answered back. With Contessa Awards and other prestigious national and international competitions under their collective belts, our grads are climbing the ranks of local and international scenes one snip at a time. It can be hairy, but they're ready for anything!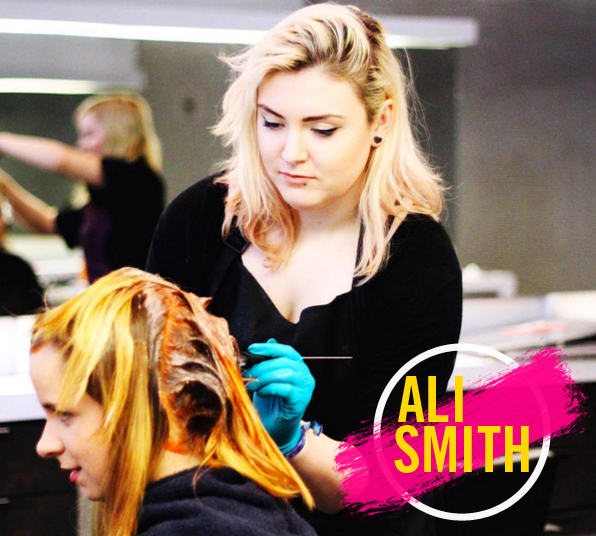 Sure to be sporting a mane of many and different colours, razor sharp liner and specs of glitter wandering randomly about her person, Ali Smith is not just the creator of unicorn hair – she exudes an essential 'unicorn-ness.' Having graduated from the Pro Hair program at Blanche Macdonald a mere 4 months ago, Ali has found herself behind the chair of one of Vancouver's premiere chop shops, Artel Salon. Owned by fellow Blanche Macdonald graduate Eliza Trendiak, Ali spends her days honing her skills, learning from fellow Artel stylists and crafting the latest looks for her burgeoning clientele. A flurry of retro Disney prints, witticisms, and perfectly timed meme humour meet the whirling dervish that is Ali Smith. Or as she puts it "Ariien. Brat. Kitty. Facial hair admirer."
Read More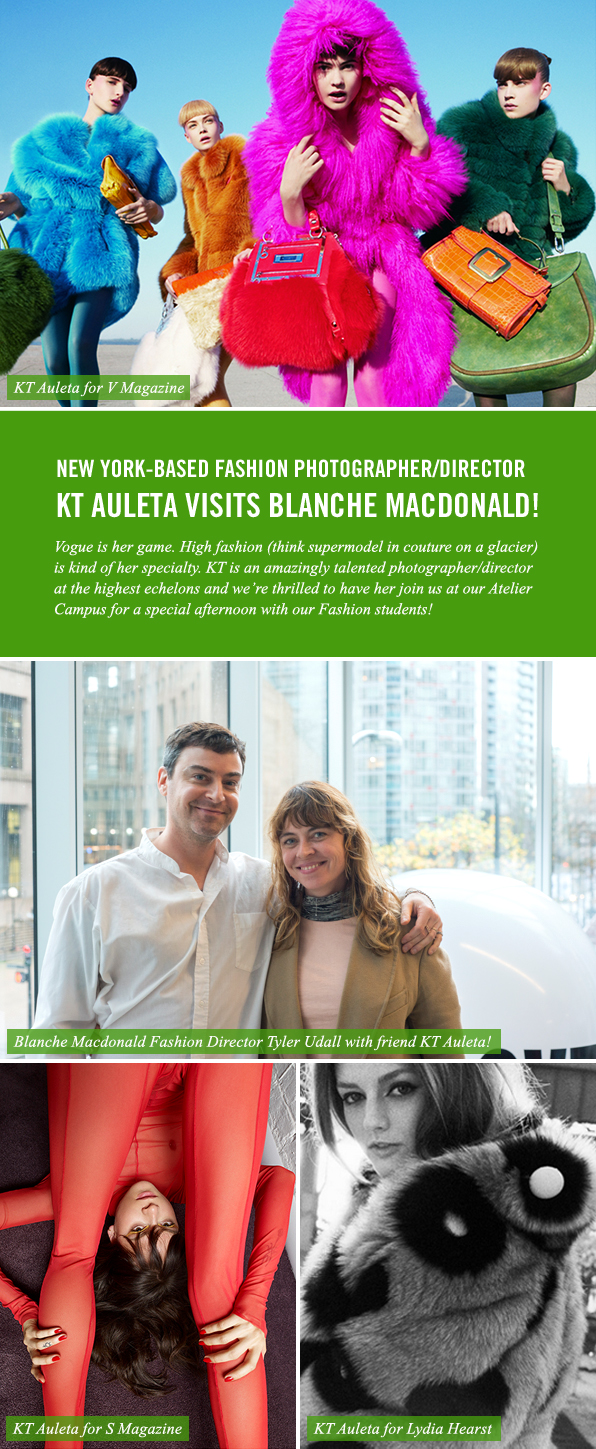 "What drew me to fashion was how it kept moving. Nothing's iconic any more. It's always, 'What's next? What's next?' I like that!"
KT Auleta's high velocity love affair with fashion continues to take her around the world. The New York City-based photographer and director is in perpetual motion, travelling from country to country shooting with clients like Hugo Boss, Sephora, Louis Vuitton, Tom Ford and Marc Jacobs, and titles including Vogue, GQ Style, Elle and Glamour. But on a layover en route to China she somehow found the time to visit Vancouver, Blanche Macdonald and her close friend, Fashion Director Tyler Udall, to give an engrossing presentation to students at Canada's top Fashion School.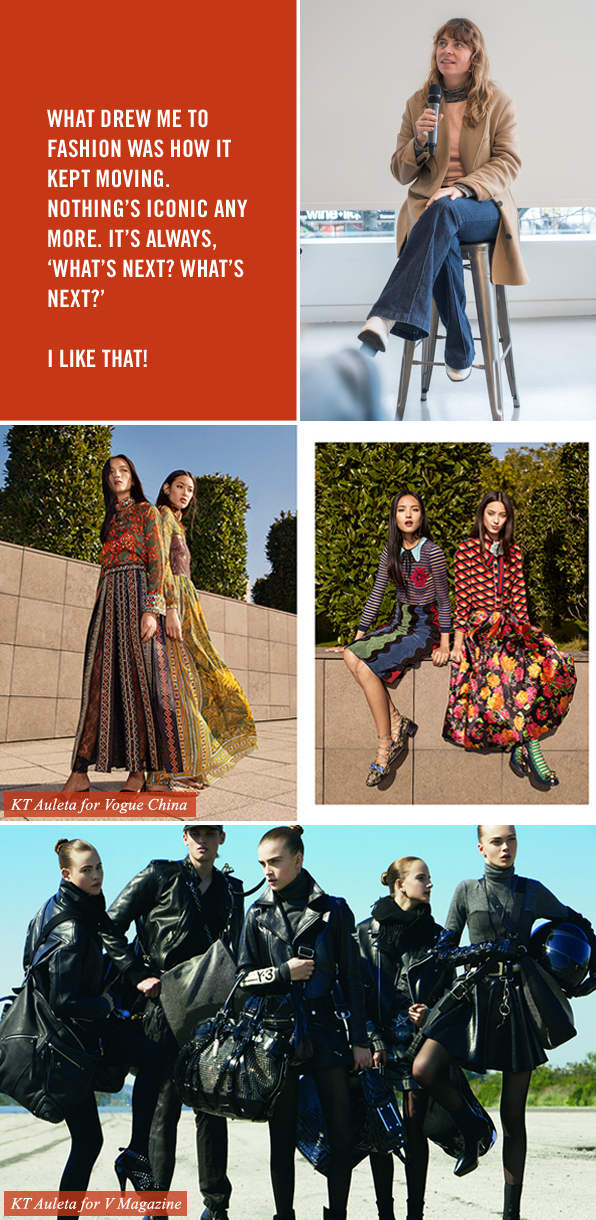 Over the course of a fascinating hour KT revealed her journey from intern to globetrotting photography superstar, the changing face of fashion imagery (including why she now shoots stills and video simultaneously) and the art of building a great creative team.
"I'm looking for good communicators," she explained in response to one of many questions from the floor. "I want people to take pride in their work. I want people I can trust to do their job well. I want them to feel empowered. I love working with new models, giving them wings and watching them blossom."
Read More
With thousands of artists, stylists and designers soaring into our halls from around the world each year, our classrooms have become dynamic global communities under the unitedly diverse banner of our Blanche World – a United Nations of creativity! In a glorious culture clash, our International students import a vibrant collection of new customs, insights and inspiration that colour our world in exciting new ways. The leap from their home countries to our corner of Canada comes with big change, courage and incredible journeys. Speaking in the international language of passion, we sit down with our global talent to talk the dreams that brought them here, the challenges they overcame, and all about the power of being an artistic representative in a new country. Meet the burgeoning stars that have joined us from around the globe in our UN storytelling!

"Fashion Design is my passion. I never get tired of what I do. It's hard to put in words, but I never imagined I would love fashion and design the way I do. It's just the right thing for me."
Though Anahita Monzavi graduated from Canada's Top Fashion School in the spring of 2015, she was immersed in the world of Fashion Design well before that. Originally from Esfahan, Iran, Anahita worked for over eight years in fashion before moving to Canada, with five of those years spent running a showroom and designing custom evening and bridal gowns for a myriad of A-list clients. With an inherent knack for design, Anahita is proof that talent and fate so often fall hand-in-hand. When she walked through our doors on her first day at Blanche Macdonald, we knew she was exactly where she was meant to be.
"When I first came to Canada," she says, "I spent a lot of time researching and talking to people about which school I should go to. I already had experience so I didn't want to go back to Fashion Design school for four years. My friends and family who are from Vancouver said that I must go to Blanche Macdonald, that it was the best school. After that I did not look anywhere else."

After spending a mere two years in Vancouver, Anahita has gone from excelling as a student to shining as a mentor and instructor for budding designers. She's been impressing the fashion community since she first enrolled at Blanche Macdonald, so her accomplishments have come as no surprise. Investing the same attentiveness in fashion instruction as she does with her professional career, Anahita credits the mentorship of Senior Pattern Making and Construction Instructor Brenda Swinglehurst as well as Program Directors Peggy Morrison and Donna Baldock for her academic successes.
"Studying here [at Blanche Macdonald] was the best decision I ever made," Anahita says. "I loved every minute of it and appreciated all of my teachers so much. I'd have to say that Pattern Drafting and Garment Construction with Brenda were two of my favourite classes. I also loved Fashion Awareness with Peggy and Fashion History with Donna. I wanted to absorb everything they had to say."
Read More

Daemon Cadman's classes are always full of creativity and laughter, but that doesn't mean she'll ever accept less than the very best from her students. Behind the incredible artistry, positive attitude and ever-present smile, Daemon possesses a tenacity that she routinely passes on to her students at Canada's Top Makeup School.
"I treat people in the classroom the same way they'll be expected to work outside of school," she explains. "You'll have days when everything goes wrong. It happens to all of us. I tell students, if you're going to have a meltdown, go to the bathroom, have a cry, then come back and do your makeup. On my first day in the Effects Shop working on Star Trek Beyond I sat in the bathroom three times because I was so stressed out. But you either quit or you do it. You look yourself in the mirror, go back out and do your best work."
That stressful first day in the Effects Shop blossomed into seven weeks of work painting prosthetic appliances for aliens for one of this year's guaranteed blockbusters. Which is remarkable, as Daemon doesn't consider herself a Makeup Effects Artist. But it makes perfect sense once you understand that her entire career has been a series of unexpected triumphs. She never even set out to be a Makeup Artist.

"I grew up in a very artistic environment in Vancouver," she recalls. "My Dad played in bands and my Mom was a writer. It was a very free environment. My Mom bought me face paints when I was about seven, which was also when I found some David Bowie and Kiss albums. I would roller-skate around the block with blonde pigtails and my face painted, usually like Ace Frehley."
Read More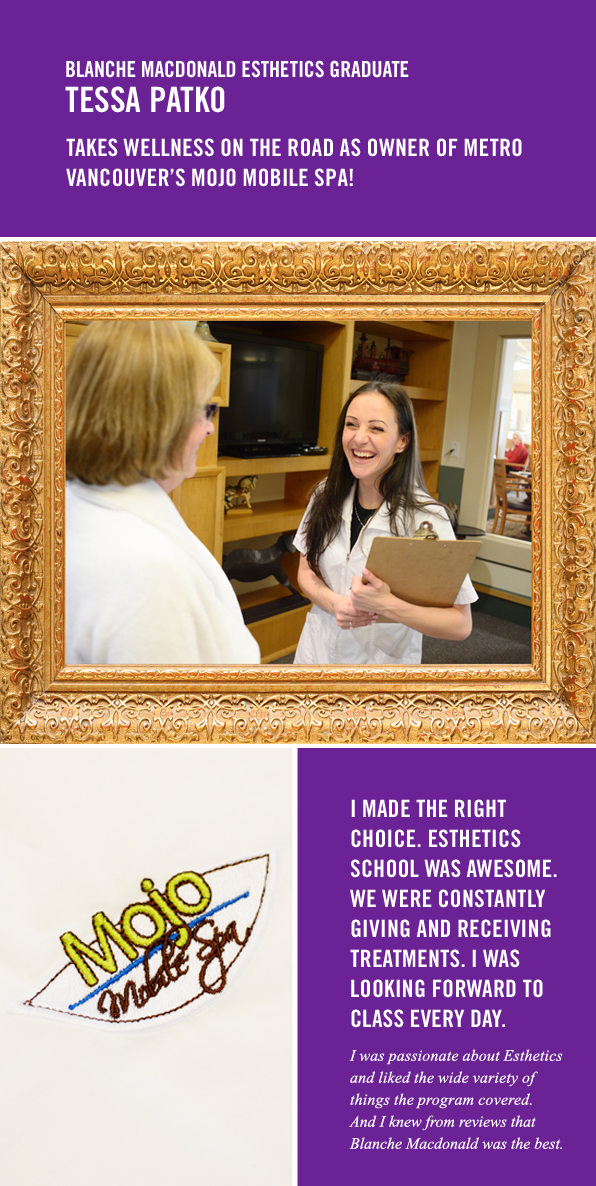 Everybody loves a trip to the spa as part of their wellness routine. But at the same time, not everyone has the opportunity to get out and give themselves the attention they deserve.
That's where Blanche Macdonald Esthetics graduate Tessa Patko and Mojo Mobile Spa enter the picture. If the people can't come to the spa, Tessa will bring the spa to the people.
"I'm providing services that clients might not otherwise be able to enjoy," she explains. "Mojo Mobile Spa is aimed at people who don't have the convenience of going to the spa, like busy mothers, people with health issues or people who don't have transportation. We're working regularly with seniors' homes now, which I love. I began receiving calls from grandchildren who were looking for people to go into the homes and give services. The need was there, so I started doing what I could to help. It really warms my heart to do those services. We'll do a soak, a massage and a polish and these seniors feel revived! They are really appreciative, love the attention and love to talk – as do I!"
Mojo Mobile Spa's reputation is growing fast. She was a finalist for the Richmond Chamber of Commerce's Young Entrepreneur of the Year, named as one of Richmond Review's 30 Under 30 business stars, and has been nominated for a business excellence award by the Surrey Board of Trade. Taking treatments to private clients, hospitals, hotels, pamper parties and corporate events across Metro Vancouver, Tessa already employs her own team of Estheticians, many of who come to her directly from Blanche Macdonald.
These honours and achievements haven't arrived by accident. They're the direct result of years of hard work. Luckily, Tessa is doing what she's always loved.
"I've always been interested in beauty and skincare," she continues. "I started experimenting with fashion, makeup and taking care of myself in my early teens, and I always loved going to the spa. Before that, when I was a little girl my Dad used to travel a lot and would bring back lotions from the hotels he'd stayed in. I'd tell my friends that if they put the lotions on their faces every day they would look like Barbie!
"After high school I studied business and began working behind-the-desk at administrative jobs. That wasn't for me so I went backpacking for a couple of years to think about what I wanted to do with my life. On the last leg of my backpacking trip I visited my grandparents in England. I was getting a pedicure with my Mom and she suggested I look at the world of esthetics. I was mulling it over with my grandparents and thinking about how they're so caring and how they always go the extra mile to make people happy. Their names are Morris and Josephine – which inspired the name of my business, Mo-Jo! I'm continuing the family heritage! As soon as I returned to Canada I registered at Blanche Macdonald. I was passionate about esthetics and liked the wide variety of things the program covered. And I knew from reviews that Blanche Macdonald was the best Esthetics Program in Vancouver."
Read More

Even if you don't recognize the name, you'll be familiar with the work of Charlotte Tilbury. You've seen her handiwork on some of the most famous faces in the world, as Charlotte is the makeup artist Kate Moss, Jennifer Lopez, Rihanna and Penelope Cruz all call when they need to look their best. Which, in their lines of work, is a regular requirement. Quite simply, Charlotte Tilbury is makeup royalty.
Wherever Charlotte is working, Blanche Macdonald makeup graduate Kelly Mitchell is close by. Kelly travels the world from her new home in London, England as the National Artistry and Development Manager and a star member of the Global Pro Team for Charlotte Tilbury Makeup.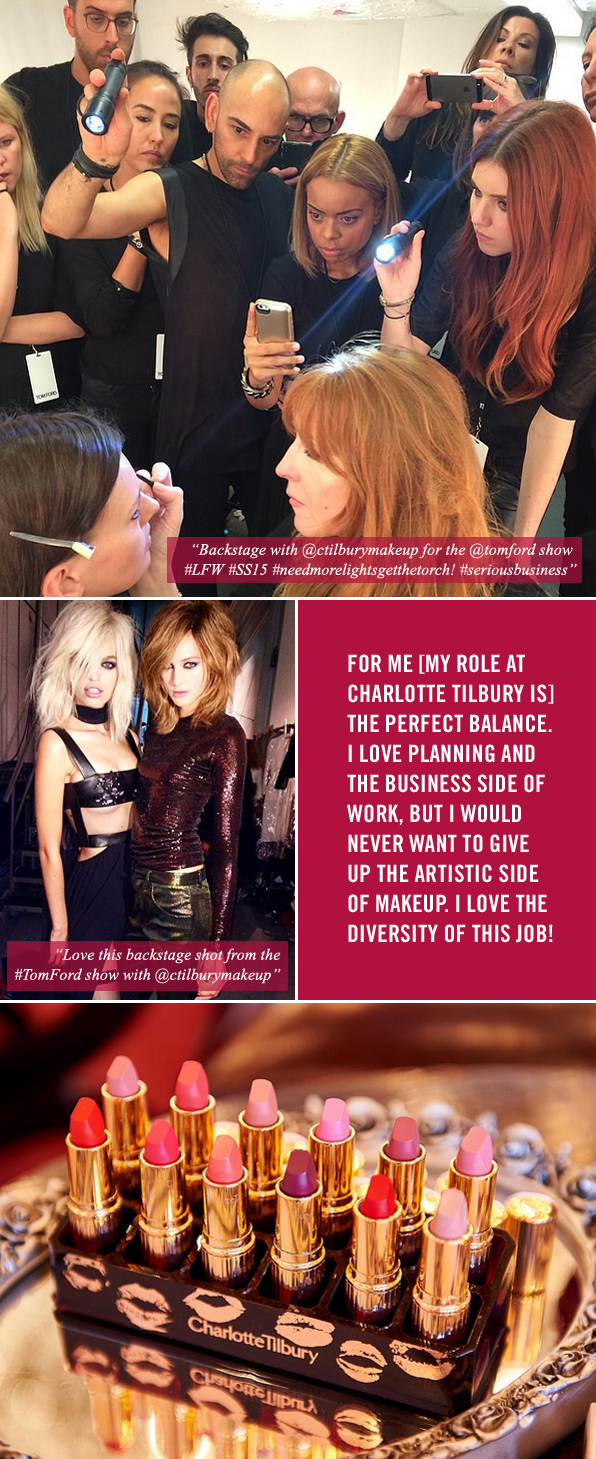 With two roles at a rapidly expanding company, plus a growing number of private clients, Kelly stays busy. That's fine with her. She loves every minute.
"Every month I'll do two or three starter trainings in the UK, Ireland or Amsterdam as the National Artistry and Development Manager," she explains. "That's a five-day course when we introduce new starters to our brand, whether they work in head office or for one of our retail accounts. We teach everything from Charlotte's history to the brand's philosophy and positioning, to doing practical makeup training. The next week I might be with Charlotte in LA, Chicago, New York or Vancouver to support her at a Global Pro Event. I might fly to Milan Fashion Week and do some shows. I also work once a week in the office creating content, developing and testing products and colours. For me it's the perfect balance. I love planning and the business side of work, but I would never want to give up the artistic side of makeup. I love the diversity of this job!"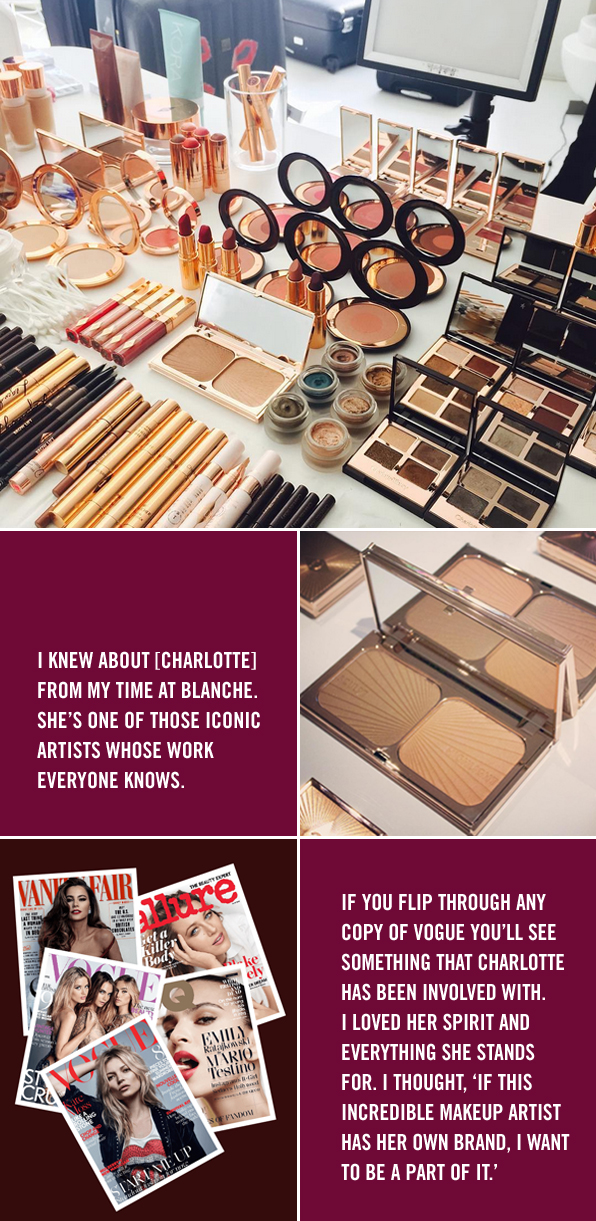 Kelly's infectious enthusiasm for the makeup line makes her a natural saleswoman. But that positive attitude didn't just arrive when she got the job. She's been that way since she started studying at Canada's top Makeup School.
"I didn't wear much makeup in high school, but I loved painting and working with people and fashion. I figured I would become a Makeup Artist and have a fun job while I'm young, then I would get a real job a few years later. My opinion about the makeup world changed quickly once I came to Blanche Macdonald. I'd never realized how many incredible opportunities there are in this industry and how I could develop my business skills.
"I was really eager. I was the student that stayed behind helping out and asking questions. I wanted to go for it. I realized I was learning from some of the best artists in the world. I was inspired by their work and what they'd achieved."
Read More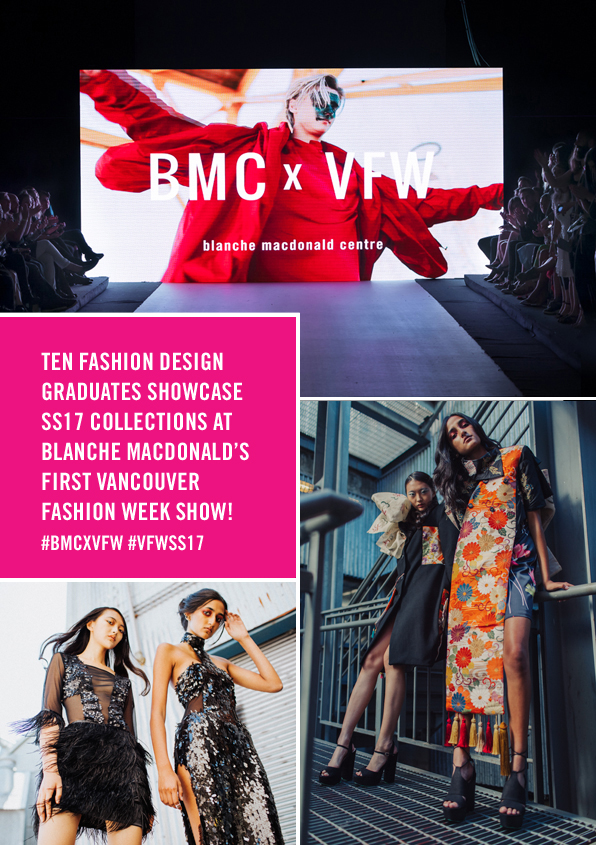 This year at Vancouver Fashion Week, there was a runway platform unlike any other: The first-ever collaborative show between Blanche Macdonald and the city's top-trending sartorial event unfolded under the eyes of the city's fashion and media industry elite.
From the moment the models began to emerge, it was clear that this showcase was a showstopper. Ten carefully curated Blanche Macdonald Fashion Design alumni from all over the world revealed three looks each to a packed forum of wall-to-runway journalists, bloggers, photographers, industry professionals, and fashion fans.
The audience found themselves whisked from one delight of to the next – first transported to the lively and eccentric world of Alex S. Yu; then to the fabulous collection of Evan Clayton's magical-girl couturiere; then awed by the hand-formed and dyed wool of Garret Alexander Elphee's singularly unique creations; then tantalized by the glittering animal prints and feathers put to use by Maryam Asgari. The startling range of stories, aesthetics and influences displayed by this prodigious international set of designers elicited the standing ovation that capped off the inaugural BMC x VFW show.
Read More

Think working as a wardrobe stylist means a never-ending stream of free clothes and cutting edge looks? For Blanche Macdonald Fashion Marketing graduate and Cross-Canadian stylist Jessica Clark the reality is a little different.
"As a stylist people think you're always working with high fashion. But on commercial jobs I need to make people look real. That's what my job is a lot of the time. My clients are trying to sell a product, so I'm trying to meet the creative vision of the ad agencies and art directors. How can I make this actor or model look like they own this product? How can I make them look like the target market?"
Jessica is adept at answering those questions. Regularly travelling across Canada, from her native Alberta to Vancouver to Toronto and beyond, she's styled for household name brands like Revlon, Maison Simons, Honda, Adidas, Kate Spade, Vince Camuto, Poppy Barley and American Crew. Her portfolio is understandably full of high end looks for magazines, designers and modelling agencies, but Jessica is acutely aware that being a successful stylist requires more than surfing the wave of the latest trends.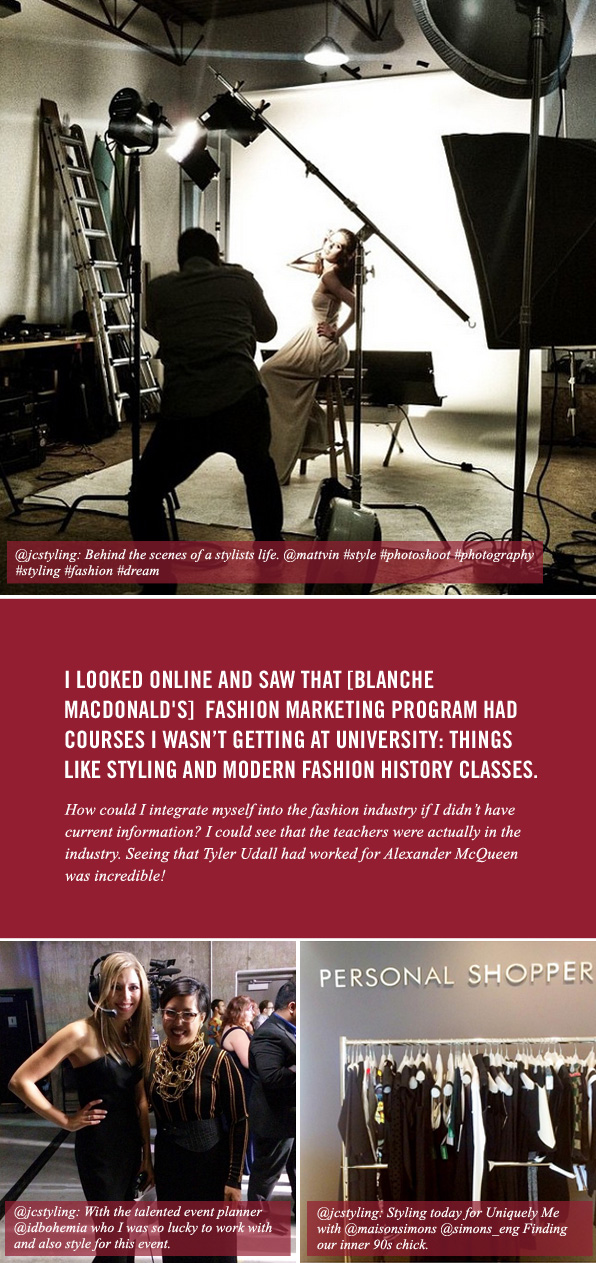 "I was recently flown to Toronto to work on an ad for an agricultural supply company," she continues. "It doesn't sound glamorous but it was an amazing campaign. A young farmer is proudly looking over the fields thinking 'This is all going to be mine some day.' If you're working on a farm, you're probably not going to be wearing an expensive jacket. I needed to make the clothing look like it had been worn for decades. The images are telling the story, so those images need to be believable. For a job like that I make mood boards so everybody is on the same page. We're a team, so I'm in constant communication with the clients and photographers. I want to be sure what I'm providing is what the clients want. And if they don't like my first choice, I have five other outfits on hand ready to go."
Professionalism comes naturally to Jessica. Her father is a commercial photographer and he provided the teenage Jessica with an introduction to the world of advertising, opening doors as she began a brief modelling career. It was on one of those modelling gigs where Jessica had her first encounter with the world of professional styling.
"Stylists weren't common growing up in Alberta, so when this guy started putting my belt on backwards, telling me to put my dress on backwards and throwing another dress over the top I thought it was so weird, even though I understand what he was doing now. I asked him what he did, and he said he was a stylist. I thought, that sounds like a fun job. I like putting outfits together."
Read More