Current Features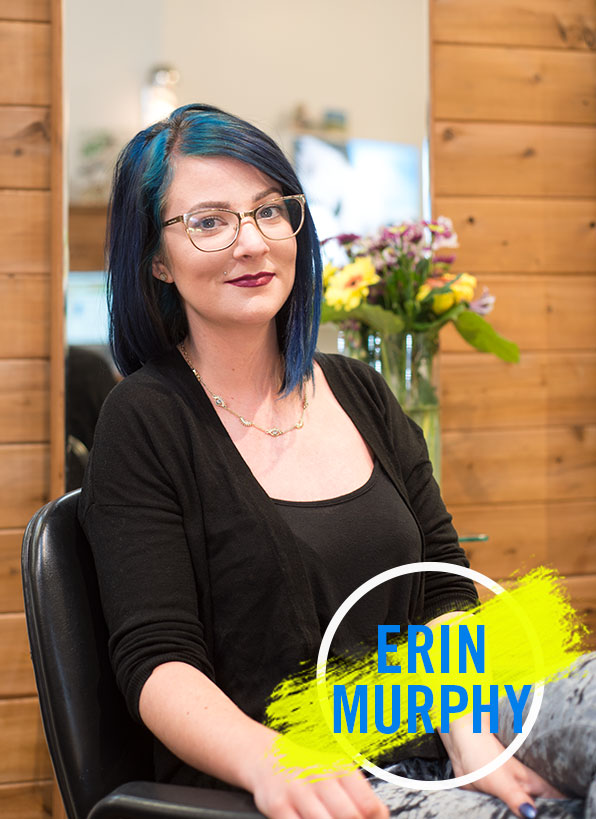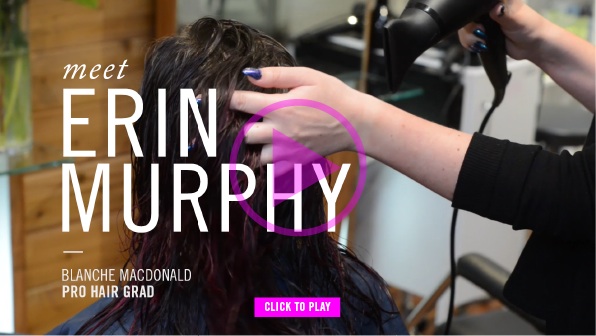 You'd hardly expect to find your hair's next best friend deep in the corridors of one of the city's busiest train stations - but that's exactly where you'll find Blanche Macdonald Pro Hair graduate Erin Murphy. Nestled in Vancouver, a city famous for its artists and creatives, Erin has managed to build a steady clientele at her salon, carving a niche out for her instantly-recognizable hair skills just a few years after graduating from Blanche Macdonald's Pro Hair program. Recently recognized by both Allure and Teen Vogue for her superior holographic hair creation, Erin's Instagram (@erinm_hair) teems with her most luscious creations : from silky smooth balayages to dizzying dollops of the most electric colours you could possibly paint! Stunningly sweet, gracious and humble, Erin is here to whip your locks into the frenzy you've always wanted.
Read More

If you find yourself in one of Vanessa Giles' classes at Blanche Macdonald, pay attention to every word. You never know when you're going to be treated to a magical story from the daily adventure that is the TV and film industry.
"On Once Upon A Time I was working with Ginnifer Goodwin, who plays Snow White. In a horseback scene Ginnifer was knocked to the ground by a horse. Our lead lady literally flew face first into the ground as hooves landed all around her! Ginnifer, being the trooper that she is, got up with her face covered in blood and the crew tentatively applauded her as she walked off to get treated. She asked me to accompany her to the hospital for stitches on her brow. It was up to me to calm her nerves about the prospect of scarring. I promised I'd do everything I could for her to continue shooting. We returned to the makeup trailer where I counter-shaded her swelling, covered her bruising, reshaped her eyebrow and camouflaged her bandage as best I could. She was able to return to set that same afternoon and I received flowers from production the next day for allowing them to keep shooting as planned."
Vanessa's always ready to save the day. The Blanche Macdonald Makeup graduate-turned-instructor has a dazzling résumé, working on blockbusters including The Chronicles of Riddick, Watchmen, Rise of the Planet of the Apes, War of the Planet of the Apes, 50 Shades of Grey, Sucker Punch, Star Wars: The Force Awakens, Night at the Museum 2 (which narrowly missed an Oscar nomination for Makeup), The Assignment with Sigourney Weaver, and the forthcoming Tully, where she was the personal Makeup Artist for the legendary Charlize Theron. Pretty impressive for someone who didn't even consider herself an artist until towards the end of her high school career.
"I really wasn't the best artist until I had an art teacher, Mr. Sandvoss, who showed me Georgia O'Keeffe's work," she recalls. "I'd never seen anything like that before. A switch went off in my head, and all of a sudden I could draw and paint."
From that moment Vanessa knew she was going to be an artist. She just didn't know what kind.
Read More

Vancouver, A.K.A. Hollywood North, is home to towering mountains, lush rainforests and stunning ocean views. It's a small slice of filming heaven which has helped make the past year one of the busiest and most exciting in Canada's Film and TV history. In and around Vancouver you can find alien invasions and fairy tale endings, Super Hero battles and monster truck adventures. It was a blockbuster year that saw studio space become limited due to an ever-expanding line up of productions from X-Files and Prison Break reboots to comic book juggernauts Arrow, Supergirl and The Flash fighting crime across the Lower Mainland. In a historic move Hollywood studio giant Skydance opened up one of the world's longest and tallest stages right here on the West Coast, breathing Altered Carbon to life in Netflix's biggest creative endeavor yet! With impressive scenery, diverse shooting locales and an incredibly talented pool of TV and film crew, the decision to utilize everything British Columbia has to offer was an easy one.
Vancouver boasts some of the world's best TV and Film Makeup Artists and Hair Stylists, a previously exclusive club that's now parting the ropes as high demand for their skills continues to skyrocket. With our city playing host to gruesome hits like Supernatural, iZombie and Deadpool our Blanche Macdonald Hair and Makeup family is beyond busy creating epic looks and winning major awards. In the past year they have been recognized with multiple Emmy, Canadian Screen Awards and Leo Awards for their outstanding work and dedication to their craft. The diversity of the abilities throughout our Fashion scene is becoming more involved and the Film & TV industry is taking note! They are scouting local talent and our contribution is only growing. From Vancouver to Prince George, film productions dotted the landscape in this momentous year and Blanche Macdonald graduates and instructors were lucky enough to take on leading roles.
At the forefront of many of the main costuming jobs that roll through Vancouver is Blanche Macdonald Costuming for TV & Film instructor Derek Baskerville. As an industry veteran with titles like I, Robot, Untold Stories of the ER and Wedding Bells behind him, Derek has an innate understanding of all the demands and responsibilities that come with a role in the costume department of any production. He also has an excellent eye for those students of his who possess such gritty sparkle. Students such as Fashion Marketing graduate Madison Douglas, who is excelling as an assistant to Derek on a number of his upcoming projects! Luckily for our Fashion Marketing and Design students, Derek is also an extraordinary mentor and has placed many Blanche Macdonald Fashion students and graduates behind the scenes of multiple productions.
"One of my greatest pleasures when hiring Blanche Macdonald graduates is that within a very short time they make themselves indispensable with their willingness to take it all on, 'own it' and have fun at the same time. In the industry we are always looking for people with fresh ideas and ways to make challenges work while working on tight timelines. We are looking for people who bring enthusiasm, courage and a positive attitude when they join a new costuming team!"
Read More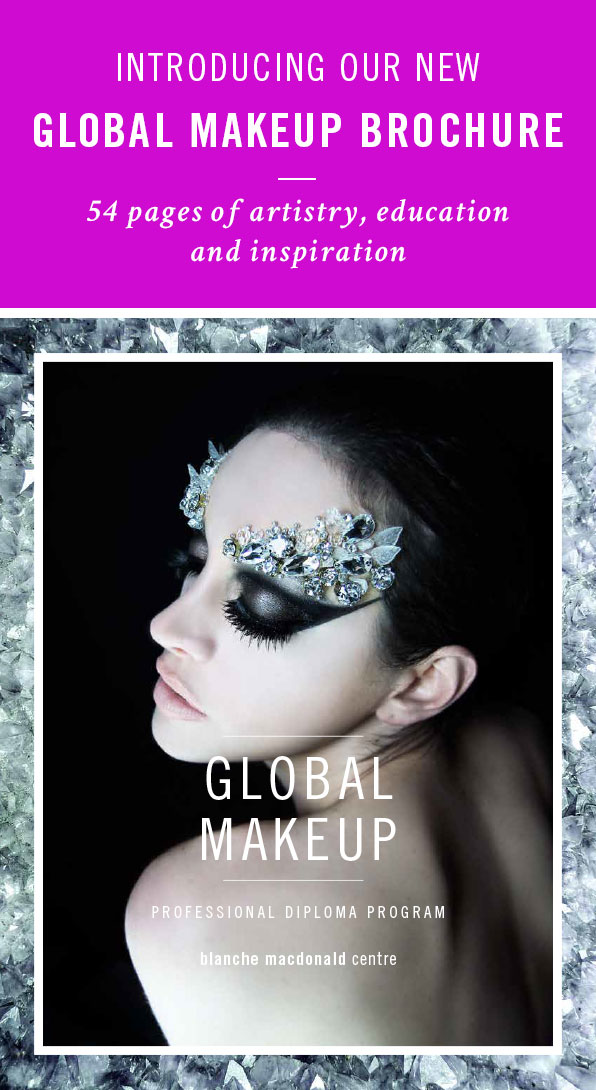 We're so excited to introduce you to the pillars of our Global Makeup Artistry program, the creative forces that drive it and the graduates who are continuing to gain world-wide recognition for their unmatched Makeup skills. Our commitment to the global artistry community has only strengthened our dedication and reputation for excellence. Throughout the years, we have been fortunate to have forged incredible relationships with some of the top artists in their field who contribute to the successes of our programs and our graduates even now.
We are so humbled to be recognized as the "Harvard of Makeup" by someone of Eve Pearl's stature. As a five-time Emmy Award winning Makeup Artist and one of the leading authorities on beauty, Eve Pearl is also a highly successful entrepreneur behind the international cosmetics brand Eve Pearl with over two decades of experience in TV, film, print and theatre.
Read More
Makeup is different for everyone. For some, it's designated to special occasions; for others, it's an essential daily routine. For Blanche Macdonald Freelance graduate AJ Woodworth, it's a sacred ritual, deserving of respect in an appropriate space and environment. Upon graduating from Canada's #1 Makeup School, that's exactly what she set out to create. AJ's dreams of a private and comfortable makeup studio have come to fruition in The Glamoury – Yaletown's newest luxury styling salon.
"Before I did anything in makeup, I was a musician and there were always TV segments, performances or rehearsals that I had to be done up for, usually super early in the morning. I do not go out without my makeup on so the idea of going out to a store to get my makeup done, if they were even open that early, was horrifying. I always wanted something that was really private and that gave the clients an experience, which didn't exist. So that's when this idea started to take hold in me."
With the idea firmly planted, AJ took the plunge and began searching for the perfect location to create her makeup heaven.
"Yaletown was a natural place to be in my mind. I was putting my business plan together and I contacted a leasing agent. I told him what I wanted and he basically told me it would be impossible! Weirdly enough, he called me a few weeks later and was like 'I found your space!'"
Armed with a business plan and now a place to set it all up, it was time for AJ to decide exactly what aesthetic and feel she wanted her dream studio to take on.
"I can't take credit for the beauty in here! The one thing I can take credit for is the fact that I knew I wanted something different, something that would make a statement and feel luxurious when you were in it. I knew I wanted lights around the mirrors, lots of privacy – hence the partitions – and an old Hollywood vibe but without the sparkly chandeliers. So I started working with the team at Ste Marie [design studio] and they presented me with this colour palette of reds, eggplant, brass and wallpaper and I just fell in love. They basically took everything I wanted, combined it all and bumped it up 1 million percent! We also worked with Glasfurd & Walker [branding and identity design studio] who did all of our branding and signage."
Read More

Amidst the sprawling metropolis of New York City, film fanatics and beauty aficionados flocked to Pier 94 New York, New York this past month to take in everything Makeup at the prestigious International Make-up Artist Trade Show (IMATS). Held annually in only six mega makeup hubs across the globe (LA, New York, Vancouver, London, Toronto and Sydney) IMATS is a cosmetic wonderland and an opportunity to rub shoulders with the best of the best: from tip-top Makeup industry veterans and innovators, to Award-Winning Artists and YouTube/Vlogger sensations. This year, two superstar Blanche Macdonald Makeup prodigies – recent Global Makeup graduate and first time competitor from Ottawa, Ontario Aurezo Sanari as well as Global Makeup Co-op graduate and two-time competitor from Monroe, Michigan, Erin Geer – were selected to compete in the hotly contested Battle of the Brushes competition at this renowned event. With thousands milling about and Facebook live feeds streaming away, these two took to the stage with a carefully selected group of outrageous new makeup artists to battle it out for those coveted podium spots.
Blanche Macdonald: How did you prepare for this event?
Erin Geer: With the Battle of the Brushes Prosthetics category you aren't told how many pieces or even what exact pieces you will be getting. Because of this, there is only so much prep you can do. I practiced at home for the last two months, making sure I knew my layers and the order I would do things in so that I didn't get lost. This helped a lot in my time management.
Aurezo Sanari: I received the news that I was a finalist seven weeks before the show, which is exactly when the preparations began! In terms of preparing for the day itself, I packed doubles of every product I used just in case something didn't work!
Read More
With thousands of artists soaring into our halls from around the world each year, our classrooms have become dynamic global communities under the unitedly diverse banner of our Blanche World – a United Nations of creativity! In a glorious culture clash, our International students import a vibrant collection of new customs, insights and inspiration that colour our world in exciting new ways. The leap from their home countries to our corner of Canada comes with big change, courage and incredible journeys. Speaking in the international language of passion, we sit down with our global talent to talk the dreams that brought them here, the challenges they overcame, and all about the power of being an artistic representative in a new country. Meet the burgeoning stars that have joined us from around the globe in our UN storytelling!

Global Makeup Graduate Mayuko Tsuji has quietly captivated her audience since day one at Blanche Macdonald. Her charming demeanour, enthusiasm to challenge herself and commitment to learning have been nothing short of inspiring. Quietly brave and fearlessly bold, it's hard to believe this Osaka-native moved all the way to Vancouver on her own - despite speaking very little English.
Mayuko wasted no time getting comfortable, eagerly immersing herself in a new culture and navigating her way through a foreign city. She then settled into her studies at Canada's Top Makeup School where she continued to demonstrate gratitude and benevolence to anyone that crossed her path. Her soft spoken words are articulated with profound sincerity as she recounts her experiences of coming to Canada.
"I am originally from Osaka, Japan. Japan is an incredible country for so many reasons, however, it is a difficult place for an aspiring Makeup Artist. When I was growing up I was very interested in Makeup and I was always reading fashion magazines and watching video tutorials about makeup. I remember this time a friend asked me to do her Makeup. I was surprisingly pleased with the outcome and it was after that experience that I said to myself, 'This job is amazing. I could make people really happy'."
Read More
They're the pruners of our strands, the keepers of our secrets and the masterminds behind those picture-perfect balayages. These Blanche Macdonald Pro Hair graduates are just getting their feet wet in the whirlwind world of Hair, but already, they're making waves in their new careers. Spanning the scene from stylists and barbers to Pro-Educators and entrepreneurs, our grads own their very own hair salons, hold the hottest seats in top salons, and work behind the scenes to create stunning editorials. Armed with the knowledge of our internationally recognized training, and a pair or two of super-sharp shears, these remarkable individuals have heard the entrepreneurial call of the Hair world and they have answered back. With Contessa Awards and other prestigious national and international competition wins under their collective belts, our grads are climbing the ranks of local and international scenes one snip at a time. It can be hairy, but they're ready for anything!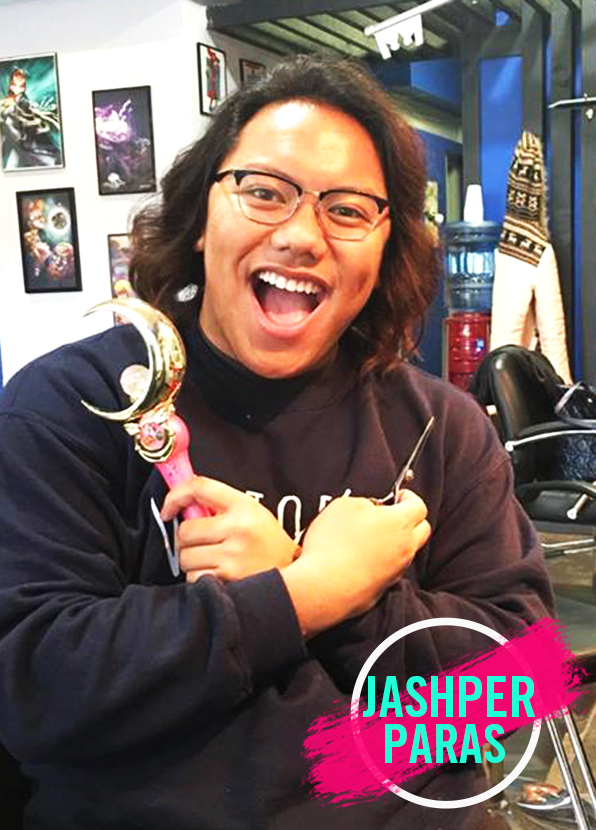 What happens when you mix a spot of South Park, a dash of Pokémon and a heaping tablespoon of competitive cheerleading and shake it up with a little somethin' extra? You get Blanche Macdonald grad and wearer of infinite hair bows Jashper Paras! With such eclectic interests, it's no surprise that Jashper has found his home at B-Bombshell Salon "Where Geek is Chic." Jashper is here, in charge and ready to rock your hair world with a dazzling smile that just happens to bring out the cutest dimples you ever did see - and let's be real, a dramatic cape flourish upon entrance. With a penchant for everything and anything from easy everyday looks to crazy fashion colours, there's nothing he can't do - including a darn good bouncy blowout. Skills? Check. Entertaining? Double Check. Enter your new stylist Sailor Jashper Paras: Agent of love, beauty and killer hair days.
Read More
With thousands of artists soaring into our halls from around the world each year, our classrooms have become dynamic global communities under the unitedly diverse banner of our Blanche World – a United Nations of creativity! In a glorious culture clash, our International students import a vibrant collection of new customs, insights and inspiration that colour our world in exciting new ways. The leap from their home countries to our corner of Canada comes with big change, courage and incredible journeys. Speaking in the international language of passion, we sit down with our global talent to talk the dreams that brought them here, the challenges they overcame, and all about the power of being an artistic representative in a new country. Meet the burgeoning stars that have joined us from around the globe in our UN storytelling!

Beauty. For Global Makeup graduate Eva Svobodova, it has been a lifelong fascination.
At University in her home country of the Czech Republic, Eva earned her Bachelor of Arts Degree studying the question "What is Beauty?" analyzing the theories of critics, philosophers and art historians who, like Eva, were searching for the answer.
Now, halfway across the world, Eva explores that very same question as a professional Makeup Artist in Vancouver, Canada. Moving from the theoretical to the practical, and from the pen to the brush, Eva creates beauty through her daring and dazzling artistry. Through her bold, colourful work she challenges us to question, to interact with and marvel at the medium of makeup.
In her short career Eva has graced the podium three times at the IMATS (International Makeup Trade Show) Battle of the Brushes, and she is already working as an in-demand Freelance artist for editorial, fashion shoots and films. With all that Eva has achieved just a month after her graduation, you would think she was born a makeup artist. But before she stumbled upon Blanche Macdonald two years ago, she didn't even know makeup schools existed.
"I was 27 and I still didn't know what I wanted to do. I was googling one day and I found Blanche Macdonald by chance. I didn't know you could actually study Makeup Artistry! So when I found out about the school, I knew I wanted to do it."

Eva had always loved art, but she was left unfulfilled by her academic studies at University. Hoping that things would become clearer with a fresh perspective, Eva decided to travel and improve her English. She obtained a work permit for Canada, and landed on the West Coast ready for an adventure. But after a year in Vancouver, the only thing that was clear was that she wanted to remain in Canada. With work permit options exhausted, she decided to apply for a student visa. But to study what?
"I wanted to do something creative," she recalls. "That was when I discovered Blanche Macdonald. I came and met with a director, read the reviews and it was all great. Everyone was so excited about this Makeup program. The atmosphere was so professional and everyone was so nice. I was really excited. So I said okay, let's do it! And I am glad I did it!"
Read More

Makeup students lucky enough to be attending Leah Ehman's classes at Blanche Macdonald soon realize that they're being treated to more than expert training from a Gemini Award-winning artist. They are getting the opportunity to fall in love with the artistry and emotion that go hand in hand with the creative process.
"I was on the set of Tron: Legacy when I realized that I'd achieved what I'd set out to do," she smiles. "There is a scene where Garrett Hedlund enters the Tron world and is transformed into a computer program. The director asked us to come up with a look that had never been seen before. We were able to create some pretty amazing makeups that I'm very proud of on that show. On that set I was surrounded by international superstars like Jeff Bridges and Olivia Wilde. I'd already been working in film for many years, but that was a moment when I realized where I was and the level of work I was producing. That's when I realized my dreams were coming true."
Leah understood the magnitude of her achievement. She's been a major contributor on TV shows and films including Suckerpunch, Stargate Atlantis, I Robot, The Big Year and countless more. Coming from the tiny northern Alberta town of Athabasca, it's been a remarkable journey.
"Art has always played a major role in my life. Both my mother and grandmother were art teachers and my brother grew up to be a professional artist. Even today, one of my favourite things to do is spend an afternoon at galleries or museums. I remember being five years old scooping up clay to sculpt horses, and copying paintings from my parents' art books.
"Growing up I was often mistaken for a boy. I was an ugly duckling always wishing for the swan transformation. I would save up all my babysitting money and invest it directly into magazines, clothes and of course makeup. I used the makeup to paint a more feminine me."

Leah began her working career in hair salons, moving from Calgary to Edmonton and eventually Vancouver. By the time she reached Hollywood North, no one was mistaking her for a boy anymore.
"A talent agent spotted me and asked if I'd like to be an actress. I didn't have the personality for that, but I did work as an extra once and awhile."
One of those shows in need of a stunning extra was the X Files. It was where Leah's eureka moment arrived.
"I walked into the hair and makeup trailer and I couldn't believe it! They put me through the works. That's when I first saw the level of excellence involved in being a film and television Makeup Artist. I thought to myself, I could do this!
"I attended makeup school in Vancouver, but I didn't receive the level of education that Blanche Macdonald students get. Not even close. I had to seek out extra training on my own. Monique Venier was a teacher of mine. She was incredibly inspiring. She took me under her wing. I assisted her on photo shoots, runway shows, and even my first film. It was a cheesy film called The Fear Resurrection. It was so exciting. I couldn't wait to jump out of bed and get to work every day. Monique was everything I wanted to be. Now that I'm a teacher, I strive to do the same: share my knowledge, inspire and nurture creativity."
Read More