You might not know Min Pak by name, but if you've looked into our Nail Studio program at all, you'll have seen her work—and we're not just talking about killer nail sets. Min Pak is the secret weapon of the Nail Studio program and there is no corner of the classrooms, curriculum, or student kits that haven't been touched by her brilliance. As our leading nail expert, Min's time with Blanche Macdonald goes back to 2005 and though she took up an incredible job opportunity in Korea soon after graduating from our Esthetics program, Min knew that her graduation day was not the last she would see of the Blanche Macdonald halls. And she was right! Nearly nine years ago, Min was brought on as an instructor for both our Esthetics and Nail Studio programs. She remains the only instructor who has taught every module of both programs! Now, in her role as Lead Nail Studio instructor, Min gives each nail student and the team of instructors all the tools they could possibly need to succeed in the wide, wonderful world of nails.


What is the best thing about doing nails?
Being able to create something so beautiful from a bare canvas is my absolute favourite thing about doing nails! I love, love, love shaping, and contouring nails to a perfect curve. I could do that all day! Most of my students know that the sound of filing is music to my ears.
You've been instrumental in shaping our nail studio program and its curriculum into the incredible program it is today. Can you describe how the nail program has changed during your time at Blanche? What was your role in helping it evolve?
When I first started nine years ago, we only had two Nail Studio classes in the evening. Now, we have four classes happening simultaneously and they are all full to the maximum number of allowed students per class—I think that says it all! We have definitely grown to be one of the staple programs that Blanche Macdonald offers. My role in that that would be changing the curriculum over the years, researching and editing the kits according to the changes in the industry and building a team of instructors by training them, leading them to become eminent instructors with their own style. Being a lead instructor of this program has allowed me to build the strong team that we have today. Programs can't shine without the hard work from an excellent team of instructors to make everything happen!
What excites you about instructing and being a nail expert at Blanche Macdonald?
The most exciting thing is witnessing our students grow from being a beginner in the world of nails to graduating with a set of skills that they can be proud of. I get students to document their work from day one because I want them to see how far they've come within six months. It's something very special and it gets me emotional every time!
Another exciting part of being an instructor here is working with our team of instructors alongside [Executive Program Director] Simona [Gozner]. Simona has been a great mentor to me and to all of us here at Blanche and I couldn't imagine creating such a great program without her leadership and the synergy we have from all of our nail instructors. We work very well together!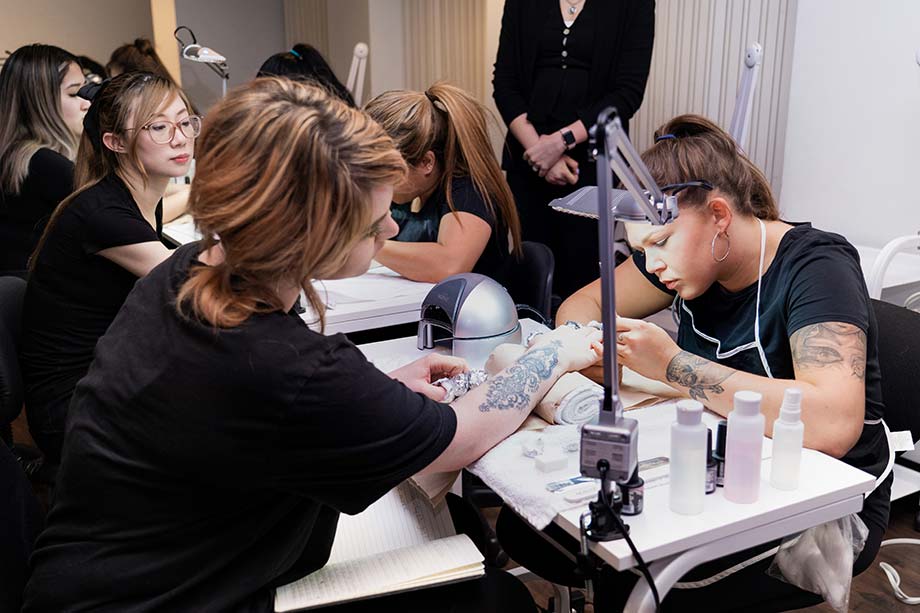 You are also a mom to an adorable baby! How do you balance being an instructor and being a mom?
I have a newfound respect for full-time at-home moms and full-time working moms!
These days, I am in the classroom a couple days of the week and focus more on mentoring the new and existing instructors on the other days. This gives me time to be myself and to be with my family the rest of the time so that I don't feel like I'm losing myself to either of the responsibilities that I have and love.
What kind of students can you find in our Nail Studio program?
Our Nail Studio students are very enthusiastic about this program and the industry! They come from a wide variety of career backgrounds, cultures and ethnicities. The age range is very wide as well–we can have students from age 18 to 60 in the same class. Some students love nails and want to learn everything about how to do them. Some students have never even had a manicure, pedicure, or a set of artificial nails done but are fascinated by the industry. Some want to tap into their artistic side and be able to express their individuality through nail art. Some want to make a career change and some students are interested in nail training so that it could be their second career on the side, or even as a hobby. We have moms who have been at home raising their beautiful babies and want to learn a skill that can give them financial freedom to support their family without having to sacrifice precious time away from them. We're very lucky to have such students with great learning ethics!
What inspired your career in Esthetics and Nails and what was your journey like?
Looking back, I think what really drew me to this industry was observing my mom and her friends trying different skin care products, nail polishes, and getting facials and manicures at home from these two lovely, graceful and well put together ladies. I had my first set of nails at the age of 17 and was fascinated by the process, watching their every step, trying to learn how they were doing it. Then I dreamt of opening a spa but I knew that I had to get proper training to make that happen. Fast forward a few years later, I enrolled in Blanche Macdonald's Esthetics program. Shortly after graduating, I was offered work in Korea and so I left Vancouver and gained a lot of experience in the world of Korean spas and the medical side of this industry. Even then, I couldn't shake off the urge to become a nail technician so I took an artificial nail course in Korea to add to my resume and industry experience!
The Nail Studio program is an environment that encourages creativity and artistic freedom. How do you balance the technical aspects of nails while also being creative in the classroom?
Most of our students are fascinated by the nail art they see on social media, so they are very eager to jump into that. However, without being able to build a strong set of nails that can last over four weeks and hold the art, you won't be the nail tech that everyone wants to go see. I am a very realistic person so I always make sure I let the students understand this on the first day. I emphasize the importance of building a technical foundation. We start at zero and build their skills up all the way up to a level where they can confidently play with their creativity and imagination.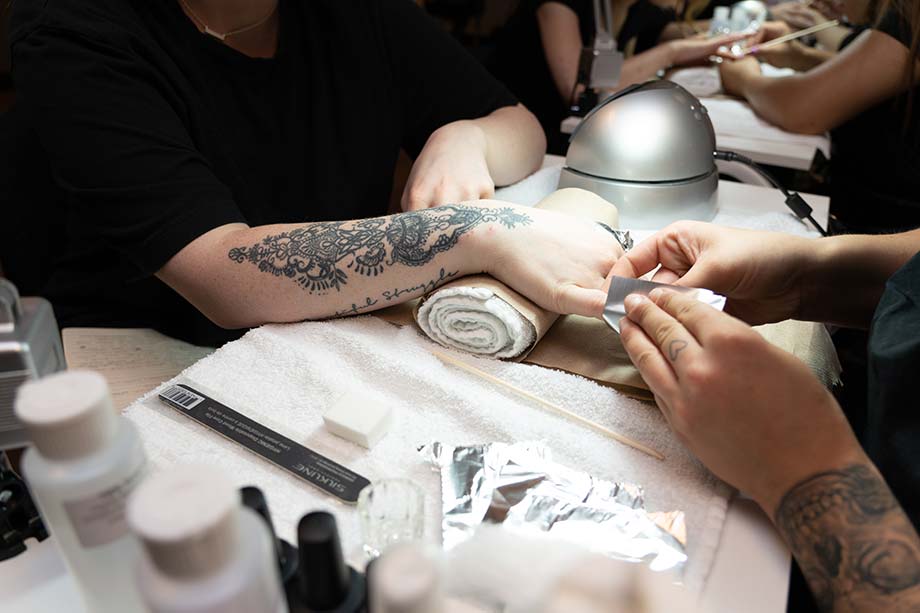 How does the program and the instructors keep up-to-date with such a rapidly-changing industry?
The Canadian nail industry is catching up with other countries at a quicker pace than ever before! Social media makes it easier for us to check out nail trends from all around the world. We look at technology and products that are new and up-and-coming and we also attend the spa/nail show every year. We try to incorporate what we feel is best for our students' training and discuss how to apply it to our classrooms. We are always building and changing our curriculum, making sure that it's up to industry standards and that is the best choice for our students.
What is something you wish more people know about the nail industry?
I wish people knew that being in this industry doesn't mean that you will only be doing nails. The opportunities are endless! You could become a brand ambassador, representative, educator or even a nail brand creator. Or, you could have an amazing freelance career, or become self-employed and open your own salon, or even work in TV & Film or do runway shows. The times are so different now than how it used to be in this industry. We have access to more information and opportunities with the trends and technology that are all around us to create our own future and brand!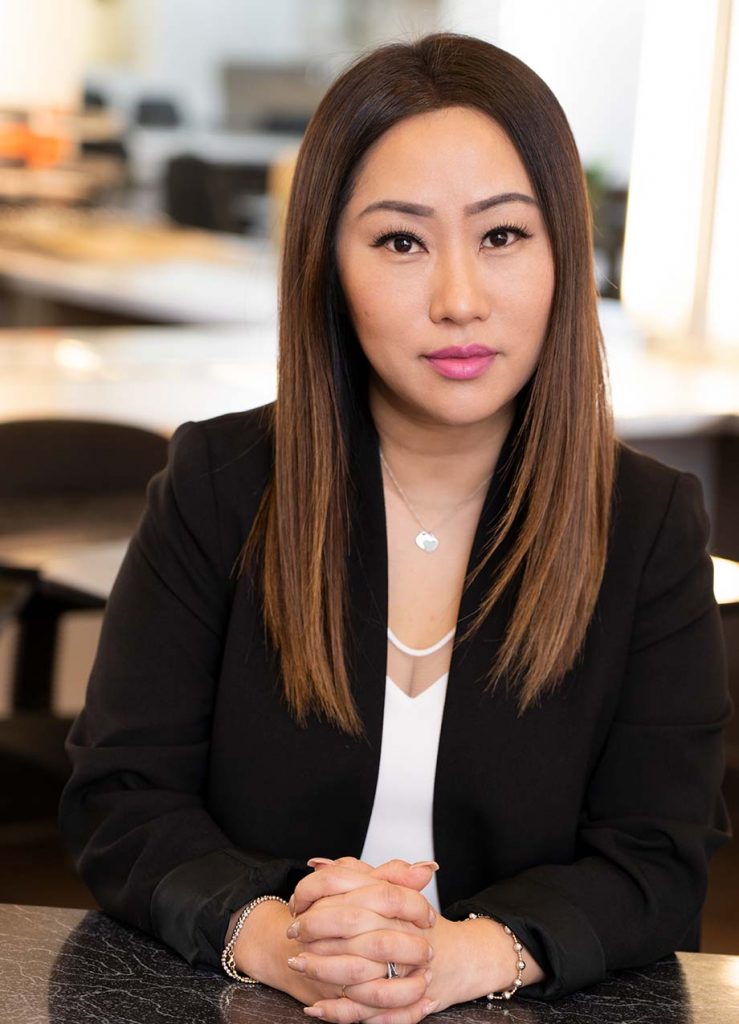 If you could give some career tips for success in the nail industry, what would they be?
Practice. You get out what you put in. Set your goals realistically and strive towards that goal. Through practice, you will gain that "trial and error experience" and that is priceless. I try to make sure that I can accommodate all methods of learning for each student in the classroom, however that isn't going to be enough practice or learning time. I make myself available to my students via chat after hours and even after they graduate so the support is always there. You can't go to school two days a week and come out as a nail expert. You have to review, practice, update and re-train the skills all the time! Even the instructors!
It's also important to look at your strengths and weaknesses and from there you focus more on the challenges that you seem to always face and emphasize your strengths to make your own!
3 P's: Be personable, have personality and be professional! We prepare the students to work in the industry, ready, from day one. We build on all aspects of the industry, not only the technicality part of it but everything from professionalism to business part of this industry. I want to pave the way so they know the reality of the industry and succeed in it!