Nail Studio Program: Graduate Highlights
The Blanche Macdonald Centre is pleased to highlight some of our notable alumni. These graduates have excelled both personally and professionally, making an impact on a local, national and global scale. Read about their success and how Blanche Macdonald's Cosmetology School impacted where they are today.
Linda Trang Ly
Nail Studio Graduate
Owner of Onyx Aesthetics Studio - Vancouver, BC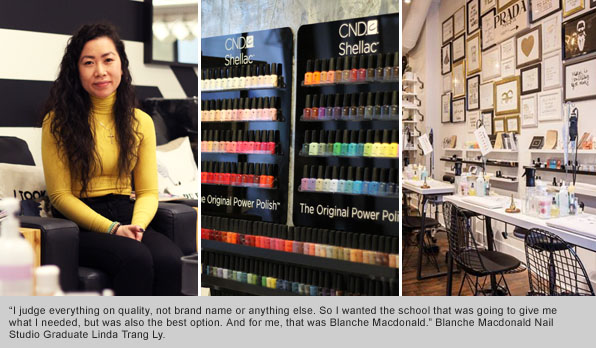 Walking into Onyx Aesthetics Studio is like walking into a world where every day is a good nail day. It's a place where beauty is continuously unfolding; a place to be primped and pampered in total tranquility. In just two short years Onyx owner and Blanche Macdonald graduate Linda Trang Ly has cultivated the perfect space to showcase her inimitable esthetics skills: an IG-worthy salon with a killer team of estheticians and an impressive roster of clients.
Although Onyx has already achieved great success in its short life, the studio was a long time in the making. After completing the Nail Parlour program at Canada's Top Nail School, Linda spent nearly a decade doing nails in Ontario and Connecticut, until Vancouver's nail scene was finally established enough for Linda to bring her skills back home.
"When I was trying to get into the industry after school, everyone here wanted French manicures on sport length nails. I knew that if I stuck around I would change careers again, so I moved to Toronto. Because of that, I've been perfecting my skills and doing crazy long nails with art for the last 10 years! And this was even before all the gel polishes came out. I always knew I would come back home, but I needed it to be the right time for what I wanted to do. Once I saw on Instagram how things were evolving in Vancouver, I knew it was time to come back."
Read more about Nail Parlour Graduate Linda Trang Ly
Steph Urmeneta
Nail Parlour Graduate
Owner of Haus of Lacquer, Nail Technician at Queens Boutique, represented by NOBASURA - Vancouver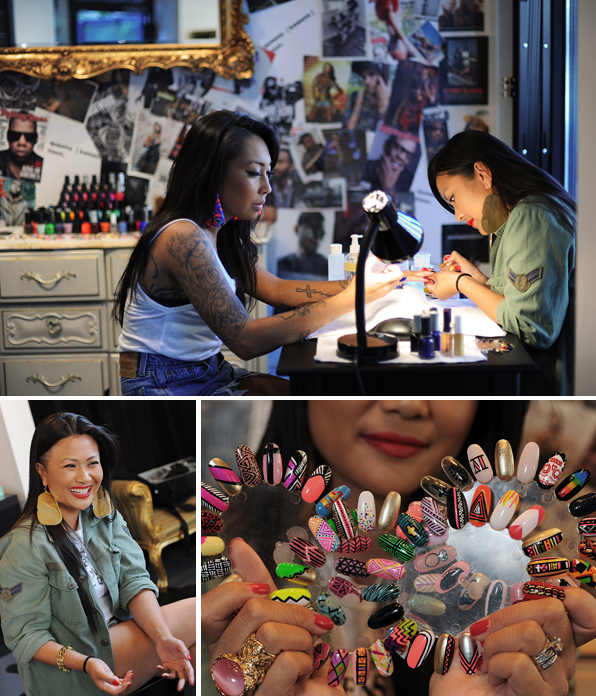 The great artists always find their medium. Michelangelo had his marble. Hendrix had his guitar. For Blanche Macdonald Nail Parlour graduate Steph Urmeneta, her mini-masterpieces come to life on clients' fingers on a daily basis. She is, by any definition, a true nail artist.
"To me, the best thing is the reward of seeing my work on someone else. Spotting someone walking down the street with the nails you gave them is amazing. Seeing something reposted on tumblr gets me every time."
"I spoke to other schools but I knew right off the bat that Blanche Macdonald was the place for me. Everyone seemed to be smiling and happy, it had the Nail Program that I wanted and it had the reputation. That's what I researched first – what were spa directors looking for. A lot of them were saying, if you go to Blanche Macdonald, that's an immediate in."
Read more about Pro Nail graduate Steph Urmeneta
PAIGE ROY
BLANCHE MACDONALD GRADUATE, NAIL STUDIO AND MAKEUP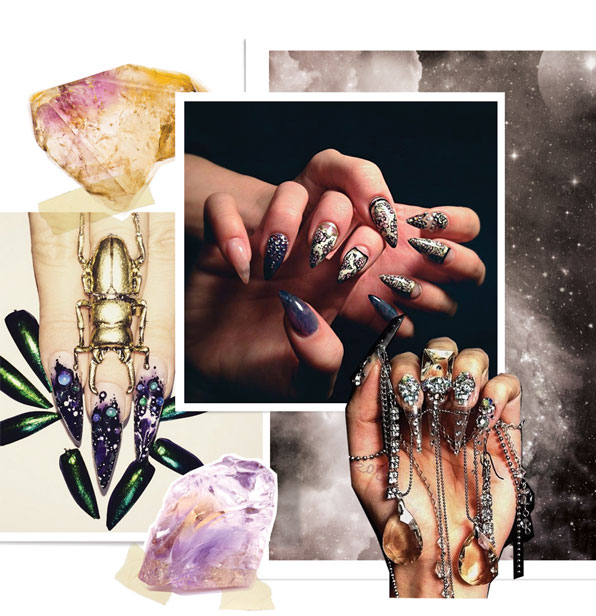 Talon Tales—

From monarch butterflies to dragon's treasure, beetle shells and lightning storms (to name a few), twice-graduate Paige E. Roy has been metamorphosing the traditional manicure into petite, wearable tales of fantasy and magic for her clients at Winnipeg's hottest salon, on editorial sets with leading local creatives and on the international stage in competitions.
KEIKO MATSUI
BLANCHE MACDONALD GRADUATE & iNSTRUCTOR, NAIL STUDIO, OWNER OF AWARD-WINNING GLAM NAIL STUDIO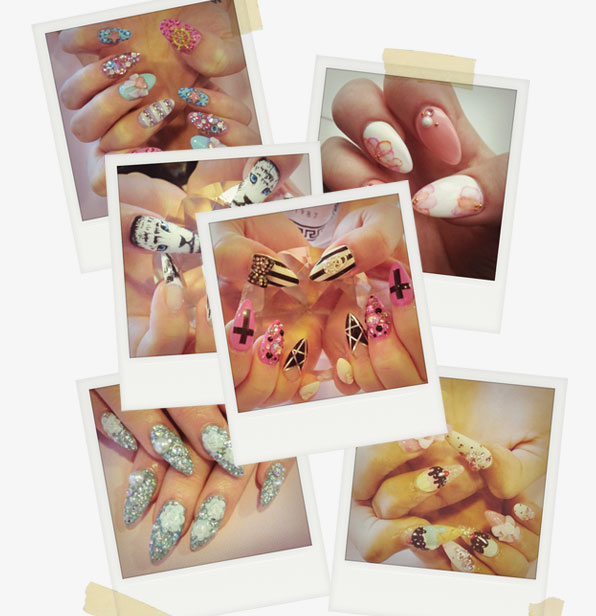 Bring The Bling—
From toothsome 3D florals to exorbitant, no-holds-barred bling, graduate-turned-beloved-instructor Keiko Matsui and her Award-Winning Glam Nail Studio (with over 29 trophies to date!) are creating a new niche by educating Vancouverites about Japanese nail art technique and design!
STEFANIA FLEX
BLANCHE MACDONALD GRADUATE, NAIL STUDIO, FREELANCE MAKEUP AND ESTHETICS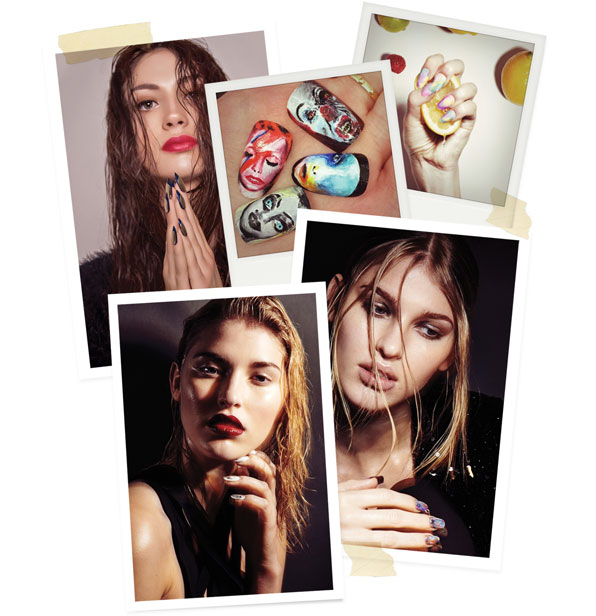 Fresh as Flex—
She may be a fresh face, but graduate Stefania Flex has already made a big name for herself amongst Vancouver's cornerstone creatives. With her fine-art approach and bold hand with hues, her nails have found powerful creative pairings in the high concepts of editorials, all whilst keeping one talon tucked into mobile manicure work.
ROLL CALL
A selection of Blanche Macdonald Nail Parlour graduates and their career placements.
Afrooz Ghazinoor, Nail Technician, Shanaz Spa
Alla Borisova, Freelance Nail Technician
Allison Johnston, Nail Technician, Holt Renfrew Spa
Alysha Thompson, Nail Technician, The Nail Zone
Amanda Massey, Nail Technician, Id Salon
Amanda Yu, Owner/Nail Technician, Extra-Ordinails
Amy Nguyen, Owner/Nail Technician, Socialite Nails
Amy Tadeuszow, Nail Technician, Tropical Oasis Tan and Spa
Ana Carbonneau, Nail Technician, Elements Spa, Yaletown
Angie Riddle, Nail Technician, Get Nailed, Whistler
Anissa Ng, Nail Technician, Absolute Spa
Ashley Stephenson, Nail Technician, Skin Concepts, Surrey
Azadeh Saki, Nail Technician, Angelos Salon and Spa, Port Moody
Barbara Mcgowan, Nail Technician, Beauty Solutions
Brenda Valkenier, Nail Technician, Crysalis Urban Refuge
Caroline Fisher, Nail Technician, Spa Utopia
Cass Schiffer, Freelance Nail Technician
Courtenay Markle, Nail Technician, Head To Toes
Debbie Campbell, Nail Technician, Heads Up
Denise Little, Owner, Nail Spa - Osoyoos
Elena Sebastiano, Nail Technician, Polished Piggies
Guylaine Gagnon, Nail Technician, Steiner Cruises
Jenny Tran, Nail Technician, Vanessa Nails
Jey Reyes, Freelance Nail Technician
Jody Belanger, Freelance Nail Technician
Ju Yu Cheng, Nail Technician, Lepetit Spa
Julianne Harper, Nail Technician, The Pier Spa, Sidney
Kelly Brulotte, Nail Technician, At your fingertips
Kim Palmateer, Freelance Nail Technician
Kimberley Manning, Nail Technician, Infinite Mobile spa - Lower Mainland
Krista Verhagen, Nail Technician, Honey Dew Dayspa
Kyung Lussier, Nail Technician, Absolute Spa
Leah Verpy, Nail Technician, Dolce Speranza
Lyssa Maclaren, Nail Technician, The Nail Bar
Maiko Sueta, Nail Technician, Glam Nail Studio
Maryam Anwari, Nail Technician, Spa Utopia
Melissa Gauthier, Nail Technician, Spa Utopia
Micheline Brennan, Nail Technician, Get Nailed - Whistler
Michelle Catton, Freelance Nail Technician
Michelle Guenther, Freelance Nail Technician
Min Pak, Nail Technician, Diva Deva - Korea
Petrina Soiseth, Nail Technician, Pillars
Rosanna Marano, Nail Technician, Holt Renfrew Spa
Sabrina Bajwa, Owner/Nail Technician, Beauty Mantra
Sabrina Wagner, Freelance Nail Technician
Sherrel Baby, Nail Technician, Holt Renfrew Spa
Stacy Wang, Nail Technician, Bella Nails
Tanya Izatt, Freelance Nail Technician
Tencia Wong, Nail Technician, Shine Nail Bar - Richmond
Vicky Monterrosa, Nail Technician, Junior Instructor – Blanche Macdonald Centre
Wendy Duong, Nail Technician, Salon Beauty Bar
Yue Hua Ding, Nail Technician, Eccotique Dayspa
Zaharenia Chnarakis, Nail Technician, Absolute Spa
Zahra Jaffari, Nail Technician, Socialite Nails - White Rock
Note: some of these Nail graduates may have changed positions in the interim.
Are you a BMC Graduate?
Are you a Blanche Macdonald Nail Studio graduate interested in being profiled? Click here to send us your latest career highlights; we would love to hear from you!