Esthetics & Nails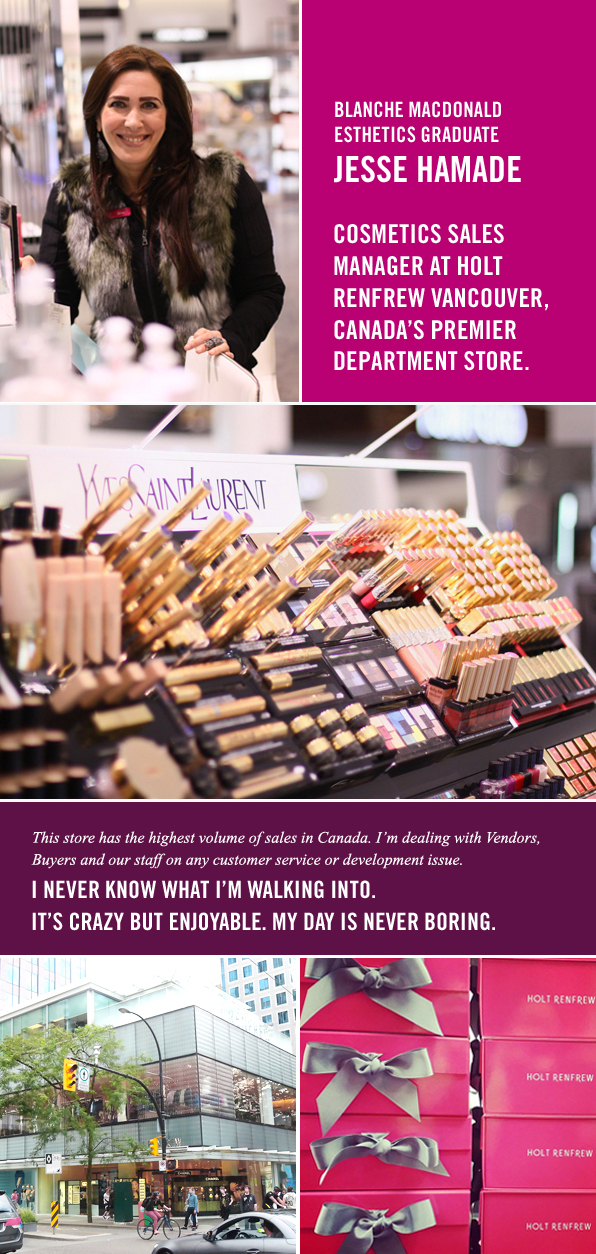 The phone never stops ringing.
Every five minutes, without fail, Jesse Hamade's in-store cellphone bleeps into life. That's entirely normal for one of the three Cosmetics Sales Managers at the Vancouver branch of Holt Renfrew, Canada's leading luxury department store. She's in high demand.
The continual stream of questions and requests doesn't faze Jesse in the slightest. An ability to deal calmly with the issues at hand comes with the territory.
"It's chaos!" she laughs when we bring up the question of what a typical day at Holt Renfrew looks like. "This store has the highest volume of sales in Canada. We have 80 associates in our department and if I'm the only manager on duty it gets busy. My phone is always on and my team is always calling me for something. I'm dealing with vendors, buyers and our staff on any customer service or development issue. I never know what I'm walking into. It's crazy but enjoyable. My day is never boring."
Jesse is Holt Renfrew's Cosmetics and Skincare department's swan, gliding serenely on the surface but working hard underneath all the same. And a major part of that work is ensuring that Holt Renfrew's many associates are as well-prepared and supported as possible.
"To me luxury means that our associates come first," she explains. "We don't throw people on the floor without an extensive training program. We want to do everything we can to help our staff succeed. My door is always open. There's a lot of mentorship that happens."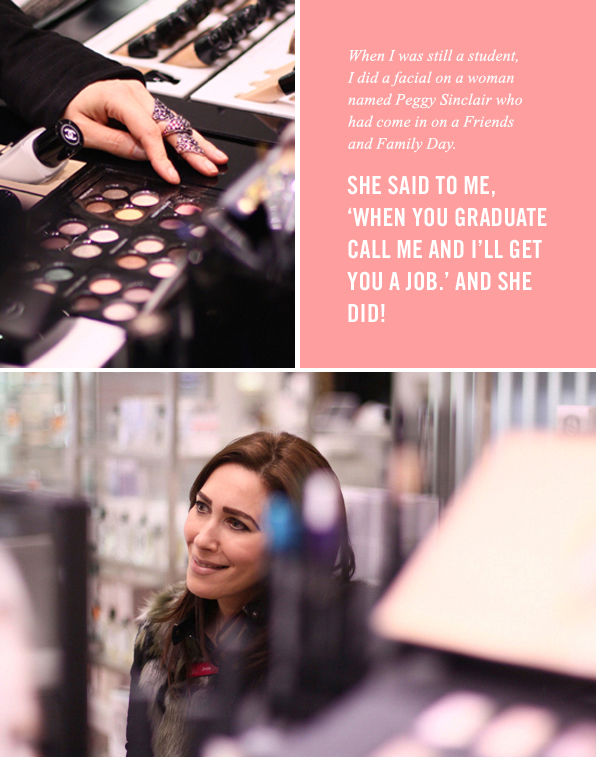 Jesse is happy to provide that mentorship, but it all starts with recruiting talented and enthusiastic makeup artists and skincare specialists. Which is why, when Jesse is looking for new recruits, her first port of call is the same Makeup and Esthetics School where her own story began.
"We want commitment, drive and a desire to give great customer service. We want people who'll go above and beyond and get their clients to keep coming back. Blanche Macdonald gave me a great start to my career and there's still a connection there. Their grads know how to sell themselves really well. When I call Jen Brown and Heather Sosa in the Blanche Macdonald Career Department I can tell that they care and really want their students to succeed. Not every school is like that."
Jesse speaks from experience. The programs, instructors and even the location may have changed, but Blanche Macdonald's educational standards remain as impeccable as they were when she was a student.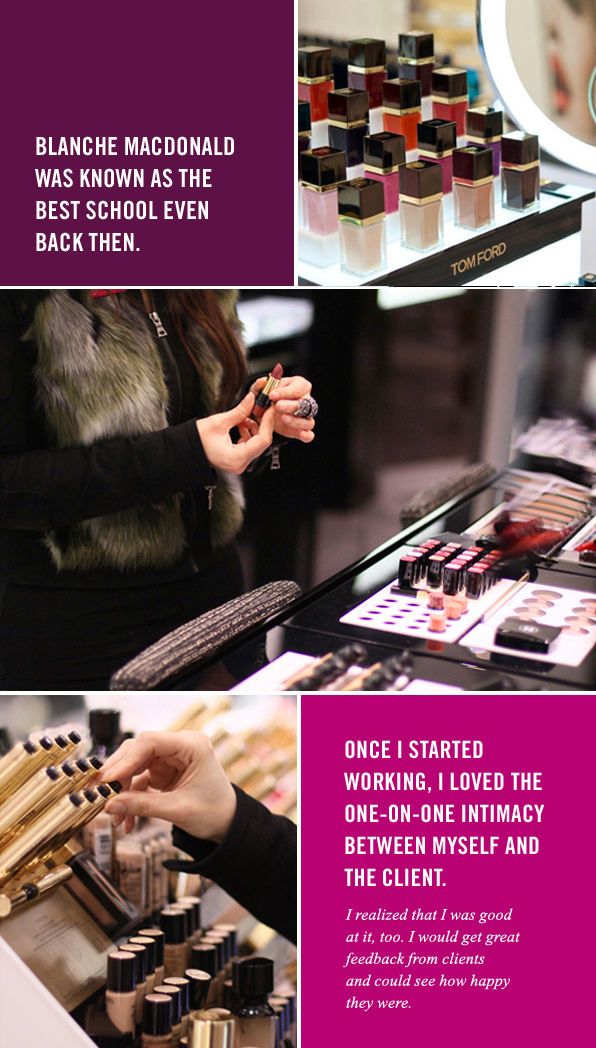 "My Mom studied esthetics in Paris for a year. Once she told me about her experiences the bug had been planted. Through my teens I was always doing my friends' makeup for graduations. I would tell people, 'That doesn't look good. You should try this.'
"Blanche Macdonald was known as the best School even back then. I arrived thinking of taking the Makeup program. But when I spoke with Robyne Nessel-Smoot she thought I'd benefit from the Esthetics program. She was right! It ended up being more of a passion for me than makeup. The skincare portion of the program was like the first year of nursing. That was my favourite part of the program. I was learning about all the systems of the body. It was more than learning about just putting on makeup or skincare products. There's a science behind skincare."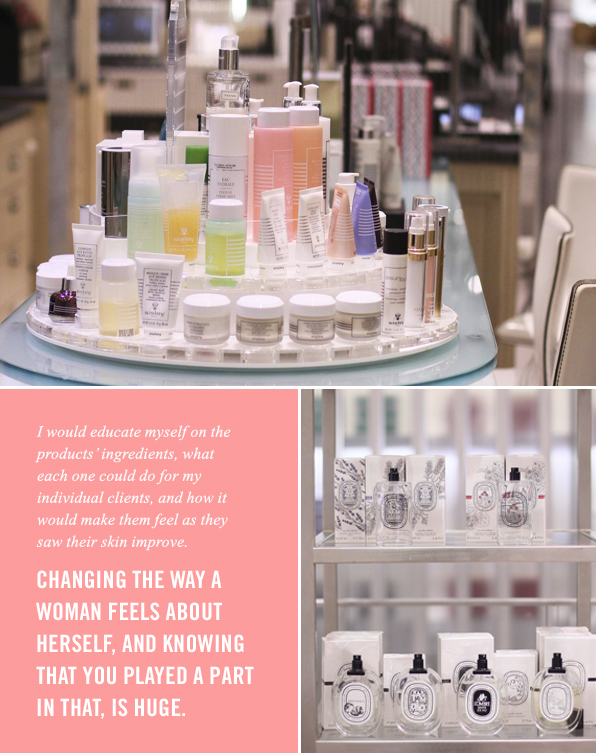 Esthetics School gave Jesse more than an education. It also provided the springboard for her entry into the industry she was passionate about.
"When I was still a student I did a facial on a woman called Peggy Sinclair who had come in on a friends and family day. She said to me, 'When you graduate call me and I'll get you a job.' And she did! My first job was doing facials for her at The Bay Downtown. Strangely enough, now Peggy works here!
"Once I started working I loved the one-on-one intimacy between myself and the client. I realised that I was good at it too. I would get great feedback from clients and could see how happy they were. I would educate myself on the products' ingredients, what each one could do for my individual clients, and how it would make them feel as they saw their skin improve. Changing the way a woman feels about herself, and knowing that you played a part in that, is huge."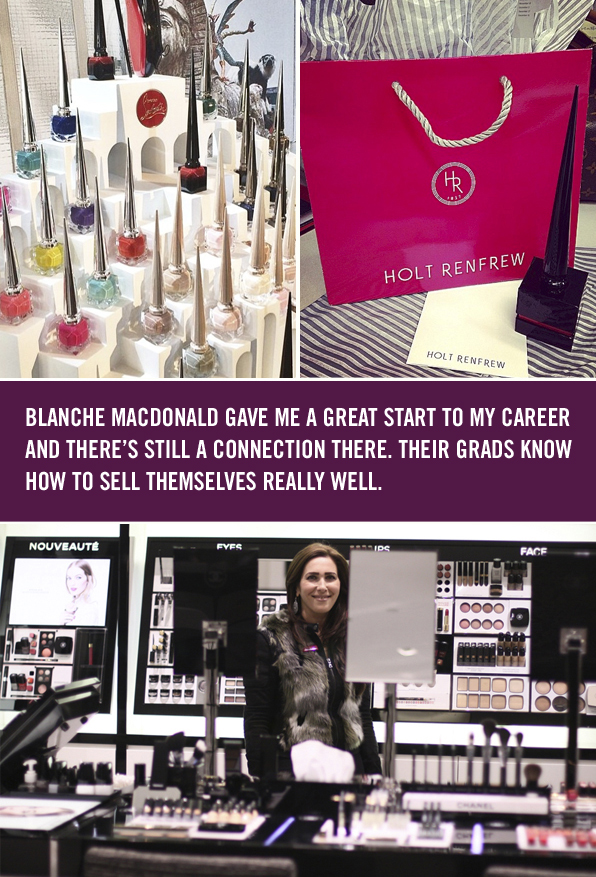 Jesse loved the industry and the industry loved her right back. With her interpersonal and skincare skills paired with a flair for sales and marketing, Jesse was repeatedly recruited to exciting management roles, stopping at Adrien Arpel, Clarins, Elizabeth Arden and Chanel at Eatons where she stayed for five years, eventually rising to the position of Business Development Manager overseeing the entire cosmetics floor. When Eatons closed its doors the industry wasn't going to let her talents go to waste. Jesse was immediately recruited for the same position at Sears.
"I loved it. I was in my 20s and had 80 associates working for me, many of whom were older than me. I had to prove myself, but I could always generate the dollars. I could always come up with events that would help drive business. I wasn't sitting in an office then and I'm still not. Even now as a Sales Manager, I don't have to sell to clients but I always do. That doesn't change."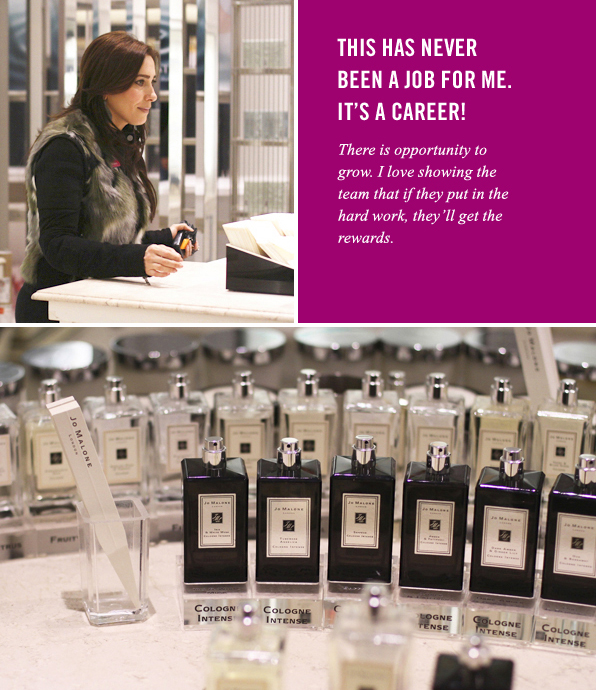 Always eager to take on new challenges, Jesse took a lengthy break from the beauty industry to sample working life in another field she's passionate about – fashion. After many successful years across Eastern Canada with Louis Vuitton, Le Chateau and BCBG, Holt Renfrew in Ottawa came knocking on her door. Now Jesse's back in Vancouver, bringing her mix of motivation and marketing to one of the city's most luxurious cosmetics departments.
"I'm still fascinated with coming up with marketing plans and how I can help get the associates to the next level. There's an art to selling and an art to repeat business. Associates have to understand that this is a business and it's not just about putting makeup and skincare on people. You need to build a loyal client base. You have to be passionate about what you do.
"This has never been a job for me. It's a career! There is opportunity to grow. I love showing the team that if they put in the hard work they'll get the rewards. They understand that I started at the beginning and eventually became a manager. They know they can do the same!"