Fashion
'But Still They Begin: Needles and Pins', the 2012 edition of the Blanche Macdonald Fashion Design Graduate Show, has been hailed as Canada's top Fashion School's best runway show yet.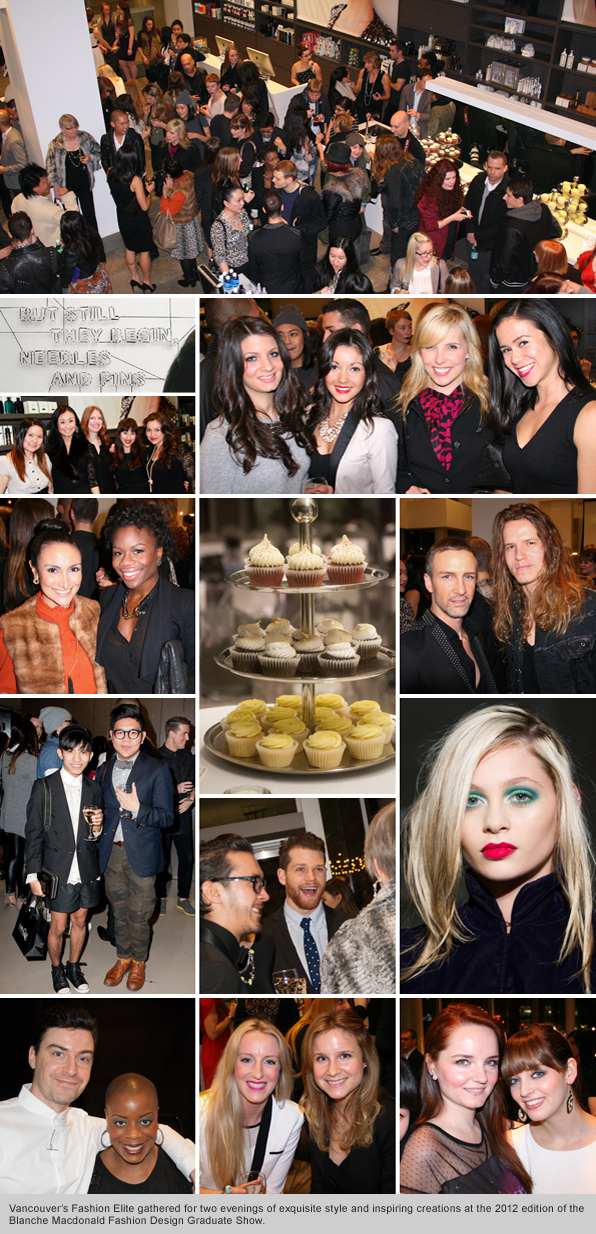 As ever, the designs were spectacular and the atmosphere electric. And for the first time, The Graduate Show took place over two evenings, one night for Vancouver's Fashion Media and one for the Designers' friends and family, both held at Blanche Macdonald's elegant new Atelier Campus.
"Both shows were a huge success," said Fashion Director Tyler Udall. "Changing venues and presentation format was a pretty big departure for us and it really worked out in the end. The Atelier campus is such a stunning space and it complimented the designs so well. It felt very chic, polished and intimate."

Tyler (whose incredible résumé includes Senior Fashion Editor for multiple high profile publications in London and a stint as Creative Director for the Agency Fred and Associates in New York) was equally impressed with the work of the Design Graduates on display.
"I think the students went above and beyond this year," he continued. "I often forgot I was watching a student presentation. There was a sophistication level present that went well beyond that of a first year designer. The media response has been overwhelmingly positive. I'm so happy that our graduates secured such a strong platform for that next step into the industry. They should be proud. I am."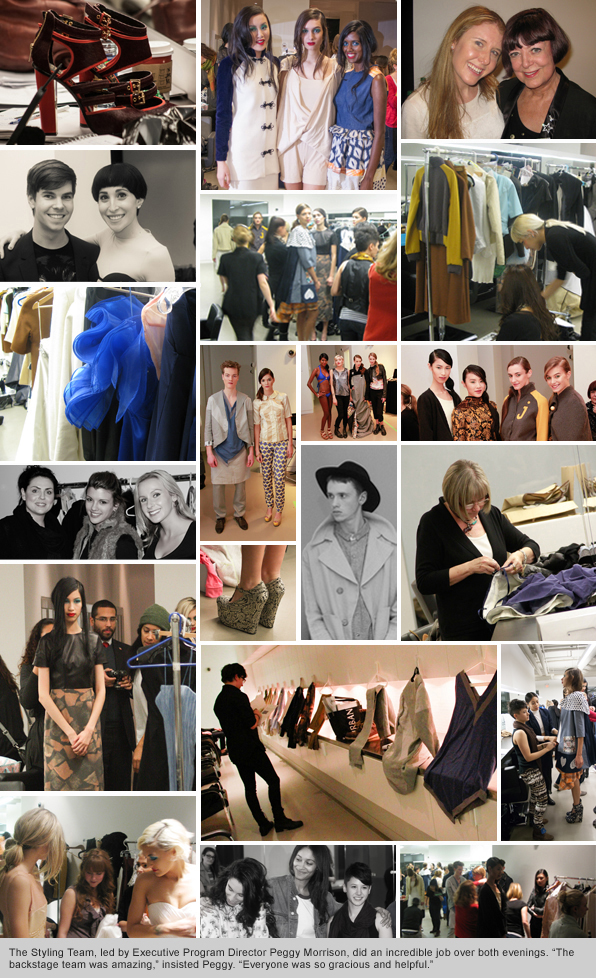 Executive Program Director and Show Coordinator Peggy Morrison echoed Tyler's thoughts.
"It was a smashing idea to do a show just for the media. Industry people know each other and they understand occasional avant-garde design ideas.
"This year's grads represented different groups, each with their own energy. One group was quiet and studious. Another was gregarious and crazy. The combination of those energies produced a fun, successful show. All 26 of these students were delightful people."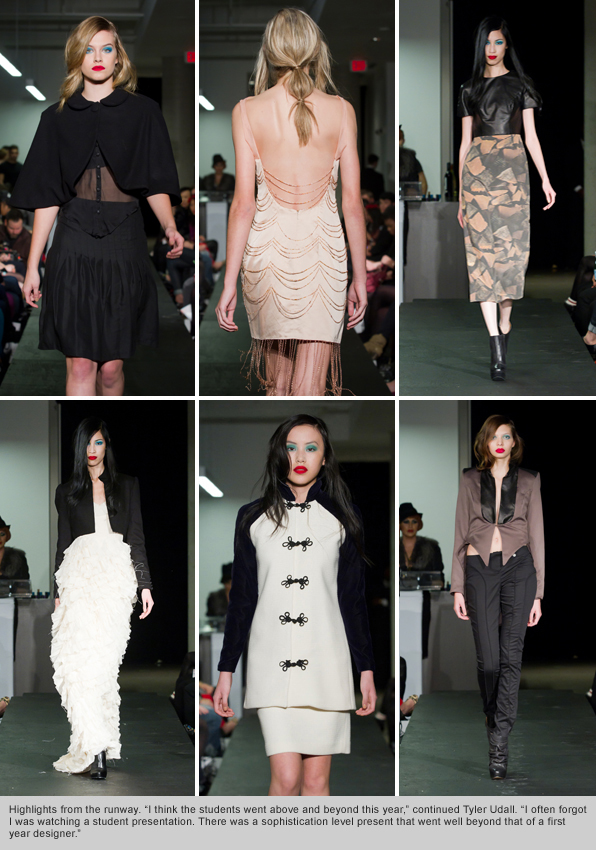 Instructor Lisa Gellert agreed with Peggy that this year's graduates were an outstanding crop.
"These grads were talented, bright, and very interested and enthusiastic for fashion. There were a lot of strong personalities, which is important when it comes to designing a collection. It should reflect your point of view and your personality. They really surpassed a lot of our expectations.
"I liked having the shows at the Atelier Campus. The light is brighter and we were closer to the clothes, so we could see the details a bit better. It felt more like an industry show, like going to London Fashion Week. Grads knew there were industry people here and who those people were. They were able to speak to them about their collections and network, which is great.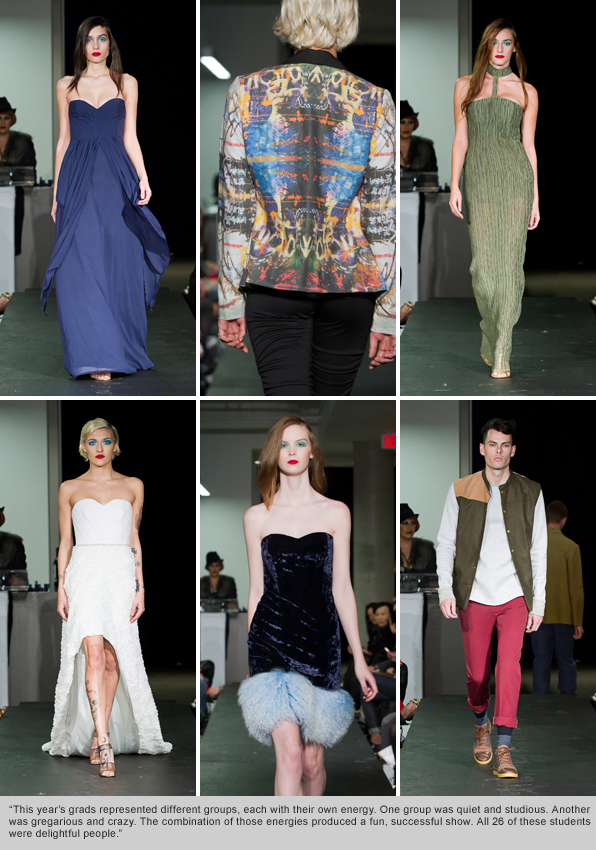 "The industry feedback was very good. They were impressed with the quality of the work and loved the venue. There were very positive about the whole experience. And the cupcakes!"
On both evenings, the Makeup, designed and keyed by graduate and instructor Jon Hennessey, complemented the fashion perfectly.
"For the Media show we created a crazy mini army of 1950s mannequins and 1980s prom queens, re-interpreted by master painters. When I was talking to Tyler about the direction we should take for makeup, he spoke about wanting to make a bold statement with colour.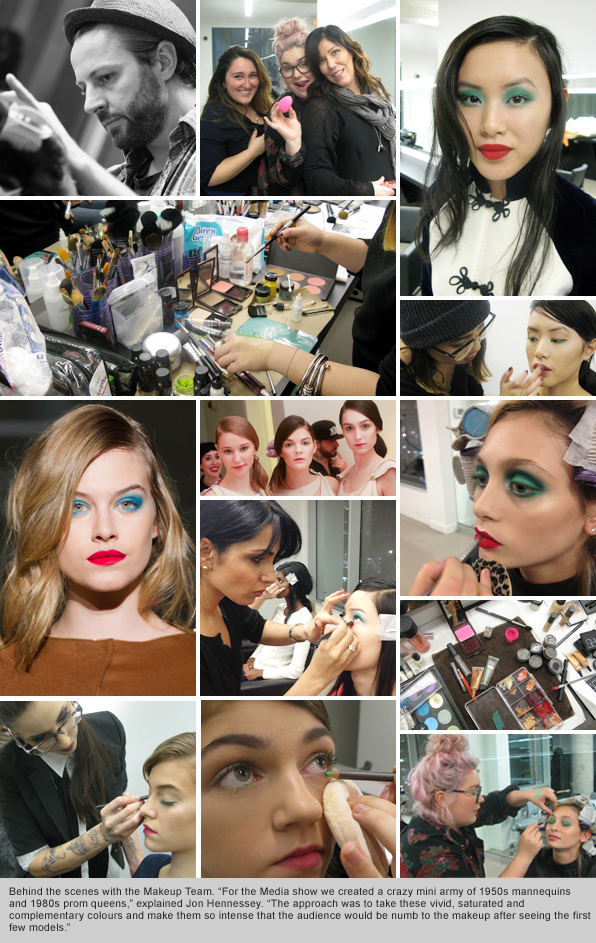 "Trying to design something with an impactful colour story while respecting the uniqueness of each designer's creative vision is a tricky balance to strike. For me, the approach was to take these vivid, saturated and complementary colours and make them so intense that the audience would be numb to the makeup after seeing the first few models."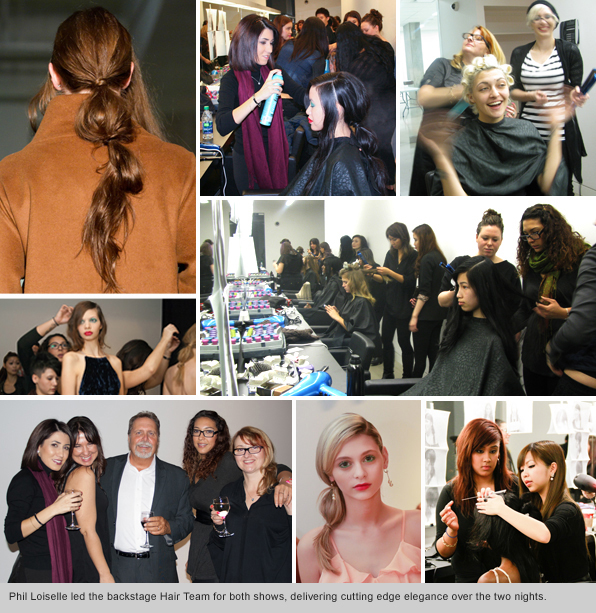 A highlight of the two nights came at the finale of the Friends and Family Show, when Executive Program Directors Peggy Morrison and Donna Baldock revealed the year's Award Winners. For Overall Achievement winner Emily McPhee, it was the icing on the cake of an incredible learning experience.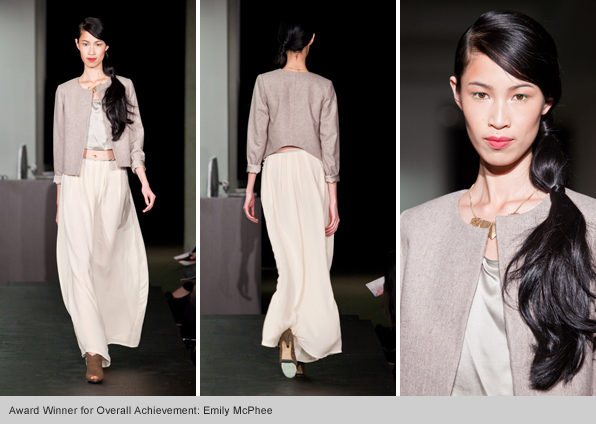 "The year was fantastic. I learned so much. The teachers are amazing. I heard great reviews and really good things about Blanche Macdonald before I started and I liked the fact that it's a one-year program."
Emily's collection showcased intricate beadwork with jewellery detailing on 60s-inspired silhouettes.
"It started out being really 60s-inspired, then it moved towards crystals," she continued. "My Dad's a gem-carver, so I've been around crystals and stones my entire life. I love their shapes and geometric forms. I started from there.
"I've already started my own company, Emily Hart. I made a little collection. It's quite different to what was on the runway tonight – a lot more casual – and it's already in a store on Salt Spring Island."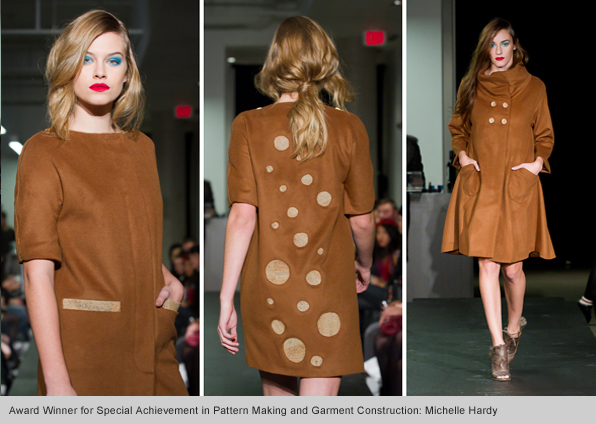 "These Awards are going in frames and on the wall!" smiled Michelle Hardy, who came away with a pair of Prize Diplomas for Pattern Making and Garment Construction for a nature-inspired collection that featured vegan cork and wool cashmere. "It's been an amazing year: very busy but totally worth it. I loved seeing my garments on the runway. It's really hard to describe how uplifting it is.
"I watched the Fantastic Mr Fox and was really inspired by that. It just expanded more into foxes, deer and arboreal forest with colour and texture. My biggest challenge was illustrating. I found getting my ideas on paper really hard. I overcame that with a lot of practice! Practice makes perfect, right! All my instructors were awesome. So supportive!"
Sandy Shen also came away from her first Fashion Show with two awards, for Garment Construction and Design, for her colourful collages of fabrics.
"Seeing my collection on the runway was a like a dream come true for me," she beamed. "I really wanted to take fashion design on a one-year program, to see if I like it or not. Now I know I really like it!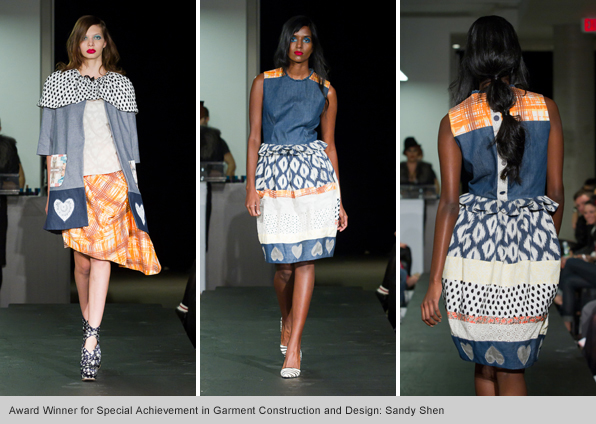 "I knew this school was famous before I came here. It's a lot of work and pretty intense. But when you're doing what you really like it's definitely worthwhile.
"My inspiration was Mother and Child. I'm really close to my Mum. And it's my first collection so I wanted to do something about her."
Sandy was one of two Special Achievement in Design winners, alongside Mira Campbell.
"I wasn't expecting to win the Design Award," she explained. "When Peggy announced my name I was very flattered. It was a hard year and it felt great to be recognized for all the work I had put into it. Everyone had warned me that my year at Blanche would go by quickly and they were right. Balancing work, school and an internship was a challenge at times, but looking back I wouldn't change a thing.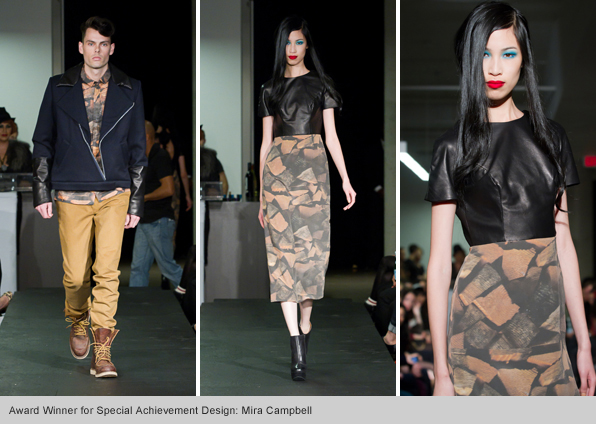 "My collection, a mix of men's and womenswear, was based around a man and his muse; the idea that one garment could influence another in subtle ways. My passion is menswear but I knew I wanted to challenge myself to do both. I wanted to allow the garments to have a cohesion but for it not to be too obvious. I find that minimalism in art and fashion challenges me the most, so that was what I decided to centre the collection around."
John Paul Reyes took home the Award for Collection Interpretation for his work inspired by the colours and textures of luxury fabrics, using devore velvet and mohair in gold and taupe.
"It was a pleasure and honour to win an award," he explains. "I really wanted my three pieces to stick out. I wanted something that would look luxurious and good on a runway. Once I had the fabric I would build ideas on what to do with them and how to go about it. It felt great seeing it on the runway, what we worked for all year. People appreciated it. And I had a lot of good feedback.
"I did some research before I picked a school. After some interviews and consultations, Blanche Macdonald felt like the best fit. I understood what I was getting into and what I wanted to get out of the program. It met and exceeded those expectations from start to finish. You really get to know the whole process. I didn't thrive in all the bits of the process but I had the chance to excel and learn and push myself.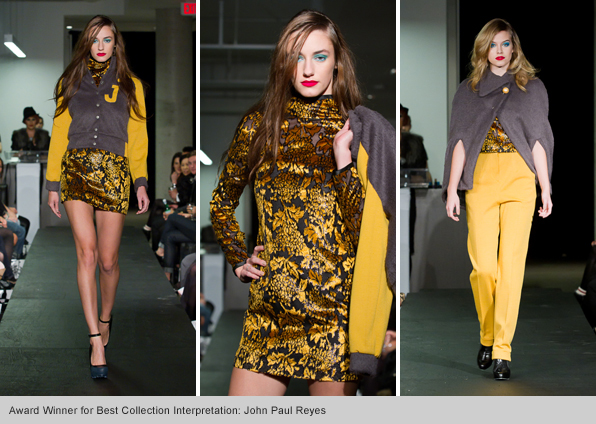 "I'm going back home to Medicine Hat with one of my fellow graduates, Brockton Lane, and we're going to build a men's and women's collection. We'll build a collection and our portfolio, and see where that takes us. I know what the next year of my life will look like and I'm confident. I'm used to hard work and I don't want to slow down now. I'm going to keep the momentum going."
Other well-deserved Award-Winners on the night were Colleen Schneebeli, who took home an Honourable Mention in Garment Construction, and Anna Talbot, who was awarded the Special Achievement in Portfolio Presentation.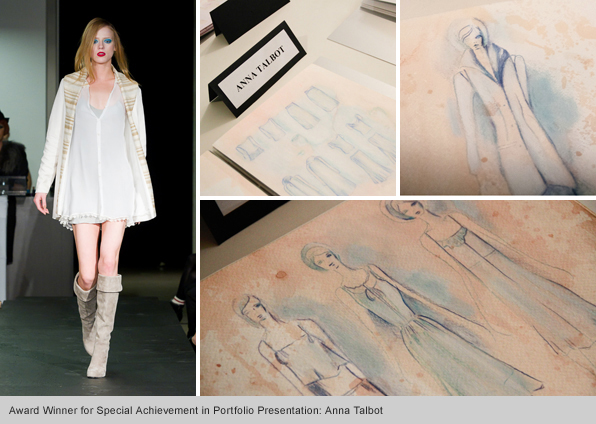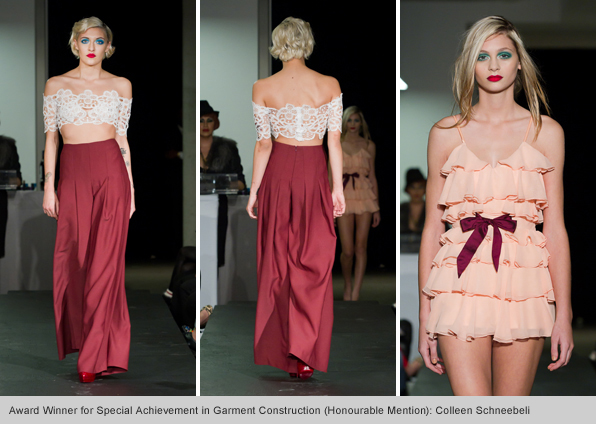 The success of 'But Still They Begin: Needles and Pins' wasn't just down to the sweat and talent of the Fashion Design graduates. It was also a tribute to the hard work of the staff at Blanche Macdonald, with special mention due to the inspirational leadership of President Lily Lim, the endless efforts of Executive Program Director/Show Coordinator Peggy Morrison, Executive Program Director Donna Baldock, Fashion Director Tyler Udall Career Director, Fashion Department Mel Watts, the expertise and support in the Sewing and Pattern Labs of Instructors Brenda Swinglehurst and Jenny Hedberg, and creative catalyst Lisa Gellert. Special thanks must also go to Instructors Rose Aiello, Emmanuel St. Juste and Wanda Sustersich, Lab Assistants Mandy Brost and Whitney Phuong, Creative Director Kelly Schmidt, Marketing Coordinator Natasha Eng and the media teams at Lj PR and Dela Cruz Public Relations.
Infinite gratitude too, must be given to the backstage styling team, led by Peggy Morrison, along with Leila Bani (Media Show only) and a team of volunteers from the Fashion Design and Fashion Merchandising programs. While instructors Jon Hennessey, Barb Baker and Phil Loiselle and their volunteer graduates and students from the Blanche Macdonald Makeup, Hair and Esthetics Schools ensured the models looked as spectacular as the collections.
The entire team at Blanche Macdonald would also like to extend its sincerest gratitude to our corporate sponsors, Embryolisse Laboratories, Oribe, Angela & Grabriel's, our shoe and accessory sponsors, Aldo & Aldo Accessories and Town Shoes, and The Bake Sale for their sensational cupcakes.
Full List of Award Winners
Overall Achievement: Emily McPhee
Special Achievement in Pattern Making: Michelle Hardy
Special Achievement in Garment Construction: Michelle Hardy and Sandy Shen
Special Achievement in Design: Sandy Shen and Mira Campbell
Special Achievement in Garment Construction (Honourable Mention): Colleen Schneebeli
Special Achievement in Portfolio Presentation: Anna Talbot
Best Collection Interpretation: John Paul Reyes