Fashion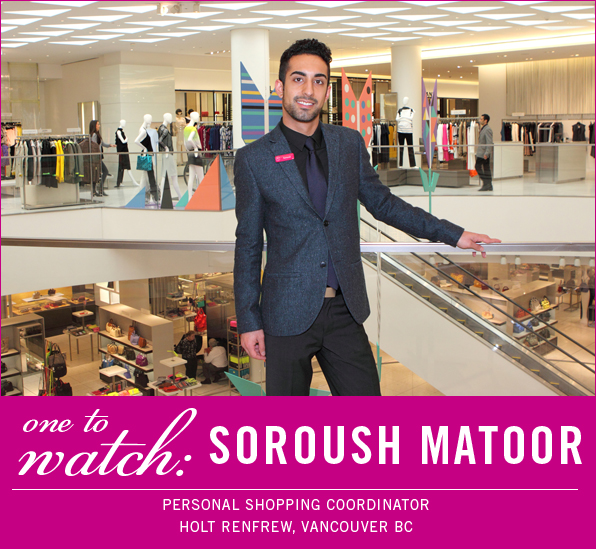 Think that spending every day shopping would be a dream come true? Soroush Matoor, who's made the leap from Canada's #1 Fashion School to the position of Personal Shopping Coordinator at Holt Renfrew, has gone one step further. It's his job to ensure everything runs smoothly with the Personal Shopping team and their clients at Vancouver's luxury shopping palace, managing the business and facilitating sales when needed. It's a dream job, even though Soroush appreciates that reality and fantasy are two completely different entities.
"People who think this would be their ideal job need to ask themselves a question," he explains. "Do you really want to work in fashion or do you just love to shop? Just because you like to cook once in a while doesn't mean you're willing to do it for a living. If you're prepared to work hard and can accept that you probably won't be getting free designer clothes handed to you at every opportunity, then this might be the right path for you. You do it, not just because you love fashion, but because you love working with people, giving them great service and helping them look their absolute best. You don't do it because it seems like a glamorous career that will be 'totally fun'."
Soroush has always loved fashion. Growing up in Edmonton and the Okanagan, from the age of four he was putting his own outfits together.
"I didn't like it when my mom would try to choose my clothes for me. This is a little embarrassing, but I have never been a morning person and the only thing that would get me out of bed was when my mother would parade different outfit options for me around my room, kind of like a mini fashion show, untilI chose what I was going to wear that day."
It took a trip abroad for him to realize that there was a fashion education waiting for him back in Canada.
"I moved to London, England after high school to 'discover' myself and figure out what I wanted to do with my life. That was when I was exposed to all the amazing fashion that I couldn't find back home. After a year there I still hadn't figured out what I wanted to do, but that was when a friend of mine showed me a brochure for the Fashion Merchandising program at Blanche Macdonald. I didn't even know that you could go to school to study fashion so I was intrigued. I immediately began researching Blanche Macdonald along with other fashion colleges in Vancouver. I quickly decided that Blanche Macdonald was the school for me."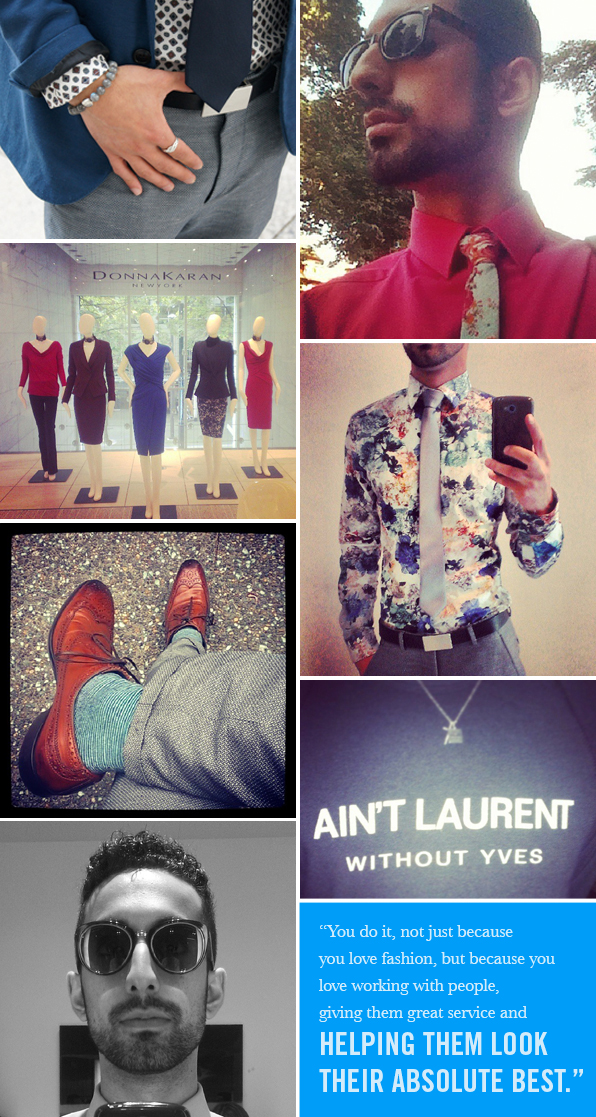 The Fashion Merchandising program proved to be the education and the challenge that Soroush was looking for.
"I really enjoyed the Fashion History classes with Peggy Morrison. Let's face it, the woman is amazing and her stories are mesmerizing! I'm more of a creative person so the business classes were a challenge, but I persevered and learned a lot."
Blanche Macdonald also provided another boost for Soroush's career; the proverbial foot in the door at Holt Renfrew.
"[Career Director] Mel Watts got me an interview for a Concierge position at Holt Renfrew and I eventually got the job. I worked hard and committed myself to providing exceptional service. I would always be asking my boss for more of a challenge. Eight months after I'd started my persistence was rewarded and I was promoted to Personal Shopping Coordinator."
There's no point in pretending otherwise. Being the Personal Shopping Coordinator at Holt Renfrew sounds awesome. And as Soroush happily describes, it is.
"My job is a unique and challenging role. There are a lot of different things I do but my primary commitment is to support my Personal Shopping team in any way possible. We want to create an extraordinary shopping experience for our guests - the ultimate personal experience! Some days I get to play personal shopper and other days I might be needed to work with a costume department for one of the many film and TV productions going on in Vancouver. I provide a connection between the Management Team and the Personal Shopping team, relaying information and following up on tasks and wishes from both parties.
"I keep the team informed of upcoming in-store events like trunk shows, trend presentations, personal appearances and product knowledge sessions, and I have administrative duties like scheduling, payroll and booking appointments. I'm a little OCD, which comes in handy to ensure the Personal Shopping suites are compliant to store policies.
"Of course, getting to know our clients and strengthening relationships with them is also a big part of my job. It's nice to be able to laugh with them and learn more about them as time goes on. And I get to meet some of the most interesting people. Anyone can take advantage of Personal Shopping at Holt Renfrew. We do not charge a fee for this fabulous service nor is there a minimum spend required. Our clients vary from the extremely wealthy and high profile to the average person that appreciates the finer things. Our high profile clients prefer privacy and a suite to relax in while they shop. Busy people like lawyers or stay at home moms often don't have a lot of time to shop. That's where our personal shoppers come in and do the shopping for them. Those who don't think they're very fashion savvy love having our shoppers help them achieve their desired look."

Soroush has worked hard to get to his position. But when you love coming into work every day, generating his infectious level of enthusiasm is never hard.
"I love peeking into the suites now and then and watching my Personal Shopping team do what they do best; making their clients look amazing. It's the Personal Shoppers that do the shopping. I just jump in once in a while to help out. And once in a while I am asked to model a new piece that has come in. I love that!"
Follow Soroush Matoor on Instagram @ThatsSoRoush!