Fashion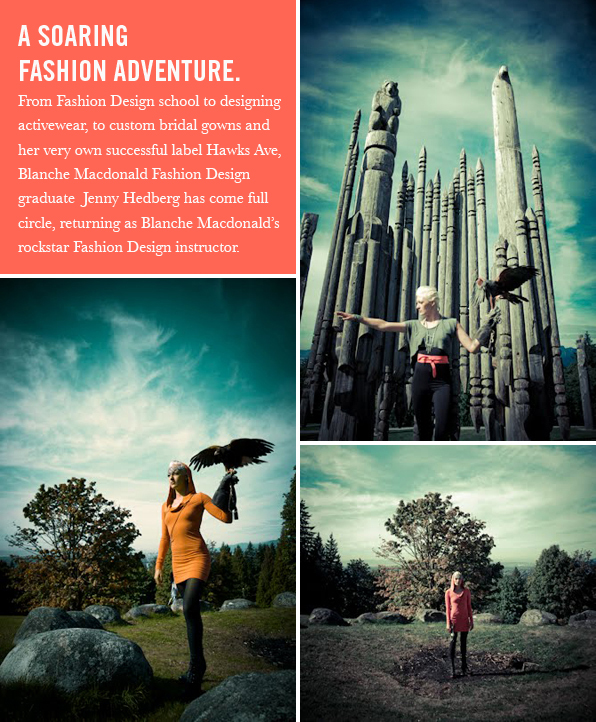 Blanche Macdonald Fashion Design Instructor Jenny Hedberg understands what it's like to be a student at Canada's #1 Fashion School. Ten years ago she was sitting in those classes herself, learning techniques and insights from the teachers who are now her colleagues.
"I love it here," she smiles. "I really like to see the moment when students understand a concept. They each have their own vision for their collection. It's very inspiring! You get to see unique perspectives, and help students build their skills to reach their goals. It's also a challenge for me because one person might be doing bridal gowns, and someone else doing leather or swimwear. That keeps me on my toes!"
The change from student to teacher is only one transformation for Jenny. She's forged a remarkable career for herself as a Designer; transferring her skills between activewear, custom bridal gowns, and her own label, Hawks Ave, before returning to the School that launched her fashion adventure. She's also created a home for herself in Vancouver, a long way from her start in Prince George, BC.
"At 15 I started making clothes for myself and friends," she explains, "and I started my first company at 19. I rented a little storefront and would make custom clothing. I ended up doing a lot of alterations and repair work. That was amazing and really great experience, because I had to teach myself how things are put together."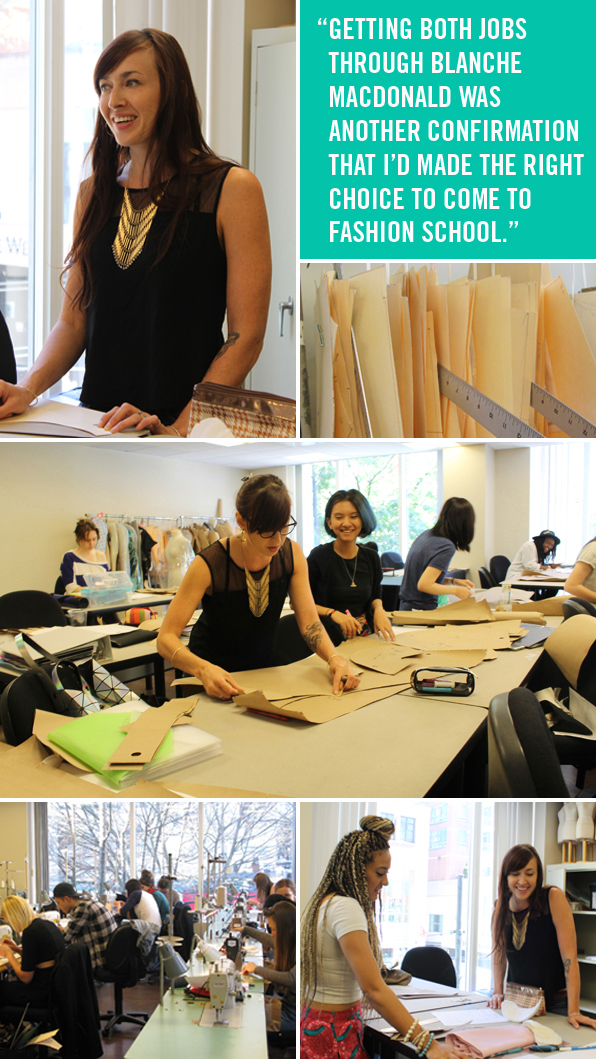 There's only so far a young designer can go in Prince George. Which is why Jenny started thinking about a trip south and some formal fashion training.
"I wanted to move to a bigger city. A friend brought back some info from Blanche Macdonald. I called and eventually reached the point when I could make the move. I wanted to learn how to pattern draft properly. I wanted to expand my skills and keep moving forward. I wanted to grow, in terms of ideas and inspiration, by moving out of my comfort zone. So I moved here with my husband, and his entire band."
Jenny was used to teaching herself, with help from a handful of mentors, in Prince George. Her arrival at Fashion School provided an adrenaline shot of technical know how and creative inspiration.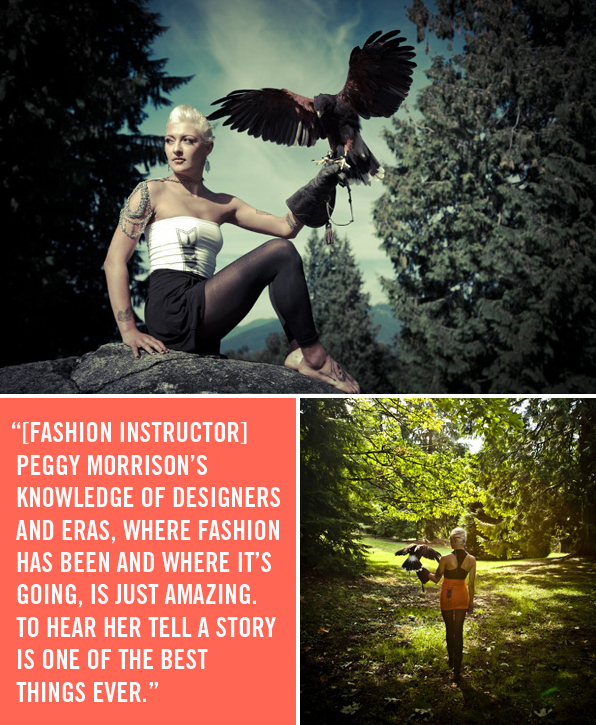 "It was amazing!" she enthuses. "The people I had teaching me are still here. Peggy Morrison's knowledge of designers and eras, where fashion has been and where it's going, is just amazing. To hear her tell a story is one of the best things ever. I had Brenda Swinglehurst for garment construction and pattern drafting. Most of the technical skills I still use every day are things I learned from her. She's so talented. Lisa Gellert's skill in illustrating and design direction is really inspiring. She pushed me to explore new areas that maybe I hadn't dabbled in or thought about. She always had something new to share with us. It opened up my design. I'd only wanted to do denim or leather up to that point, and now my eyes were opened to all these designers I didn't know about. It was really interesting and pushed me to explore a lot more.
"I pushed myself for my grad collection, which was really architectural and couture. Not like anything I'd done before. I wanted to do the opposite of what I was used to and push myself. One dress I made had 80 hours of beadwork! I learned so much from Brenda encouraging me to try new things. I felt so proud when I saw my garments walking down the runway."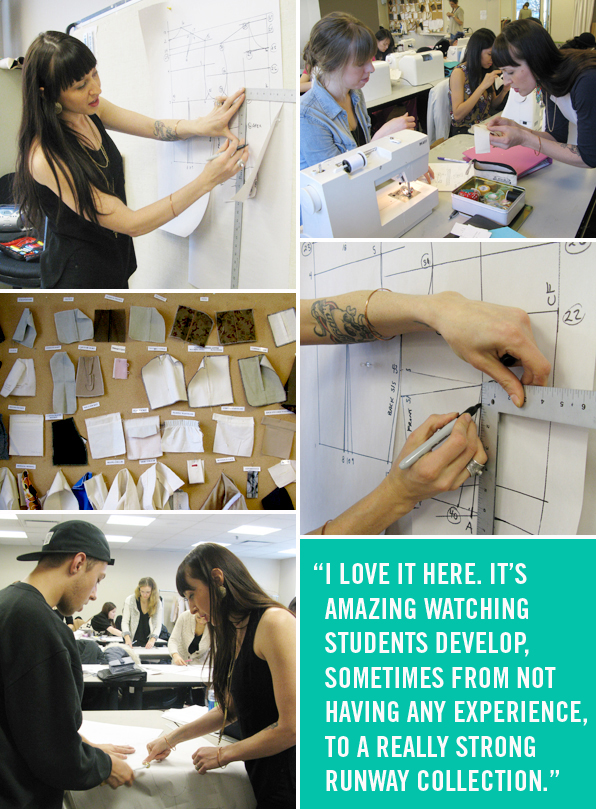 Jenny graduated with flying colours and went directly to a job as Technical Production and Development Coordinator for yoga and active-wear company Lotuswear.
"A friend from school, Hrissa Soumpassis, cold-called a bunch of companies and got three job offers. She called me and said that as I was really into knitwear, one job might be perfect for me.
"I wanted to learn how a factory worked, because I was still making clothes one at a time. We worked with one overseas factory, and several local factories with Lotuswear, so I learned all about sourcing and fitting. I'd learned about it at Fashion School, but this was really being thrown into it."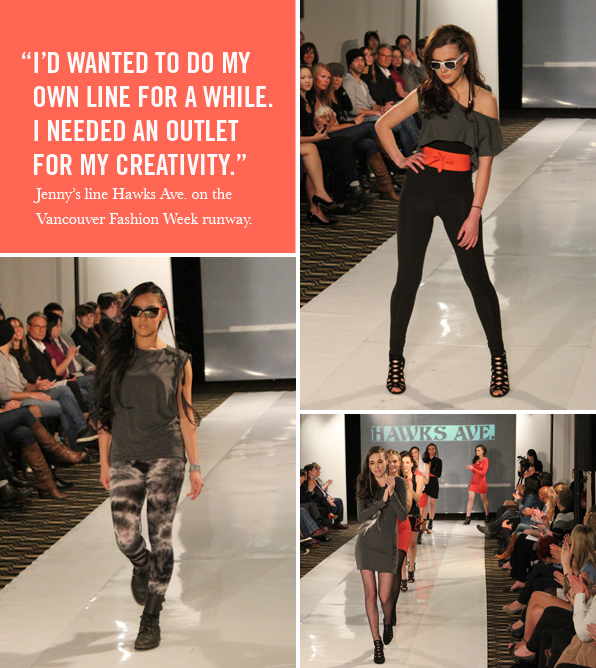 Of course, there was always time for more design work.
"At the same time I was working one day a week making custom bridal gowns with a designer called Wilfred Dy – who's now doing the same thing in Dubai. A photographer, Garry Kettleson, came up to me after the Blanche Macdonald grad show, told me he loved my work and that he wanted to work with me. He thought I would be a good fit for his friend who was looking for an assistant. That was Wilfred. It was hand beadwork and hand draping. Everything other than pattern drafting was my responsibility. That detailed, hand-sewn work was the opposite of what I was doing with Lotuswear. It was a great contrast. Getting both jobs through Blanche Macdonald was another confirmation that I'd make the right choice to come to Fashion School."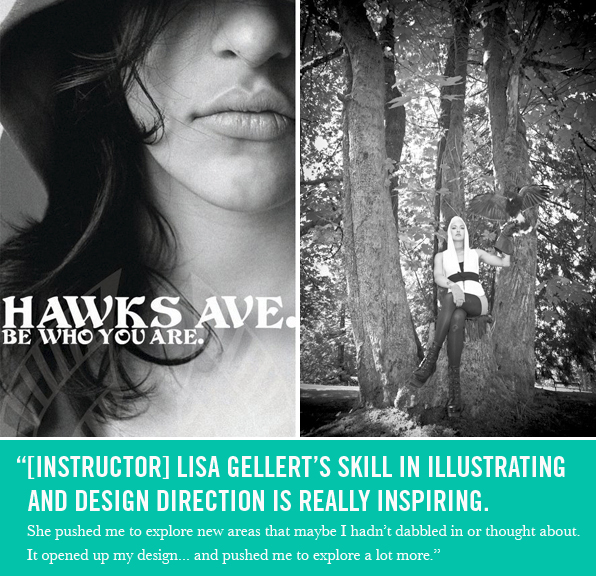 After three years of yogawear and bridal gowns, a new job at Papillon Eastern opened up a new world of possibilities. Literally.
"Papillon was all overseas production, so I was able to travel all over Asia and was able to see all these different cultures and fabric sources. Their collection was over 300 pieces a season, so I was doing a lot of designing. It was really interesting, as I went from a technical design and production role back to creative design."
Life became even more interesting when Jamal Abdourahman asked Jenny to put a collection together for Vancouver Fashion Week.
The catch? She had three weeks to get it ready for the runway.
"It was crazy!" she laughs. "They were all screen printed knits, apart from one denim piece, all inspired by rock and roll and a particular chevron pattern. Somehow I did it."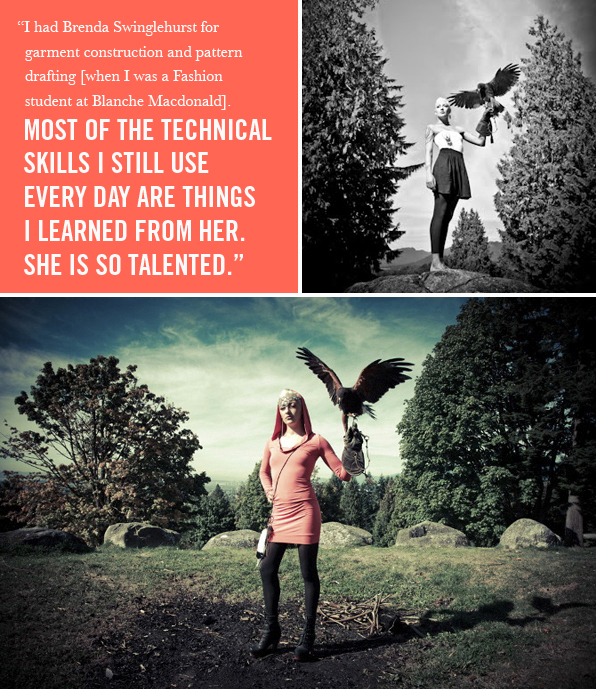 That was the debut collection from Jenny's own label, Hawks Ave. The next step was getting it into stores.
"I'd wanted to do my own line for a while. I needed an outlet for my creativity. I got nine stores on board that first year, basically through persistence. Because of my experience I knew about buyers, when the seasons were and how buyers wanted to see a collection. The clothes had to be in stores, so I took out a small loan and convinced a few factories I knew to do a small run. I knew that once you place your first delivery on time and as promised, stores will order you the next year too."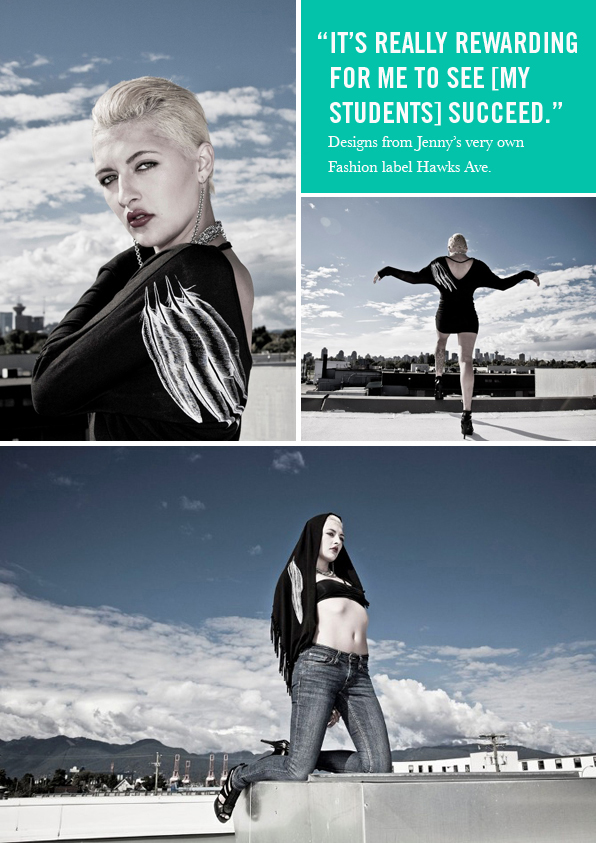 Even though Hawks Ave was up and flying, Jenny was still prepared to welcome opportunity when it came knocking. She had started instructing the Technical Production class at Blanche Macdonald while she was filling that exact role at Papillion. Recognising her gift for teaching, Blanche Macdonald asked if Jenny was interested in expanding her role. Now she teaches Pattern Making, Garment Construction and Fashion Elements. Inspiration comes as standard.
"It's humbling! To work with people that taught you something is a privilege. I'm really enjoying myself. It's amazing watching students develop, sometimes from not having any experience, to a really strong runway collection. This year's Fashion Design Grad Show was amazing. The group worked together so well. They pushed each other to some great work.
"It's really rewarding for me to see them succeed. It's definitely a challenging program, but to see students process it, love it and want to move forward in this industry is my absolute favourite thing."

Photos provided by Jenny Hedberg.
Photography by Nicole Gurney. Model: Willow Riley.