Makeup: Director & Faculty Highlights
Tracey Payne
MAKEUP PROGRAM DIRECTOR
Makeup Program Director Tracey Payne leads the way to ensure that each student experience is enveloped in support and vision. She encompasses the confidence, compassion and focus needed to lead a life changing learning experience. From the beginning of her own career as a two time Blanche Macdonald graduate, Tracey has been a sought after talent; a gentle yet fierce force that has impacted every environment she has been a part of. She cultivates an open and engaging structure to our artistic community, instilling confidence and excitement in our relationships with industry professionals and high profile organizations such as our local film and television unions IATSE Local 891 and ACFC, international makeup organizations including Make-up Artist Magazine, IMATS and The Makeup Show. In our highly acclaimed Signature Series, where internationally lauded Makeup Masters showcase their talents and share their expertise with our faculty and students , Tracey has built successful and enduring relationships with such Emmy Award-winning artists as Eve Pearl, David DeLeon and Todd McIntosh, Academy award winners Howard Berger, Tami Lane, Maurice Stein and Ve Neill and has collaborated with Celebrity Makeup Artists like Sharon Gault, Janeen Witherspoon and Ayami Nishimura.

Fostering an attitude of excellence in education, Tracey draws upon her own vast and inspiring experience that took her through both the Makeup and Fashion programs, sharing her stories, insights and dazzling passion with each person that she encounters. The strength of her spirit and the warmth of her smile encourage everyone to bring out their 'A game' and reach for their fullest potential. Tracey's motto, "We practice what we teach" is a true reflection of the commitment and attention she brings to the Blanche Macdonald culture. Of great importance to Tracey is that she confirms the efforts of each student personally, and with a fostering push where needed. She takes great pride in celebrating the development of your artistry and inspires youto be accountable to yourfuture.

Tracey's role as Makeup Program Director requires the ultimate in professional decorum; that she be sensitively aware and receptive to the needs of all students. She provides you and your families with the reassurance that your experience will be one of quality, launching you into the direction of career success.

As the strong leader that she is, Tracey realizes that it is important to keep in mind always the 'big picture': we need joy in our careers, we thrive on doing great work and we love to champion the journey! Our space is filled with the sound of laughter; her sense of humour fetes the power of a great giggle to get you through your day. She is a burst of colour and personality on campus, shining in a style utterly her own, bringing on smiles and leaving us in anticipation to see which custom designed skirt, which limited edition Fluevogs she'll be sporting next. Not to mention the magnificently bold and masterfully blended shadows of her eye-du-jour!

Strong, beautiful, compassionate and fierce! Our world is a much better place with Tracey in it!
Jennifer Folk
MAKEUP PROGRAM ASSOCIATE DIRECTOR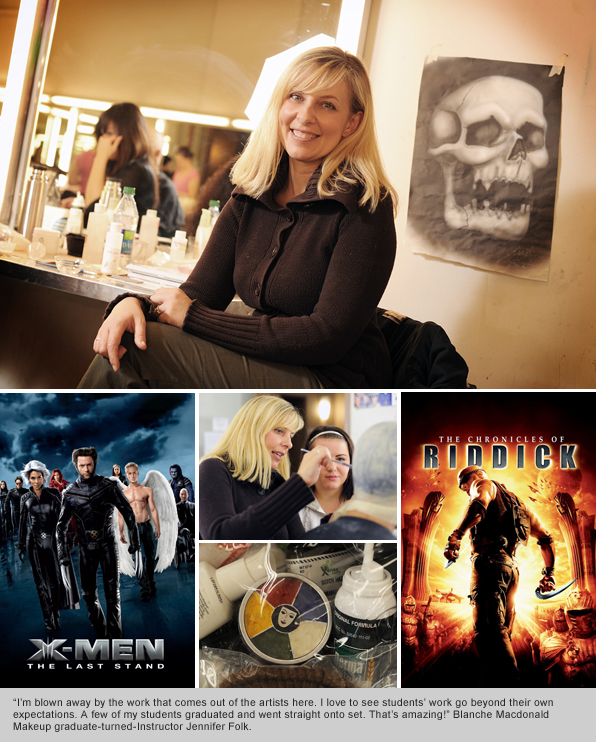 Jennifer Folk's students instantly realize that they're learning from one of the very best. As one of Vancouver's most respected on-screen makeup artists, Jennifer's remarkable résumé includes movies like The Chronicles of Riddick, X-Men 3, Slither, Mr Magoo, White Chicks, The Santa Clause 2 and TV series The L-Word, Tru Calling, The 4400 and Painkiller Jane.
But inspiration is a two-way street. And Jennifer insists that her biggest makeup thrill is the work she sees on a regular basis as an Instructor and Associate Program Director at the school were she once studied; Blanche Macdonald.

"I'm blown away by the work that comes out of the artists here," she beams. "I love those moments when you can hear a pin drop because everyone is so focused on their work. I love to see students' work go beyond their own expectations. There's been a new level in creativity over the past year. A few of my students graduated and went straight onto set. That's amazing!"

If Jennifer is able to help students exceed their professional expectations, it's because she's been exceeding her own since she was a young lady growing up in North Vancouver, when friends coming over after school would inevitably be on the receiving end of a makeover.

"I loved the colours and different textures," she recalls. "My grandmothers saw it was a passion of mine and nurtured it. They'd buy me big makeup trays from Sears and I would tan, blush and bronze my friends. Everything could always be washed off and it kept me out of mischief, so my family was happy!"

Once the teenage Jennifer had read an article in Elle about the makeup artistry behind the fashion industry, she knew her passion could turn into a career.
Read more about Blanche Macdonald Makeup Instuctor Jennifer Folk
Breianne Zellinsky
Makeup Artistry Graduate and Makeup Faculty Member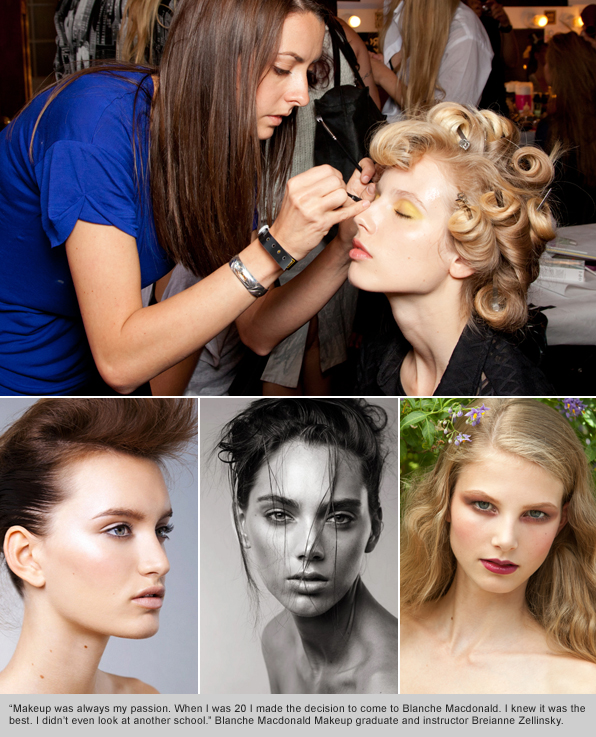 "I'll always remember my experience on set for my first fashion editorial in London. I was assisting makeup artist Janeen Witherspoon for Dazed & Confused's 20th Anniversary Edition. There were racks and racks of clothes, tables full of accessories, makeup for days, suitcases packed with wigs, and a team of ten people working alongside Janeen and myself: photographer Ben Toms, fashion stylist Katie Shillingford, hairstylist Martin Cullen, set designer Amy Stickland, along with the photo team and creative assistants. I remember leaving with goose bumps all over thinking "Yep, this is what I want to do.'"
That was the first of countless unforgettable experiences for Breianne Zellinsky in the upper echelons of European high fashion. After five scintillating years in the UK the Blanche Macdonald graduate-turned-instructor has returned to her hometown of Vancouver. Their loss is our gain. She's now inspiring future generations of Makeup Artists to follow in her footsteps.
"Makeup was always my passion," recalls Breianne. "Since I was a young girl I always saw makeup as something artistic rather than making people look pretty. I loved seeing the change and transformation. Growing up, my original goal was to become a professional dancer. At a certain point I knew that wasn't going to be my future, but being exposed to the creative side of makeup through dancing helped me realize that it could be my career. When I was 20 I made the decision to come to Blanche Macdonald. I knew it was the best. I didn't even look at another school.
"As soon as I started Makeup School I realized where I belonged in the industry. The beauty and fashion modules really caught my attention. I wasn't a fashionista. It was more beauty than clothing that inspired me. I loved the artistic element of fashion makeup: everything was full of colour and beautiful imagery."
Read more about Makeup Artistry Instructor Breianne Zellinsky
Cory Roberts
Makeup Instructor
Cory Roberts is a multi-talented makeup artist with a myriad of talents and credits. Cory has worked in Television and Film, Prosthetics, Asian Theatre, personal coaching and client consultation. As an instructor, Cory's broad range of interests and experiences are a tremendous benefit to her students.
As a Makeup Artist, Cory has worked with an extensive list of companies and clients. A sampling of these include Laura Mercier, Lancôme, Nars, Stila, Pout, Bobby Brown and Chanel. One of Cory's most memorable moments in her career was when she worked with Dan Rather. She describes this career highlight as courteous, fun and exceptional.
The best way to describe Cory is that she is larger than life. She has an infectious energy where her optimism, vivaciousness and happiness are a constant. Her laughter fills our hallways. Her endless enthusiasm and creative passion invigorate those she works with and inspires those she teaches. For anyone entering Cory's universe, you can't help but be drawn in!
Daemon Cadman
Makeup Instructor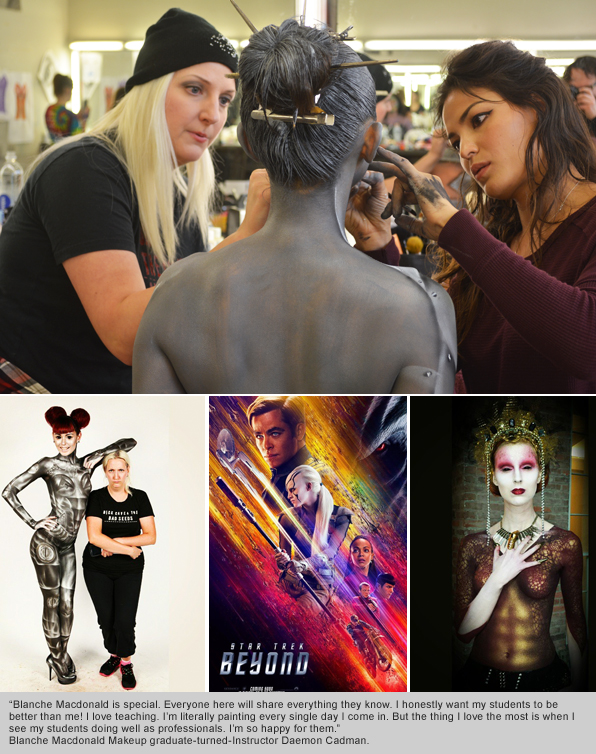 Daemon Cadman's classes are always full of creativity and laughter, but that doesn't mean she'll ever accept less than the very best from her students. Behind the incredible artistry, positive attitude and ever-present smile, Daemon possesses a tenacity that she routinely passes on to her students at Canada's Top Makeup School.
"I treat people in the classroom the same way they'll be expected to work outside of school," she explains. "You'll have days when everything goes wrong. It happens to all of us. I tell students, if you're going to have a meltdown, go to the bathroom, have a cry, then come back and do your makeup. On my first day in the Effects Shop working on Star Trek Beyond I sat in the bathroom three times because I was so stressed out. But you either quit or you do it. You look yourself in the mirror, go back out and do your best work."
That stressful first day in the Effects Shop blossomed into seven weeks of work painting prosthetic appliances for aliens for one of this year's guaranteed blockbusters. Which is remarkable, as Daemon doesn't consider herself a Makeup Effects Artist. But it makes perfect sense once you understand that her entire career has been a series of unexpected triumphs. She never even set out to be a Makeup Artist.
Read more about Makeup Artistry Instructor Daemon Cadman
Donna Stocker
Makeup Instructor
Students lucky enough to be in Donna Stocker's classes at Canada's best Makeup School know they're learning from one of the best.
Is she a tough teacher? Perhaps. Because she knows what Blanche Macdonald students can expect in the real world.
"I know what the TV and movie industries' standards are and I teach to those standards," she explains. "But I also know how to simplify things for students when they're first learning a technique. I let them build their knowledge up piece by piece with what they're learning."
Donna's understanding of the industry standards is the result of 17 years working on big TV and movie sets. She was part of the team for major productions like Twilight: Breaking Dawn, The Chronicles of Riddick, Stargate Atlantis, Night at the Museum, White Chicks, Santa Clause 2 and Dark Angel.
It's been an incredible makeup journey for Donna: one that began when she was a teenager and made a visit to Vancouver from her home in Penticton, BC.
"My mum, sister and I came to Vancouver to get a makeover done," she recalls. "I was 15 and I'd never worn makeup before. I was close to six foot tall and the woman at the counter asked if I had ever thought of being a model? So I took a modelling course in Kelowna. That's when I first learned how to do makeup. I moved to Vancouver and modelled for six months, then went to New York City, entering modelling competitions and trying to get agents' attention. But I was too tall. I dwarfed products and the other models."
Although Paris and Milan never called, Donna stayed in the business, becoming an instructor at a modelling school on Vancouver Island, teaching makeup basics to her students. It was a fine job, but it wasn't what she really wanted. The more Donna thought about it, the more she knew she had to be a movie makeup artist. She was going to break into the business. It was just a matter of how.
"I knew in reality that it's not that glamorous," she insists, "But it's creative and it's a good way to make money by being artistic. And it was a cool job. I was a bit of a nerd growing up, so having a cool job was a big deal. I love movies. I love television. To me, it was exciting to meet a famous person. On my first show I was working with Gary Oldman and his girlfriend at the time, Isabella Rossellini, was there too. To find out what these people are really like is fascinating."
Read more about Blanche Macdonald Makeup Instructor Donna Stocker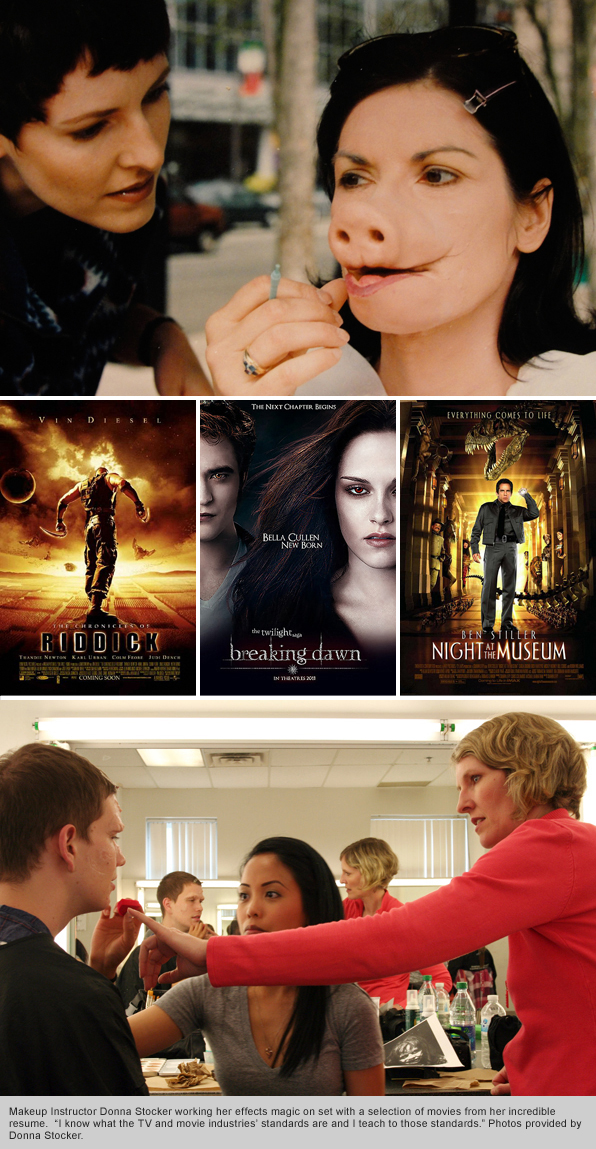 Farah Hasan
Makeup Instructor
Ten years ago Farah Hasan's creative brilliance was directed towards her laptop, delivering graphic design work for an in-house graphic agency. That's when a visit to City Square's food court opened her mind to new future.
"I looked upstairs and saw Blanche Macdonald," she recalls. "For some reason the name just clicked. I went home, googled it and decided, I want to be there."
That day changed everything. A decade later, Farah has regular opportunities to sample the delights of the City Square food court as a member of Blanche Macdonald's Makeup Faculty. Teaching at the Makeup School where her journey began is just one component of an incredible career that regularly takes her across Canada and the world for fashion and editorial work and has seen her become the ultimate bridal makeup artist for British Columbia's South Asian community.
"I'd always been an artist," continues Farah. "I have a degree in graphic design. Working as a graphic artist was well paid, but it was very template based and not very creative. Being confined in four walls with my laptop wasn't me. I needed more fun, more liberty. I had never thought about makeup artistry until I moved to Vancouver, but I came to Blanche Macdonald, met a program director and signed up. I felt like I was meant to be here. It had that energy. And the portfolio of students' work was full of art."
It was that artistry that convinced Farah that Blanche Macdonald was the best Makeup School for her. The opportunity for the designer to fully embrace her longstanding love of colour and passion for art was as inspirational as she had imagined.
"I didn't realise that the beauty and bridal side of makeup could be so beautiful and creative. When I'm working on someone's face, I believe I can change her on the inside too. They'll tell me right away how confident they feel, how beautiful they look. People don't realise how beautiful they are. They underestimate themselves. They just need a few things to bring out that beauty and personality."
Read more about Blanche Macdonald Makeup Instructor Farah Hasan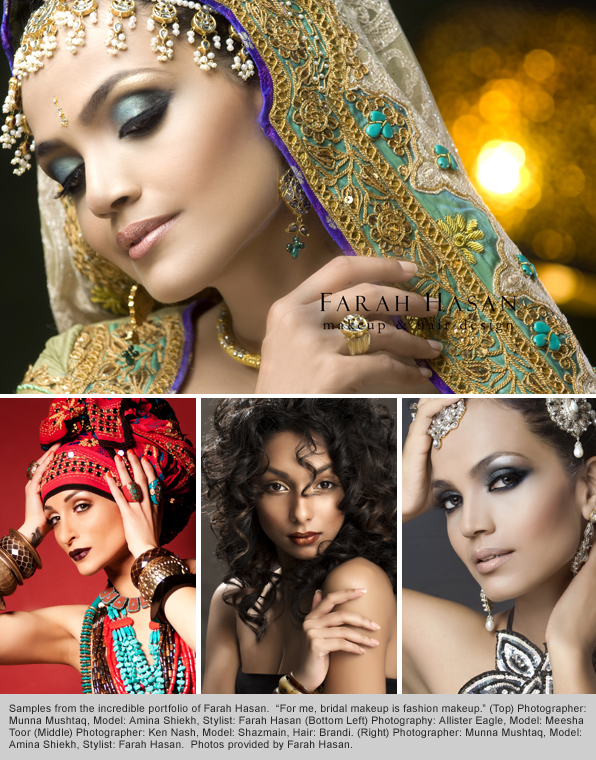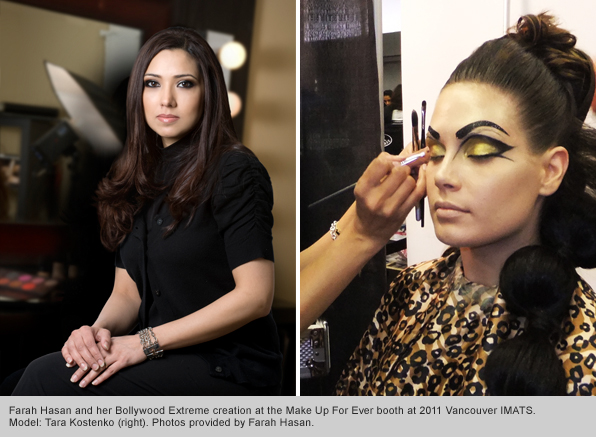 Holland Miller
Makeup instructor
"When I was 16 I snuck into the theatre and saw Aliens. At that moment I knew I wanted to make monsters."

Holland Miller knows all about monsters. The young man from Sacramento now inspires the next generation of Makeup Effects magicians. You've seen his work on Fringe, Supernatural, Once Upon A Time, The Cabin in the Woods, Elysium, Sucker Punch, Underworld Awakening, A Haunting In Connecticut, Fantastic Four: Rise of the Silver Surfer, Underworld: Evolution, The Chronicles of Riddick, Twilight: New Moon, The X-Files, and Stargate. And when he's not on set, Holland teaches at Canada's #1 Makeup School. Which just happens to be where his own makeup journey began.

"After Aliens I bought a whole lot of Fangoria magazines and all the science fiction and horror fanzines I could get my hands on. I went to community college when I was 17 and did a couple of art courses. We had to do a commercial illustration for a funeral home and I drew a coffin with a corpse coming out of it. I thought it was funny as hell. My instructors rejected it without even looking at it."

With an artistic career looking unlikely, Holland enlisted in the US Navy. On duty in the Persian Gulf during the First Gulf War, the opportunity to reignite his creative tinderbox arrived unexpectedly.

"We'd run emergency simulation operations. Part of that was first aid. One time they were looking for someone to simulate wounds. I said I was really into horror movies and that I'd played around with rubber before. I had cotton, latex, rubber and little bits of plastic. I did a broken femur and tibia from what I remembered from Fangoria. People were blown away with how graphic it looked. Seeing how shocked people were with how gross and realistic they thought it was, I knew I could do this."
Read more about Blanche Macdonald Graduate and Instructor Holland Miller here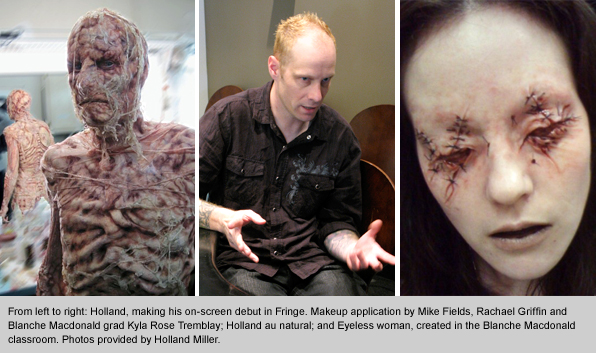 Jon Hennessey
Makeup Instructor
"I came to the Blanche Macdonald Centre as a 19 year old skateboarder with no artistic background, just the idea that I really wanted to be a makeup artist," says in-demand freelance makeup artist Jonathan Hennessey.
And since graduating from the Blanche Macdonald Centre, Jon has worked in a dozen countries, on countless runway shows and his editorial work has appeared in numerous publications around the world.
At the Academy Awards, Golden Globes, MTV, VH1 and the Toronto, Sundance and Cannes Film Festivals, Jon's makeup artistry was chosen for their red carpet glam. From Pucci and Feretti in Milan, Alexander McQueen and Ungaro in Paris to Zac Posen and Carolina Herrera in New York, his backstage credits are a who's who of the fashion industry. Vogue Homme, Instyle, Nylon, Make-up Artist Magazine, Lula and A4 have all featured his fashion and beauty work. Jon's client list also includes Grammy and Academy Award winners and such talent as Alicia Keys, Lily Allen, Patrick Wolf and INXS.
Formerly a MAC trainer and Senior Artist with the MAC Pro Team based out of Vancouver, Los Angeles and New York, Jon joined the Blanche Macdonald Centre faculty as a Fashion makeup instructor. Jon has since broadened his career to encompass the role of Creative Director and Owner of the highly touted Artists' Agency, NOBASURA.
Described as a creative agency representing top tier talent working in the fashion, advertising, entertainment and visual communication industries, its roster lists many of the fashion industry's heavy weights in Makeup, Hair, Styling and Photography.
Jon has also become a much sought after speaker and Guest Artist at the International Makeup Artists' Trade Show in Los Angeles and The Makeup Show in New York.
"The fact that I can come back to Blanche Macdonald and share my knowledge and experience with aspiring artists is an exciting prospect. It allows me to focus on grooming and developing emerging talent in an environment that I'm continually inspired by. "
- Jonathan Hennessey, Creative Director / Owner – NOBASURA Artist Management
Read more about Makeup Artistry Graduate Jonathan Hennessey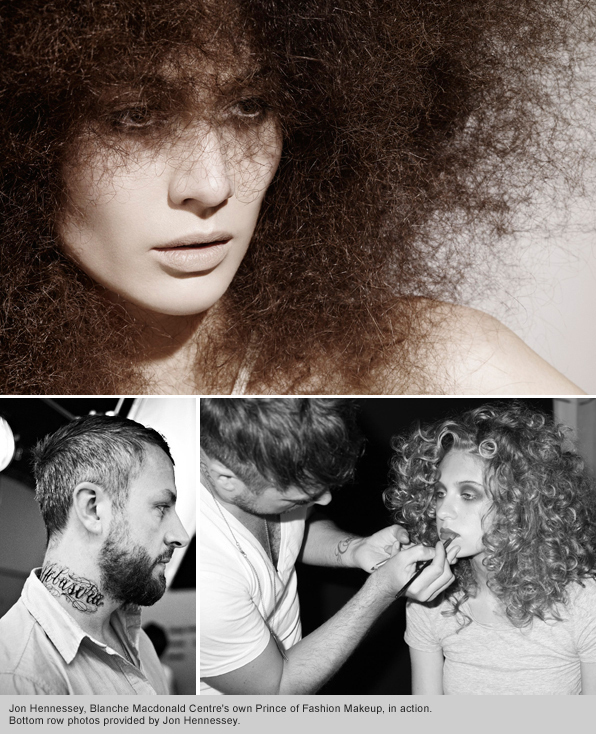 Julie Brown
Makeup Instructor
It's never too late to begin a new career. Julie Brown is proof. She's one of BC's most in-demand Bridal Makeup Artists (with a Weddingwire.com Bride's Choice award to prove it), an IATSE permittee for the film and TV industry, a beauty columnist for Fresh Magazine and an instructor at Canada's #1 Makeup School, which is exactly where her own makeup journey began.
"I was in my late 30s, working as a flight attendant for Air Canada," she explains. "I was spending money on makeup like crazy and doing it on friends as a hobby. I was thinking about a career in makeup but felt like I was too old to make a change. I'd thought about going into makeup when I was younger, but I was dissuaded by my parents. It was always something I loved doing. I was fascinated by the transformation process. During my school years I would rip pages out of fashion magazines of makeup, clothes and hairstyles that I loved, and made collages in scrapbooks. I was so surprised when I came to Blanche Macdonald that we were asked to do assignments called photo morgues. That's what I did when I was younger!
Read more about Blanche Macdonald Graduate and Instructor Julie Brown here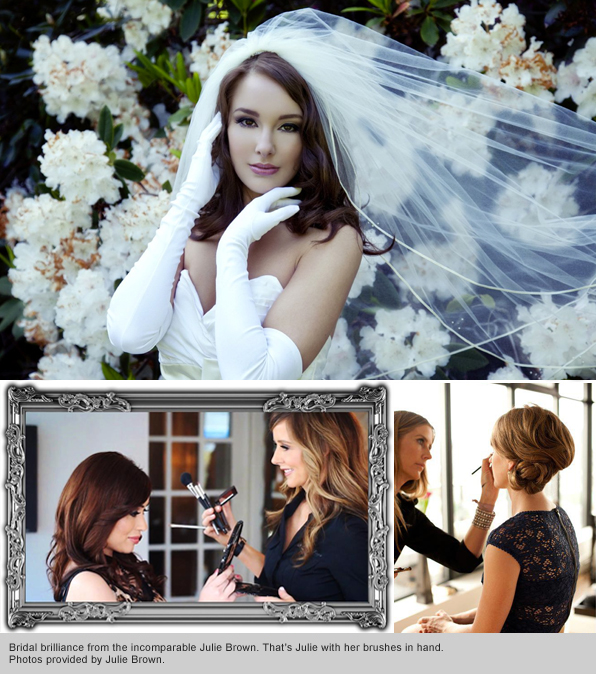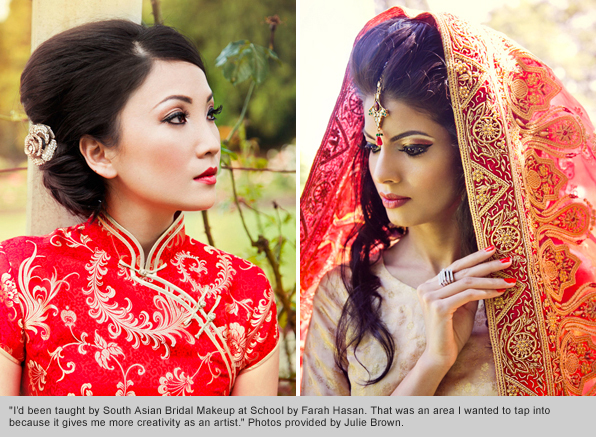 Kari Zantolas
Makeup Instructor
For aspiring Makeup Artists enchanted by Fantasy and Science Fiction Makeup Effects, Kari Zantolas transforms classrooms into prosthetics-filled candy stores. Students at Canada's top Makeup School immediately understand that they're learning from one of the very best; a star on the teams on internationally beloved sci-fi productions, excelling in the roles of Head of the Prosthetics on Andromeda and Makeup Department First Assistant on Stargate Atlantis.

"I have a lot of passion for this," smiles the Blanche Macdonald graduate-turned-instructor. "I love seeing that passion in my students and watching it drive them forward. I give them the tools they need, the opportunity to learn what I learned, and it always amazes me to see what they do with that. It's incredible when students come back to Blanche Macdonald and tell me what they're up to. There's a sense of pride that comes with knowing I've made a difference in someone's life."
From Blanche Macdonald classrooms to sets of TV shows and movies like Scary Movie 3 and 4, Battlestar Galactica, Harper's Island, Dark Angel, Mysterious Ways, Once Upon A Time, Life As We Know It, Reunion, Doing It, Little Man and White Chicks, Kari has been making a difference for two decades, ever since she decided to make the move to Vancouver from her native Ontario.

"I spent most of my youth dancing, singing and acting in musical theatre," she explains. "I graduated from Sheridan College with a Musical Theatre degree. I wanted to start acting in film and my agent in Toronto suggested that my best bet was to move to Vancouver. So that's what I did.
Read more about Makeup Artistry Graduate and Instructor Kari Zantolas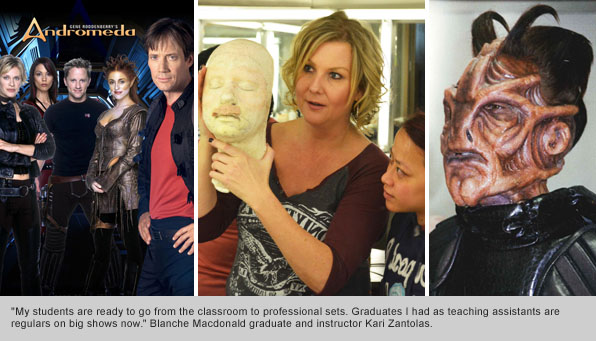 Leah Ehman
Makeup Instructor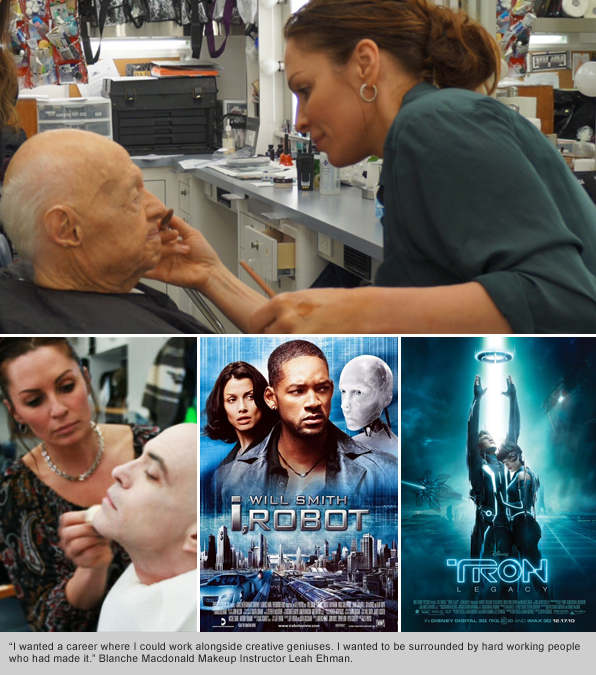 Makeup students lucky enough to be attending Leah Ehman's classes at Blanche Macdonald soon realize that they're being treated to more than expert training from a Gemini Award-winning artist. They are getting the opportunity to fall in love with the artistry and emotion that go hand in hand with the creative process.
"I was on the set of Tron: Legacy when I realized that I'd achieved what I'd set out to do," she smiles. "There is a scene where Garrett Hedlund enters the Tron world and is transformed into a computer program. The director asked us to come up with a look that had never been seen before. We were able to create some pretty amazing makeups that I'm very proud of on that show. On that set I was surrounded by international superstars like Jeff Bridges and Olivia Wilde. I'd already been working in film for many years, but that was a moment when I realized where I was and the level of work I was producing. That's when I realized my dreams were coming true."
Leah understood the magnitude of her achievement. She's been a major contributor on TV shows and films including Suckerpunch, Stargate Atlantis, I Robot, The Big Year and countless more. Coming from the tiny northern Alberta town of Athabasca, it's been a remarkable journey.
Read more about Makeup Artistry Instructor Leah Ehman
Leanne Rae Podavin
Makeup Instructor
It doesn't take long to be swept up by Leanne Rae Podavin's enthusiasm for her art. It's a passion that students at Canada's #1 Makeup School get to experience on a regular basis.
"I'm always saying to my students, 'Isn't this awesome? Isn't this so much fun? Imagine if you could do this every day?' It's like Halloween every day!"
For Leanne, Halloween still comes daily. When she's not inspiring the next generation of movie magicians the Blanche Macdonald graduate-turned-instructor is working at the cutting edge of the Makeup Effects industry. Her incredible résumé includes stints on series including Millennium and Masters of Horror, alongside movies like X-Men 2 and Thir13een Ghosts, and an impressive Emmy Award nomination for The X Files. Her perpetual enthusiasm is understandable. Growing up, she didn't know her amazing career was even possible.
"I always loved creature movies, but I never thought it could be a job. My favourite movie of all time is Jaws. And I loved Alien and Aliens. Those monsters looked so real. I did well at art in High School and won a scholarship for Fine Arts, but after two years I didn't feel that was what I wanted. My friend, Deanna Milligan, was teaching at Blanche Macdonald and said, 'Why don't you come and do makeup?' Growing up in North Delta I'd do makeup on my friends so I thought, why not? I knew I wanted a career in art. I could have a career on faces instead of canvas.
"The entire program was awesome and I had a great time learning beauty makeup. I was there early, always asking questions. Then on the first day of Makeup Effects our instructor, Michelle Pedersen, showed us how to do a cut with wax. That's when the light bulb went on in my head. Fireworks actually! I thought, right there on that first day of Makeup Effects, that this is what I'm going to do for the rest of my life. I put up my hand and said, 'When do we get to make werewolves?'"
Read more about Blanche Macdonald instructor Leanne Rae Podavin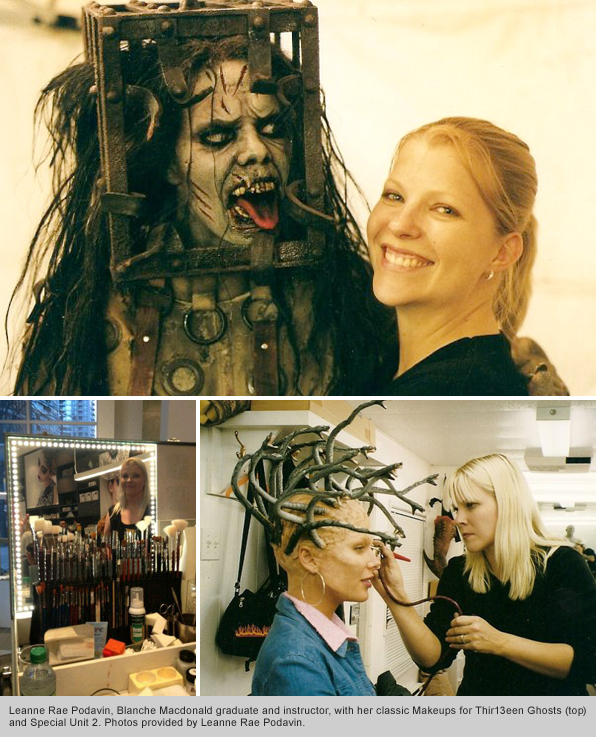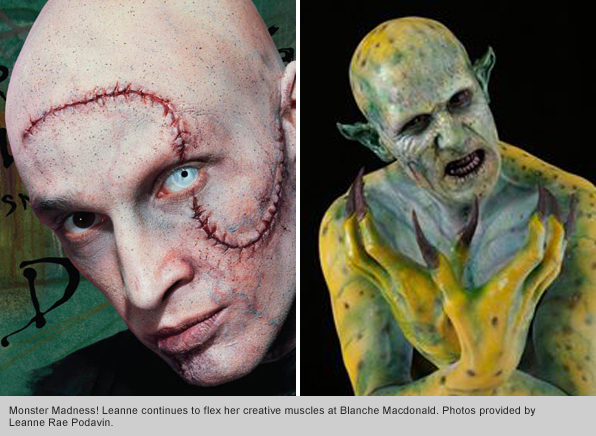 Lesley Opheim-Riou
Makeup Instructor
Lesley Opheim-Riou's experience and knowledge spans 18 years in modeling, retail & bridal makeup and esthetics.
The birthplace of Lesley's career was at BMC in modeling. Her skill set grew into Esthetics in which she worked as a nail tech, waxing and makeup. Her makeup talents drew her into the bridal world, which has been featured in the Bridal Section of the Vancouver Sun. Companies such as Ultima II, Iman and Elizabeth Arden have commissioned Lesley's work. She has also held the esteemed position of the Spa Makeup Director for Skin Concepts Spa in which she lead them in their training, writing newsletters and established their events. Lesley is still active in the spa business as a makeup consultant and advisor on product testing and training for Breizh Salon Services.
Lesley's affinity for community and family is the backbone of her talent. Her comfort and ease is what charms those around her and creates the perfect environment for clients, brides and students alike. It is this sense of well- being that creates a security and assurance in our students to learn how to convey the beauty on the outside and also from within.
Rachel Griffin
Makeup Instructor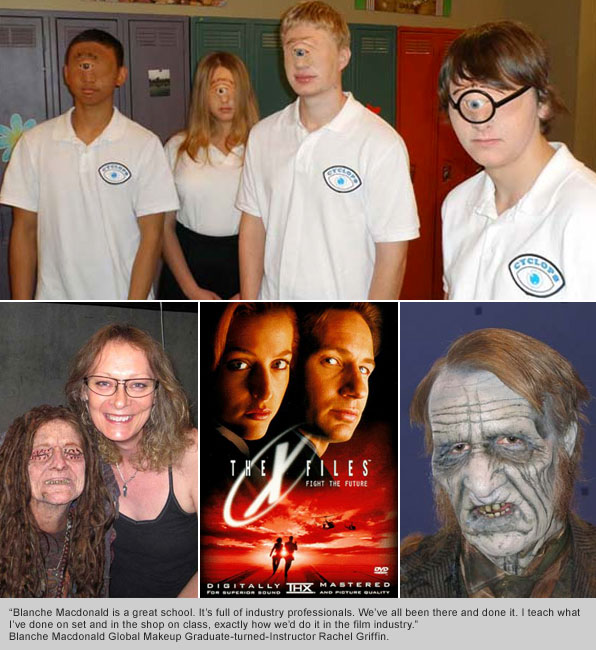 From a Vancouver basement to the sets and FX shops behind global hits like The X-Files, Millennium, Stargate, Supernatural, Fringe, Once Upon A Time, Battlestar Galactica, Falling Skies, iZombie, Lone Gunman, Harsh Realm and countless others, Makeup superstar Rachel Griffin has proved that passion and practice can turn a fan into an industry insider.
"I blame it on my father," laughs Rachel, relaxing in a classroom at Canada's #1 Makeup School, her home base for inspiring the next generation of makeup magicians. "I grew up on a steady diet of cheesy sci-fi. We'd watch things together like Star Trek, Lost in Space, Land of the Giants, Time Tunnel and Dr Who. When I was 16 or 17 Dad took me to see Star Wars. After that I knew I wanted to do something in film."
Rachel's done more than "something." She's become a fixture in the Vancouver Film and TV industry, starring in the city's most creative FX shops and continuing to be producers' favourites when they need an experienced hand on set. It's more than a job to Rachel. She's doing what she's always loved.
"I'd watch sci-fi shows and think, how do they make these things? So I started buying special makeup effects books like Tom Savini's Grand Illusions; that's a bible for makeup effects people. I had a lab in my Mom's basement! I made a little Star Wars movie in my bedroom with the toy figures and a Super 8 camera. I basically learned what not to do."
Read more about Makeup Artistry Instructor Rachel Griffin
Sandra Anderson
Makeup Instructor
Sandra Anderson's career in fashion and makeup extends over 30 years.
The start of this enduring career started in BMC while studying Fashion merchandising and soon turned it's direction to modeling. This call to modeling took Sandra around the globe from New York, London, Barcelona, Milan and Mexico City. Her modeling evolved into the skill and love of makeup artistry. The life of internationally modeling ended when Sandra return home to her roots at BMC to teach makeup artistry.
Sandra's strong passion for excellence, partnered with sincerity, patience and warmth have been the guiding hand to many of our makeup artist students. Having had previous training in self-appreciation, her greatest strength as an instructor is creating a confidence and trust that breaks through many fears that beginning students may have. It's this guiding force in the classroom, which along with makeup has taught the students to have confidence and trust in themselves to move forward successfully. Her message of strength and excellence has been the first guiding hand to many of our graduates for the past 20 years and still continues unfailing to this day.
SYDNEY SILVERT
Makeup INSTRUCTOR
Superstars Johnny Depp and Brad Pitt. Supermodels Shalom Harlow and Beverly Johnson. Ryan Reynolds, Mandy Moore, Mischa Barton, McDreamy...Patrick Dempsey, Carrie-Anne Moss and Vince Vaughn. Name dropping? Mais non, they are just a few of the Hollywood A-list stars Blanche Macdonald Television and Film Makeup Instructor Sydney Silvert has worked with over the years. Add Angela Basset and Freddie Prinze, Jr. and this accomplished Makeup Artist 's list of celebs is still just getting started!

Sydney began his makeup career in Montreal. His background in theatre and performing arts, however, soon drew him into film and Sydney found himself on blustery Bowen Island, cold and weather gear-less, working next to Rod Steiger and Yvonne De Carlo on the feature film, "American Gothic".

After acclimatizing himself to our unpredictable West Coast weather, Sydney firmly established himself and his talent during the early days of the Vancouver film industry. When producer Stephen Cannell brought "21 Jump Street" to town, the entire Vancouver industry got a shot in the arm. Sydney took full advantage and was hired as Head of the Makeup Department for the second season. He remained on "21 Jump Street" for four years, gaining plenty of professional experience with cast members Johnny Depp and Richard Grieco and watching a parade of young guest stars like Brad Pitt and Christina Applegate come through town.

Sydney Silvert is a prolific artist and a veritable encyclopedia of makeup products and their ingredients. He is a long-standing IATSE 891 union member with a list of credits that stretches over a wide range of film and television projects. Having completed work on "Saved!", "Blade:Trinity", "Connie and Carla" and "Scary Movie 3" Sydney is currently taking a break from features in order to concentrate on his classes and exercise his teaching degree. The Blanche Macdonald Centre couldn't be happier to have his talent and knowledge on-hand for our young, aspiring artists.

But if history has taught us anything, it won't be long before Sydney is back under the lights, touching up Hollywood's finest.

"Blanche Macdonald Centre offers students a well-rounded curriculum and a supportive atmosphere which prepares them for the challenges and rewards of a career in the film industry." - Sydney Silvert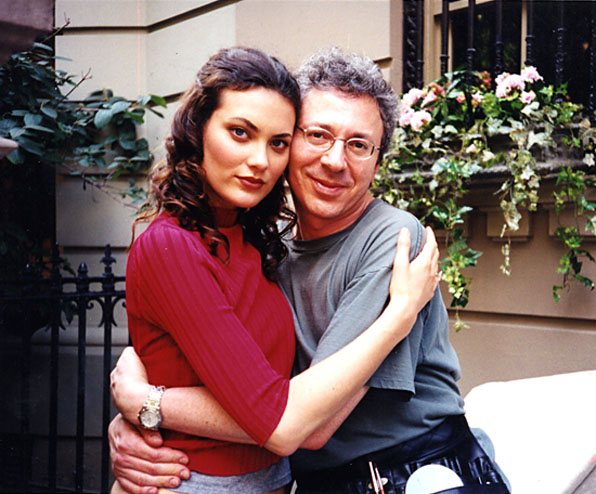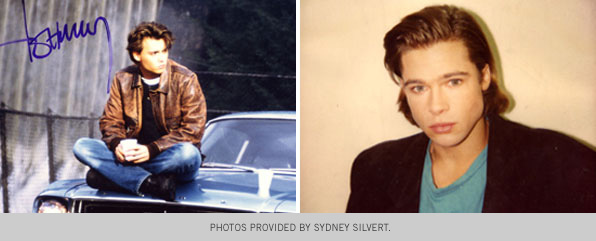 Vanessa Giles
Makeup Instructor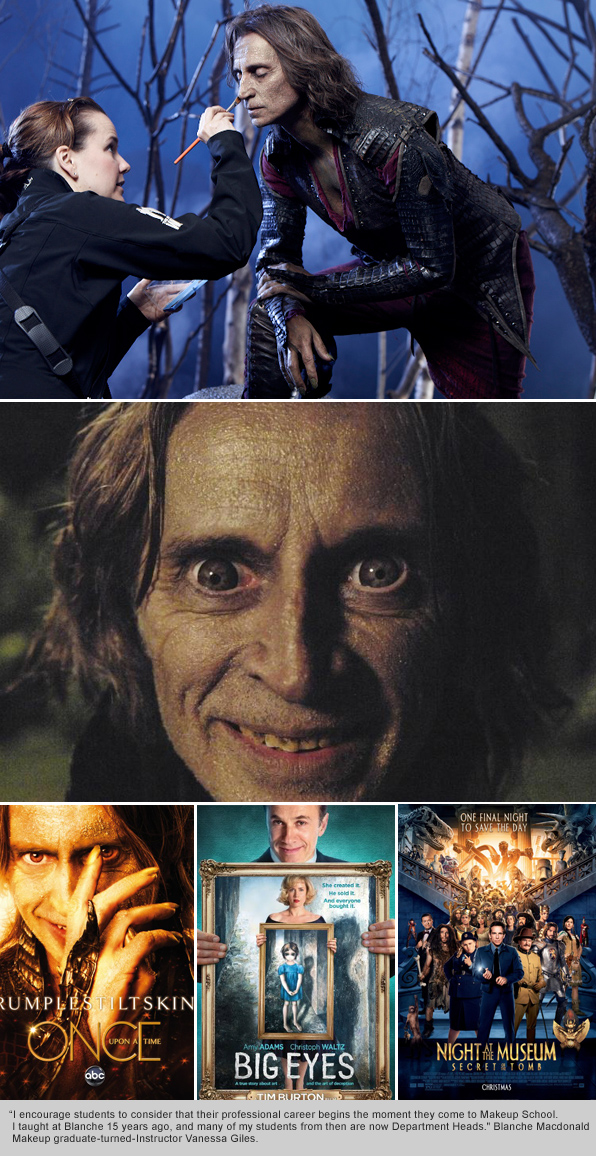 If you find yourself in one of Vanessa Giles' classes at Blanche Macdonald, pay attention to every word. You never know when you're going to be treated to a magical story from the daily adventure that is the TV and film industry.
"On Once Upon A Time I was working with Ginnifer Goodwin, who plays Snow White. In a horseback scene Ginnifer was knocked to the ground by a horse. Our lead lady literally flew face first into the ground as hooves landed all around her! Ginnifer, being the trooper that she is, got up with her face covered in blood and the crew tentatively applauded her as she walked off to get treated. She asked me to accompany her to the hospital for stitches on her brow. It was up to me to calm her nerves about the prospect of scarring. I promised I'd do everything I could for her to continue shooting. We returned to the makeup trailer where I counter-shaded her swelling, covered her bruising, reshaped her eyebrow and camouflaged her bandage as best I could. She was able to return to set that same afternoon and I received flowers from production the next day for allowing them to keep shooting as planned."
Vanessa's always ready to save the day. The Blanche Macdonald Makeup graduate-turned-instructor has adazzling résumé, working on blockbusters including The Chronicles of Riddick, Watchmen, Rise of the Planet of the Apes, War of the Planet of the Apes, 50 Shades of Grey, Sucker Punch, Star Wars: The Force Awakens, Night at the Museum 2 (which narrowly missed an Oscar nomination for Makeup), The Assignment with Sigourney Weaver, and the forthcoming Tully, where she was the personal Makeup Artist for the legendary Charlize Theron. Pretty impressive for someone who didn't even consider herself an artist until towards the end of her high school career.
"I really wasn't the best artist until I had an art teacher, Mr. Sandvoss, who showed me Georgia O'Keeffe's work," she recalls. "I'd never seen anything like that before. A switch went off in my head, and all of a sudden I could draw and paint."
From that moment Vanessa knew she was going to be an artist. She just didn't know what kind.
Read more about Blanche Macdonald Makeup Instuctor Vanessa Giles
WIN LIU
Makeup Instructor
"I'm jealous of Makeup Artists who can narrow it down to Fashion or TV and film," laughs Blanche Macdonald graduate-turned-instructor Win Liu. "I love working on both! I'm represented by the model and talent agency, Lizbell, and I'm also an IATSE permittee, which means I get to work on union shows like Arrow, Warriors, Motive, Almost Human and Wayward Pines. That's great for me. I get the best of both worlds!"
Every job has its perks for Win, whether it's the challenge, the people or just seeing the end results. If she's doing a Beauty application or Special Makeup Effects, she throws herself into her work with the same effervescent enthusiasm that first brought her to Blanche Macdonald.
"I'd studied painting and fashion, and was working in fashion, making couture collections for private clients. I just didn't see fashion as a full-time career. I woke up one morning thinking 'what else can I do with my hands and brushes?' Later that day I walked into Blanche Macdonald and asked if I could talk to someone about the Makeup Program. Jaye Klippenstein showed me some portfolios and I said, 'OK!"
Win started her studies convinced that she'd focus on Fashion Makeup. That was the plan. Right up until she took Jen Folk's Special Makeup Effects class.
"I was sure that I wanted to do only runway," smiles Win. "Then Jen showed me a whole new world. She came in on the first day of class and said, 'Ok guys, today I'm going to teach you to make a dead finger.' We made a bloody latex finger and that night I brought it to a pub to watch a hockey game. I left the finger on the table and freaked out the bartender. After that I was totally into prosthetics and makeup effects."
That instant passion took Win to two IMATS Character Prosthetics Finals, taking the Third Place Trophy in Los Angeles by turning her brother into a monstrous version of Henry VIII. Win had natural talent, but she also embraced the Blanche Macdonald philosophy that it's never too early to start acting like a professional.
Read more about Blanche Macdonald Instructor Win Liu