Beauty. For Global Makeup graduate Eva Svobodova, it has been a lifelong fascination.
At University in her home country of the Czech Republic, Eva earned her Bachelor of Arts Degree studying the question "What is Beauty?" analyzing the theories of critics, philosophers and art historians who, like Eva, were searching for the answer.
Now, halfway across the world, Eva explores that very same question as a professional Makeup Artist in Vancouver, Canada. Moving from the theoretical to the practical, and from the pen to the brush, Eva creates beauty through her daring and dazzling artistry. Through her bold, colourful work she challenges us to question, to interact with and marvel at the medium of makeup.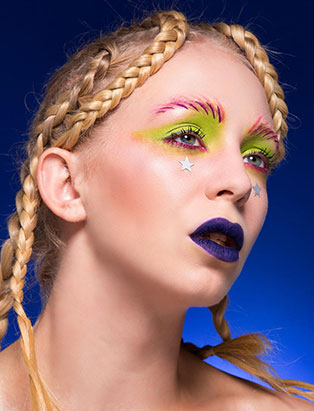 In her short career Eva has graced the podium three times at the IMATS (International Makeup Trade Show) Battle of the Brushes, and she is already working as an in-demand Freelance artist for editorial, fashion shoots and films. With all that Eva has achieved just a month after her graduation, you would think she was born a makeup artist. But before she stumbled upon Blanche Macdonald two years ago, she didn't even know makeup schools existed.
"I was 27 and I still didn't know what I wanted to do. I was googling one day and I found Blanche Macdonald by chance. I didn't know you could actually study Makeup Artistry! So when I found out about the school, I knew I wanted to do it."
Eva had always loved art, but she was left unfulfilled by her academic studies at University. Hoping that things would become clearer with a fresh perspective, Eva decided to travel and improve her English. She obtained a work permit for Canada, and landed on the West Coast ready for an adventure. But after a year in Vancouver, the only thing that was clear was that she wanted to remain in Canada. With work permit options exhausted, she decided to apply for a student visa. But to study what?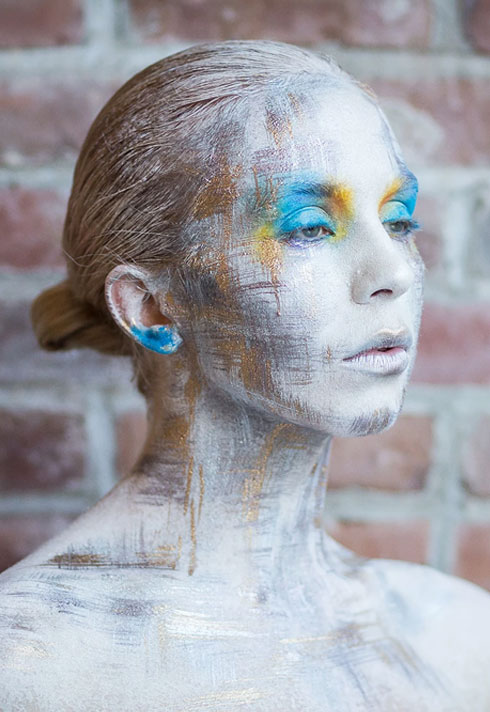 "I wanted to do something creative," she recalls. "That was when I discovered Blanche Macdonald. I came and met with a director, read the reviews and it was all great. Everyone was so excited about this Makeup program. The atmosphere was so professional and everyone was so nice. I was really excited. So I said okay, let's do it! And I am glad I did it!"
---

Don't be afraid at all. I loved my time at Blanche Macdonald. If you know you want to do makeup, this is just the best place to be!

---
Eva hasn't looked back. Always facing forward, she continually challenges artistic boundaries, creating avant garde makeups that deconstruct questions of beauty and push at the borders of the medium. From pastiche to postmodern to painterly, Eva's provocative work is as intelligent as it is eye-catching.
The IMATS judges obviously agree. In two years Eva has taken home first, second and third prizes across two categories in Vancouver and in Toronto.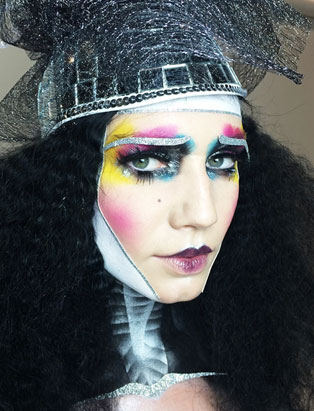 "The first time I was at IMATS was in 2014. I saw the Battle of the Brushes contestants and I thought, that's going to be me next year! So I made it my goal. I applied, and in 2015 I won first place in Beauty/Fantasy. It was a surprise! You hope for it but you never expect it. It felt great!"
Bolstered by her win, Eva applied to IMATS 2015 in Toronto, where she won third place in Beauty/Fantasy. Then at IMATS 2016 in Vancouver, she placed on the podium yet again with second place in Character/Prosthetics. But this time it wasn't just the prize that made it special. Eva fulfilled another goal: meeting Todd McIntosh, Blanche Macdonald's Emmy-award winning Makeup Director. Todd was Eva's personal Battle of the Brushes mentor in a private one-on-one coaching session of a lifetime.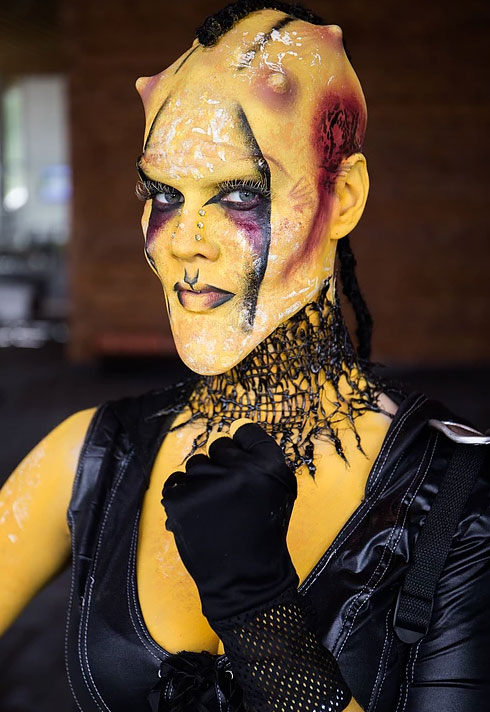 "Before I enrolled I was reading the brochure of the school and there was Todd McIntosh. I thought, I want to meet him. And then I got to have him as a mentor! It was a huge honour, it was amazing. He was so open. He showed us a demo and how he does Prosthetics. He was really nice and gave me great advice and feedback on my work. He was a huge help. I love him!"
Creative, determined, driven and unstoppable, Eva is a true artist, combining raw talent with a winning work ethic. But to define Eva in one word would be: fearless. In her work, in her art and in her life. She takes on challenges with grace and confidence, embraces risk and takes leaps of faith across continents, across careers, across expectations. This fearlessness will continue to raise her to soaring heights of artistry and success. It is the foundation upon which she will build her amazing career.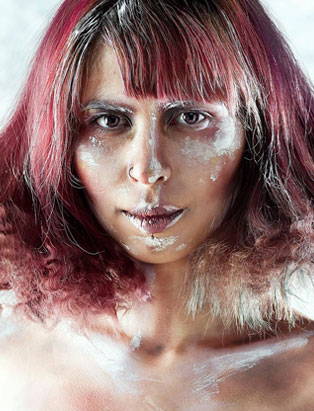 Have No Fear: these are words Eva lives by, and her most precious advice to fellow budding artists and international students.
"Don't be afraid of the language. Don't be afraid at all. Because everything is just fine and everyone is so supportive. I loved my time at Blanche Macdonald. If you know you want to do makeup, this is just the best place to be!"