Makeup

Makeup legend Todd McIntosh is more than a guest on his regular visits to Blanche Macdonald. Todd is family.
As our Makeup Director, Todd's expert fingerprints – the same ones that won Emmy Awards for Buffy the Vampire Slayer and Pushing Daisies – can be found over Canada's ever-evolving and most complete makeup curriculum. He's been at the helm of Blanche Macdonald's Makeup Program for nearly 30 years now. So when Todd makes one of this regular pilgrimages to Vancouver, it's more than business. It's pleasure too.
That pleasure was shared with Blanche Macdonald's students and instructors as Todd spent a week and half with us this summer, providing multiple days of detailed artistic and career advice with the next generation of makeup superstars.

Todd's time at Canada's Top Makeup School began with one-on-one sessions with our Battle of the Brushes contestants at the Vancouver IMATS, delivering wisdom that helped our graduates to a clean sweep of the podium – first, second and third – in the Character Prosthetics category and a superb second in the Beauty/Fantasy.
"I've been a huge fan of Todd since I was ten years old, when I watched Buffy the Vampire Slayer," explained Battle of the Brushes first place winner Devon Burbank. "The fact that he took time to critique my work was amazing. He suggested so many ideas about hiding edges and folding things out. Todd is incredible. At the end he gave me a full hug and I freaked out."
Todd went on to spend two days visiting classes in progress, meeting students while providing hefty doses of inspiration and hands-on expertise.

Perhaps the highlights of his visit were a pair of detail-focussed demonstrations at our Atelier Campus, where Todd proved that you don't need miracles to create makeup magic. Using products from the pro store at CurliQue Beauty and latex masks retrieved from the bottom of the leftovers cupboard at Masters FX, Todd combined technical wizardry and artistic flair to create screen-ready aliens in under two fascinating hours.
"Of course the School is bigger than when I first became involved," he explained, "but it doesn't change that much. We're constantly expanding the Makeup Program, but students will always be students. They're just beginning to understand how deep this career can go and what it takes to be in this industry. The questions they asked me were really intelligent. I know that their teachers have already answered those questions. But because they're asking this mysterious figure that wrote the curriculum, perhaps they listen to my answers more. The ideas about the realities of the industry are coming into their heads."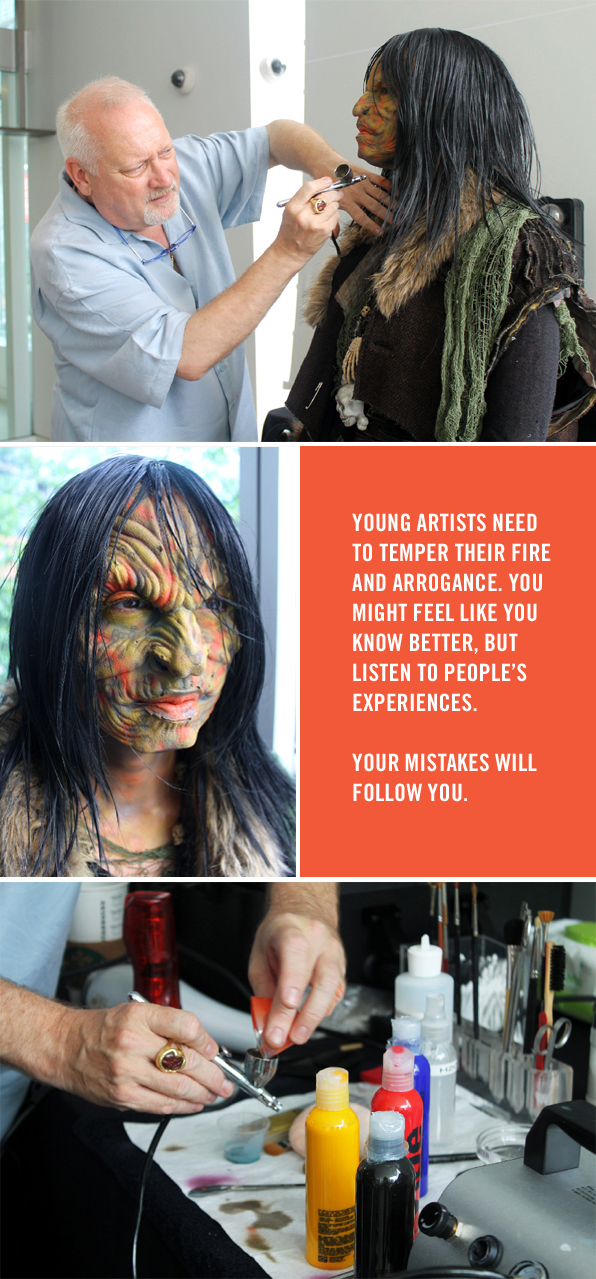 The technical and artistic secrets revealed by Todd are going to stay with the students lucky enough to have seen them at first hand, but there were plenty more industry and life lessons to be learned. Here are just a few of our favourites.
"When I was a young makeup artist I travelled to New York to visit Dick Smith. He showed me some makeup work photos from a young student. They were terrible. Dick explained how he recommended that the artist should take some sculpting and painting classes. Then he showed me photos of amazing work of a model in Alfred Hitchcock makeup. It was the same artist. Dick taught me that you can't judge a student before they've had the training."
"I was told a Makeup Artist had worked on Planet of the Apes so I brought him into our trailer to apply some prosthetics. After two hours, he still hadn't attached the ears. It turned out that he had just been pulling ape masks onto actors' heads. Don't lie about what you've done. Tell your Department Head the truth."

"I was asked to do some beauty makeup for an actress making a speech. That actress turned out to be Audrey Hepburn. It turns out that she was nervous about speaking in front of people. It's ok to be nervous. I still get nervous!"
"This job can be stressful. In the event of panic, breathe in for a count of four then breathe out for a count of four. Keep calm and controlled. Don't be dragged out of your circle."
"Young artists need to temper their fire and arrogance. You might feel like you know better, but listen to people's experiences. Your mistakes will follow you."
"I'm not into this to meet famous people. I love the process and art of transformation. I'm fascinated, not just by the surface, but by what happens inside when you're transformed."

It was an honour and a pleasure for all of us to welcome Todd back to Blanche Macdonald. The funniest thing is, he might have enjoyed his time here more than anyone.
"It's always wonderful to come back here! Just walking around Vancouver it's so different to my home in LA.
"Jen Folk, Tracey Payne and I have been busy working on curriculum, bringing things up to date in regards to the latest products and developments in HD. And it's been a pleasure. This is home. I love it here. As long as I have a tea in my hand I'm comfortable!"