"I'll always remember my experience on set for my first fashion editorial in London. I was assisting makeup artist Janeen Witherspoon for Dazed & Confused's 20th Anniversary Edition. There were racks and racks of clothes, tables full of accessories, makeup for days, suitcases packed with wigs, and a team of ten people working alongside Janeen and myself: photographer Ben Toms, fashion stylist Katie Shillingford, hairstylist Martin Cullen, set designer Amy Stickland, along with the photo team and creative assistants. I remember leaving with goose bumps all over thinking "Yep, this is what I want to do.'"
That was the first of countless unforgettable experiences for Breianne Neeser in the upper echelons of European high fashion. After five scintillating years in the UK the Blanche Macdonald graduate-turned-instructor has returned to her hometown of Vancouver. Their loss is our gain. She's now crafting makeup classes inspiring future generations of Artists to follow in her footsteps.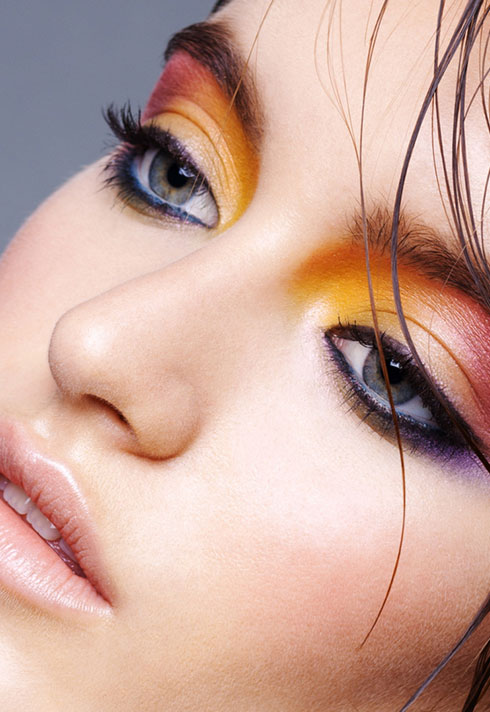 "Makeup was always my passion," recalls Breianne. "Since I was a young girl I always saw makeup as something artistic rather than making people look pretty. I loved seeing the change and transformation. Growing up, my original goal was to become a professional dancer. At a certain point I knew that wasn't going to be my future, but being exposed to the creative side of makeup through dancing helped me realize that it could be my career. When I was 20 I made the decision to come to Blanche Macdonald. I knew it was the best. I didn't even look at another school.
"As soon as I started Makeup School I realized where I belonged in the industry. The beauty and fashion modules really caught my attention. I wasn't a fashionista. It was more beauty than clothing that inspired me. I loved the artistic element of fashion makeup: everything was full of colour and beautiful imagery."
---

I love seeing the passion in the students, where their drive and skill shines through. The improvement in their work warms my heart.

---
After graduation Breianne immersed herself in a job at Vancouver's celebrated Avant Garde Hair Salon apprenticing under legendary hairstylist and family friend Jon Paul Holt. Under Jon Paul's supervision Breianne became a skilled hair professional ("In this industry, especially in Vancouver, it is important to have skills with both makeup and hair") while continuing to work on her makeup career, staying busy experimenting with photographer Karolina Turek.
"We were enjoying the creativity, but we also understood that we were at the beginning of a long path for both our careers, building our portfolios and gaining experience."
When Breianne felt that it was time to refocus on her makeup she had the skills and contacts to secure a coveted position at MAC at The Bay Downtown. With real world experience in makeup, hair, fashion photography, bridal, retail and business development Breianne knew she was ready to take her career to the next level. Opportunity came knocking when her husband was offered an unexpected work transfer to London, England, one of the fashion capitals of the world.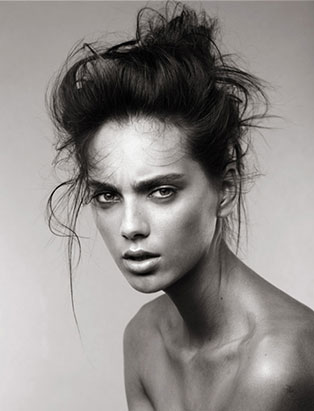 "He was hesitant at first but I knew that there was no better place for me to be. I did tons of research before I'd even left Canada, and I made one very good contact, Janeen Witherspoon. We were both Blanche grads and shared the same job working for Jon Paul at Avant Garde. She'd just done it 10 years before me. We instantly made a connection and I knew we would be friends for life."
Breianne was shooting with Janeen on the aforementioned Dazed & Confused shoot just two days after arriving in London, kick starting a relationship that immersed Breianne in London's fashion industry as Janeen's first assistant. The two Canadians worked their magic on campaigns and publications including Cos, Jenny Packham, Vogue, POP, i-D and The Sunday Times (where they created looks on supermodel Karen Elson), along with runway shows like Bora Aksu, Mother of Pearl and Lucas Nascimento.
Within one year of moving to the UK Breianne had travelled between London, Paris and New York for Fashion Weeks, working on designer shows for KTZ, Christopher Raeburn, Fred Butler, Lie Sang Bong, Viktor&Rolf, Qasimi, ACNE, Emilia Wickstead and Fyodor Golan. That's the tip of the iceberg.
"I worked at over 80 shows. So many of them inspired me, but Lie Sang Bong in New York was one that really stood out. They did an amazing set with illuminated butterflies all along the runway. It captured true elegance and simple beauty."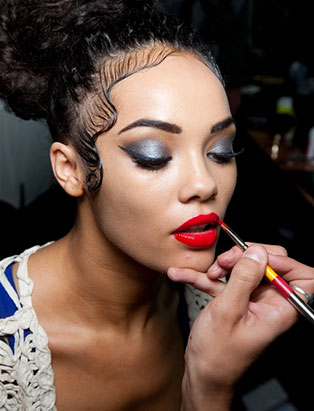 Through her backstage presence and a few words of recommendation Breianne landed a first assistant role with superstar makeup artist Ayami Nishimura. As Ayami's right-hand girl, Breianne started a fresh run of A-list experiences, editorials and campaigns.
---

When I was 20 I made the decision to come to Blanche Macdonald. I knew it was the best. I didn't even look at another school.

---
"We shot Emma Watson at London's famous Claridge's Hotel with photographer Ellen Von Unwerth. Emma is honestly one of the most intelligent women I have ever come across; so well educated, incredibly well spoken, very calm and humble, but still with a cute sense of humour. It was great to get to know her as a person and not as a celebrity."
Breianne takes pains to point out that even with the celebrity glamour, assisting is a demanding and underrated job.
"You're completely in charge of the kit. You set up and make sure the models are prepped and ready. When the Key Artist is doing the work you're handing every product and brush to them, so you need to be one step ahead and be ready before they even know what they're going to do. You have to be focussed at all times."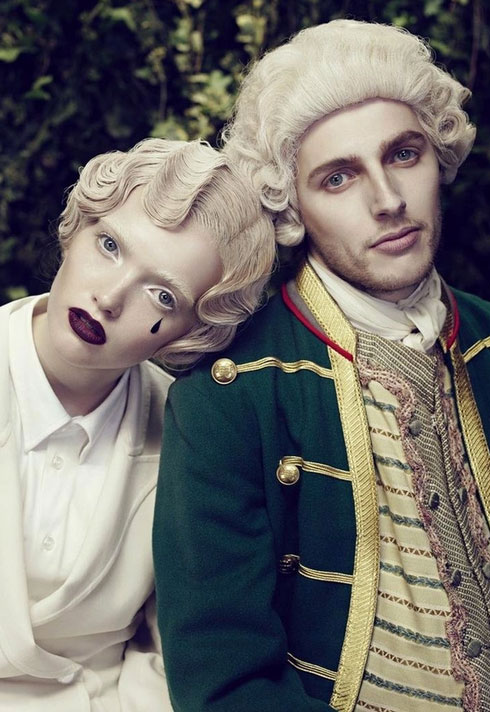 Of course, hard work can still be enjoyable. Especially when you're making films for Gucci with a selection of some of the world's top supermodels.
"It was amazing to see the production put together for that shoot. Some the rooms were stacked on top of each other. Some would actually teeter from side to side to create the movement you see in the video. I was constantly on my feet running up and down stairs, but it was so worth it. I got to work with Stylist Katie Shillingford and the amazing Hairstylist Alain Pichon. The models – Suvi Koponen, Diana Moldovan, Nadja Bender, Kasia Struss, Clement Chabernaud, and Arthur Gosse – were fantastic to work with and extremely professional. There's a reason why they're so successful.
"Assisting Ayami is always an unforgettable experience. She works so quickly and incredibly efficient. She never wants anyone waiting on her. She knows that the models don't like sitting in her chair for any longer than they need to. I learnt so much from her.
"Working on Triumph's lingerie campaign in Ibiza with Ayami was something I won't forget either. Every day was go, go, go! I was organizing and preparing the makeup kit, getting the kit safely to the location, making sure that the station was set up efficiently, preparing the models, making sure their bodies were flawless, and maintaining the makeup throughout the day. The main model for that shoot was Hannah Ferguson. I knew she would turn big and sure enough she exploded as a Sports Illustrated model."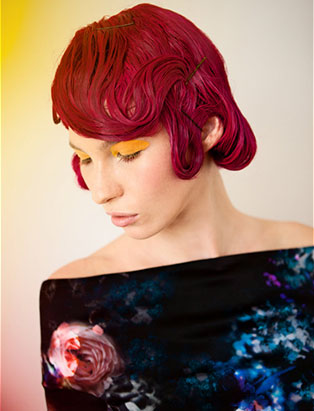 Blanche Macdonald students now have ringside seats for these and many more stories. The lure of home and West Coast fresh air brought her back to Vancouver and into the classrooms of Canada's top Makeup School, where techniques and tales from fashion's front lines provide daily enlightenment for her students.
"I love sharing my knowledge and my experiences, although I'm definitely a tough love teacher. I'm friendly and involved, but I also set the ground rules. Soon students will be working around people they don't know, and they need to behave in a way that's professional. I try very hard to prepare them for the real world."
"I love seeing the passion in the students, where their drive and skill shines through. The improvement in their work warms my heart. I had a student who couldn't do eyeliner when she started with me but by the end of my module she had no problems creating that perfect line. I've had some incredible experiences, but it was still amazing to think that I was the one who gave her the confidence and direction to make that possible."