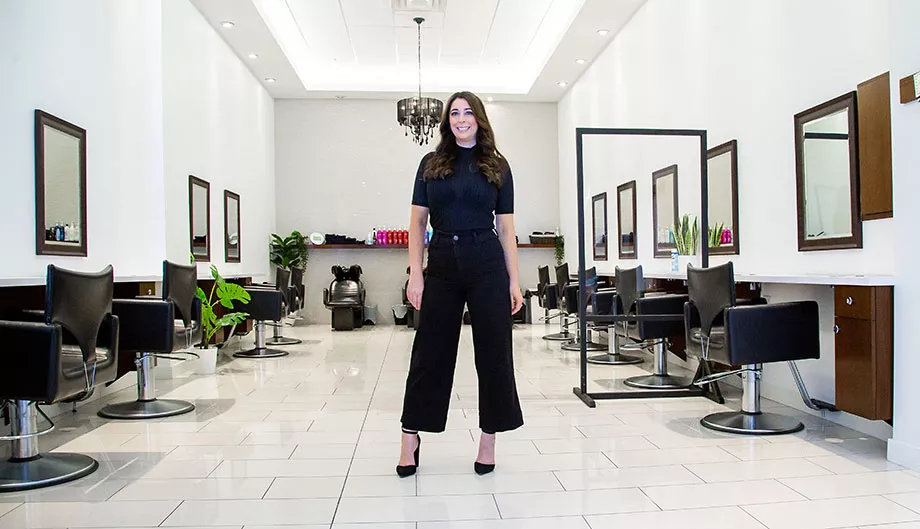 In the near-decade that Refresh Salon has been open in Suterbrook Village, Port Moody, the area has seen two high rise buildings come in, with two more on the horizon. For Refresh Salon business owner Courtney Vieira that means one thing—new potential hair clients! A year and a half after Refresh Salon opened, Courtney acquired the space next to Refresh and extended the salon floor. In December, Courtney updated the floor to hold even more chairs. At the time, it was a good business move, and now, it is an absolute necessity. "It was the most perfect timing for social distancing. We've got 15 chairs right now and nine stylists. We rotate shifts, but because of the floor space we have, we can have up to seven stylists and their clients here at a time."
---

Blanche Macdonald is totally worth it. It was the most fun year of my life.

---
Courtney isn't only the owner and manager for Refresh Salon—she's also the in-house makeup artist. Their other services since COVID have, for the most part, come back to a semi-normal variance. "We're doing hair and makeup, and there's a lady in the back that does lashes and spa services. We're all local girls, so we work together and promote each other. We don't do as many hair and makeup combos as we're used to with fewer weddings and events happening, but we get clients in for them separately still. With COVID being our primary thing to contend with now, my quick and clean Makeup application skills are even more important!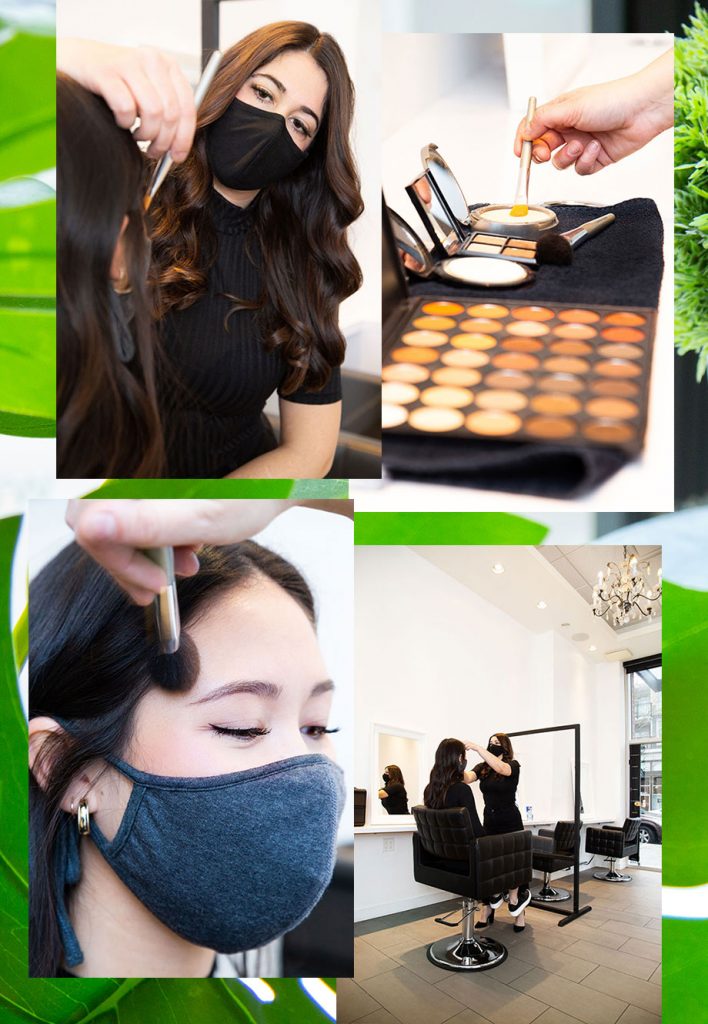 "We had to close, along with everyone else, for nearly two months at the height of COVID. The panic was so real when everything started, and the future was so unknown. We didn't get a lot of help from the landlord, so I had to bust my tushie to make rent. Thankfully, our community stepped up and helped me make up half the rent in gift cards and products."
---

If becoming a makeup artist is in the back of your mind, don't double think it. Go for it.

---
Despite the economic upset, Courtney was able to have all of her staff back by mid-May. And of course, her staff of hairstylists and estheticians have all been chosen to meet Courtney's vision and exacting standards: "One has stayed with me the whole time I've had Refresh, and she's now my manager. Some girls have stayed for seven or eight years; some like to switch it up more often and change and explore, which is great, too. No matter the timeline, anyone working here has a love for this industry and takes their jobs seriously. We get resumes all the time! I'm also always looking for people. People who come from Blanche are great because I know the program. I know they have the fundamentals, and then it's just about training them here. From the looks of the resumes I get, people are applying to these programs like crazy, and I love it!"
And Courtney needs all the stylists she can get! Between the post-COVID rush and the influx of people from the buildings in her area, this salon business owner has to make sure that Refresh Salon is ready to meet every client's needs. "I've got one girl who does edgier cuts and colours so she can cater to that clientele, and I've got one girl who's been in the industry for 16 years, so she's got her own little following. A lot of her long-time clients are starting the transition to grey, so they're not coming in for their roots every few weeks, so she's beginning the cycle of gathering new clients—which is a whole new set of needs and maintenance! We've also got some clients that come in for their routine maintenance too, but we're always working hard, staying busy, and I'm just super thankful for it all!"
---

People who come from Blanche are great because I know the program. I know they have the fundamentals.

---
Seeing as she's owned Refresh Salon for nearly ten years and managed quite a few people in that time, you'd think there would've been some peaks and valleys that the business has gone through—other than COVID, of course—but according to Courtney, it's been pretty smooth sailing. "I've been fortunate in that all of my business surprises have been good ones! As a salon business owner, I've met so many good people, made a lot of good connections, gone on educational trips, and sent my staff on educational trips—I'm just unimaginably thankful. Every time that would happen, it was like an affirmation, like 'Yes, this is why I got into this business.'"
A career in Makeup and Hair was always something Courtney had aspired to, so by the time she was ready to graduate high school, the question wasn't "what?" it was "where?"
"I was always into art and fashion," she continues. "I was always reading style magazines. I was always the person my friends would come to with questions about fashion and makeup and hair. I'm a Pisces. Artistic, right? So that led me to cosmetics. A family member said, why don't you check out Blanche Macdonald? I found the website, had the interview, and I knew that was where I wanted to be. Makeup School looked so interesting. I saw all these students with big makeup cases walking around, and they all looked like they were loving it. There was an effects shoot going on when I visited. Someone looked like Pinhead, the character from Hellraiser. I was really interested in beauty, but I wanted to learn how to do makeup like that too. I thought this has to be my path."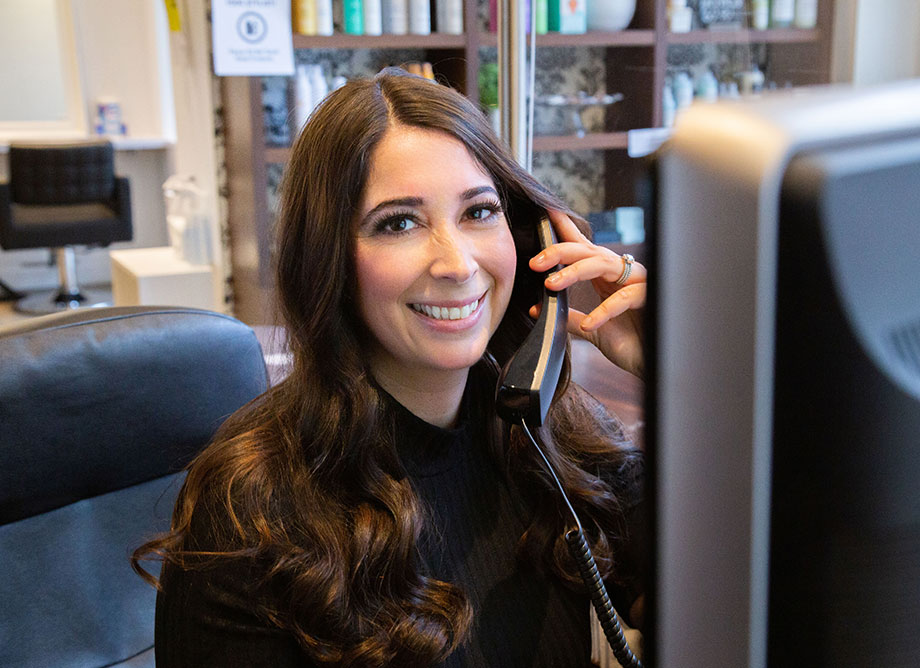 And Courtney walked every step of that path she could, between volunteer positions, music videos, and positions at other salons, Courtney finally had to listen to her heart and step onto her own and open the salon she'd always wanted to.
---

I wish I'd started this business sooner.

---
"I wish I'd started this business sooner," she admits. "I was young. It took me a few years to realise I was ready for this. I don't know if I was ready to own a salon or spa when I graduated, but I think I could have opened a store that was strictly cosmetics and beauty. We took business courses at Blanche Macdonald, so we knew what was out there.
"If becoming a makeup artist is in the back of your mind, don't double think it. Go for it. Blanche Macdonald is totally worth it. It was the most fun year of my life. You'll never forget it."
Before COVID hit, Courtney had some big plans for another location in a new development that's springing up nearby. Those plans are on hold for now, but you never know what the future may hold for Refresh Salon.
"I love my staff, but it's the clients that come first. Hair concerns are life concerns! I want people to feel better when they come in, and if I can take a good risk once things are calmer and reach more people, then that's what I want to do. My clients always come first."