Makeup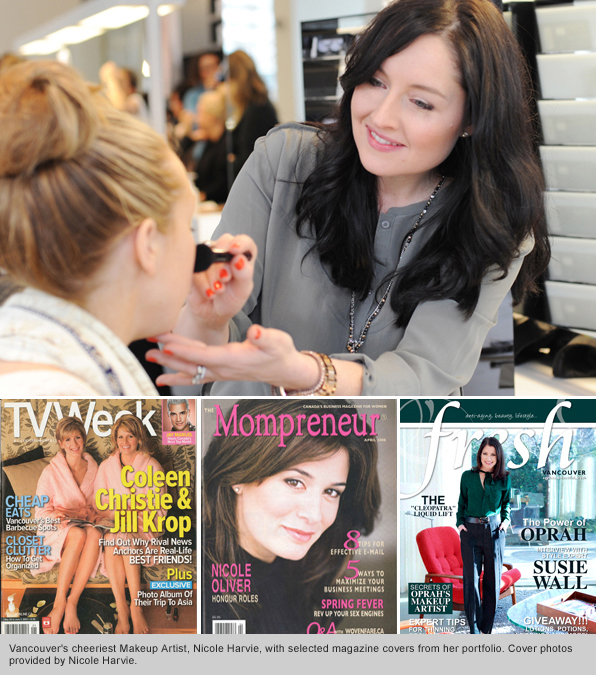 Nicole Harvie always expects the unexpected. As a makeup artist specialising in the twin environments of live and reality-based TV, she knows that on any given day, tension and nerves are potential hurdles that need overcoming. Which is why her job means making sure everybody on screen feels as great as they look.
"I'm the cheermeister!" she laughs. "When I did a stint on the Citytv Morning Show I had to wake up at 3.45am five days a week. No-one feels that good early in the morning. Your responsibility as a makeup artist is to get everyone's day off to a good start. Pretty them up and cheer them up. How are you today? What have you got planned? People feel great when they get their face on and feel taken care of. I want people who sit in my chair to leave with a little extra energy as well as a bit of colour."
Delivering that shot of energy comes naturally to the graduate from Canada's #1 Makeup School. It's noticeable the minute you meet her; a combination of warmth, charisma and gentle professionalism that's led her from Blanche Macdonald to the studios of Shaw, Citytv, Global TV and CTV, and has taken her behind the scenes on some of Canada's most entertaining lifestyle and reality TV shows, including Take it Outside with Kelly Deck, She's Crafty, and Urban Suburban for HGTV Canada, Smart Cookies and The Cupcake Girls for the W Network, Crash Test Mommy for the Slice Network, and Million Dollar Neighbourhood for the Oprah Winfrey Network.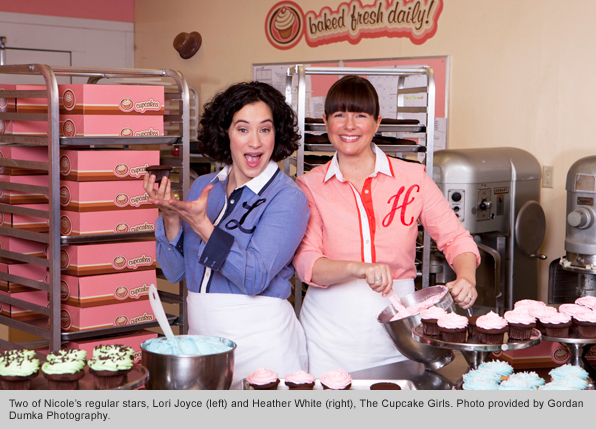 "For the most part, these reality-based shows are pretty real to life. I love being on set in the fervour and all the ups and downs. It's rewarding to see the final result. And it still excites me to see my name roll on the credits.
"I've been on camera on Anna and Kristina's Shopping Bags and Anna and Kristina's Beauty Call, talking about how to do red lips, concealer and so on. For a number of years I did segments on MTV Canada and Citytv on beauty and fashion. I like being on screen when I know what I'm talking about, and I know what I'm talking about when I talk about makeup."
Read More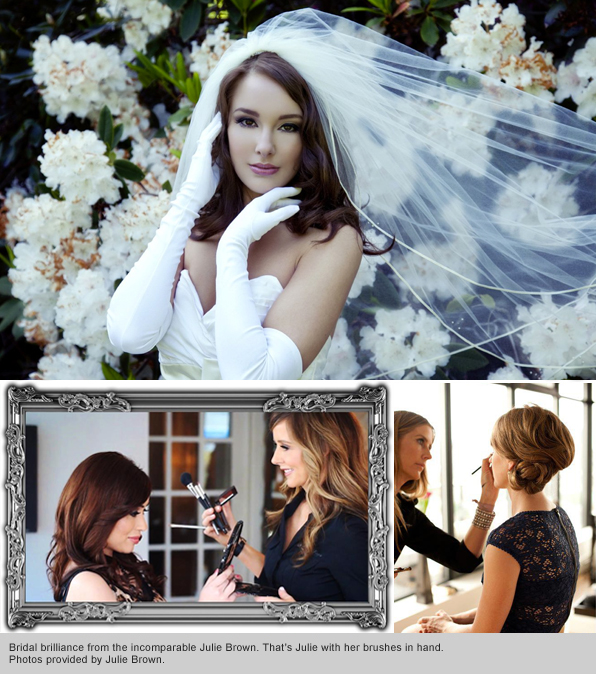 It's never too late to begin a new career. Julie Brown is proof. She's one of BC's most in-demand Bridal Makeup Artists (with a Weddingwire.com Bride's Choice award to prove it), an IATSE permittee for the film and TV industry, a beauty columnist for Fresh Magazine and an instructor at Canada's #1 Makeup School, which is exactly where her own makeup journey began.
"I was in my late 30s, working as a flight attendant for Air Canada," she explains. "I was spending money on makeup like crazy and doing it on friends as a hobby. I was thinking about a career in makeup but felt like I was too old to make a change. I'd thought about going into makeup when I was younger, but I was dissuaded by my parents. It was always something I loved doing. I was fascinated by the transformation process. During my school years I would rip pages out of fashion magazines of makeup, clothes and hairstyles that I loved, and made collages in scrapbooks. I was so surprised when I came to Blanche Macdonald that we were asked to do assignments called photo morgues. That's what I did when I was younger!
"A friend told me, 'You're going to be 38 anyway. Why not be a 38-year-old who's a professional Makeup Artist?' I knew Blanche Macdonald's reputation, so I went on the web site, and saw that I could do the Global Makeup Program Monday through Wednesday or Wednesday through Friday. I could go to school and still fly the other half of the week!"
Read More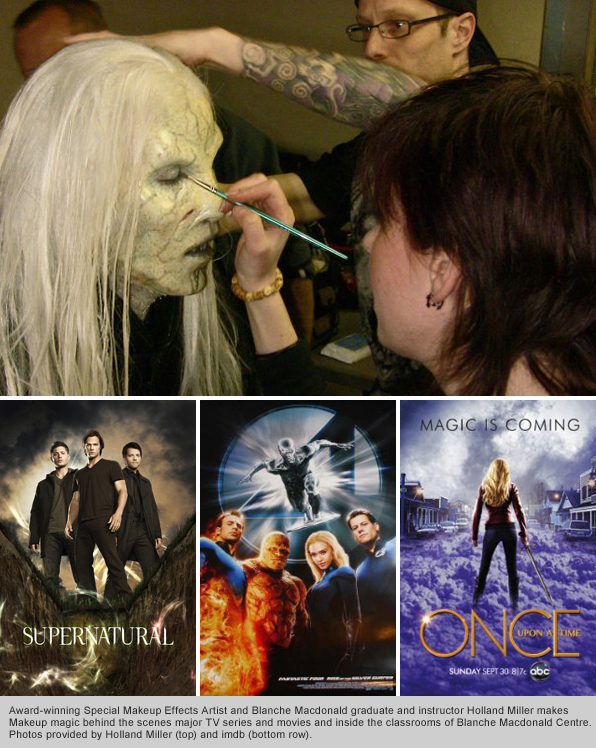 "When I was 16 I snuck into the theatre and saw Aliens. At that moment I knew I wanted to make monsters."
Holland Miller knows all about monsters. The young man from Sacramento now inspires the next generation of Makeup Effects magicians. You've seen his work on Fringe, Supernatural, Once Upon A Time, The Cabin in the Woods, Elysium, Sucker Punch, Underworld Awakening, A Haunting In Connecticut, Fantastic Four: Rise of the Silver Surfer, Underworld: Evolution, The Chronicles of Riddick, Twilight: New Moon, The X-Files, and Stargate. And when he's not on set, Holland teaches at Canada's #1 Makeup School. Which just happens to be where his own makeup journey began.
"After Aliens I bought a whole lot of Fangoria magazines and all the science fiction and horror fanzines I could get my hands on. I went to community college when I was 17 and did a couple of art courses. We had to do a commercial illustration for a funeral home and I drew a coffin with a corpse coming out of it. I thought it was funny as hell. My instructors rejected it without even looking at it."
With an artistic career looking unlikely, Holland enlisted in the US Navy. On duty in the Persian Gulf during the First Gulf War, the opportunity to reignite his creative tinderbox arrived unexpectedly.
"We'd run emergency simulation operations. Part of that was first aid. One time they were looking for someone to simulate wounds. I said I was really into horror movies and that I'd played around with rubber before. I had cotton, latex, rubber and little bits of plastic. I did a broken femur and tibia from what I remembered from Fangoria. People were blown away with how graphic it looked. Seeing how shocked people were with how gross and realistic they thought it was, I knew I could do this."
Read More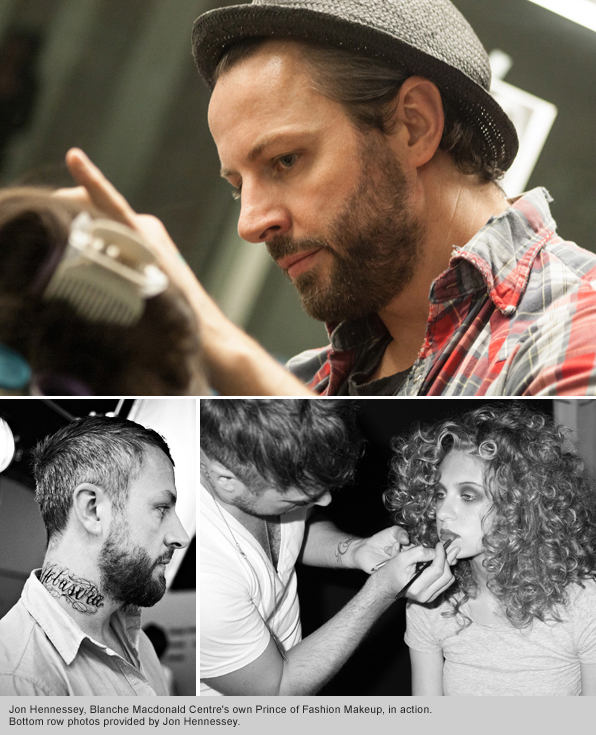 Jon Hennessey is Makeup Royalty. The graduate-turned-instructor at Canada's #1 Makeup School has hundreds of Fashion Shows in New York, Milan and Paris, and countless editorial and advertising shoots under his belt. He tours the World with the superstar educators of The Makeup Show. And somehow he's found the time to put together one of Vancouver's strongest creative teams with his NOBASURA Artist Management.
We feel blessed to have an artist of Jon's international standing on the faculty at Blanche Macdonald. Talk to him for a few minutes and you'll realise the feeling is mutual.
"I love it when I'm sharing my experience," he explains, "and I see a certain energy being reflected back from students that are passionate and hungry and want to absorb as much as they can. I love sharing that information."
Jon understands the power of inspiration. It's at the core of his own journey into makeup.
Read More
JoAnn Fowler was a late starter in the Makeup Industry. She's been making up for lost time ever since.
"When I was 16 I asked my mother if I could take a makeup course," she recalls with a smile. "She did not approve of makeup at all, so I didn't take it. I became a childcare counsellor and worked with kids for almost 10 years. Then when I was 30 I signed up at Blanche Macdonald."
JoAnn has proved her mother, and any other doubters, wrong. After graduating from Canada's #1 Makeup School, JoAnn became one of the country's best TV and movie Makeup Artists, bringing her incredible talents to television shows including The Commish, The Crow and The L Word, and movies like The Twilight Saga, X-Men 2, Air Bud, and Final Destination 3 and 5. JoAnn garnered an Emmy nomination for Best Makeup in 2004 for Reefer Madness and two CNoMA nominations for Best Makeup for The L Word that same year. These incredible experiences led JoAnn to her greatest triumph so far; developing and launching her nationally distributed, eco-conscious, organic makeup line, Sappho Organic Cosmetics.
It's a remarkable success story, fuelled by a passion for makeup that even her mother's disapproval couldn't contain.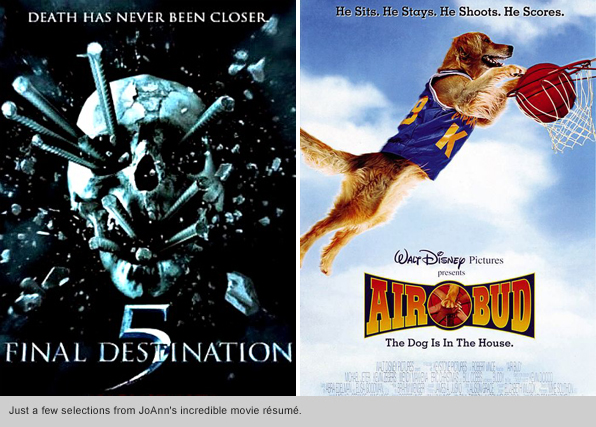 "I used to be very much into punk rock and fashion in the mid-1980s," she explains. "I hung out with musicians and avant garde artists. I would do a lot of friends' makeup, which was really wild in those days. I ended up helping a friend doing makeup for her underground fashion shows without really knowing what I was doing. But I liked it and people liked my work. That's when I decided to take a course."
JoAnn had always loved makeup. Blanche Macdonald taught her professional techniques and inspired her creativity.
"I'm not a person that has to wear makeup every day. I've always used makeup as an adornment: as an art or fashion statement. The creative process is what drew me to it. When we got into really changing features and doing corrective makeups, that was fascinating to me."
Read More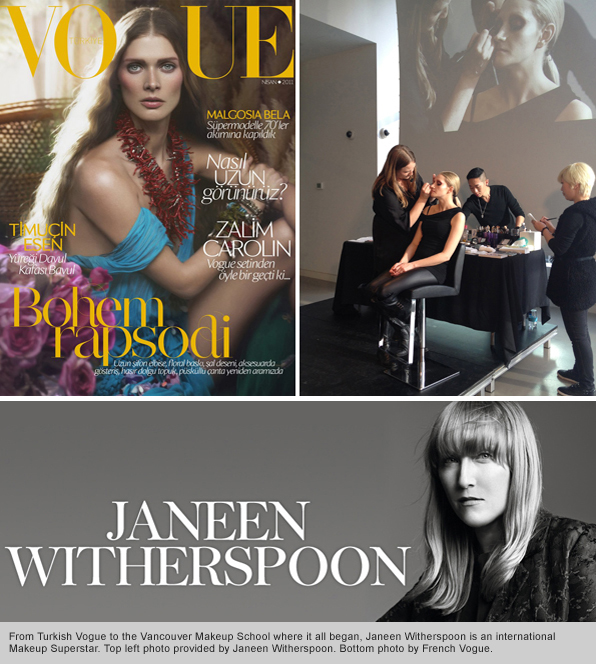 Janeen Witherspoon is a Makeup Superstar. Her work has graced the pages of French, British, American, Russian, Turkish, Indian and Japanese Vogue, along with international magazines like POP, Husk, i-D, LOVE, Dazed & Confused, V, Russh, Exit, and AnOther. She's contributed to countless campaigns with top photographers, stylists, celebrities and models for Marc Jacobs, Burberry, Balenciaga, H&M, Topshop and ASOS. When French Vogue wrote a fall feature on the world's hottest new talent, they devoted an entire page to Janeen and her work.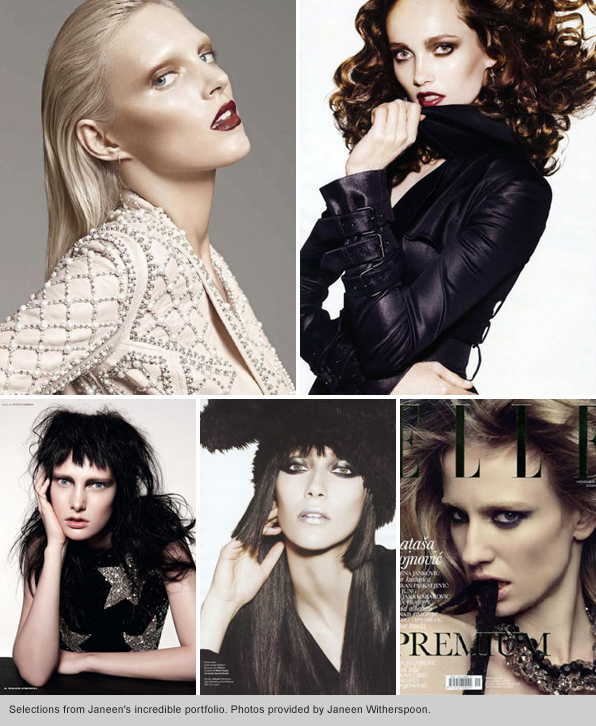 Janeen's also a proud graduate of the Blanche Macdonald Centre. Which is why the London-based Artist made sure that she paid Canada's #1 Makeup School a visit on her return to Vancouver. Over two days Janeen delivered a pair of incredible presentations to current students, explaining her journey and demonstrating various high fashion makeup looks, and provided hands-on creative masterclasses to instructors and graduates.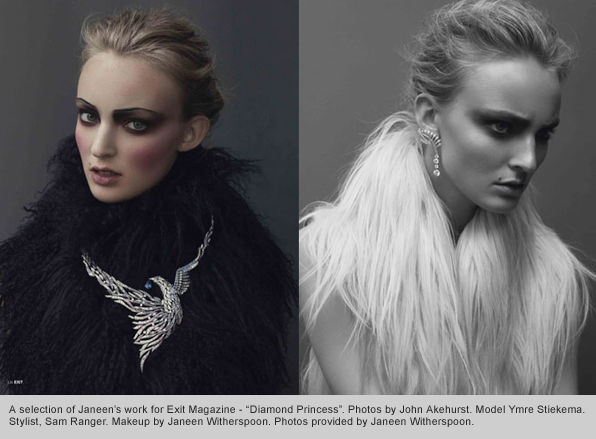 For Janeen, who's as humble and hilarious as she is talented, returning to Blanche Macdonald 15 years after graduating was an honour and a pleasure.
"Studying at Blanche Macdonald was the changing point in my life," she explained. "It's where I found what I really wanted to do. When I look at the journey I've had so far it's all because of Blanche Macdonald."
Read More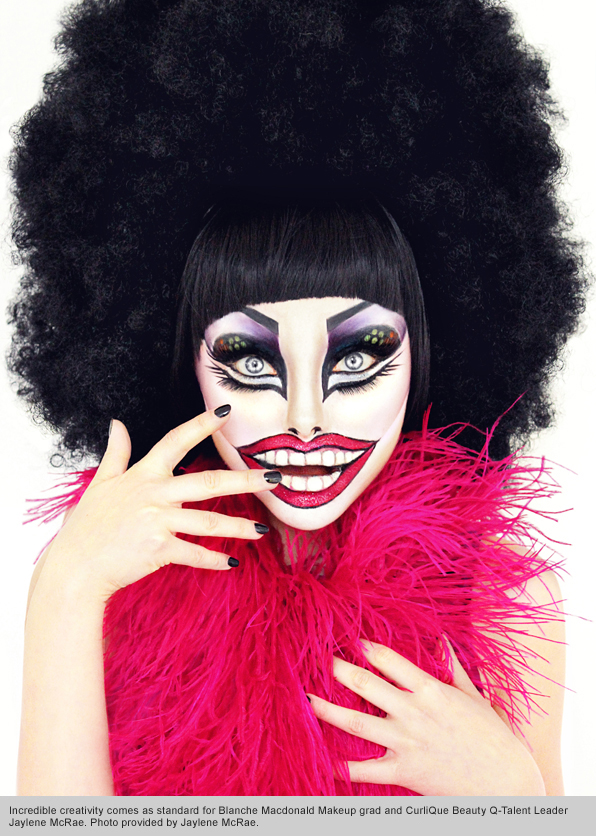 Every day, visitors to Blanche Macdonald's CurliQue Beauty Boutique are greeted and treated by the expertise and artistry of Q-Talent Leader Jaylene McRae.
Q-Talent Leader, just to clarify, is a combination of Manager and Makeup Artist; two roles that Jaylene excels at. Everyone that walks through CurliQue's doors is immediately impressed by her creativity, friendliness and professionalism. She makes it look easy.
Which is ironic, because the journey that took her to Vancouver's best Beauty Boutique was anything but.
"I was adopted when I was three years old and grew up on a farm in Saskatchewan," she explains. "I wasn't sure where to identify with my culture and gender, which was really difficult for me. I believe my parents adopted a boy to look after the farm and play hockey, which didn't fit me.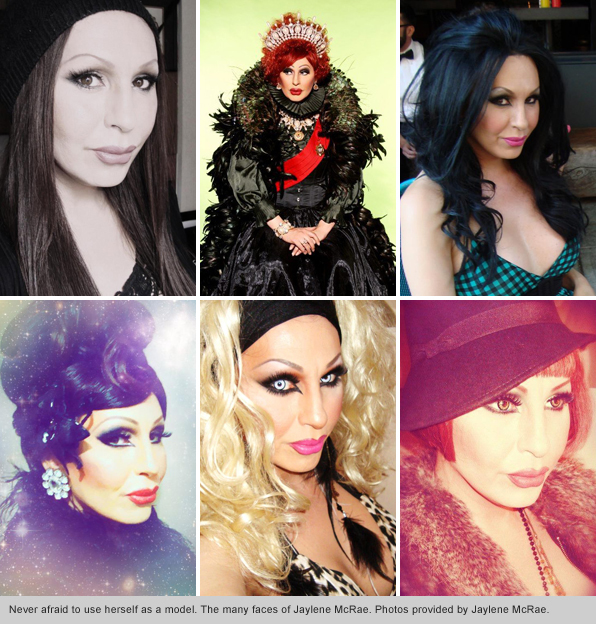 Read More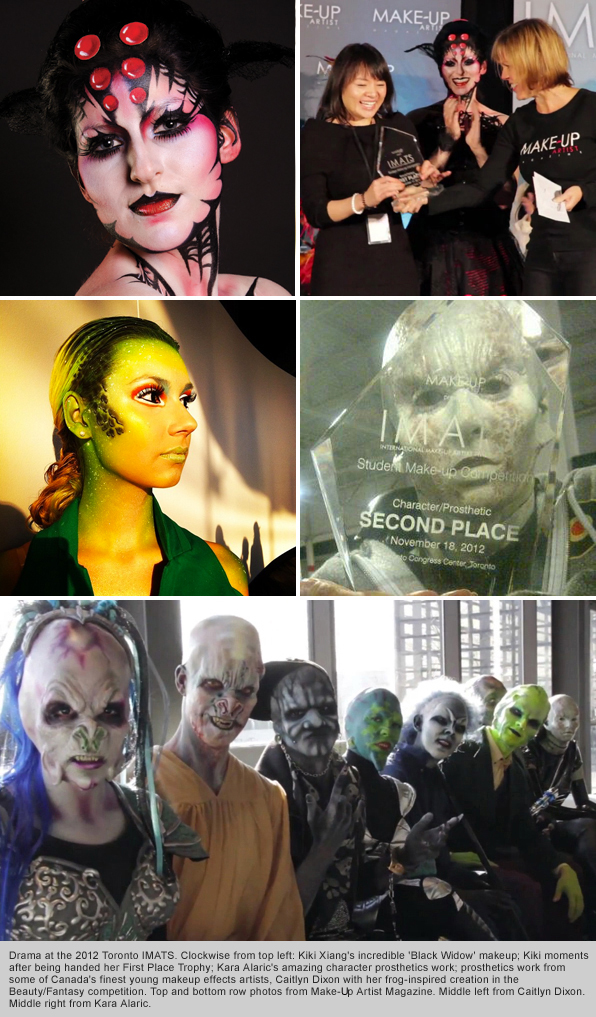 The International Makeup Artist Trade Show (IMATS) turned Toronto into the Global Centre of everything Makeup for an entire weekend this November. And on one of the industry's most prestigious stages, four talented graduates from Blanche Macdonald, Qianwen 'Kiki' Xiang, Kara Alaric, Jessica Wager and Caitlyn Dixon, wowed Ontario's makeup community with their skills and artistry in the two IMATS 'Battle of the Brushes' Student Competitions.
For Kiki Xiang the trip was a glorious success, as she won a fabulous First Place in the Fantasy/Beauty category.
With just two hours to create a Beauty look on the theme of 'Wild Kingdom' Kiki's 'Black Widow' wowed the judges with its bold lines and restrained use of colour.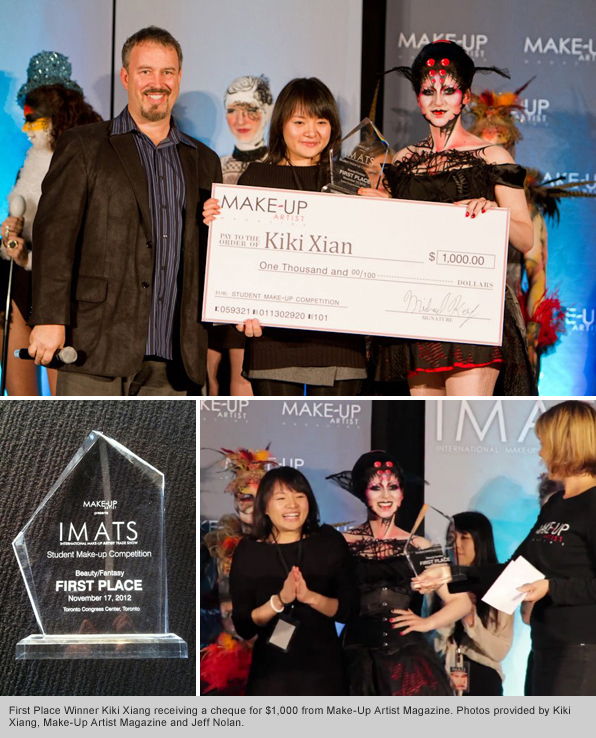 Read More
For Holly Carpenter, her role as Regional Trainer for British Columbia with cosmetics giant Shiseido is more than a job. It's a passion.
"Shiseido introduced the soda fountain and ice cream machine to Japan," she beams, "And the first toothpaste! We launched Japan's first sun care product, the first brightening product and the first Softener, Eudermine."
Holly's enthusiasm for Shiseido's impressive 140-year history is matched by her commitment to ensuring its future is equally bright. As one of only five Shiseido Trainers across Canada, Holly's role is to ensure the artistry and professionalism everywhere Shiseido is sold in British Columbia reaches her and the Company's high standards.
"My responsibilities," she explains, "are to make sure the Beauty Consultants recommend the proper product to our customers, embody the brand's Mission and provide our signature service, which we call 'Omotenashi'. In English, 'Omotenashi' translates to Ultimate Hospitality. We welcome the customers like we'd welcome guests into our own homes. There's a specific way to serve the customers, projecting ourselves with elegance and respect. If a customer is looking at something, it's more than just asking 'Can I help you?' We strive to inform and educate them about the product. We want to pique their interest."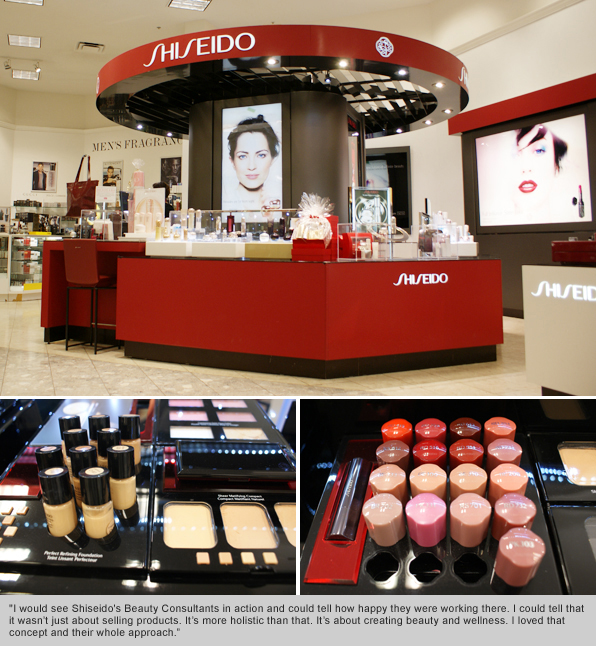 Read More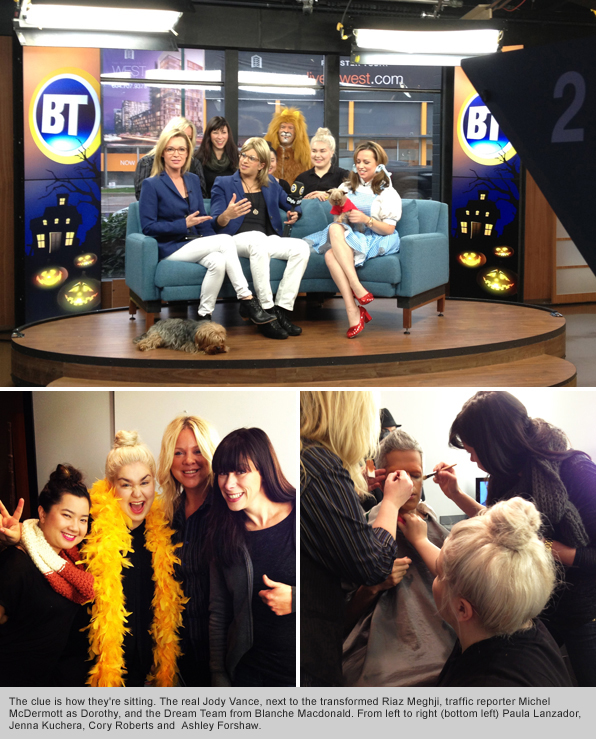 Weird things can happen on Halloween.
Viewers tuning into Citytv's Breakfast Television on October 31st this year were greeted by the bizarre sight of perplexed host Jody Vance sitting at the news desk next to a carbon copy of herself.
The second Jody Vance, it turned out, wasn't an identical twin but her co-host Riaz Meghji, transformed by Makeup Talent from Blanche Macdonald.
For makeup magicians like instructors Ashley Forshaw, Cory Roberts and Jenna Kuchera, and CurliQue Beauty's Paula Lanzador, male-to-female makeovers are nothing out of the ordinary. A complete gender transformation in 30 minutes under the pressure of an early-morning live TV broadcast was something different entirely.
Read More