Makeup
Variety is the spice of life. And for Blanche Macdonald Makeup School graduate Janeen Witherspoon, it's the application of her makeup skills across a variety of industries that continues to take her around the globe.
From fashion shows with Jean Paul Gautier to shoots with Naomi Campbell and Cameron Diaz to music videos with artists including Oasis and Amy Winehouse, Janeen has done it all. Now working her makeup magic and running a successful hair salon in the fashionable English city of Brighton with her husband, Janeen's story begins when she decided to move from her native Ontario to sample life in Vancouver.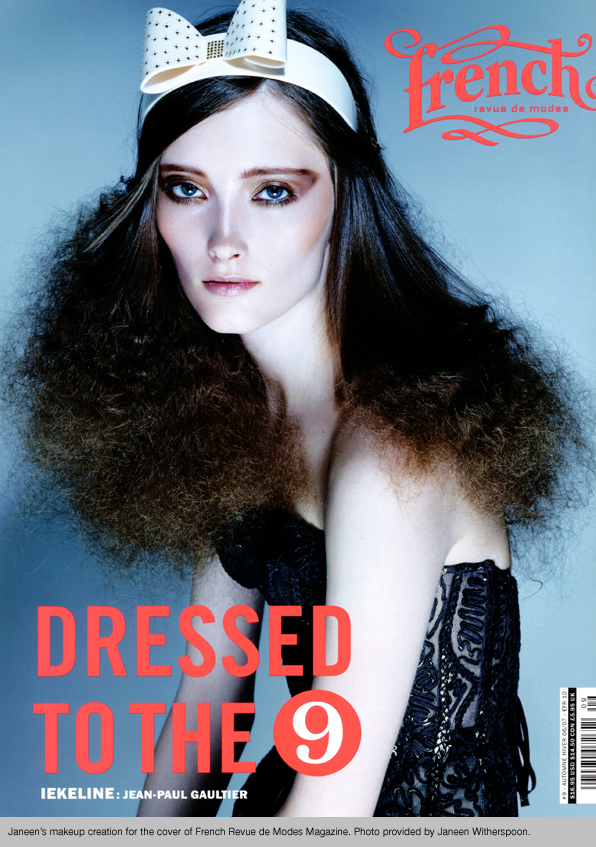 "I moved west and starting working for a wonderful man called Jon Paul Holt, who owns Avant Garde hairdressing in Yaletown," she recalls. "I was fortunate to become one of his assistants. He took us on photo shoots and we were constantly exploring creative avenues. I knew I wanted to be part of the industry. I was training as a hairdresser, but a part me of wanted to do makeup. Jon Paul gave me a push. We started looking for schools and found Blanche Macdonald."
Janeen liked what she found and signed up for the nine-month part-time Makeup Diploma Program.
"We had great lecturers," she enthuses. "I learnt the fundamentals like speed, timing and application. I wanted to soak it all up. I was like a sponge. I was always picking my instructors' brains."
She didn't just launch herself in her studies. Grabbing opportunity when it knocked, she started building her resume at the local TV station.
"One of Jon Paul's clients was Sandra Dennis, head makeup artist for Vancouver Television, CTV, called VTV then. After a couple of weeks at school I started assisting her for free. I'd be at the TV studio from 5.30am until 9.30. Then I'd go to work in the salon, then go to Blanche at night. It was hard at times, but Director Barb Johnston was always there to help me through it. Barb was a huge inspiration for me. I could talk to her about anything. She's a wonderful woman.
"The teachers at Blanche were in the industry. Their stories were exciting and gave me the drive to create my own stories. I was always shooting photos, designing makeup and pushing myself to move along. I learnt that drive at Blanche. I'd found what I really wanted to do and nothing was going to stop me.
"Although I was working at VTV I was trying to push the fashion side of things too. I wanted to design makeups and explore. I love colour and vibrancy. I wanted to be part of that fashion industry."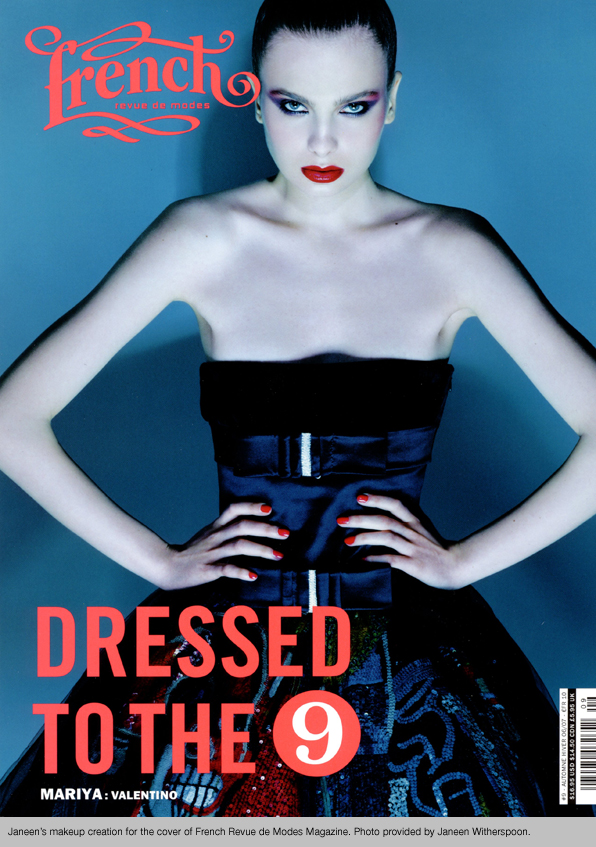 Janeen was serious about breaking into fashion. Eight months after graduation she headed to London, England, looking for experience and adventure in a genuine fashion industry metropolis. The work came quickly for the hungry young makeup artist. Just not exactly where she expected.
"I started working for TV stations and was a makeup designer on some TV commercials, short films and pop videos with bands like Basement Jaxx.
"But I still wanted to get into fashion. I had a friend living in New York. She'd got a job at Elite Model Management. She told me there was a reception job available. That was my ticket. I got the job and started working on my book.
"At the time a good friend of mine working there wanted to do styling. Another girl wanted to do photography. Obviously, I wanted to do makeup. When the new models came on board we would turn the agency into a studio on weekends and start working with them. I was working five days a week but shooting every weekend too. That was a great time in my life.
"I was at Elite for a year and a half. Once I felt I had a good book I went to all the makeup agencies in New York and said that I'd love to assist some of their artists. Slowly but surely the calls started to come in. Soon I went from one of ten people assisting on a fashion show, or one of four on a shoot, to being first assistant for big makeup artists."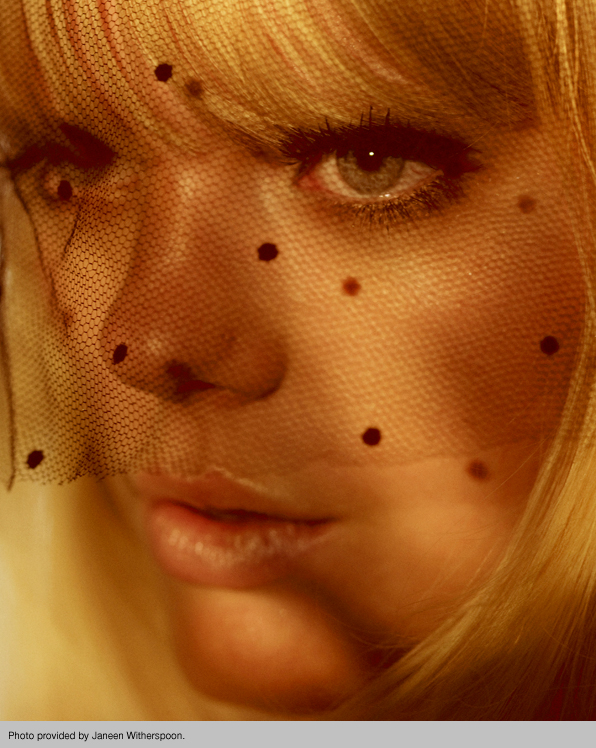 Janeen's resume was expanding rapidly, as she assisted on shoots for photographers including Steven Klein, Mario Testino and Craig McDean, working on models like Kate Moss and Gisele, and actresses Rene Zellweger, Drew Barrymore and Cameron Diaz.
"In my mind I was working with the best makeup artists and photographers in the world," she continues. "I started working with Polly Osmond. She'd trained under Pat McGrath. I was Polly's first assistant for a while. We worked with photographers like Steven Klein and Todd Barry, and everyone from DSquared to Naomi Campbell.
"I built a good relationship with Gucci Westman and I was fortunate enough to work with Diane Kendal. Diane became my mentor. I still work with her today."Janeen had another passion in her life from her time in New York. She met future husband Danny there and they moved back to his home in the UK. It didn't slow her down, her work appearing in Numero, Nylon, I-D, The Face, British Elle, American Elle and V Magazine. The one-time assistant was now dealing with major industry players on her own, working with photographers including Todd Barry, Raymond Meier, Paul Rowland, Terry Richardson, Adam Whitehead, David Sims and Thierry Le Goues, and models like Stephanie Seymour and Erin O'Connor.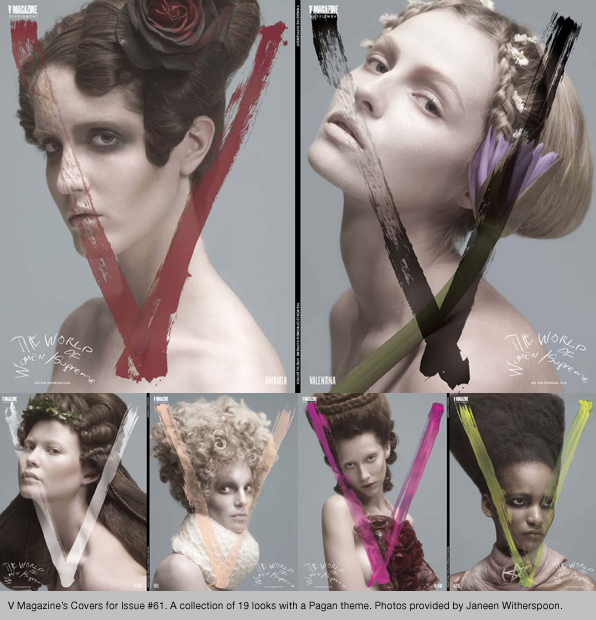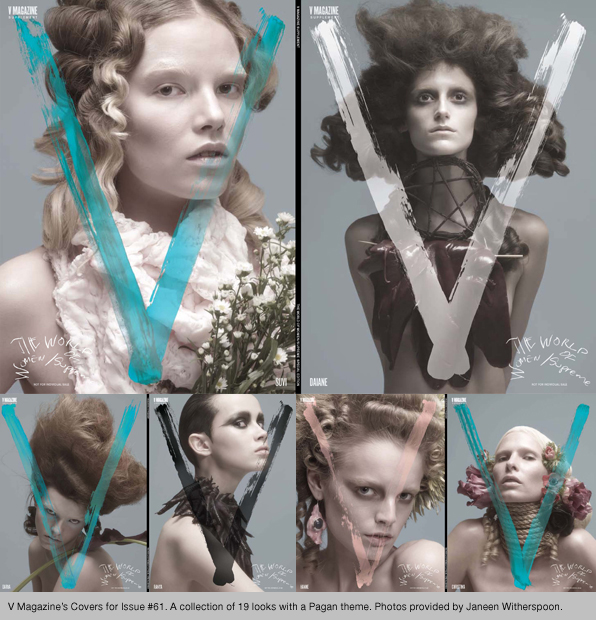 "I just did nineteen covers for V magazine. They were quite dark and gloomy and sculptural, but beautiful at the same time. Those hardcore fashion magazines are where true talent is really shown."
She re-immersed herself in the music business too, working on videos and live shows for major artists like Oasis, Kasabian and a certain media favourite from London.
"For the last year I've been working with Amy Winehouse," she smiles. "I've done lots of different things with her. She's a sweetheart.
"I love Oasis. The first video I did with them was I'm Outta Time. It was just Liam Gallagher and myself. We were working with a director called Wiz, who I work with a lot. We did the Falling Down video too. My husband Danny appears in that as the Prince! I was supposed to do another one a few weeks ago but I had to go to Paris."
Ah, Paris. Another regular destination, along with Milan, London and New York, on the Witherspoon World Tour of major fashion epicentres.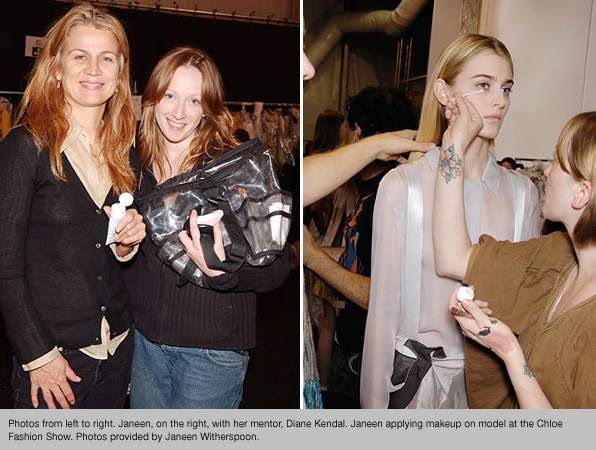 "I just did the Chloe, Akris and Jean Paul Gautier Paris shows with Diane Kendal. I'm very happy that I can be on her team and get to travel with her. When Diane comes to Europe I always work with her. Fashion shows are incredible. You have to get in there and get it done. There's nothing like it. I love it!"
Janeen is now represented by the Julian Watson Agency and busier than ever. When she has a spare moment away from her makeup business she puts her considerable energy into her salon, Square Roots, where she's passing her skills and work ethic onto the next generation.
"I'm training the staff here. It's like it's an agency. We're building up a little team. They all work on shoots with me now."
Whether you're a student at Blanche or an apprentice at Square Roots, Janeen's advice is the same. Bring your enthusiasm. And come prepared to work hard.
"Do your research," she insists. "With magazines and the internet there are so many inspirations. It's about researching, practicing and pushing yourself as much as you can. Don't wait for the shoot at the end of the course. Get out there and do it yourself. Put yourself in a position where you're meeting young assistant photographers and hairdressers. And learn as much as you can. That's why I still work with Diane. It's still inspiring. There's always going to be someone on your tail, so you've got to work hard to get to where you want to be."