Makeup

Sara Rose possesses what seems like an infinite amount of talent at her disposal. As a multi-hyphenate Blanche Macdonald Freelance Makeup graduate, Sara currently holds the title of Lead Makeup Artist on top of Hairstylist at one of Vancouver's most Instagram-worthy hair havens, BRUSH Salon.
But Sara's journey from makeup school into the beauty industry started out during a time when social media wasn't really a definitive tool for a Makeup Artist. "Instagram and Twitter were not huge at that time so you had to do groundwork of promoting yourself," she recalls. Putting her innate people skills to use as a self-marketing tool was second nature for Sara. She admits to us with no slight hesitation that she "talks a lot" - an attribute that has landed her a myriad of opportunities throughout her career.
"I love to meet people. I get to surround myself with the most amazingly talented people because of that. I was a server for years and that's where I would meet potential clients. I printed out my business cards and would slip it in with people's receipts at the end of their dining experience. Or I would find ways to incorporate conversation into my work, and I would meet brides and producers because of it."
That hustler mentality paid off for Sara, leading to job opportunities that most Makeup Artists only dream of. Sara has worked on music video sets, backstage at New York Fashion Week, and has also attended Toronto International Film Festival to work on Canadian actor Jacob Tremblay.
Read More

It's 11:30 PM on a Friday night and I'm standing in front of the bathroom mirror wearing half a face of makeup. On the counter: an old receipt from Holt Renfrew with product names from NYX Cosmetics scribbled across the back, a spillage of tubes, kits and compacts from my own collection, and my iPhone, which is paused mid-frame in the final few minutes of a fabulous smoky eye makeup tutorial.
This is anything but your typical step-by-step. On my mobile screen, Blanche Macdonald grad Bailey Van Der Veen looks every bit otherworldly with her jet-black hair, ivory complexion and aquamarine eyes—but she has a larger-than-life personality that transcends the lens and an easy, unscripted approach to being in front of a camera. She'll interrupt a technical explanation to exclaim over the beauty of a palette's colors, textures and finishes: the way a swatch of eyeshadow darkly pigments the pale skin of her wrist or a swipe of illuminator shines iridescent over her knuckles in the studio lights; she'll laugh and pull faces for her audience while demonstrating the desired effect of a brush or blender. It makes her lessons seem less like chilly digitized master-classes and more like a warm, veritable presence—as if she were a terrifyingly talented friend who's come over to your apartment on her night off with the contents of her work station to show you the latest and give you a few pointers.
With more than 103,000 subscribers to her YouTube channel and 30,000 followers on Instagram, it's obvious that makeup amateurs and aficionados alike regularly seek her counsel on hot products and inventive how-tos. It should come to no one's surprise, then, that it-brand NYX Cosmetics snapped her up to be their Regional Trainer in 2015, the year after she graduated from Blanche Macdonald's Global Makeup Artistry Program and dominated the vlog-based NYX FACE Awards—and that she keeps on creating despite her busy up-and-up career, regularly surprising and delighting her international fan-base on the internet.
Through a series of phone calls and emails, I spoke with Bailey—a small-town Manitoba native currently living in Toronto—about her path to becoming social media's makeup maven and the daily thrills of representing one of the coolest names in contemporary cosmetics. Like it or love it: Here's Blanche Macdonald's #flashchat with this artist extraordinaire.
Read More

The 2017 edition of Vancouver International Makeup Artist Trade Show (IMATS) was a true amalgamation of Blanche Macdonald creative talent. Makeup mavens, cosmetic aficionados and film professionals rolled into Canada Place this past weekend, for what is one of the most anticipated makeup events of the year. Held annually in six cities across the globe (LA, New York, Vancouver, London, Toronto and Sydney) IMATS is a true playground for the Makeup obsessed. The atmosphere of excitement is palpable and inspiring: industry leaders collabing with industry newcomers, beauty product innovators, educational demos and all the must-have kit products and accessories.
Our Blanche Macdonald/CurliQue Beauty booth was also a hub of activity, consisting of demonstrations from some of our most buzzed-about and industry-leading graduates, mega-pro run-ins (like Ve Neill!) and of course, our talented student finalists in the show's centrepiece student competition, Battle of the Brushes (BtoB).

Picked from thousands of applicants, this is the ultimate competition for budding Makeup Artists as it allows the opportunity to garner international recognition and perform amongst stars of the industry. Battle of the Brushes saw four talented Blanche Macdonald Makeup students and recent graduates take to the stage, with our own Nina Nettle competing in both Saturday's hotly contested Character/Prosthetic competition, crafting a creature on the theme of Guardians of the Galaxy, as well as in Sunday's fanciful and fabulous Beauty/Fantasy category.
Our other Blanche Macdonald finalists – recent graduates Anna Rudik, I-Lan Yang, and current student Ulayu Sequalukwho – took to the BotB platform for the Beauty/Fantasy brush-off, each tasked with creating their look based on the conceptual theme of International Beauty. It was a thrilling day of artistry and anticipation, as each of these competitors pulled out all the stops, creating unique works of art.
Read More

"For my entire life I felt that humans are boring looking," laughs Pepper Gallegos. "I always liked sci-fi growing up and thought people should have ridges, horns and tails like the aliens on Star Trek. Why don't we have these? So as soon as I started learning how to create them at Makeup School, I knew this was what I wanted to do. I wanted to turn people into aliens and make them look real. A new life exploded within me."
Life these days is a blur of creativity for the Blanche Macdonald Makeup graduate. Working in her home state of New Mexico she's brought a slice of Canadian makeup expertise to A-list productions ranging from TV masterpieces like Breaking Bad and Graves to on-line hits like T@gged to movie blockbusters including Transformers: Revenge of the Fallen, The Lone Ranger and Batman v Superman.
It's an incredible résumé for an artist who didn't even know a career as a movie makeup magician was possible until encountering Canada's Top Makeup School by chance on a visit to Vancouver.
Pepper always had natural talent. Before becoming a Makeup Artist she was working as an art teacher and had her sculptures and paintings exhibited across her hometown of Las Cruces. But that ability was paired with an eternally positive demeanour that allowed her to even turn tragedy into opportunity.
"To cut a very long story short, my mother was in terrible shape when she passed away," recalls Pepper. "She had a big laceration on her face. For my father's sake I wanted to make her look as good as possible, so I fixed her face using wax and makeup. Even though I had no idea what I was doing, that was my way of saying goodbye. I wasn't making career plans, but I thought if I could help people see their family members look their best at tragic times, that would be great."
Two years later, Pepper was on a road trip across North America to scatter her parents' ashes across their favourite cities. One of those stops was Vancouver.
Read More

Making monsters comes naturally to Holland Miller. They're part of his psyche already. So why not bring them to the big screen?
"I've suffered from sleep paralysis and intense nightmares my whole life. In eighth grade I decided to face my fears and went to the opening night of Nightmare on Elm Street. I didn't sleep for the next two nights, but at the same time, I couldn't get enough of it."
The Blanche Macdonald Makeup School graduate-turned-instructor had caught the bug that would lead him to become an internationally renowned Makeup Effects magician. Now he's inspiring the next generation, on screen and in the classroom. You've seen his work in Deadpool, Death Note, Star Trek Beyond, Supergirl, The Magicians, Legends of Tomorrow, The Flash, The Cabin in the Woods, Elysium, Sucker Punch, Underworld Awakening, A Haunting In Connecticut, Fantastic Four: Rise of the Silver Surfer, Underworld: Evolution, The Chronicles of Riddick, Twilight: New Moon, The X-Files, Fringe, Supernatural, Once Upon A Time, Almost Human, Falling Skies, Stargate and (to the excitement of his current crop of students) Riverdale. It's an incredible résumé, considering his makeup career's unlikely beginnings.
"By facing my fears I thought that when I did have these nightmares, I wouldn't be scared. I wanted to know everything, so I bought all the Fangoria magazines and sci-fi and horror fanzines I could get my hands on. I went to community college when I was 17 and did some art courses. In a commercial illustration class I drew a coffin with a corpse coming out of it for a funeral home. I thought it was funny as hell. My instructors rejected it without even looking at it."
With an artistic career looking unlikely, Holland enlisted in the US Navy. On duty in the Persian Gulf during the First Gulf War, the opportunity to reignite his creative tinderbox arrived unexpectedly.
"We'd run emergency first aid simulation operations. They were looking for someone to simulate wounds. I told them I was into horror movies. I had cotton, latex, rubber and little bits of plastic. I made a broken femur and tibia from what I remembered from Fangoria. People were blown away with how graphic it looked. Seeing how shocked people were with how gross and realistic they thought it was, I knew I could do this."
Read More

Jordy Poon commands an energetic, discerning and fiercely intelligent presence. Whether in the classroom, behind the camera at a fashion shoot, or touching up the face of an A-lister as she's about to step out onto live TV, the instantly-recognizable celebrity Beauty Expert and Blanche Macdonald Faculty member can produce a pithy mantra for his students to remember for each and every industry situation.
"We're just as good as our products allow us to be—and just as good as our clients allow us to be, too."
Yet another: "One day, you're going to not care about the wrong person so it's good practice to treat every subject who comes to your chair like royalty right away."
This last one is of both personal and professional importance to the industry star. He's a steadfast believer in the importance of meticulous conduct, and emphasizes this to aspiring Makeup Artists under his mentorship at Canada's Top Makeup School.
It's obvious that Jordy eschews "traditional" methods of teaching in favor of cutting-edge ones: His classes intersperse artistic technique with practical tips on how to be. He shares and enacts valuable information at the same speed he learns it, and always keeps one artistic eye trained on the ever-evolving worlds of beauty and fashion outside the classroom. It's no wonder he chose to teach at the Makeup School with an international reputation for its industry-forward programs and award-winning graduates.
Read More

Blanche Macdonald students in Leah Elliston's Fashion Makeup classes receive more than insider tips and techniques from an Artist regularly creating magic backstage at Fashion Weeks around the world. They're also getting daily shots of inspiration from a Makeup Artist whose passion for fashion continues to swell.
"Working at a big show is amazing," insists Leah. "It's hectic and there's pressure, but it's always exciting. When I see the models in the clothes, makeup and hair, that's everything to me. If it's a collection or a designer I love, I'll still get goose bumps. I worked on a Mary Katrantzou show in London two years ago that was absolutely stunning. The intricacy of design was so beautiful. The talent you're working with across the board at a Fashion Week in London, Paris, Milan or New York, from the designer to the Makeup team, is ridiculous. It's so cool to be a part of that."
Leah's awe-inspiring résumé is a reflection of a life that regularly takes her away from her Vancouver home. Among its many highlights are her stints working at various Fashion Weeks for names and brands like Roberto Cavalli, Vivienne Westwood, Giambattista Valli, Salvatore Ferragamo, Simone Rocha, Balmain, Temperley London and Chloé. Away from the runway she's brought her artistry to the Juno and Leo Awards, the Canadian Country Music Awards and the Toronto International Film Festival (where she groomed stars included Forest Whitaker, Kevin Spacey, Josh Groban and James Taylor). Somehow she finds the time to document her work and her views on today's trends at her blog, Smudge Style. All of which make clear that Canada's Top Makeup School students are in the presence of Makeup royalty.
There was an artist dwelling inside Leah from an early age. She'll cheekily remind anyone asking that the proof of that latent talent arrived when she was a six year old growing up in Nottingham, England.
"I won an award!" she laughs. "When Prince Charles and Princess Diana got married my school held a painting competition. From the entire school, I was the winner! My prize was a cup sent directly from Buckingham Palace!"
Read More
Synonymous with empowerment, infused with uniqueness, and brimming with vibrancy – it's the magical weekend of Vancouver Pride!
With the city streets steeped in cascades of colour and glitter, laughter and hoorahs, those from near and far are welcomed with open arms to participate and celebrate all that encompasses this brilliant and diverse community.
Celebrating our collective uniqueness in sexual orientation, gender, and gender choice, we feel honoured to be a part of this tremendous community! Our creative classrooms are built upon this foundation of fierce independence and powerful self-expression.
We've seen and met some truly unique individuals who have honed their voices and nurtured their spirits within our halls. The Pride parade is strutting up fast and fabulous, and to celebrate we reached out to a FIERCE few from our Blanche family who have been taking the local drag scene by storm.
Of course, we must leave some of the introduction up to our resident Drag Queen Supreme, Canada's Top Makeup School graduate and CurliQue Beauty Q Talent Leader Jaylene Tyme! The always exhilarating and utterly talented Jaylene has made an indelible mark on the LGBTQ+ community; her words about it and the art she contributes to it never cease to inspire and ignite those lucky enough to be exposed to it. Jaylene's realm of experience in both self discovery and transformative artistry has made her a powerful role model in our family, and a maternal icon out on the Drag Queen scene of Vancouver – we simply cannot think of anyone better to kick off this dazzling week!

"Blanche Macdonald has always created a safe space for people to explore and reveal their magical side. Here is a showcase of artists that hone their craft with different mediums, but all with the same focus in mind: to follow their dreams, to share their passions, and to experience a world they never thought possible. My heart has been so full being able to witness both artistry and the human spirit take flight in these halls.
Pride is an opportunity to express the celebration of freedom. It encourages people to come together and support one another. It also allows artists to express themselves through their craft with wild abandon; sharing what makes them unique and special.
I'm so proud to be a part of such an amazingly diverse artist collective. I have witnessed over the years the growth of expression, but also the confidence in people to explore beyond what they thought their limitations may have been. Pride is a celebration yes, but it also a responsibility to be aware that in order to be truly free, we need to stand tall in the face of any challenge and realize together we can continue to break down the barriers and allow the world, and our children, however they identify, to find their own personal freedom.
Check out these fabulous artists! HAPPY PRIDE!!"
Read More
Synonymous with empowerment, infused with uniqueness, and brimming with vibrancy – it's the magical weekend of Vancouver Pride!
With the city streets steeped in cascades of colour and glitter, laughter and hoorahs, those from near and far are welcomed with open arms to participate and celebrate all that encompasses this brilliant and diverse community.
Celebrating our collective uniqueness in sexual orientation, gender, and gender choice, we feel honoured to be a part of this tremendous community! Our creative classrooms at Canada's #1 Makeup School are built upon this foundation of fierce independence and powerful self-expression.
We've seen and met some truly unique individuals who have honed their voices and nurtured their spirits within our halls. The Pride parade is strutting up fast and fabulous, and to celebrate we reached out to a FIERCE few from our Blanche family who have been taking the local drag scene by storm.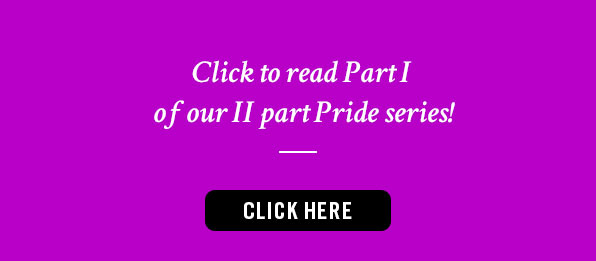 ---

"My drag character Raye Sunshine is known for her signature makeup skills and creative looks. Although when she is off the stage, she likes to wear gym clothes or all black (hunny, I'm a makeup artist it's all we own) while doing her favourite activity, which is the gym or being in her home studio creating art. All her friends think she is TOO BUUUUSSSAAAYYYY!"
Blanche Macdonald Centre: What does the LGBTQ community mean to you?
Raye Sunshine: The community to me, is something that is about embracing things that others may find interesting. Say for someone who wants to feel like they belong in a group but doesn't know how to approach it, the LGBTQ+ community is the kind that would walk up to a person and invite them.
BMC: How did Blanche Macdonald help bring out your artistry?
RS: For me Blanche Macdonald brought out an artistry I was doing in the privacy of my home but it never had a name. It helped me grow my skills that I used to express myself and in an environment that was extremely nurturing - in particular, was Jill Wyness who took me under her wing and went above and beyond in even the smallest things.
BMC: How did you envision yourself giving to the community with your art?
RS: Now this is something I learned over time and it wasn't something I even knew I was doing until a friend pointed it out. But my art has given new, aspiring queens the push to do more and express themselves through makeup that they weren't doing before. So I always blush when someone comes up to me after a show and tells me how my art connected with them and made them want to do more.
Read More
With thousands of artists, stylists and designers soaring into our halls from around the world each year, our classrooms have become dynamic global communities under the unitedly diverse banner of our Blanche World – a United Nations of creativity! In a glorious celebration of culture, our International students import a vibrant collection of new customs, insights and inspiration that colour our world in exciting new ways. The leap from their home countries to our corner of Canada comes with big change, courage and incredible journeys. Speaking in the international language of passion, we sit down with our global talent to talk the dreams that brought them here, the challenges they overcame, and all about the power of being an artistic representative in a new country. Meet the burgeoning stars that have joined us from around the globe in our UN storytelling!

Fresh faced and humbly confident, Andrea offers a huge smile from her red-slicked lips immediately upon meeting me. Her rolled 'r's and charming Spanish accent make every word so melodious, it's hard not to be hypnotized once she begins speaking of her native Guadalajara, Mexico and her passion for her artistry. Only half-way through Blanche Macdonald's Global Makeup program, she's already achieved some incredible milestones - being one of 10 chosen winners of the Backstage with Pat McGrath Instagram contest and a spread in Harper's Bazaar Mexico and Vogue Italia. Despite this, it's clear her gratitude for everything she's done serves only as a fire that fuels her desire to do and learn even more. With a penchant for 'pretty', a style that is 'natural but with light touches' and an aim to delve deep into the Fashion / Editorial Makeup world, this driven soon-to-be powerhouse has her sights set on fashion capitals New York, Milan, Paris, London and beyond. At this rate, it's only a matter of time before she gets there!
Blanche Macdonald Centre: Let's get straight to juicy details. Tell us about your time with Pat McGrath and the contest you won!
Andrea Palomec Urrea: It was so good! I stayed in The Mondrian which was so nice and she left little handwritten notes in our rooms saying that she would see us all for breakfast the next morning, there were about ten other artists there. Suddenly, we were backstage at the Tommy Hilfiger RTW spring 2017 show! We got to do makeup on the models and got direction and feedback from her team! Her team really is amazing, they work so differently from anything I'd ever seen. Even the way they put moisturizer on models, it's so specific. They do everything with their hands and they're always so, so clean with everything. I even met Jenna Kuchera (Blanche Macdonald graduate)! She made a point to find me and say 'Hi' - she was so sweet. Pat McGrath is super nice, just the best person. I felt so lucky the entire time.
BMC: That's SO amazing! And how did it all come about?
APU: It started with a photographer friend I have in Mexico. When we were working together, he started helping me with my social media. He started tagging artists and brands in our photos and of course, Pat McGrath on our best images. One day she liked a photo and so I started tagging her in more and more on my own. When she messaged me telling me I'd won the Backstage with Pat McGrath contest and I almost started to cry! I actually didn't hear anything for months. So I reached out and asked if it was still happening and she got back to me and said it absolutely was so I waited some more. Randomly in the gym one day I checked my email, I'm really bad with my email, and there was a message from her saying I needed to be in LA for this certain date and it was like two weeks away! But I got my ticket and made the arrangements to go.
Read More