Makeup

Makeup legend Todd McIntosh is more than a guest on his regular visits to Blanche Macdonald. Todd is family.
As our Makeup Director, Todd's expert fingerprints – the same ones that won Emmy Awards for Buffy the Vampire Slayer and Pushing Daisies – can be found over Canada's ever-evolving and most complete makeup curriculum. He's been at the helm of Blanche Macdonald's Makeup Program for nearly 30 years now. So when Todd makes one of this regular pilgrimages to Vancouver, it's more than business. It's pleasure too.
That pleasure was shared with Blanche Macdonald's students and instructors as Todd spent a week and half with us this summer, providing multiple days of detailed artistic and career advice with the next generation of makeup superstars.

Todd's time at Canada's Top Makeup School began with one-on-one sessions with our Battle of the Brushes contestants at the Vancouver IMATS, delivering wisdom that helped our graduates to a clean sweep of the podium – first, second and third – in the Character Prosthetics category and a superb second in the Beauty/Fantasy.
"I've been a huge fan of Todd since I was ten years old, when I watched Buffy the Vampire Slayer," explained Battle of the Brushes first place winner Devon Burbank. "The fact that he took time to critique my work was amazing. He suggested so many ideas about hiding edges and folding things out. Todd is incredible. At the end he gave me a full hug and I freaked out."
Todd went on to spend two days visiting classes in progress, meeting students while providing hefty doses of inspiration and hands-on expertise.
Read More
With thousands of artists, stylists and designers soaring into our halls from around the world each year, our classrooms have become dynamic global communities under the unitedly diverse banner of our Blanche World – a United Nations of creativity! In a glorious culture clash, our International students import a vibrant collection of new customs, insights and inspiration that colour our world in exciting new ways. The leap from their home countries to our corner of Canada comes with big change, courage and incredible journeys. Speaking in the international language of passion, we sit down with our global talent to talk the dreams that brought them here, the challenges they overcame, and all about the power of being an artistic representative in a new country. Meet the burgeoning stars that have joined us from around the globe in our UN storytelling!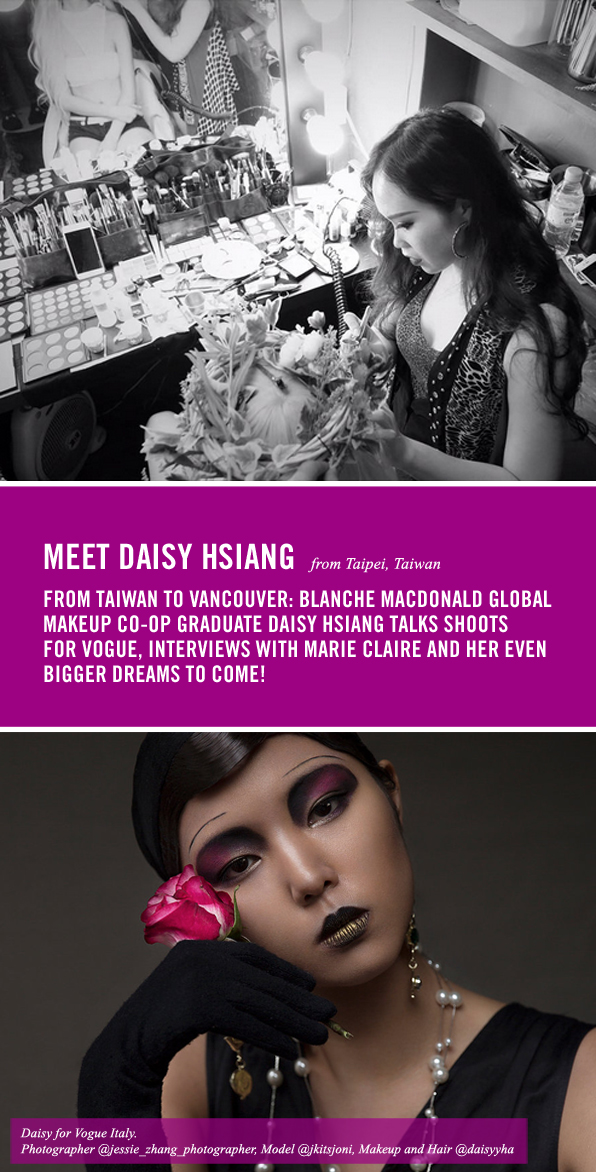 Hailing from Taipei, Blanche Macdonald Global Makeup Co-op graduate Daisy Hsiang has the start of a stellar resume. Having her work published in Italian Vogue and Marie Claire Taiwan, and being represented by an overseas agency, Daisy is already living what, for most makeup artists, is a dream career. But these achievements aren't the only cooler than cool things about this girl. Fostering her burgeoning career in Makeup from Industrial Management beginnings, Daisy had long ago made the decision to march to the beat of her own drum. Enveloping me in a hug and a squeal, you'd hardly expect the hustle that's housed inside this doll of a person. Dressed in chic street wear that's perfectly styled to her aesthetic, Daisy's vibes are all about cool, collected confidence. With bright eyes, a big smile and in the sweetest, most humble way, Daisy talks about the international makeup scene, her journey so far, and gives advice for those looking to make it big in the global makeup industry.
Blanche Macdonald: What were your experiences growing up in Taiwan that made you want to go into makeup?
Daisy Hsiang: I love art. I actually started to study Industrial Management in university in Taiwan, which is when I started playing with makeup for the first time - so late! I wanted to know more about beauty makeup so I took a basic photography and professional makeup class while I was in university. My makeup class made me so happy and that's how I decided that was what I needed to do with my life! The best thing is that my parents always support me when I want to learn something different.
BMC: What made you make the long journey to the Blanche Macdonald Centre?
DH: It's the best makeup school in Canada, right?! It's very famous all over especially in Asia. Everyone I talk to goes "Oh, I know that school!" I wanted to learn from the best so I came here! I visited Blanche Macdonald for the first time with my family and my Admissions Director Josephine Lee, I was so excited to be involved in this industry in Canada.
Read More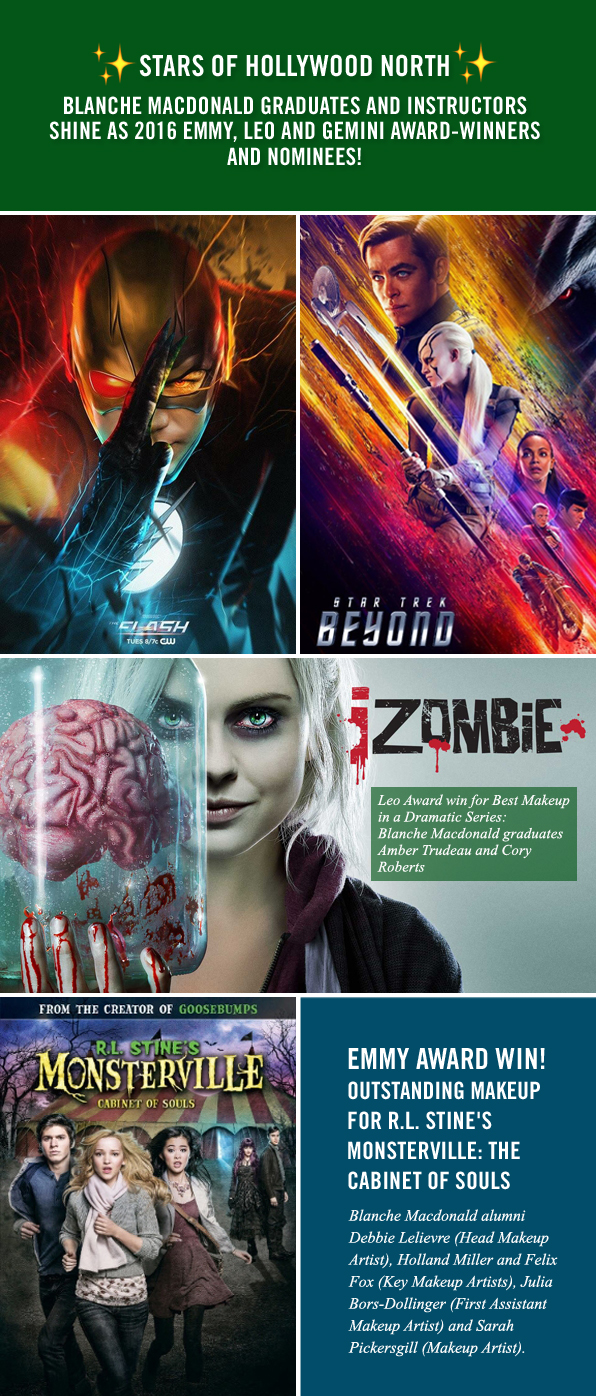 Canada's film and TV industry had one of its biggest and busiest years in 2016 and Vancouver, AKA Hollywood North, was at its epicentre. The city played host to superheroes and villains, monsters, romantic leads and sci-fi fighters, along with some of the world's biggest stars playing them. And none of them were coming for the weather.
There's a long list of reasons why Vancouver has become the ideal location for some of North America's most popular and best-regarded productions. Hollywood studios and networks love our architecture, our close-knit TV and film community, and the laid back atmosphere in a city that understands that even movie megastars are here to do their jobs.
They also love that Vancouver is blessed with some of the world's best TV and Film Makeup Artists and Hair Stylists, a once-select group growing exponentially as demand for their skills continues to boom. Our beautiful city's Movie Makeup family was beyond busy in 2016, with more than a few Blanche Macdonald graduates and instructors taking starring roles.
Read More

Daemon Cadman's classes are always full of creativity and laughter, but that doesn't mean she'll ever accept less than the very best from her students. Behind the incredible artistry, positive attitude and ever-present smile, Daemon possesses a tenacity that she routinely passes on to her students at Canada's Top Makeup School.
"I treat people in the classroom the same way they'll be expected to work outside of school," she explains. "You'll have days when everything goes wrong. It happens to all of us. I tell students, if you're going to have a meltdown, go to the bathroom, have a cry, then come back and do your makeup. On my first day in the Effects Shop working on Star Trek Beyond I sat in the bathroom three times because I was so stressed out. But you either quit or you do it. You look yourself in the mirror, go back out and do your best work."
That stressful first day in the Effects Shop blossomed into seven weeks of work painting prosthetic appliances for aliens for one of this year's guaranteed blockbusters. Which is remarkable, as Daemon doesn't consider herself a Makeup Effects Artist. But it makes perfect sense once you understand that her entire career has been a series of unexpected triumphs. She never even set out to be a Makeup Artist.

"I grew up in a very artistic environment in Vancouver," she recalls. "My Dad played in bands and my Mom was a writer. It was a very free environment. My Mom bought me face paints when I was about seven, which was also when I found some David Bowie and Kiss albums. I would roller-skate around the block with blonde pigtails and my face painted, usually like Ace Frehley."
Read More

Even if you don't recognize the name, you'll be familiar with the work of Charlotte Tilbury. You've seen her handiwork on some of the most famous faces in the world, as Charlotte is the makeup artist Kate Moss, Jennifer Lopez, Rihanna and Penelope Cruz all call when they need to look their best. Which, in their lines of work, is a regular requirement. Quite simply, Charlotte Tilbury is makeup royalty.
Wherever Charlotte is working, Blanche Macdonald makeup graduate Kelly Mitchell is close by. Kelly travels the world from her new home in London, England as the National Artistry and Development Manager and a star member of the Global Pro Team for Charlotte Tilbury Makeup.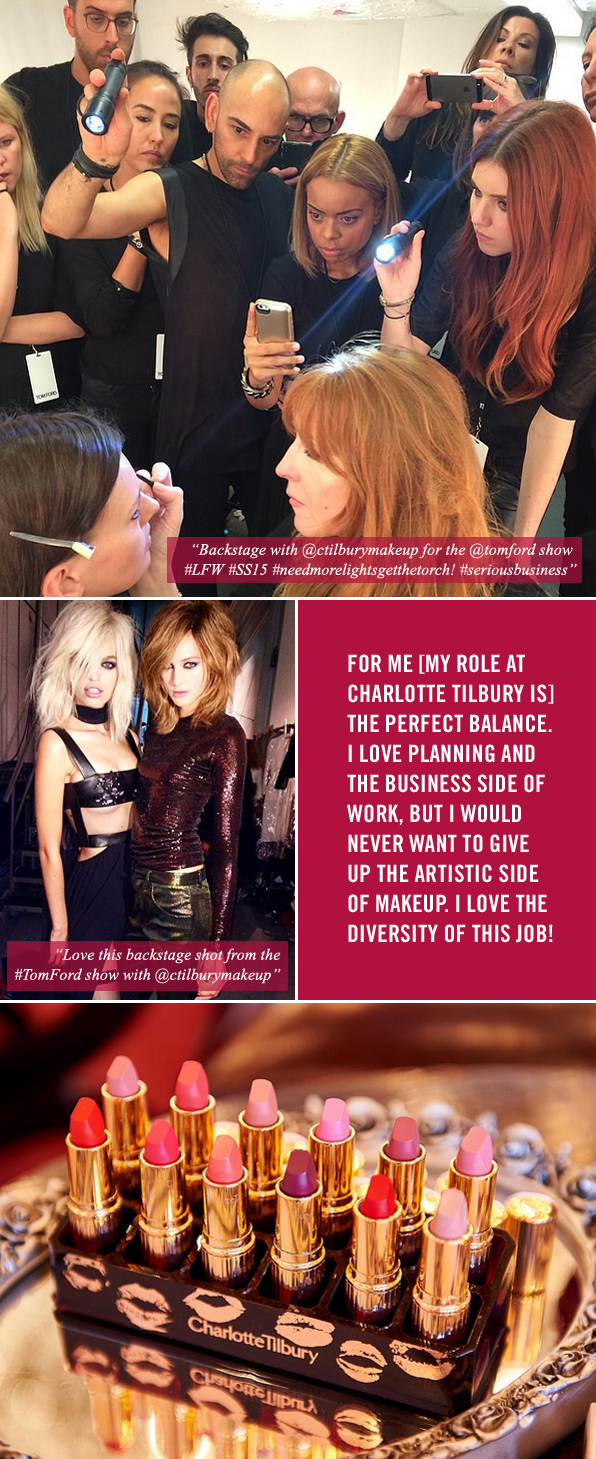 With two roles at a rapidly expanding company, plus a growing number of private clients, Kelly stays busy. That's fine with her. She loves every minute.
"Every month I'll do two or three starter trainings in the UK, Ireland or Amsterdam as the National Artistry and Development Manager," she explains. "That's a five-day course when we introduce new starters to our brand, whether they work in head office or for one of our retail accounts. We teach everything from Charlotte's history to the brand's philosophy and positioning, to doing practical makeup training. The next week I might be with Charlotte in LA, Chicago, New York or Vancouver to support her at a Global Pro Event. I might fly to Milan Fashion Week and do some shows. I also work once a week in the office creating content, developing and testing products and colours. For me it's the perfect balance. I love planning and the business side of work, but I would never want to give up the artistic side of makeup. I love the diversity of this job!"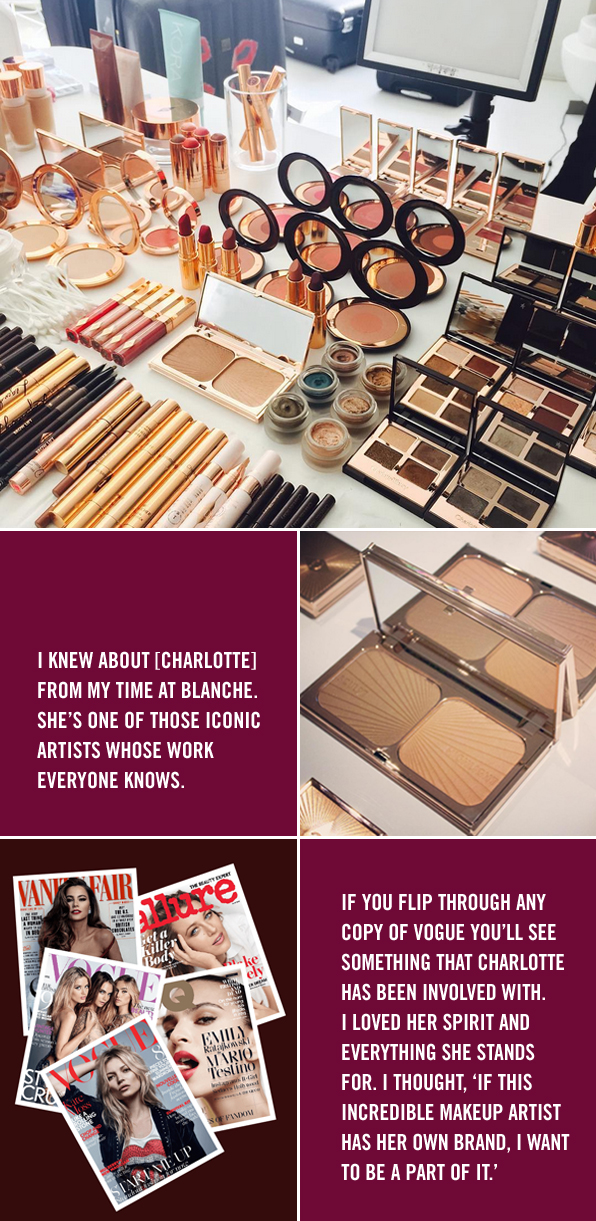 Kelly's infectious enthusiasm for the makeup line makes her a natural saleswoman. But that positive attitude didn't just arrive when she got the job. She's been that way since she started studying at Canada's top Makeup School.
"I didn't wear much makeup in high school, but I loved painting and working with people and fashion. I figured I would become a Makeup Artist and have a fun job while I'm young, then I would get a real job a few years later. My opinion about the makeup world changed quickly once I came to Blanche Macdonald. I'd never realized how many incredible opportunities there are in this industry and how I could develop my business skills.
"I was really eager. I was the student that stayed behind helping out and asking questions. I wanted to go for it. I realized I was learning from some of the best artists in the world. I was inspired by their work and what they'd achieved."
Read More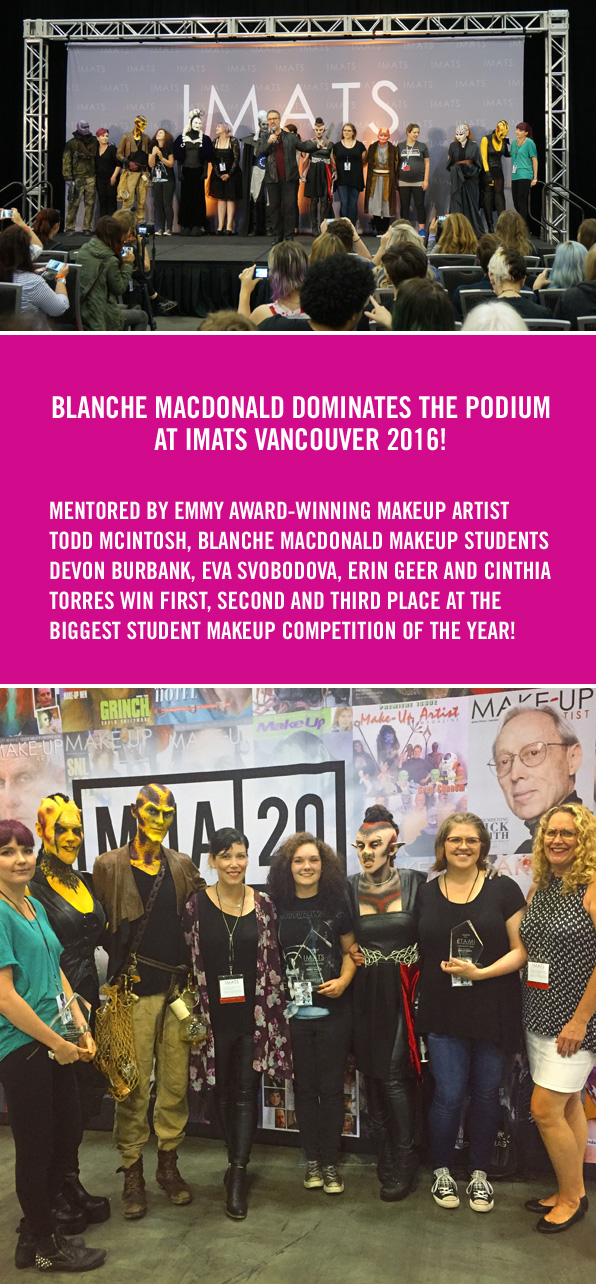 What a weekend! The 2016 edition of the Vancouver International Makeup Artist Trade Show (IMATS) was the best yet, as thousands of Makeup Artists, ranging from the professional to recreational, descended on the Vancouver Convention Centre to stock up on product and inspiration.
Both were in plentiful supply on the Blanche Macdonald/CurliQue Beauty stand, which drew large crowds as Makeup Program Director and industry legend Todd McIntosh demonstrated his prosthetics wizardry over the course of a Sunday afternoon. Proving that the possibilities of Makeup are indeed limitless, Todd created a realistic alien in a matter of hours – using discarded prosthetics pieces he retrieved from the bottom of a cupboard in his studio!

It wasn't just industry veterans creating magic. In the Battle of the Brushes, the ultimate competition for new Makeup Artists, Blanche Macdonald students shone, taking a superb second in the Beauty/Fantasy category, and filling the podium – taking first, second and third – in a hotly contested Prosthetics competition, crafting aliens on the theme of Four Decades of Star Wars.
For Prosthetics first place winner Devon Burbank, her victory was a triumph of tenacity over setbacks.
"My airbrush broke a few days ago so I bought a new airbrush and that broke too," she revealed, minutes after her victory. "We fixed it yesterday and today it broke again. So today's paint job was sponges and q-tips. Today's been a flux of emotions. It was an incredible experience and an amazing opportunity to be part of this event. I'm filled with joy. When they said my name I thought I was going to hit the floor. But I didn't!"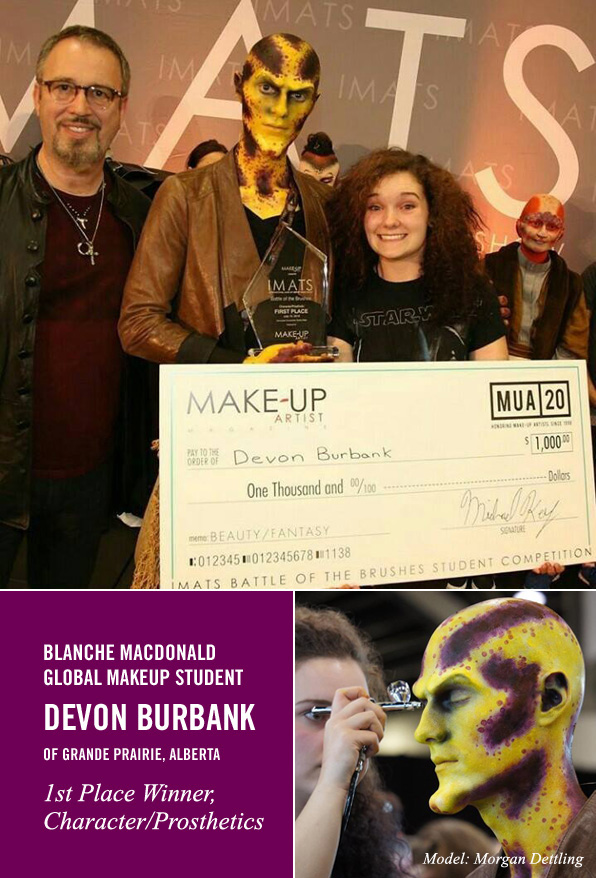 The Battle of the Brushes Prosthetics Competition is the ultimate mix of preparation and inspiration. With prosthetics pieces handed out at random 20 minutes before the contest begin, an artist's ability to instantly harness creativity is invaluable.
"I was excited to have random prosthetics thrown at me," continued Devon, "Because I love creating on the spot. I like doing makeup on the spur of the moment. That's when I feel my heart is into it. I was going to use a bald cap but that was all I knew. I was given two eyebrow pieces, a chin piece and two cheek pieces. The cheeks didn't fit well or look right, so I flipped them and added them to my model's collarbones, which made them look so defined."
Read More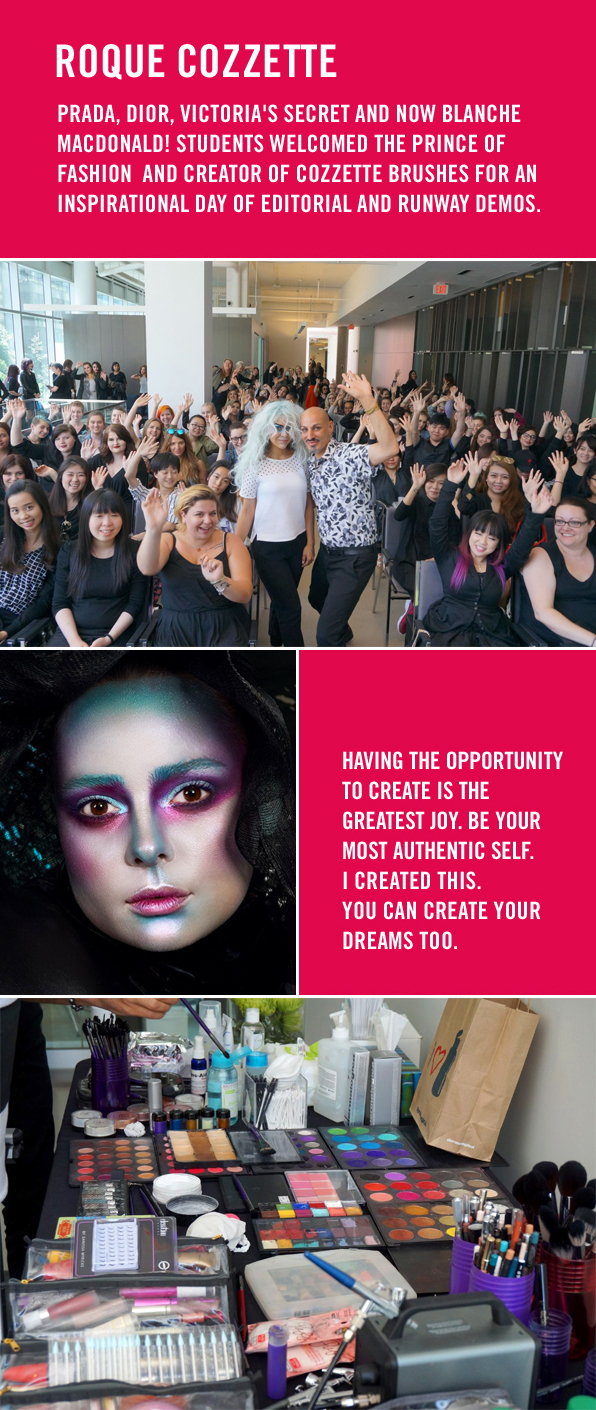 "Thank you for being alive and for following your heart."
Makeup Superstar Roque Cozzette knows how to make a great first impression. And his beautiful opening words at his magical presentation at Blanche Macdonald's Atelier Campus provided an apt introduction for a morning coloured with splashes of emotion, inspiration and creativity.
Roque's makeup has appeared on runways and in print for Christian Dior, Valentino, Y3, Louis Vuitton, John Galliano, Yohji Yamamoto, Victoria's Secret, Prada and Givenchy. Creating professional grade products alongside high-end fashion looks; he's also turned Infinite Makeup and his own Cozzette vegan brushes into global brands. In short, Roque Cozzette is makeup royalty.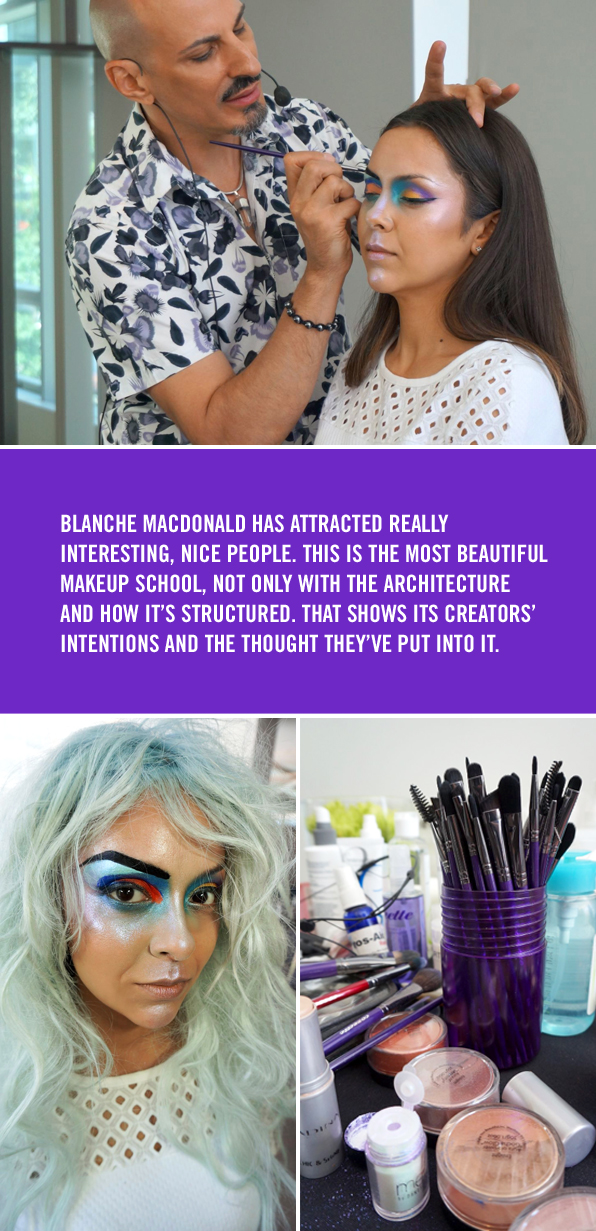 Both his artistry and products were on display throughout a fascinating makeup demo, as Roque transformed Blanche Macdonald grad-turned-youtube beauty queen Trina Duhra into a shimmering explosion of fashion editorial colour. Throughout the application Roque answered questions from host, CurliQue Beauty Team Leader Jaylene McRae and students, covering topics ranging from Photoshop ("think about it as a colour tool"), to confidence ("It comes from having a standard look and building colour theory into my plan") to the often underrated art of assisting ("You're serving the higher good, and there's greatness in that").
Most of all though, Roque came to Canada's top Makeup School to reinforce the importance of emotion, intuition and inspiration, whether it comes from individuals' faces or motorcycle gas tanks.
"Being here means you've already taken the first step," he explained. "Having the opportunity to create is the greatest joy. Be your most authentic self. I created this. You can create your dreams too."
Read More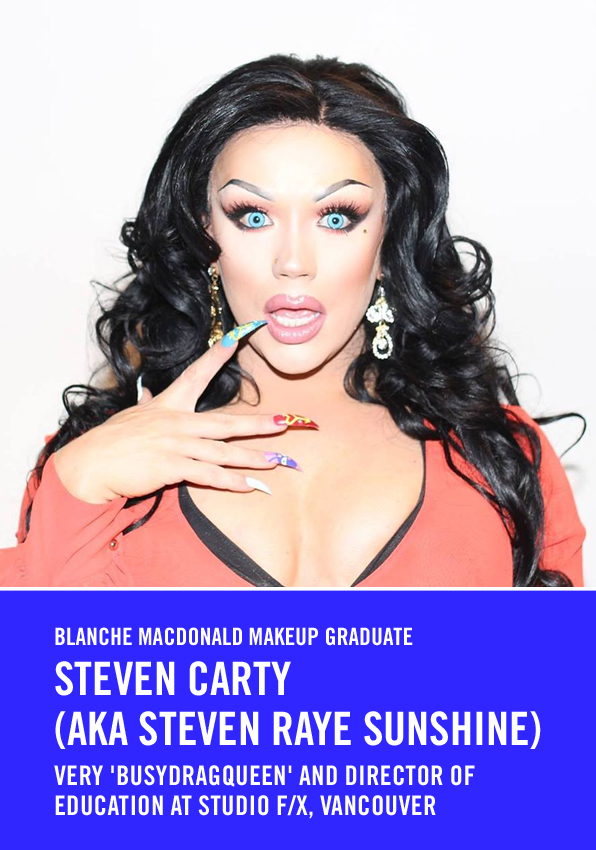 As a child actor seeking stardom from the pastoral settings of Mission, BC, Blanche Macdonald Makeup graduate Steven Carty quite nearly had his break. Having been offered the role of Pugsley in macabre kin favourite, The Addams Family, Steven probably wouldn't have been sitting here today, had it not been for his parents' reluctance at the prerequisite husking up. As Steven put it, "being young and gay in Mission – you don't need any more hardships."
But when one door closes another opens, as the saying goes. And for Steven, calling scene on set life would lead him to spot lights worldwide.
"Watching the Hair and Makeup Artists work on transforming people like John Travolta and Kirstie Alley into their characters was so neat and it just stuck with me. When I was in hair and makeup it would be the best half hour of my life.
"In Grade 11 we did this big production of Stoker's Dracula, and I got to create the dead Lucy and a vampire. That's what sparked the thought of going to Makeup School and then meeting [Blanche Macdonald Admissions Director] Jill Wyness during my tour at 16 sealed the deal. I didn't go to any school interviews after that and started right after graduation."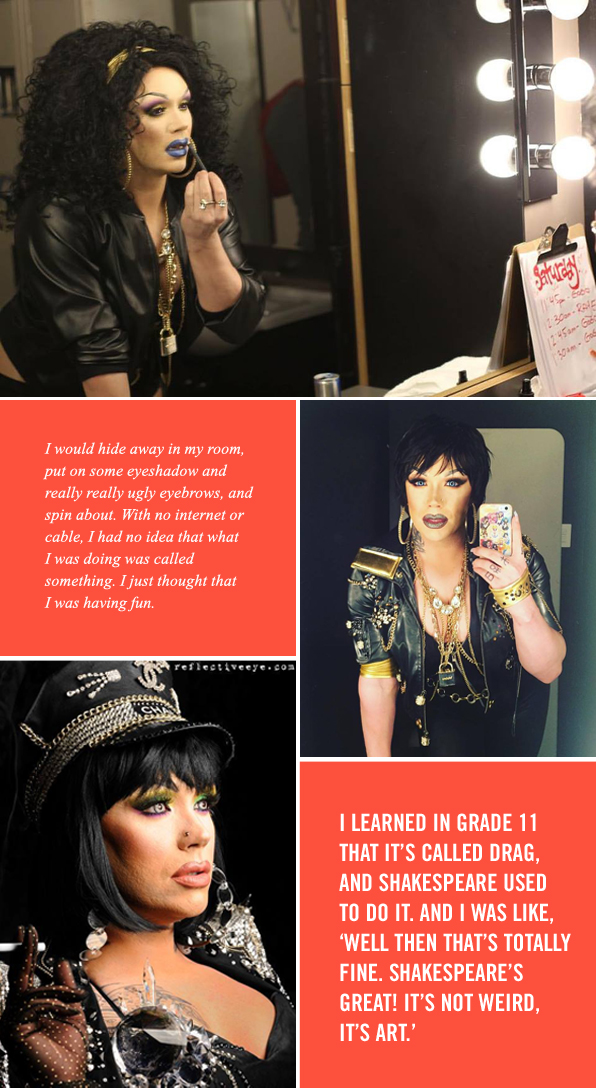 Steven was met with a level of support and creative calibre that he remembers to this day. It wasn't long after his first weeks that he realized the scope of professional opportunity now open to him.
"When I had the chance to see the work that my instructor, Michelle, was doing outside of the classroom, it really created a bond of respect. These are your teachers, but this isn't just college, not just beauty school. When you graduate, these people can become your coworkers. You get the chance to grow with these teachers and if you are really pushing yourself and really want to learn more, you can. You have to connect and go a little bit further than just 'Here's my assignment.'
"I would be running up and down the halls in full face showing each and every teacher because I wanted everybody's feedback. Every artist has a different way of doing things and that gives your learning this great diversity."
Read More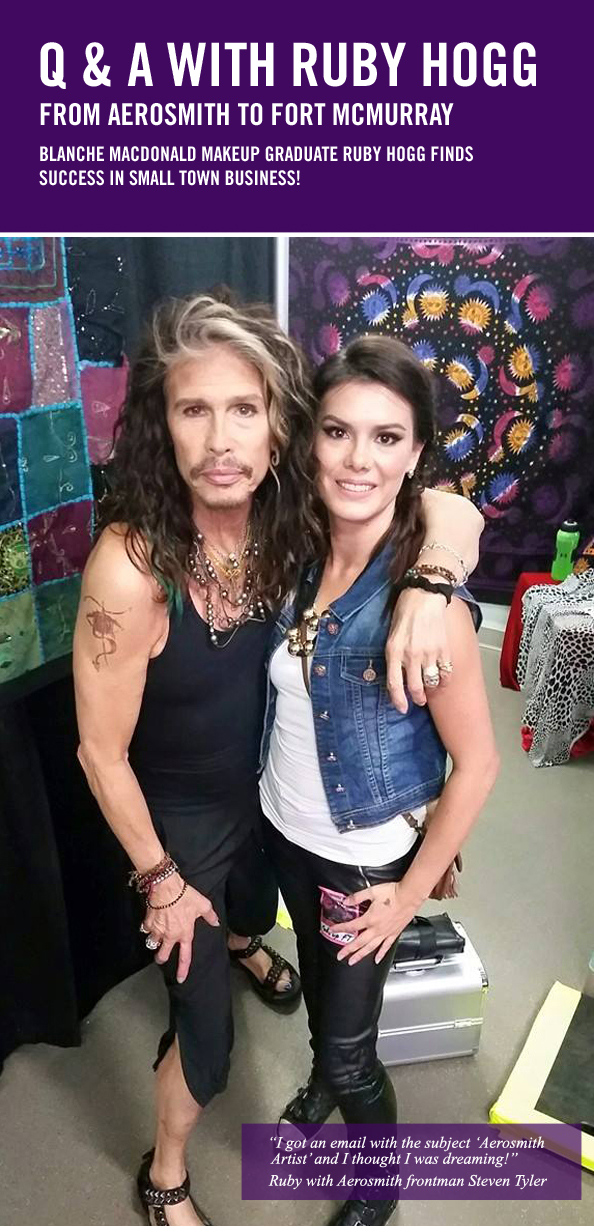 Nestled amidst the boreal forest in Northern Alberta is the industrious, tight-knit community of Fort McMurray. While it may sound an unlikely place to find success as a makeup artist, Blanche Macdonald graduate Ruby Hogg has done just that, cultivating and an outstanding career and flourishing as one of the province's top makeup artists. In the three short years since she graduated from the Freelance Makeup program, Ruby has established both local and national clientele, achieving celebrity status within her community and traveling all over Canada to do makeup for brides and films alike. She attended a workshop in L.A. with the famous Scott Barnes, and her growing reputation landed her on set with National Geographic. She achieved all this while starting her own successful makeup business, Colour Me Famous, and becoming a new mom.
Ruby now lives in Valemount, B.C. with her family, but it's clear that her establishment in Fort McMurray was instrumental to her success. Humble, hard working and eternally grateful, Ruby is proof that the unexpected and unknown can be transformed into monumental career cornerstones by an expansive view of life, beauty, and business and an enduringly creative eye.
BMC: First thing's first: We heard you've done makeup for Steven Tyler locally in Fort McMurray. How did that come about?
Ruby Hogg: Aerosmith was doing a Canadian tour and Fort McMurray happened to be on the route. Their management team inquired with the venue about a makeup artist. I'd worked on some of the staff for other events and they knew my reputation, so they referred me! I was actually on vacation and asleep when I got an email with the subject "Aerosmith Makeup Artist" and thought I was dreaming.
I thought I'd be so nervous walking into his dressing room, but I felt completely at home. Steven Tyler was a very welcoming person. His makeup artist made it easy for me by sending a list of his favourite products to use – he's a huge MAC fan. The only difficult thing was figuring out something to wear myself!
BMC: Let's go back in time. What made you want to become a makeup artist in the first place?
RH: Initially I was interested in International Development for the longest time. I had always had a passion for brightening people's lives. When I found out I was going to have my daughter, I realized it would be difficult to balance that type of career with our lifestyle. I'd always loved makeup so I decided to pursue it as a career instead.
BMC: When you decided to go to makeup school, what made you choose to study at Blanche Macdonald?
RH: I did lots of research on schools across Canada and the United States. In the end, I chose Blanche Macdonald [because] its reputation preceded it and it had such positive reviews. All the recent grads I talked to were such successes in their fields. When I was put into contact with Admissions, everyone was so friendly and welcoming and the schedule fit so perfectly with my family lifestyle. The location wasn't a drawback either!
Read More