Makeup
Spring Style – The Province
Makeup: Vibrant pout, defined eyes are in for spring.

The spring 2006 face is all about the mouth – with eyes and cheekbones forming the perfect frame.

That natural look? Not that natural. "You're using six or seven products for a 'no-makeup' look," says makeup artist and Blanche Macdonald Makeup School Instructor Jon Hennessey.

"It's not just sheer; it's sheer with dimension."

Yikes! But don't panic, folks. That's why we called Hennessey for help.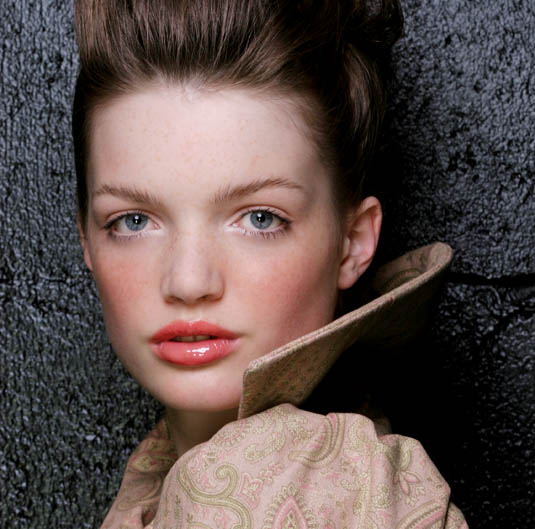 SKIN IS IN
Moisterize lips first. Hennessey's "secret weapon" is Elizabeth Arden's Eight-Hour Cream ($24/50mL).

Foundation? Hennessey does not really even like to call it that. "Your skin is the foundation," he says. (The product) is coverage. What you use depends on the condition of your skin." Face Atelier ($24/15mL at www.faceatelier.com) has a range from sheer to opaque coverage and MAC's Face and Body ($35/120mL) offers great sheer to medium.
NOW FOR THE CLOSEUP
Contouring is key. Use a chocolately taupe cream blush without obvious colour like Cherché by MAC ($21) under and up around cheekbones like a "C". If you're fair, use a tiny bit. If your skin is darker, intensify.

Highlight upper brow bone and cheekbones with a light product like Champagne Sheer by Face Atelier ($24/15mL www.faceatelier.com) to reflect light in a subtle way.
BLINK
Define eyes with liner, not shadow. Gel liners are much more forgiving than liquid liners. Hennessey suggests MAC Fluid Lines ($17.50) Dip Down or Bobbi Brown Sepia ($25). Chocolate is softer than black and can be used on lightest to darkest skin tones and gel products have a lot more "play" in them so you can blur the edge. Macro Violet ($17.50) is another MAC Fluid Lines choice – a smoky plum. For fair lashes, use only on upper lash line. For darker lashes use on lower lash line too.
BLUSH
All product lines have good cream blushes, says Hennessey. Try MAC's Lady Blush ($17.50), a balance of pink and orange that works with both corals and raspberries. Make it a healthy flush as opposed to a heavy blush.

Set with light pressed powder for longevity.
KISS
Lips in vibrant colours – coral, fuschia and raspberry – are the big story for spring. You can do them three ways, says Hennessey.

Create a stain. Blot excess moisture from lips and, with a finger, swipe colour from lip centre to edge. Translucence, not solid colour, is the key. Hennessey suggests MAC's raspberry Berry Boost or Glam ($16.50), a matte fuschia.

Not comfortable with intense colour? For gleam try Lancome's Juicy Tubes ($20). The range of colours includes today's shades.

For the ever-recurring '60s reference, try Nars' Belle du Jour ($30), a pale apricot, and pair it with dramatic MAC Macro Violet ($17.50) eye. Voila! A very subtle take on what's going on, says Hennessey.
Jeani Read, Staff Reporter
jread@png.canwest.com