Makeup
Makeup Artistry Graduate
Regional Sales Manager, Lancôme, Western Canada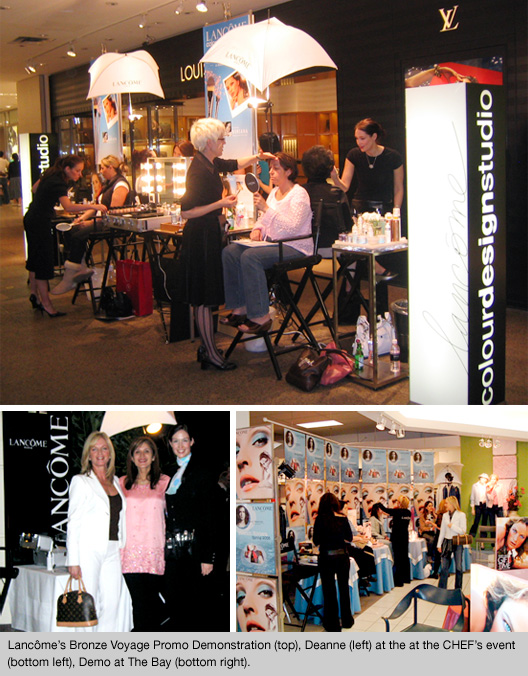 BMC: What are some of the interesting projects and positions that you have been a part of over the years?
DL: I have been with Lancôme for 14 years. I began as a Demo/makeup artist in 1994. Three months after I began, I was approached to apply for the Special Events Coordinator Position. I took it on as a contract and discovered I loved the position. I developed the first ever "Color Team" and we had tremendous success with our traveling team of makeup artists, which was recognized nationally and became a corporate event. From this position I was promoted two years later to Account Executive of Drug Stores in B.C. In this position I developed a 5 Star Program for our Top Performing Drug Stores. They received large-scale event support that helped to elevate their Lancôme business. Two years later, I was promoted to Account Executive for The Bay and Holt Renfrew. I serviced all Bays in the Lower Mainland and Holt Renfrew. It was a fabulous job and my greatest accomplishment was winning the Millennium Award in 2000, which was a sales incentive for Top Doors in Canada. My Bay Vancouver Team and I won and Lancôme flew us to Paris. In December 2003 I was promoted to my current role as Regional manager for Western Canada where I continue to grow and learn every day.

BMC: What were some of the challenges you faced when developing the first ever "Color Team"?
DL: Budget was the biggest challenge. In order to make an impact, I requested posters, photos of the team for on counter promotion of events, chairs, lights, trunks, uniforms and brushes. In the end, my proposal was accepted and we received everything we needed.

BMC: What was the "Colour Team"?
DL: I selected 6 of the best makeup artists from our existing demo team and they were the colour team artists. The team was sent to Top Doors for 3-day makeup events. They provided makeup lessons to our customers and drove the sales for our retail partners at The Bay, Holt's and Sears.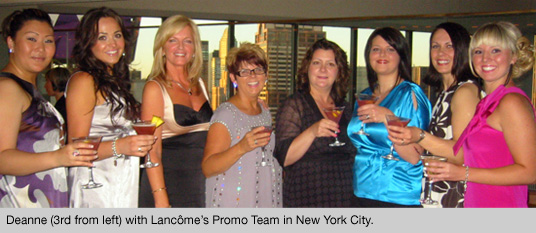 BMC: Tell me about your trip to Paris? That must have been a memorable experience.
DL: It was a 5-day trip with a team of 6 women. We saw all of the key tourist attractions, shopped on the Champs-Élysées, dined in the finest restaurants (one with live opera while we ate, that was an memorable experience). The highlight was visiting the Lancôme institute and the Lancôme Beautique. It was a very fast whirlwind of a trip but we all truly enjoyed the experience.

BMC: What advice would you give makeup artists wanting to pursue the Cosmetic retailing industry as Demonstration Artists for promotional events?
DL: The best advice to a makeup artist that I can give is to not only focus on your artistry skills, but also on communication and selling skills. In the retail environment, expert customer service and sales are the priority. If a demo artist is able to connect with his or her customers through great service, asking the right questions, teaching application and sending them home with the products that meet their needs, they will enjoy the experience and come back again.

BMC: What made you decide to attend Blanche Macdonald? How was your experience at Blanche?
DL: I had decided to switch careers. Previously I was in real estate. I had modeled as a young woman and Blanche represented me. Through modeling I was exposed to the wonders of makeup and the importance of great skin, so I thought I would look for a way to take my passion for makeup and create a business opportunity from it, which I did. I started DL cosmetics and freelanced in Makeup Artistry. DL Cosmetics provided the opportunity to learn about Makeup and Skin Care in home party settings. I carried my own label for makeup and partnered with a skin care company. We did very well and it became quite popular, but I got tired of the home party concept and really missed the corporate world. After researching the major cosmetic companies in Canada, I chose to apply at L'Oreal and received a call within a week for an interview.

BMC: What would you tell future students that are attending to Blanche Macdonald?
DL: Take this opportunity to gain knowledge and figure out what area of the industry is best suited to your needs and aspirations. The cosmetic industry is multi-faceted and offers a forever changing, dynamic career. Blanche is a fantastic training centre that will facilitate your ultimate decision and goal for your career.