Makeup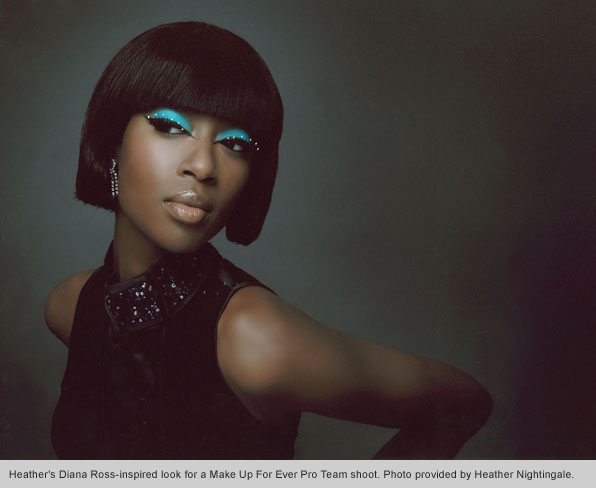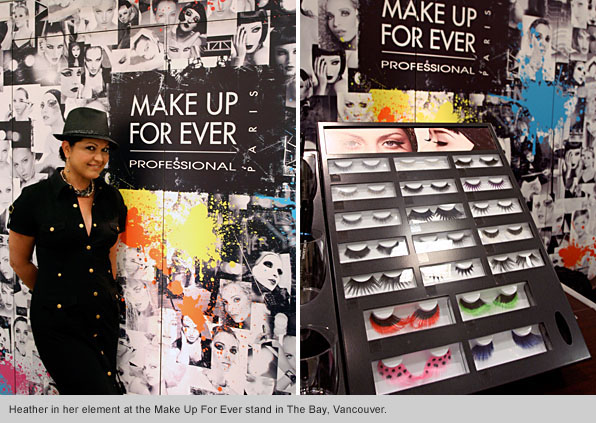 Heather Nightingale is tough to pin down. The Western Canada Regional Manager for Make Up For Ever divides her time between Vancouver, Calgary, Edmonton, Winnipeg and her home in Victoria. That's when she's not in New York, Los Angeles, Miami or Paris. So when you get the opportunity to grab some photos and ask some questions for a Blanche Macdonald graduate profile, you seize it. The woman with the hectic travel schedule has quite a story to tell.
"I began my love affair with Make Up For Ever," she laughs, "when I was finishing my last class on the Blanche Macdonald Makeup Program in January 1998. A student came in with a lip palette in vibrant fuchsia. It was Make Up For Ever. At that time we weren't familiar with the brand at all. It was sold at Holt Renfrew, so after class I hustled over there. I remember looking at the array of colour in the eye shadows and instantly being stopped in my tracks. I thought, 'This is the line that has the kind of colour that fits me'."
She's been part of the Make Up For Ever family ever since. Heather was the manager of the first Make Up For Ever counter in Victoria at the much-missed department store, Eaton's. And a few years later it was Heather who was asked to head up the brand's expansion as it widened its operations over the westernmost half of the second biggest country on the planet. Which is ironic, because Heather spent her formative years on the small Caribbean island of Trinidad.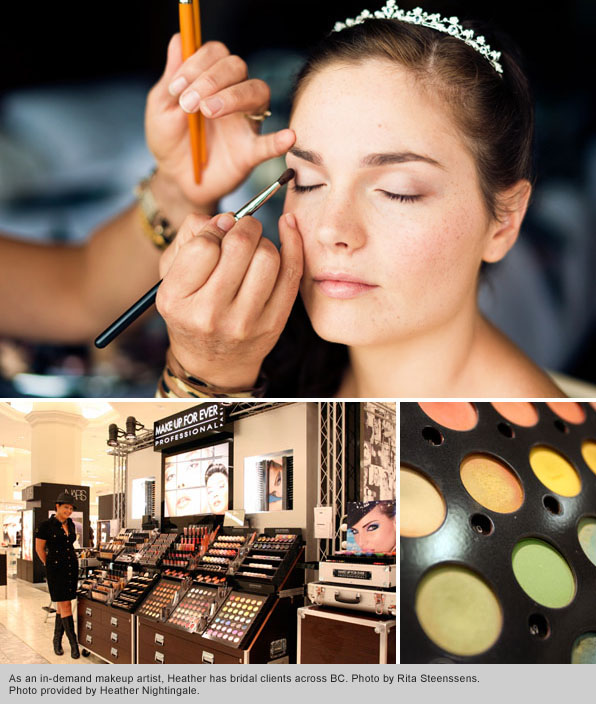 "I spent a lot of time outdoors growing up," she explains. "I remember costumes and colour at carnival time, which is big in Trinidad. When I was indoors I would do a lot of plastercine, moulding faces and little fashion dolls. I've been working with faces since I was a little girl! I distinctly remember when I first saw my mum putting on lipstick when I was five or six. I was intrigued!"
Heather's family moved to Canada, where she went to college and became an early childhood educator. But the love of colour and creativity never went away. Heather studied art, but there was something inside her that wanted her innate creativity to be more than a hobby.
"That's always been a part of me. I like to paint and draw. I went to the Alberta College of Art and Emily Carr before studying Early Childhood Development at Mount Royal in Calgary. After that I spent quite a few years in childhood education and loved every moment of it. But I wanted to change into a career where I could use my artistic with my psychology skills, and work with people."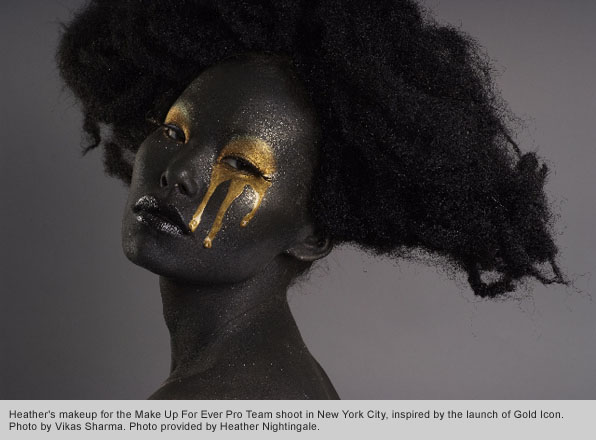 The realisation that that career could be makeup brought her to Blanche Macdonald.
"I interviewed at Blanche Macdonald and felt that it was the right fit. All my instructors were artists working in the industry. That was really a big part of why I chose this makeup school. We had some amazing instructors. Lesley Opheim-Riou was my fundamentals instructor. Holland Miller taught me effects. Jen Powell was my teacher for TV and film. I still speak to them now.
"There were similar elements in the program to what I'd learnt in art school, for example, understanding colour. And a lot of the techniques come from the artistic background. The education that Blanche Macdonald provided enhanced what I had already."
Before her near-religious experience at Holt Renfrew, Heather had planned on splitting her newfound makeup skills between the film, fashion, theatre and retail industries.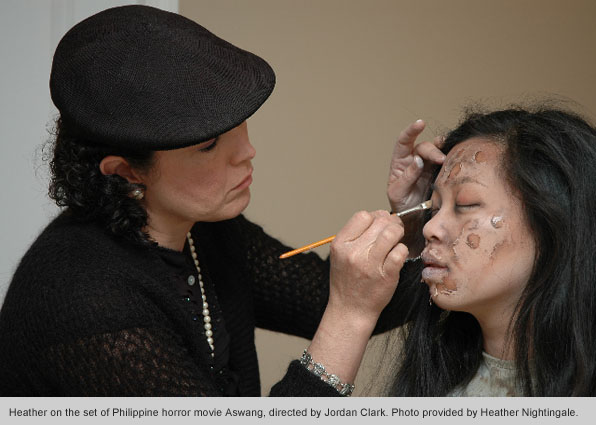 "I'd modelled in my past, so I was used to being behind the scenes. I'd had makeup artists work on me, and I knew what it took to do creative fashion makeup and hair. When I graduated I did a few short films. When I was working in Victoria on a feature film with David Carradine called Guaranteed On Delivery – three or four weeks on set with night and day shoots – I realised it wasn't for me. I love my sleep! I admire artists working in film, but it wasn't the perfect fit for me."
Make Up For Ever could have been tailored for Heather.
"I'd moved to Victoria with my husband, and I was the manager when we opened up the first counter on the Island at Eaton's. I literally unveiled Make Up For Ever to Vancouver Island. It was exciting. Of course there were challenges, but a combination of education and love for the brand made it work. When you're passionate about something, it's easy to share it with everybody."
When the Eaton's chain closed its doors in 1999, Heather continued working as a freelance artist, and when Sears re-branded and re-opened those stores she was perfectly placed to take the new role of Western Canada Regional Manager.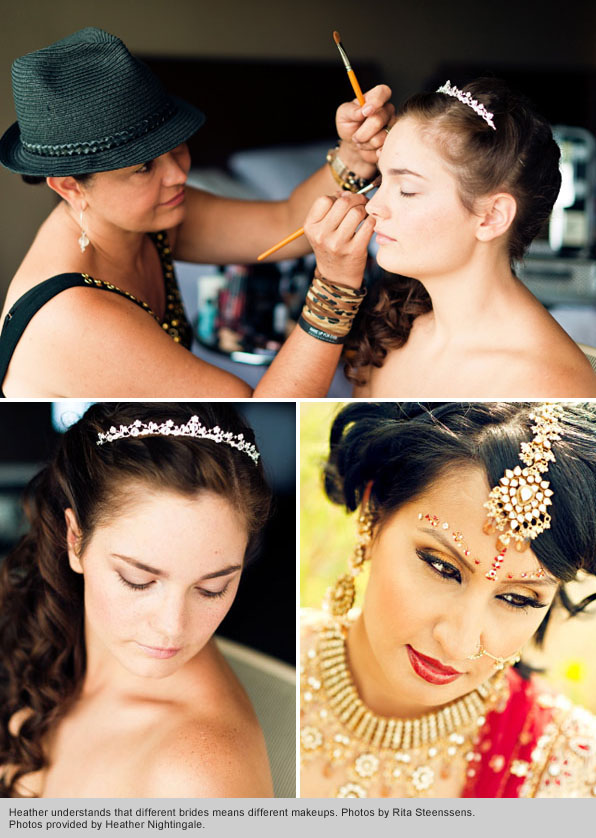 "When I started I only had a few stores. Now I'm taking care of all the stores in from BC to Winnipeg where Make Up For Ever is sold. There are four locations of The Bay, two in Calgary and two in Vancouver, and ten Sephora stores. I'm responsible for them all, to ensure our teams have everything they need to make the business successful. The business is moving in a strong direction. That starts with education, which is one of Make Up For Ever's key focuses and one of the things I love about the brand. Education, about the product and technical artistry for staff and clients, and growing the business go hand in hand.
"Twice a year we go to New York and LA where we learn new techniques straight from the Academy in Paris. We are a professional brand, so it's important to make that connection from the pros to education to the general public. There's technique and application, and selling, of course. It's wrapping everything together so our teams can share that passion for Make Up For Ever. I'm very proud to be part of a very dynamic Canadian Team for Make Up For Ever, led by our National Manager, Francine Blauer."
Chat with Heather for even a few minutes, and it's impossible to miss her unbridled enthusiasm for Make Up For Ever and her role within the company.
"I love that I'm able to share my passion for this makeup. I'm excited to get out of bed every day. I'm an artist myself, and I work with other artists! There's a plan, but every day is different. I have fun with the people I work with and the people that educate me."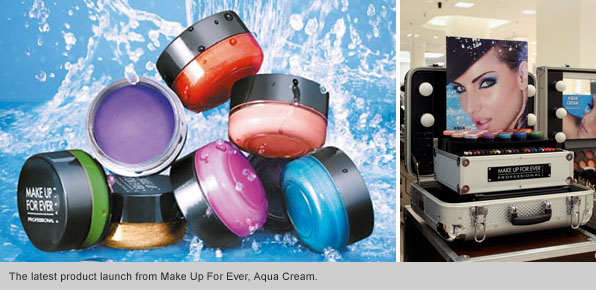 Travelling around Western Canada is its own reward, but she still finds the time to take on private bridal clients and teach the makeup section of the theatre program at Brentwood College High School on Vancouver Island. And, of course, there are extra benefits that come with working for a brand sold in 47 countries worldwide.
"This summer I won a contest to work with the VIPs at the Miami Mercedes-Benz Fashion Week Swimwear show," she laughs. "I was able to meet the Make Up For Ever Alliance Team, artists like James Vincent and Lottie. That was a highlight, but the entire experience was very exciting. And warm. It put our new waterproof Aqua Cream to the test!
"I went to Paris a few years ago with Make Up For Ever. I looooove Paris! I've met the creator, and my inspiration, Dany Sanz, several times. There's a thread that runs from Dany through all of us. It's a passion and love for what you do. Make Up For Ever is Dany's baby. I've been with the brand for 13 years, and it's like my baby too. You watch it grow and develop."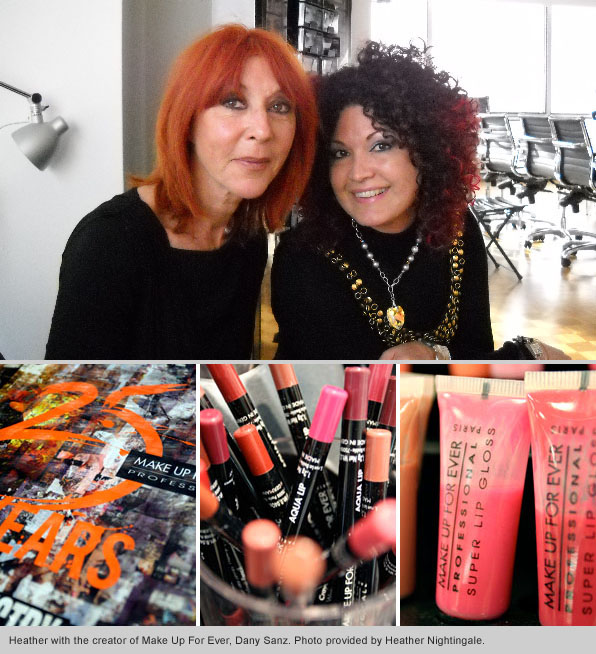 The girl from Trinidad inspired by colour, art and her mother's lipstick has achieved what she set out to do. It's a tough job, but it's a job that fulfils the creative drive that was always bubbling under the surface. No wonder Western Canada continues to fall under Make Up For Ever's spell. That enthusiasm is infectious.
"If you want to become a makeup artist have that dream and make it happen!" she insists. "Be patient, but be determined and continue to go after what you want. If you truly love something and you want to be part of this industry, keep doing it!"