Makeup
The gospel of Vancouver's best makeup school has been spreading across the continent in recent months, as no less than four recent Blanche Macdonald graduates picked up coveted trophies in the Beauty/Fantasy and Character Prosthetics competitions at the Los Angeles and Toronto IMATS (International Make-Up Artist Trade Shows).
Competing against the world's finest young makeup artists at the biggest IMATS event of the year, Win Liu won an incredible third place in LA's Character Prosthetics category with her Tudor-inspired take on the theme of Grimm's Fairy Tales. Qualification alone was a remarkable achievement; Win's portfolio being selected as one the eight finalists from thousands of entrants worldwide.

"I always wanted to compete and do well at the LA show, because it is the biggest of them all!" she insists. "Two days isn't enough for this show. There's just too much to see and too many seminars to attend! A very special moment happened on the first day of the show when Mr. Dick Smith cruised the floor and I had the privilege of talking to him! It was his birthday and you could feel how special this man is when you saw the respect and well wishes coming from all over the place. Later on I learned that the reason why prosthetic judging took extra long was because Dick Smith showed up to see all the work himself!"
The Academy Award-winning makeup legend and the judging panel were impressed with Win's technical and improvisational skills.
"The tricky and fun part of it is that you don't know what prosthetics pieces you're getting until the morning of the competition day!" she explains. "The pieces determine how your character will be in terms of personality. I had the concept for my character beforehand, but I had no idea of his personality until we were given the appliances.
"This competition has given me more confidence, opened my eyes to what's possible, and made me ready for the next challenge."
North of the border, at Canada's biggest IMATS, Brianne Peori took an impressive second place in the Character Prosthetics competition with her interpretation of Rumpelstiltskin.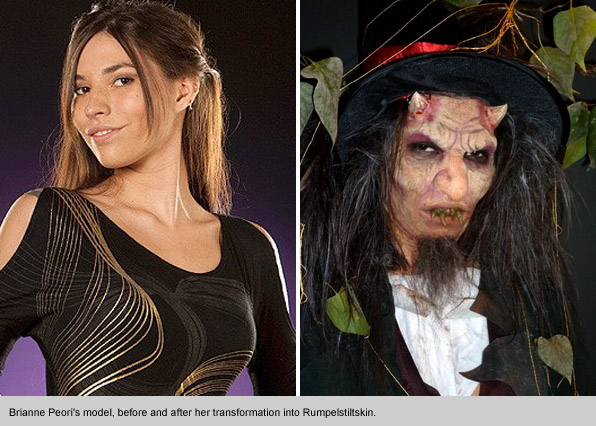 "Most people who know me know that I love gore and horror," she laughs. "When I first learned about the IMATS in special effects class I was floored that you had freedom to create a character, but from someone else's choice. The fact that you don't have control on what prosthetics you're given was a thrill to me.
"I knew that I could create an idea of Rumpelstiltskin from any type of brow, ear, nose and cheek prosthetic. The only things that would completely mess me up would be if I received a beak, or horns. And I did get horns! My idea of Rumpelstiltskin looked more like a devil but it still worked.
"I was so stoked that one of my idols, Tom Savini, was going to involved in the judging and would be seeing my work up close. I kept telling myself to just breathe. There wasn't much that was too challenging. I had been taught everything I needed to know, and had all the tools with me to do what I had to do. Creating creatures and monsters is such an exciting thing to me. It never feels like it's a job. It's like a hobby that I love doing. I'd prepared myself for what I was going to be doing, and I think that helped everything run smoothly on the day.
"I loved competing at the IMATS – the chaos, the pressure, the lack of eating, the stress and finally the end result. Seeing people, even my friends, gasp and be floored that artists can create such beautiful and ugly creations all at once is such a great feeling. I'll continue to create crazy things, and you'll see my work again in the near future"
Darah Wyant competed alongside Brianne in Toronto, taking a fabulous third place with a radical interpretation of the Wicked Witch from Snow White.
"Toronto was my third IMATS," she explains. "I feel so fortunate to have been selected to compete at all three. First was Vancouver, second LA and third Toronto. In Vancouver I couldn't have been happier as I got some great feedback from people in the industry. In LA I tried to lay a little more hair and it didn't work out to my advantage. Toronto was terrific, even though I didn't have a model until the last minute. My mum was going to do it but got sick and couldn't come. Two days before the competition a girlfriend called saying she'd had a dream that she was going to be my backup.
"On the day I got half a face, a brow and an eye bag that creates a sunken look. I'd never even practiced on my friend before the competition so it was all a learning experience for me. I'm faster and more efficient now so I was able to finish the majority of the makeup with time to spare and was able to concentrate on tweaking things after that. There was so much more I could have changed but I do feel faster and more confident. And I got some great feedback!"
The day before Brianne and Darah's triumphs, one more Blanche Macdonald grad tasted glory. Marley Blair Wilson won second place in the Beauty/Fantasy category for her Gothic Lolita meets 90s raver take on Alice In Wonderland's White Rabbit.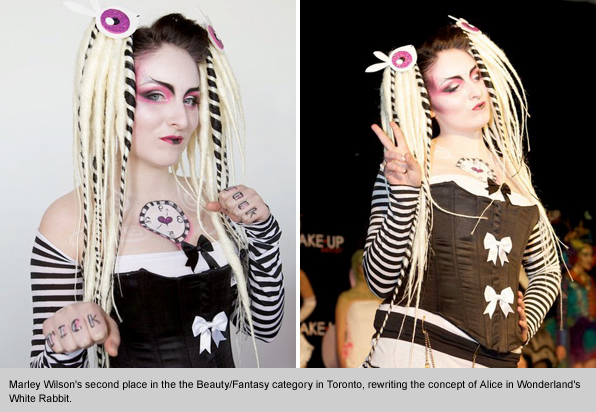 "The White Rabbit idea came to me when I was drawing in class one day," she recalls. "I knew I didn't want to do a classic version of The White Rabbit. I started with one idea – white dreads for ears – and it grew from there."
On the competition stage, under the watchful eyes of some of the world's best makeup artists, Marley let her creative side take over.
"When the pressure is on, that's when my brain starts working. I knew what my costume was and what my basic idea and what I wanted to get across were. But apart from that I didn't know what I was going to do. I like the pressure. It was over really fast and I didn't notice the other competitors. I was in a bubble. There were judges who came up on stage and I didn't even notice them until they were actually asking me questions.
"I was done before the two hours were up, so I was thinking about what else to do. I thought I'd make her look tougher with some fake tattoos on her knuckles.
"I was totally happy with my work. I don't think I could have done anything different. All the feedback was positive. People I look up to, like David Klasfeld, the owner of OCC Cosmetics, came up to me and said they were surprised that I was in a student competition. That was flattering.
"I know that makeup is what I want to do with my life. It was great meeting so many amazing people and being able to showcase what I can do."