Makeup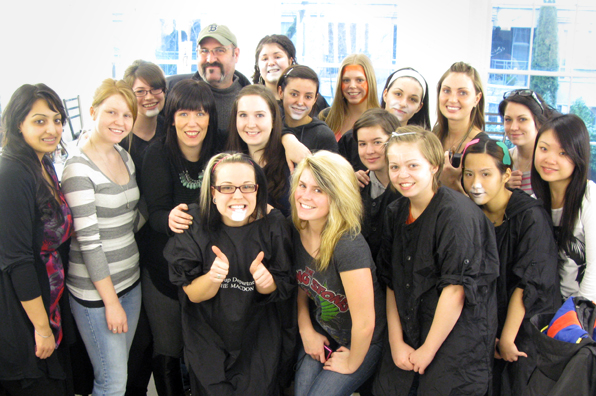 Well, the Special Effects and TV & Film students at our Uptown Campus sure got a nice surprise on Wednesday. Academy Award winner for Outstanding Makeup, HOWARD BERGER, dropped by for a visit!!! This man is a legend! The Chronicles of Narnia (Howard's fave film to work on), The Green Mile, Kill Bill 1&2 (Quentin loves working with him), The Last Exorcism, Sin City, Lord of the Rings, Land of the Dead, Austin Powers Goldmember, Thir13enGhosts, Predators, Scream 2, House of Wax, Fright Night, The Haunting and I Am Number Four (which comes out today!) – these are just a few of the films he has worked on. He's also a familiar face here at Blanche. Howard has come in to demo casualty makeup and silicone ageing using 3D makeup transfers and silicone prosthetics in the past!
Here are just a few film stills from Thir13en Ghosts (2001), The Chronicles of Narnia: Prince Caspian (2008) and Predators (2010).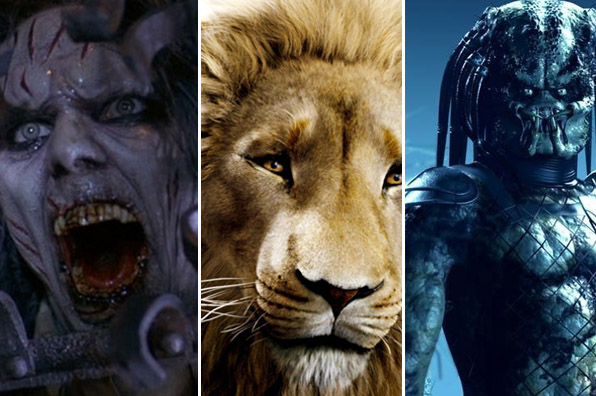 Howard is currently in town shooting a new action-adventure survival film called The Grey, starring Liam Neeson, which involves doing makeup on 30 dead bodies following a plane crash. He had called his friend and our fab Special Effects instructor, Cory Roberts, to tell her that he 'might come by and visit if he got off set early' that day. Howard not only came by to visit, he arrived with a bag of fake blood in hand and gave us an impromptu demo on quick blood effects along with industry tips and hilarious stories! Soon after dashing in to say hi to each of the other makeup classes, the students were spontaneously invited to sit in on his demo! Four classes of students in one Makeup room and many trying to peek in from the hallway… we were thrilled!!
DEMO #1: A Quick 3rd Degree Cut
After selecting our Makeup student, Chenade, from the sea of students, Howard mixed parts A&B of Sculpt Gel on a palette instead of in a jar. He began to apply it on Chenade's cheek in broad strokes. Molding it like a cut, he suggests keeping the design simple, reshaping as it sets. Tip: work fast. Urgency is key!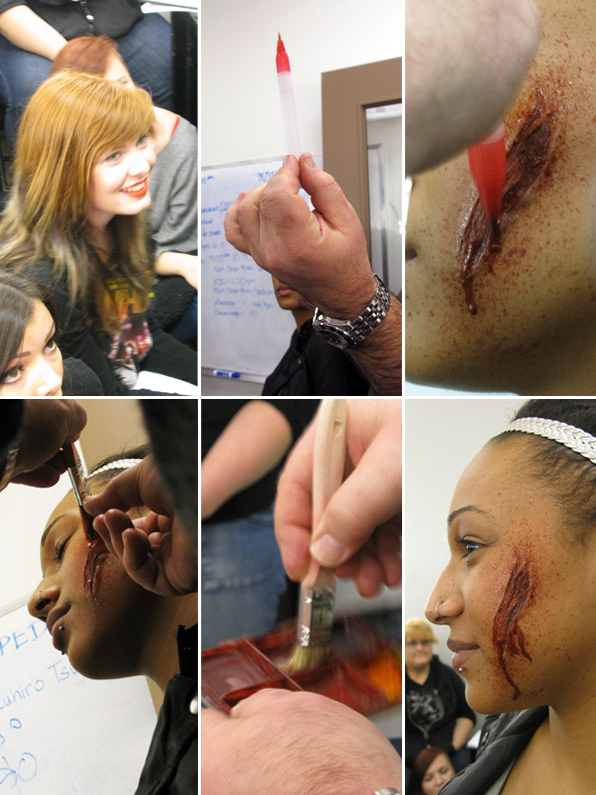 The red tool in this next pic is what he uses to paint on blood. You can fill the handle with 99% alcohol and control the amount you want to use. Howard dipped the red brush into a mix of red tones with black from the Skin Illustrator palette and applied it onto the "wound", making a really washy effect. To make the burn look more realistic, Howard applied fake blood in drips. He then cut a one-inch chip brush on an angle, dipped it into the red palette, and splattered the paint onto the "infected area" in a flicking motion.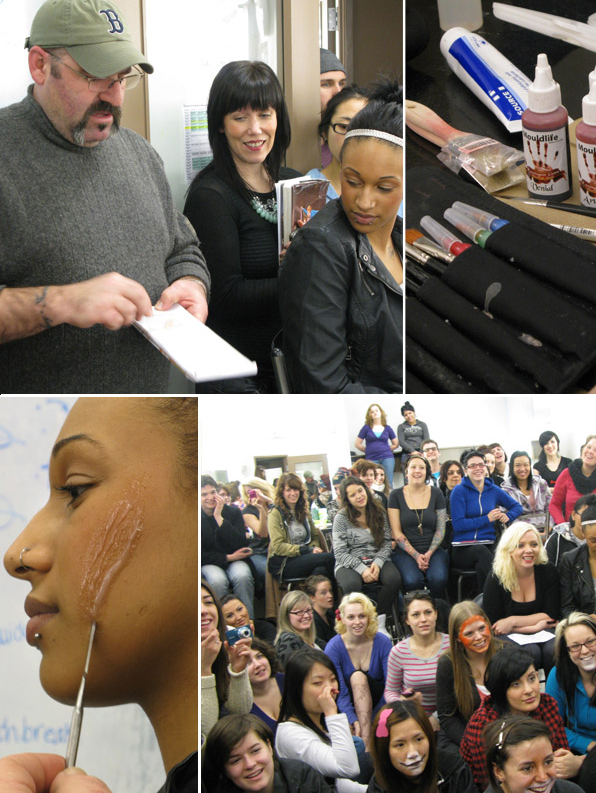 Howard's Blood Kit Must-Haves: 99% alcohol, Skin Illustrator Tattoo Palette, Visiora shadow, Telesis 5 thinner, Pros-aide, chip brushes, blood (preferably his special KNB blood formula which doesn't stain), wipes, K-Y Jelly, and Matte Anti-Shine by MAC.
In between each step in the demo, Howard shared with us tips on how to make it into the Special FX makeup industry, how excited he is to do the makeup for The Great Oz – the prequel of The Wizard of Oz, how it was Uma Thurman who pointed out that he was ambidextrous, how he knows more than he ever wanted to know about dolphins after creating the "Maserati" – a mechanical dolphin for Dolphin Tale (2011), why he has his kids review his makeup before he shows the producers and how magical it was to do the Thriller makeup for Michael Jackson's film, This Is It, where everything was painted on by hand like in the original. He even disclosed all the sick pranks he helped pull while having fun with fake blood including when his friend started banging a bloody, dislocated head on the side of a car while driving (not surprisingly, resulting in visits from the police). Too awesome.
Read the rest of Howard's surprise visit including his Exorcist makeup demo and useful industry tips on The Que!